Essentialle Elasticity Boost
Stepping into spring, it's good to give your winter-worn skin a little boost in hydration. Essentialle's Toning Face Oil will do just that while repairing and firming a lacklustre complexion.
Sukin Body Wash
Free from any chemicals and incredibly budget-friendly; Sukin's Body Wash will clean & hydrate skin while waking you up with subtle, masculine aromas of cinnamon and citrus.
BarberPro Under Eye Mask
One to consider after a particularly heavy weekend or stressful week at work; BarberPro's Under Eye Mask uses ingredients like activated charcoal and volcanic ash to calm tired, puffy eyes while reducing visible wrinkles – win.
ARK Skincare Body Brush
Throw out the exfoliating gloves and grab a body brush for some serious scrubbing power. ARK's Body Brush removes dead skin cells and aids vascular blood circulation resulting in firmer, cellulite-free skin.
Lore Originals Define and Finish Styling Cream
Perfect for a less styled springtime look, Lore Originals Styling Cream is the ideal way to give your hair a little TLC while simultaneously adding definition, texture and hold.
Cornerstone Daily Face Wash
Available standalone or as part of their subscription offerings, Cornerstone's Daily Face Wash is a straightforward, cost-effective way to maintain a healthy complexion. Suitable for sensitive skin and a wonder for reducing oiliness – you can't go wrong.
Embryolisse Men 3 in 1 Shower Gel
Suitable for the face, body and hair; Embryolisse 3in1 is a handy washbag option for those hoping to save space heading away this spring. With a bliss-inducing fragrance and richly moisturising ingredients, it's a no-brainer for the man who prefers to keep his routine to a minimum.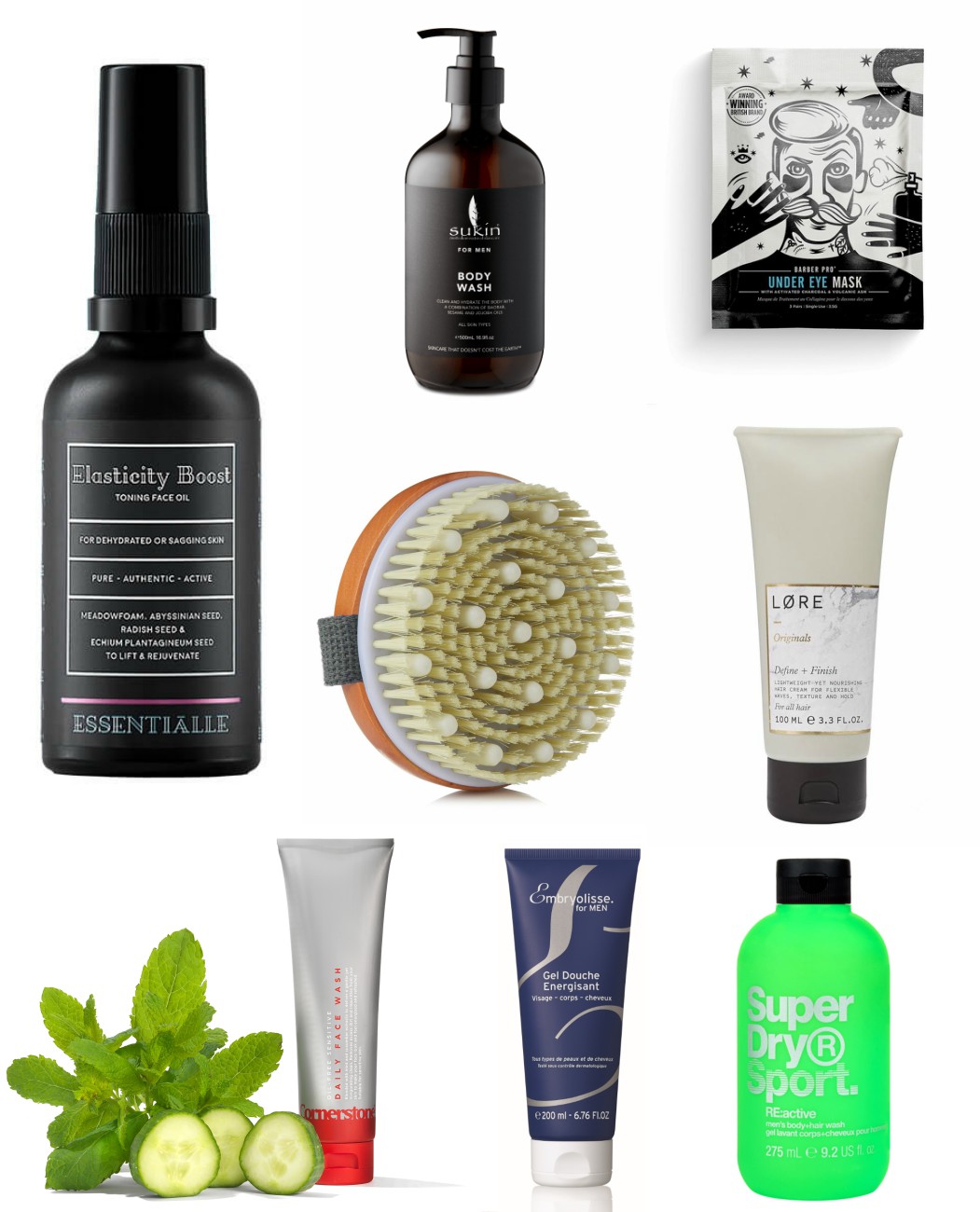 Essentialle Elasticity Boost Toning Face Oil
Lore Originals Define and Finish Styling Cream
Cornerstone Men's Daily Face Wash
Embryolisse Men Energizing Shower Gel
Superdry Sport RE:active Hair and Body Wash
Superdry Sport RE:active Hair & Body Wash
Superdry's hair and body wash is the ideal no-nonsense, budget-friendly product to throw in the gym bag; with a host of different fragrance options available, the clothing brand's foray into the world of grooming has something to suit every preference.