Whether you like them or not, there's no denying that Justin Bieber & Hailey Baldwin are among the most talked about couples in the world right now. With engagement news, tabloid trash and rumours of jealous exes taking centre stage, here at PAUSE we've got more time for their undenyable sense of style.
While, separately, they've both earned their stripes in terms of sartorial prowess, together their designer pulling power is about as staunch as it gets. From Bieber's sold out "Purpose" tour merch and recent penchant for all thing skatewear to Baldwin's affinity for the runway, having walked for brands such as Off-White, Dolce & Gabbana & Moschino – together their head-turning style is never one to go unnoticed.
Let's take a look at some of their more notable streetwear inspired ensembles below.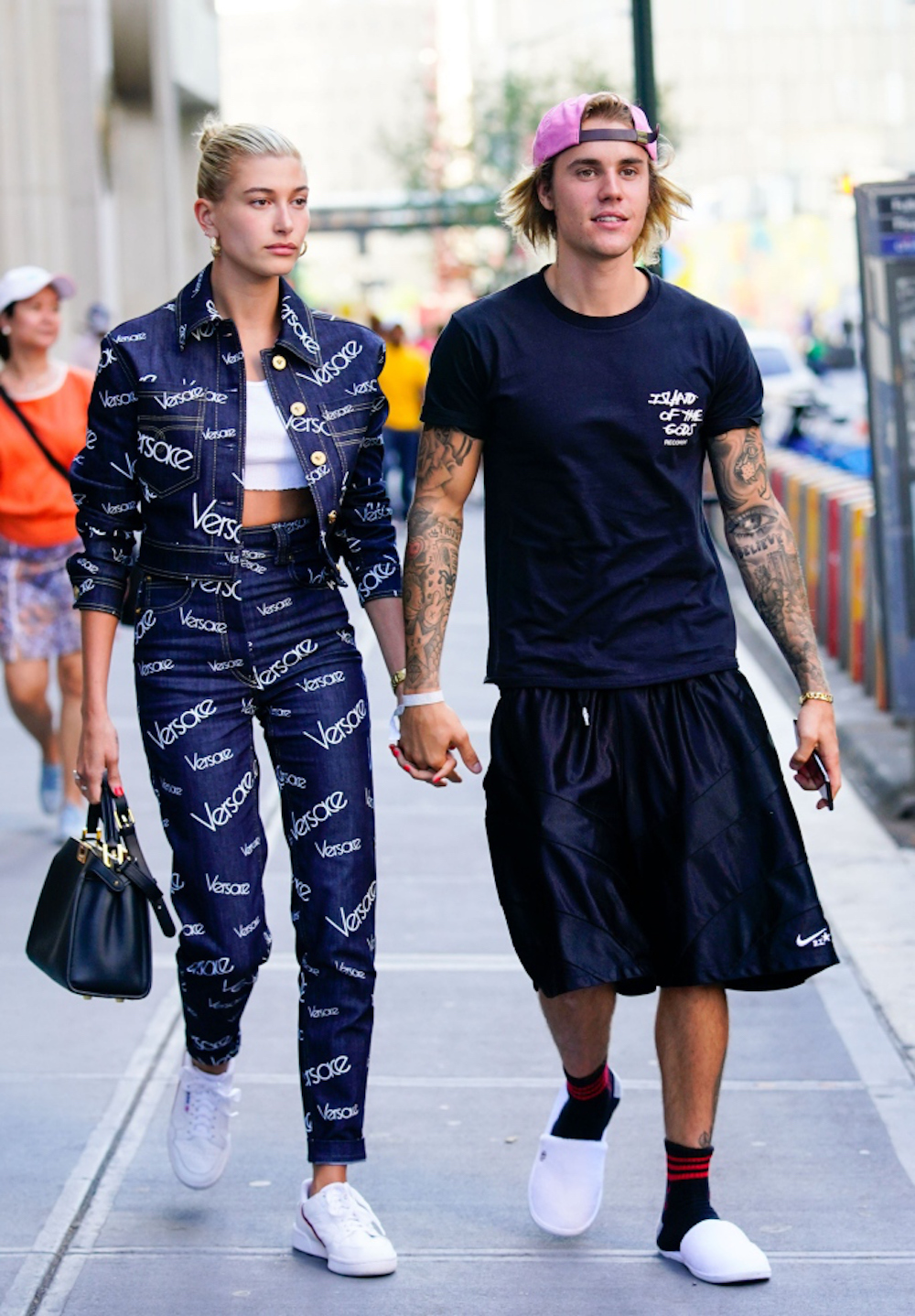 Monochrome Branding
One of the most notable looks from the duo, Hailey & Justin stepped out in a muted colour-less ensemble that embodied their unique aesthetics seamlessly. Bieber took paired a simple Island of The Gods t-shirt, Nike shorts in black and some white slippers (why?), while Hailey arguably stole the show in a skin-tight Versace double denim number and some white trainers.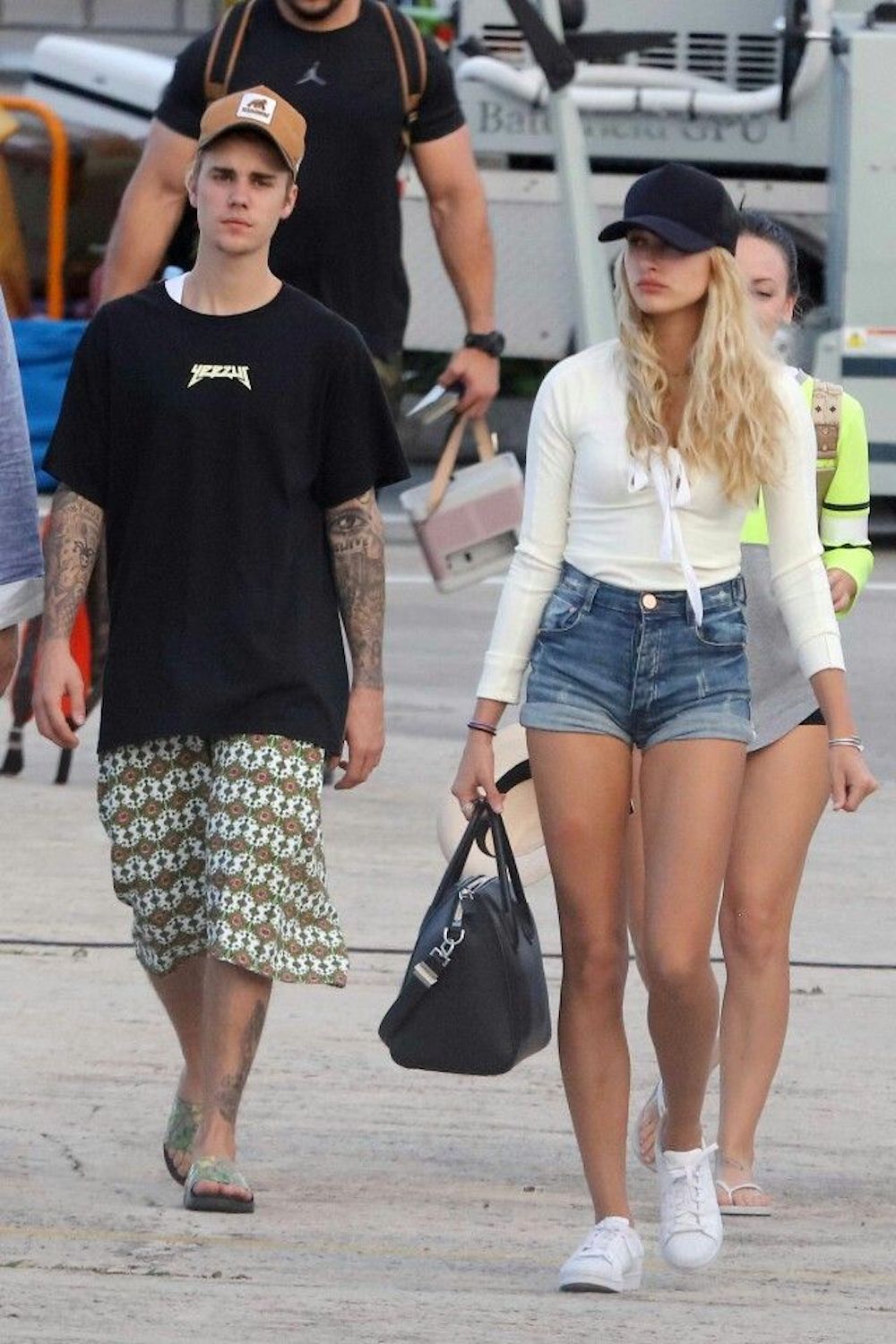 Contrasting Baseball Caps
Both in baseball caps, the two opted for contrasting silhouettes in this case while simultaneously sporting a rather glum expression. Bieber is seen in an oversized Yeezy t-shirt, printed shorts and sliders while Hailey opts for some skin-tight denim shorts, a simple long-sleeved white sweater and white trainers.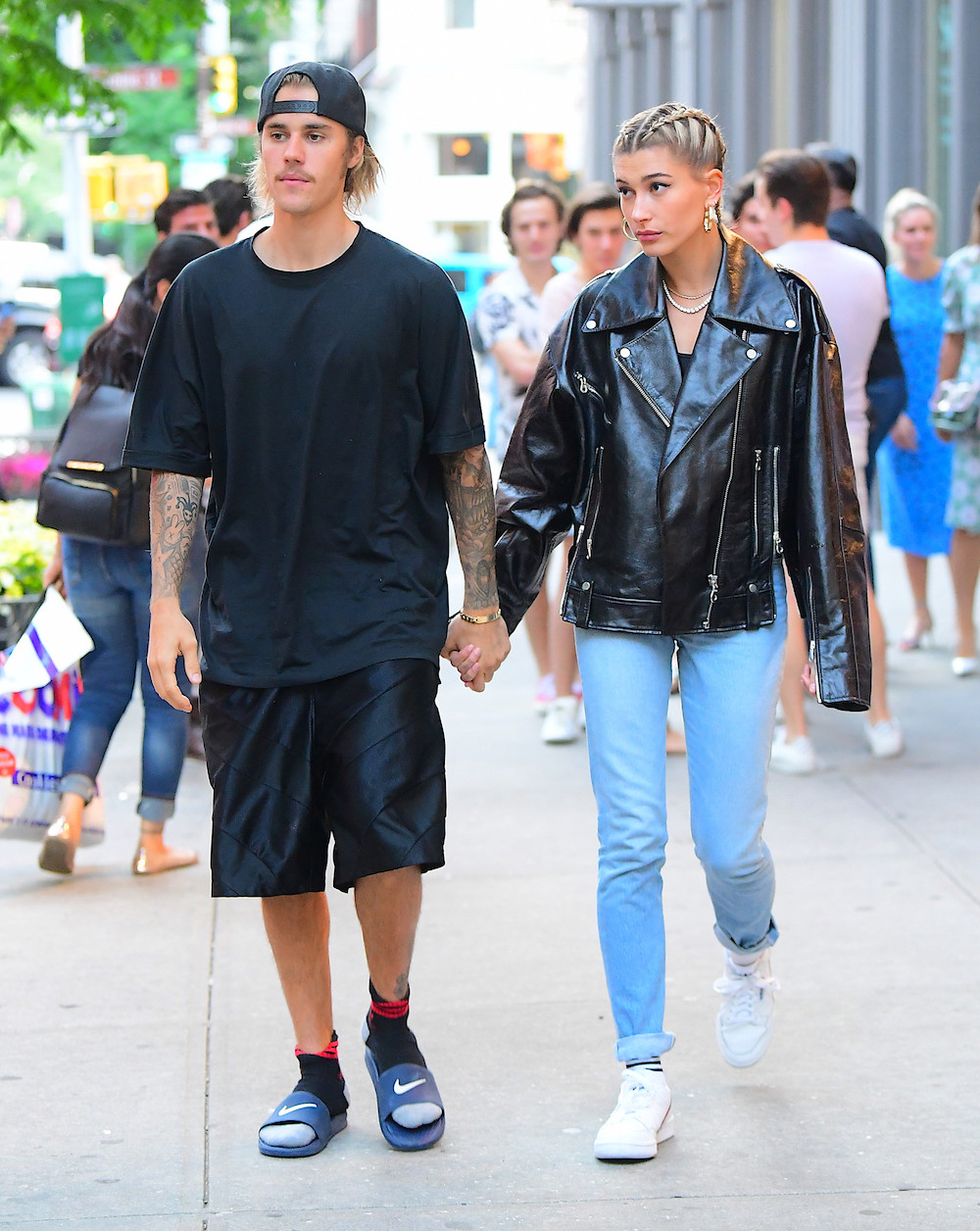 Oversized Casuals
Never ones to shy away from a slouchy fit, both are seen here opting for a looser getup while out and about in the city. While Justin went for his fail-safe pairing of a simple t-shirt, oversized shorts and some sliders, Hailey's outfit is centred around an oversized patent leather jacket paired with some blue jeans and simple white trainers.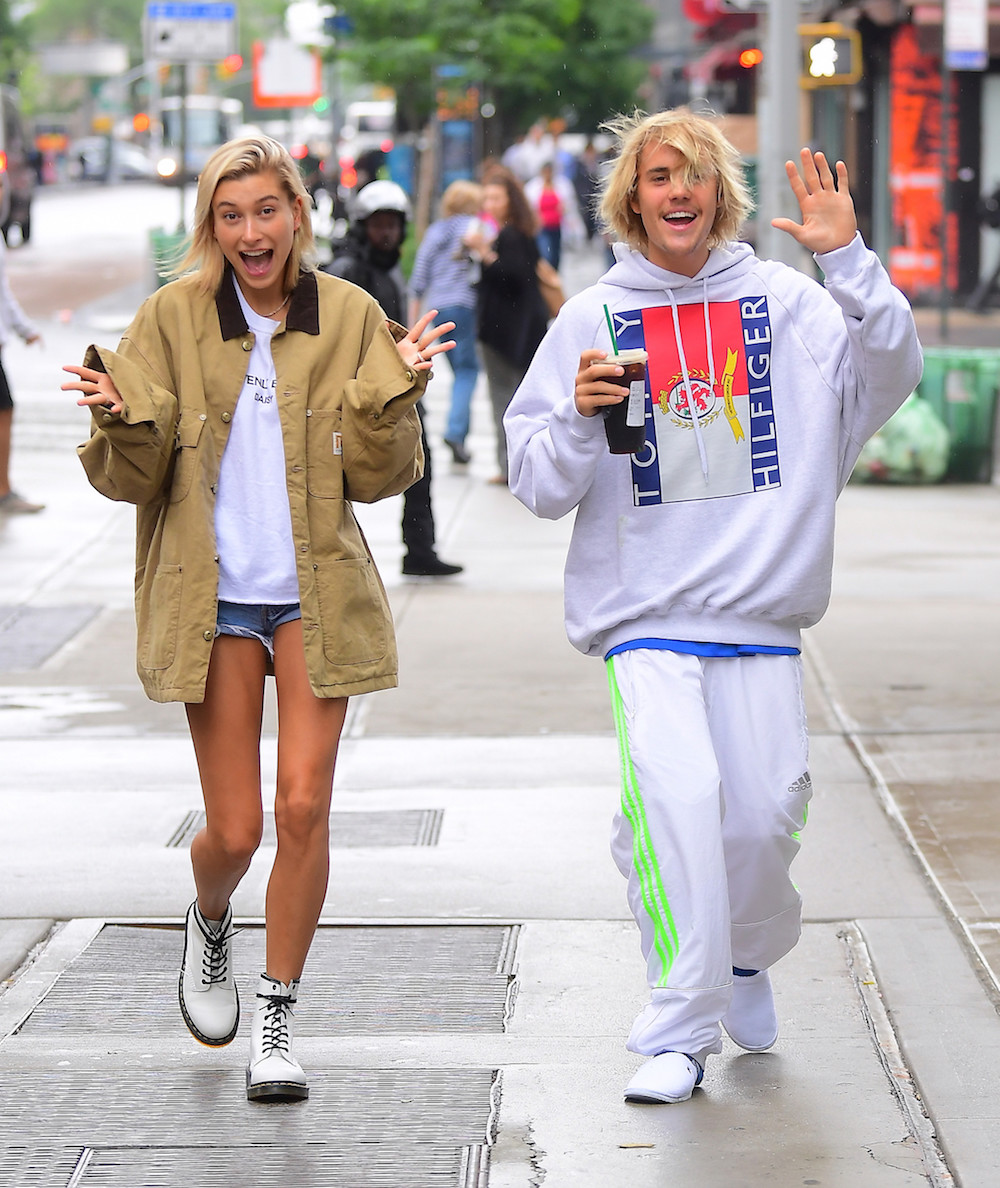 Oversized Sportswear
Arguably one of the most overused images of the duo on the internet, even on a coffee run they somehow manage to make the most mundane of getups work. Bieber is seen sporting a huge Hilfiger hoodie in grey and pairing it with some adidas tracksuit bottoms and… hotel slippers, again? (can't condone this one). Whereas Baldwin opts for her go-to denim short, white t-shirt and oversized jacket ensemble while pairing them with some white Doc Martens.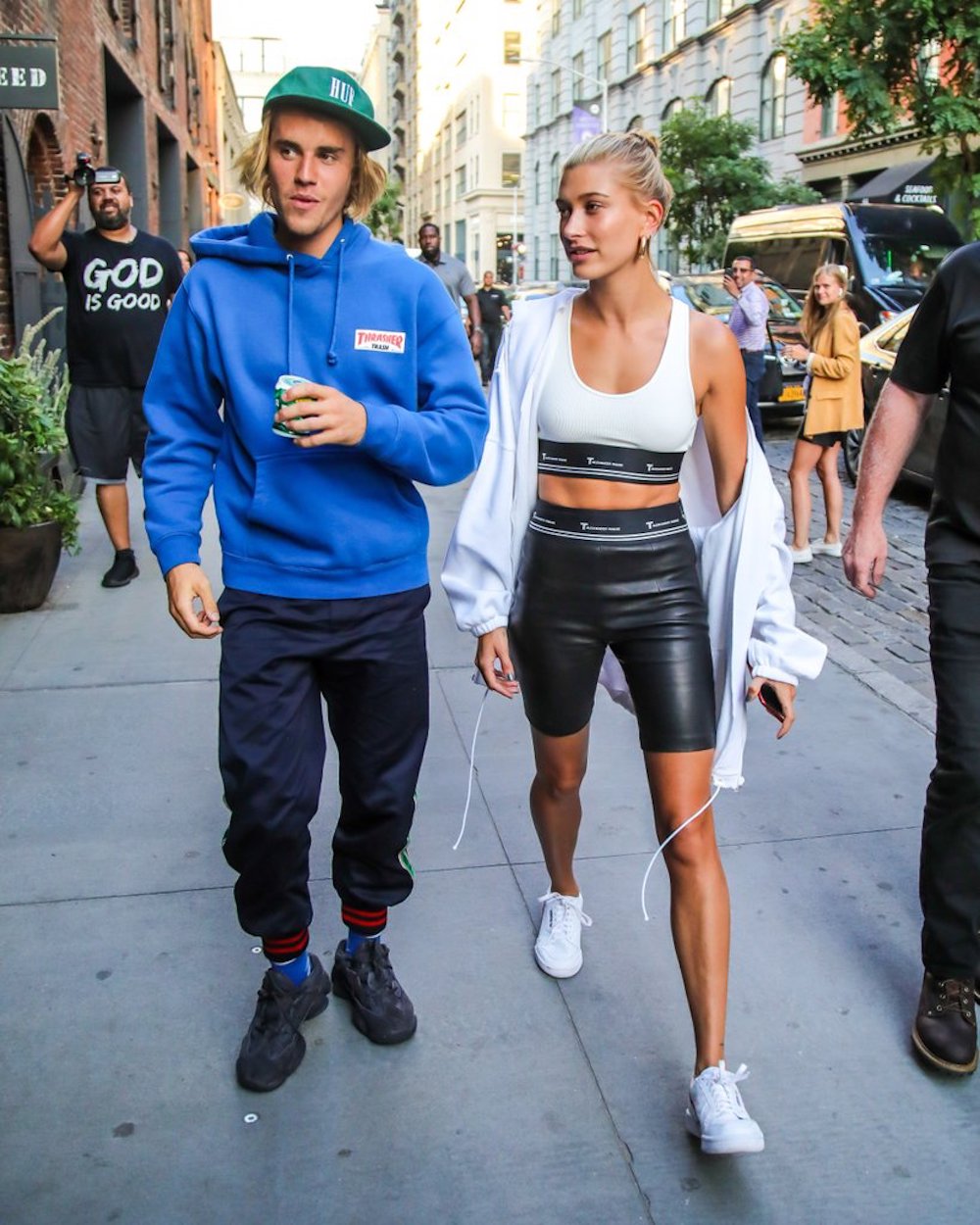 Skate Meets Sports Luxe
Another typical outfit from the celebrity couple of the moment, both stuck to what they know when out and about in this candid shot. Justin wears one of his favoured labels, Thrasher, with a pair of slouchy tracksuit bottoms and some black sneakers. Hailey takes a typically Los Angeles approach to dressing, opting for a pair of Alexander Wang leather shorts and sports bra with some simple white trainers.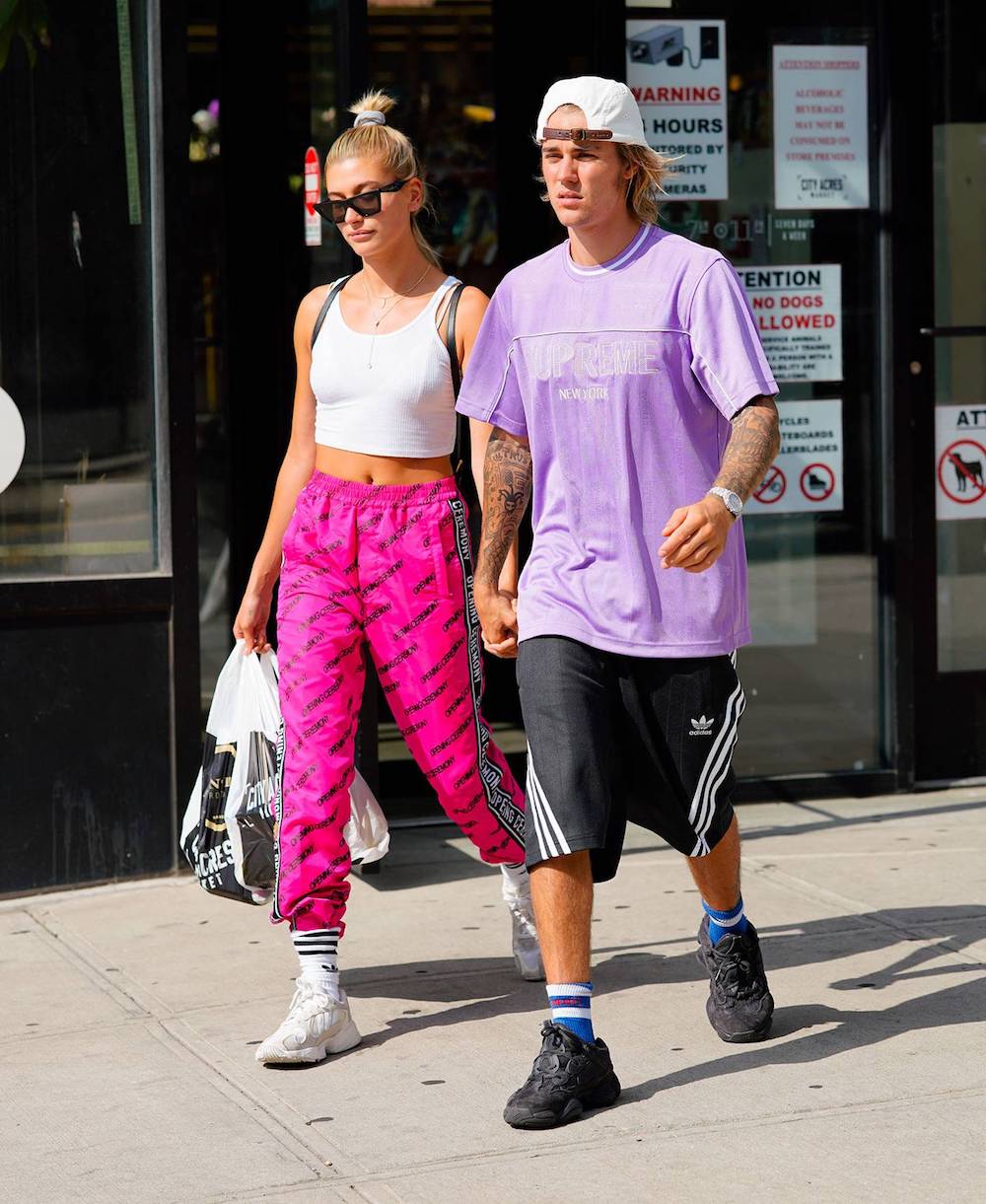 Pretty in Pink... and Purple
Taking a tonal approach to their outfit choices, Bieber & Baldwin continue their streetwear inspired slew of getups with pairings of pink and purple. Sporting two hypebeast loved labels, Justin pairs some loose fitted shorts (as per) with a lilac Supreme t-shirt and black trainers while Hailey is seen in a simple white crop top, pink Opening Ceremony trackies and chunky white trainers.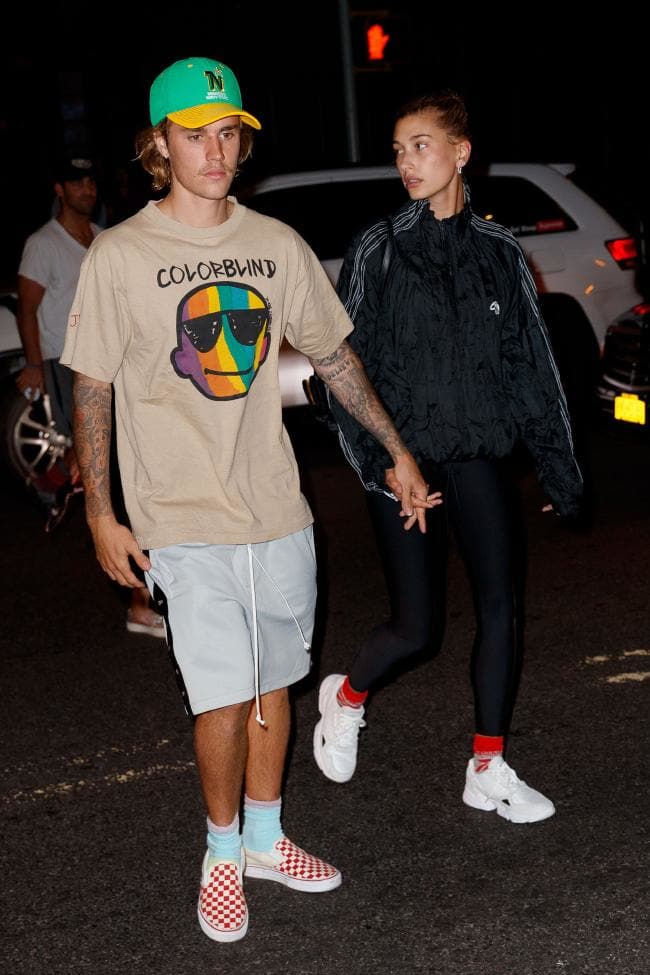 Colourblind & All Black Everything
Opting for more contrasting looks this time around, the duo were spotted out in NYC taking opposite approaches to dressing when it comes to colour. While Justin paired his Colourblind t-shirt with the Minnesota North Stars hockey team's green and yellow baseball cap, grey shorts and red/white checkered Vans, Hailey went for an outfit devoid of colour with black leggings, an adidas tracksuit jacket and chunky white trainers, once again.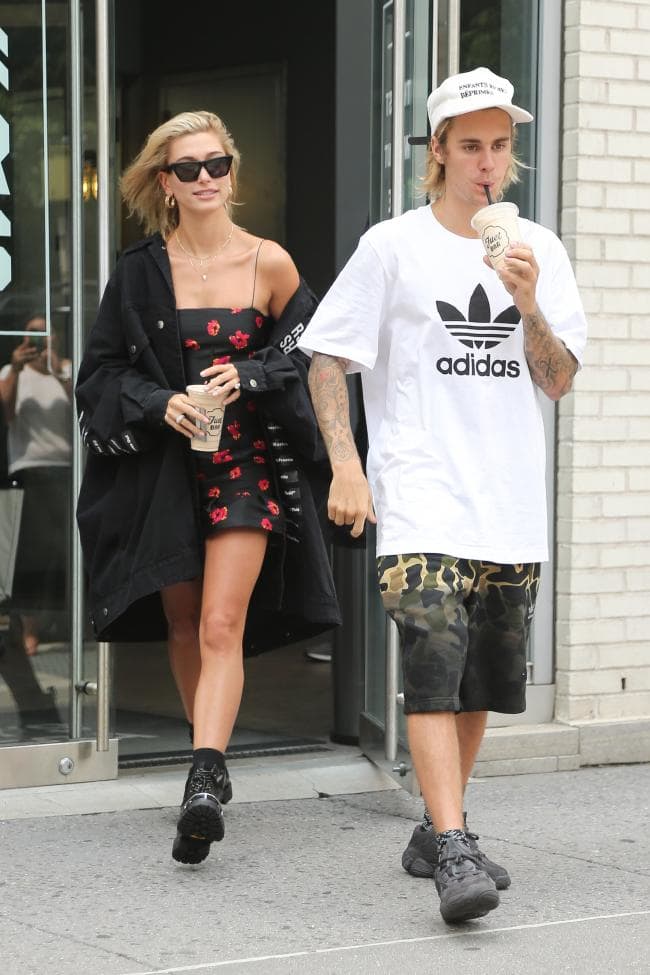 Florals vs. Camo
Out and about shopping in NYC, the duo took contrasting approaches to dressing once again with Bieber opting for a more casual ensemble while Hailey opted for something a little smarter. While Justin paired a simple oversized white t-shirt with some camo shorts and grey trainers, Hailey mixed her floral dress with an ultra-desirable black Raf Simons jacket.