New York, Making it and Jewellery
Starting out in the world of hustle or be hustled, Julius Dubose's stage name should say it all – if you're familiar with the movie "Paid in Full", that is. Coming from the Bronx, there are many parallels between the American artist and the movie's protagonist. Now on the starry road of success, PAUSE sat down with "A Boogie wit da Hoodie" to talk all things music, fashion and London's music scene.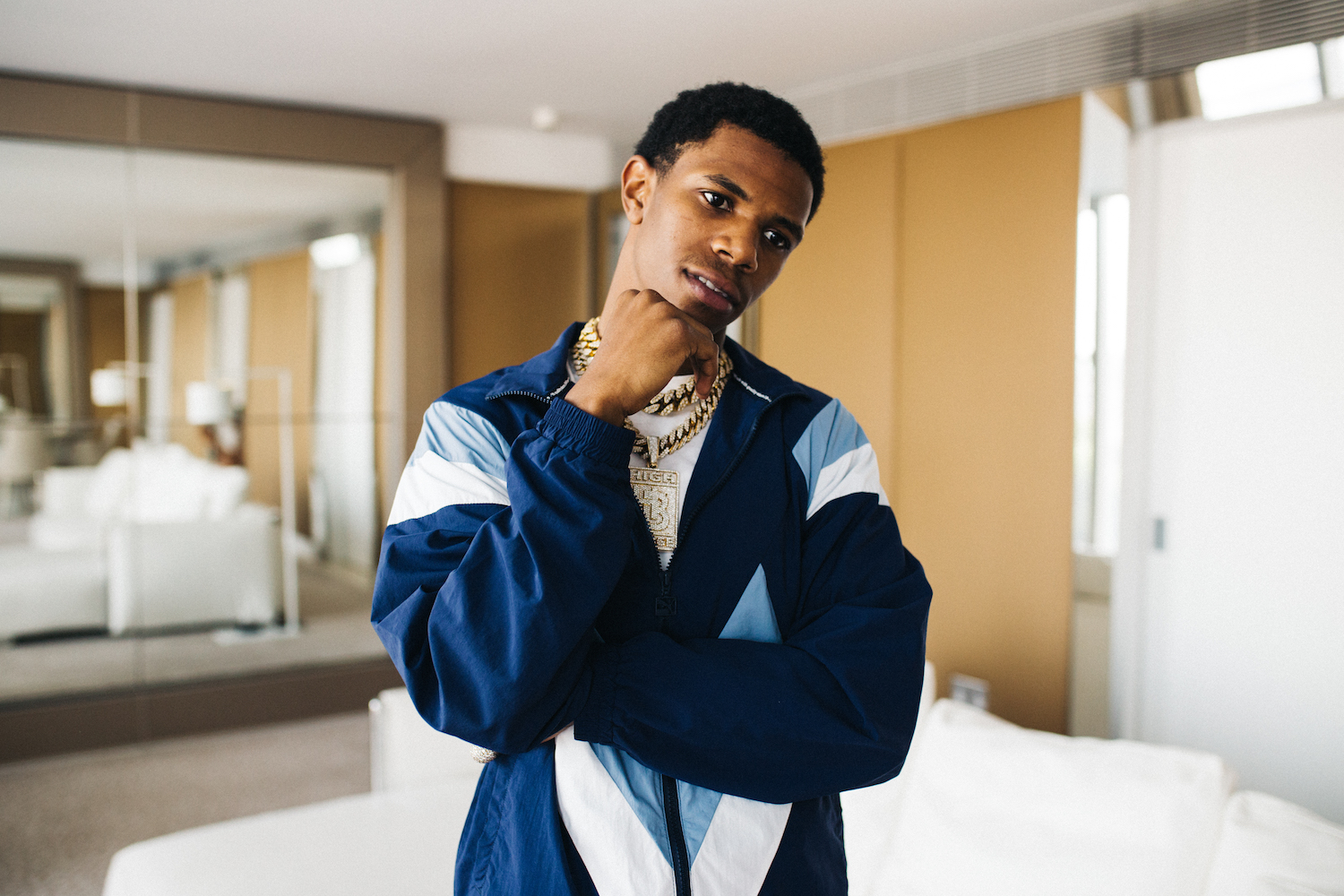 Tracksuit & Trainers: Puma
Welcome to London is it your first time here?
No, it's my second time.
How do you find London?
My first time it was lit I had a show at Brixton Electric.
How was it, good?
It was lit, I brought out Stefflon Don, I brought out 6ix9ine (looks to the London Eye) Is that a rollercoaster or am I tripping?
No that's the London Eye, (laughs) you should check out London!
That's fire.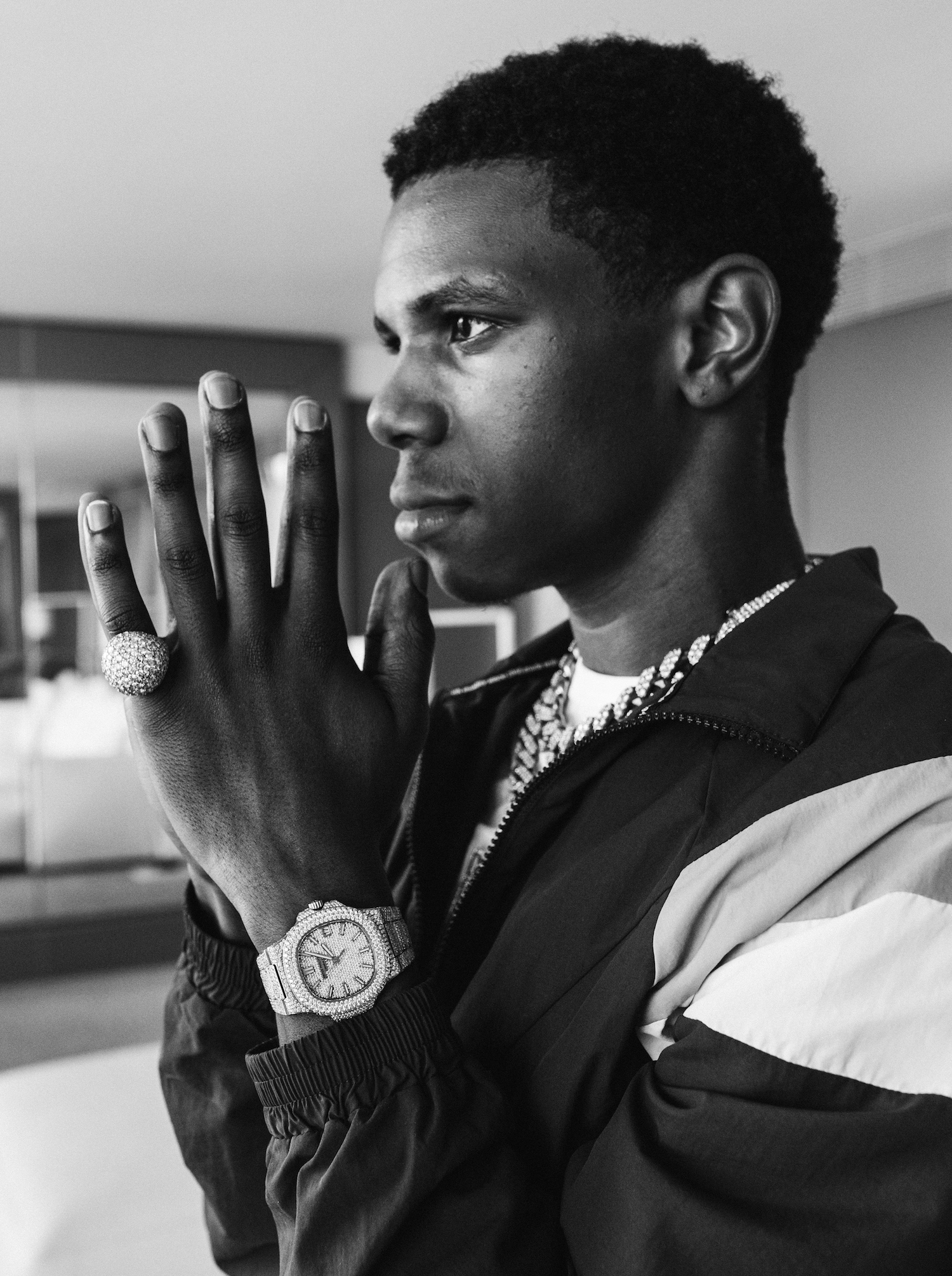 What do you think about the London artists here?
The London artists so far are fire, I remember linking up with Fredo last year, we were in the studio cooking up, it felt like I was home, because I come from the streets so, he's from the streets over here in London and just having that environment around me, I felt comfortable. We had a good vibe going on me, him and Don Q made a song so it's going to be heat, I don't know when we dropping it but probably any day now.
So you're looking at collaborating with people abroad now in the UK?
Exactly, that was the whole point of me dropping that international project because I just want to open up people's eyes to artists like me coming out of New York, and people out of New York don't really, nowadays, don't get that far anymore.
So now it's like a really big opportunity right here for me getting my foot in that door, so I have to take advantage of this right here.
Where are you from, where did you grow up?
I'm from the Bronx, right by the Yankee Stadium, I got a chain with the Yankee Stadium on, got my name on the back of it.
How did you come up with the name A Boogie, tell us the story about how that came about.
It's a movie that I used to watch every single day, I used to cut school to watch it!
Which movie?
"Paid in Full" It's a hard long movie about some street shit back at home, but A Boogie was the main character in it, he was a nobody, he was broke, he used to work at the cleaners, and then he started hustling and got his money up and then all of a sudden everybody was lit and everybody was on him and everything, but yeah people call me A Boogie because everybody remembers I used to watch that movie every day.
So that's from your childhood that you just kept with you, had a name and then you were like, this is my stage name?
I wanted to make my rap name my real name, and I wanted to do that at first but it was too late, by the time I figured it out it was too late everybody was already calling me A Boogie.
Do you believe New York City is where dreams are made of?
Yeah, I would say that I feel like that's true when people be saying if you can make it in New York you can make it anywhere because it's real real real hard to make it.
Of course, its real hard to make it anywhere, but in New York everybody be doing the same thing, if you're rapping, it's like everyone you know is trying to rap, in this market over here everybody trying to do the same things so, you really got to be good at what you do if you want to become that person.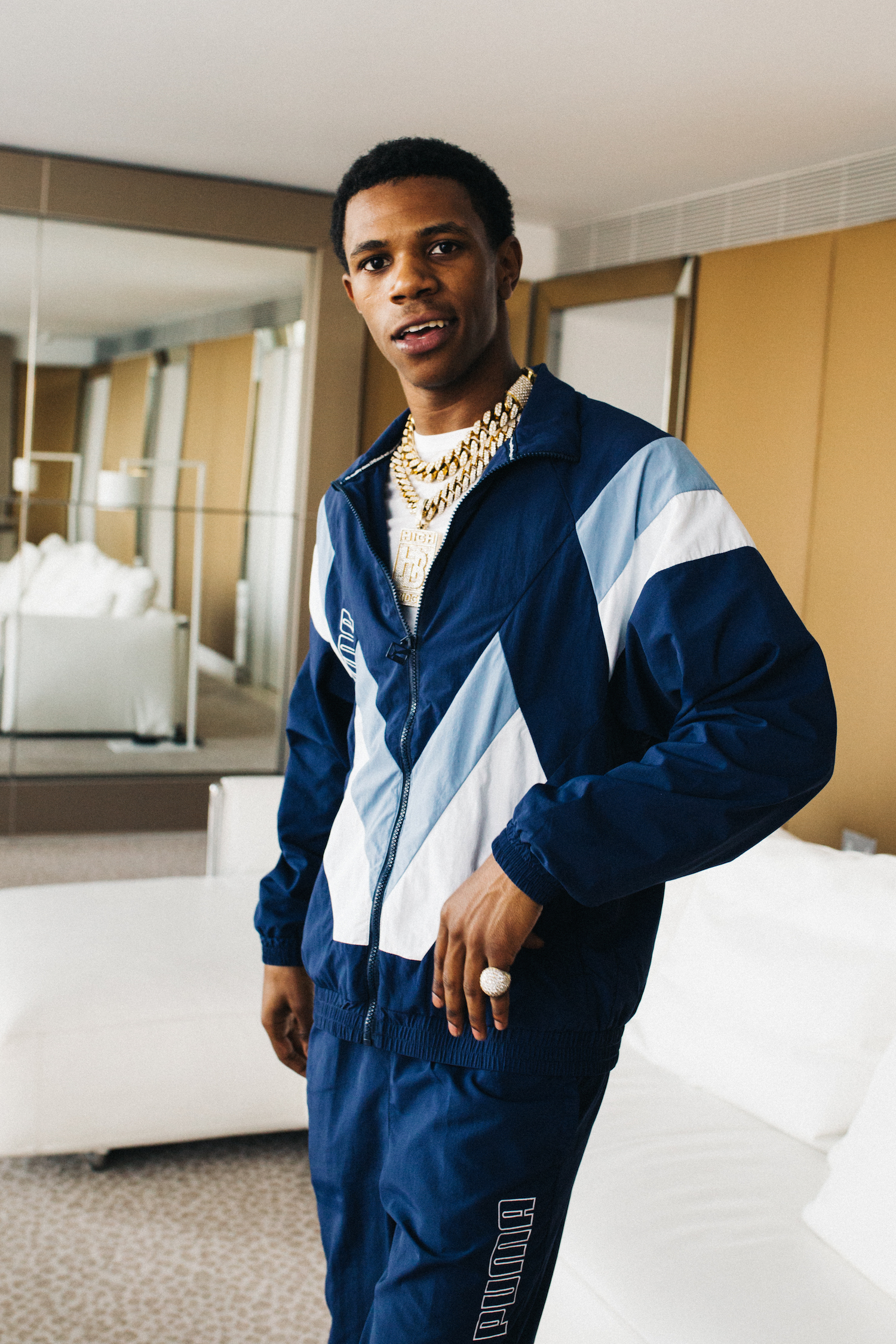 How did you do that?
I just stuck out and I had like a good break, I went to Florida for 2/3 years, I got a chance to see everything on the outside in instead of being on the inside out, and I felt like that was a great opportunity for me.
Was that the first time you travelled?
Yeah, I had never been out of New York, the Bronx, so this was my first time seeing anybody else.
And what did that do for you?
It changed my whole perspective on things, like cultural wise, because before that I only saw Puerto Ricans, Dominicans, and blacks, so I went out there and seen all these people from different cultures, they all friendly and everybody saying hi to you when they see you, and where I grew up, there's none of that, it's people look at you and if you look at them the wrong way it's a fight. So I had to get used to really, it made me a better person, it really made me a better person and a bigger person too for real.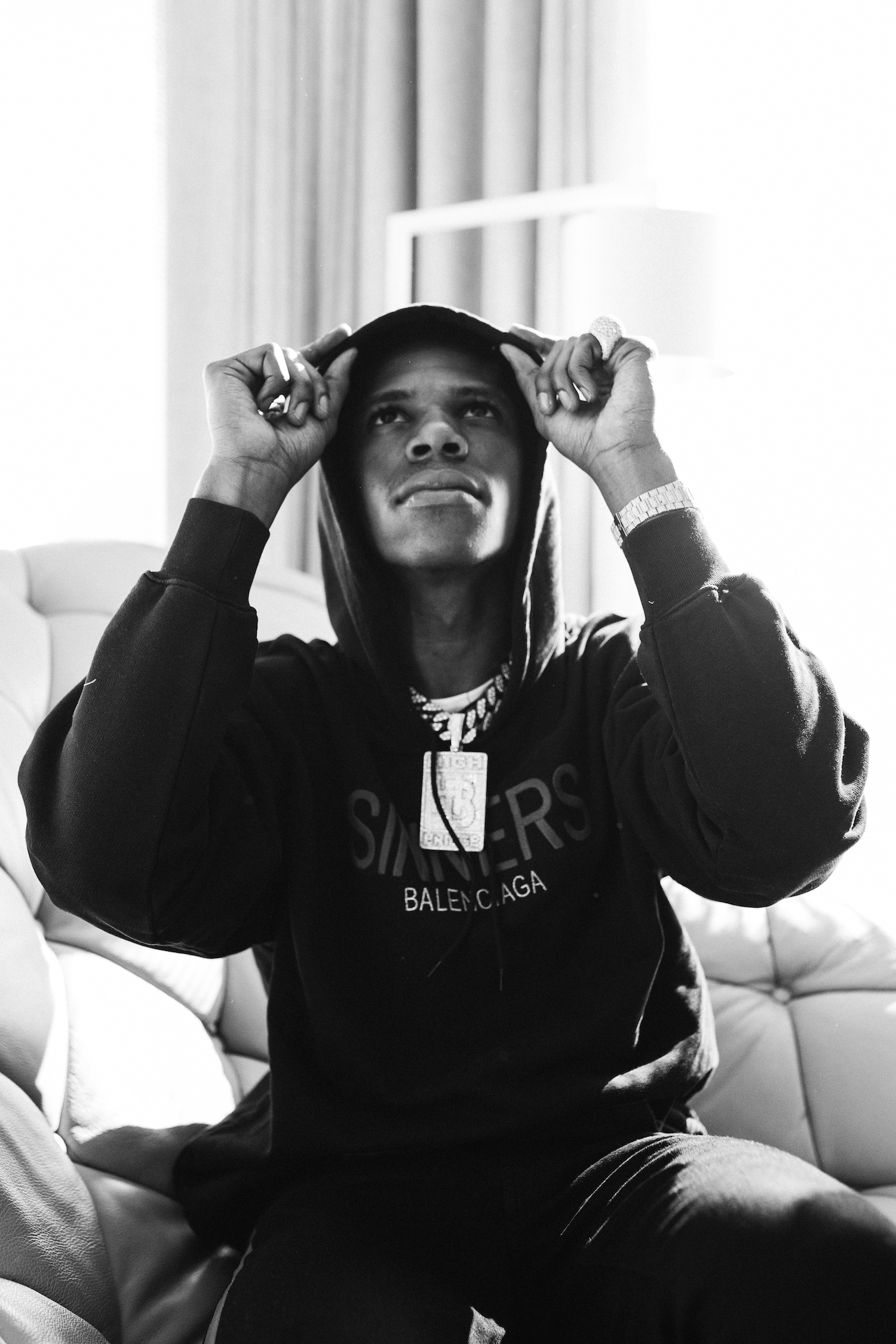 Hoodie: Balenciaga @ Browns, Jeans: Amiri, Trainers: Christian Louboutin
Did that affect your music in some way?
Yeah, it did because I wouldn't be talking about certain things I do if it didn't.
Do you feel like artists who grew up in New York and don't travel do you feel like they stick to talking about a certain thing?
From New York?
Yeah, in terms of growing up, trying to make it.
I feel like hip-hop, in general, is like that. I feel like hip-hop is a cycle that repeats itself, people talk about the same thing over and over in different ways and different melodic ways, it depends on how you say it really to make it stand out, that's all. I try to be a little bit different all the time by saying different things a little bit, but 
I realise I'm still saying the same things other people say. Even if you're talking about your lifestyle, you're saying the same thing somebody else said because you're going through a repetitive situation.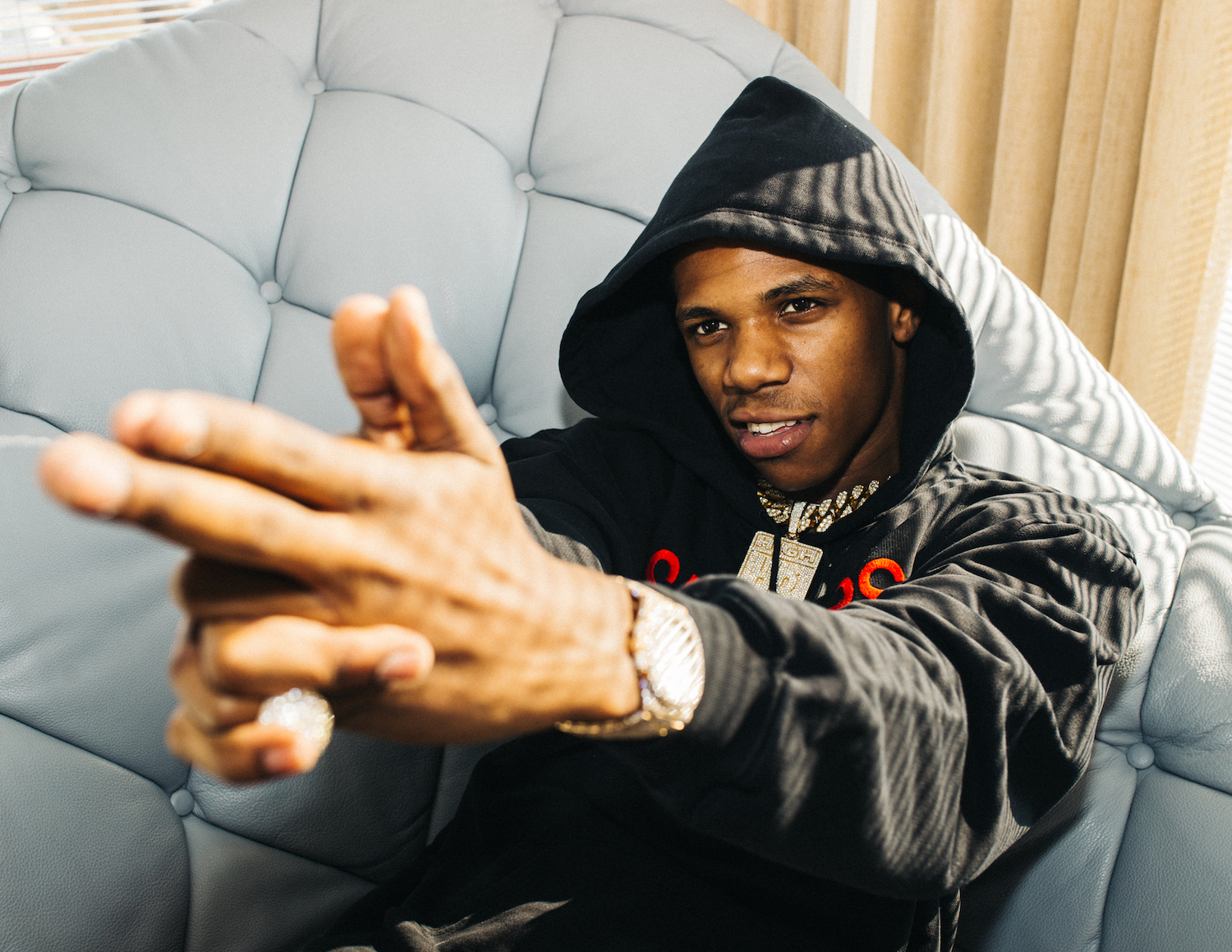 Growing up doing your music, how did you break through, what were the struggles you went through at the beginning?
The struggles I had to go through was being broke, that was one of the main things for everybody in the world, and when you first trying to come out the hood, your first problem is money.
You need money, and then when you get money, it's kind of like you confused because you were only taught to get money, hustling, selling weed and stuff, so it's like you don't really know that much, even when it comes to like 9-5, we were taught to get a job so that we could work every day, that's not really how people want to live, we were just thought things that people want us to do, but I don't want to do that shit, I want to make music, and after I make music I want to run that shit up, I'm going to run my own business, I'm going to own ten businesses, I'm going to go run that shit up, big dreams man.
Big dreams ahead. Do you produce music as well?
No, I want to, I realised I need more time, I need more time, music is a full-time job. Like a recording artist, you have a full-time job doing that, and then we have to do interviews and a whole bunch of other stuff, so when we have to take the time out to do producing, producing is a full-time job, so you need a little bit more time for that. No excuses though.
Who's your biggest inspiration?
My biggest inspiration right now? I would have to say still Jay-Z to this day. Still, Jay-Z, I got so much respect for that man right there.
He's from your area, isn't he?
Yeah, he grew up in Brooklyn though I'm from the Bronx and he's from Brooklyn. He runs his town I run my town.
So he's your biggest inspiration?
Yeah, not just in music but in the business aspect period. I feel like he's a part of the reason I moved with Puma too because I was dealing with Jordan before and I just did a deal with Puma.
You're into brands like Fendi, Gucci, Puma Balenciaga?
I'm into different stuff, stuff like that, Mike & Mary, Givenchy, Moschino.
Why Puma?
I like the slides they're coming out with now, they got a whole new look right now when it comes to sweat suits, and they're going to let me be a part of the creative direction too when it comes to certain sweat suits and everything so, I definitely want to get me some new slides.
Are you going to be collaborating with them in terms of collections, like how Big Sean is doing?
Yeah exactly, exactly like that.
When did you begin a partnership with them?
Like a week ago.
They got you quick!
Yeah, they got me in there quick.
What's the hottest track right now, what you kind of listening to?
I'm listening to Juice WRLD right now.
Who?
Juice WRLD. "Can't take back the love that I gave you, it's to the point where I love and I hate you, and I cannot change you so I must replace you." (laughs) I like melodies so of course that's one reason I like his music and it's like he also got that kind of rock star feeling to it, where it's not just a dull love song feeling, it's like a rock love song feeling, it's fire.
Who's your favourite in terms of tracks right now in London?
They were showing me some people from London, I can't remember their names. I can't remember their names to save my life, but if I see them I would know. Damn, I wish I knew this kid's name, there's this one rapper.
The kid?
Yeah, he was a young person, damn I can't remember the f*cking names, I can't remember.
Do you listen to Skepta?
Yeah yeah, I'm not counting him because he's a big artist, I linked up with Skepta before, I look at the upcoming artists when it comes to things like that, but I'm a big fan of Skepta too, me and him are actually working on something, I should get up on him while we're out here, I didn't really think of him we only got 2 days.
Tell me about your chain how much does this cost?
The piece cost about $45K and the chain cost about $50K. This one is $65K, this one is $100K.
What about the ring?
This is $13K.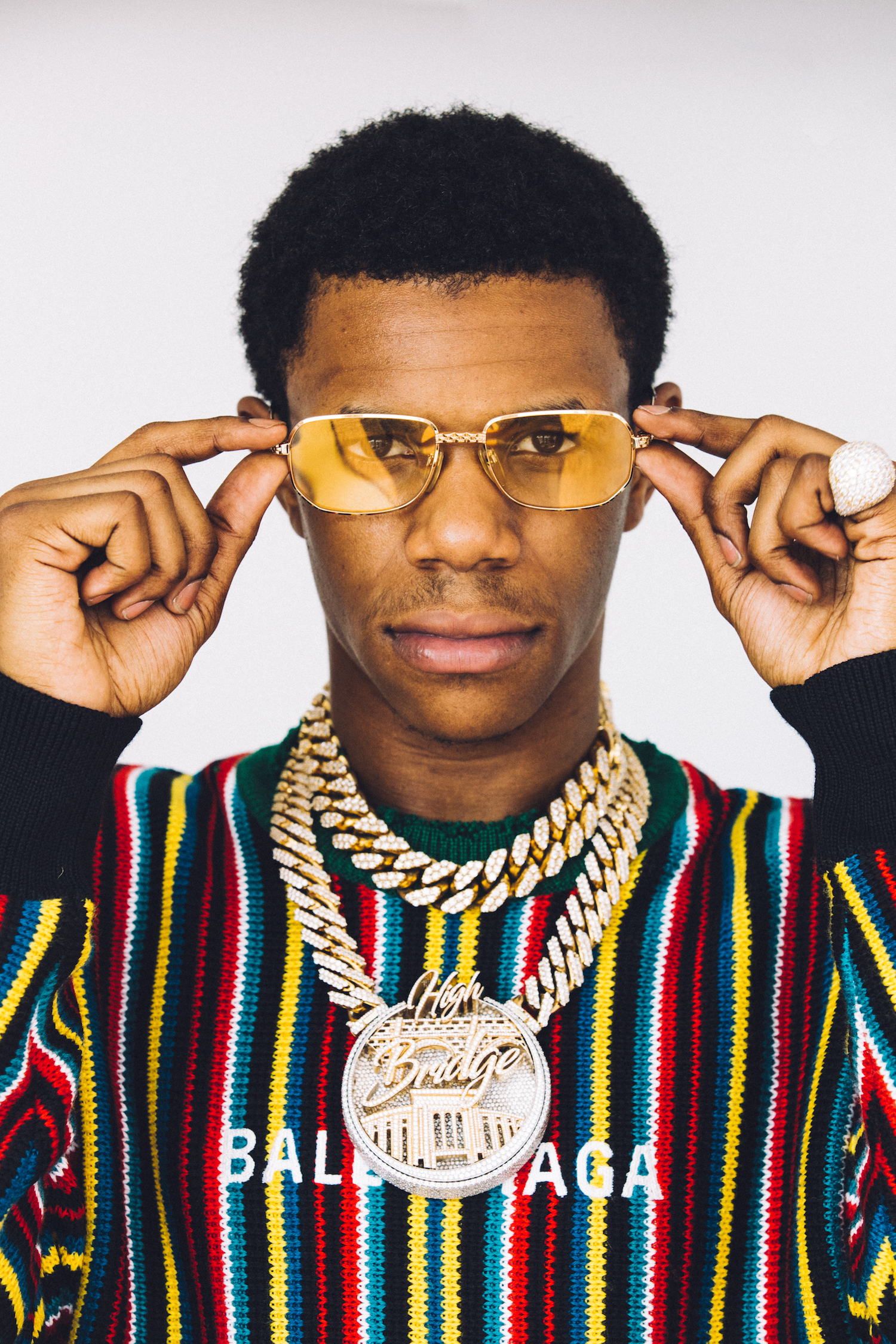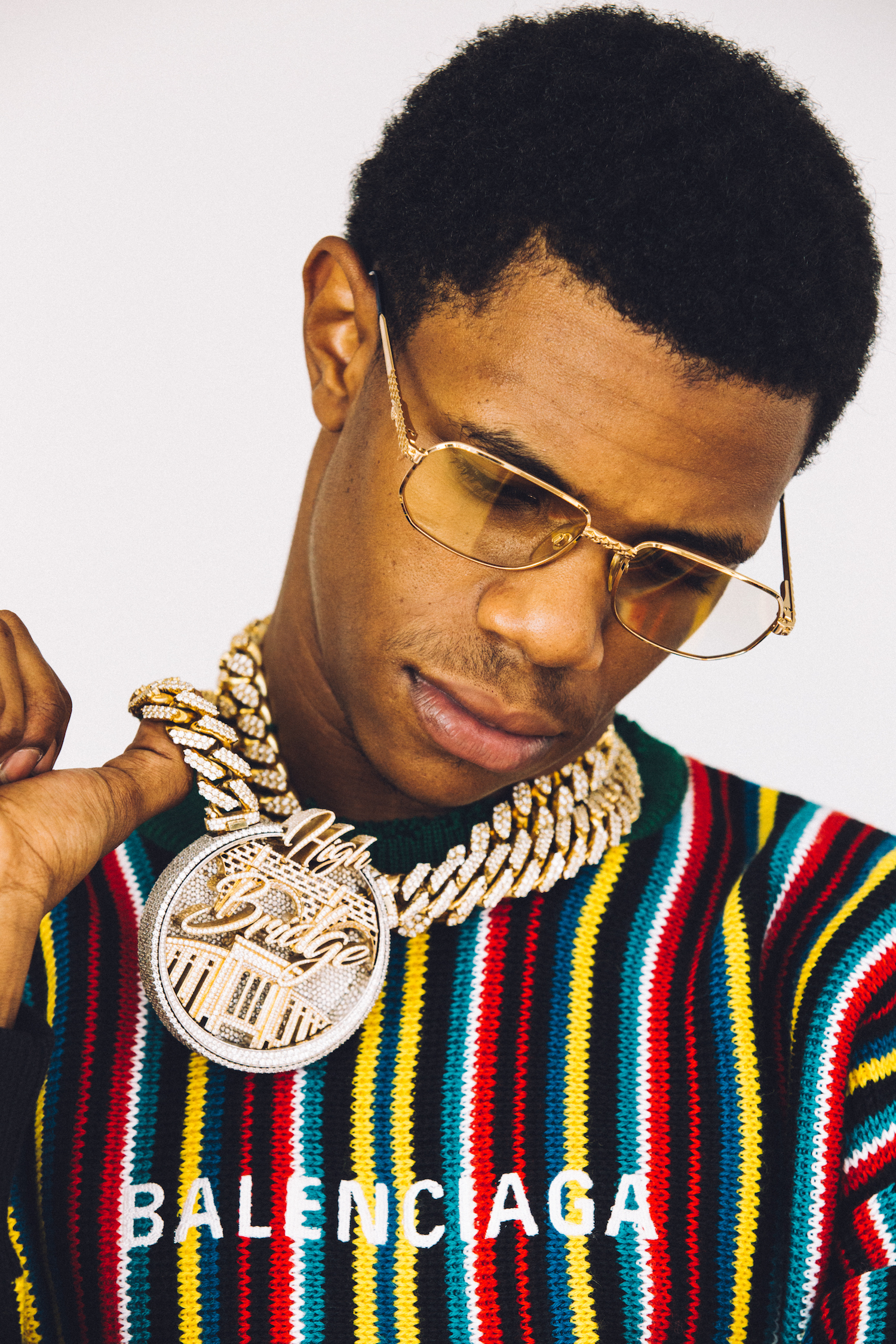 Glasses: Vintz Shop, Jumper: Balenciaga @ Browns, Jeans: Amiri, Trainers: Christian Louboutin 
And the watch?
The watch, this is the small one, this is $85K. We got the other one too but I like this one better because my wrist is real skinny, so it's just flat just sitting on my wrist without no bulkiness or nothing.
What is with people from New York and Brooklyn with the whole bling thing and the chains, is it a status thing?
It's a trend, I'm going to be honest with you it's a trend right now, just how gold chains back in the day was a trend, diamonds is a trend right now. Young people nowadays are getting way more money than usual.
Is it the bigger chain the better?
Yeah, we spoil ourselves, and I feel like you shouldn't get ice unless you want that type of attention to be a rapper or something.
Are they quite heavy, do they hurt your neck?
Yeah, if you're wearing them all day yeah.
Do you feel like you have to wear ice to be a rapper?
No you don't but people just do a dumb thing with money nowadays, what if somebody just take that shit one day, now you got nothing, for real I could get insurance on it because I'm a rapper but other people can't get insurance on it because they're hustling and in the streets.
What advice would you give to any upcoming rappers from your area growing up who are trying to break out the hood and break into other countries?
It's a lot of things I can say, that was already said before, I could just edit the way they said it, I would say be different but don't try to be too different because you could catch yourselves trying to be too different and it's like f*cking trash. Some people just try to be like another rapper, and that makes it just like you trying to be like him, people don't like that.
A lot of people try to do that these days.
You could try to be like someone without doing exactly what they did, just how every rapper made it, they made it their own type of way, for real. And the next one will make it their own type of way, so just think of it like that.
And is it about finding your own sound as well now?
Yeah, definitely finding your sound.
How did you find yours?
I found my sound by just practising like hell, I used to just sing songs I couldn't even sing, I never even knew how to sing, I still don't know how to sing I just f*cking yell and make melodies.
I have fun, I don't care if someone doesn't like how I sing, it's at least I got my name out there and got another person to hear my music. Like if I go outside right now and ride through this city with my top down and pumping A Boogie With the Hoodie, now more people know my name, even if they don't like the music, more people know my name.