Talks fashion, music and family
"Hope for the best and prepare for the worst!"
Born and raised between Nigeria and South London; Burna Boy describes himself as an eternal creative who's been writing music since the early age of 10. Now, having worked with names such as Lily Allen and J Hus alongside a number of hits under his belt, we spoke to Damini Ogulu about his stage name origins, style, influences and more.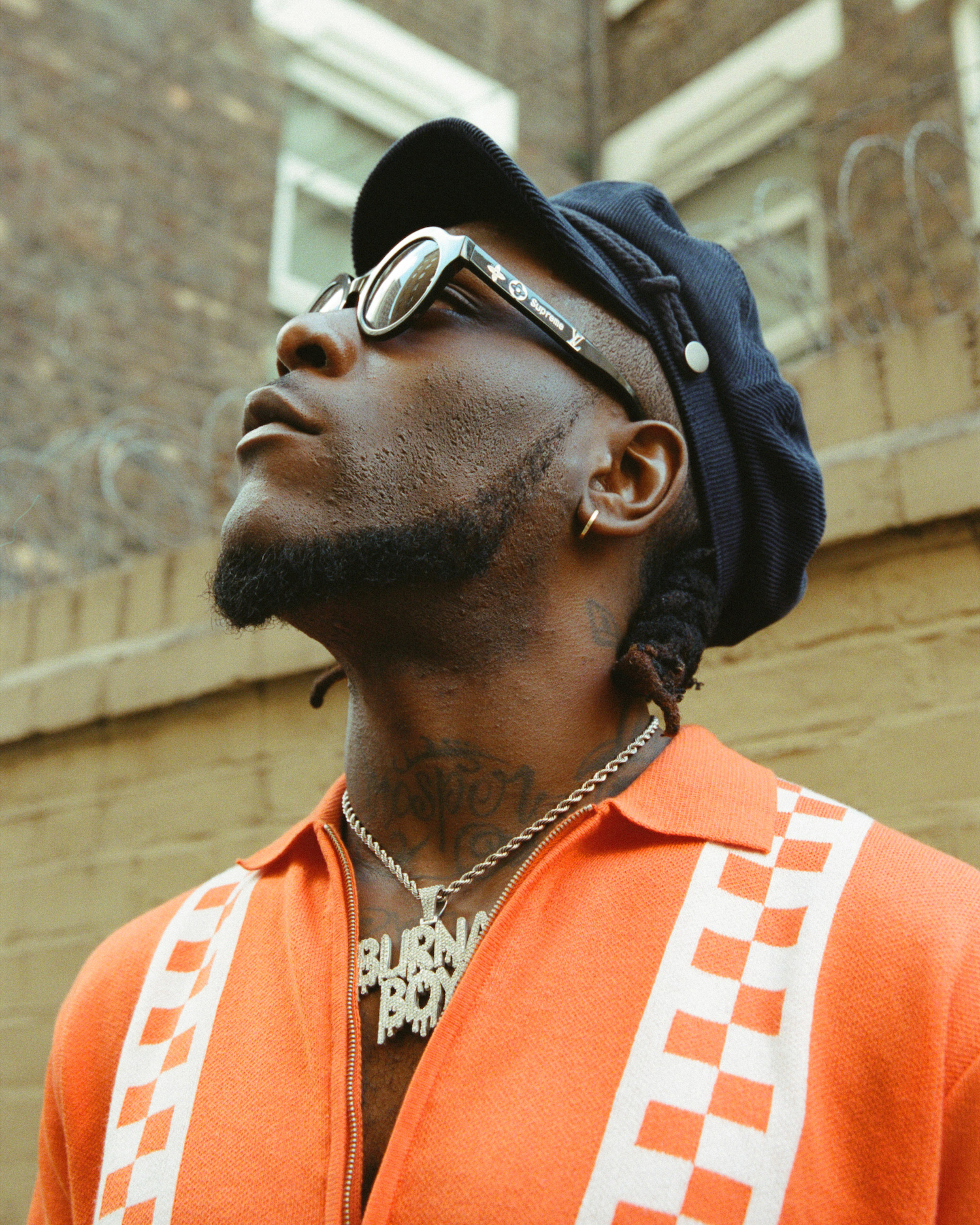 So tell me about the beginning of your whole musical journey, when did you first start making music?
I can't remember.
You can't remember! Can you remember when you started to write songs?
Well, I started writing when I was about 9 or 10.
Wow, and when you were writing music was that in Nigeria?
Well, I have always been creating so it was in Nigeria, down here and everywhere.
So where did you grow up?
Nigeria.
So how was that impacted your music and sound?
I don't know man, music should be the product of one's environment and experiences so I feel like that's all you hear in my music.
So what track of yours is your favourite?
I don't know, maybe 'Gbona' right now because I just released it and I think it's the freshest to me so maybe when I release the next one it will change.
How did you come up with a name Burna Boy and what age was it?
I can't remember when but I remember I was reading comics and there were Spiderman and all that stuff and I guess I just wanted to be one of those innit, so I came up with Burna Boy, so I guess it's like a superhero!
Top: Lazy Oaf, Trousers: Urban Outfitters, Shoes: Grenson, Sunglasses: Artist's Own
So you've worked with Lily Allen, J hus and other artists from around here, what's it like working with British artists?
I don't know man, artists are artists everyone has their different ways of working whether they are British or not you know? So it was all good.
So how was your experience in London influenced your music before Burna Boy and how has it influenced your music after?
I guess it's probably the same, the UK has been a massive influence on me specifically, this is kind of where I experienced the things that turn you into who you become.
Describe your style in one word.
Great.
Describe your music in one word.
Legendary.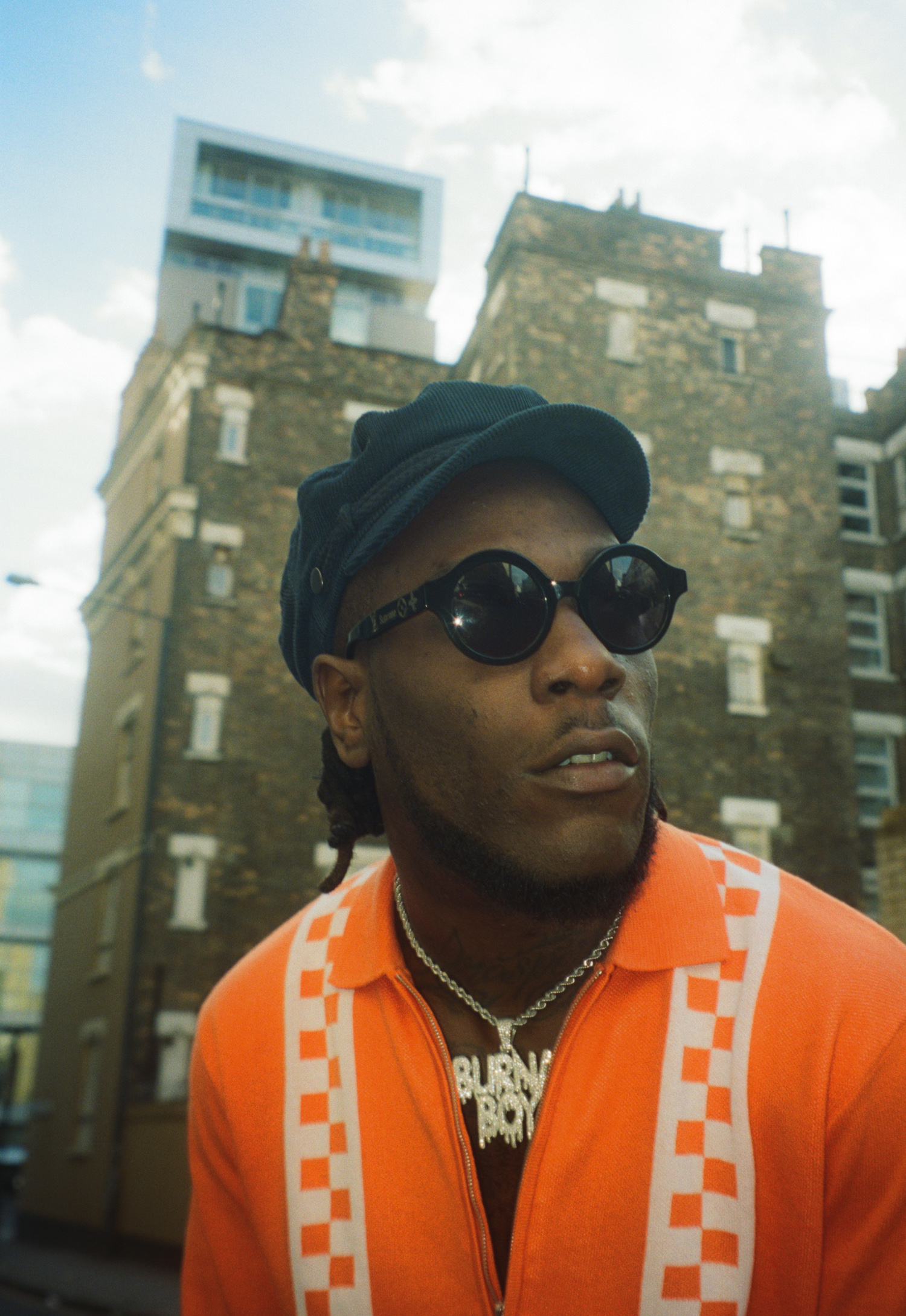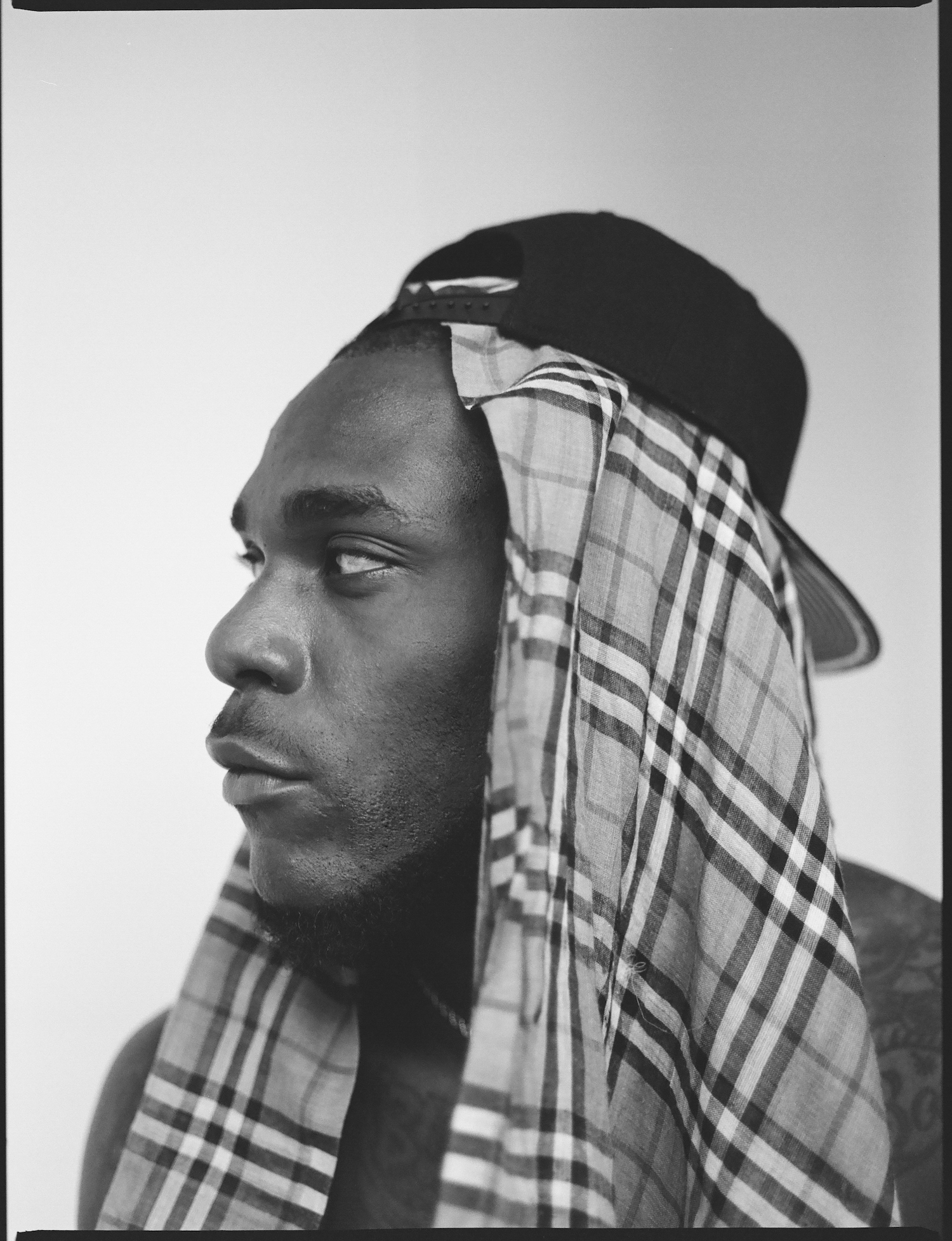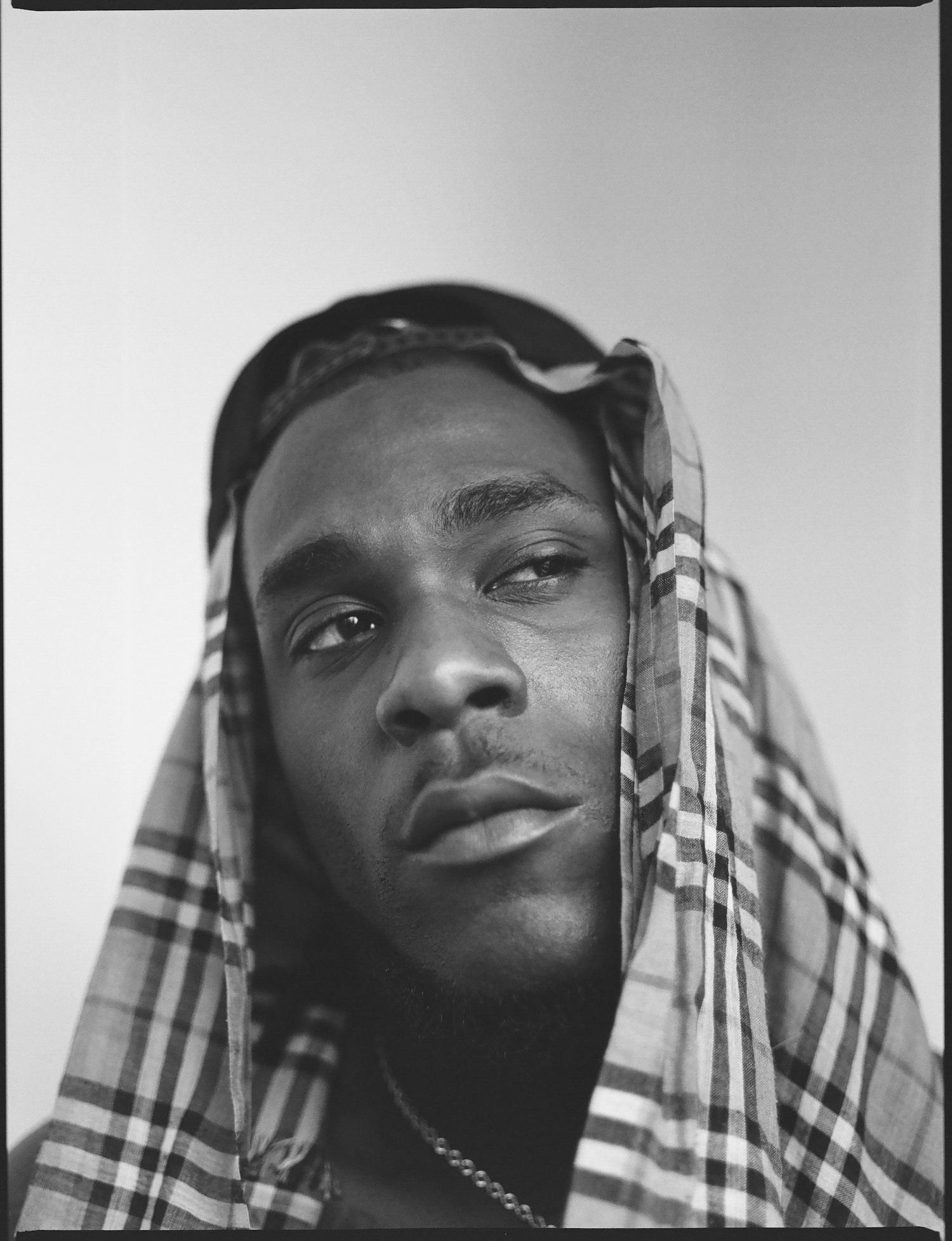 If we went into a wardrobe what kind of brands would we find?
Louis Vuitton, Off-White, Gucci, just stuff you know?
Well, what's your favourite sneaker brand?
I think right now it has to be Balenciaga, specifically the Triple S just because they are goals for me.
What are your thoughts on old skool brands coming back in at the moment like CAT and Umbro?
I think they're so wavy now, especially for people who didn't come up in that era because it's nice to see it because it's so new, it's really some shit. When I see it have to get it, I've been thinking about how to get those shoes off you!
Hat: Artists Own, Scarf: Burberry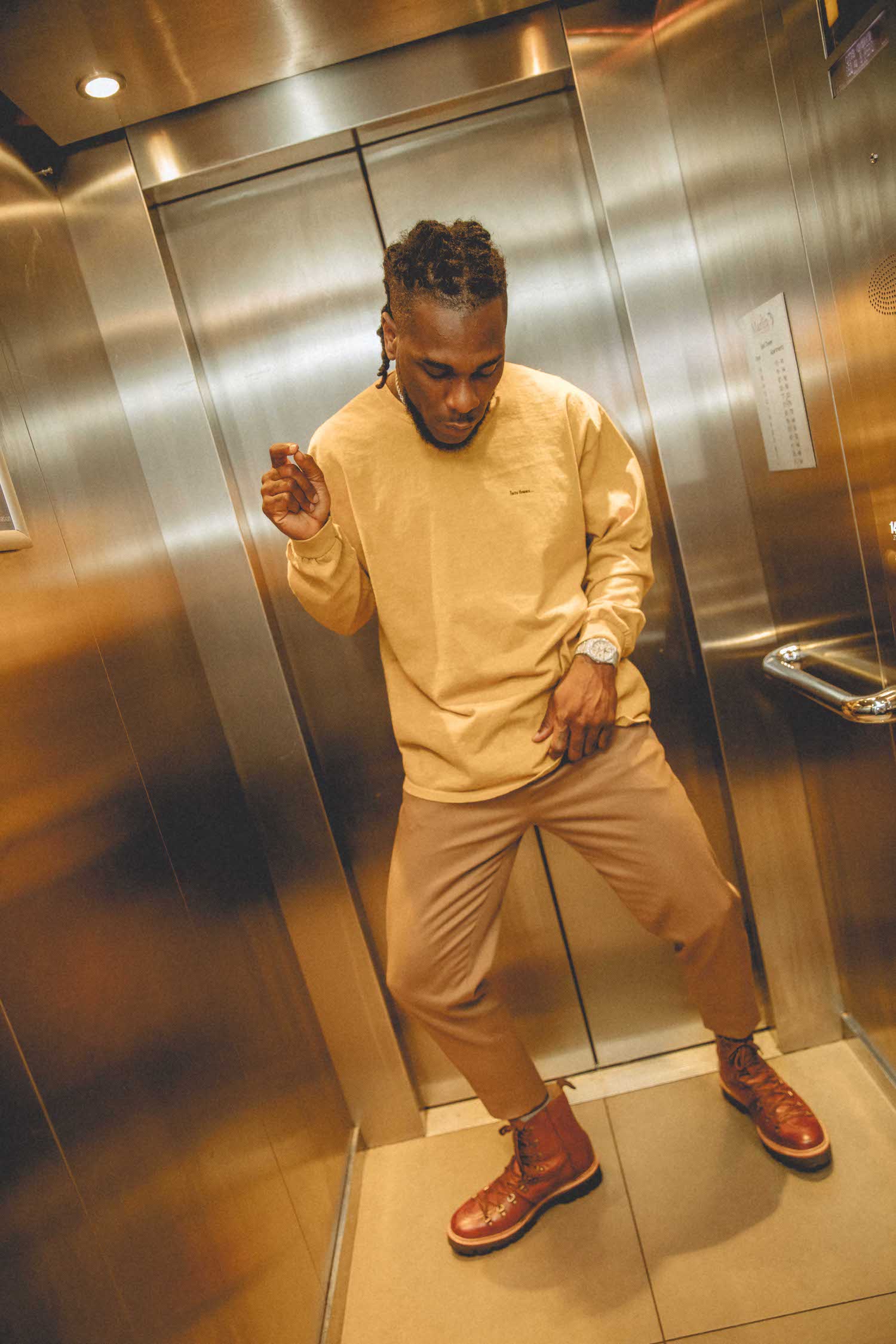 Top: iets Frans @ Urban Outfitters, Trousers: Bally , Boots: Grenson
Do you think that kind of cycle happens with music as well?
I guess that happens in everything in life.
If you had to pick Versace or Gucci what would it be?
If you ask me in 2012 or 2013 I would have picked Versace but in 2018 I think I would have to go with Gucci.
Louis Vuitton or Fendi?
That's tough, I can't decide!
Well, what would you wear to your wedding, Louis Vuitton or Fendi?
Well, I think I would go for Louis and ask my girl to go Fendi.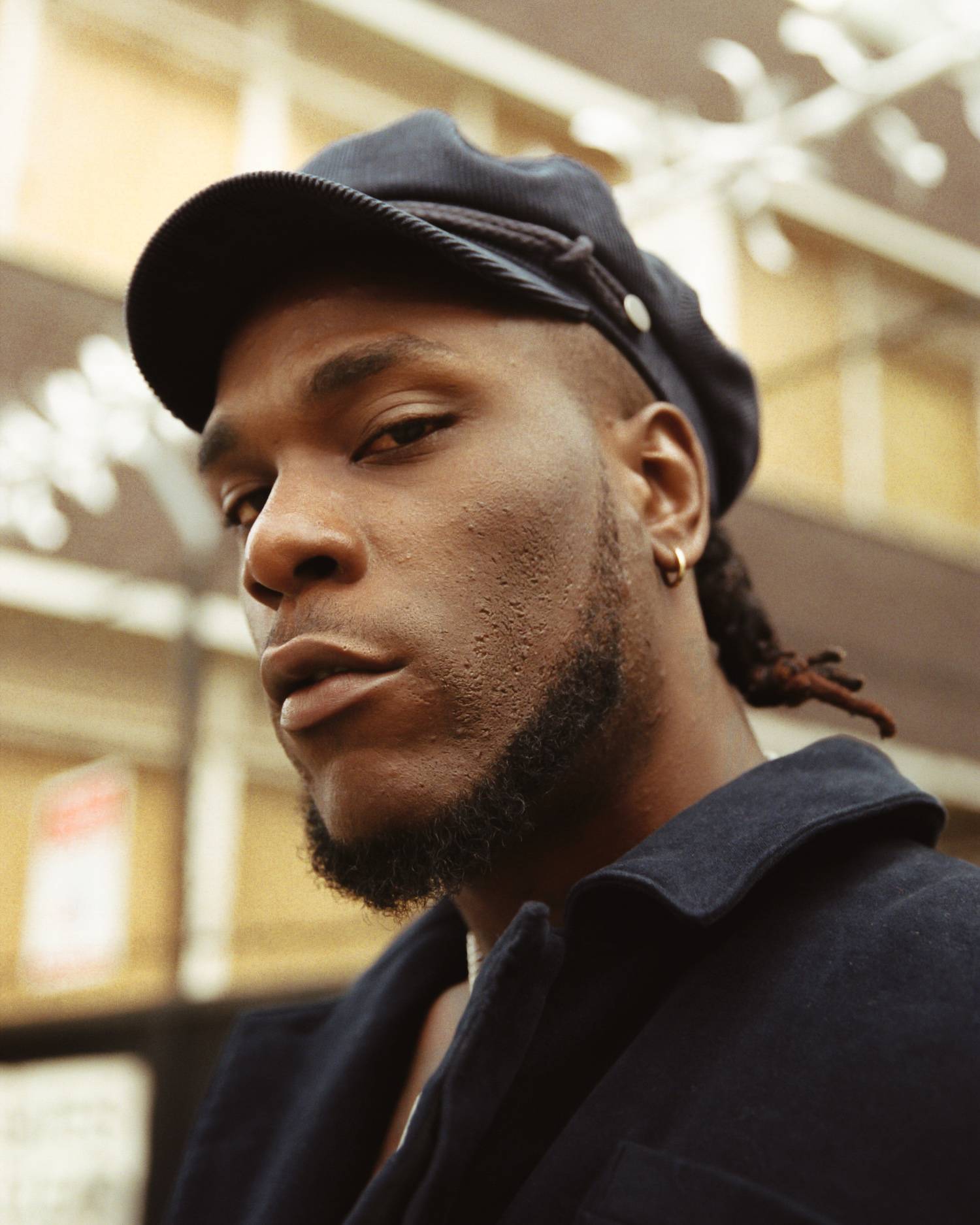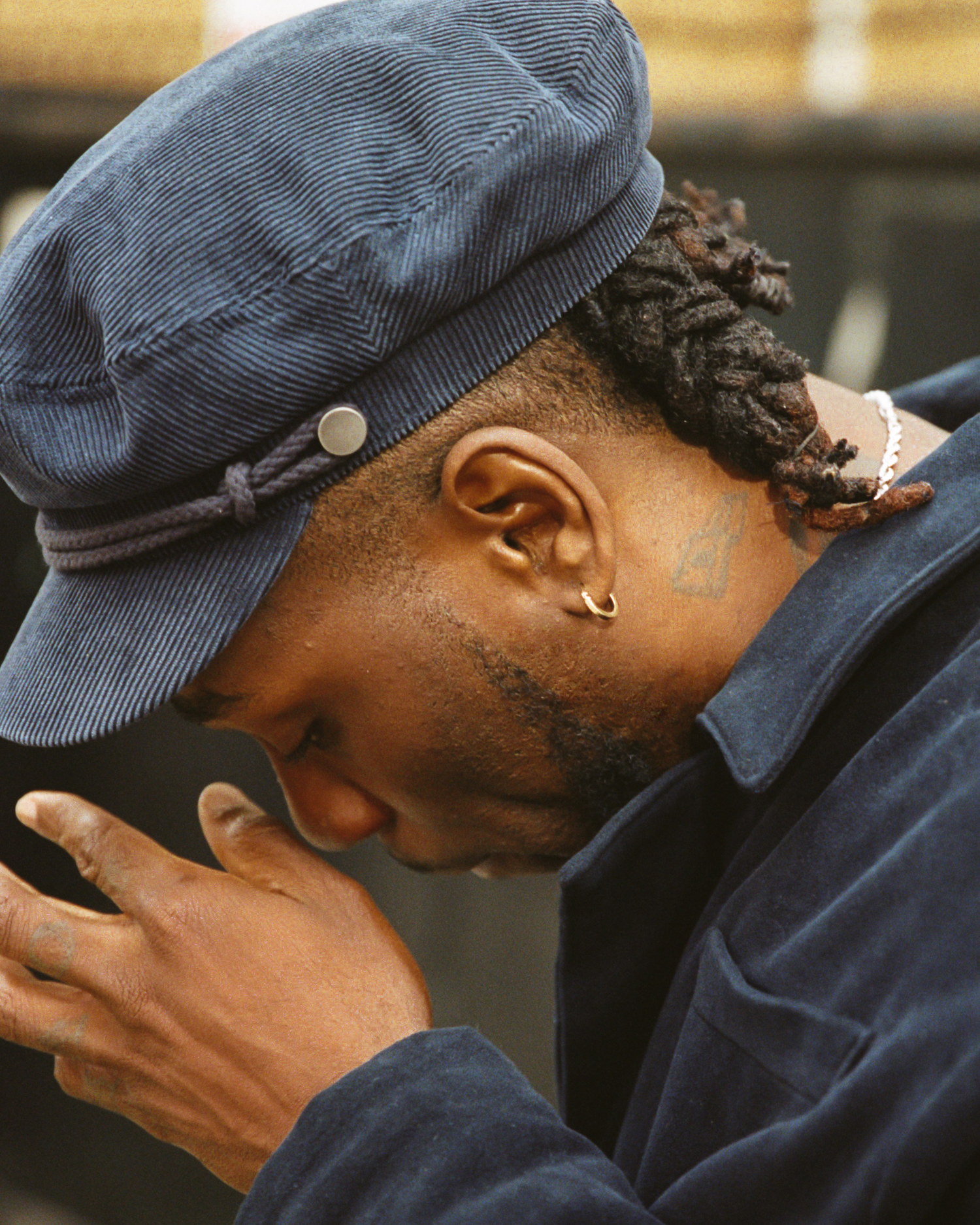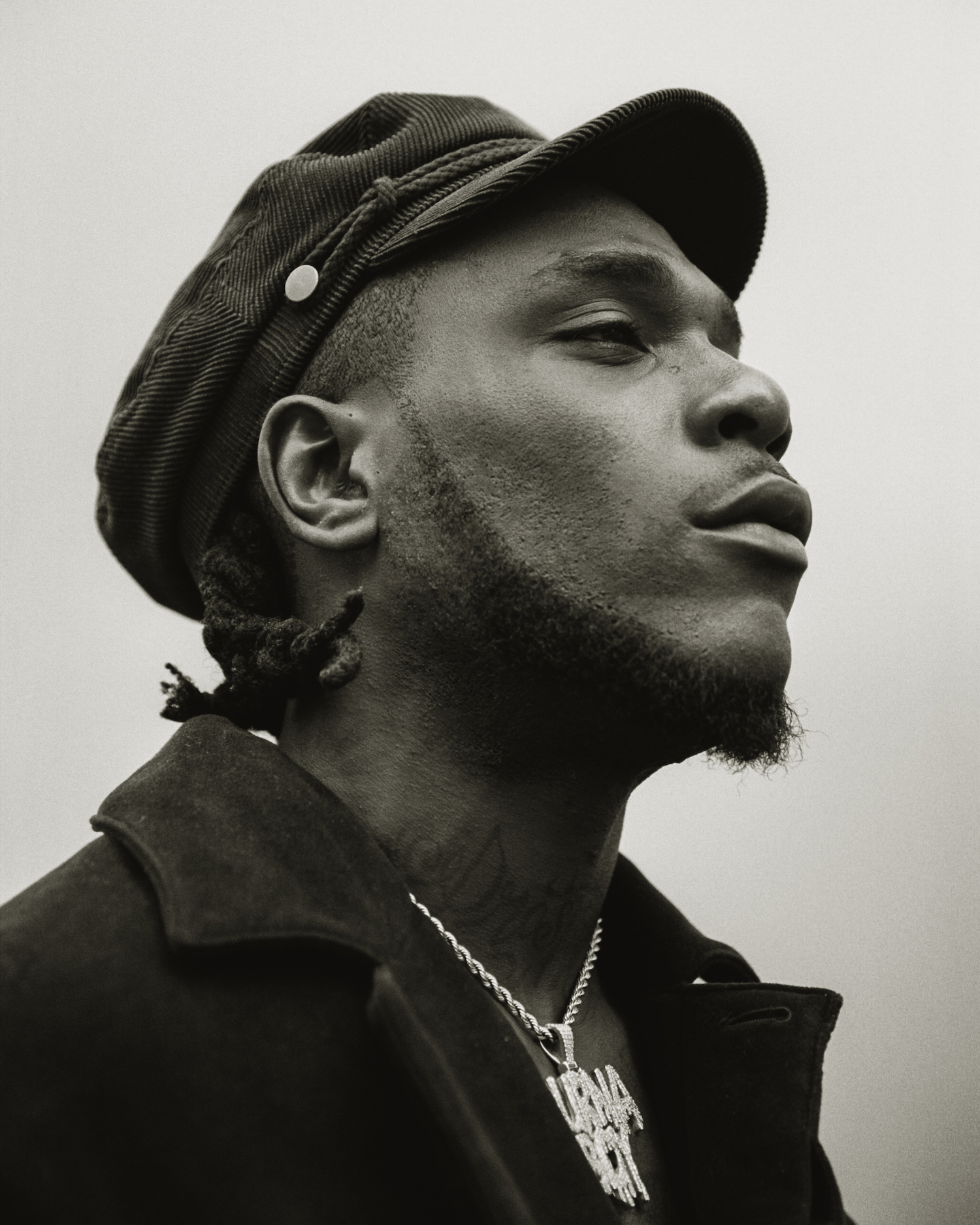 Describe African music to today's generation, because it's changed so much through the years.
I guess with all music you have evolution, like with the rap you would here 5 years ago is so different to what's popping now, I guess that's how it is with life and African music as well. The stuff that was popping 5 years ago is so different to what's poppin' now, life moves on and you just have to go with it or hand it on and stay where you are and make people come back to you.
What would you say your biggest achievement to date is?
I think my biggest achievement is just having a happy family!
So what's next for Burna Boy?
I dunno man I think all I can do is hope for the best and prepare for the worst!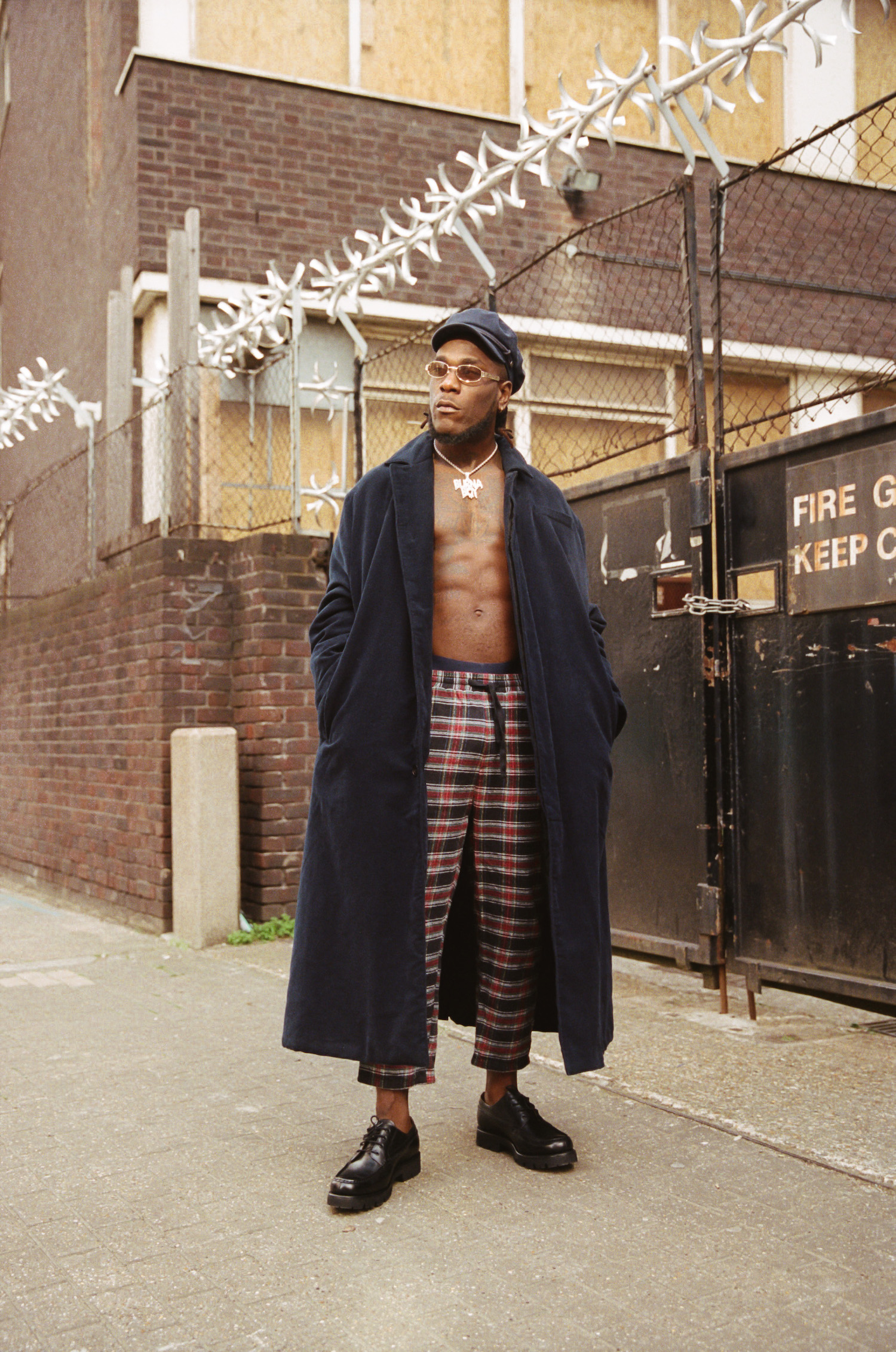 Coat: Katherine Hamnett, Trousers: Urban Outfitters, Shoes: Grenson, Sunglasses & cap: Artists own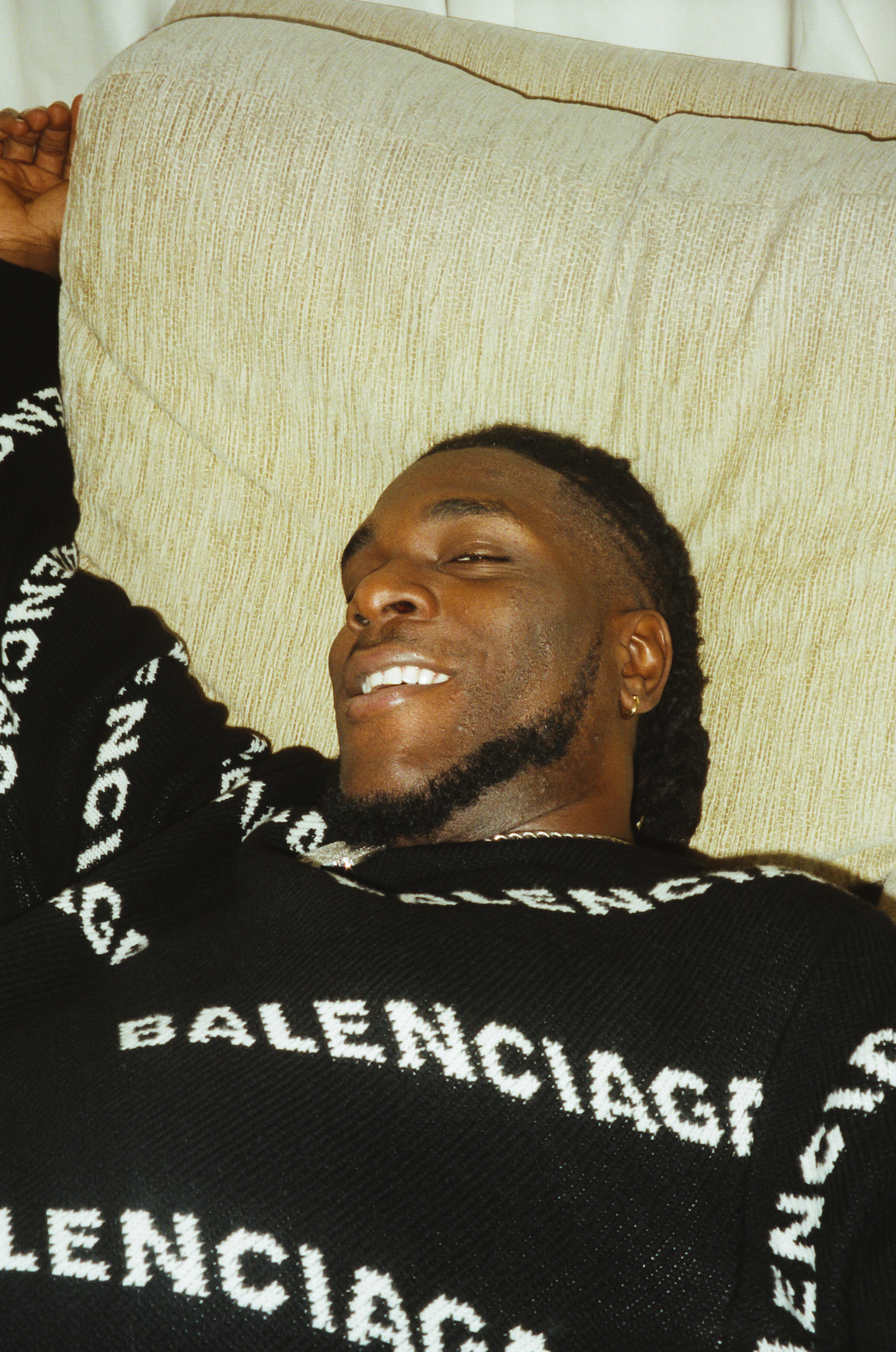 Jumper: Balenciaga @ Browns