Talks new music, haters and his spending habits
"I'll hear a beat and within five minutes I know, Yeah I can rock this"
One of the biggest names in the drill, Loski first gained recognition aged 16 with the song Hazards and through his crew Harlem Spartans. Since then he has stayed at the forefront of the British music scene and become a more well-rounded artist adding more to his catalogue than raw drill. Now signed to Since 93, a label from Sony Music, he is preparing for the release of his new mixtape 'Mad Move'.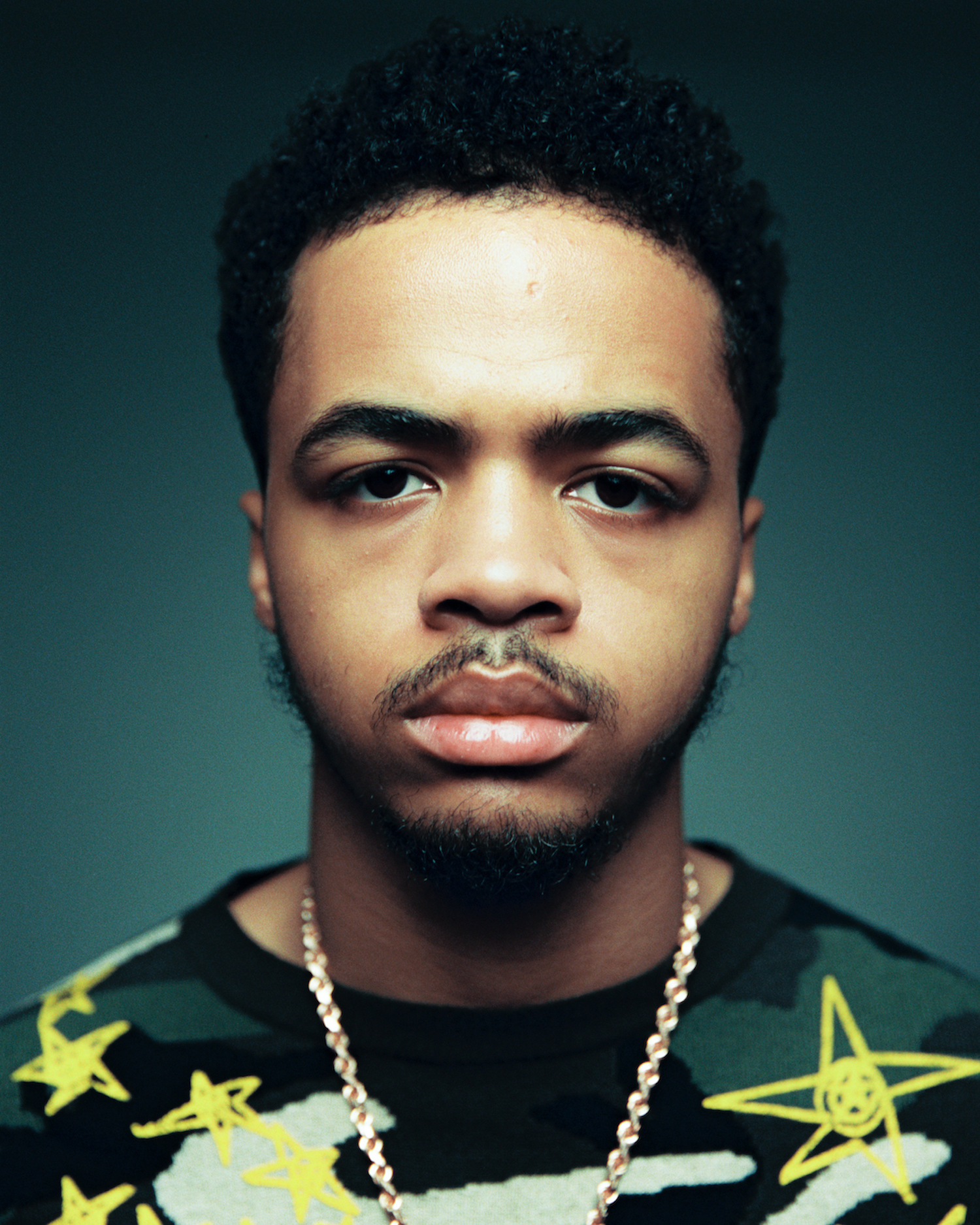 Jewellery: artists own, Jumper: Valentino, Jeans: Amiri, Belt: Vivienne Westwood, Trainers: Nike
When you first blew up you were quite young, how was that?
I didn't really see it like that. I didn't take it seriously, so I didn't see it as blowing up it was just more attention.
Did you find it difficult manoeuvring in the music industry at the beginning?
The first tune I made I was just like 'yeah this is my block this is where I'm from this is what goes on'. From when I took it seriously it was easy. I think I've come through when everyone's come through, anyone can make a tune and it can go off, so I think I came at a good time compared to like 2015.
When did you first know music was going to be your career?
Probably when I made the song Money and Beef I started getting a lot of shows after and I was like 'yeah this is sick'.
When you were growing up what was your dream career?
I wanted to be a footballer, but that's everyone's dream. Sometimes I see the footballers at my age that I used to play with at academies it's like – I was better than you!
Do you remember the first bars you ever spat?
I feel like I used to play around with my bredrin's, but the first proper song was probably forest gump where I sat down and wrote.
When you're making music now do you sit down and write everything?
Now I only write when I'm in the studio, I'll hear a beat and within five minutes I know yeah I can rock with this.
Songs like Forest Gump, Cool Kid and your feature on Go N Get it I feel like are a different sound to what you were first coming out with.
Yeah, Cool Kid I remember when I made it the managers came in and were like this is hard! I definitely tried something new when I made that. Because I made Forest Gump before, but I didn't have a lot of that (sound).
Then Go N Get it, I listen to American music more so the Canadian artist I was with was on that vibe already, so it was a chance to do that.
Are there any other genres you want to experiment with?
Yeah that same forest gump vibe. I've been doing the cool kid vibe a lot recently, so I'll carry on with that and drill still.
Just trying to do everything, when you stick with one thing it gets boring.
You have a new mixtape coming out – is there a mix of sounds
Yeah different flows, trying different stuff. It's hard though because you need to please the hardcore drill fans.
The new fans that I've gained they don't want to know the drill because they don't listen to that.
Have you got a favourite song from the project?
I don't know, I haven't thought of it like that.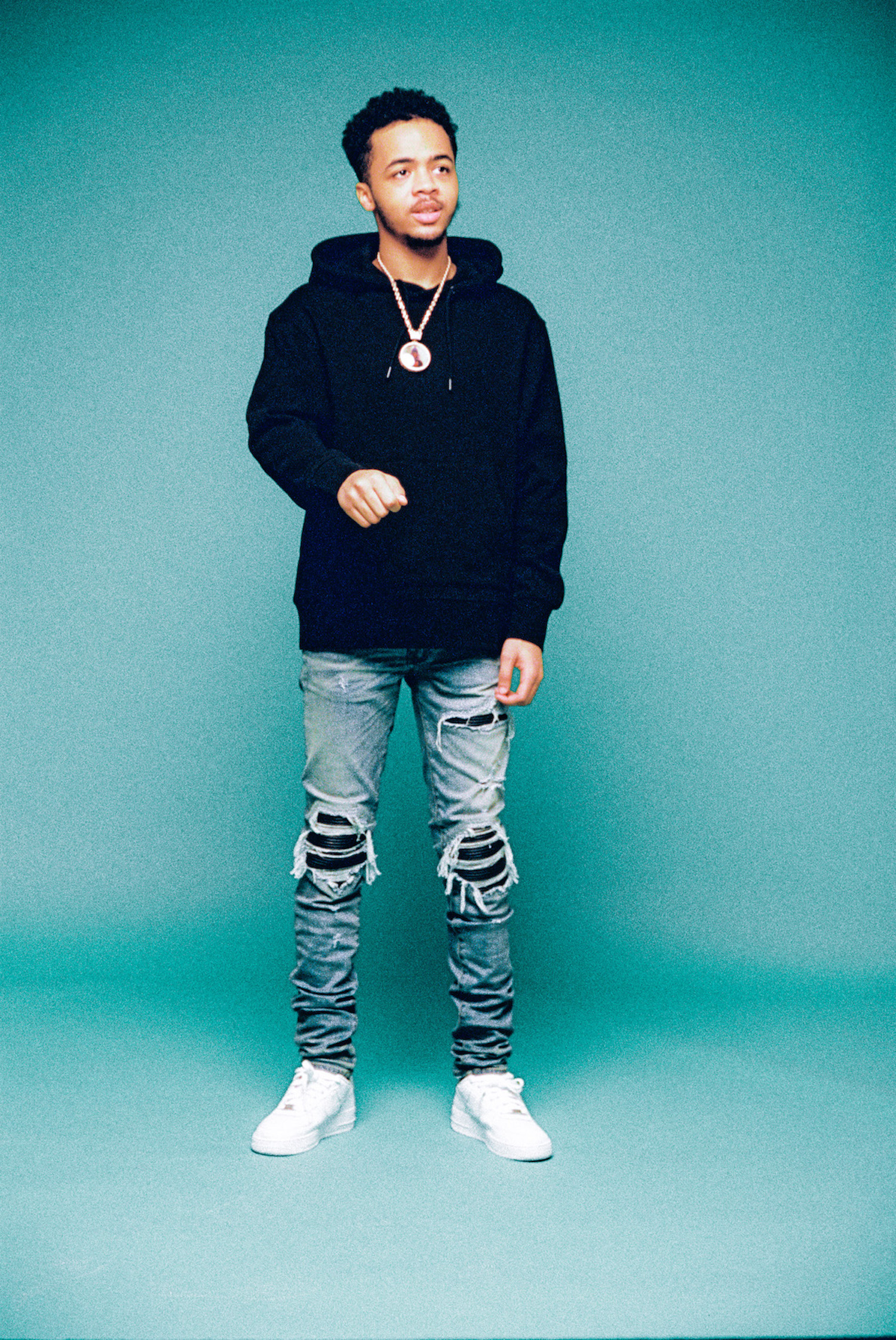 Jewellery: artists own, Jumper: stylists own, Jeans: Amiri, Belt: Vivienne Westwood, Trainers: Nike
When you were growing up what was your dream career?
I wanted to be a footballer, but that's everyone's dream. Sometimes I see the footballers at my age that I used to play with at academies it's like – I was better than you!
Does it change depending on the situation?
Yeah sometimes I'll hear something and think this is hard and sometimes I will think (something else) sounds sick, but I haven't thought of a favourite.
Your tour starts on March 18th, what's your pre-show routine?
I don't know.
At first, I didn't know how to be comfortable performing, I was just rushing through songs not introducing them, not even talking then I am gone – crowds are thinking where is he? Now it's easier.
What track do you open with?
Sometimes Calm Down or Boasy. It depends on how I'm feeling, sometimes I open with Money and Beef. It even depends what city I'm in, but mostly I always end with Cool Kid or Forest Gump because even the drill fans like that.
You have been doing a lot of freestyles with Kenny Allstar and Charlie Sloth
Yeah, they're sick. I feel like I do them more for my hardcore fans. They're freestyles so its raw, it doesn't have to be so clean you can go at it, and that's how it started so it's good to go back to that.
You talk a lot about fashion on Boasy, what is your best outfit?
I don't have an outfit saved just when it comes to a day I'll go out and just buy some mad drip. If I heard there was a party today I'd go and cop something, and obviously everything will stack up after a while.
What is the first piece you remember going out and spending a lot of money on?
I don't even know, I just went crazy! I was with my bredrin's just spending a lot on them, it's nice when you can do that stuff. Obviously, I had bought nice things before but going and spending thousands, its sick.
What are your favourite brands?
Louis Vuitton, Amiri Jeans. It changed at first I was rocking with Valentino, Canada Goose, Louboutin, there's a lot of stuff I feel like I get bored of, once you buy a certain amount of stuff its dead.
I think Dior is sick – I think everything falls off and comes back and Dior I'm rocking with right now.
With Louis Vuitton is that since Virgil Abloh became the artistic director?
No, with Louis Vuitton it's expensive, say with Louboutin's a lot of people can be in it. Louis Vuitton, you can get £2,000 jumpers, you're not going to see everyone in that.
What is the most rewarding thing about making music?
Good feedback, when I say certain things and people recognise what was said or the meaning to it, or when there's a person that has been through the same thing.
Obviously, you get the haters and that gets to me but then I realized the comparison between the hate and the love and it's not even close.
Is it crazy that someone even took the time to hate on you?
Yeah, that's what I think more – I don't even know you.
I like when people are chatting and my fans are sticking up for me.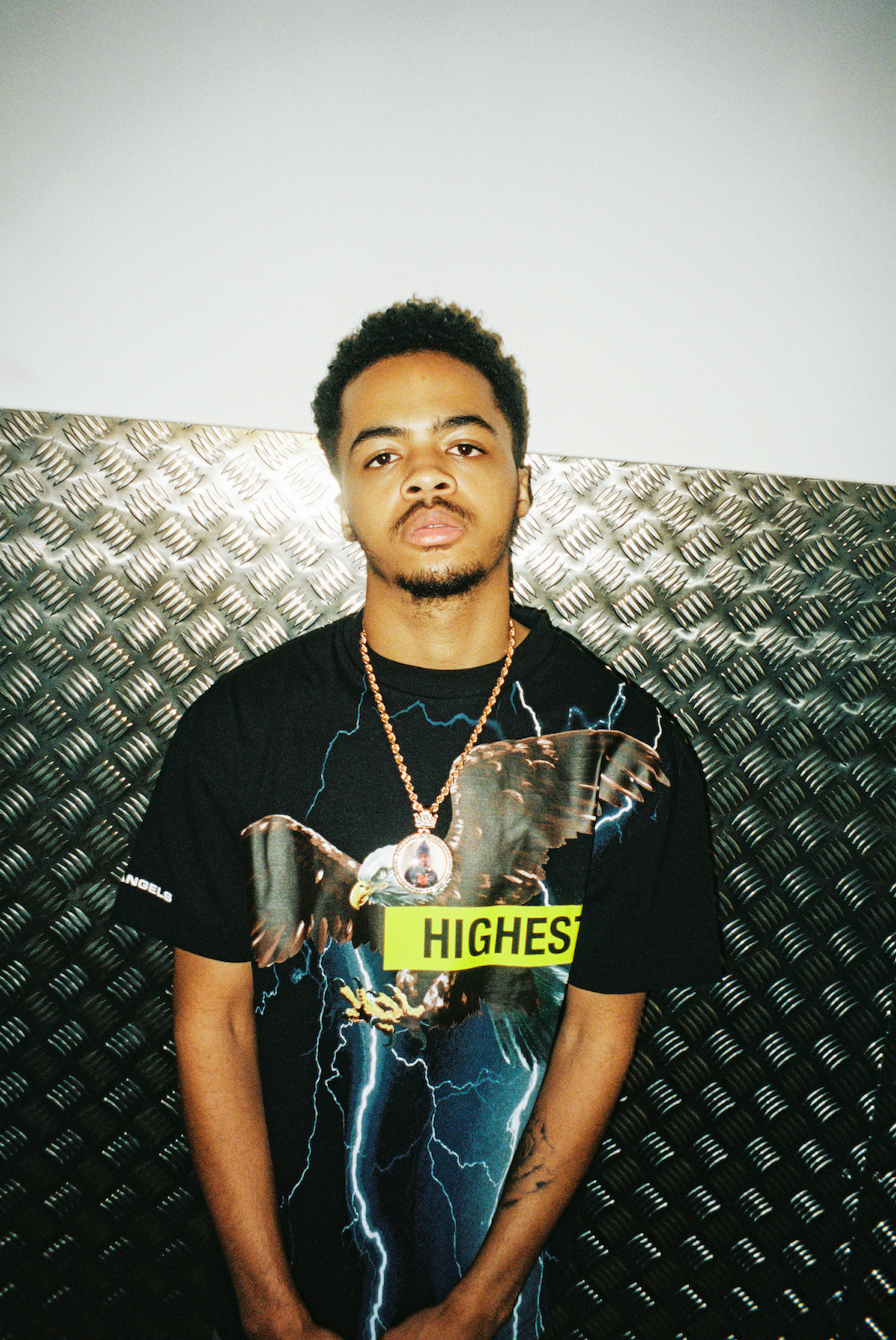 Jewellery: artists own, T-Shirt: Palm Angels, Jeans: Amiri, Belt: Vivienne Westwood, Trainers: Nike