A perfect home from home!
Where: Staybridge Suites Oxford Road, Manchester
Modern and contemporary, Staybridge Suites Oxford Road is suitable for families, couples and people on business. Located within the Crowne Plaza, guests can experience the best of both worlds, having access to the facilities in both hotels.  Think hotel within a hotel!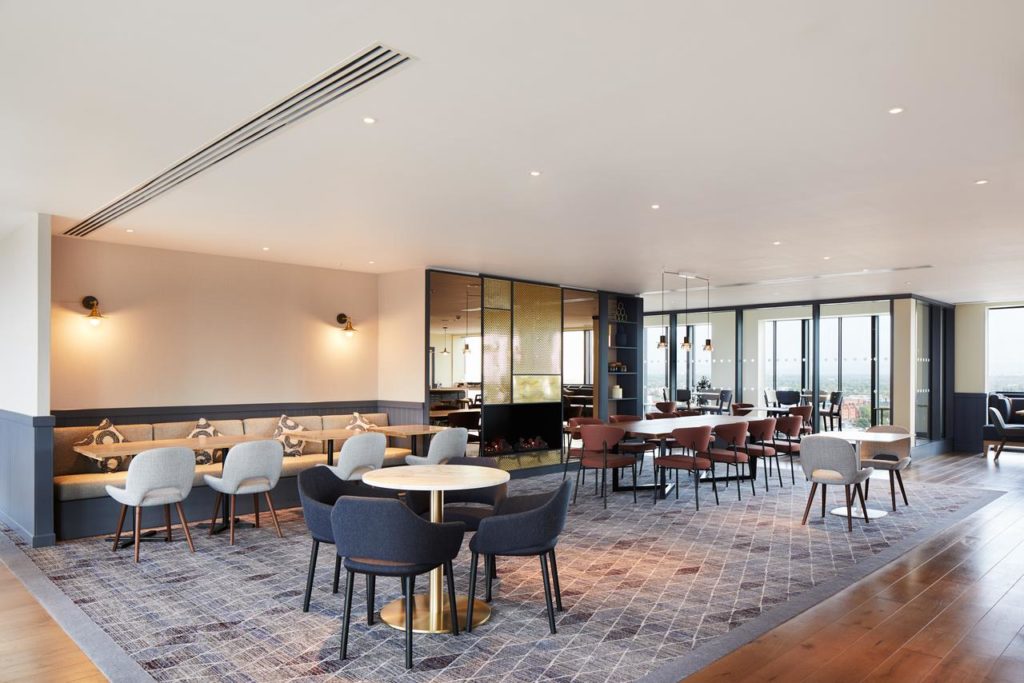 The hotel promotes a social stay and has a great 'hub' communal area.  This boasts complimentary pastries and hot drinks for guests to enjoy either at a table looking out over the city, or slouched into one of the comfy sofas (in front of the fire).  Magazines, board games, console and tv's all available to keep you entertained, should you wish to stay in rather than hit the town.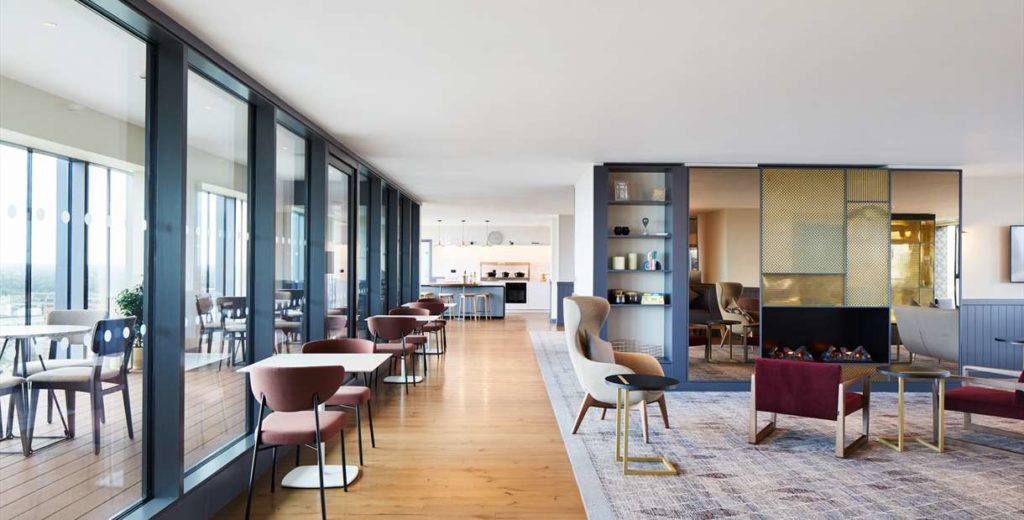 Naturally, the beds are a dream, and it is so quiet in the room that it feels like you are the only person staying!  Bathrooms are stocked with essential toiletries (which smell like a spa!), so not to worry if you forget anything.  Full length mirrors in the room make for the perfect outfit selfie.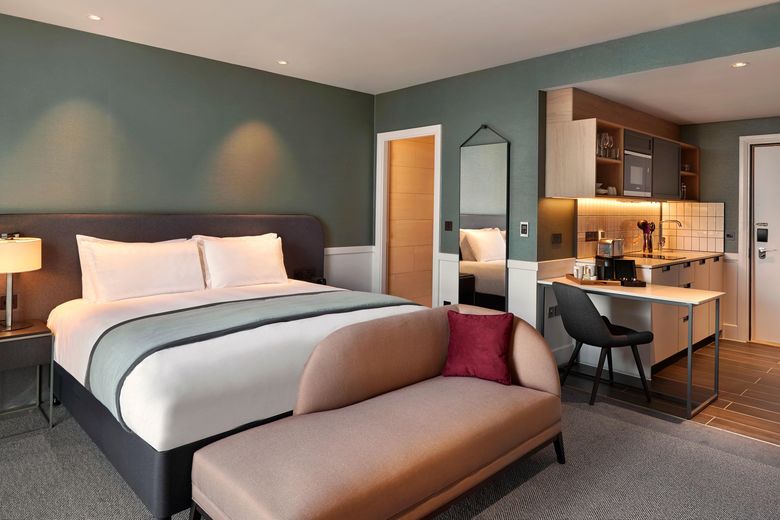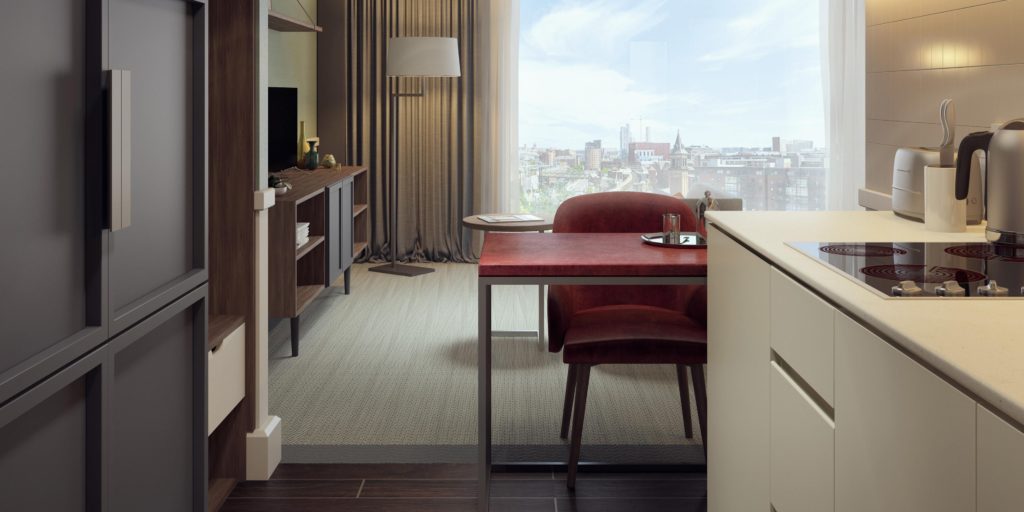 Suites come complete with fully fitted kitchen, with every pot, pan, and utensil that you may need; certainly saves on eating out.   They even have Tupperware, which is handy for those longer stays.  And to make things easier, the Pantry at reception sells microwave meals!
Fun fact: There is a launderette on site!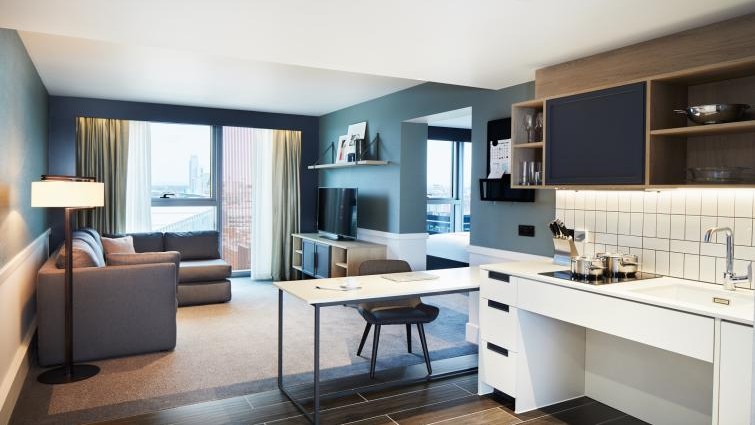 5 reasons to stay:
For longer trips, this is an ideal spot, with in room kitchen for home cooked meals, to the communal hub if you feel confined to your room.
Use of facilities in the Crowne Plaza are just a lift ride away; including fully equipped gym, bar and restaurant.  Definitely recommend The Laureate for dinner.  It is based in the Crowne Plaza, and worth every penny.
3 days per week there is a happy hour, with complimentary food and drinks.
Free hot buffet breakfast – with a huge spread!  Homely touches with cereals served in family sized boxes (Kelloggs'), helping yourself to fresh milk in the fridge, and pouring juice from the carton.
Great location.  Just an 8 minute drive from Manchester Picadilly station.  Great views of the city from the hub, and if you are lucky enough, your room too!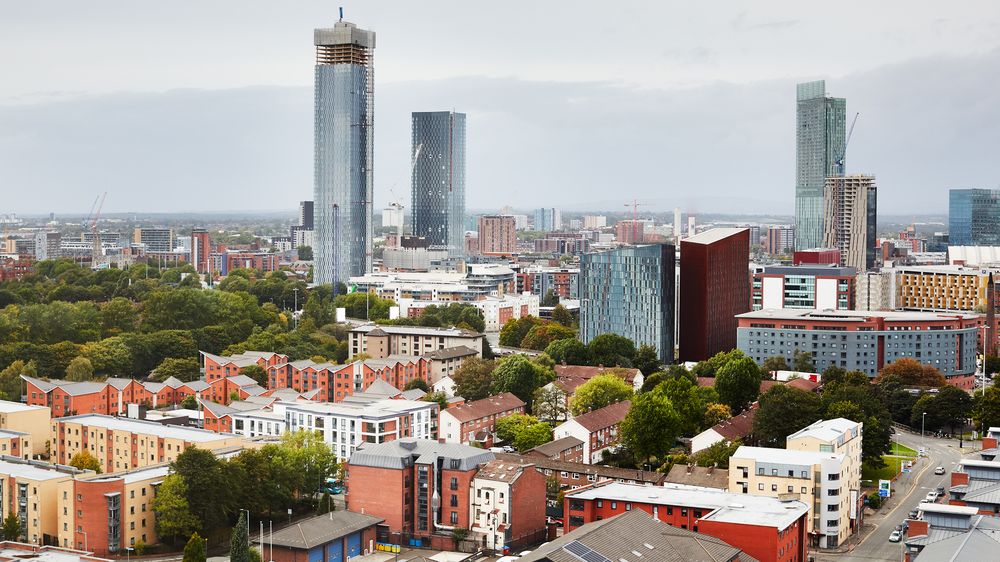 For more information, and to book, click here.