Modelling, music & style.
"It's so important not to isolate yourself because you're just constantly working, go be with your mates and your family!"
From an early start at modelling at the meagre age of three months old, Emerald Lewis has never strayed far from the camera since. Eventually taking a turn into the world of radio DJ'ing and presenting, she's since gone on to play with the likes of Katy B & MIA as well as host her own radio show. PAUSE sat down with Emerald to see what's next.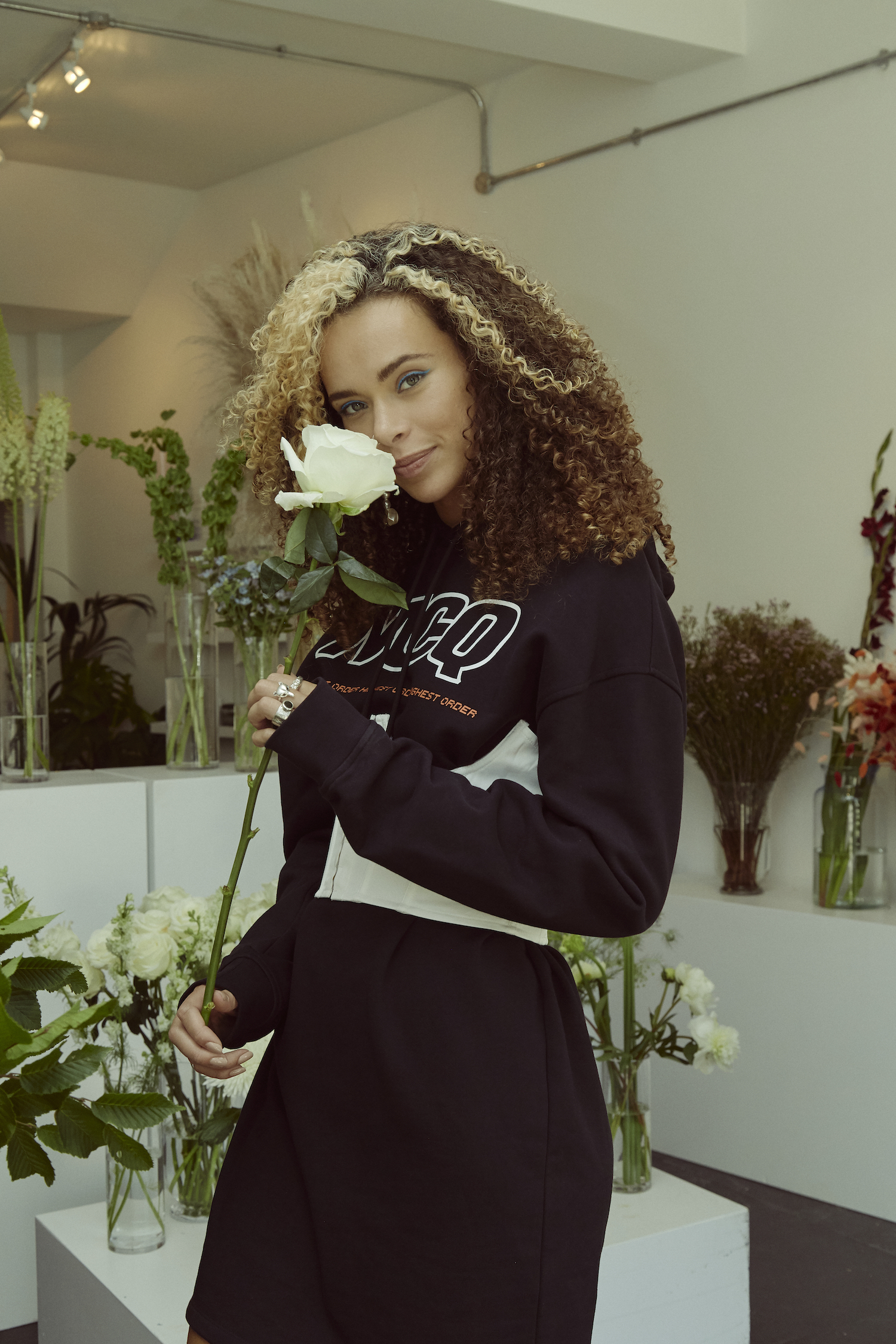 Jumper: McQ, Corset: House of CB, Shoes: Nike @ Schuh, Earrings: Lindex
Let's start from the beginning. You started off as a model. How did you get started in that?
I did my first shoot when I was about three months old and carried on until I was a teenager along with my two big sisters. A very long time ago!
What inspired start in DJ'ing?
My dad was a DJ in his twenties, he did a bit of radio too. I grew up around music lovers and I played the piano from quite young. I always wanted to entertain but I didn't know what form that would take. I was obsessed with music and I loved radio so it seemed like a natural choice to pursue when I finally decided to give it a proper go.
Coming from a modelling background, was it always your plan to transition into presenting and DJ'ing?
No it wasn't always my plan. I never knew exactly what I wanted to do. I actually got stuck in a big rut mentally. Modelling was quite damaging for mental health so I quit and felt quite confused for a while. I wanted to have more creative control over what I was doing. I didn't go to university but I wanted to try different things to see what felt right.
I was a teaching assistant for a bit, I was in a dance troupe, I did retail and worked in a pub for years too. Deciding to DJ and present was kind of a Eureka moment for me. I wish I had started sooner! But you never know what you want to do until you've done what you don't want to do.
Do you remember the first time you played live? What was that like?
I think the first time I actually got paid to play was for a mate's birthday in South London somewhere when I was maybe 16 and I was playing on CDs but out of my huge book of CDs which was such a pain in the arse. I'd written out the tracklisting for each CD I'd made on note paper and kept mixing them up, bloody nightmare!
I played a few times in this same unorganised fashion for my friends who had a record label called Young and Lost Club over the next few years, sometimes with my sister. I just always remember having so much fun every time, I didn't get nervous then, I got more nervous as I got older ironically!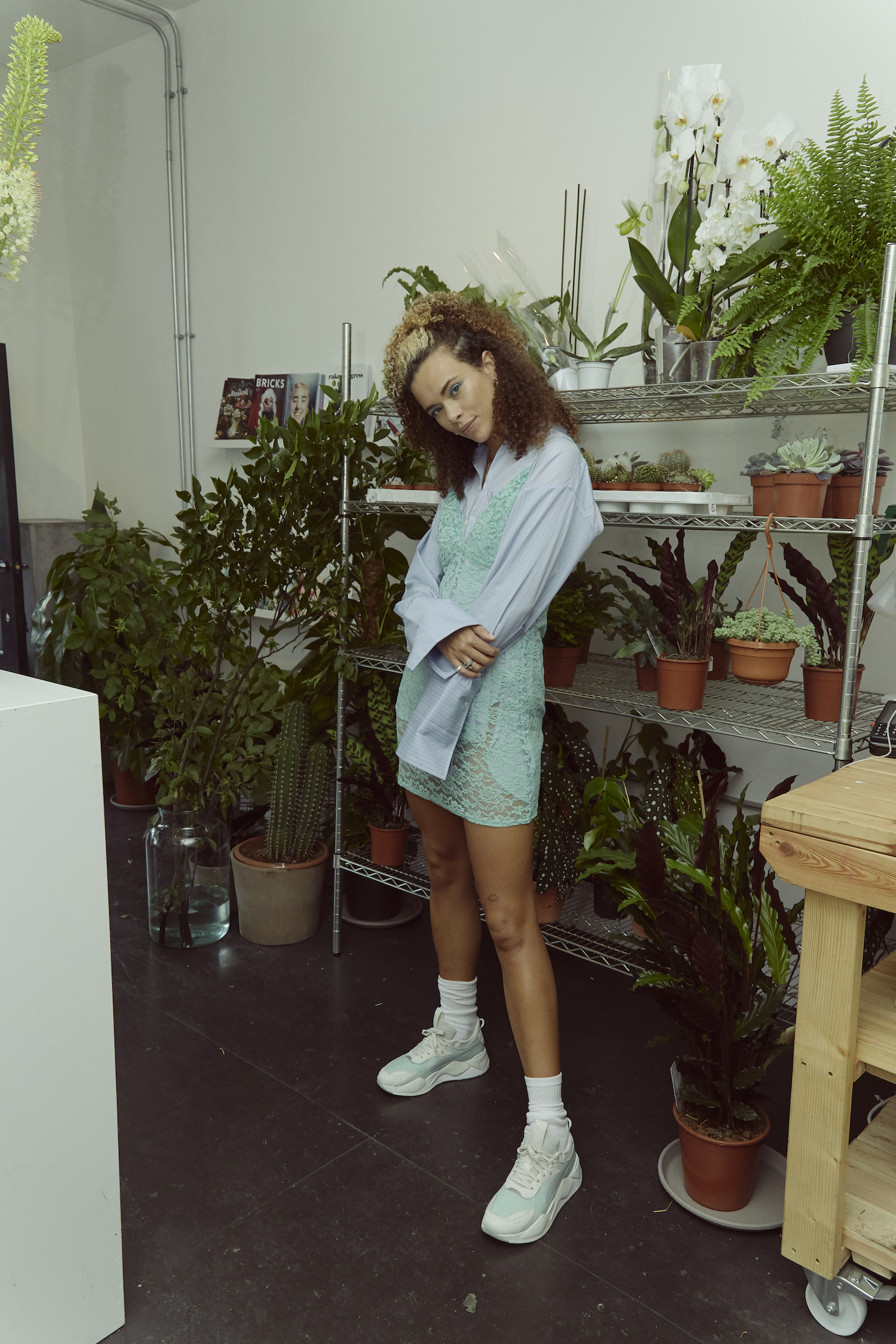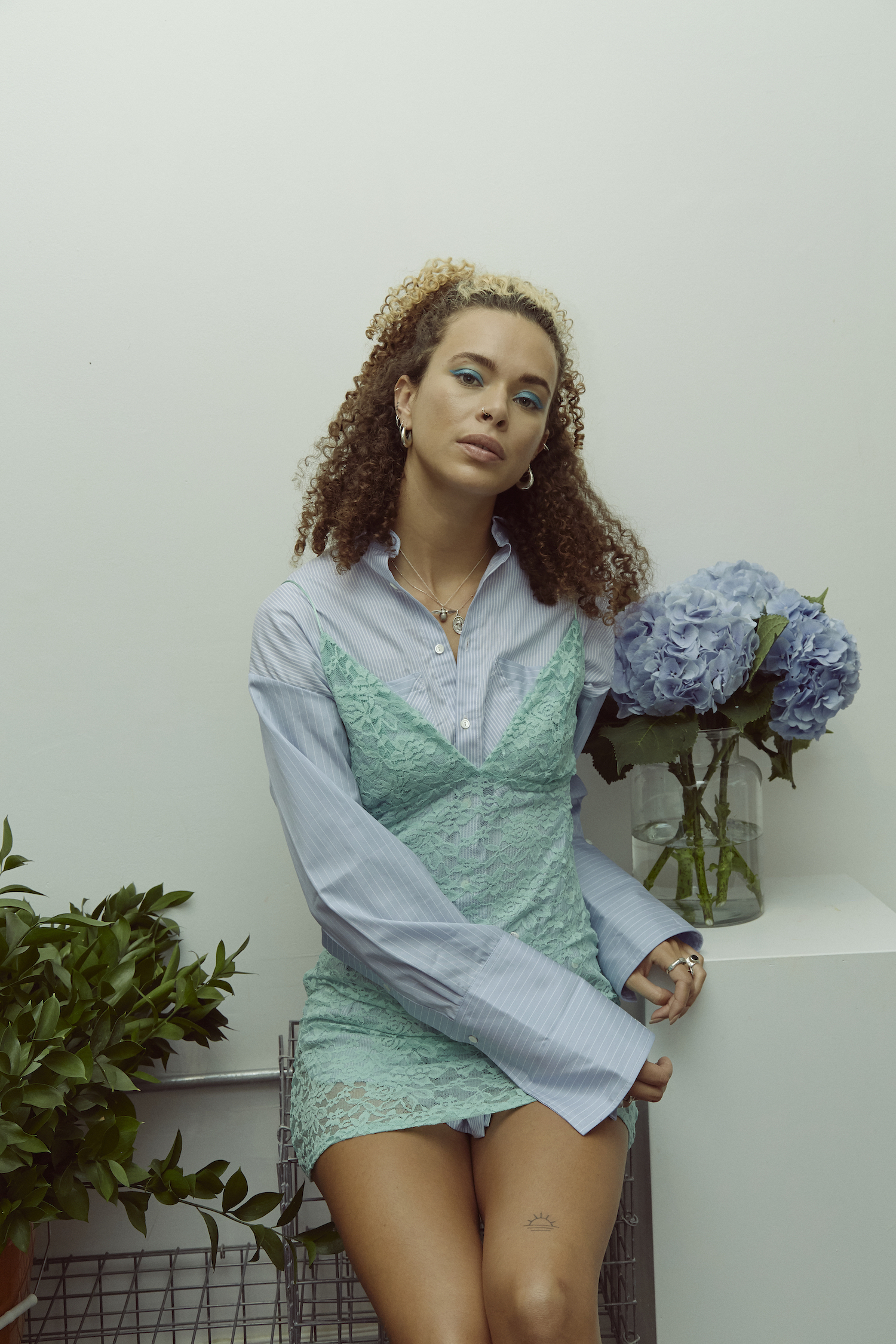 Shirt: Palmer Harding, Dress: Urban Outfitters, Shoes: Puma
Who has been the most significant influence on your career? Presenting and Djing.
A whole host of people but I'd have to say my Rinse FM family. I was a complete noob when I started there and was really taken a chance on. I've learned an invaluable amount about music and been given huge opportunities that I am so grateful for.
Also my sister, Sapphire. When I was trying so hard to get presenting or DJing jobs she was hairdressing which meant she always knew someone who knew someone looking for someone.
And what's your favourite track to play, ever?
That is a question that is absolutely impossible to answer!
Top: Nike, Jeans: Monki, Heels: River Island, Sunglasses: Urban Outfitters
What artists are currently listening to, UK wise?
Ok here are some great UK producers/labels I've been playing a lot recently. Arma, Highrise, More Time Records, Nervous Horizon, Scuffed Records, Highrise, L U C Y, Scratcha DVA, KG, Cooly G, there are so many more I want to put but there's a little taster.
What's the most starstruck you have ever been?
When I was in New York and I realised the sexy man sunbathing opposite me was David Gandy and the first thing I did was ring my mum because I didn't know what else to do.
You do so many amazing and different things, what would you say has been the highlight of your career so far?
Definitely, last year touring with MIA as her DJ, hype woman and backing vox was ridiculous. A literal dream come true for me.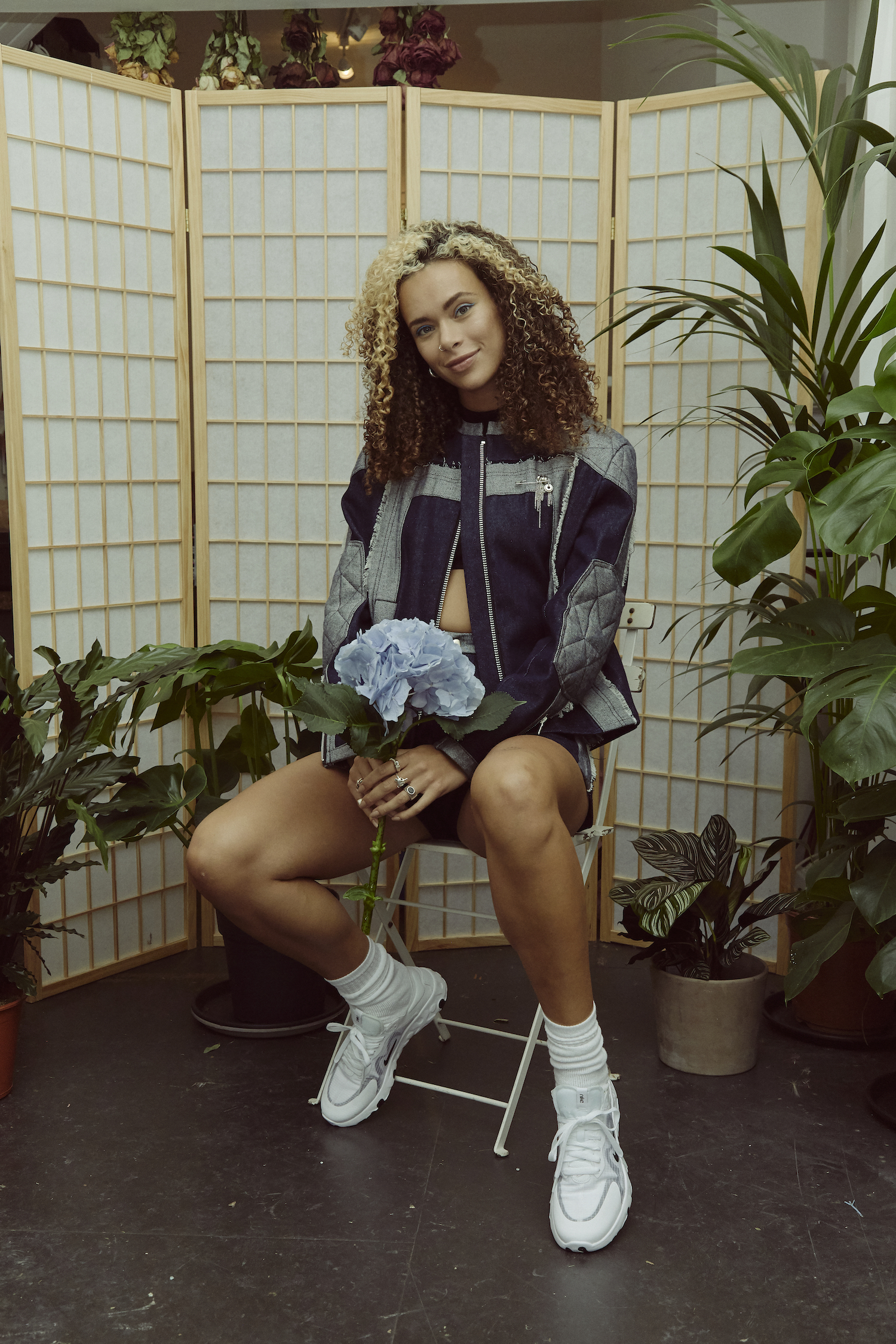 Co-ord: Sadie Williams, Top: Motel Rocks, Shoes: Nike 
You're about to play at 'Afronation,' one of the hottest festival – what's the feeling before a big gig like that? Do you ever get nervous?
Yeah, I do get nervous, every time actually. But a shot of tequila, and dance it out a bit and the nerves soon disappear.
You're a DJ, presenter, and more. How do you balance all these creative outlets?
One element normally takes over for a time just naturally but it is overwhelming sometimes. I struggled with stress a lot before I had the great team I have now. I think it's important to choose life over work sometimes. Which can mean turning down a big gig to go to a wedding or something. It's so important not to isolate yourself because you're just constantly working, go be with your mates and your family!
Besides DJ'ing & presenting, is there anything else you like to do to express yourself?
I play the piano and sing a bit but that's private just for me! For now anyway.
Describe your style in one word.
Playful
Where do you find fashion inspiration?
Out and about mainly. In real life.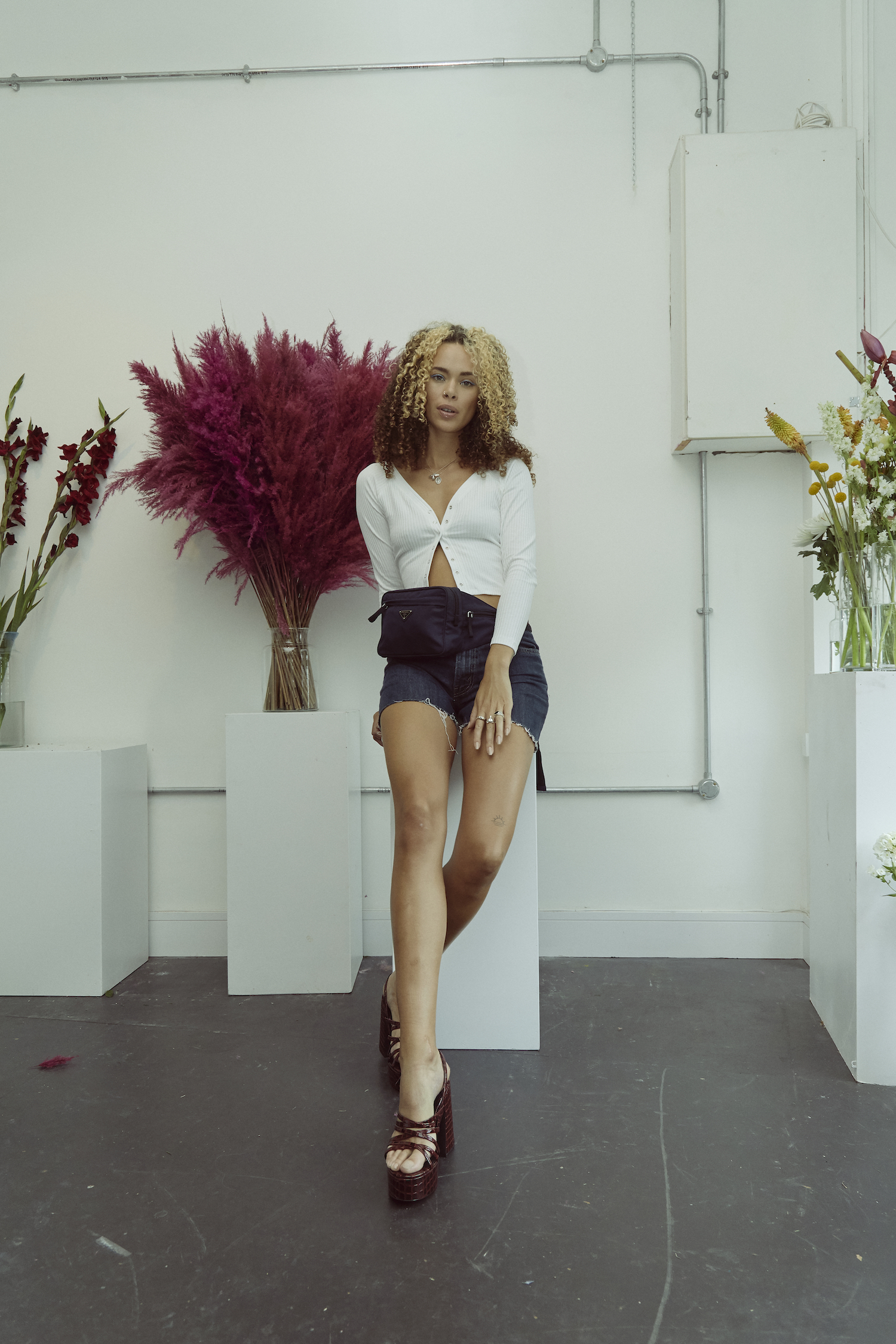 Top: Monki, Shorts: Levi's, Shoes: Schuh, Bag: Prada
Who would you say is your style icon?
Hillary banks mixed with Ashley Banks
What's the loudest outfit you have ever worn?
I can't remember but I did in an astronaut costume at Glastonbury this year.
What's the most worn item in your wardrobe?
My white air force ones. My boyfriend wants me to throw them away, I've had new pairs but I can't bring myself to throw away this battered pair.
What's one current trend that you love and one that you don't like?
Long live the crop top! I hate too much makeup.
One swipe through your Instagram and it's clear you're genuine. How important do you think it is to be yourself when you get into your career?
It is really important but it's equally important to keep your personal life to yourself. I understand if for some people they project something different because Instagram can be a business tool. I just feel super weird and uncomfortable when I feel like I'm doing something that doesn't make me feel good or like myself.
With already a big list of incredible achievements, what can we look forward to next?
I want to put my own tracks out soon, and I've got new radio shows coming, bigger and better, more interactive and a lot of fun!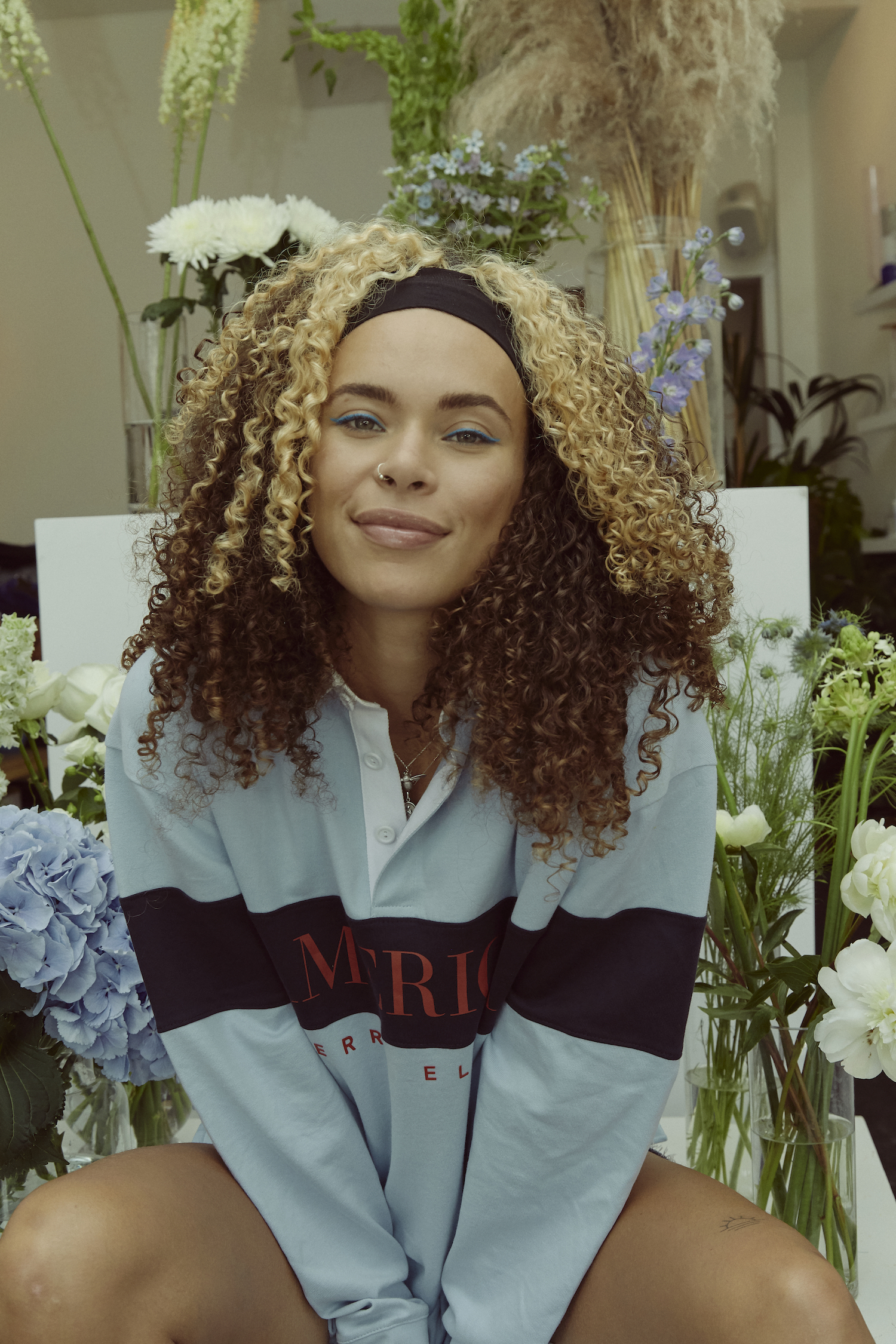 Top: Perry Ellis, Shorts: Urban Renewal at Urban Outfitters, Shoes: Puma
Emerald plays The Warehouse Project on Saturday 5th October for Metropolis & Wah Birthday. More info & tickets here.