Talk touring, collaborating and the industry.
"I'd rather compete than collaborate. We don't need nobody to do what you're trying to do, you can get this shit done yourself."
Coming together for a special collaborative project, Young Dolph and Key Glock show no signs of slowing with a slew of dates across the US, UK and further afield under their belt. PAUSE sat down with the creative duo to talk music, labels, the industry & more.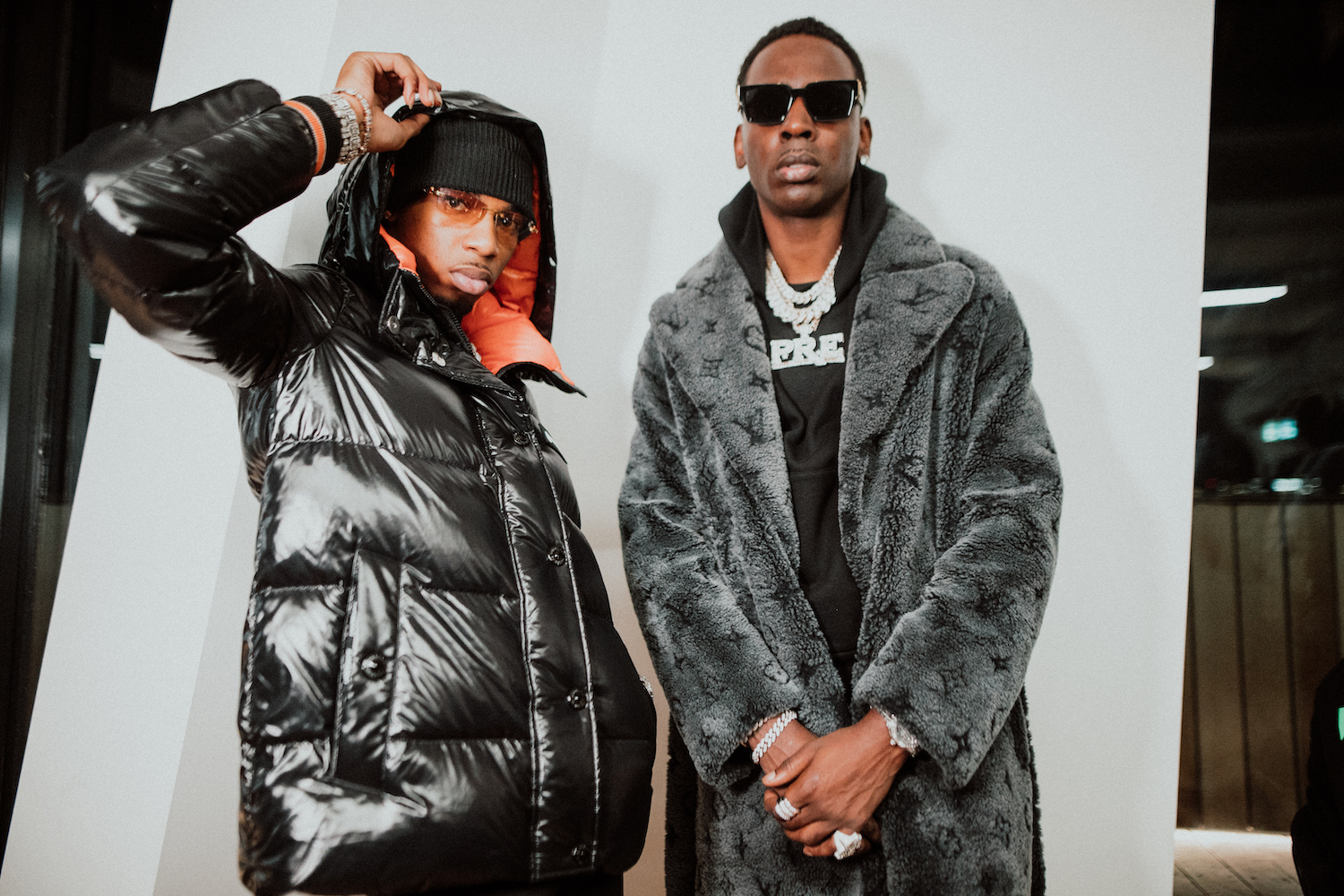 So I'm guessing today's been exhausting, so many interviews then you guys did a pop-up for your fans, you were in Paris as well right? Where else did you guys go recently?
KG: Manchester
YD: Birmingham, Belgium.
So tell me about your project that you're working on. You're touring together and I heard a lot of people say that they've seen billboards all over Los Angeles, how did you guys both collaborate at fist?
YD: It unfolded on its own. It went from a song to a whole project. We decided to record the songs, shot the videos, record the songs, shot the videos, record the songs, shot the videos, photoshoot, get the artwork done, put that shit out.
How long did that all take?
YD: Two weeks.
KG: I don't even think it was two weeks.
YD: It wasn't longer than two weeks. Might have been 10 days or some shit.
Wow, how do you do it?
YD: We were like, this is off, we were in the zone. Wasn't nobody around us but personal partners and the team listening to this shit with us every day all day and then we go shoot this video tomorrow, come back and record so it was like you were blocked off from everything and everybody. We were just focused on us and focused on "fuck it we finna do a project and we stayed down."
How important do you think it is to collaborate and not compete?
KG: I'd rather compete than collaborate. We don't need nobody to do what you're trying to do, you can get this shit done yourself. That's why I don't really do features.
Tell me about the relationship between you guys you said you're brothers right? Cousins? How important is it to be around family in your team?
YD: That shit mean everything. It means everything. Especially when you're not just a worker. We're at the point in life we got something really going on in life. What I got going on, you're going to want your family around you. Just to keep you humble, just to keep you same, just to keep all the shit away. When you have you're real family around you they don't even allow you to have bullshit people around you. That's just how I am, how we were raised and how we came up from when I first started hustling, made my first hundred dollars and broke that shit down and split it to my little brothers all the way to right now.
I always been like that, shit never changes. My purpose for this shit be a whole nother' reason for everybody else purpose for this shit. My whole purpose is to do this shit for my family. If I'm going to have to get in a situation where it's really going to control my time and I can't really do for my family or give to my family or really move how I want to move I'm not getting into that situation. End of the day this is for my folks anyway. I really enjoy my folks and then have a career at the same time versus I want to be so stuck and drowned in my career that I forget who my people are. I just can't do that.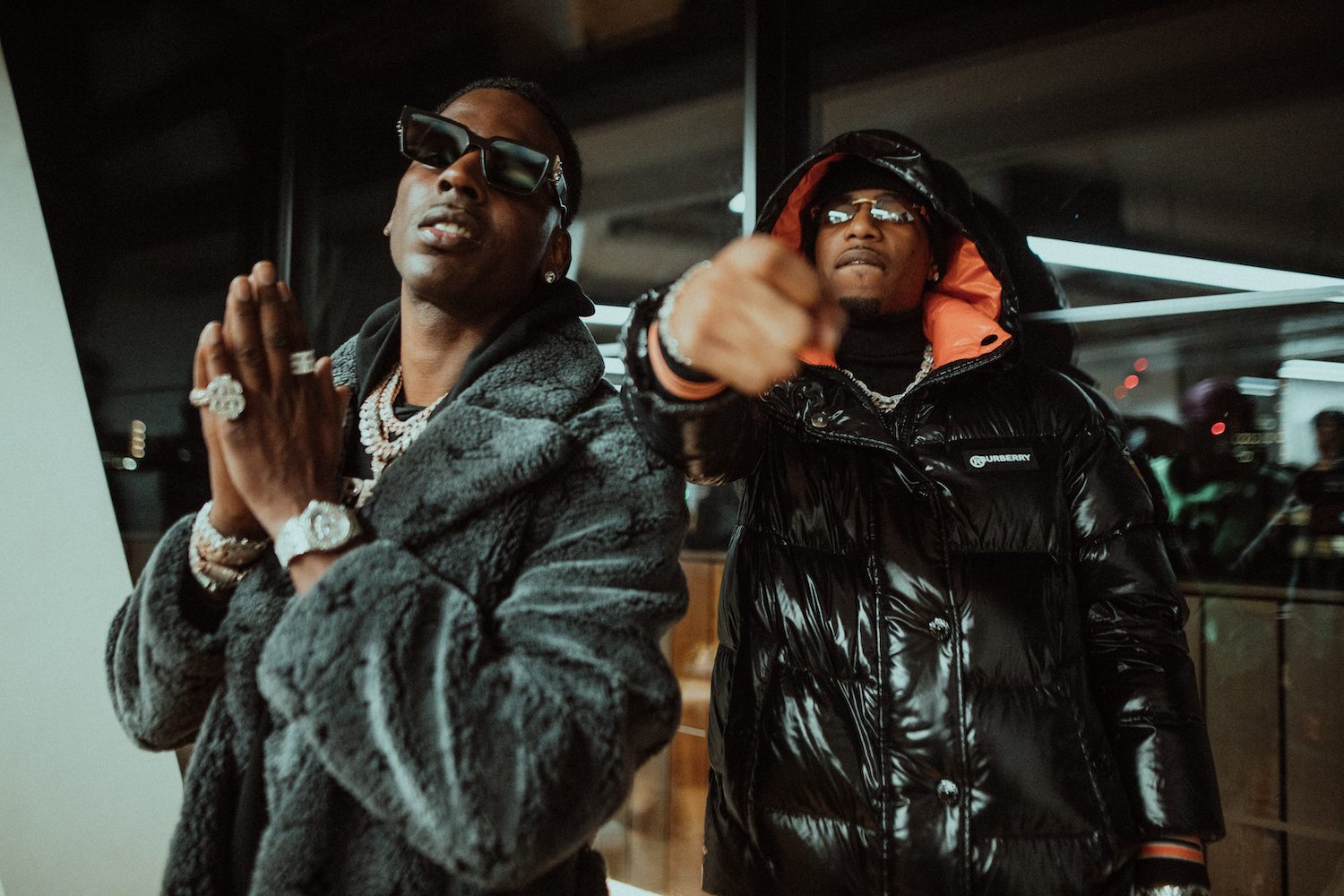 That's good, what about you?
KG: I can't explain it no better than how he did.
And you're both independent right? How do you deal without a label?
YD: You either hungry or you not. They say you got to have a major deal to ball, got to have a major deal to get hot, you got to have a major deal to have fans. You don't need a major deal, you need hustle though. You need to be hungry.
Will you ever think of getting a label or are you going to stay independent?
YD: Right now I'm tuning in to what I've got going on, not into what how someone else can help with what I've got going on or what they're going to contribute or what they can do for me. I'm going to keep showing everybody else what I can do for us and keep riding our thing. One thing about this shit is I'm not going to stop regardless so we're going to be in the bitch forever.
What about you, being independent?
KG: I can't explain it not no better either.
Why have you decided for yourself?
KG: Because we're the prime example why would I get over here with these folks let them do whatever they want to do. I'm going to be like Ice Cube before I'm in there.
I feel like he's kind of like a mentor for you.
YD: It's like we learn from each other. Not just about music just shit in general. We're around each other for a reason and on top of that God placed us in each other's life for a reason. I'm just person who believes in everything happen for a reason and shit don't stay the same forever. It's like if you've got some shit going on, you're in a good situation, but you're not taking advantage of it the good situation guess what's going to happen. The situation isn't going to stay the same forever the situation going to move on to a motherfucker who's going to snatch this situation up and put it in a headlock and turn that situation into even more situations because you blew that situation.
The regular average Joe blow, they don't get that shit so that's why I can't run around with everybody and I'm too smart for certain shit, I have a wrong person around me you might have to do something to them just because you too smart. It's just a lot of shit. Really, you either got it or you don't. You can jump in this bitch and make five hit songs back to back signed to with a record label all be on the radio and doing all this shit but if you're not putting out projects with material that everybody know, it's like a song on the radio when that motherfucker go off the radio it isn't hot no more. You're not got no more.
You need to keep them motherfuckers coming versus you having a real deal organic fan base that got down like "we know your shit, your cd your material intro to outro and we know how you breathe on the beat, we know what adlib you're going to say before you even sing it. We love your adlib" you need to be one of the artists as soon as you sing the adlib they're through the roof. I'd rather have them fans.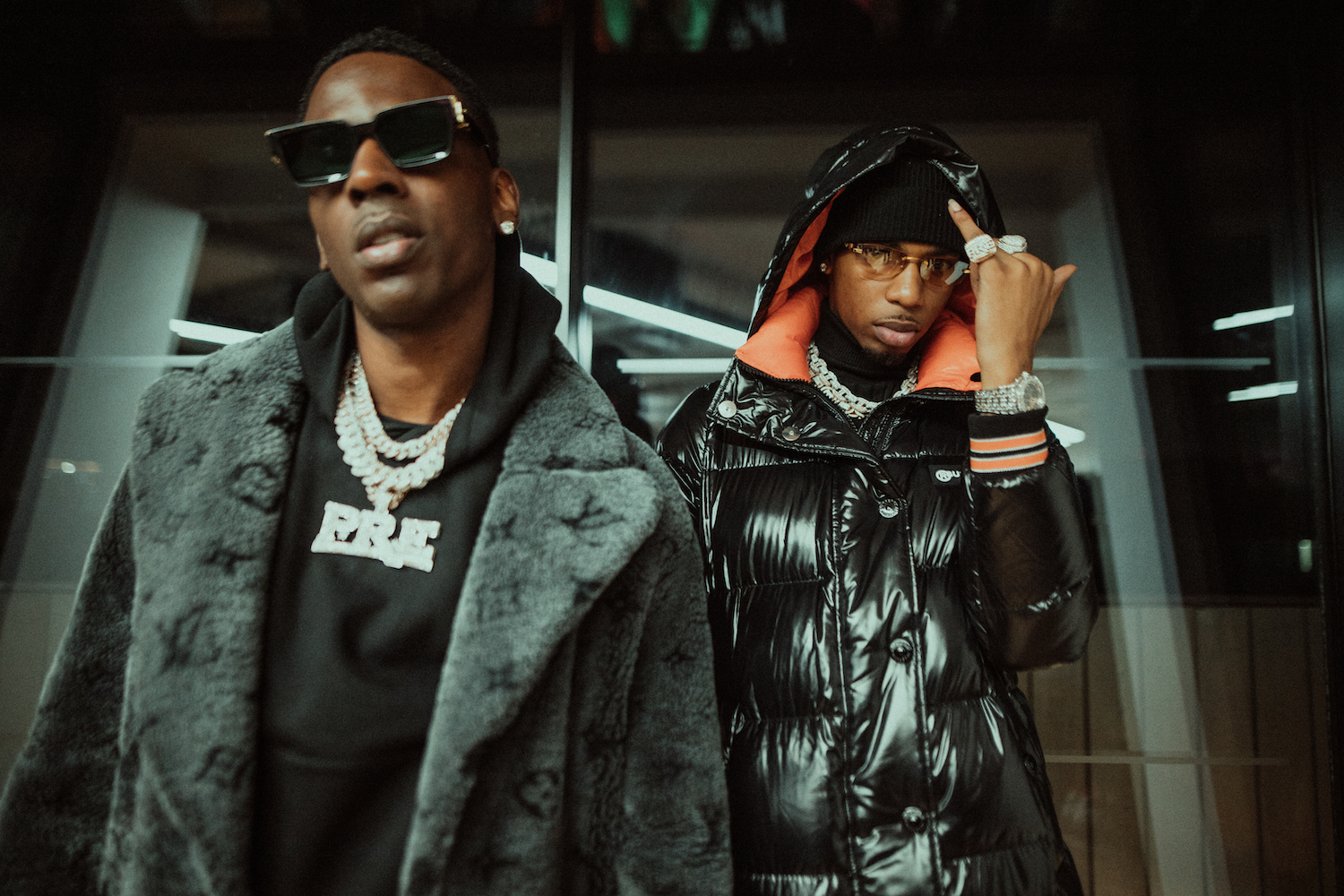 How would you compare your fans in Europe to the US?
YD: No different, they're fans. They me and I love them. They love Glock and Glock love them. It ain't no difference.
So the US isn't more turnt than the UK?
YD: It's the same. We're going to get different reactions like different places based on how much you be somewhere. If I never go there, versus I do shows in this place every four months, versus I only go this place every twelve months or every eight months, it's like the longer you stay out of a market when you're back the more they're going to miss you.
Being an independent artist, we have to do so much and think for yourself and move for yourself. You have to know that shit, I can't keep going to that market over and over again I've got to save that motherfucker to set it up for the big move. That's what a major label going to do so if you want to work and move like a major label trying to do and you really about your business and about your artistry and you want your work to really go the distance with what you want to do you got to know this shit. You got to know the business you got to know what's going on.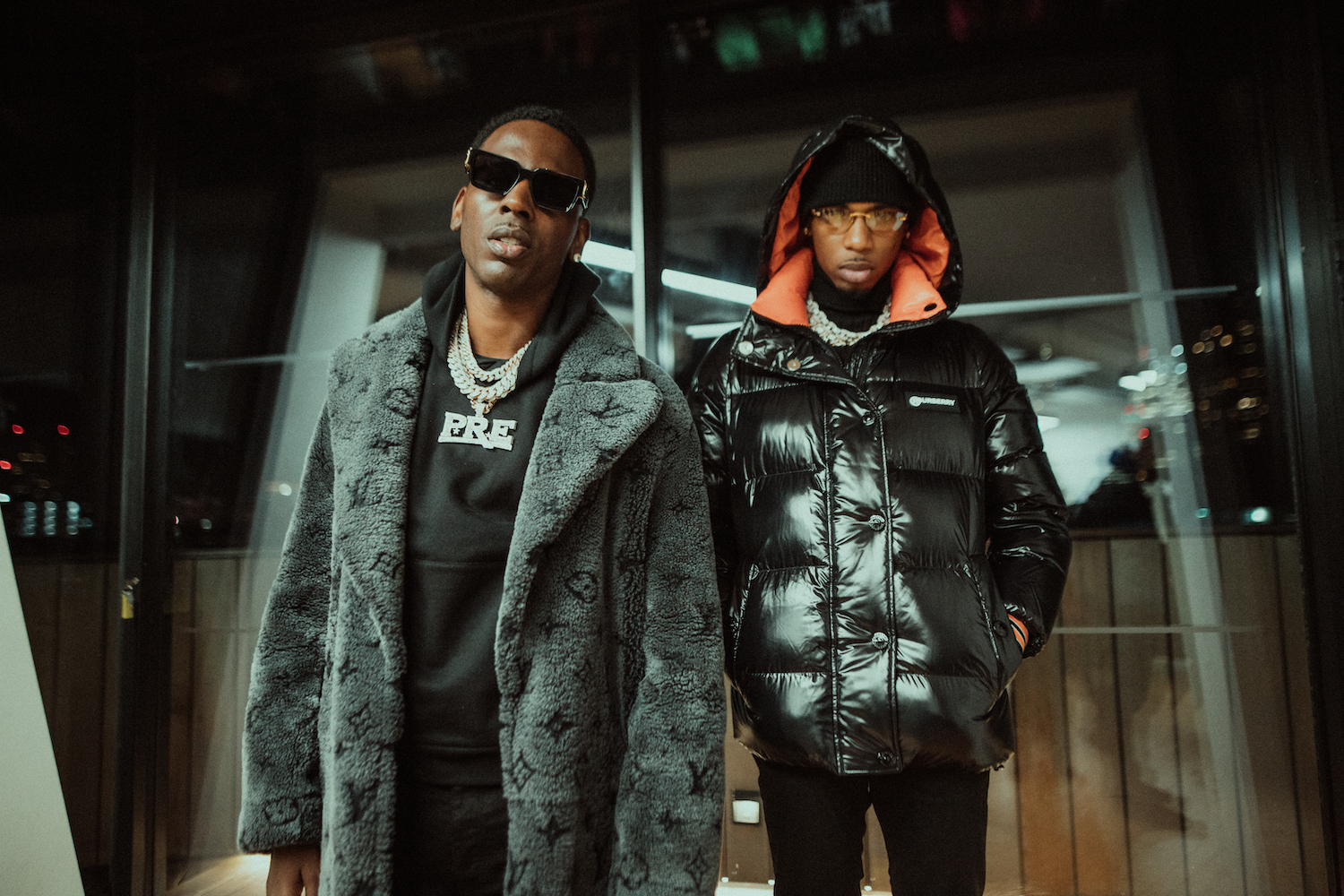 What taught you the business, how do you know the business?
YD: I'm going to keep it 100 with you, I taught myself the business it's like a common-sense type of thing.
When you start a business you've got to make mistakes in order to be better.
YD: I'm the type of person that I can't wait to get some money away, I can't wait to do some shit. Whatever I think, let me get started, how much it cost? Okay, I'm going to do it this way. If it works it works, if it don't it don't, but if this shit doesn't work I can't wait because I'm gonna find out why it didn't work.
I saw you guys were shopping in Paris, you're wearing a lot of ice for example how much is all this ice your wearing right now?
KG: Priceless.
Give me one price.
KG: Priceless.
Okay what about you? What about this chain how much did this cost?
YD: Priceless. It's a lot.
What do you know about Burberry, You put it on when you're in London?
KG: That's right.
I see you're repping LV, Virgil Abloh, you a big fan?
YD: Not really, I'm the type of person I just rock shit that looks good on me.
Is there one fashion house that you like?
YD: I don't know. I don't have a straight favourite one. I wear Dolce & Gabbana more than anything.
KG: I fuck with Off-White I like how he really taking that spin doing his own thing with it. I see what he got going on.