Style, success and working with Beyonce.
"Everything that I make has a tangible feeling to it, has an emotionalism to it. I'm just making art, I'm expressing myself."
Starting by creating music when he was 12 years, Saint Jhn's steady rise from a boy who was inspired by his brother's love for music to a Hip-Hop star in his own right is undoubtedly something to marvel at. Self-assured, with an unquenchable desire to be great, it would be Saint's artistic obsession and unflinching self-expression that would catch the eye of Hip-Hop royalty and Roc-A-Fella Records co-founder Kareem "Biggs" Burke. Biggs would eventually sign the singer, songwriter and record producer to his management company, and the rapper's stock would continue to rise steadily
With a sharp mind, lyrical fixation refined by penning hits for some of the top artists of the decade, a flair for hypnotising melodies and unmatched style, the Brooklyn-based rapper is one of the most exciting artists to emerge the past couple of years. His album' Ghetto Lenny's Love Songs' with its breakout track 'Roses' which would award Saint his first top 10 entry in US charts and would land at number one on the UK Singles charts only further cemented what a lot of us already knew; Saint Jhn is a star.
Only at the genesis of his moment, Saint Jhn is a dynamic artist who is the embodiment of everything creativity should be. We caught up with Saint Jhn during his stop in London. Read the exclusive interview below: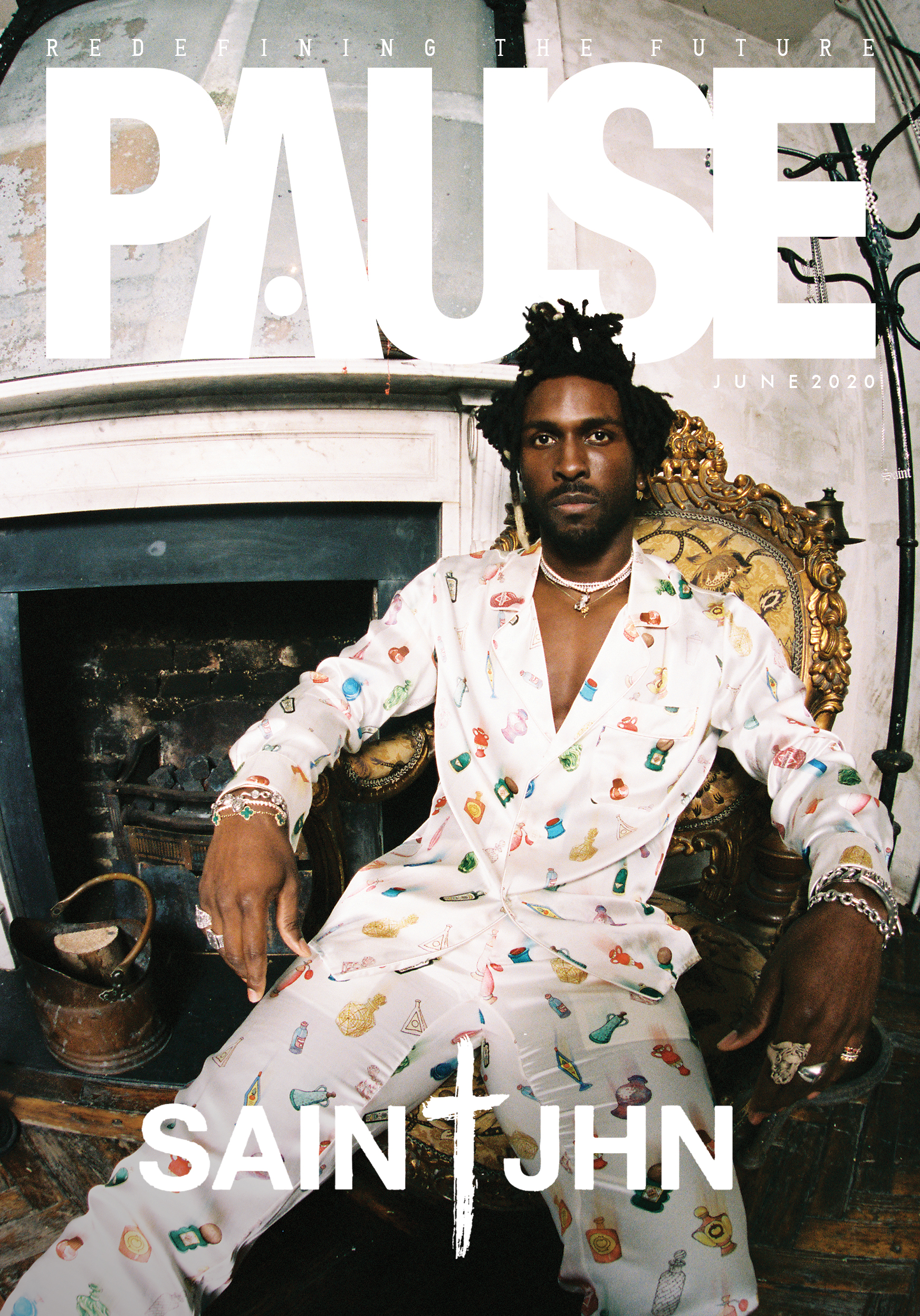 Necklace: Apple & Figs at Browns Fashion, Jewellery: Artists' Own Full Look: Casablanca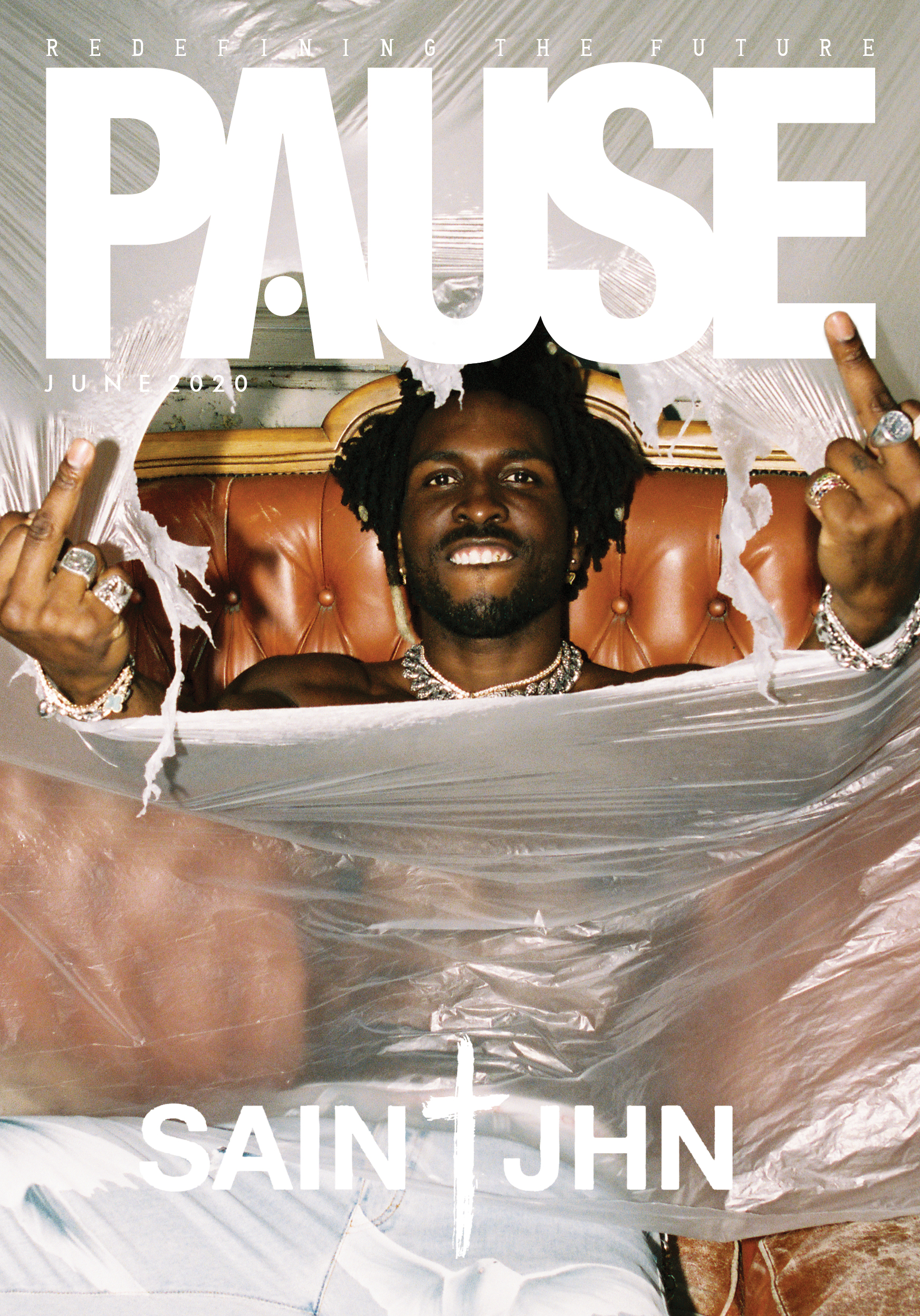 Jewellery: Artists' Own Jeans: 3 Paradis
How have you found your time in the UK?
Sexy. Quick, short, direct, and Jamaican food. That's how I've spent my time.
What're your thoughts on the Jamaican food here in London?
I love the Jamaican food out here! You can find fire Jamaican food in New York too but outside of New York, this is probably second best. Of course, Jamaica being number one.
Growing up between Guyana and New York, how did that shape not only you but your sound and approach to making music?
I think it just changed what I listened to, I grew up listening to Jay in New York and when I was in Guyana I was listening to Beenie Man, so for me having Jay and Beenie Man is a bridge between them. I didn't know this dynamic at the time, all I knew is those were the things that I liked but that's because I was deep in the culture and I was responding to what was affecting me as a kid. Think about it, that combination is a result of what you get from my music now.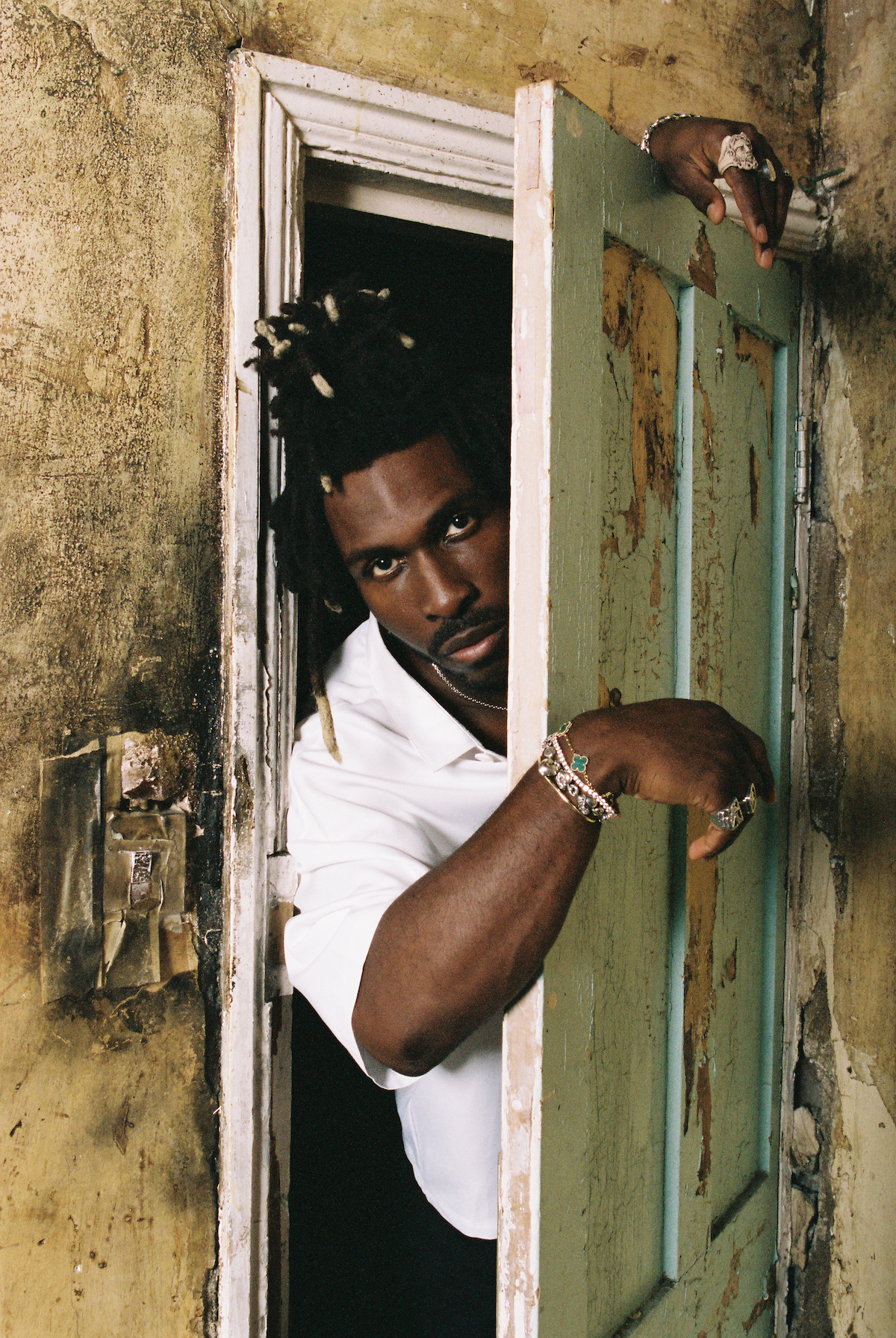 Full Look: Pyer Moss, Trainers: Jordan's 
Most people may not know this but you've written tracks for DSVN, Usher and Jidenna – just to name a few. Was it always in the plans to be a songwriter and stay behind the scenes or was it just a means to an ends to get to where you are now?
That was never in the plans. I was never trying to be a songwriter. I didn't even really know what that was. I thought I was good enough to be a songwriter because I thought I made good songs but I didn't really know what the craft of being a songwriter was or the business of it. When I got into it, it was just another opportunity whilst I was hustling.
It was a way for me to hustle my way out because it was the first time anybody gave me an opportunity in music. Every time before that I was trying to pitch/sell myself.
Number one record in the UK. What does that mean to you?
I'm elated, I'm super excited. You work your whole life in any form, in any craft, you want to be somewhere near the top, or at least mentioned among the best within the conversation of the elite, you just want to at least be there and I'm in a conversation in a way that I at least want to be. Number two is a good start, it's a pre number one, I'm hyped.
You sit in a very unique space as an artist, you blend genres, you merge hip-hop, rock, trap, funk influences together, where does it all come from?
I think it's taste and that's all I've got. All I've got is what I think is good, if I didn't think it was good I wouldn't do it. I suppose I am merging genres or blending things that are a bit uncommon but I'm not thinking about it from that point of view. I'm just making this sh*t because I think it sounds good or I think whatever sounded like it before was boring or I can do better or there isn't enough. All I'm trying to do is impress myself on a daily basis.
Sunglasses: Gentle Monster, Coat: Bottega Veneta, Jumper: MMRMS, Studio Shorts: HOMME PLISSÉ ISSEY MIYAKE, Socks: Christian Sex Club, Trainers: Vans @ Schuh
I love that, because the music that you make, for me, is the music that I wish was made more. It's the music I need to hear right now.
Yeah, that's how I feel about it, that's why I make it.
You seem to be moving at your own pace, how do you manage to do that in an industry that's so obsessed with trends and going viral at every given opportunity?
I'm not in the music industry, I make music, but I'm in the art space. Everything that I make has a tangible feeling to it, has an emotionalism to it. I'm just making art, I'm expressing myself. I just paint with sounds and sometimes I paint with fabrics other times I paint with pictures.
You also did what people deem as the impossible by bringing Biggs Burke back from his 15-year hiatus. How did you get him to sign you and how did you two connect?
You've got to ask him that, I don't know how I got him back. He was all the way out, he was gone, when we first met he had just done an interview two weeks before and he was like he's never coming back to music but if he did come back it would be for me and we hadn't even met at that time, we didn't know each other and then coincidence. The universe ruled it, serendipitously we met and we hit it off because we're cut from the same cloth right.
I grew up on the ideologies that he helped build and I didn't know that at the time. I knew the structure, Roc-A-Fella was him, Dame and Jay, but I wasn't thinking about it, so when we met we got on so well and he had so many questions for me, how come this guy like me? Where is the symmetry at? He asked me a thousand questions because he couldn't figure it out and I couldn't figure it out, I'm just answering the questions but we're alike in so many ways. This is the story, the new iteration of the story.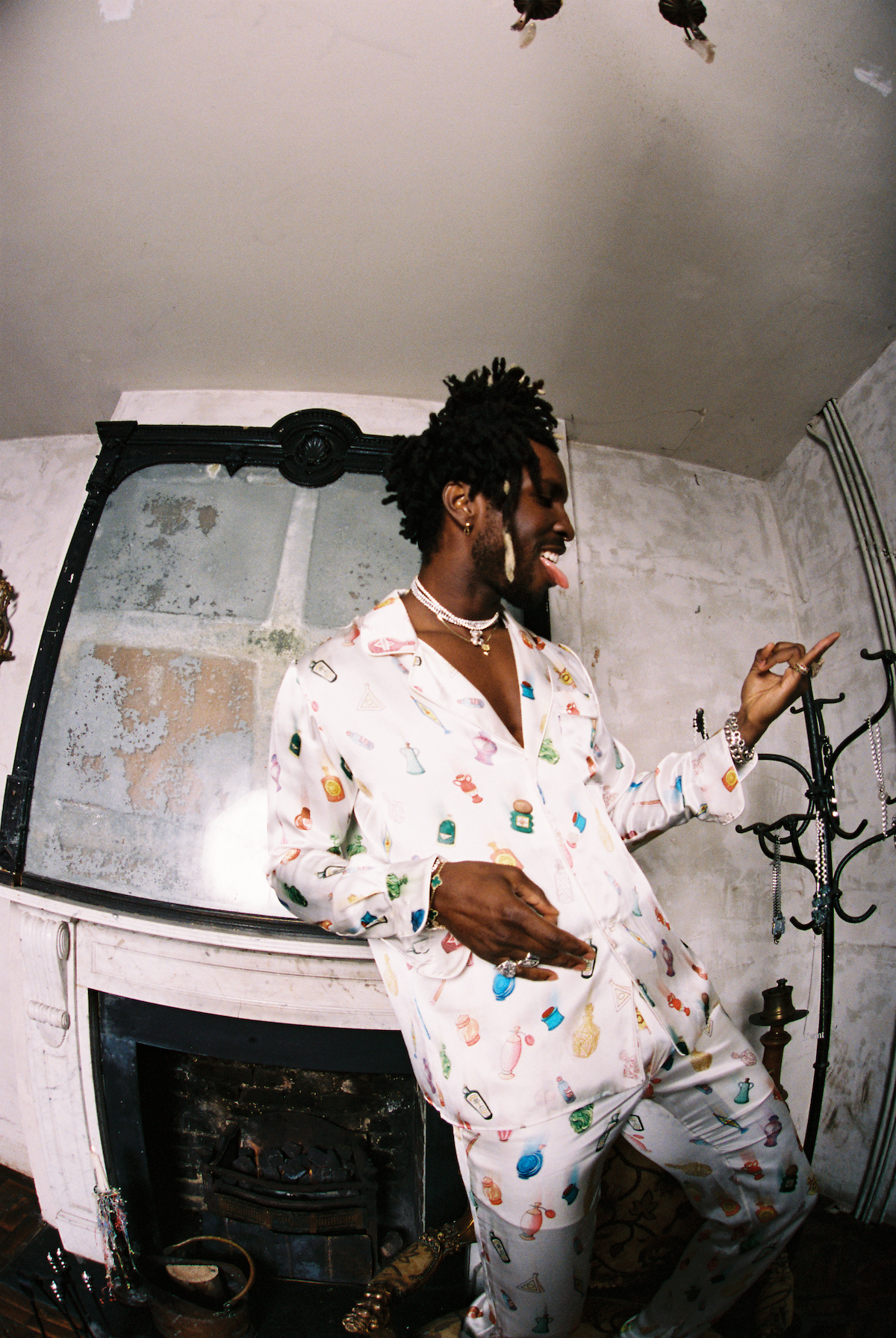 Necklace: Apple & Figs at Browns Fashion, Jewellery: Artists' Own, Full Look: Casablanca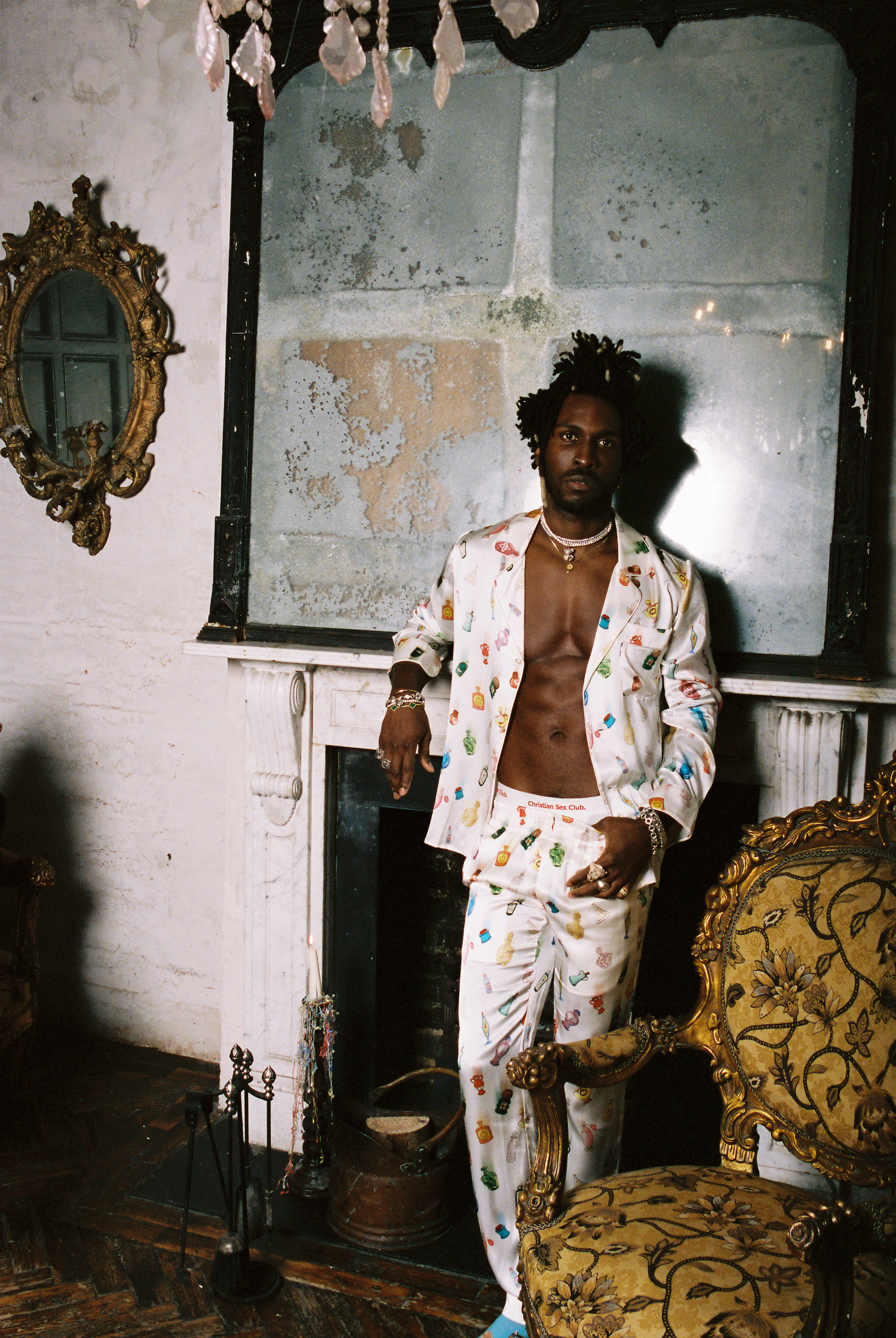 Seems it was all already written. What do you think he saw in you specifically?
I will never be so blatantly disrespectful to assume what anybody sees in me. I can tell you what I am, I don't know what you see. I think what is an obvious thing, that's a common thread is integrity and I think for people that come from places like us that's the very first thing you look for and that's what you hold on to. When we have conversations and we talk about people that are either like us in mind, in spirit and energy or people who are not like us, he'll remind me, they're not like us you can't judge them by our standards. We're built of different construction and that's willpower, a foundational thing that you come from. When you don't grow up with much or when you don't have any money or resources and you got to figure out how to build something yourself… Those are the common threads, but to answer that question you have to ask him yourself.
What does it mean for you to have a hip hop legend like Biggs in your corner?
It's reassuring, it reminds me that I'm not crazy. To know that the man who built something that I got to watch on TV from a distance. My pops wasn't actively involved in my life and my older brothers were so disconnected from me, so I got to watch my heroes from the TV but at least I know that they're a couple of blocks away so I knew they were real. All of the superheroes I knew were real, so for me, it's comforting to know that my madness ain't crazy.
How did you end up on Beyonce's Brown Skin Girl?
It started in Jamaica, we started making the record in Jamaica. Brown Skin Girl exists now, it's 2020, me, Wiz, Kid, Blue Ivy. The first person I think I sent it to was my mum, then I sent it to Tyty and I can't tell you what happened when the doors were closed and I wasn't around. I can tell you about the dream I dreamt. The dream I dreamt, I wasn't there, Biggs sent it to Jay, Jay's dancing around in his living room in his pyjamas. This is my dream right, he was like Beyonce you got to hear this and they're dancing together, they're singing together and she's like 'I'm adding everything I want to add to this, I know how to make it even better' and she does and then Blue Ivy comes downstairs and everybody's dancing. It's the Carter family dance but that's just in my mind. I don't know how it happened, all I know is I got a call that I'm going to be on the record which happened like moments before it came out. I heard the record with my voice on it when it came out. That felt like it was going to happen because someone told me it was possible and it happened.
Cosmic. You dreamt it into existence. On that whole thing, what are your thoughts on that, when you just know that something's going to happen? You know it so deep inside and then it becomes true?
I know what I believe. What I believe isn't enough to know that someone else is going to do something else. I know, no matter what happens I'm going to end up where I'm supposed to end up, and I'm going to have the things that I need in my life because I put the energy out to get them and I work really hard. I'm willing to sleep behind the things that I love.
I didn't know Beyonce was going to take the record, I didn't know it was going to end up on the Lion King soundtrack, I didn't know Blue Ivy and Wiz Kid would be on the song, all I knew is that I'd made a song that would change my life. I knew that definitively. I knew that because it meant something to me, and that future generations that look like me that didn't have a song like that necessarily before, and now they could play it.
I know that one day if some young mother or father would play it for their young daughter or young son and they came from a place like me with the energy I came from, I think it would mean something to them growing up and I didn't have that so that was a success to me. I don't mean to colour it in a way like 'if you do this it's a success' but that was a success for me. I've made hundreds of songs and when I made that song I felt like I did something and I don't always feel like that.
I think you put that perfectly. So, who are some of your favourite artists at the moment?
It's too broad, I live by songs. I like the music people make. I don't always identify with where they're coming from or what they're trying to say or what they really stand behind.
Okay, what are you listening to at the moment?
Uzi just came out, Lil Baby just came out, Megan the Stallion just came out, so as the records come out I'm listening. I'm a part of the culture, I'm from this so I'm listening. I'm excited to see what people do, I'm excited to see how far they push it forward, Lil Baby's project is fire, Lil Uzi's project is fire, Megan the Stallion is pushing it forward, I love seeing women in a hip-hop take a strong position like that so I'm listening. There's some new kid I've never heard of, that somebody's going to play me tonight that I'm going to listen to and probably dive into their whole project. I'm just listening, I'm scouring the internet trying to find gold.
You've been spotted at fashion weeks around the world a few times, where does your interest in fashion stem from?
I think I like the expression of clothes, I don't necessarily care about fashion. I don't know who designed what, when they designed it, what they meant by it, what the inspiration was, those things aren't important to me. I've never been fascinated with things that are hype-driven, things that are socially important because somebody said so, I like what I like. I like colours, I like prints, I like textures and all I'm trying to do is make myself a little sexier than I was in the morning when I woke up.
In the past, you modelled for Gucci, and recently we've seen artists such as Offset Playboi Carti, and Kid Cudi walk the runway for some luxury brands. Is that something maybe we can see you doing in the future?
Yeah, I think it would be cool. I did it before I could do it again, maybe do it a little better. When I did the Gucci campaign it was for the fragrance, I guess I smelt good so maybe they wanted me to smell good with that. I like that. Let's do it again.
What are your favourite fashion brands?
The people I really respect and I love what they've done. I love Pyer Moss and Fear of God, those are important designers that represent the culture that I come from, and the places that I come from and that's a bigger story for me. I identify more when the stories written for me, with a name that I recognise and a title that I can repeat, characters that are reminiscent of at least a reflection of myself. I'm more excited about it.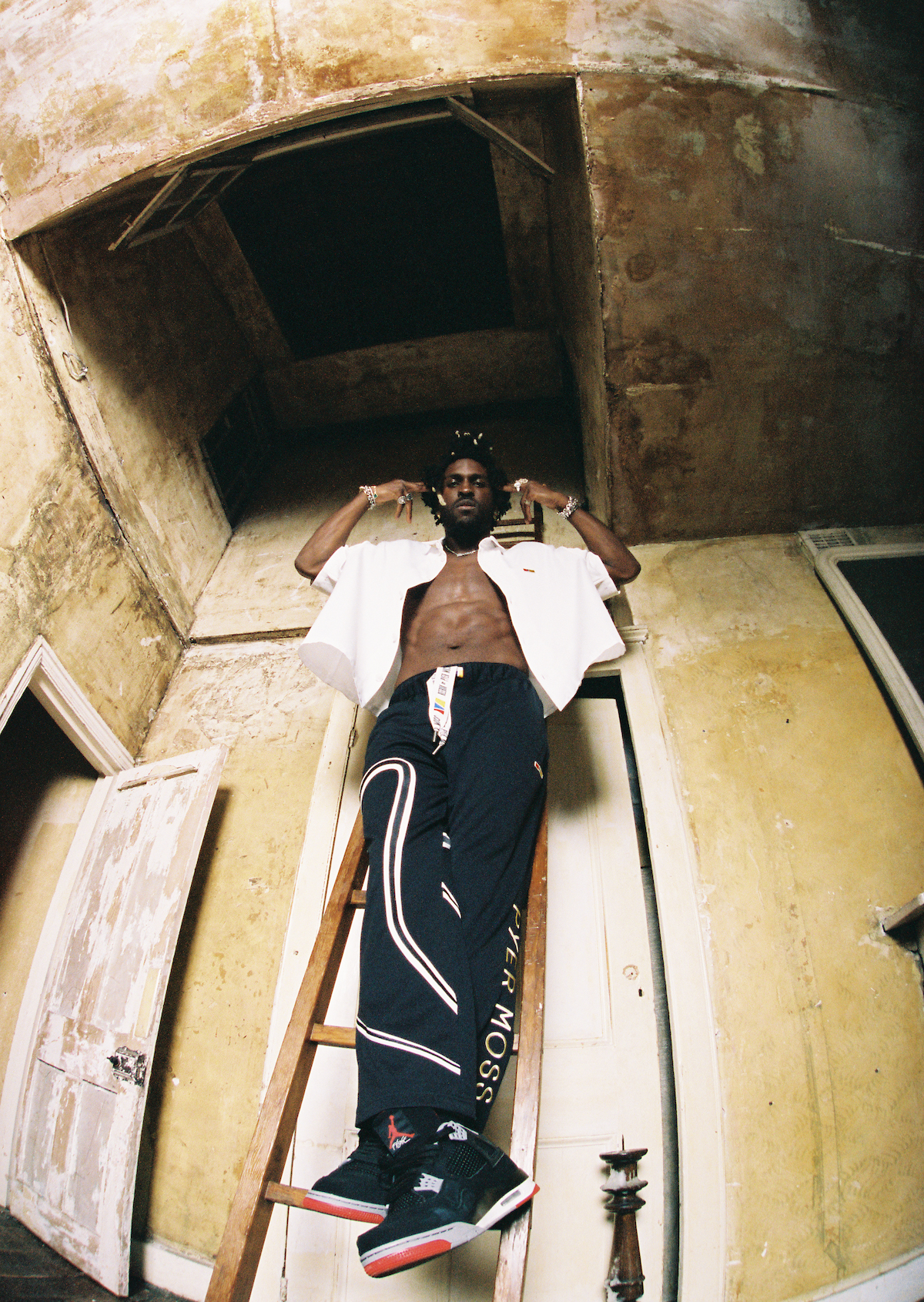 Full Look: Pyer Moss Trainers: Air Jordan's
I think there's a Jay-Z line 'what's better than one millionaire? Two especially if they're from the same hue as you'.
He said it best.
Will we see you delve more into designing? You already have your own merch and clothing line.
Yeah, the Not a Cult collection. I'm already making clothes. I started making clothes because people wouldn't give me clothes, designers wouldn't loan me clothes, I didn't know where to get things from and I was too poor to really go buy the things that I wanted so we started making them. I figured if he can charge $1500 for this hoodie and that hoodie cost $150 to make why couldn't I just make the hoodie I wanted to make without he or she.
What's next for you?
I'm constantly working on new collections, I think of music as collections. So collection one came out in 2018, 2019 Ghetto Lenny Love Songs came out, every single summer, every year you're going to see me. I shouldn't make it summer, I don't want you to get the wrong impression. I like collections and seasons are important, you got to see something from me every 12 months at least. It has to happen because that matters to me, I want to exist in space and time.
Any final words for the readers?
If you know me, don't know me, you're just getting to know me. I'm just getting started.