If you're fortunate enough to live in a mansion that Stormzy or the Beckhams would be proud of, chances are you already have a fabulous bathroom (or three) at your disposal. If you're just a Regular Joe, however, you might be in the market for a bathroom makeover. Research conducted by Houzz UK found that the bathroom is one of the most renovated rooms in the house, with the median spend amounting to £4,350. Every year, new design trends add increased style and functionality to our bathrooms, and this year is no different. From black bathrooms to hi-tech fixtures, here's a closer look at some of the hottest trends of the year.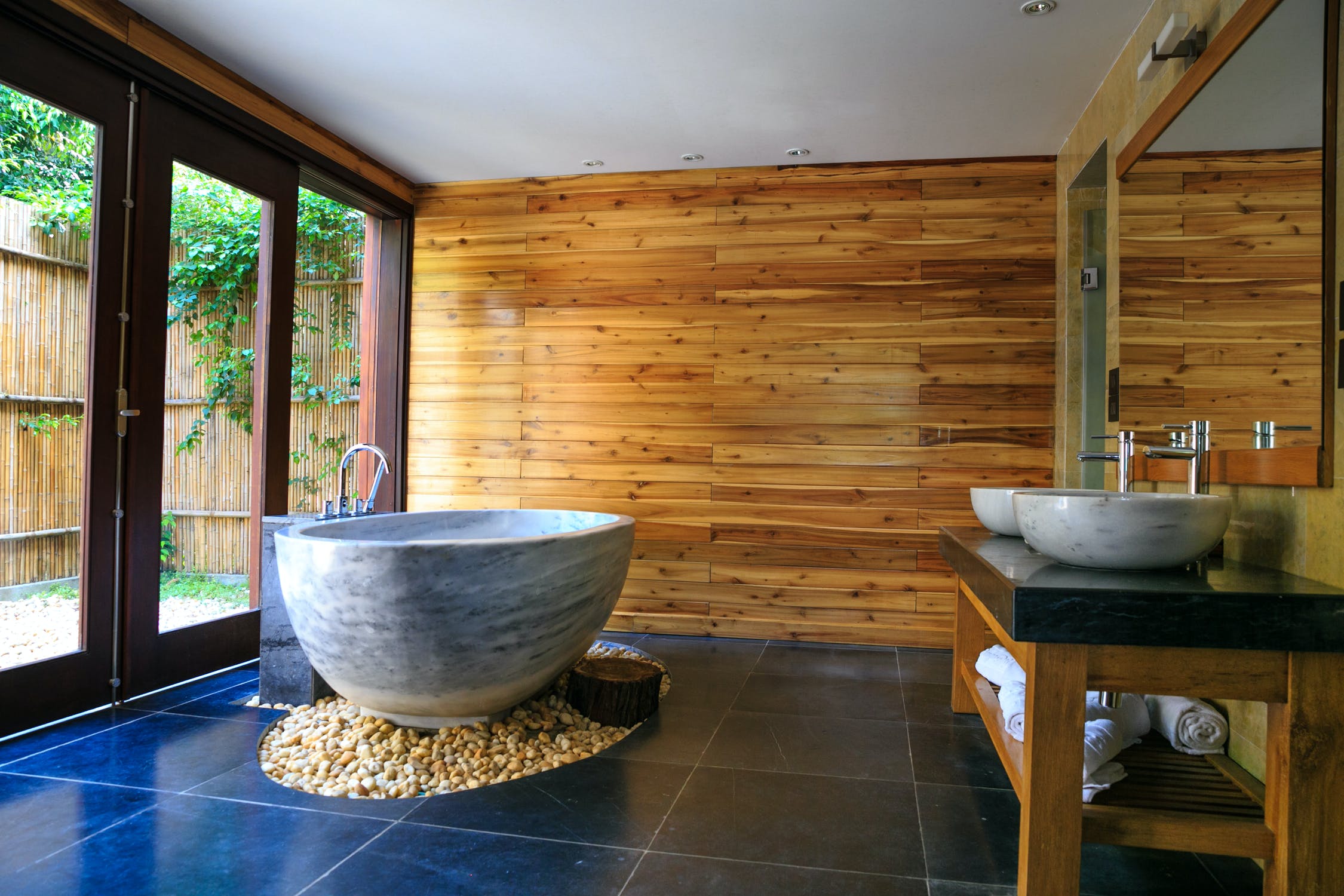 Black bathrooms are all the rage
The age of the boring white bathroom is finally over, and beautiful dark interiors are fast gaining popularity among trendy homeowners. Although grey interiors have been popular over the past two years, 2020 is promising to be the year black bathrooms get the attention they deserve. James Lentaigne, Creative Director for Drummonds, explained the trend: "Bathrooms are one of the few places in the house where you can get away with strong, vivid tones which might be over-the-top in other rooms." You may not feel comfortable with a black living room or kitchen, but you can definitely pull off a strong, black bathroom. Painted walls, black tiles, and even black tubs, basins and toilets can all add a significant amount of moody opulence to a room. Even if you don't want to go all-black, you can still add touches of darkness to your bathroom by installing black cabinets, light fixtures and framed mirrors.
Get yourself some interesting tiles
Bathroom tiles are bigger and bolder than ever before. Big-format tiles are very hip at the moment, as they make a bathroom appear larger, thanks to a decreased number of grout lines. These oversized tiles can be used on both walls and floors, and come in a variety of arresting finishes, such as multi-tone marble. If large tiles are not alluring enough, choose tiles with an interesting geometrical shape. Squares and rectangles are fast making way for diamonds, Moroccan fish scales, hexagons and arabesque tiles. Brightly-coloured graphic tiles are perfect for bringing a splash of colour into your bathroom, while industrial metallic edging pairs particularly well with bold wall colours. You can even add a dash of sparkle to your bathroom by opting for shimmery quartz tiles that replicate the night sky. Quartz tiles are not only beautiful to look at, but also versatile and surprisingly easy to clean and maintain.
High-tech bathrooms are a thing
During the course of 2019, bathrooms started becoming increasingly high-tech, with toilets in particular sporting a range of innovative features, such as seat warmers, built-in deodorisers, and lids that open automatically. This year, however, the entire bathroom will get a technological makeover. Smart showers are no longer seen as a novelty, but rather as an important fixture of a modern-day bathroom.  Throw in an automated sink, a bath with a chromatherapy function, and a mini-fridge, and you have a bathroom fit for royalty. If you have the available space and a flexible budget, you can even install a TV and smart speaker system to enjoy while soaking in the tub.
Whatever your personal design style is, you're bound to find a hot new trend to incorporate into your bathroom. Even if you don't want to renovate your entire bathroom, you can make small changes that will give it a fresh, vibrant look.