Jones' Best Bits.
It's been two weeks since the news of Kim Jones' appointment at LVMH luxury label Fendi, a somewhat surprising move in the world of luxury fashion design, the British designer revealed that not only will he be joining Silvia Venturini Fendi at the iconic house, but he will also continue his stint at Dior Men's.
Continuing the legacy of the label that was previously led by Karl Lagerfeld, Jones has become a powerhouse in the field of luxury design; having transformed a market at Dior that was previously catered to older, wealthy customers to one that uses contemporary design cues and marketing techniques to engage its younger followers.
Renowned for his coveted entry-level pieces, the Creative Director for Dior has paved the way for some of fashion's most notorious collabs with names like KAWS, Shawn Stussy, Hajime Sorayama and Daniel Arsham collaborating with the Londoner on, arguably, his most covetable collections yet.
One thing for sure, and that is that all eyes are on Kim. So what will the future of Fendi look like? Right now, it's hard to tell. With his debut collection arriving at Autumn/Winter 2021, we take a look at some of his most notorious projects so far.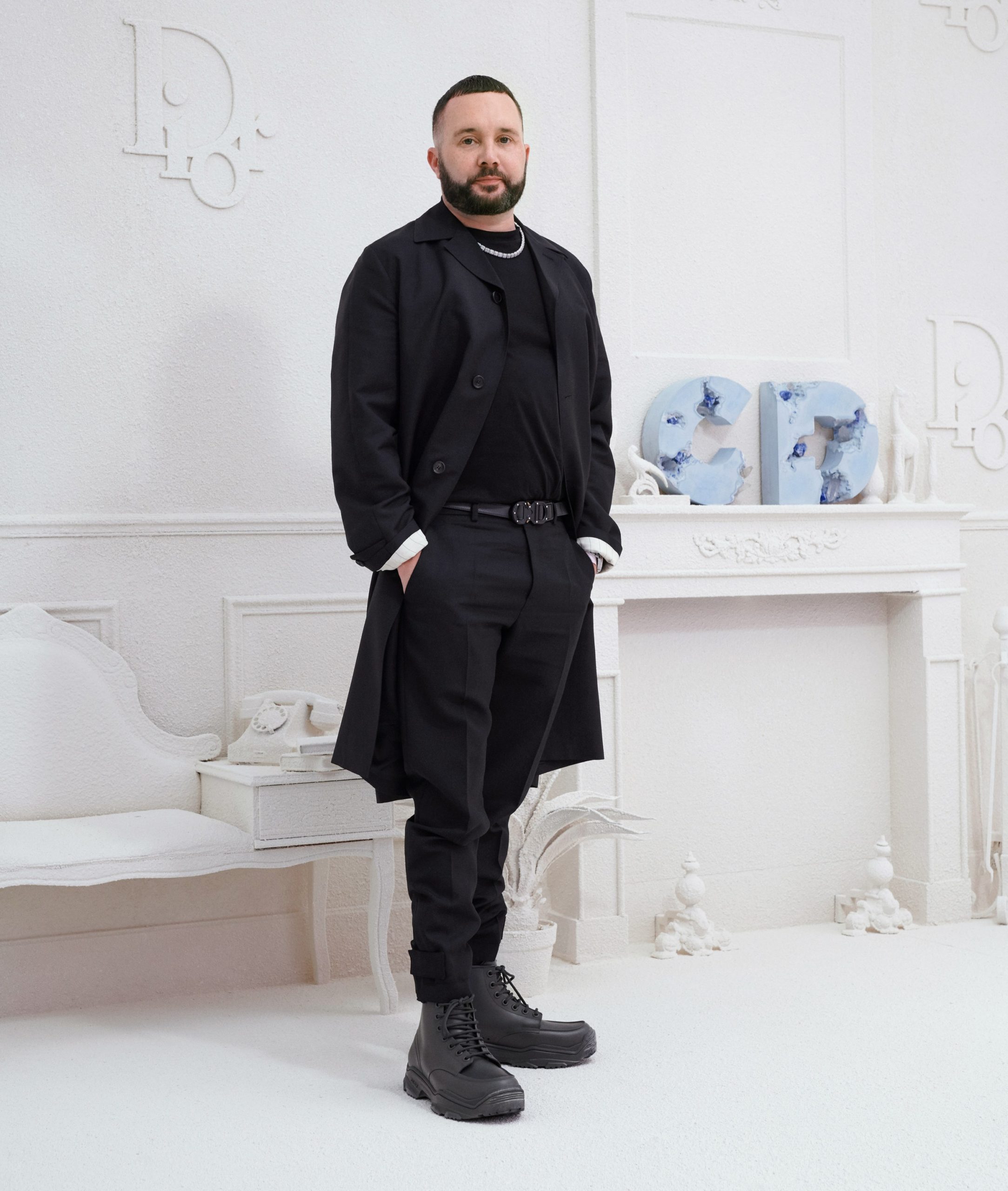 PHOTO CREDIT: @GQ/ Brett Lloyd
Dior x KAWS
Tapping famed Brooklyn street artist Brian "KAWS" Donnelly, Kim Jones' first collection for Dior Homme debuted with an extensive partnership with American artist KAWS, whose famous BFF character appeared in the form of a 33-foot-tall pink flower sculpture on the Dior Men's runway at Paris Fashion Week.
Marking the designers Dior debut, the range featured louche suiting, soft pastels and collaborative KAWS motifs, such as the recurring pink hue, the 'Dior' lettering done in KAWS's signature script, and the iconic Dior Homme bee logo reimagined with signature KAWS branding. Other pieces included a wide range of hooded bomber jackets, T-Shirts, crewnecks, trousers, and accessories, punctuated with KAWS' revamped Bee motif, in addition to a chest patch inspired by name tag stickers.
The SS19 collection also marked the debut of the Dior Saddle bag, complete with ALYX buckles.
The project later moved on to debut a campaign shot by Steven Meisel and saw Prince Nikolai of Denmark, amongst others, stood in front of the same flower KAWS BFF statue.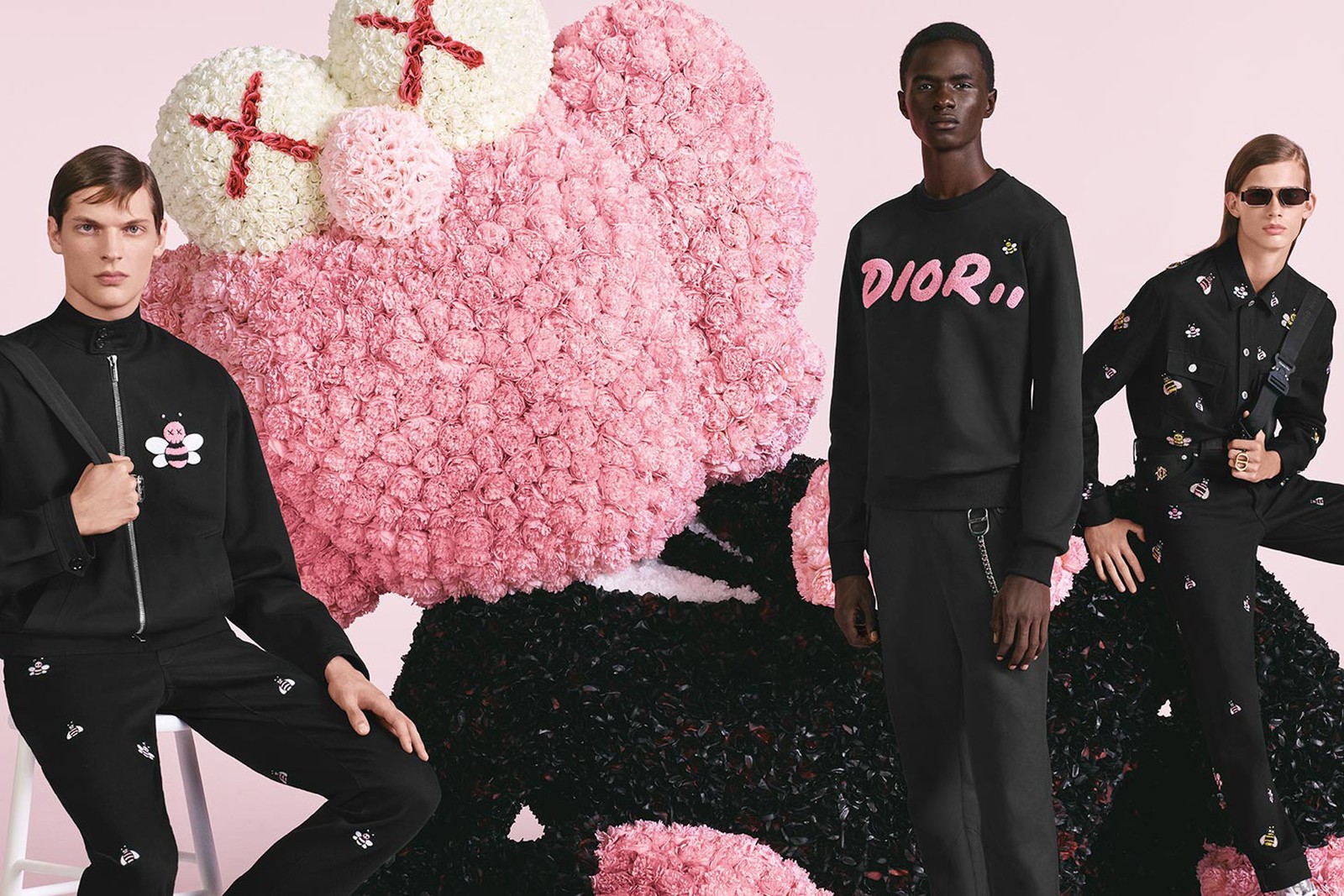 PHOTO CREDIT: DIOR/ STEVEN MEISEL
DIOR X Yoon (AMBUSH)
Having acquired the role of Dior Men's Creative Director of Jewellery in 2018, Yoon Ahn first teased Dior's SS19 men's jewellery at Kim Jones' inaugural show.
Enlisting Noel Crawley and Kim Kardashian to preview the collection online, the founder of AMBUSH soon took to social media to give viewers a closer look at designs. The result, Bicycle chain necklaces and signet rings. Dual branding marks the pairs joint effort, with a lot of the items embellished with Dior's motif or text branding in multi-coloured, capitalized fonts.
Elsewhere, clip-on accessories can also be seen, as can brooches and stackable slim-line bracelets.
PHOTO CREDIT: @ yoon_ambush
Dior X Sorayama
Standing alongside Yoon at the Pre-Fall 2019 collection, Jones once again tapped Japanese artist Hajime Sorayama to launch a capsule of 'retro-futuristic' pieces stamped with Cherry Blossom artwork, including footwear, graphical tops and accessories.
After Jones saw Sorayama's work on exhibit in a Tokyo gallery, he visited the artist's studio to propose a collab on the spot. "I describe my collaboration with Kim as two weirdos having fun," Sorayama told Artnet. "Kim has a great artistic vision. As a creative myself, I could see this from the beginning."
Dior's B23 high-top sneaker took centre stage, featuring a blue canvas upper under its signature translucent panelling. Dual branding, emblazoned with one of Dior and Sorayama's special Oblique patterns, which showcases the pink florals and a dinosaur-robot, and a more traditional 'DIOR' patch rests at the midsole to finish it off.
Additional offerings from the collection included the same unique print across both a fleece sweatshirt crafted in grey and an additional crewneck tee, which is offered in black and white. Elsewhere, the collaborative project also presents an alternative graphical shirt, showcasing Sorayama's trademark robotic female figure.
Accessories from the duo a bandana and calfskin cardholder with the defining floral illustration, while a silver-tone dinosaur necklace rounds it all out.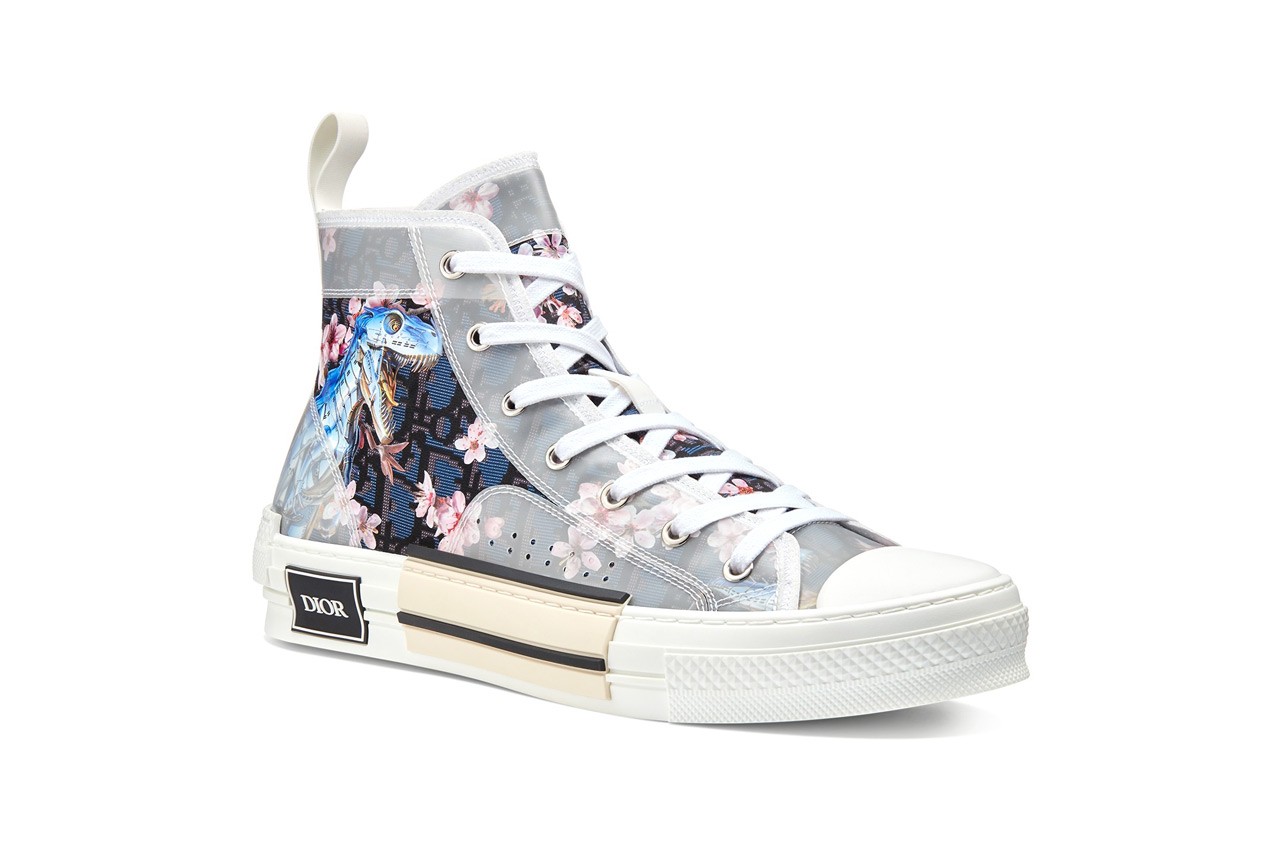 PHOTO CREDIT: @warranla7, @johnlunglee, @jordantupak2
Air Dior: The Capsule Collection
Initially revealed at Kim Jones' Fall 2020 men's show in Miami, the Dior x Air Jordan 1 High/Low OG and accompanying Air Dior capsule has been the most anticipated collaborative partnership to date.
A collection of ready-to-wear and accessories completed the collaboration, marked with exceptional tailoring expertise with a 1980s American sportswear feel. Balancing timeless silhouettes from the Jordan and Dior vaults, relaxed, minimalistic wool suits and blazers sport subtle blue and white striped linings making references to the collaborative project.
Reviving the Dior Oblique motif for a host of cashmere sweaters, shirts and polo, the designer tapped into the NBA champion's style and his sensitivity to twists of audacity coupled with elegance. Further offerings from the duo included a bomber jacket complete with the Jumpman logo, silk shorts and grey suede hoodie decorated with a graphic motif featuring the "CD" initials.
Alongside the ready-to-wear collection, was the launch of the Dior x Air Jordan 1, a first-time collaboration between the luxury-fashion powerhouse and sportswear giant.
Staying true to the iconic Jordan 1 high's classic design, Jones' take on the iconic sneaker makes use of a white and grey upper constructed from Italian leather with hand-painted edges. Dual branding hits take the form of a Dior woven tongue tag, replacing the iconic swoosh motif, on this design, it's filled with Dior's instantly recognisable logo motif.
The Dior x Air Jordan 1 OG release first launched on June 25th at a dedicated microsite where interested parties could enter for a chance to purchase. The site allowed for the customer to choose between the high-top or low-top model, in their preferred size, and at a convenient location to purchase.
Originally priced at $2,200 USD, pairs are now fetching pairs more than five times their original price.
PHOTO CREDIT: @kilandmorris, @gallucks, @adsterphotos, @olaalabi_, @del.ten, @younesbendjima, @miaxtati, @sofiamcoelho, @rvchedi
Dior x Rimowa
For Dior's SS20 collection, the Creative Director collaborated with high-quality luggage manufacturer Rimowa on a series of luggage accessories; the 'The Cabin Trunk', 'Champagne Case' and 'Hand Case'.
Designed by contemporary artist Daniel Arsham, the luggage capsule launched online earlier this year and retailed at an impressive $2,440.00. Accessories arrive in various colours such as silver, black, pink, and blue and feature removable and adjustable leather straps, debossed Dior logo and snap buttons. Additional Dior branding is applied to the front of the bag, while Rimowa's signature appears on the back.
PHOTO CREDIT: @sunngjuuun, @ericyall, @damion_famous, @erik, @@r.m.best, @jaimetoutcheztoi
Dior x Stussy
Pulling the Stüssy founder from retirement, the collection 'Dior And Shawn' was showcased on runways in Miami last year. It was the first time that Stüssy had worked in the fashion world after departing from his brand in 1996. The return marks his debut as an artist after being nearly absent for over 20 years.
Drawing from the bold colours of Miami's historic Art Deco architecture, Jones and his team-coloured in the black-and-white artwork that Stussy submitted for Pre-Fall 2020, with select items utilizing labour-intensive beading that demanded 2,600 hours to complete. Elsewhere, the team outsourced a unique Japanese printing process to create heavily manipulated marble-like patterns. "That's what intrigued me, is when he started talking about taking my kind of iconic artwork and putting it into these couture methods," Stussy recalled. "I have zero interest in going and printing some $40 USD T-shirts, but to do this was really an eye-opener."
"I used to wear it head-to-toe all the time in my teens. It was something I was really, really, really obsessed by. I've [still] got boxes of it," Jones explains, referencing his notable archive of original Stüssy garments. Jones first discovered Stussy's brand as a 14-year-old, buying directly from a family friend who worked at Michael Kopelman's influential Gimme 5 distribution label.
A homage to the freedom of movement, creativity and spirit, the collection highlights fluid jackets in tropical wools that brings a reminiscent of the original Dior Bar jacket. Further offerings include selection T-shirts, baseball caps, jeans and sweatshirts which have been finished with Stüssy' signature handwritten typography.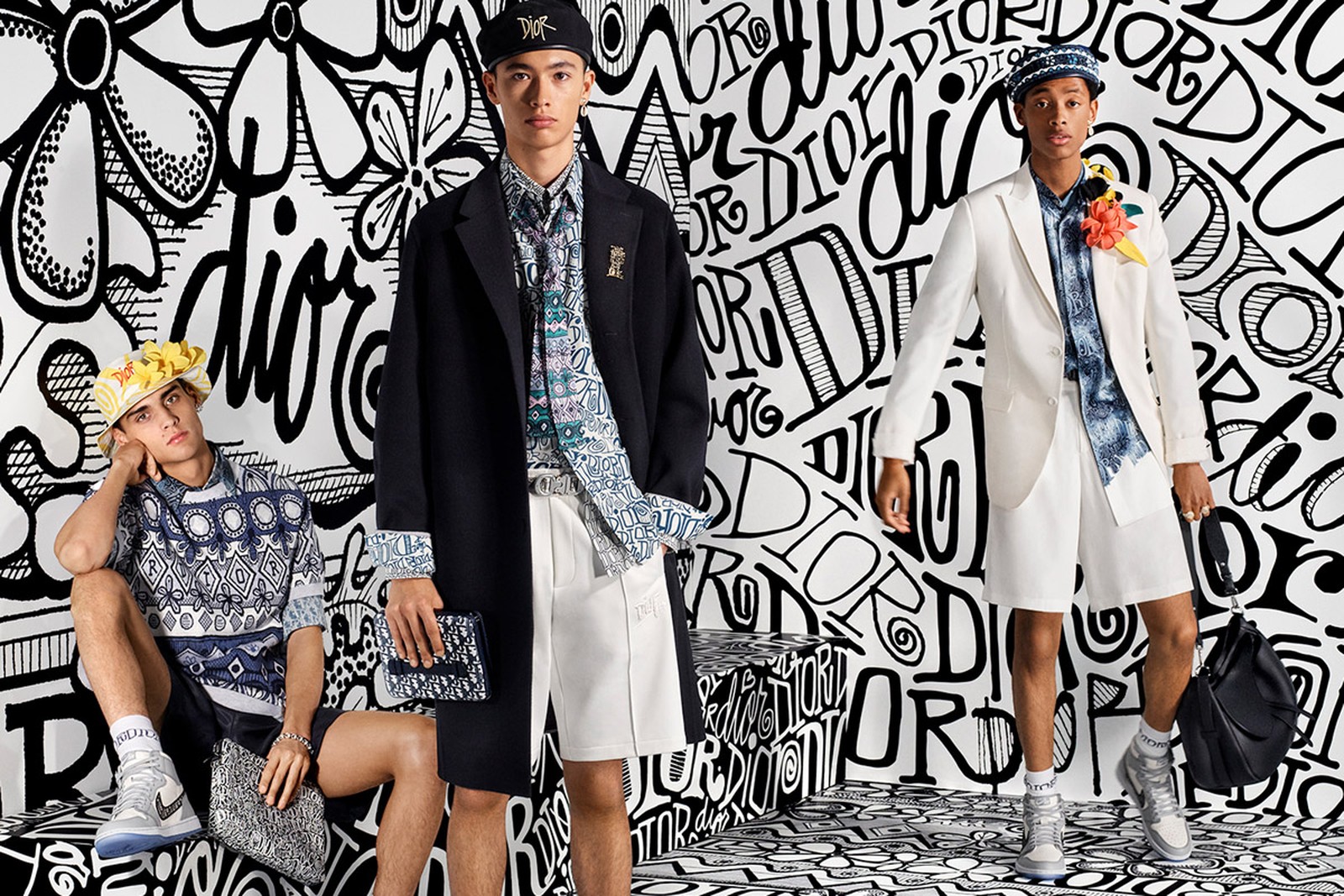 PHOTO CREDIT: DIOR/ STEVEN MEISEL
PHOTO CREDIT: @blvclmvnic, @@sunngjuuun, @katelanpell, @izzyright, @hanpinma, @jeangaillard_, @28luvvul82, @[email protected],@ndjolijean, @t3flon.don, @whoskhial
Dior x Daniel Arsham
After collaborating with KAWS and Sorayama, Jones called on New York sculptor Daniel Arsham to design the set (and some pieces for) the Spring 2020 Menswear show in June 2019.
Alongside the now-iconic B23 sneakers, Dior introduced new silhouettes, like translucent boots inspired by the uniform of the designer. Additional offerings include unique dye experimentation and the Future Relic series which had been applied to several pairs running sneakers and the RIMOWA bags, along with the crumbling "DIOR" logo.
Meanwhile, the Oblique Logo appeared carried across a host of accessories, from shoes to bags to wallets, with Yoon's all-caps 'DIOR' rings also given Arsham's distressed treatment. Key pieces from the collection include a micro-pleated bomber and a zippered shirt with hand-drawn artwork and a Dior Saddlebag, a wide scarf, complete with an Arsham inspired, historical newspaper print.
PHOTO CREDIT: @jaadiee, @fio_11_. @danielarsham,