Whether it be Martin Margiela making editors trek to the outskirts of Paris or Jacquemus shipping the fashion industry to a farmers field, fashion history has shown us that the most exciting and subversive shows often happen outside the confines of the city centre. paria /FARZANEH added weight to this theory with her Spring Summer 21 collection, shipping a limited number of press and buyers to the very outskirts of London, as a farm in Amersham would act as the setting for her latest show.
As attendees sat on the grass floor, socially distanced, on top of a hill that provided picturesque views of the British countryside, the start of the show was announced through ambient electronic music. Following promptly, the tranquillity of the setting was interrupted with loud bangs as smoke, fire and fireworks erupted from the ground.
This was the designer's creative response to current events around the world. From the fires that rage America's West Coast to police brutality – two issues that have directly affected the team who had created this show – the clothing and theatrics of this presentation were created to start important conversations.
Emerging from the greenery, as the smoke began to clear, models strode up the hill where much of the fashion industry was congregated. Taking a moment to stand in formation facing the audience while smoke still lingered in the air, there was a ritualistic undertone to the format of presentation.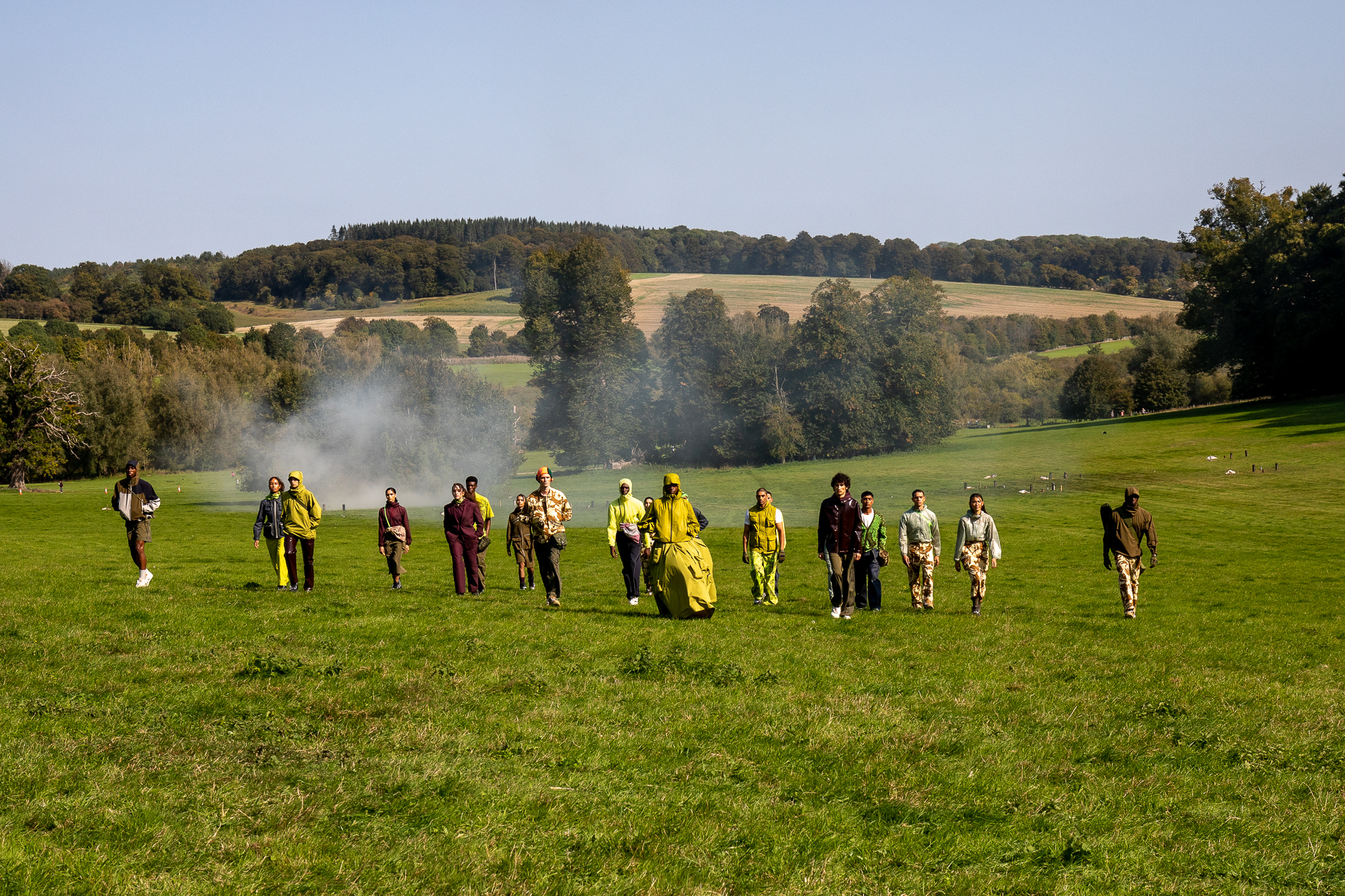 The garments presented in this collection continued to solidify Paria's design language. The paradox between grace and function that the London-based designer exhibits was best shown in an elegant long skirt crafted out of a technical fabric with prominent 3-D pockets, paired with a matching green windbreaker.
Functionality was a dominant theme throughout the collection, as many items included penetrating 3-D pockets, camouflage prints and were accessorised with sturdy-looking gloves. A number of waterproof jackets were presented throughout the looks, using a range of translucent fabrics, colour-blocking and bright hues to layer underneath blazers and pair with casually tailored trousers.
As the models returned to a cluster of trees at the bottom of the hill, surrounded by red smoke, the countryside returned to its peaceful state. Paria's push for change and message of defiance had been delivered.
PHOTO CREDIT: Paria/Farzaneh