The internet is truly amazing. You can find out information, you can communicate with people on the other side of the world, you can start an eCommerce business with no inventory or equipment and you can read brilliant blog posts like this one!
Setting up an eCommerce business is often a great idea – for several reasons. You will learn about the technology behind the shop – providing you with some valuable skills, you will also learn about promoting your shop and if you put in the time and effort – you'll learn what methods work and which do not. These skills are fantastic for those looking to set themselves up as self-employed entrepreneurs or just looking for experience with eCommerce platforms and online marketing; which could lead directly to landing a great job.
The downside of setting up an online store used to be the fact that you would have to invest quite a substantial amount of money. With Printify, there are no upfront costs.
Getting Started
There are a few things that you will need to set up before you can start selling your T-shirts:
An online store – Woocommerce, eBay, Shopify, Etsy
A drop-shipping service – Printful, Printify
Your designs in vector format
If you have your designs, but they are not in vector format, it is pretty easy to convert them, just search online for "convert jpg to vector".
If you don't yet have an online store, check out this great YouTube video by Santrel Media which goes through setting up a Shopify store, step by step.
By using a service such as Printify – an on-demand print and drop-shipping solution for e-commerce websites. Unlike some similar services available for drop-shipping, Printify gives you a choice of different print providers, so that you can choose the one which provides the best quality and/or price. You can choose via a range of metrics including production-time, pricing, location and rating.
Signing up is easy, you simply enter your email address and a password, then give your store a name, enter a few personal details and then you can start creating your T-shirts.
 Once you've added the necessary information, you can start designing your T-shirts. First, you need to pick what type of T-shirt you would like to create. There is a vast range of options with Printify, you can customise everything from jewellery to facemasks – but just to get started it may be worth choosing a basic white T-shirt.
Once you click on the product, you will see a list of providers to choose from: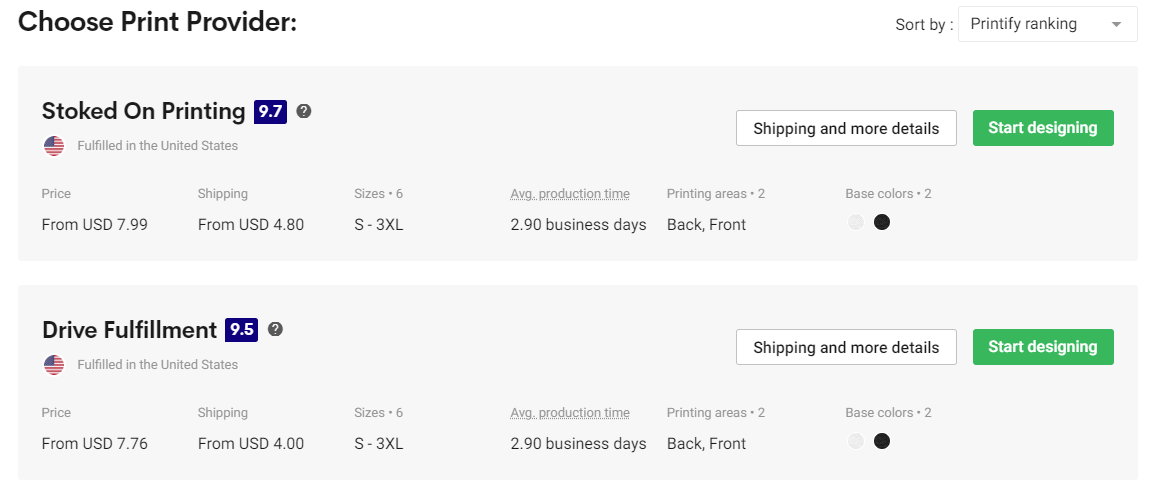 Designing Your T-Shirts
Once you are in the design interface, you can upload your designs straight from your computer, from Dropbox or Google Drive. If you don't have any designs yet, you can use the "custom text" option.
You can move, resize and rotate your artwork so that it fits the T-shirt exactly how you want it to. You can add designs to the front and back of your T-shirt and choose which colours you would like to use.
When your design is complete, click "save product". You should now be taken to a page where you can see a mockup of your T-shirt. You should also be able to choose different tabs for editing your store's description of the product.
It is important to edit the description if you want people to find your products via Google. The more unique and descriptive, the better. The title should also relate to a potential 'search term'. For example "unicorn T-shirt" is more specific and more likely to get traffic from search engines, than a vague title such as "men's T-shirt".
In the "variants" tab, you can add your pricing. The "costs" column, states how much the T-shirt will cost to produce and the "retail price" relates to how much you will charge for the T-shirt on your store. The "Profit" column shows the difference between the costs and the retail price. You want to charge more for the T-shirt that it costs!
Connect to Your Store
The final tab on the "product details" page, should be the "store details" tab. Here you can connect your Printify T-shirts with your store and start selling. Now you simply have to click "connect" on the relevant eCommerce platform and login and authenticate Printify. After you have connected your store with Printify, you should be all set!
Getting People to Your Online Store
Setting up the store is arguably the easy part! Once that is all taken care of you will need to look at ways of getting visitors to your website.
Google Shopping Ads are highly effective, however, the cost per click can be very 'competitive' and eat into your profits. However, they now offer some free services, so it is worth exploring.
To make your website look trustworthy, consider connecting or adding a TrustPilot widget to your homepage and add a contact page. If you do not wish to display your real address and telephone number, consider signing up for a virtual office address and a business telephone number with a phone answering service. Moneypenny provide telephone answering services in the UK and the US, whilst a provider such as Sococo can provide a high street US address.
For a step by step Google Shopping Ads tutorial, see this great video by Darrel Wilson.