The many lockdowns taking a toll? Cabin fever kicking in? Luckily hotels, apartments and apart-hotels are open for essential business travel and work purposes and adhere to strict Covid 19 practices to ensure your stay is safe. Across the Fraser Collection, new cleaning systems and hygiene protocols have been introduced – high standards of cleanliness and sanitation are noticeable upon arrival. They are also open for booking once travel is permitted again if you're thinking about booking a staycation in the capital for the summer months ahead.
Frasers Hospitality has a number of London spots scattered across the city, from Blackfriars to Monument – for this stay, we stayed at the Fraser Place Canary Wharf serviced apartments. Serviced apartments represent a broad range of short-term accommodation available to travellers, bridging the gap between a traditional hotel and residential housing by offering furnished rooms at a convenient location.
Conveniently located, the apartment is a short walk from DLR stations and situated in the middle of the vibrant East End, Canary Wharf tube station and an easy drive if you are coming via Uber etc. Canary Wharf was once London's port industry. One Canada Square started the trend and there are now many gleaming high-rise office blocks. Away from the city centre and vibrant East End, Canary Wharf has more open spaces and it feels good to be by the water.
If you are looking for a break further afield, Frasers Hospitality has apartments in the popular staycation spots of Edinburgh and Glasgow, too.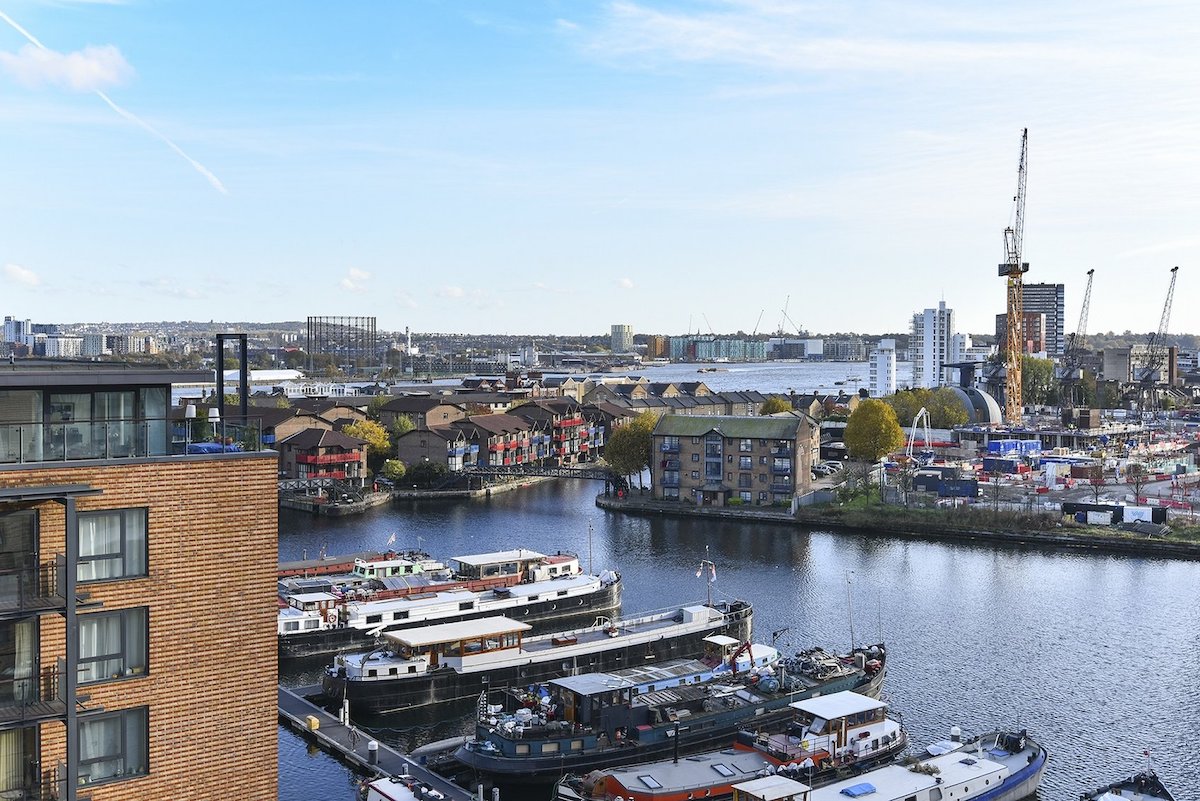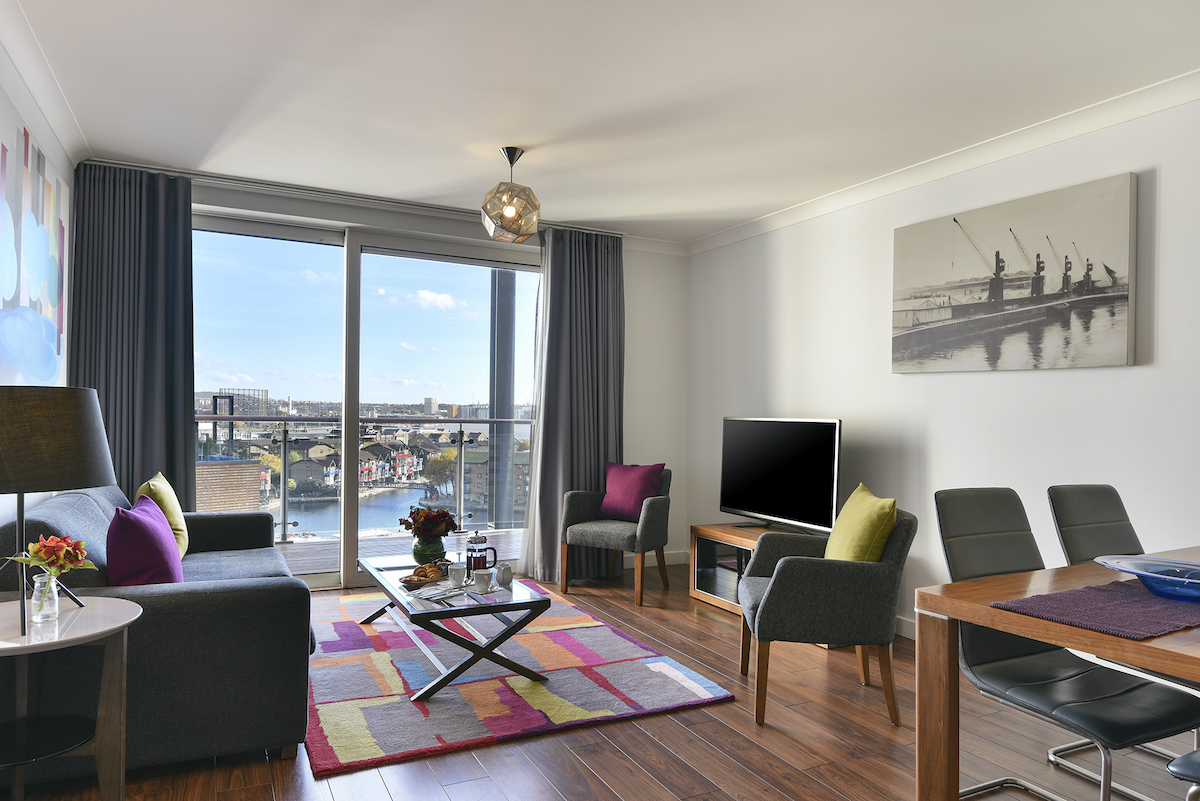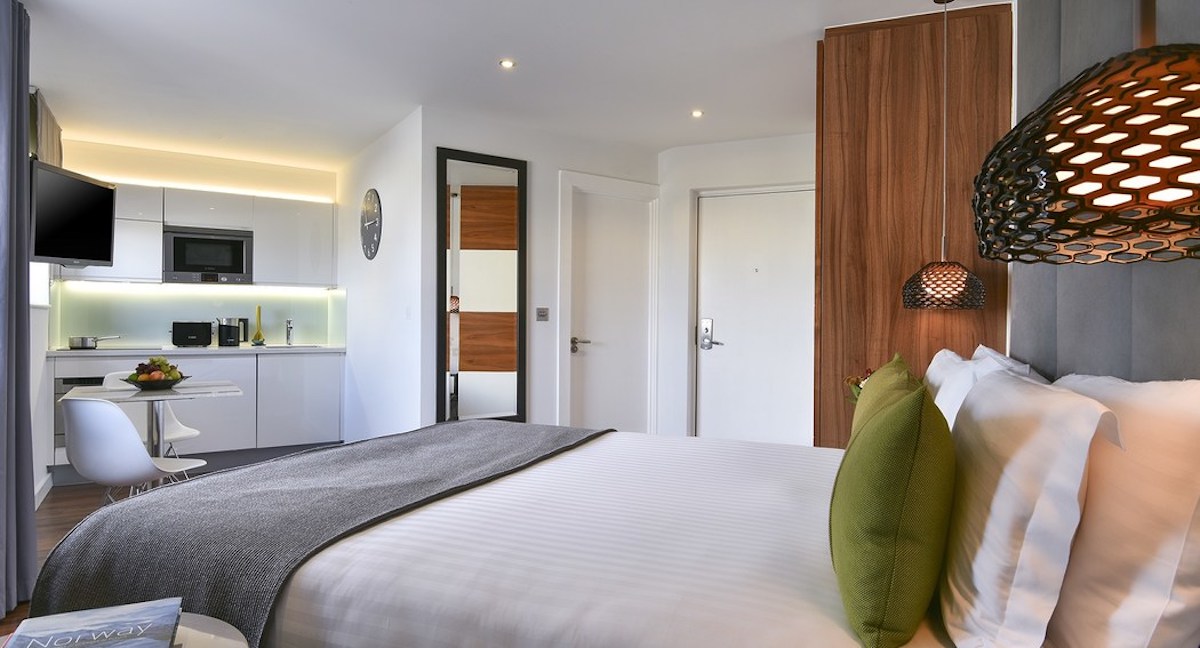 The Stay: Studio Premier for 2 nights
With dazzling riverfront views, Fraser Place Canary Wharf offers modern apartments in one of London's leading financial centres.
An open-plan space with a small wall partition which separates the bedroom and living room with an en-suite bathroom. The key feature of this room is the stunning extra-large balcony that spans the living room and bedroom – from the balcony, a view of the hustle and bustle of Canary Wharf can be found, while keeping the curtains open can allow for a sun-filled wake-up call.
As it's a serviced apartment, there is a kitchenette which means you can make yourself at home and cook if you wish, adding flexibility and less of a reliance on busy restaurants. However, being situated in Canary Wharf, it is easy to take a stroll and pick up food if this is more your thing, with Fraser Place surrounded by numerous restaurants and bars- think Roka, Sticks n Sushi and more.
The apartments are much more spacious than a boutique hotel room. And every small detail – from the stylish bathroom to the kitchen utensils – appears carefully planned and designed. The surrounding area of the apartment allows walks or runs alongside the canal and the River Thames, with Canary Wharf's shopping centres all a short walk away.
The apartments have a modern design throughout, are clean and equipped with complimentary WIFI, with Fraser Place offering everything you need for a nice break away from home. Think high-speed WiFi. Desks to work. Fully equipped kitchens. Spacious living areas. All of the everyday essentials are there for you so you can focus on what matters.
If a studio isn't your vibe, each of the 108 apartments, range from studio flats to penthouse suites. Combining subtle sophistication with modern conveniences for a comfortable stay in bustling Canary Wharf. Staffing is pleasant with the team always willing to help – no problem is too big nor small. Checking in was an easy process and there's the added peace of mind that there is someone at the reception at all hours.
Overall, we'd rate Fraser Place Canary Wharf a 9/10, and would absolutely visit again!
Call 020 7068 7000 to book or visit their website for more information.