Smoking is often seen as a habit of wealthy or powerful people, a sign of edginess and fashion. You merely have to watch a movie and spot countless depictions of seductive actors and actresses lighting up a cigarette. But things have changed dramatically over the years and many are switching to vaping, arguably the next big thing.
Celebrities can be brilliant advocates. They have a huge number of supporters – not to mention millions of followers on social media platforms such as Instagram and Twitter – and are often considered to be 'trendsetters'. So, as many of them have ditched their favourite blend of tobacco for trendy electronic cigarettes, it's not surprising that we're all jumping on the bandwagon.
There's no denying that vaping is the latest fashion trend in 2021, but here we take a look at what makes e-cigarettes so desirable for the fashion-conscious male, in particular. After all, if it's good enough for the likes of Leonard DiCaprio, Johnny Depp, Tom Hardy and Drake, then surely it's good enough for you and me?!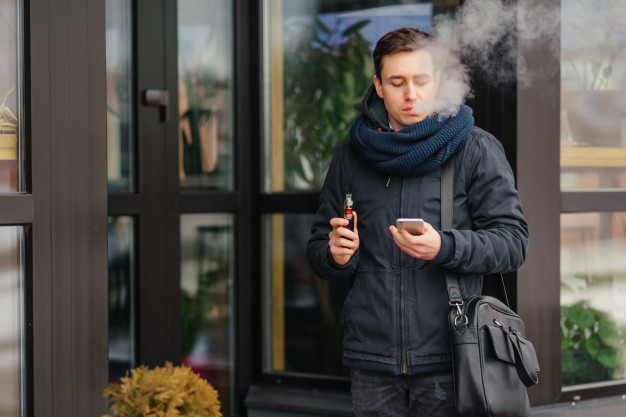 5 reasons why vaping is considered a fashion accessory:
1. Modern is fashionable
Vaping might have been around since 2006, but that's not to say it's any less popular now than it was back then. In fact, the vast range of devices on the market has attracted millions of millennials (born between the mid-1980s and the late 1990s) – all keen to try out the latest technologies and possess one of these fashionable gadgets.
2. It's competitive
Yep, that's right, vaping competitions are a thing. It's called 'cloud-chasing'. People use their vape mods to generate huge clouds and exhale them in artistic ways. Nicotine-free e-liquids tend to be the go-to choice for those who regularly compete which means that vaping becomes more of a hobby as opposed to an addiction. But to really master cloud-chasing, you need to have a sub-ohm device as these are specifically designed for big plumes of vapour.
3. You can make a statement with your luxury vaping device
E-cigarette hardware is far from understated. Available in an assortment of attractive colours, shapes and sizes, there is a device to suit every gentleman's attire. Much like any other accessory, an e-cig can create an ensemble that expresses your style and personality. Whether you choose to keep it firmly in your hand, slip it inside your jeans pocket or stow it safely in your rucksack, well that's up to you.
Vape pens or small handheld devices tend to be the no.1 choice of the more mature male who is looking for something stylish yet sophisticated, whereas large mods are seen as the coolest option for the younger generation. These are the ones that are renowned for producing impressive clouds of vapour!
4. Healthy habits are on trend
It's 2021. A quick scroll on Instagram, and it's clear to see that working out, eating healthy and using CBD (cannabidiol) have become trendy over the past few months in particular. But quitting smoking altogether (or gradually reducing your intake) by switching to vaping is extremely popular too and – given that it is cleaner than smoke – it's a much healthier alternative.
5. There is a vaping culture
Not all vapers are show-offs. Whilst some demonstrate their laid-back lifestyle or hobby through the way they dress – like sporting a t-shirt, hoody and baseball cap or garments with vaping slang printed on them – the vaping community is expanding every day. Aside from embracing it as a hobby, or to keep up with the latest men's fashion crazes, increasingly more people are swapping conventional cigarettes for the electronic kind in a bid to be healthier or kick bad habits once and for all.
The truth is, e-cigs are much cheaper than traditional cigarettes and can often be used in public places where you're unable to smoke. Add to this the assortment of delicious e-liquid flavours that are available to buy online from vape stores, like Cloudstix, and it's no wonder that vaping is a remarkably popular style accessory today.