A list of coveted collectables.
Since its launch in 1980, Stüssy has pioneered the very definition of normcore streetwear, consistently leaving a stamp on both the textile industry and the fashion world. Originally founded by Shawn Stussy and his partner Frank Sinitra Jr., the label's deep-rooted history of collaborations has seen the Californian brand go from a surf-board pop-up to promoting casual fashion dewed in skateboarding influences.
A Stüssy collaboration is an achievement for any brand, designer or artist and with names like New Balance, Our Legacy and Rick Owens adding to the catalogue of memorable projects over the years, it's quickly apparent that it doesn't just collaborate for the sake of it. The label is thoughtful with its partnerships and doles them out carefully, working with brands that it has something in common with—whether that's a human connection or a spiritual one.
Fast forward 20 years and with last month's release of the Stüssy x Nike Air Huarache LE dominating the sneaker game; we've rounded up some of the most coveted Stüssy footwear collaborations released so far.
Stüssy x Nike Air Huarache LE "Desert Oak"
PHOTO CREDIT: @jessylaw, @le_monsieur_andre, @josephfurness
First launched over 20 years ago,  the Air Huarache LE "Desert Oak" is making a definitive comeback thanks to Stüssy's SS21 release.
The love child of Nike's Fraser Cooke and Stüssy UK's Michael Koppleman, the Nike x Stüssy project debuted over 20 years ago and was the first (unofficial) collaboration between the two companies. Considered by many to be the first streetwear/sneaker collaboration of its kind, the two-sneaker project wasn't a co-branded shoe in the sense we know today. Instead, it's said that the colours were already designed by Nike and adopted by Stüssy in London as a limited-edition Quickstrike. Sold in limited quantities, the snug-fitting, waterskiing inspired silhouette, saw Stüssy go from surfing contender to a leading name in sneaker collabs.
In keeping with the shoe's original design, the sneaker appears in the two familiar earth-toned colourways, featuring a nubuck and textile upper, outer cage, supportive elastic heel strap, and foam midsole with Nike Air cushioning. Elsewhere a circular badge in a vibrant red colourway round off the design.
Stüssy x Nike SB Dunk Low "Cherry"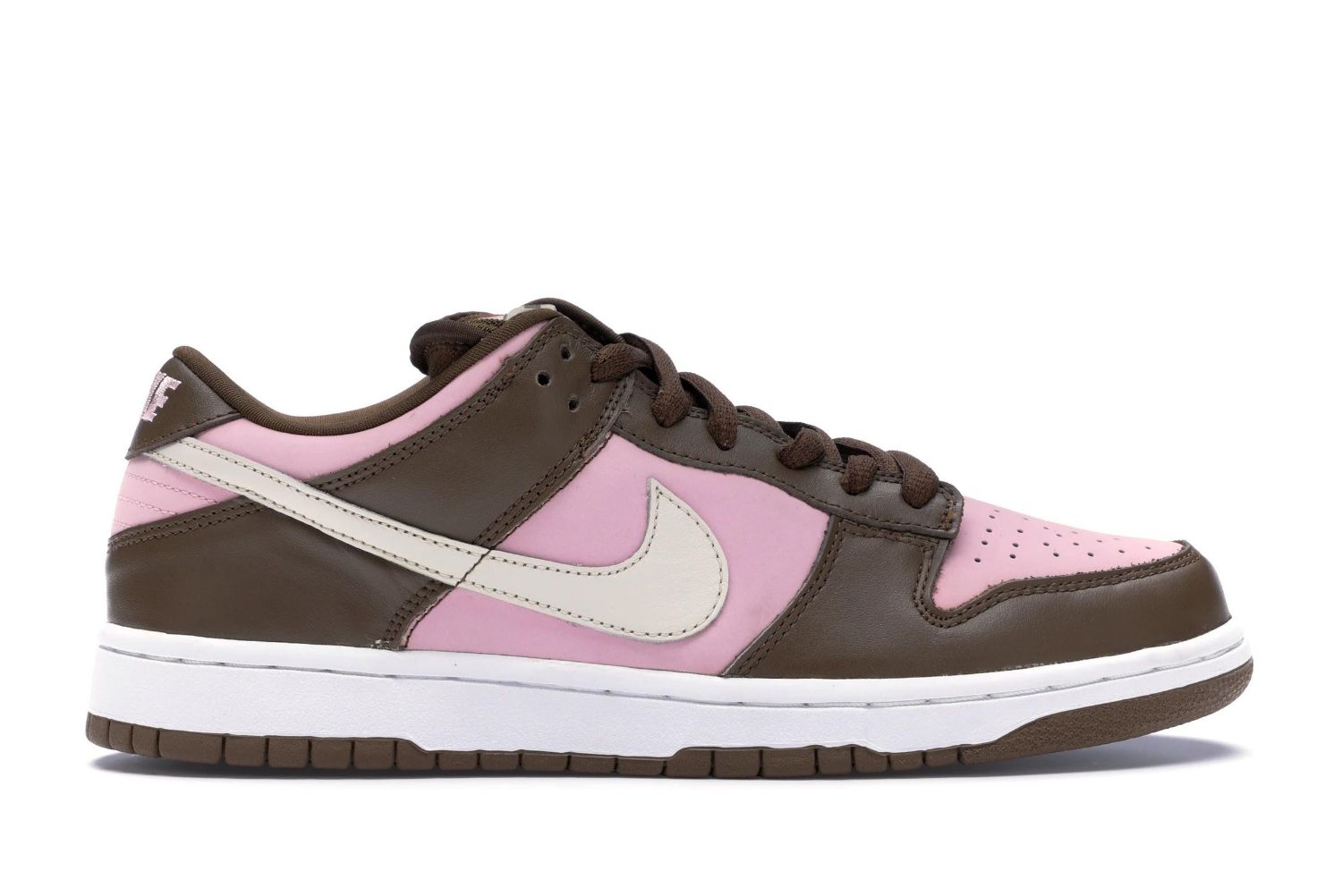 Returning once again in 2005, the Stüssy x Nike SB Dunk Low "Cherry" became one of the most memorable and sought after projects from Nike and Stüssy. Arriving as part of Nike SB's Team Manager's pack — in which industry team managers were given the opportunity to design their own footwear — the duo's second collaborative project served as the foundation of the SB's ethos "fun and innovative design that was as bold as the sport itself."
Designed by Robbie Jeffers, the Stüssy Dunk features full Neapolitan details, with each colour representing the quintessential flavours of the three-striped ice cream. Designed with a shy pink base, brown leather overlays and a cream-coloured Swoosh, the tongue tag gives meaning to the shoe's name, with a fully drawn cherry topping off the silhouette.
Dior x Stüssy B23 High Top Bee Embroidery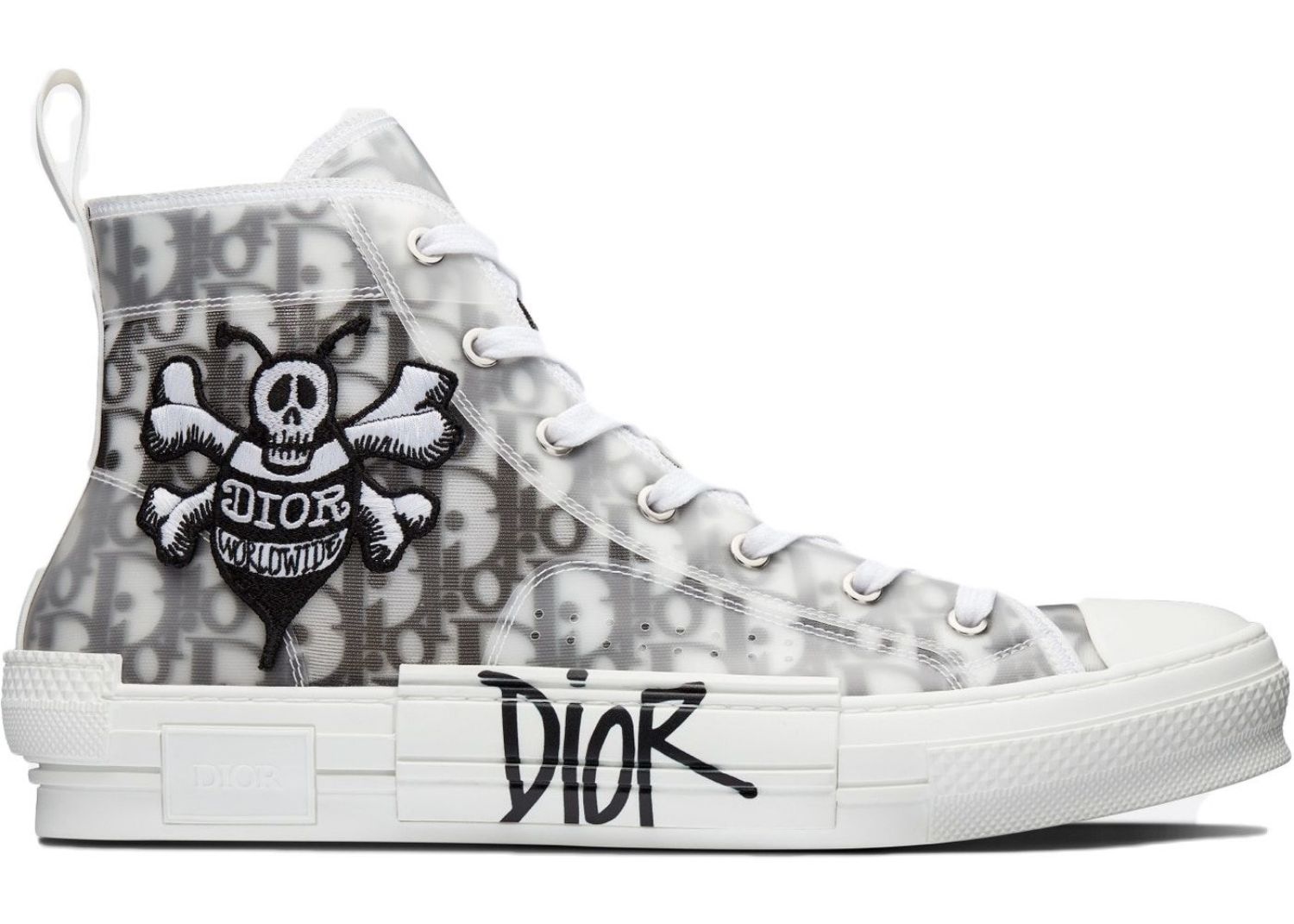 Adding to a roster of collaborative partners by Kim Jones the collection 'Dior And Shawn' was showcased on runways in 2019. It was the first time that Stüssy had worked in the fashion world after departing from his brand in 1996. The return marks his debut as an artist after being nearly absent for over 20 years.
Drawing from the bold colours of Miami's historic Art Deco architecture, Jones and his team-coloured in the black-and-white artwork that Stussy submitted for Pre-Fall 2020, with select items utilizing labour-intensive beading that demanded 2,600 hours to complete. Elsewhere, the team outsourced a unique Japanese printing process to create heavily manipulated marble-like patterns. "That's what intrigued me, is when he started talking about taking my kind of iconic artwork and putting it into these couture methods," Stussy recalled. "I have zero interest in going and printing some $40 USD T-shirts, but to do this was really an eye-opener."
Presenting a foray of footwear and apparel, stand out pieces from the collection include a reinterpreted B23 silhouette. Replacing the High Top's previous monogram print, the reimagined design features Shawn Stussy-style graphics on the other. Hand-touched finishes include the "wave print" typography found dominating the collections apparel and an embroidered bee motif.
Stüssy x Nike Zoom Spiridon Caged 2
PHOTO CREDIT: @scottddonovan, @alanrvy, @ryann_grantham
Just one of three stand-out Nike x Stüssy collaborations released last year, the Nike Zoom Spiridon Caged 2 left Stüssy firmly on a pandemic filled footwear map.
After first falling under the radar in the early '00s, the revived Steven Smith design launched in two colourways, catching the attention of sneakerheads thanks to a larger collection launched with Nike. Both styles arrive with a mesh upper with woven textile overlays alongside Nike's signature black swoosh motif. Dual branding comes in the form of oval-shaped Stüssy badges on the tongues and heels, printed insoles and branded touches on the outsoles.
Stüssy x Dr Martens Penton Loafer

Whilst many remember some of the recent collaborations between Stussy and Dr. Martens, it's easy to forget that their relationship spans back nearly a decade. Kicking things off between Spring/Summer 2009 and Fall/Winter 2012, the duo's collaborative efforts were relatively trend-focused and straight-forward — t0nal hues and raw denim — avoiding the design codes and aesthetic that we are so used to seeing today.
In 2016  the pair tapped each other to release two colourways of the classic 1460 boot, which featured pebbled leather and fabric hair panels; a black version of the "Bailey Creeper " with a cheetah print toe. It was an offering that skewed a little more punk and was inarguably more interesting than the pair's previous drops.
For SS18, Stüssy and Dr. Martens collaborated on an exclusive four-piece collection, bringing west coast sensibilities to the classic Penton loafer. Arriving in a smooth leather upper with the premium faux-crocodile panel and a dual-branded sock liner available in black, cherry red, green and white as well as classic Dr. stitching and a welt sole finish.
Stüssy x Clarks Originals Wallabee Boot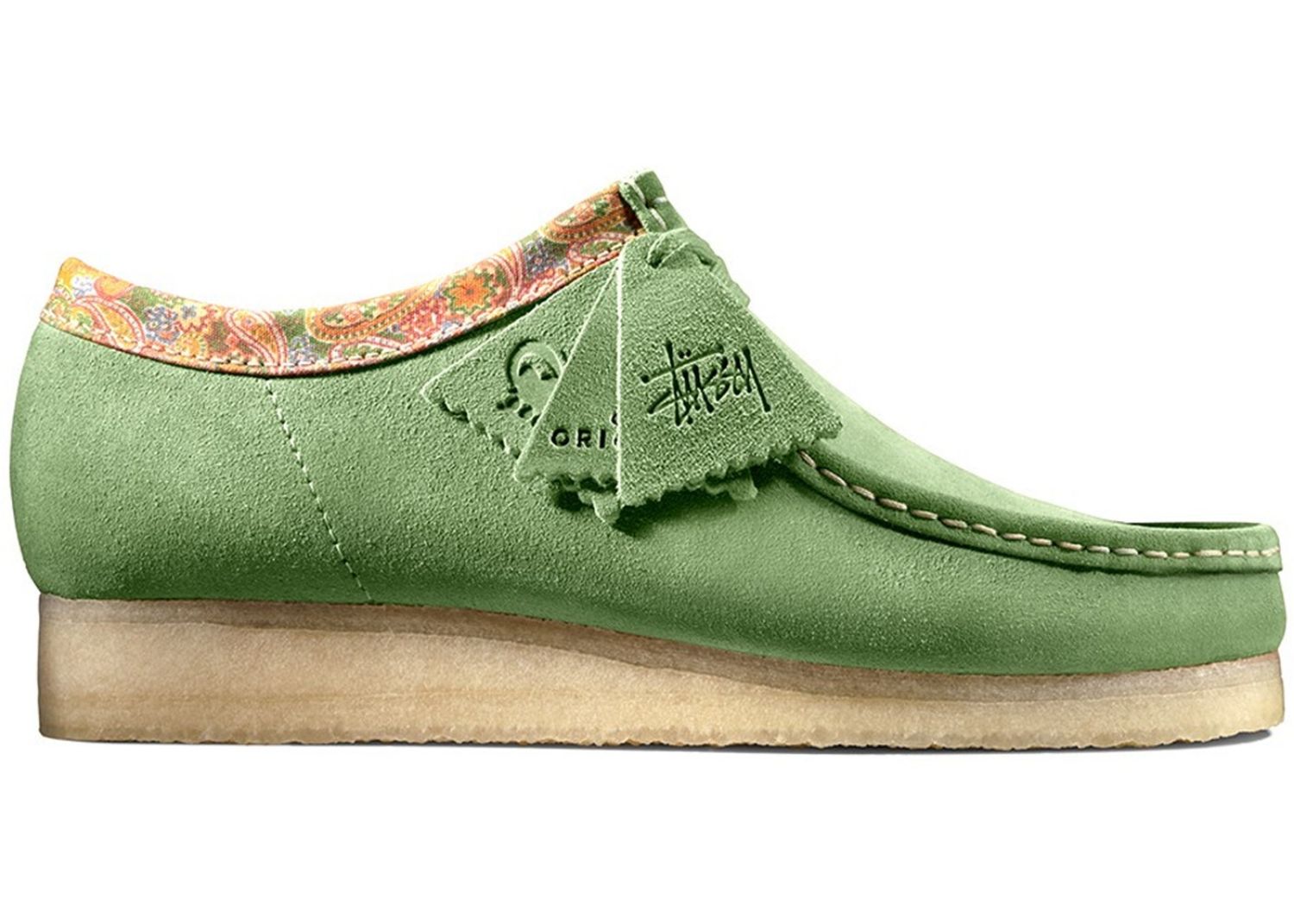 The notoriety of Stüssy's subculture appeal has meant that no retailer is off-limits. Continuing a long-standing partnership, the Stüssy and Clarks Originals duo proved to be a breath of fresh air with the release of the Wallabee Boot.
Launched as part of the Cali label's AW19 collection, the late '60s model arrives with a choice of powdery sage green or a rustic deep brown. Both options arrive with a bovine leather upper lined with a colourful paisley collar and a trademark crepe sole.
Stüssy x Nike Air Force 1
PHOTO CREDIT: @jonlaflare, @asap_r1cky, @sallyssneakers
2020 was a killer year of Nike and Stüssy and the pair's collaborative efforts on the Air Force 1 was no exception.
After reinvigorating Nike's Spiridon Caged 2 by-way-of a three-piece collaboration, the Stussy x Nike Air Force 1 Low updates the retro low-top with a hemp upper that is complementary to that of their Fossil-colored released prior. Unique branding elements include a split-embroidered Swoosh, Stussy World Tour tongue tag and a double 'S' stitched atop the toe box. The latter logo is repeated on a metallic emblem adorning the interwoven heel tab. An off-white rubber cupsole maintains the sneaker's neutral palette.
Stüssy x Nike Air Huarache Light