Series 2021-22.
The brain child of Erasmo A. Ciufo, Untitled Artworks is an independent fashion label that takes a step back from the temporariness of streetwear culture. Crafted in the midst of a global pandemic, the latest offering from its unnamed capsule sees the brand offer a 'blank space for the consumer's interpretation' and aims to recode the concept of modern elegance.
Inspired by the world of art — and a fruitful career working with the likes of Adidas, Marcelo Burlon and Off-White — the Milan-based label champions itself on avoiding the over-structured, over-represented fashion marketing system. 'In modern society, we are constantly exposed to temptations and distractions. We are overwhelmed by a saturated market and we have lost the connection to the sense of living, the value of building sincere interactions.' explains the brand's mission statement.
Made in Italy, the limited edition collection sees a range of hand-painted, embroidered, and screen-printed techniques across a slew of genderless and seasonless ready-to-wear pieces. Conscious of the industrial processing and its costs in terms of water consumption and emissions, garments are crafted using natural fibers (organic cotton) and dyed using mainly water-based inks.
Highlights from the 'series' include a range of knitted jacquard blankets, oversized T-shirts, and a striking, preshrunk long sleeve tee. Serving as an investigation into the roots of the human being, ancient and rural symbols are a continued theme throughout the collection as well as anthropological elements which have been reimagined as a key print.
Accessories range from socks to caps and have been given the same rural symbols treatment.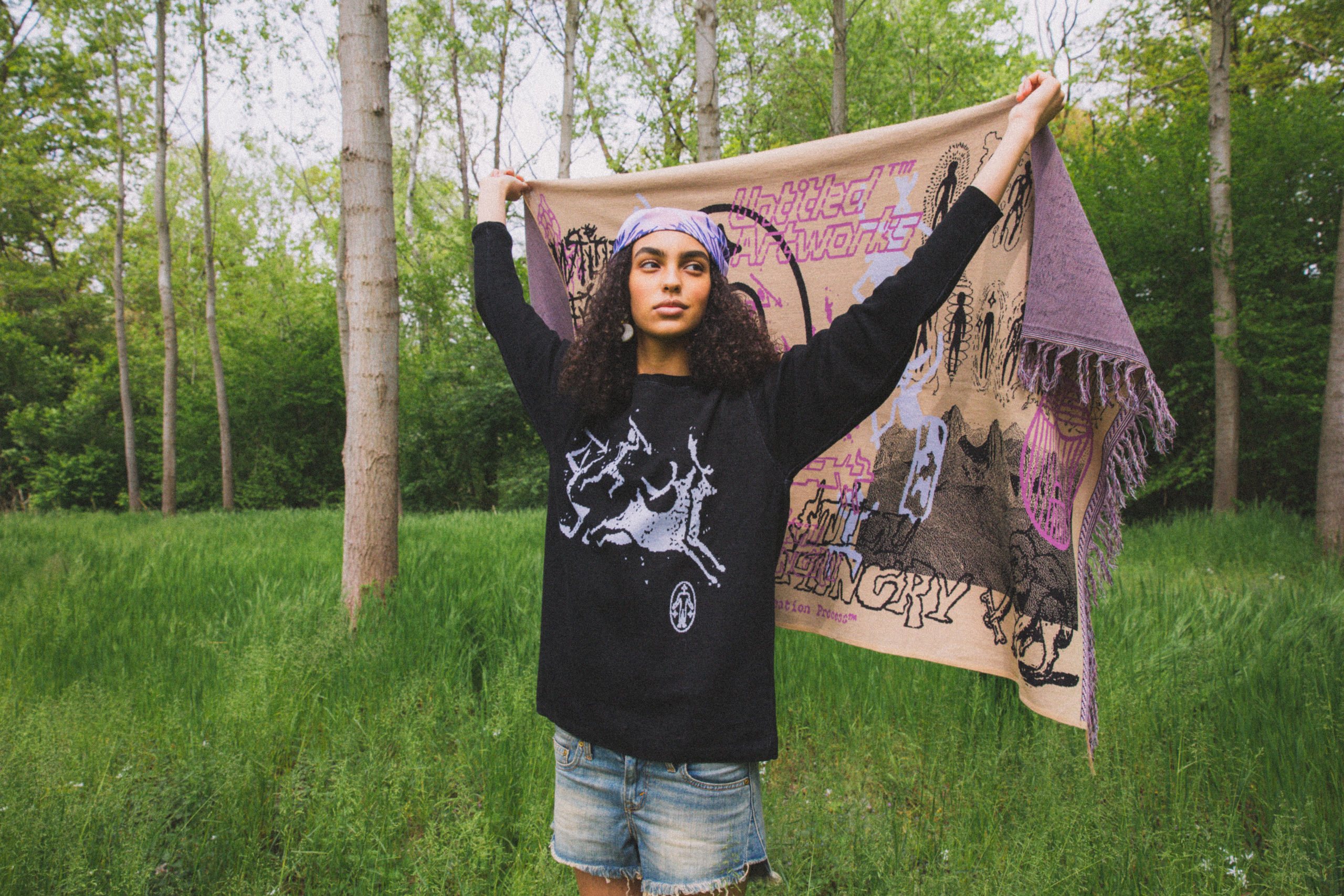 Thoughts? The latest pieces from Untitled Artworks are available to buy now via the brand's website.
CREDITS: Models: Alhassane Francois, Emanuele de Lorenzo, Noemi Kassa, Aida Portuesi, Omar, Creative Direction: Erasmo Ciufo, Photography: Paolo Mottadelli, Video: Andrea Junior di Marco, Production & casting: Francesca Grazian