Sneaker brands don't get much more popular than Adidas. Heck, a few years ago this vast sportswear company even managed to sell 1 million pairs of shoes made from ocean plastic! It just goes to show how many consumers clamor over their products nowadays.
However, as any footwear aficionados know, not all of their infamous sneakers are made equal! Are you on a hunt to buy the best Adidas sneakers possible this year? Well, you've come to the right place.
We've scoured the shelves to find the top Adidas sneakers for men in 2021. Keep reading to learn all about them.
Adidas Stan Smith
No list of high-quality Adidas sneakers would be complete without their Stan Smith. With its simple design and iconic green streak across the rear, you'll struggle to find a more popular pair of shoes. Want to know a fun fact about them?
These classic sneakers were first designed for tennis players, hence the name (Stan Smith was a famous tennis player back 1970s)! Today, they're worn less for their performance on the court and more for their sleek, stripped-back aesthetic appeal.
You can wear a pair of Stan Smith trainers all year round, no matter where you are or what the occasion happens to be. From casual outfits to smarter affairs, you'll never look out of place with these Adidas sneakers on your feet.
Adidas Superstar
Another classic design (not to mention a front runner for the best Adidas sneakers ever made), the next pair on this list is the Superstar. You've almost certainly seen these ones before! With their shell-toe design, black stripes over white leather, and the golden "Superstar" writing on the sides, Adidas have been selling these sneakers in their droves for the last 5 decades.
Like the Stan Smiths above, you can wear these versatile shoes anywhere. If you want our advice, though, the Superstar is better-suited for informal, casual outfits. Slip them on with a pair of jeans for a practical and stylish accessory.
Love these sneakers but feel concerned about wearing leather? Don't be! Adidas now makes a vegan version of these Superstar shoes, where the materials are both recycled and 100% free from animal ingredients.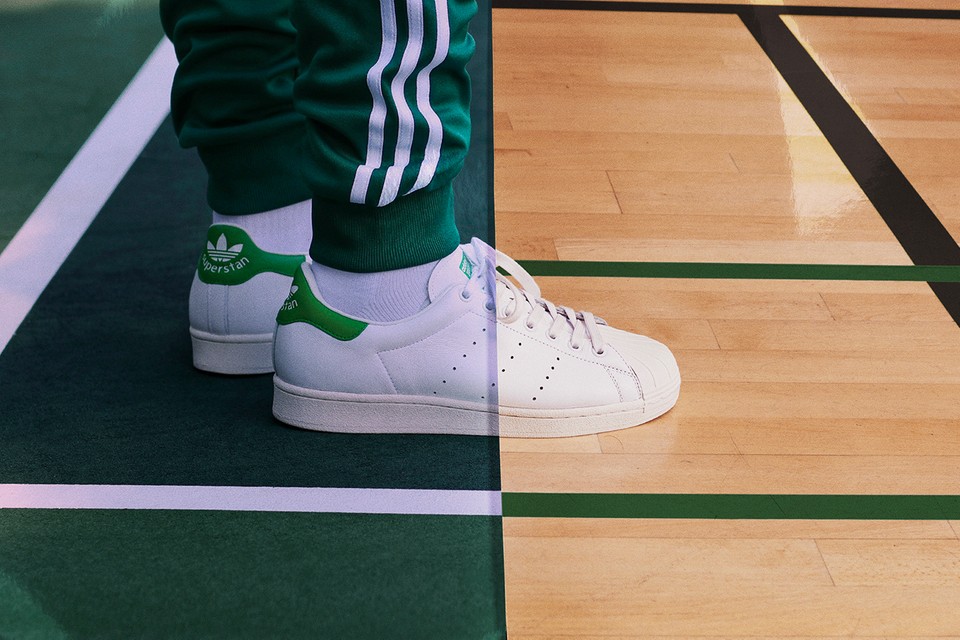 Adidas ZX 2K Boost
80s disco meets everyday practicality with the ZX 2K Boost shoes. Bold colors on the upper and back end juxtapose the sleek white of the sides; loud graphics run throughout. The result?
You're sure to get peoples' attention with a pair of these Adidas sneakers on your feet! They're fun, stylish, and come with enough "retro" vibes to satisfy even the most nostalgic fashionistas out there. Wear them for walks or in casual settings to complement your colorful personality and make a statement while you're at it.
Be careful, though. The ZX 2K Boost sneakers run large, so you'll want to pick a pair that's at least half a size too small for full satisfaction.
Adidas Yeezy 500
A relative newcomer to the Adidas catalog, the Yeezy 500 rapidly rose to sneaker stardom when it first came out in 2018. That, in part, is to do with the mega-famous celebrity who designed them: Kanye West. But it also has something to do with their unique "dad look", supreme quality, and overall comfort.
We like the range of colors they come in as well. With such descriptive hues as "Supermoon", "Blush", "Utility Black", "Bone White" and "Soft Vision", you're sure to find a pair of Yeezy Adidas sneakers to suit your individual style and wardrobe.
One final thing to note about these shoes is their fit. Sizes run a little small, so we recommend reading a Yeezy 500 sizing guide before buying a pair.
Adidas Ozweego Pure
Swagger. And lots of it. That's what you're going to need if you want to pull off a pair of Adidas Ozweego Pure sneakers.
Big, bulky, and downright ugly, they won't be for everyone.
Trust us, though, this style's most definitely in vogue right now. For someone who doesn't mind making bold statements with their wardrobe choices, Ozweego Pures will complement your outfit and help you stand out from the crowd. Oh, and they're super affordable compared to other shoes in this design niche too.
Parley x Adidas Ultraboost 6.0
Love running? Looking for a new pair of running shoes to take out onto the track?
You're in luck. Thanks to the stylish colorway options (all-white or crew blue are our favorites) and Boost technology, the Ultraboost 6.0s look awesome, feel great, and facilitate athletic performance.
The best part? These particular Adidas sneakers are as eco-friendly as they come. Partnering with Parley, they're made from recycled materials (a lot of which was gathered from the ocean).
Adidas Gazelle
If we had to describe the Adidas Gazelle sneakers in one word, we'd have to say "retro". And you can't blame us! First designed in 1968, these iconic shoes are simple, minimalistic, and as trendy as footwear gets.
The benefits don't stop at aesthetics either. Despite the lack of modern Adidas attributes, such as Boost, the Gazelles are practical too. Not only are they lightweight, but they're also super comfortable to wear (although they may take a while to break in at the beginning).
One final thing: you'll find these sneakers in an array of different colorways. That's good news if you want to pick a pair that matches your personality and style.
Time to Buy the Best Adidas Sneakers
Adidas is a huge European brand that's popular all over the globe, with legions of loyal customers willing to pay top dollar for their latest footwear. And for good reason. Functional, fashionable, and high-quality, they have shoes for every style and situation.
The tricky part's choosing the best Adidas sneakers for your specific needs!
Know the struggle? Well, we hope the suggestions in this article will help you pick the perfect pair. To read more articles on related topics, browse the "Sneakers" section of the website now.