Putting the wearer first.
Founder and Creative Director of Le Merj, Emmanuel, mentions later in this interview that "I just hope that design doesn't move so fast that by the time I'm ready to build this empire where the process of design and the connection to the user isn't just dimmed down to a screen."
At a time where the digital world is at the forefront of fashion, it is refreshing to see a fledgling designer whose main focus is on brand identity.
We caught up with this creative in practice to discuss his latest collection. The supporting imagery displays the models who are lounging post-shoot still decked-out in their full looks he says, "Today I got to see three different people of different sizes and heights in my products. I'm looking at it in three different aspects right there and then. They're all wearing different pieces but it's all from silhouettes that I've made in my head and that's what it is for me. That connection with the user just doesn't beat anything."
The connection between his clothing and "the user" is something that we regularly revisit when discussing Le Merj. The physicality of the wearer dressing and connecting with the clothing is what Emmanuel focuses his designs around. It's about how the pieces interact with the 3D world and not on a screen which, despite it being the opposite of the future according to Zuckerberg, makes Le Merj's experiments with design principles rooted in wearability.
See the interview below to get an insight into the Le Merj world and the "empire" which Manny has in the works.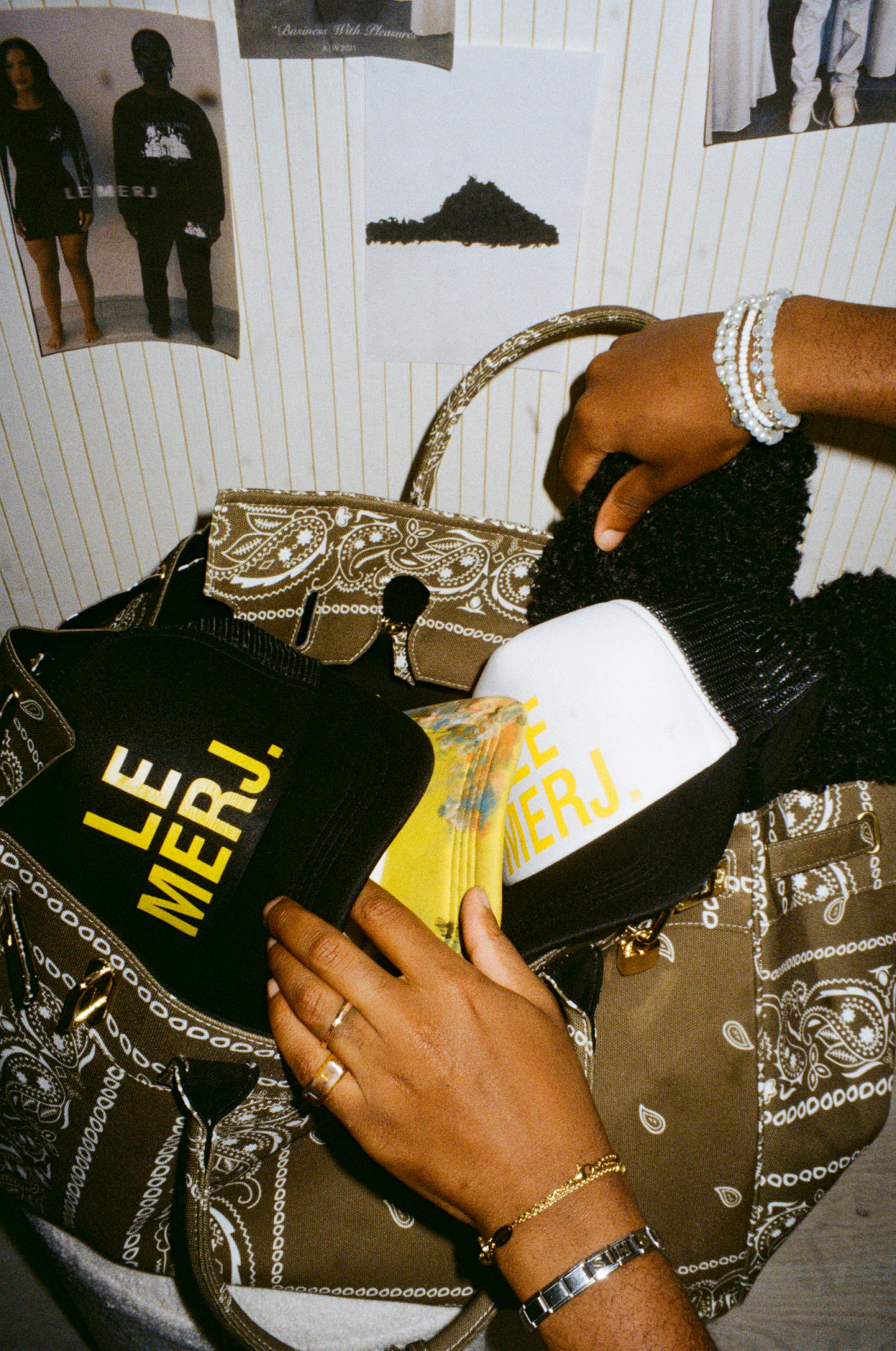 Introducing someone to the Le Merj world, how would you describe it?
First of all, you have to be curious. You have to have some sort of curiosity about design and the way the products work. You need to feel intrigued because there's a lot of concepts I didn't think I would explore, there's also some pieces I didn't think I would enjoy making. That is why I'm so passionate about the name Le Merj which is the concept of bringing together different aspects of design, that's the conceptual ethos of LE MERJ, the name itself is fictional, I'm trying to turn it into reality, I made it up, I just rearranged the spelling of merge and used the french translation of "the". Even down to colour palettes employed… Despite my love for the monochrome theme, I found myself using colours outside of that. Within the collection, you'll see a bit of white, black, burgundy, slate, beige and that's it. Those tones are a huge part of my identity but having a hint of colour shows I am still an artist. One that's evolving, still creating, experimenting as well as widening my horizon.
When was the start of the journey?
Around 2018, but the first physical start was January 2020. Before that, it was just words on an artboard on photoshop, designs and thoughts. Back then I was at university studying architecture, where we were learning about how products would appeal to certain demographics of people; I think that's how I built my clientele so quickly. I had a clear understanding of what I thought the people I wanted to connect with wanted, and architecture taught me to always produce for that user. If you're not producing for the user then it's a free for all, you're going to be confused, which will then have those people confused. My concept is to connect with these users; individuals that appreciate certain silhouettes and abstract artworks, not ones that especially know what they want but realise the potential within each piece and what it could add to their wardrobe. Ones that I knew would represent the brand well and then let that clientele do the visual merchandising. It's not a thing where I've been giving away clothes for free because I value my products too much. I just connected with the right users. I started a year ago, Le Merj is still a baby which means so there's so much more to understand beyond what's been presented so far. That's why I thought it's so important to start with establishing our clientele and knowing what they want.
It's interesting that you studied architecture. As they are both design disciplines they are similar in the sense that they are influenced by art but have to consider practicality. 
It connects subconsciously. I'm thinking about a collection and if I picked up the master pattern of a t-shirt and put it on a square toilet seat it's the same silhouette. The product is circular, it's as simple as that. You walk around and you're going to see handbags in the same silhouette as a kettle. The whole language of design is everywhere. That lamp in front of us is the same silhouette as a beanie. It's circular.
How has it been teaching yourself to create clothing?
In school, you're just taught to teach yourself a lot. In architecture school, it's the same, they expect for you to teach yourself. I was doing that quite a lot but I always had the concept of Le Merj in my head which evolved over time. When I had a weekend free, I would buy four canvases and I would paint continuously or I would go onto photoshop and do artwork for a t-shirt. It sounds so cliche but it started with photoshopping designs onto a t-shirt. The first sample being a sweatshirt with shorts to match, this wasn't an accident, at that time it was my mood, that was my ethos. I was thinking: "I'm here for comfort."
But I wasn't a university student trying to design a building and then in my spare time trying to design a collection. I didn't need to stress myself out at that time, I just needed to understand that this is what I wanted to do and then as soon as I graduated, the green light was on! I started working on the collection from then because you can cross paths or you can collide them. If I'm designing a collection and trying to design a building but at the same time the juxtaposition is unnecessary. The best thing I can say about my design process is that I remove unnecessary. It's not simple but it's simpler.
It's refined. 
It's the same way most buildings you look at have changed from using keys to fobs. It's just efficiency.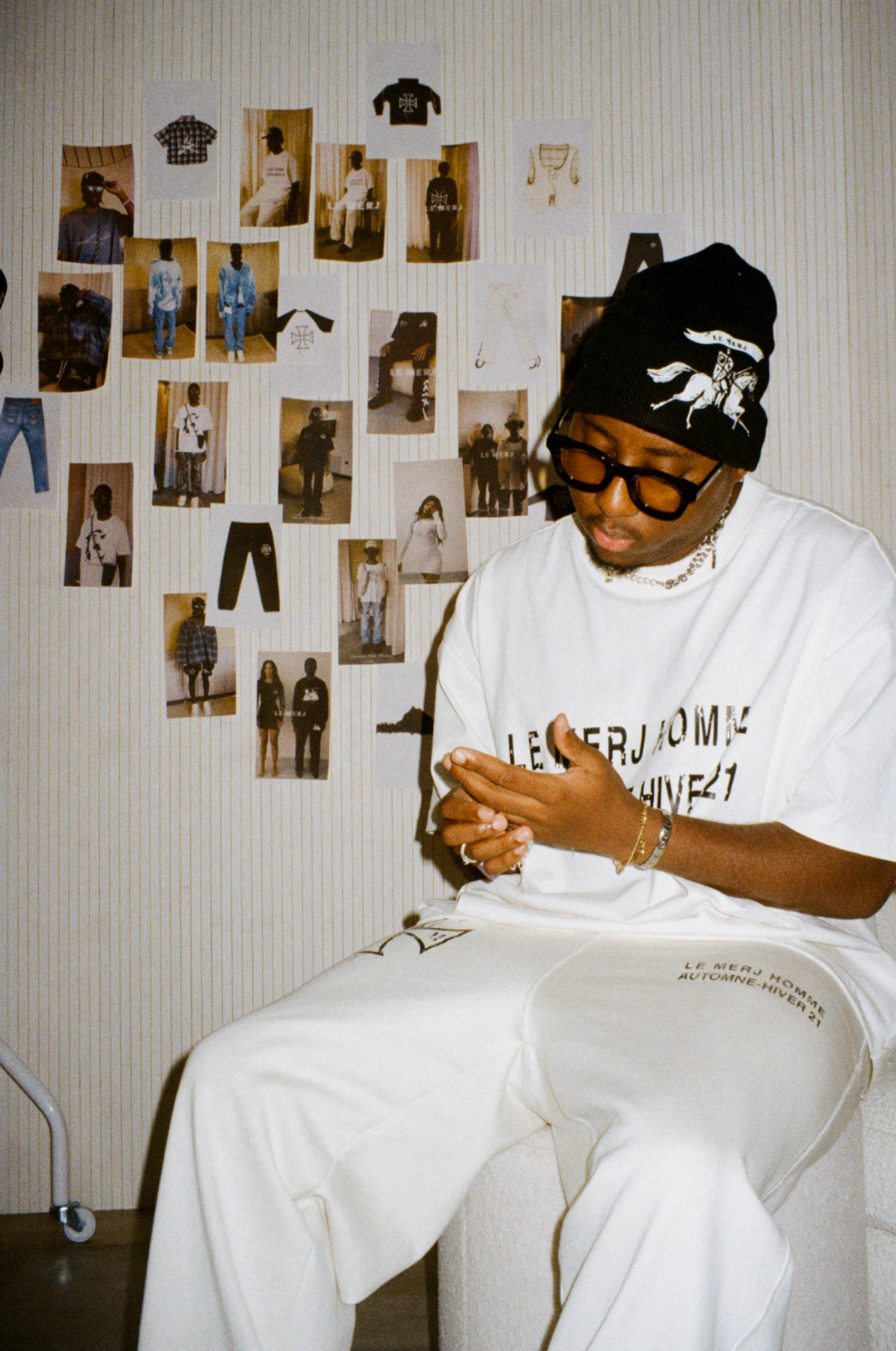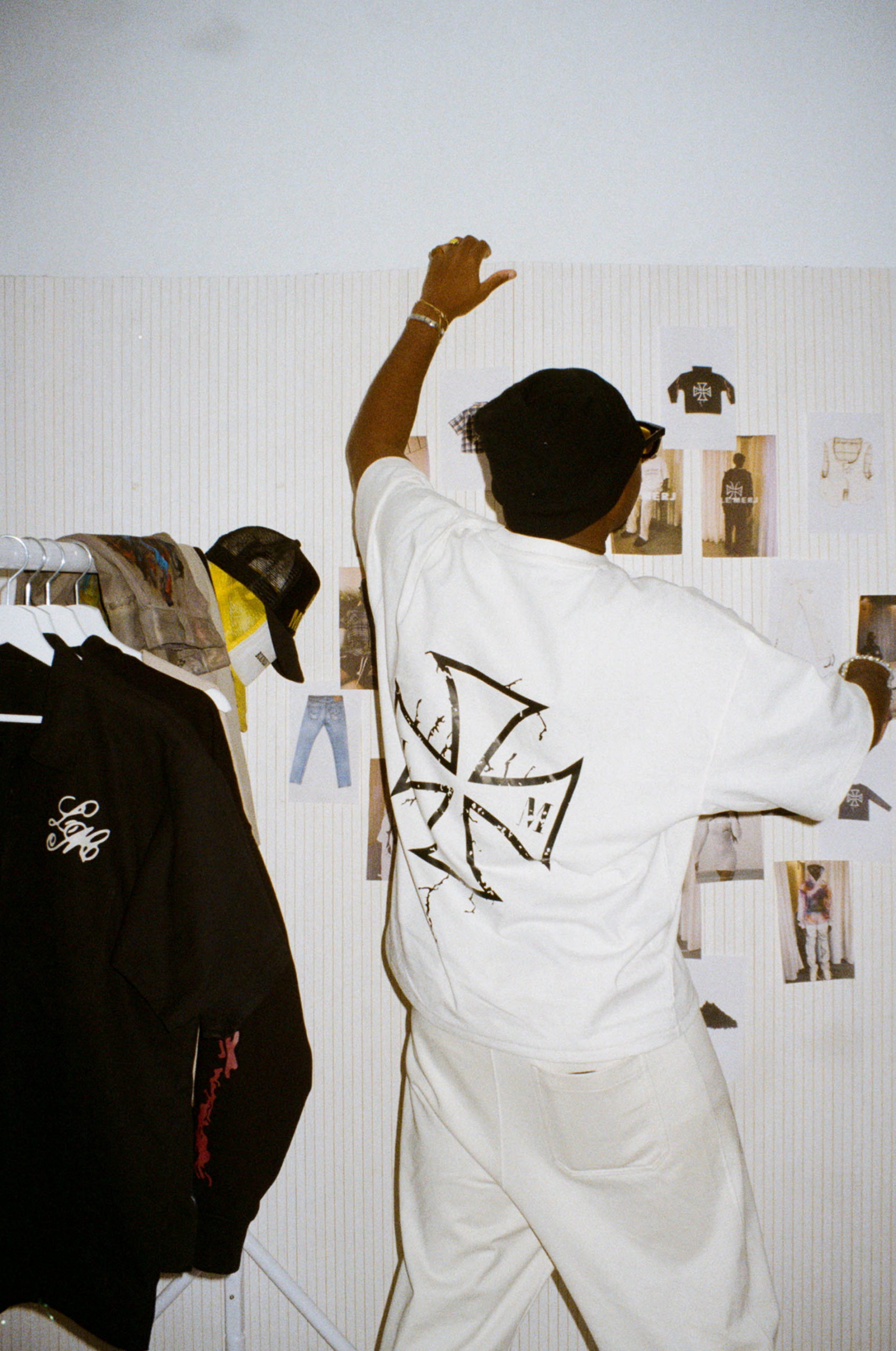 How does Le Merj exist beyond fashion?
I have some Le Merj paintings also; my last collection featured a painting of mine, and currently, I'm making a chair. It's not complete yet but it will be soon. The plan is to wrap it and have no cushions so it sits as a feature chair but the fabric has to be thick enough for it to be comfortable.
Is the plan to be a full lifestyle brand?
If I was to design a world and wear a VR headset I'd sit in my own world… it would be a Google-type building, an empire. A big space with furniture, a showroom too with sculptures, art, open space, and pop-up stores. It's a journey but at the same time design evolves. I just hope that design doesn't move so fast that by the time I'm ready to build this empire, the scene has changed.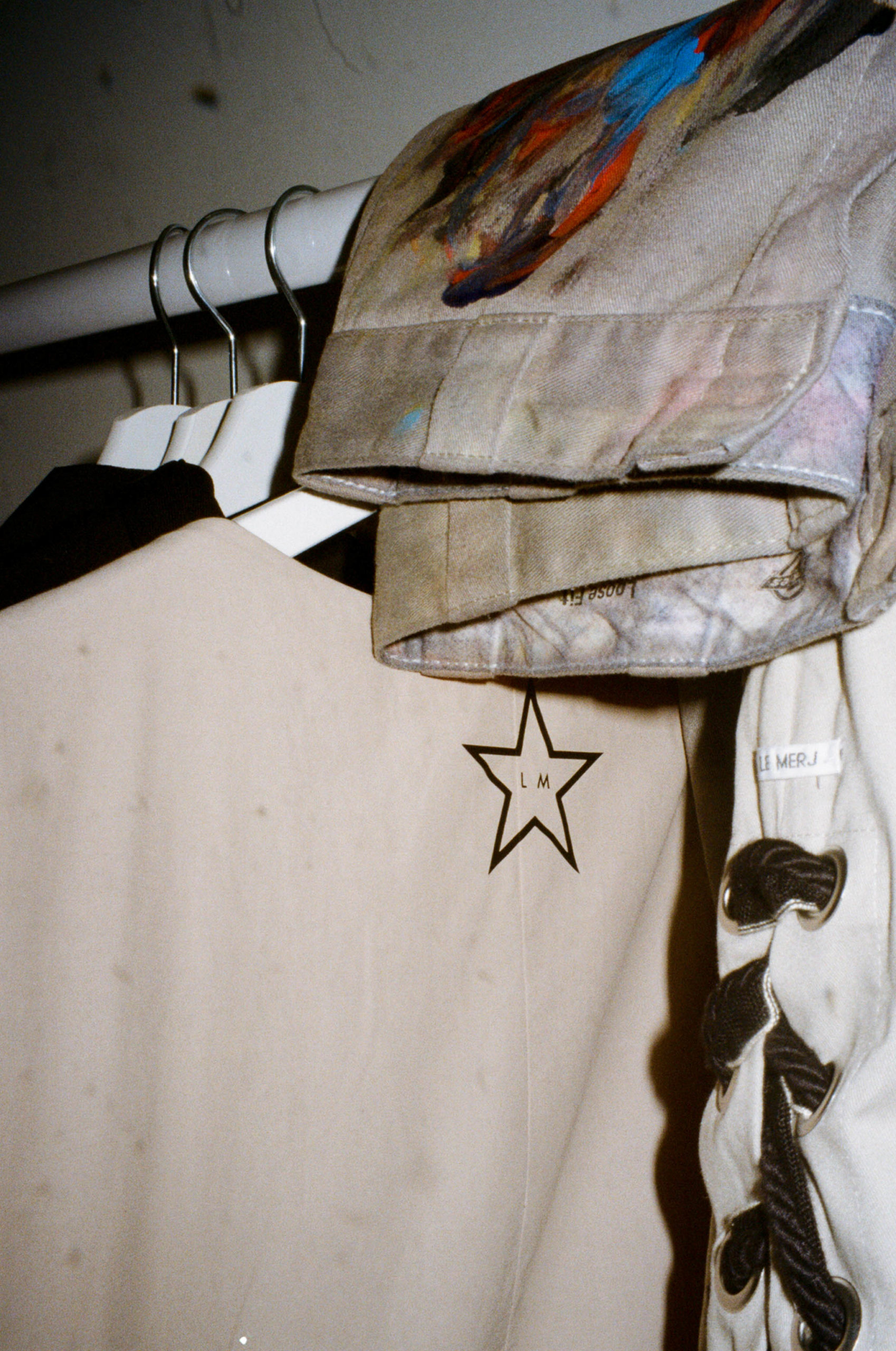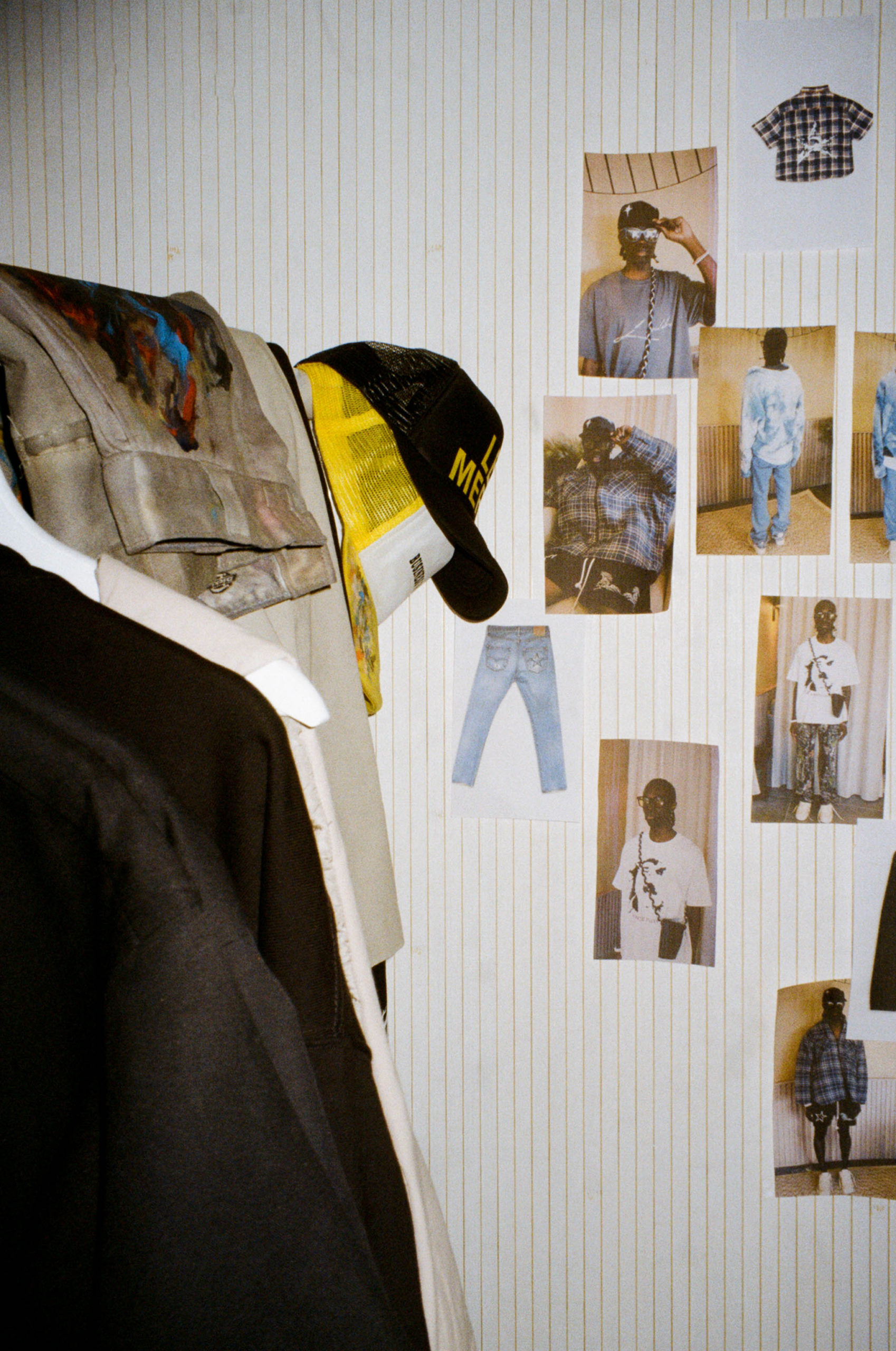 "I just hope that design doesn't move so fast that by the time I'm ready to build this empire the process of design and the connection to the user isn't just dimmed down to a screen."
How do you want the people wearing your brand to feel?
Like the models who are in front of us! I want the consumer to be pleased with the product they've been supplied with, not temporarily but permanently, I try to convey the concept of timelessness with each piece, where users want products from the previous collections; that to me gives me a sense of achievement, I'm sticking to my word, subconsciously. Satisfying the user is why Le Merj has to do furniture and artwork in order to become an empire. One that's sharing design-led products and indulging in different silhouettes and understandings of design language, art illustration, furniture making. It's a good feeling knowing that you're meeting the user's needs.
Talk to me about the fashion scene in Manchester and if it's influenced you?
The only thing about Manchester that's influenced me in terms of fashion is how diverse everyone is. People are open to trying new things, supporting new brands, connecting. Manchester has helped a lot because it's a city where there's an understanding between everyone, especially within this industry. We're just doing our own thing and there's enough room for everyone. Also, it's quite a small city so there have been situations where someone has copied my stuff and people are telling me. I've not even had time to clock it myself. That stuff is not that deep, it gives you more of a reason to release more.
Imitation is the highest form of flattery.
I don't even believe in that. I feel like it's sugarcoating it so people don't get hurt and angry. It's okay to get angry about imitation but you have to view it as motivation. It's not flattery, it's there to motivate you to go harder next time.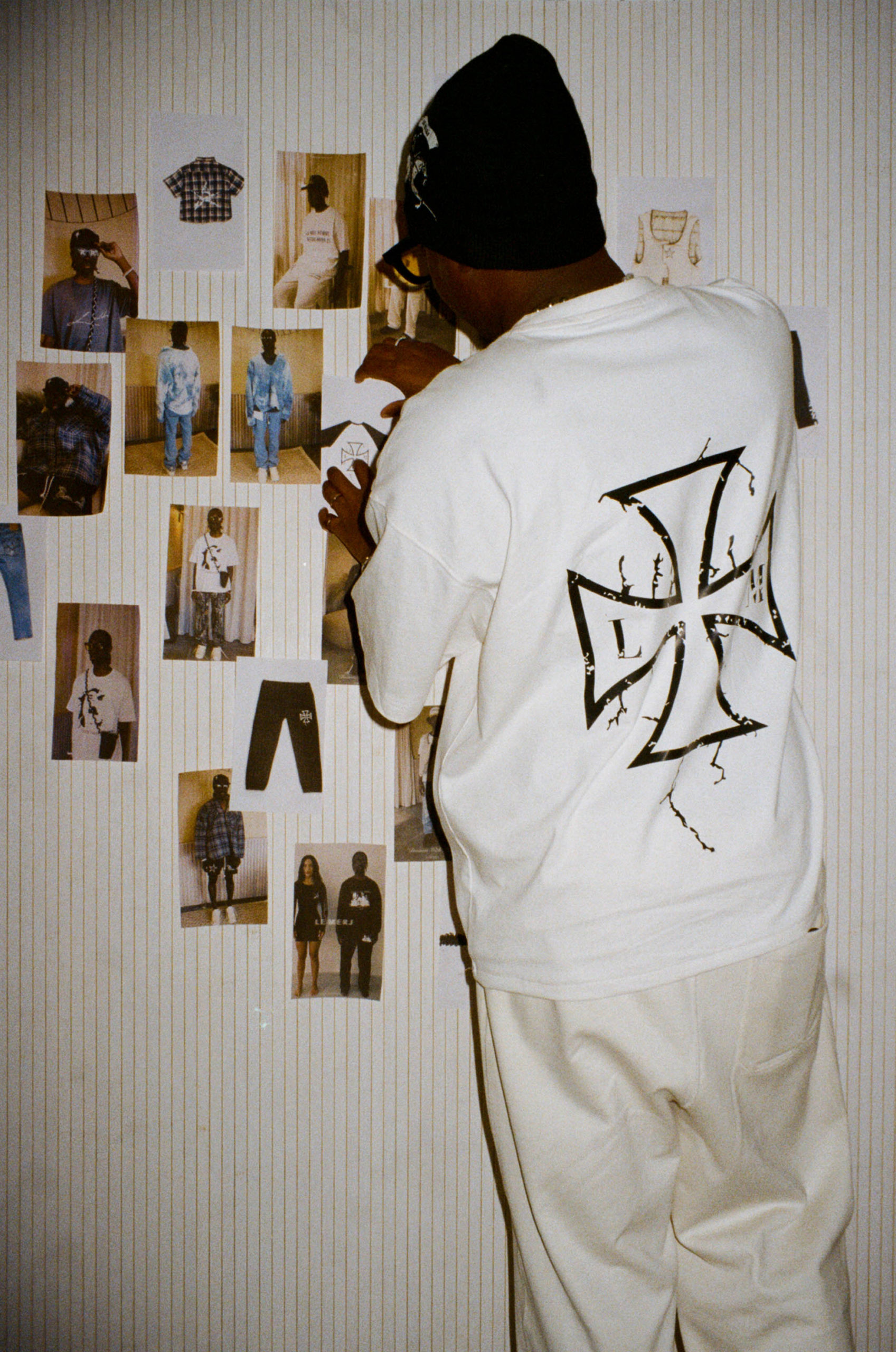 How do you describe your creative process?
It depends on what I'm creating. If it is a t-shirt, then I am looking at placement for text, graphics etc. but overall I'm drawing as much as I can and I'm getting inspiration from artists that I appreciate. It will be people such as Reginald Sylvester, George Condo, stuff like that. It's a lot of understanding what's around me and what I look at on a day to day basis. If I look at a wabi-sabi interview or Axel Vervoordt interviews, I'm seeing this stuff as mine because it's all the same tones. A lot of the Axel stuff is browns, blacks, aged wood and a lot of the wabi-sabi is worn cotton, hand-stitched pieces. It circles back to my aesthetic, the understanding of mixing it, putting it all together, and then putting it into my language which at the moment is a menswear collection. 
The understanding of not everything meeting in the middle and matching. A lot of my text is distressed, you see a lot of broken text, broken artwork, a lot of sleeve prints that are simple but on the sleeve, it looks so elegant. I'm starting from scratch, sometimes with a t-shirt, I'll draw on the master pattern where I want to put the print. For a hoodie, it depends on how a hoodie sits, if it's a drop sleeve hoodie, it will have a sleeve print, if it's a sweatshirt it will have a front big print. I think the start of creating something for me is understanding my design language and my design language is knowing how I want to wear something, knowing how I want to use something. A lot of the time I create for myself and then abide by the user. I feel like I have a lot of stuff in common with my users.