Talks growing up, influences & what's next.
With a collaboration with Jay Z and Kid Cudi on the soundtrack for the film to "The Harder They Fall" and his debut mixtape "Reporting Live (From the Back of the Rads)" having just been released, if you don't know about Backroad Gee it is time to wake up.
The artist's high-energy sound is reflected in his personality, often communicating through the adlibs that are laced across his songs. A range of sounds such as "brrrrr" and "vrom Skrt" slip their way into his everyday speech and manage to make sense in context. For those who can't make sense of them, the UK artist hinted towards making a dictionary on Instagram recently.
His unique style of making songs first took over the UK music scene with a bang in the form of the single Party Popper in 2020, only one year after he started taking music seriously according to the following interview with the musician. A bass-heavy record that includes Backroad rapping in his melodic style, the artist has proven his ability to make a variety of sounds work for him.
On the new tape, which runs at 18 songs in total, the music ranges from upbeat drill to a more ​​jazzy afroswing sound. The diverse range of genres that he works on and blends together makes it a hard task to define Backroad Gee. The common thread in his songs is his energy and choppy flow, however, the beat behind it will regularly switch between different styles.
Taking this into regard, when it is time to sit down with the artist for a chat, I begin by asking him how he would define his sound. Read the full interview below, in which we also discuss his Congolese roots, his new record and his indifference to fashion.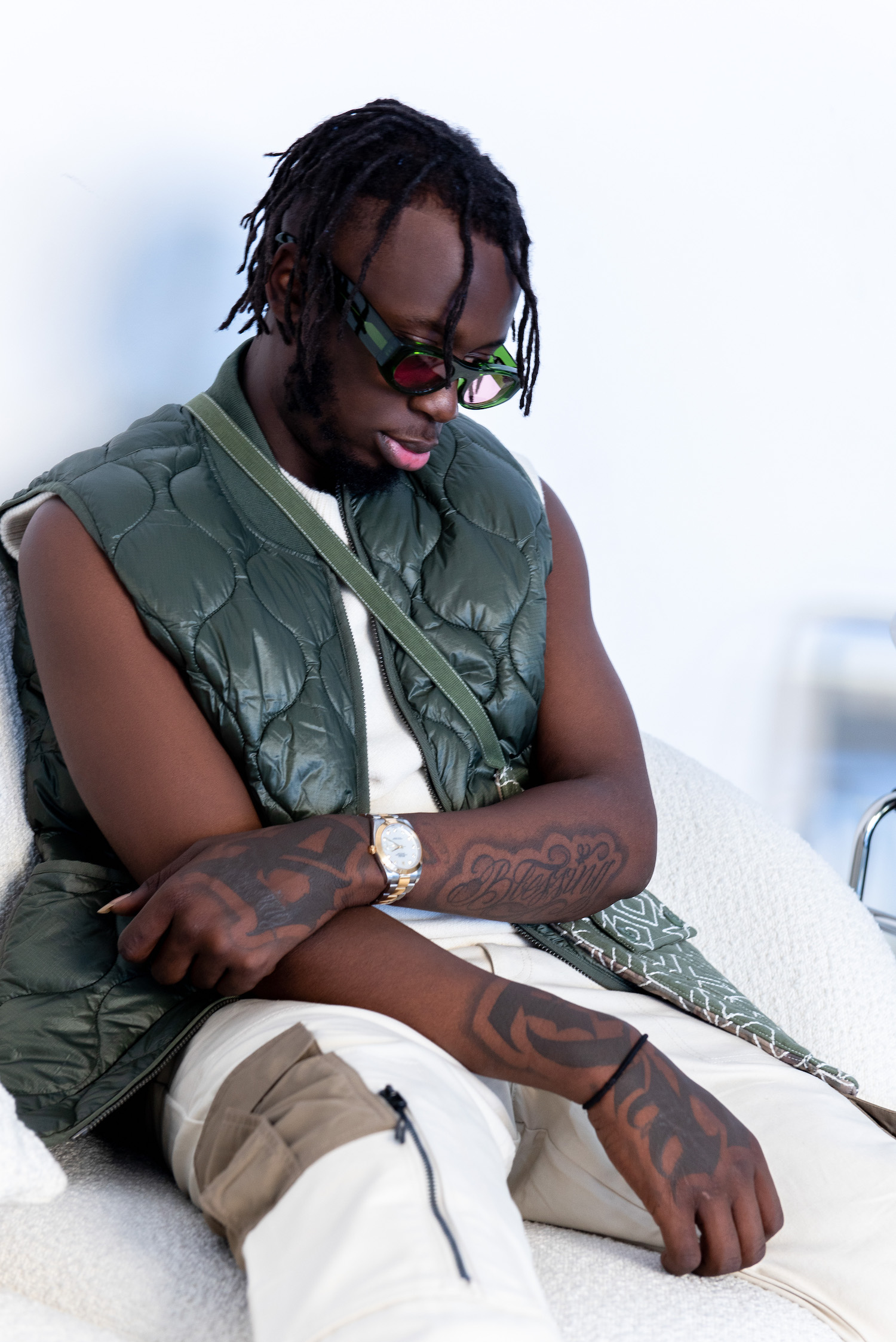 Superdry Jacket, Axel Arigato Vest, Superdry Pants, Timberland Boots, Maharishi Bag, Thierry Lasry Sunglasses.
How would you kind of describe your sound and your music?
Exquisite, extravagant, unordinary, unorthodox, brrr. That's all I give you.
That's the perfect way to describe it because you're so versatile. Is there a genre that you wouldn't jump on?
Nah man I do everything man. To me, music is music. When I make a song, it's just like all my other songs to me. The rest is for the people to decide.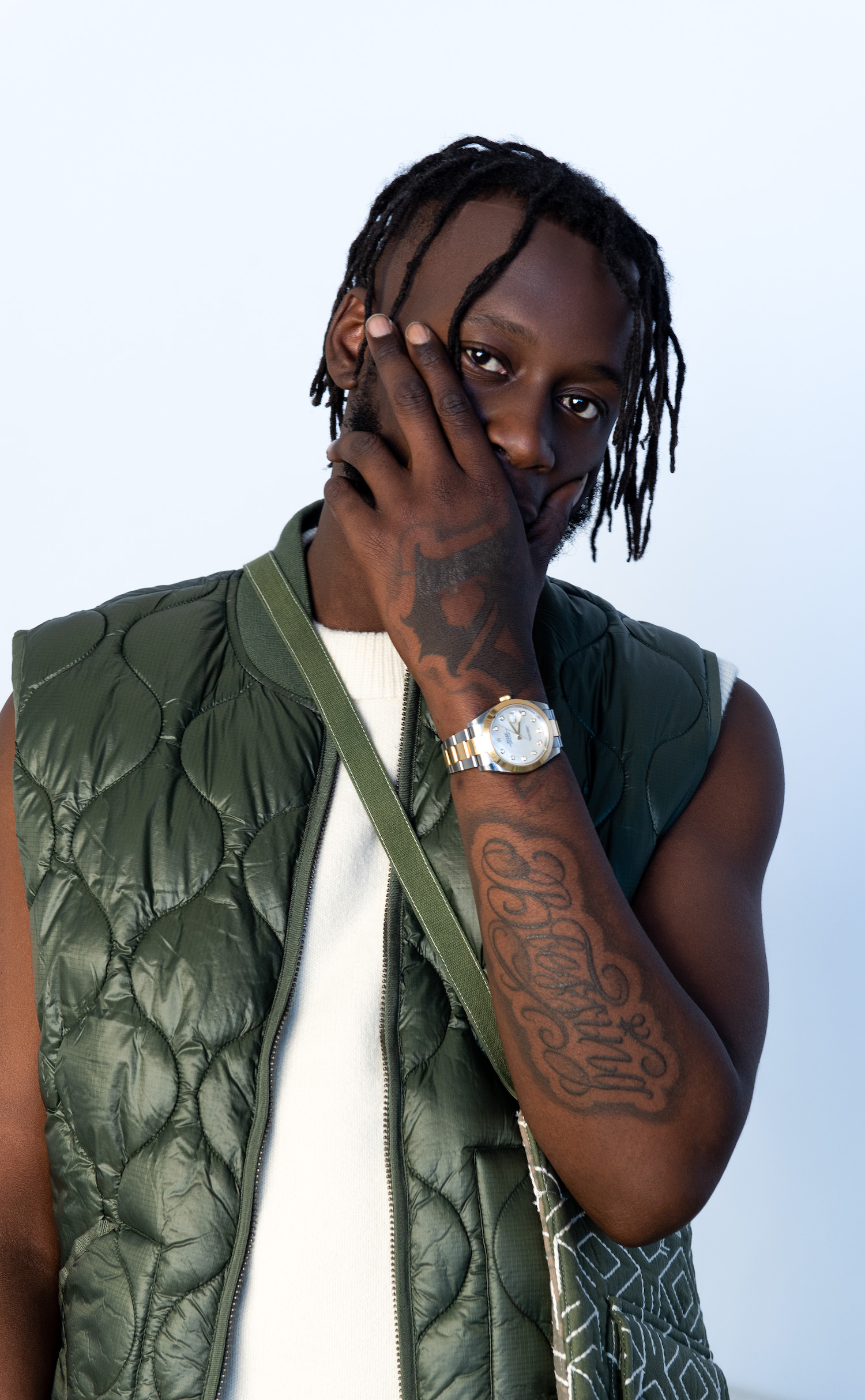 Yeah, you make the art and everyone else can put it in boxes. Do you also listen to a range of music?
I listen to everything and anything. Anything that resonates with me and makes my mood nice, I mess with it. I listen to a wild range of music. Spanish music, classical music, African music, I listen to a lot of Polish rap, them man go ham even if I don't understand what they're saying. There's German music like my guy Kelvin Colt, Ace T, ENO who has a song with M Huncho. There's so much music that one can consume and I love it all. There's a lot of hard artists out there, even my guy Two Blade, he's cold. There's too many.
When you were doing your photoshoot your energy really came across. How does that translate when you're recording, what's the process like?
Yeah, that's just me being me. How I make music changes all the time, it's not like I have one way of making music, it's just what mood I'm in or how I feel that day. Most of the time I'll sit down and I'll have the microphone right in front of me so when I'm ready I'll jot something down and then I'll keep continuing till I'm done.
Do you feel like you've got a most underrated song? And why?
I've got a few. Bad Mind, my Daily Duppy, Take Time – even though people were messing with that. I've got a couple of songs that I feel are underrated. The people didn't open their ears for the killing, but you know what? We still keep going. We're pushing, they're going to understand one way or another.
How did the Jay-Z and Kid Cudi collaboration come around?
I think this is the first time I'm talking about it, I don't even know where to start. It's such a big moment for me, my team, the UK. It's a big moment for us. Them man were working on the movie, doing what they're doing. James, the guy that was the main man behind the movie, just shouted me. I was on facetime with him, I pulled up with my bredrins to the studio and they told me they want me to be on the soundtrack.
You know me, I'm just happy for the opportunity and I didn't deep how serious the situation was. Ten minutes after coming off the phone to James, I've gone back in the booth and they sent me the beat. I've done my bit on it, sent it back the next day, and then a couple of months down the line I get told Jay-Z and Kid Cudi are on the song. My head was blown. Another couple of months down the line, the premiere comes, Jay Z come down, James comes down, everyone comes down. I link up with them and it's all love. Stay tuned, there's more to the episode.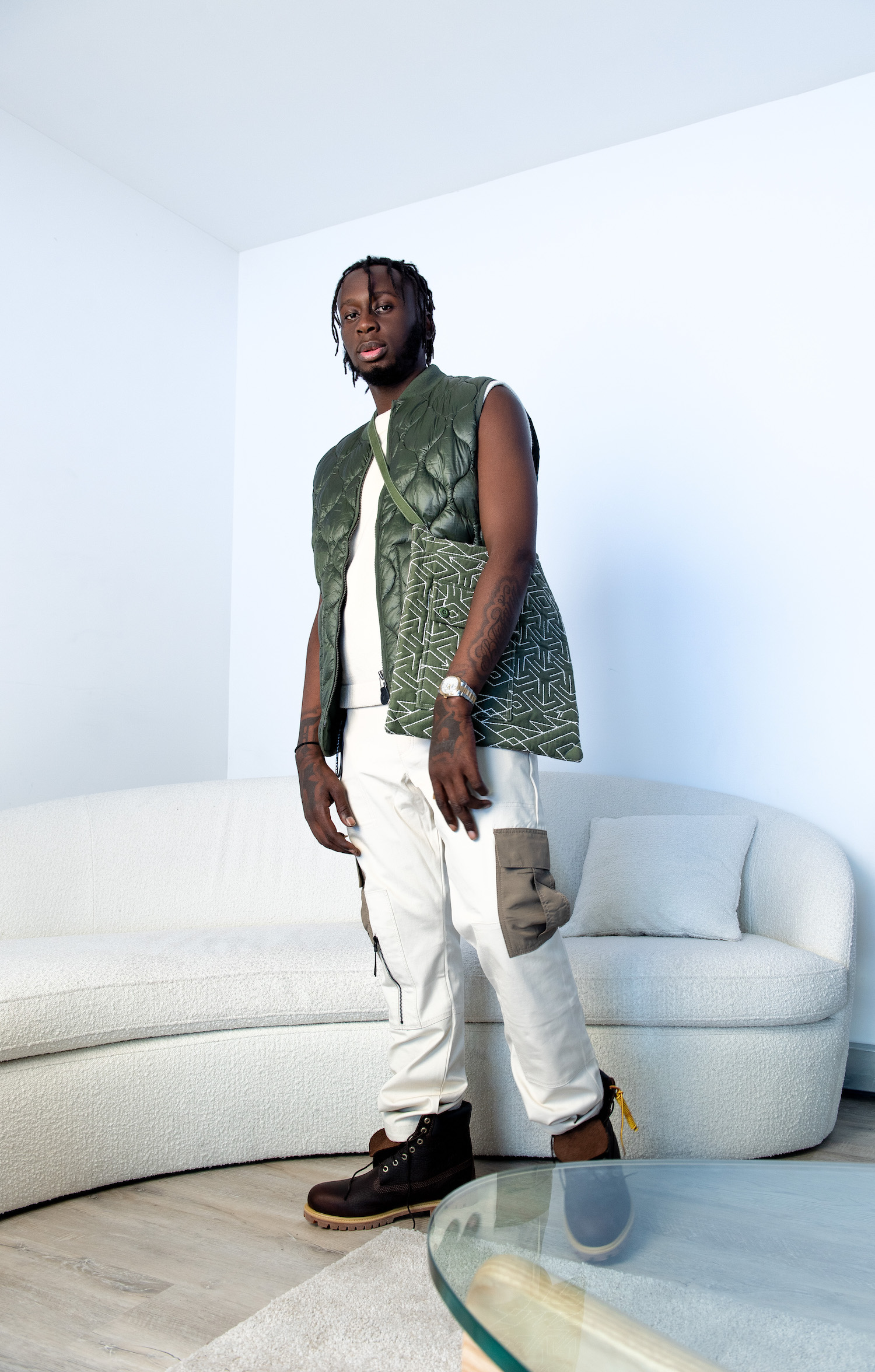 You said at first you didn't deep it, have you deeped how big it is now?
It's still a bit of a mad one. I saw Jay at the premier and big up to him.
Did you get to talk about the song because you didn't get to while making it?
Briefly. The way I got introduced to him, I'm the guy on the song with him so we just showed man love and then went to our seats. I watched the movie and it's cold. I can't wait for everyone to see it, that movie is very lit.
I'm excited. I know you've spoken before about this, but your parents are Congolese. Just how does that kind of play into your music and influence you?
Massively because that's what made me want to do music. My own music. That played a very major role in my thing. There are elements of Congolese music in every song.
You said you listen to a lot of different and music, are there any Congolese songs that stick out to you that people should check out?
There are loads of people in my country. I'm more with the old school stuff, but there are a few newcomers coming up. I'm really with the old school stuff but I'm in tune with the new school stuff as well. That's a very big part of my blueprint.
The other side of your upbringing is growing up in London, what are your favourite memories growing up?
It's too much man. I'm born here so this is basically all I know. I've got loads of memories, it's a part of my journey, growing up and becoming a man. Every obstacle I came across, all the good moments, have built me up into the man I am today. There are too many moments from my life that I can't just pinpoint one or two.
Is there a moment where you remember saying: I'm taking music seriously now?
Yeah, when I came out of jail.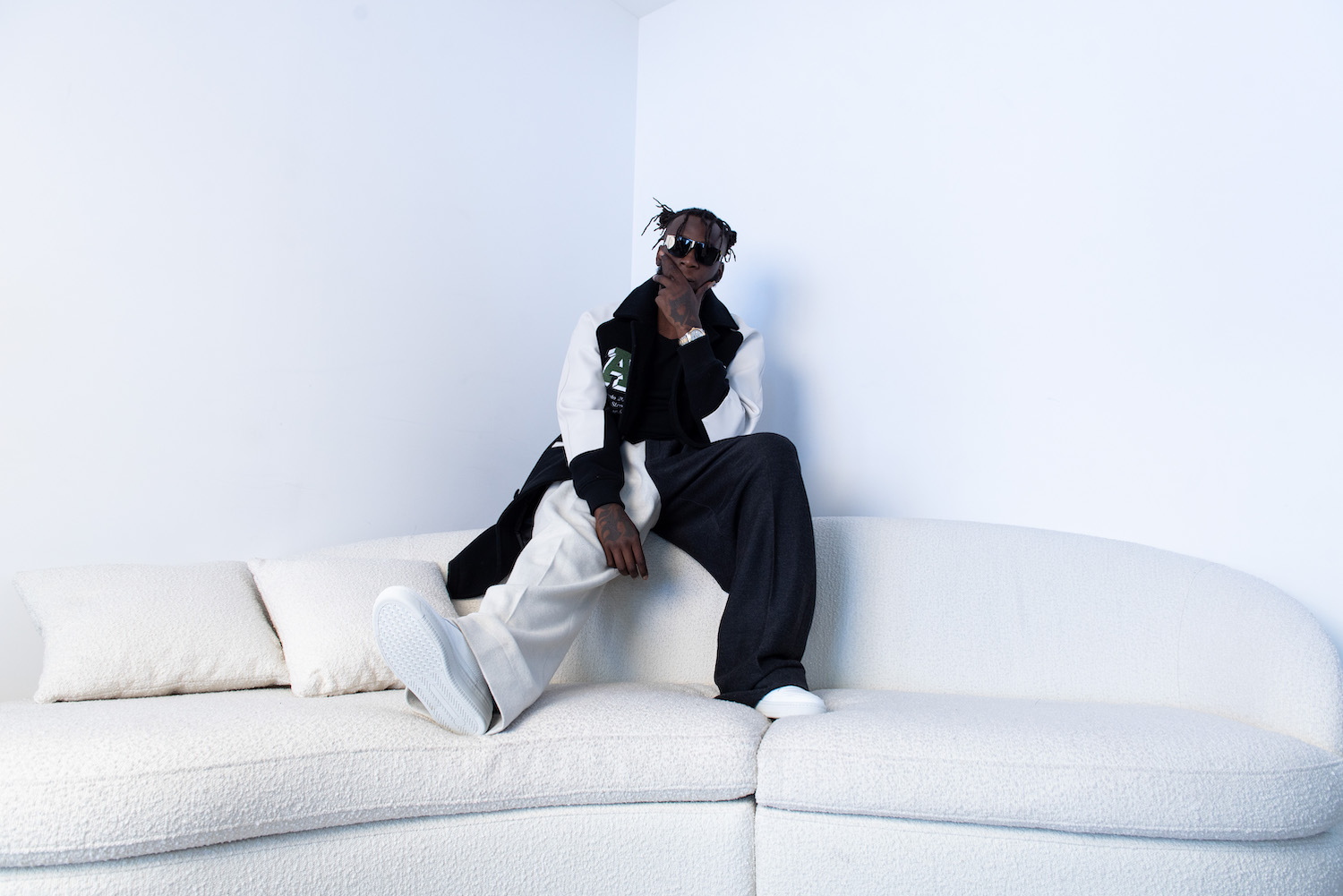 Axel Arigato Jacket, Pronounce Pants, Russell and Bromley Trainers, KALEOS Sunglasses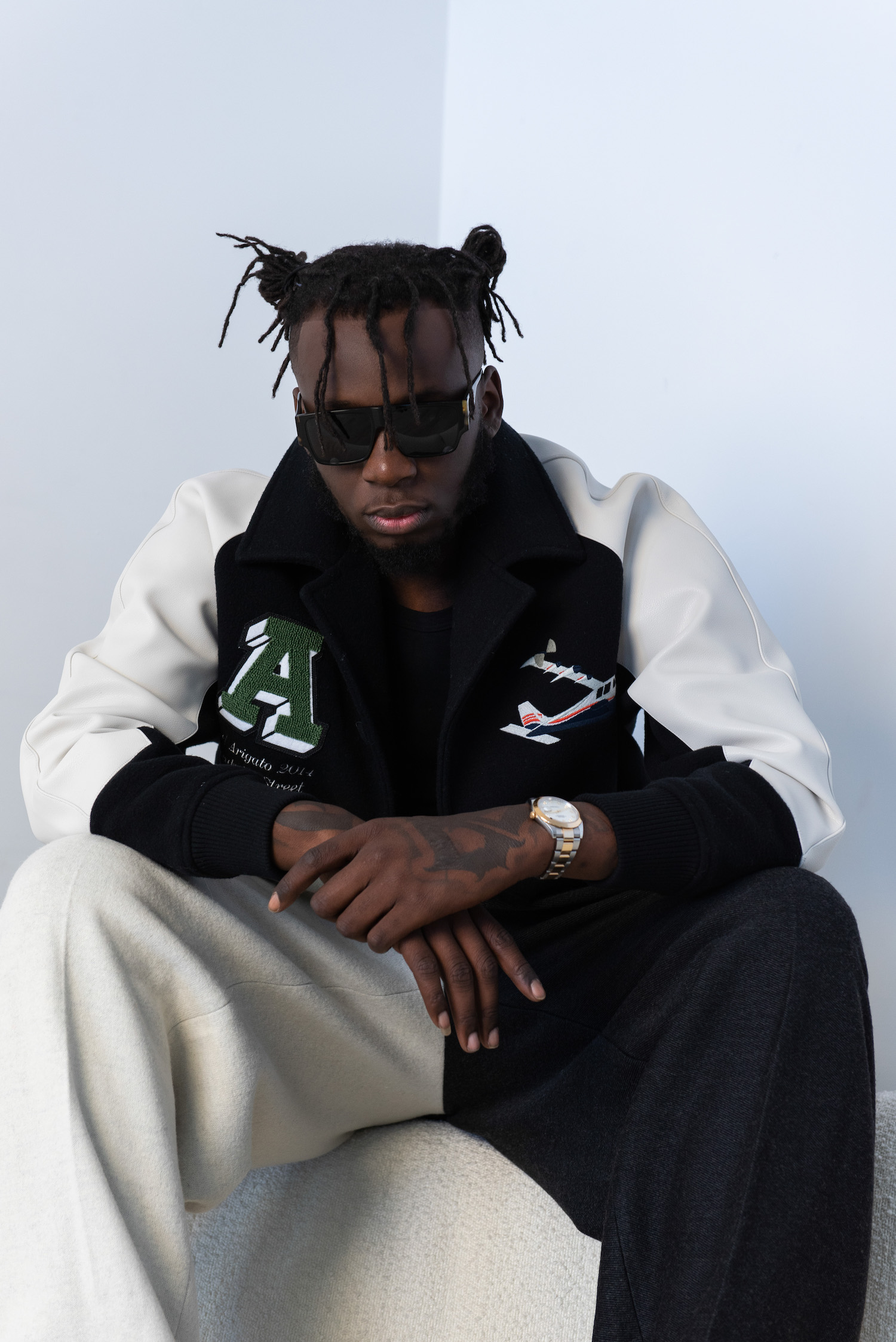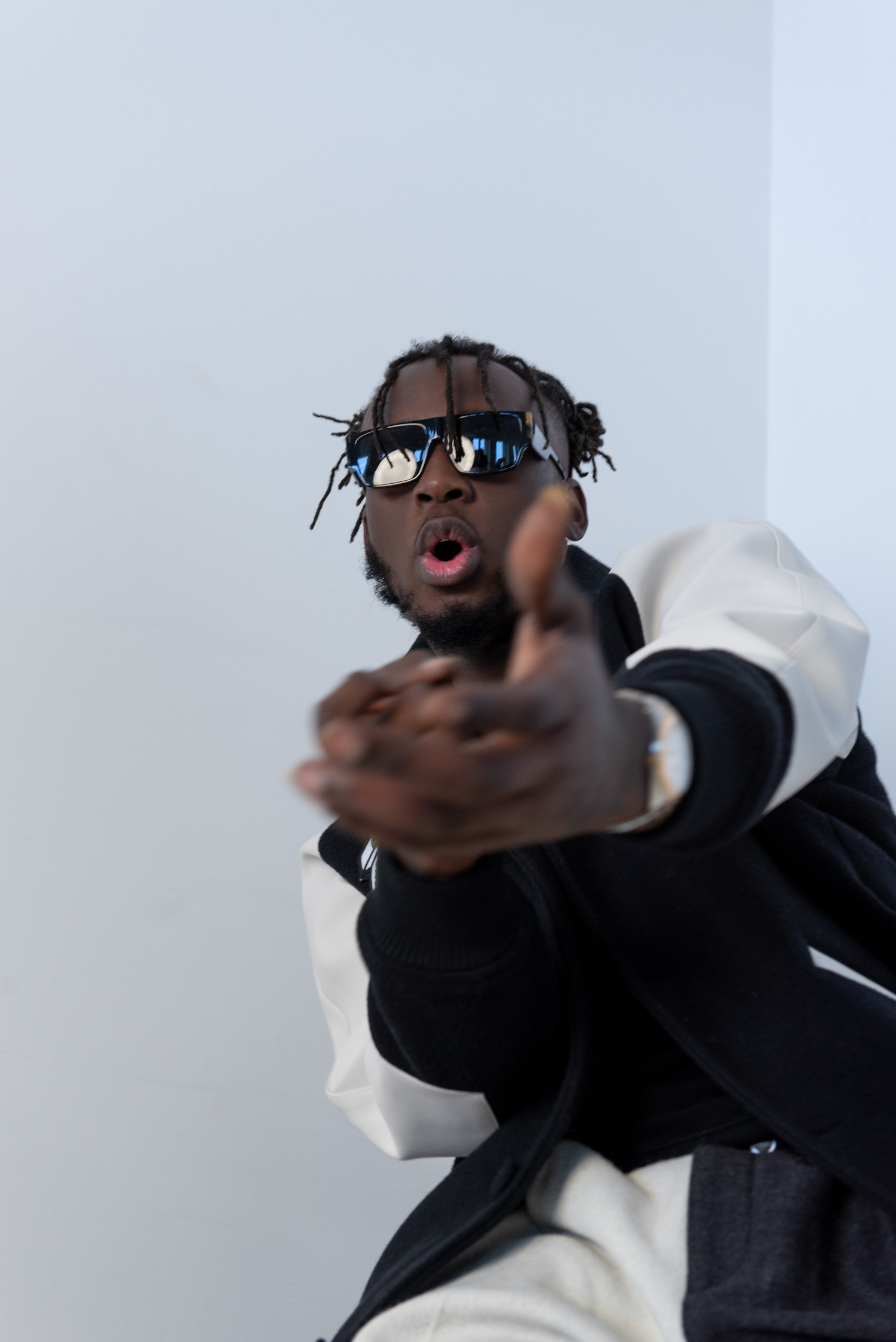 Was that a process that happened more in jail?
Yeah, it got to a point where I had to make a decision and I made that decision that I'm going to work on music and that became a full-time thing. It got to a point where it was that time.
When was that?
Around two years now.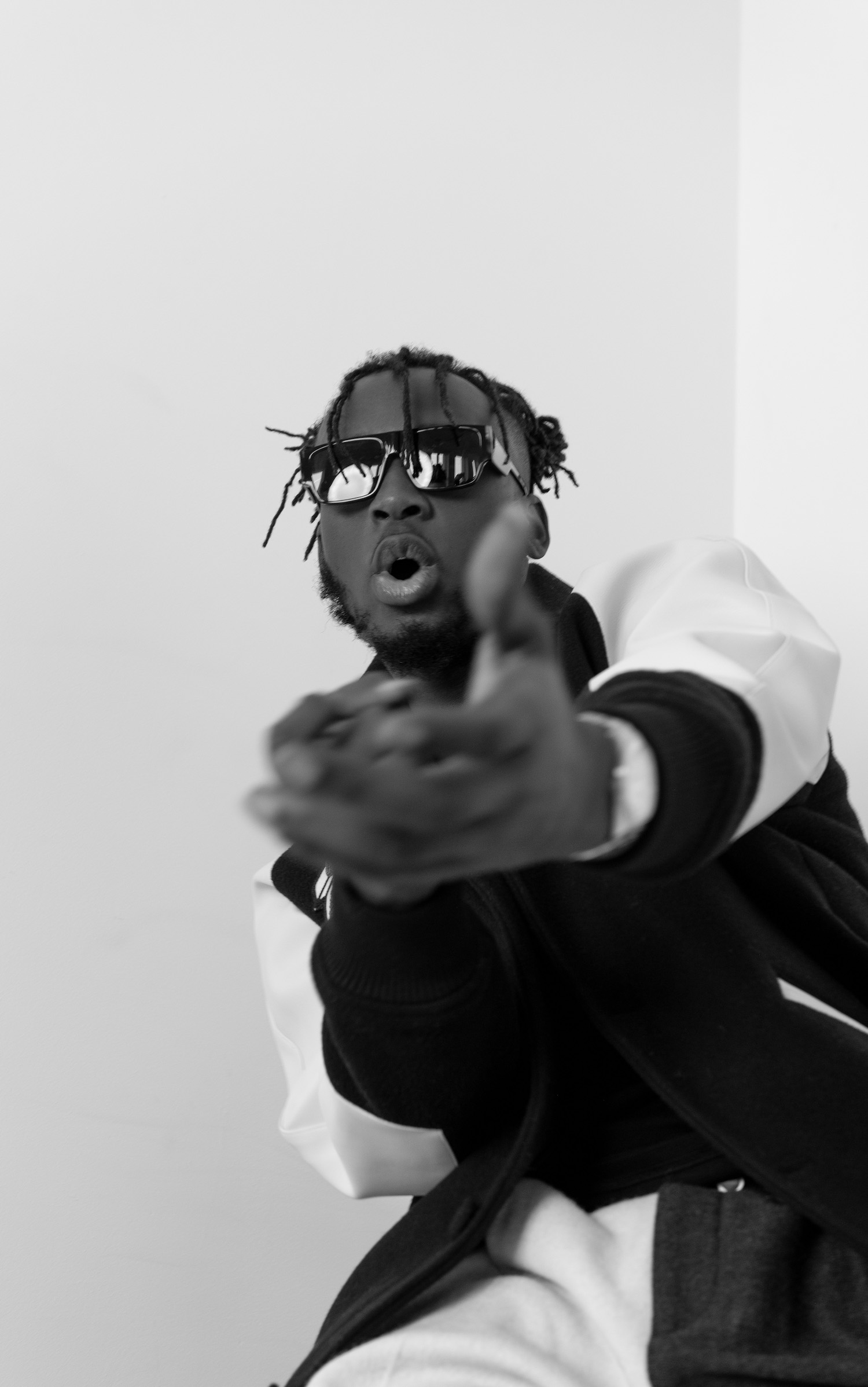 It's mad how soon that was and how you can see the progress in the last two years.
Trust me, it was hard working. it wasn't easy.
What's the story behind the name?
My bredrins gave me that name. I used to always be on the backroads. Walking on the backroads, driving on the backroads, we won't even touch the main road. People used to call me backroad and I added the Gee on the end.
Being a fashion magazine, so we have to touch on clothes. You were making me laugh at the shoot and making the stylist Jen laugh.
That was funny. I like it but some of the materials were making me laugh. Some of it felt like cardboard, proper stiff, but it looked cold.
What is your fashion taste like personally?
I wouldn't know how to answer that. What's a fashion taste?
So it's not something you put in like the forefront of your mind every morning. You're just dressed kind of for comfort almost.
Yeah, man, just how I want to dress, however, I want to feel. There's not too much thought that goes into the process.
Are there any outfits looking back that stick in your mind?
Yeah, the outfit I had for the Ready or Not music video. I like that. I don't know how it was made but it was some black and white jean jacket. It was very sick and with the boots as well.
What are people most like to find you wearing day to day?
A tracksuit. On a normal day I'll be in a tracksuit.
What can fans expect from you in the future?
Right now, we've got the tape dropping. Be there don't be square.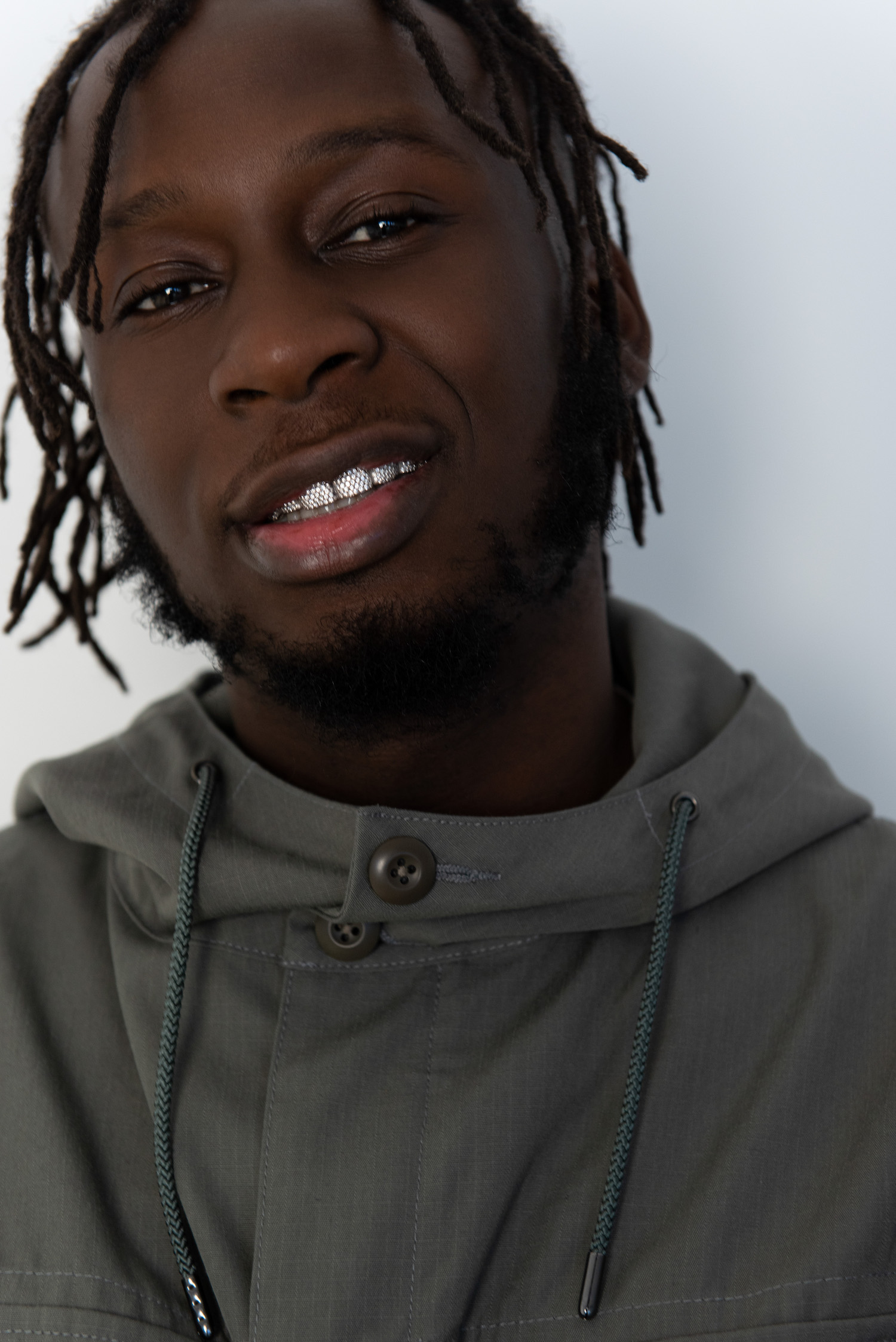 Stylist own jumpsuit, Good News shoes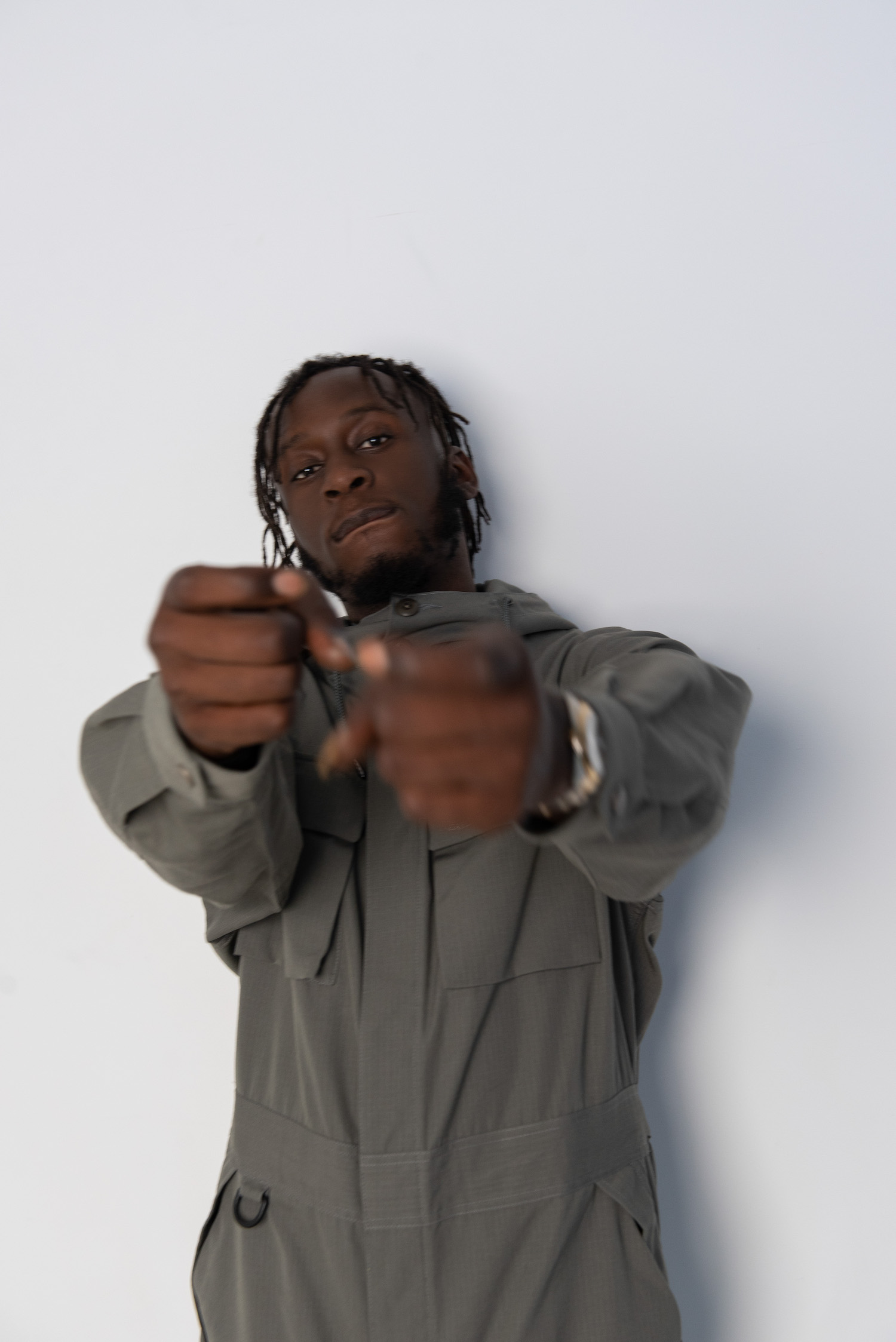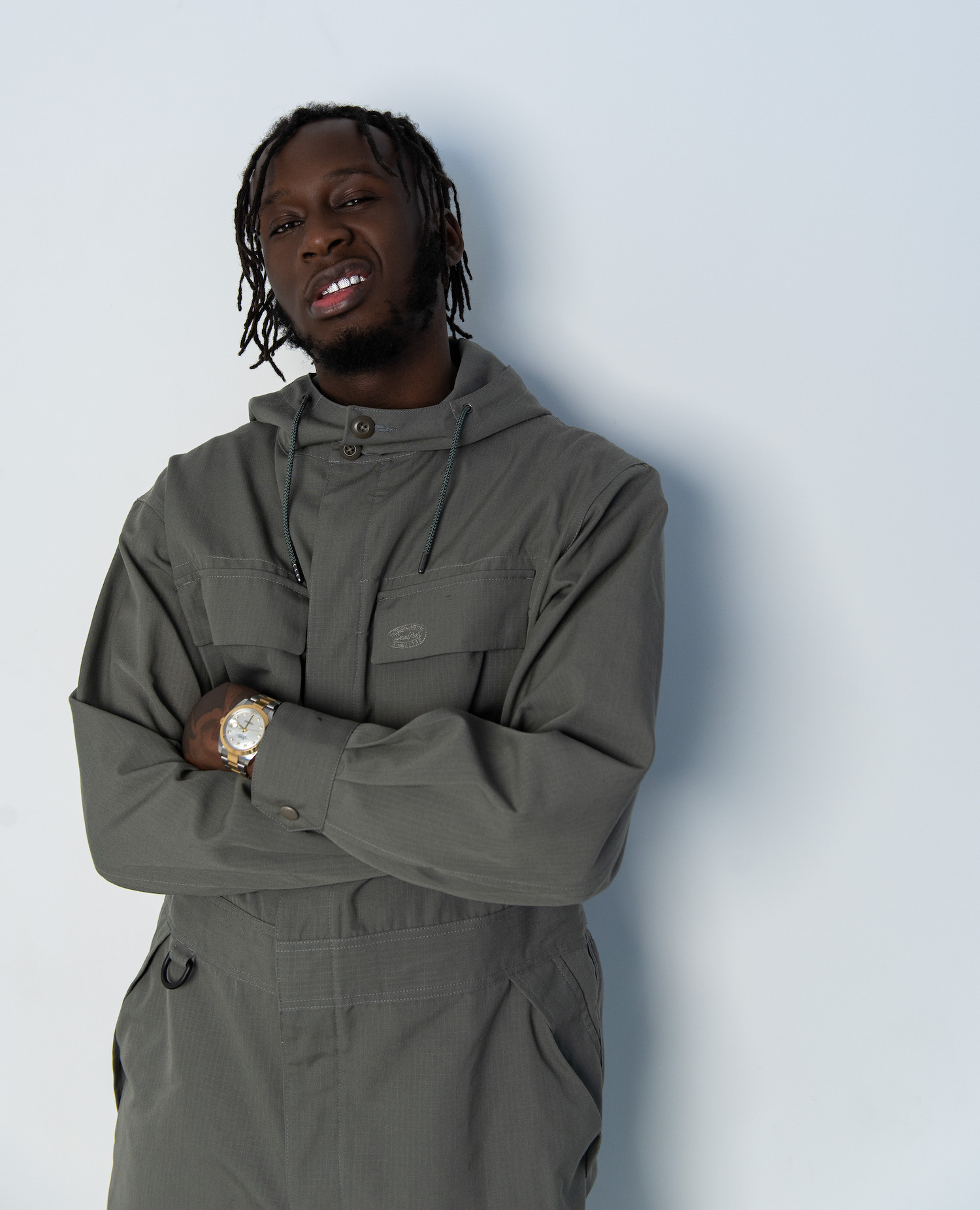 Dickies Pants, Billionaire's Boys Club Tee + Jacket, Russell and Bromley Shoe
How is the new record sounding?
There's hella sounds on there. It's a mad body of work for people to enjoy. You've got every type of sound on there: drill, afro, dance up, you name it… it's there. And it's put together in a very strategic way that everyone can get up and be happy with it. It's a very clean body of work.
Do you have a message to fans before they hear it?
Reporting live from the back of the roads. It's I, the boy Backroad Gee, the backroad journalist, the main road journalist. I'm coming to report live from the backroad to you.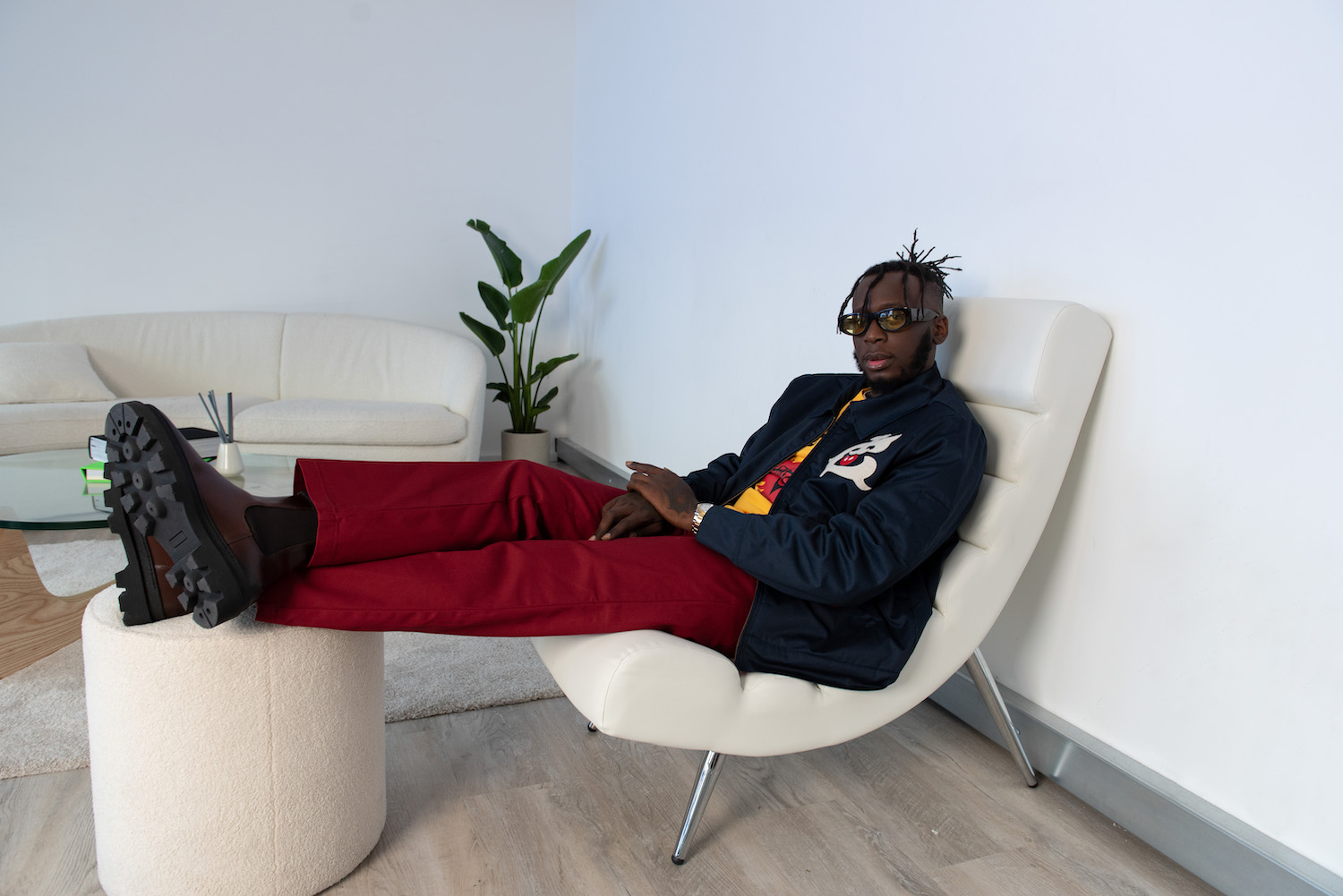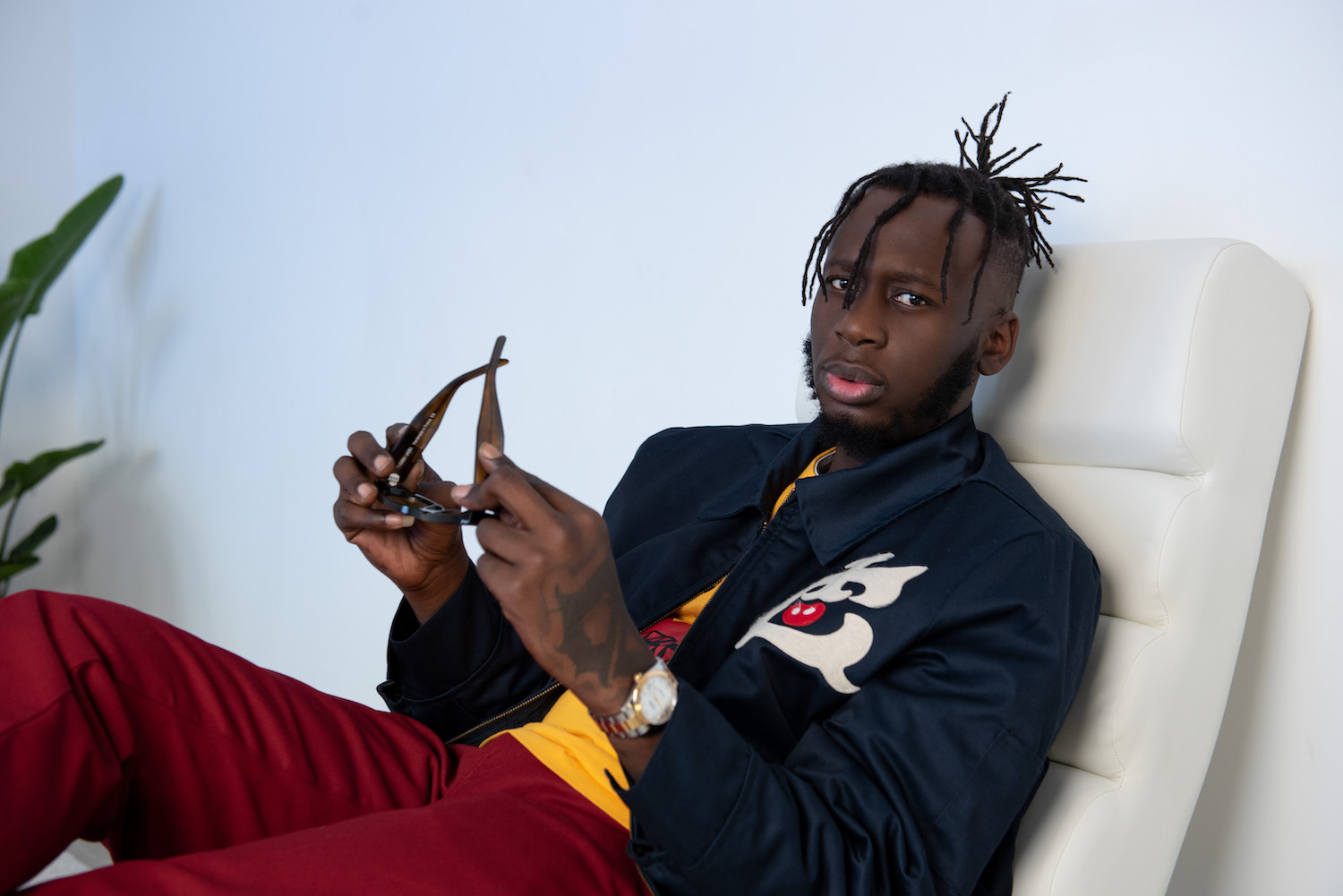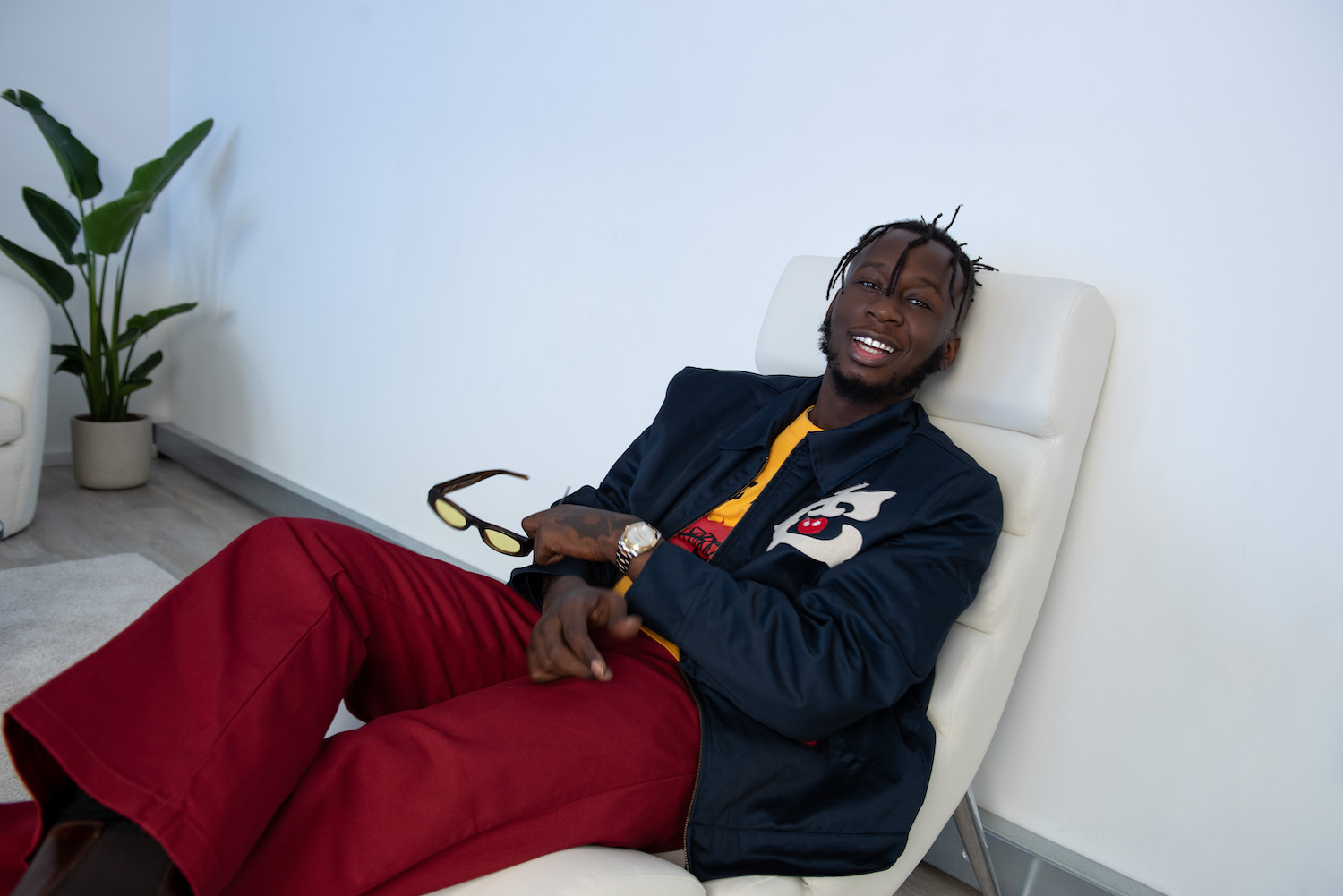 Thierry Lasry Sunglasses.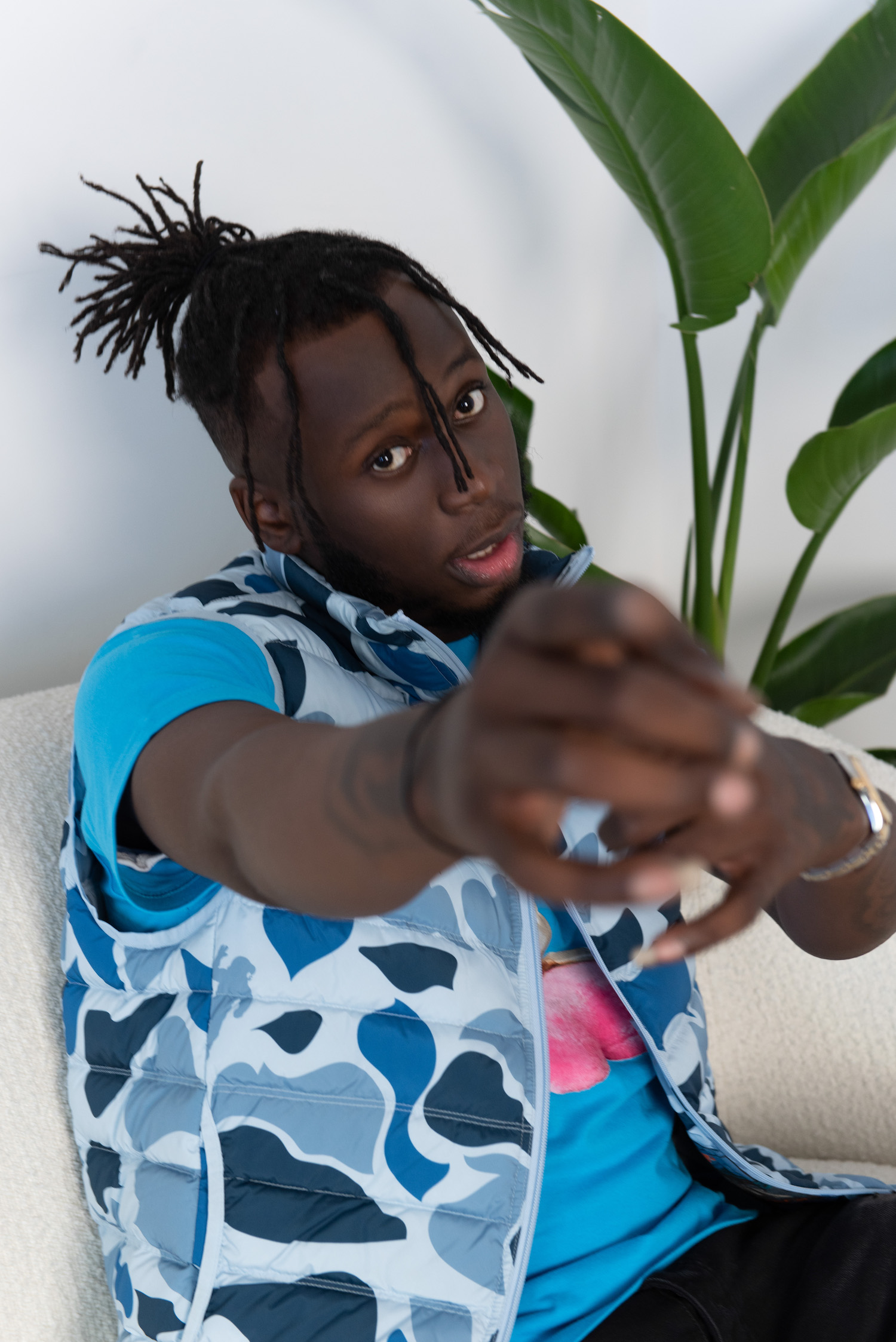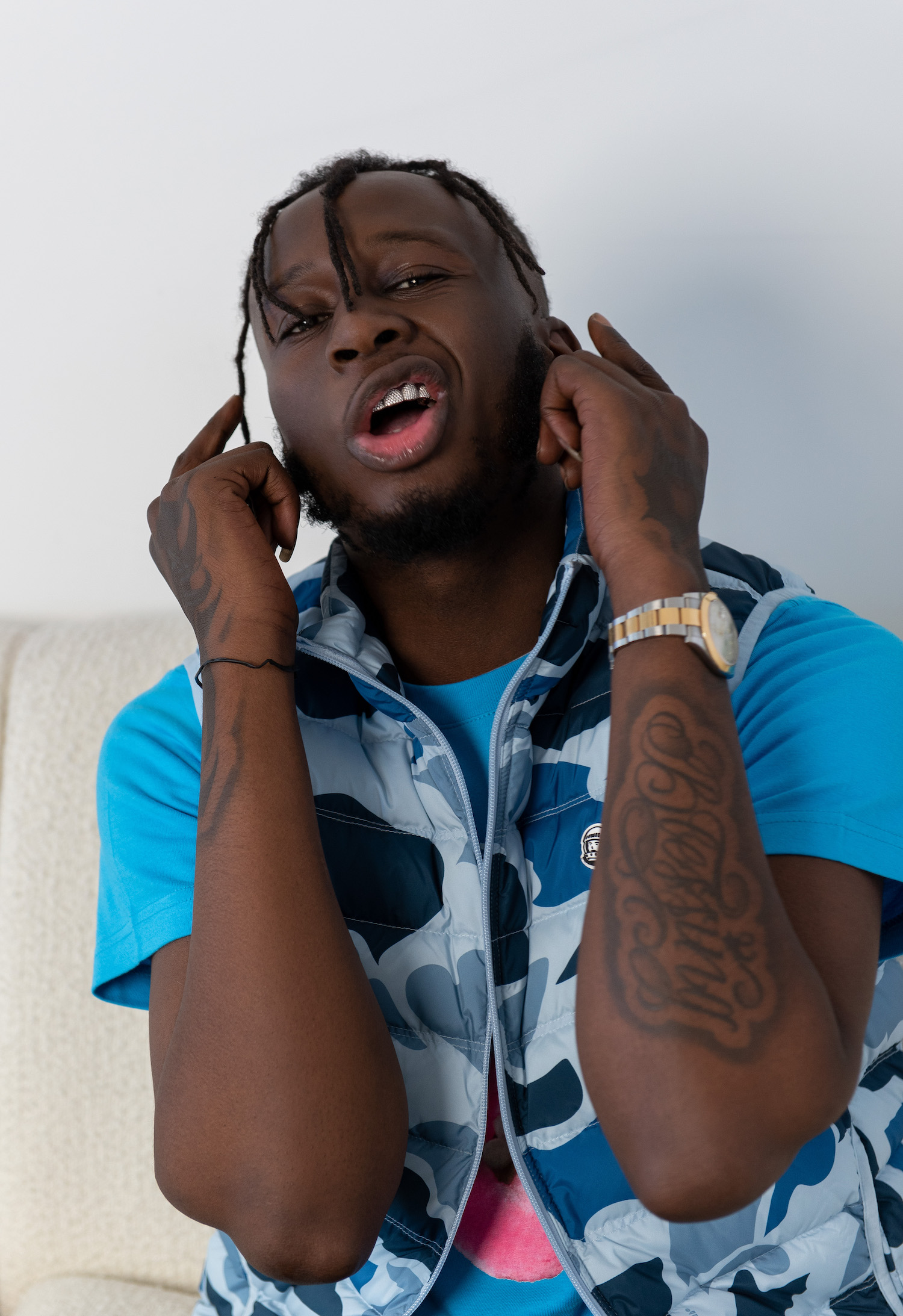 Patta Tee, Billionaire's Boys Club Jacket