Talks creativity, mental health, and style.
Upon asking Trippie Redd to invite me into his world, he responds, "I just be on my own shit" and for once, it makes sense. Born Michael Lamar White of Canton, Ohio, Trippie Redd has carved out an indelible niche for himself, be it his persona, style, or musicality.
Infusing both emo sensibilities and ingenuity into a sea of synthesizers and distorted bass, Redd draws a lot of his inspiration from an enchanting blend of R&B, emo-trap, and shock rock, making him one of hip-hop's most versatile and creatively daring artists.
A product of the SoundCloud era – best known for being the platform that compelled artists to experiment at the edge of conventional rap norms – Redd catapulted onto the scene with his debut mixtape in 2017, capturing the attention of all. The common denominator, you may ask? Heartfelt ballads that illuminated daily struggles relatable to most.
"I wanted to make people understand my music, what I was doing and how I was doing it."
 At the dawn of a brand-new year, Trippie Redd intends to maintain his upward trajectory, advocating for a generation accustomed to flamboyance, individuality, and boundary-blurring dichotomy. And yes, it's a Trippie Redd world and we're just living in it.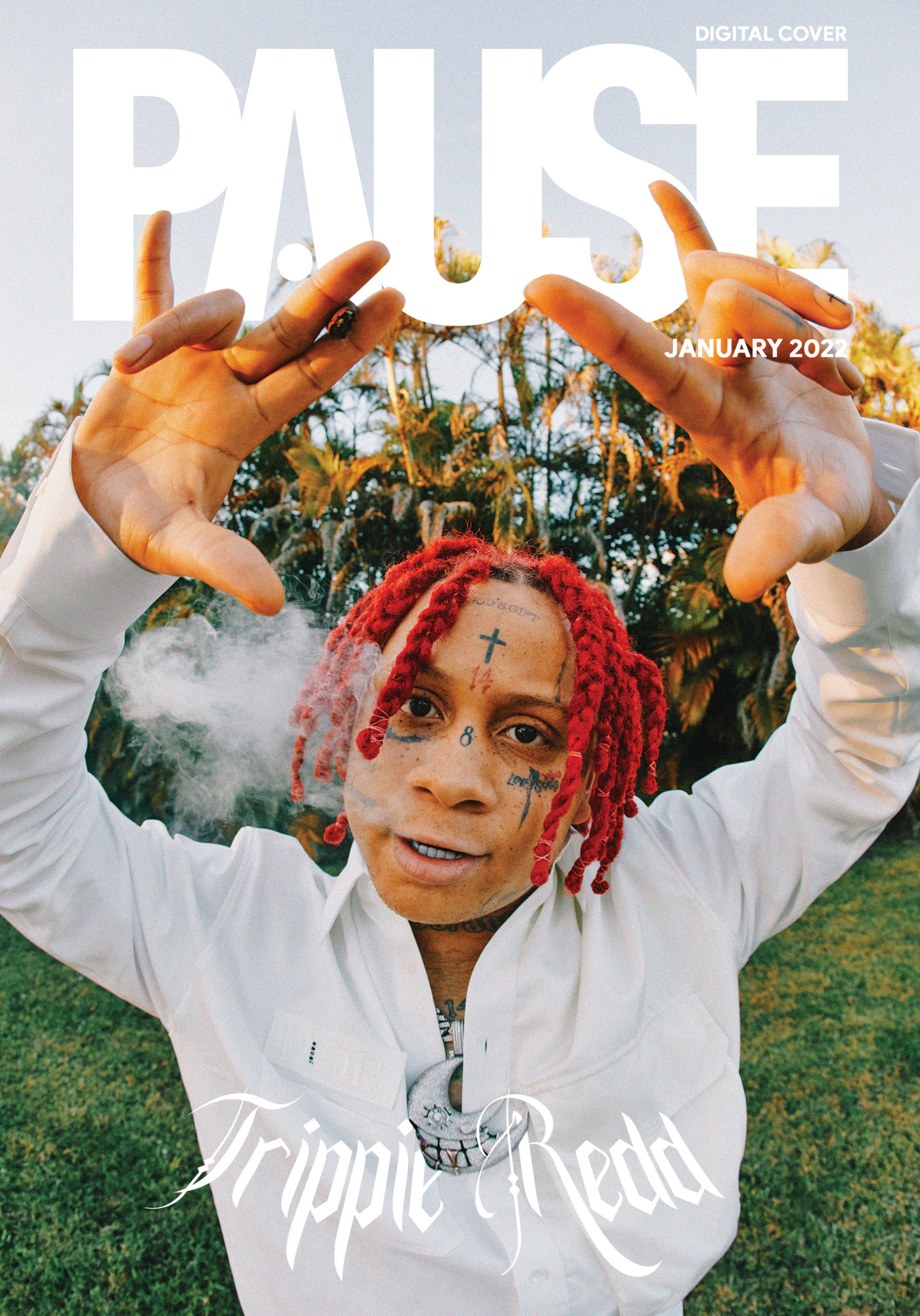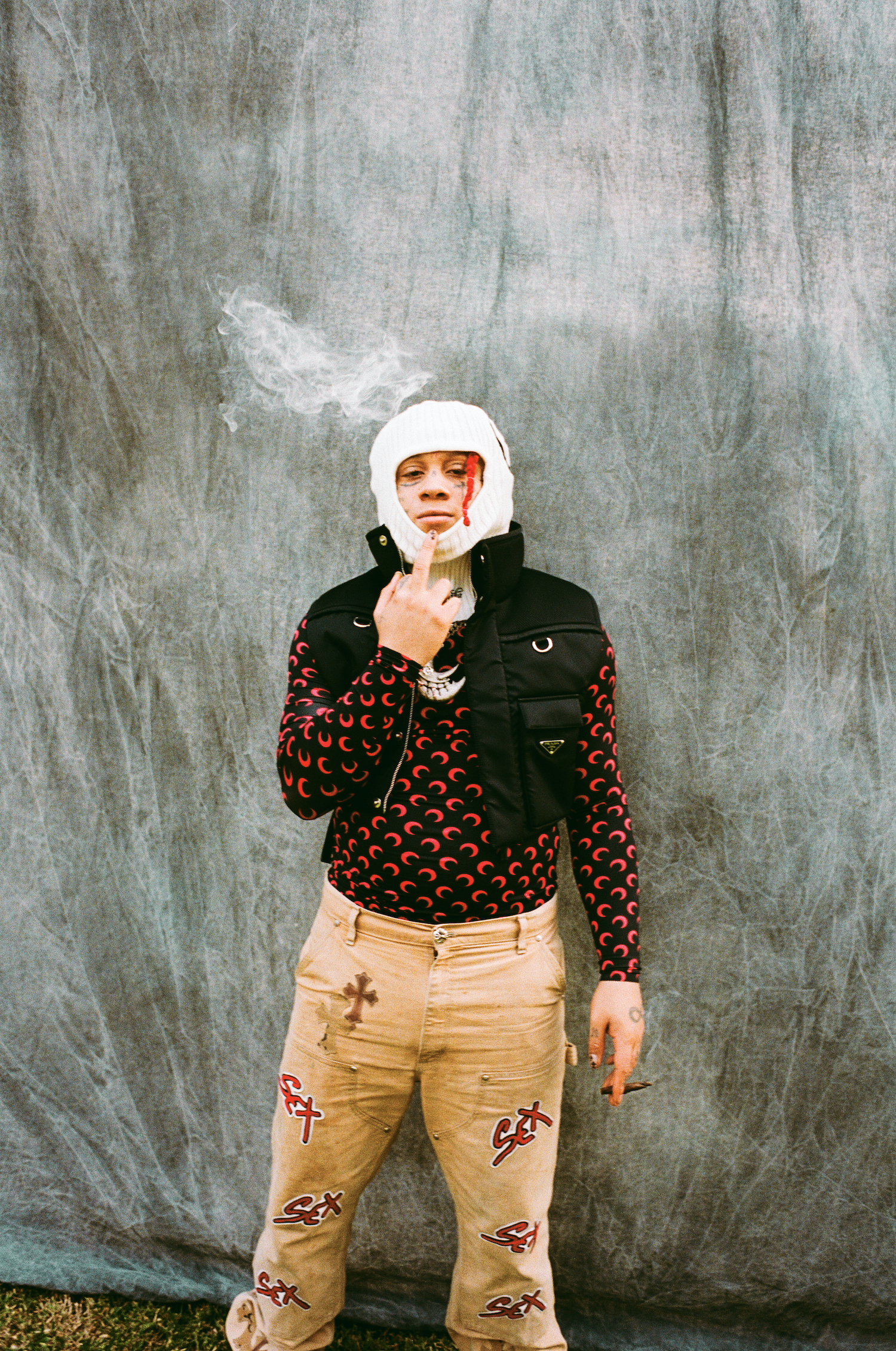 Balaclava – Martin Myaka, Top – Marine Serre, Gilet- Prada, Jeans – Chrome Hearts, Trainers – MAISON MIHARA YASUHIRO
Invite us into the world of Trippie Redd. What's It like there?
I feel like I'm on my own shit, I be myself every day. I feel happy.
Quarantine was a weird time in life, frustrating for some, adventurous for you. You made your acting debut during an episode of Lil Dicky's 'Dave'. How did that come about?
Honestly, he reached out to my peoples and asked if I wanted to be on there and I said of course. I thought it was dope, it was fire.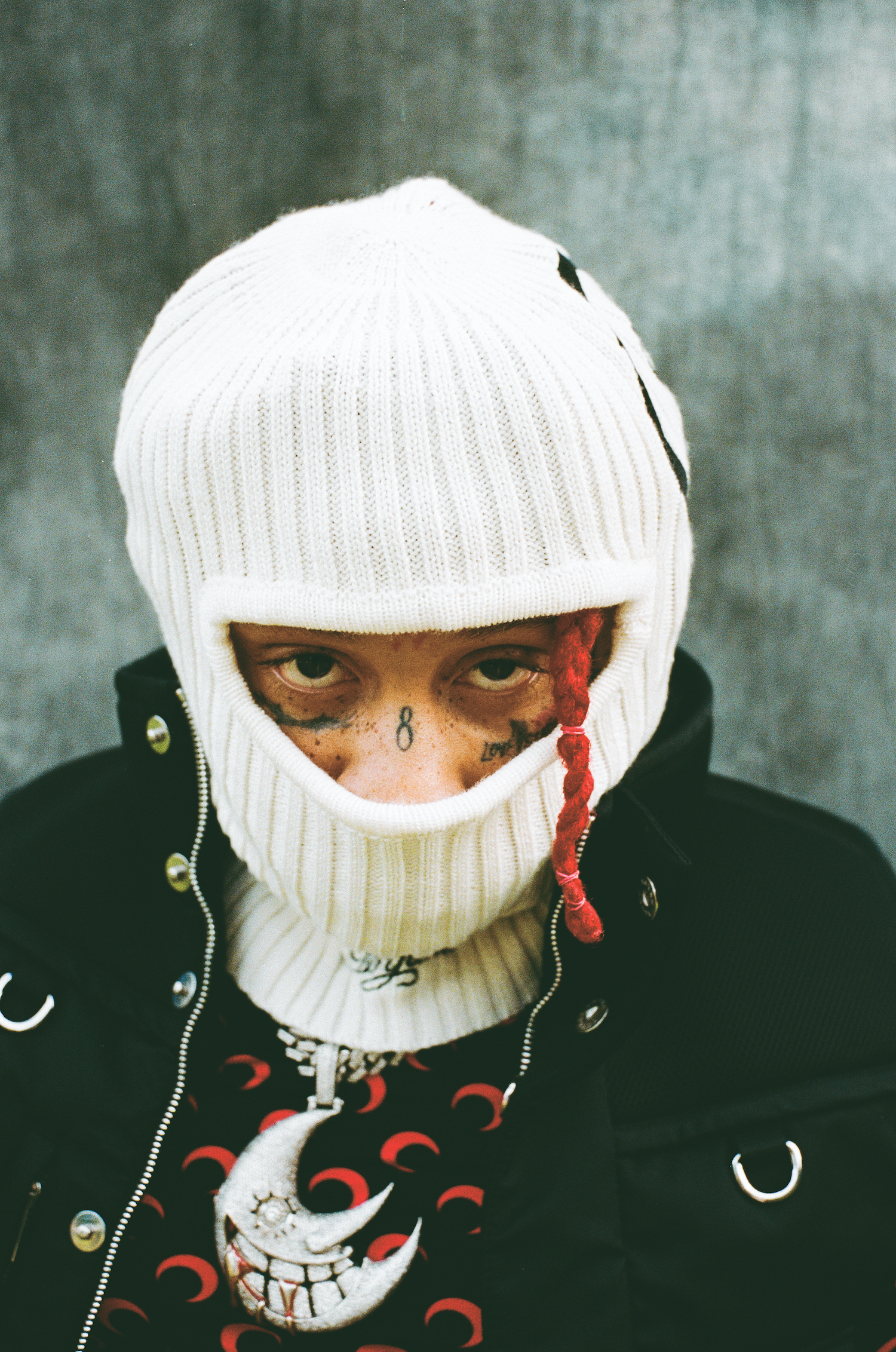 If there was one thing, we all felt – we missed the rage. Do you find yourself still missing the rage? Or did it get fulfilled once the world opened up again?
Ah. The rage is back. The rage is back.
Saying that, you headlined Rolling Loud's "Loud Stream" event. How was it for you as an experience? How did it compare to the normal experience?
I mean in my world it was normal, I always do the Rolling Loud festivals and they're so dope. Being on stage though is kind of spacey, I feel like I'm in a whole other world.
What keeps you creatively charged?
Family and friends. My girl. My animals. (I have about four)
Hip-hop icons were introduced to you at an early age, followed by shock rock, such as Rob Zombie and Slipknot. Are the energies and spirits the same even though they are sonically different?
When it comes to music being good, I feel like the same energy is there. It's a totally different vibe when it comes to tone, but I love different varieties of music. It's soothing to my ears but [rock music] is a thing that a lot of people can't handle. A lot of people don't like it.
Through your music and your platform, you are able to address relevant socio-political issues in the United States. Racial justice, policing, homelessness, wrongful incarceration, mental health, and more. In what ways does it matter to be the person who's actively working to influence change?
Honestly, I feel like a lot more people need to speak about these things – things that they're interested in changing. Ultimately, we influence people. I would want to influence somebody to move better or make better decisions.
In your role as the next generation, do you feel a sense of responsibility?
Not necessarily a responsibility but it is things that matter to me – so I will speak about them. I would want my fans to be aware and it's probably dope for them to see someone like me in-tune with this type of stuff.
In order to create change on these issues, you called on fellow industry musicians such as Machine Gun Kelly, G-Eazy, and Miguel in the docu-series. Why them?
I feel like they're super down-to-earth people. With certain topics, I felt like they could relate. You know, we reached out to a few people and that's how it went.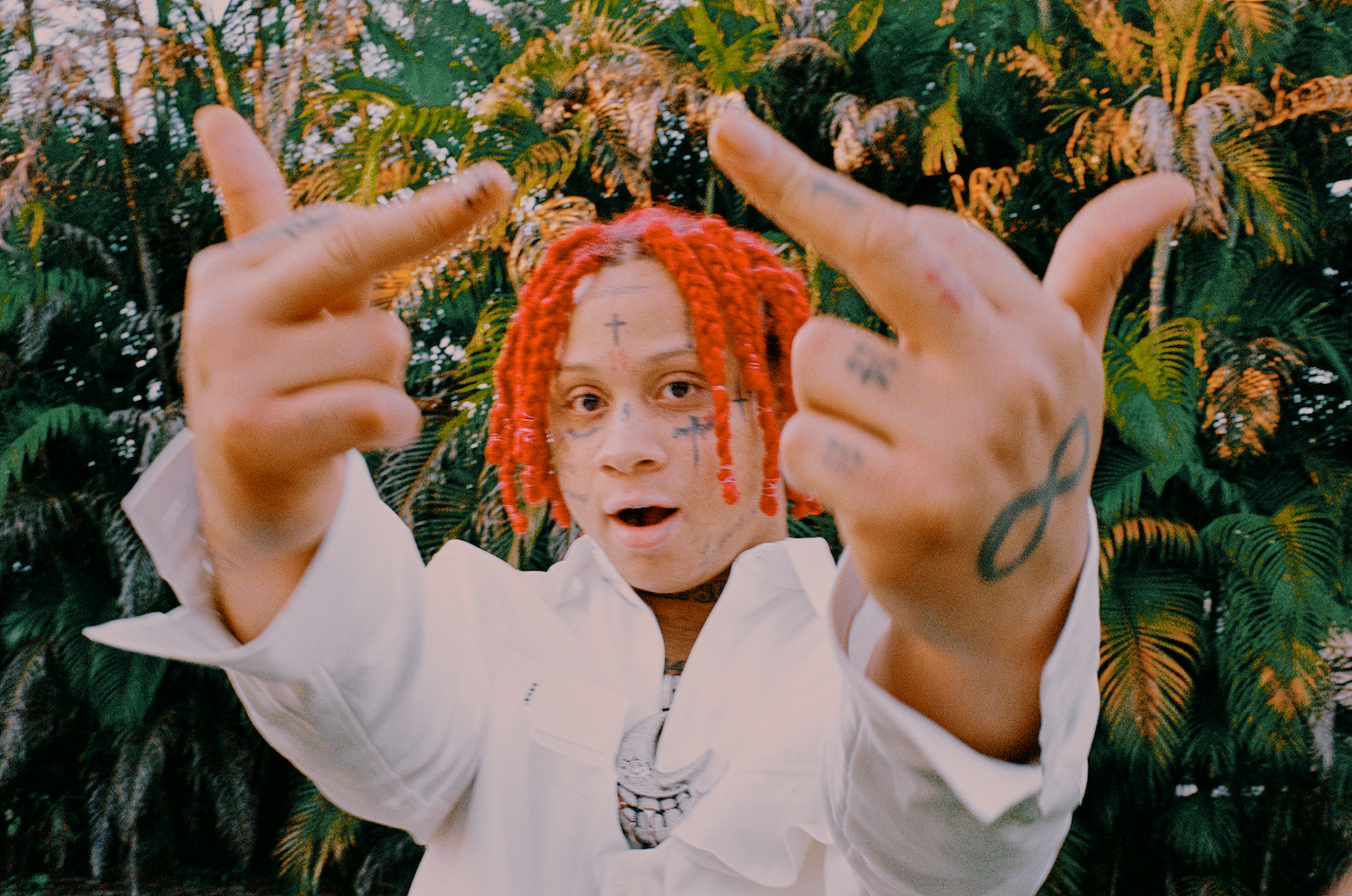 There's no doubt that you've maintained longevity throughout your career following the rise of fusing melodic rap and hardcore rock music. Do you think that you could achieve the same level of success today if you started now, especially in this digital age?
Honestly, yeah. I blew up on SoundCloud, but Spotify was my second home. My numbers are crazy on there as well as my old numbers are on SoundCloud. I just created a whole lil' wave and I feel as if I paved the way for a lot of the underground users really trying to capitalize. That's what my whole Trip at Knight album was for – the youth. Things needed to go back to 2016/2017 where people were dropping things on Soundcloud – now, it's TikTok.
I feel like I've got to finally show people how it can be. I can give people faith on what they're working on and what they're doing because a lot of people think their shit ain't cool. People will doubt themselves.
By me doing that album, it got people realising and showed people that the music industry is open to a lot of things. People like Drake, Lil Durk, they're on these crazy ass beats that you wouldn't expect to go mainstream, but that's popping now. It's the underground. When people saw me first coming up, they were like: "Who's this guy with red hair and dirty grillz? Who's this dude screaming on the song?"
How was it being so different coming up? Did you like that element?
That's hard. You feel me? That's rare. Like a Pokémon. It was like a rare Pokémon ha.
Coming up in the scene so uniquely, what was the response like from people? How did you find that?
There was a lot of people, and they gave mixed opinions about my music coming up. I never took it like "I was trash", I just looked at it like people [perhaps] didn't understand it, yet. So, It was up to me to make them understand it – which made me strive even harder. I wanted to make people understand my music, what I was doing and how I was doing it. People are ultimately subjected to their own opinion and can say what they want, but I wanted to try and prove people wrong. I wanted people to like my shit. It makes me feel competitive, it makes me work hard and amaze people.
As a self-professed workaholic, how do you maintain the balance between your work and your life?
I'm a music junkie so that takes away from me doing everyday regular stuff. I love to make music. Being famous, you don't want to do regular everyday stuff. Maybe it's just me but I don't really like to be around a bunch of people, I like to be alone or at least with my friends.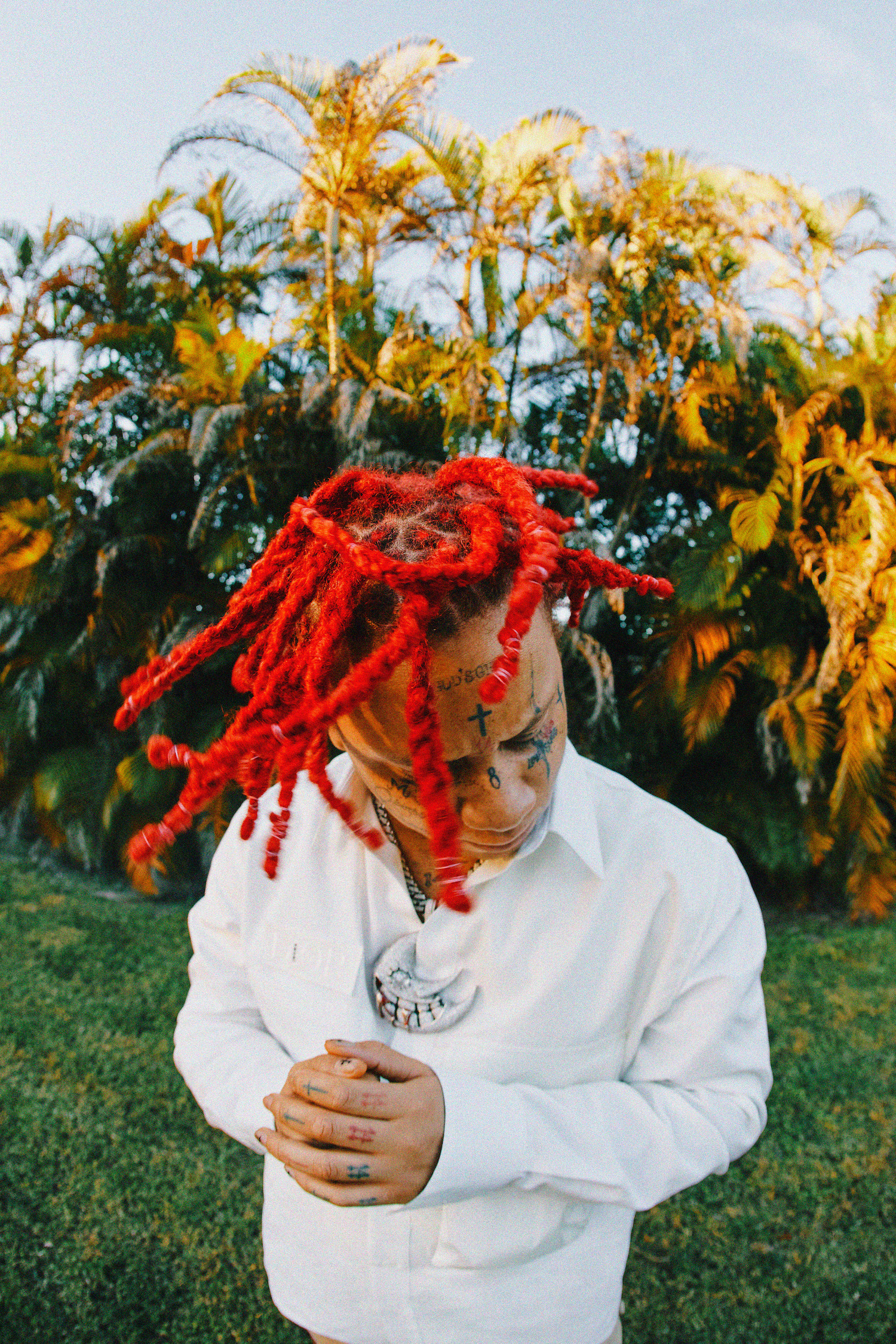 Has having this approach ever compromised your relationship with your inner self and mental health?
Sometimes, shits hard – when you're trying to find yourself and you want to explore and do things in a different way. It can be stressful and sometimes a headache but it's about really getting over a gap between space and your music and your mind. When you find that, and you elevate, it's like an inner-self accomplishment. Just for yourself.
Is having family around you and your circle something you find important? For example – onset here, you have your nephew filming this behind-the-scenes.
Honestly, it's really important to me. People like my friends and my nephew, they keep me striving. They make me want to do stuff because sometimes I don't want to. They help stir my mind to where I make positive and well-made decisions. It's good to keep them around.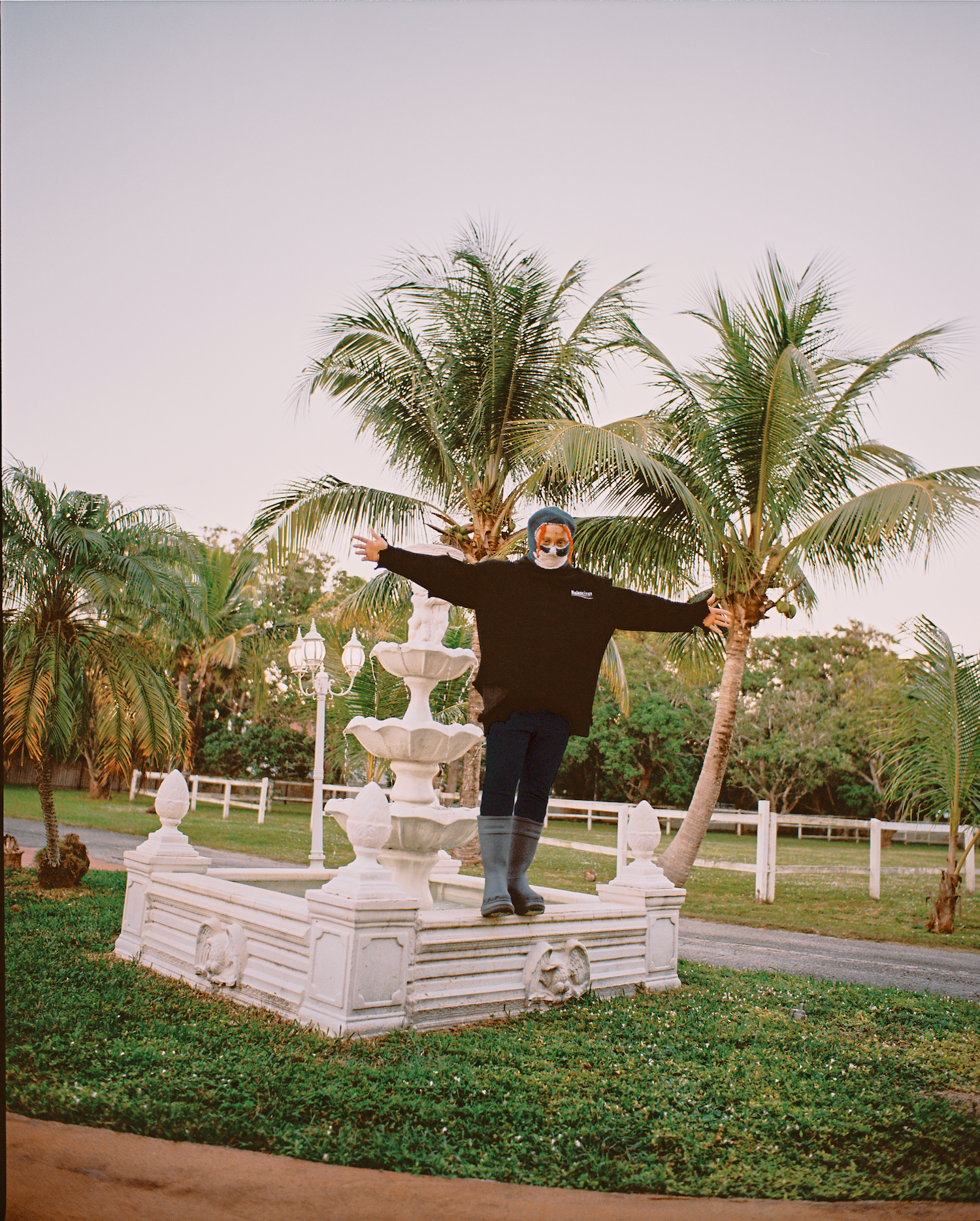 While exploring your music in greater depth, it focuses on chiptune – a synthesised electronic genre reminiscent of video games. Is that on purpose?
Yeah. The whole thing is taking 'video gamey' and 'poppy' sounds and remixing them to make them sound a lil' trap. It honestly works. There's definitely a big video-game influence in my music. I think Love Scars (2017) is a video game. On my old projects, on my old mixtapes when I first started, they're all produced by a guy I used to work with and he used to use all the video-game samples I used to find on YouTube. He was producing for me, Young Nudy and Carti.
You, yourself, are a passionate gamer.
Hell yeah. I'm about to go play a game right now, ha.
Let's talk about your album: Pegasus: Neon Shark vs Pegasus Presented By Travis Barker, which serves as the deluxe edition of your 2020 Pegasus LP. What was releasing an album amidst a global pandemic like? Were there limitations that came with the circumstances?
No, actually – I was sitting in the house, so I had the time to think about what I wanted to drop and how I wanted to do it. Just sitting in the house, I was really able to master what I was working on and try something different. It was a lil' album that I wanted to try something new on.
How was working alongside Travis Barker? He's a legend.
Super dope. Travis Barker is super dope – that's my boy. He really had faith in my music, that's the one person I wanted to work with. X really recommended him to me.
How do you usually go about putting together a body of work like that, including the artistry of music videos? How involved are you in the process?
A lot. I usually come up with the idea and the camera man brings it to live and adds a lil' something to it. I usually come up with all the concepts of the videos.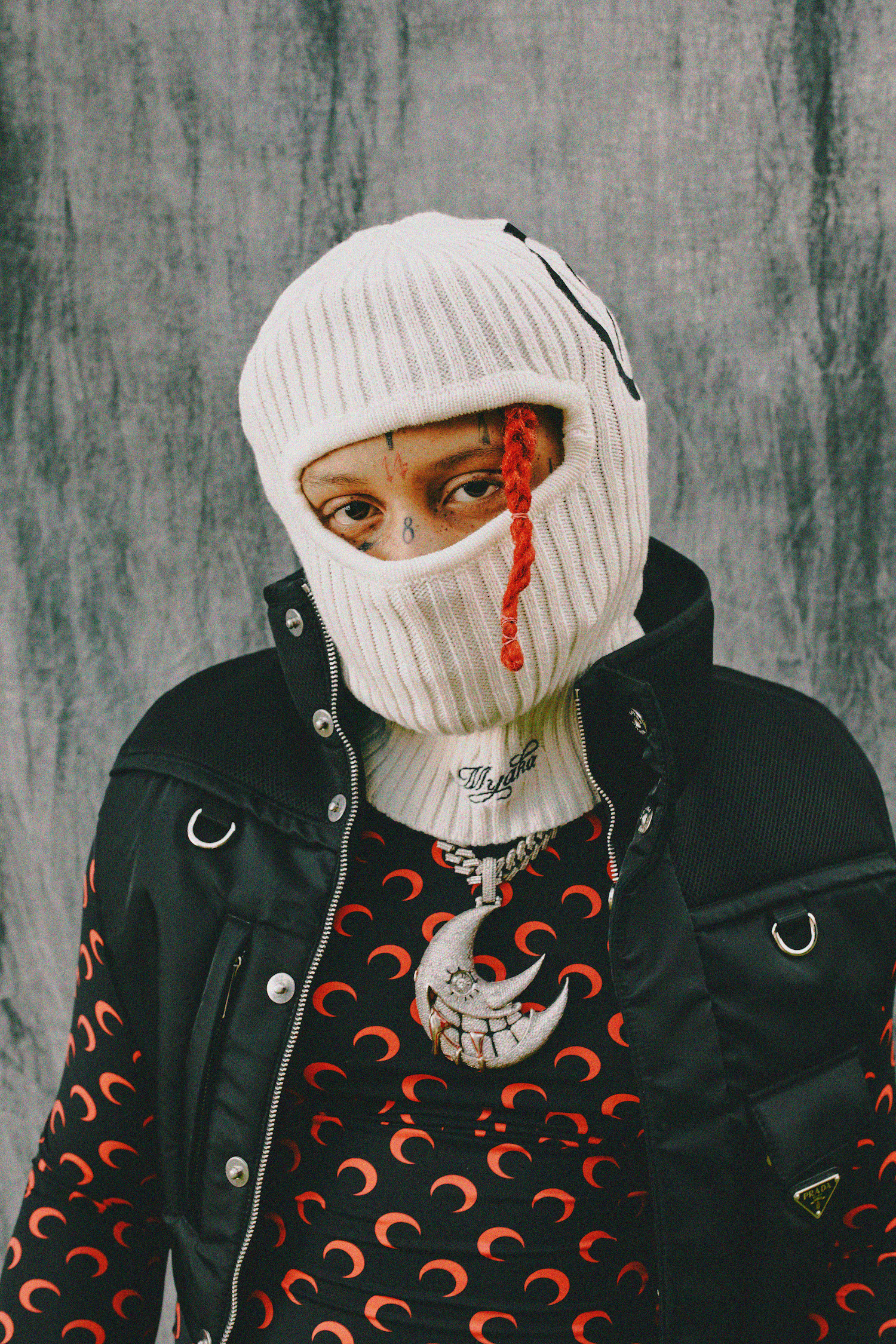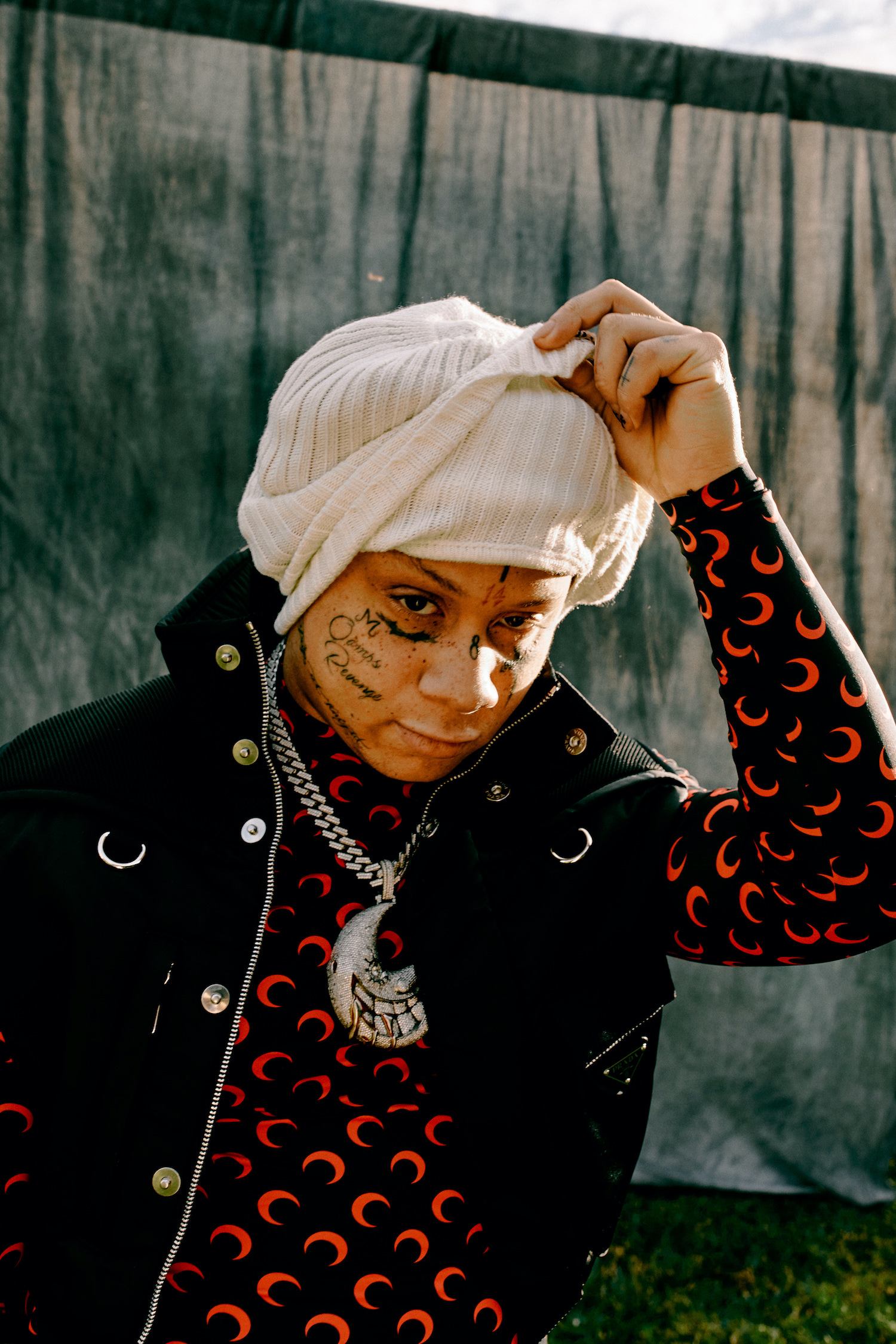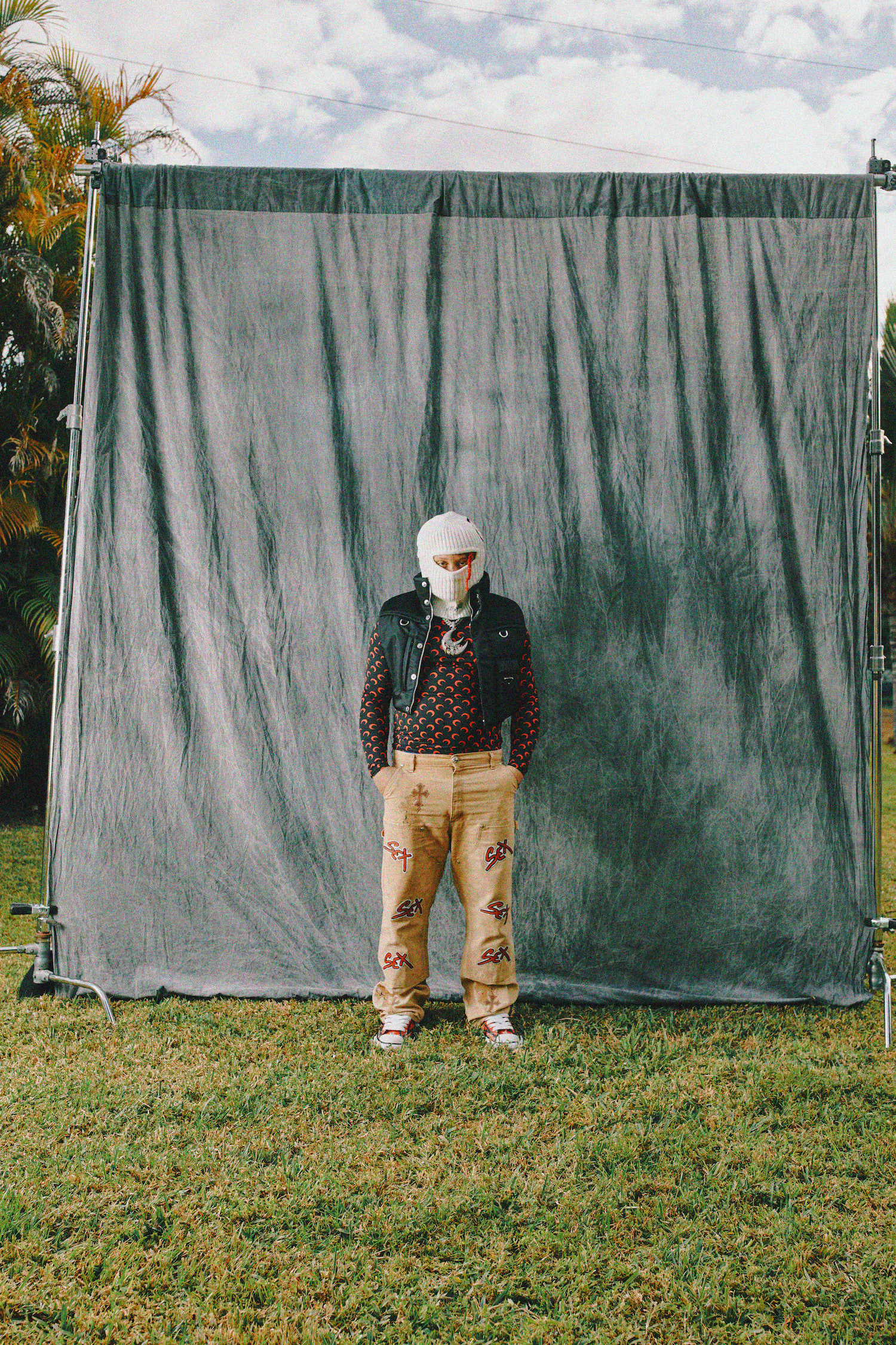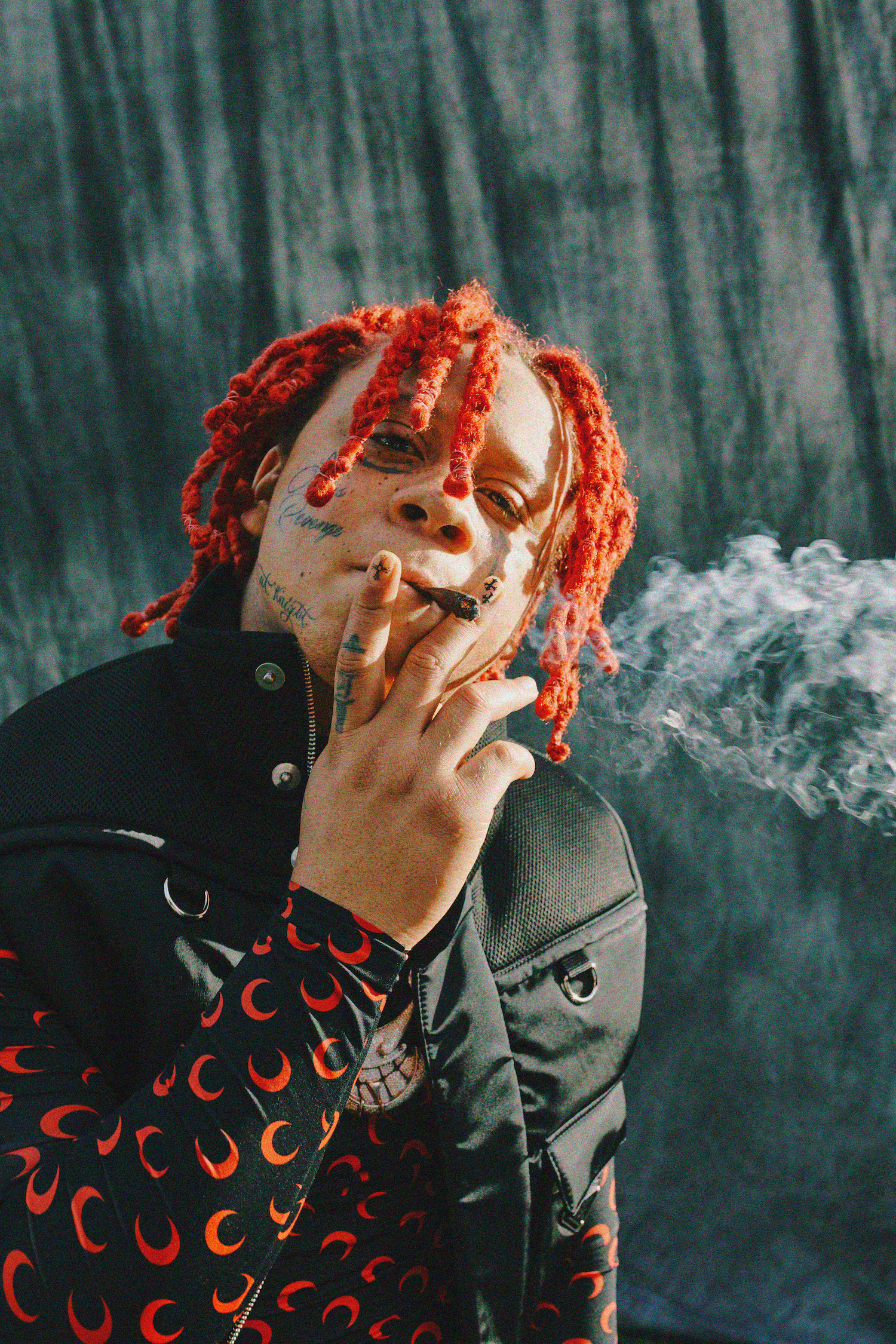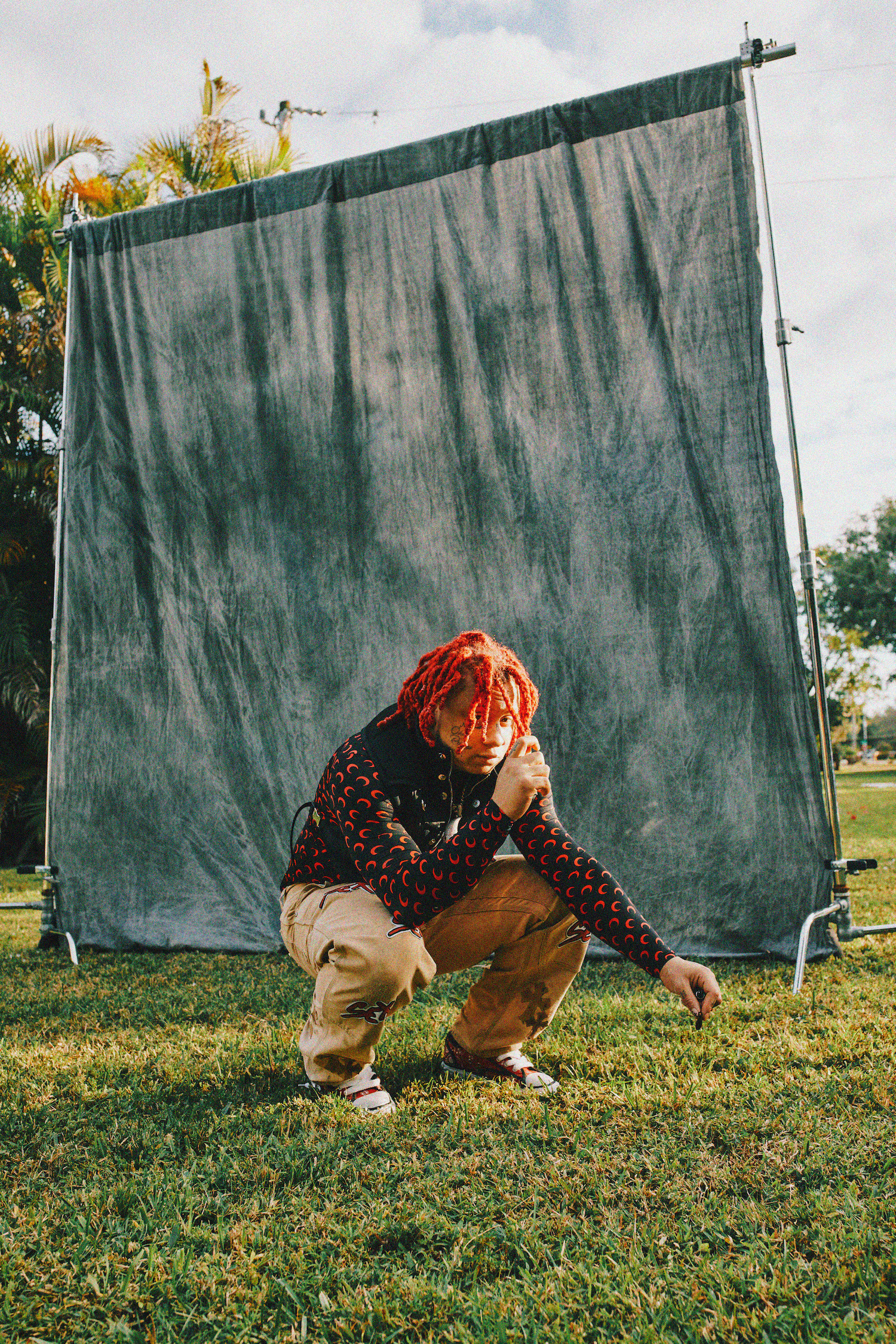 Here's a hard question. Top 3 Rap Albums of all time?
Drake – Nothing Was The Same, Lil Wayne – Tha Carter III, Playboi Carti – Whole Lotta Red
Top 3 Rock Albums of all time?
Trying to think of albums is hard. I don't really listen to a body of rock music. I'm more so a fan of the songs. I go through albums and listen to like two, three songs. I honestly take a liking to a sound of rock, the punkier sound. The softer type, I don't know – like loud – but the voice is soft. Those are the type of rock stars I fuck with when it comes to rock music.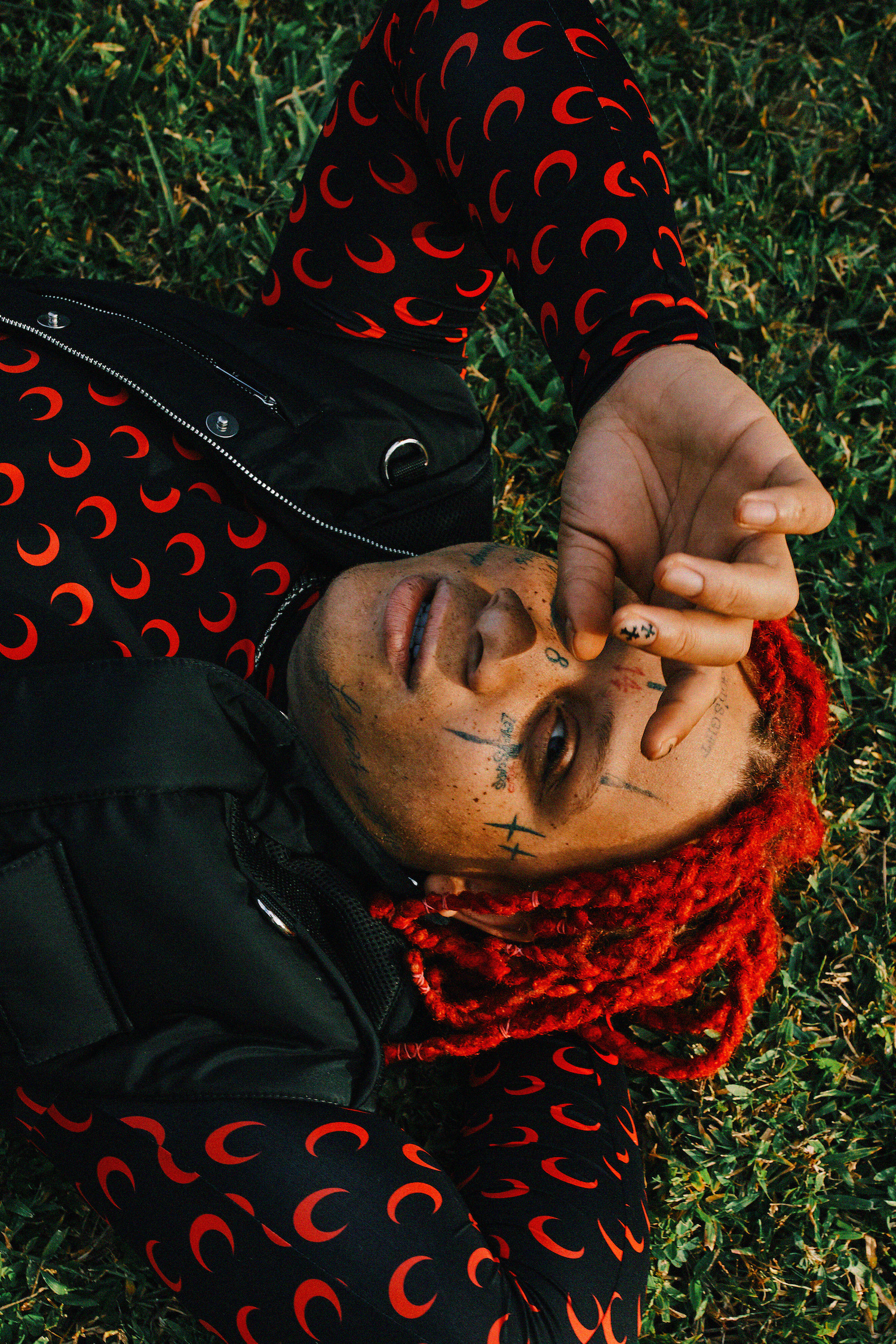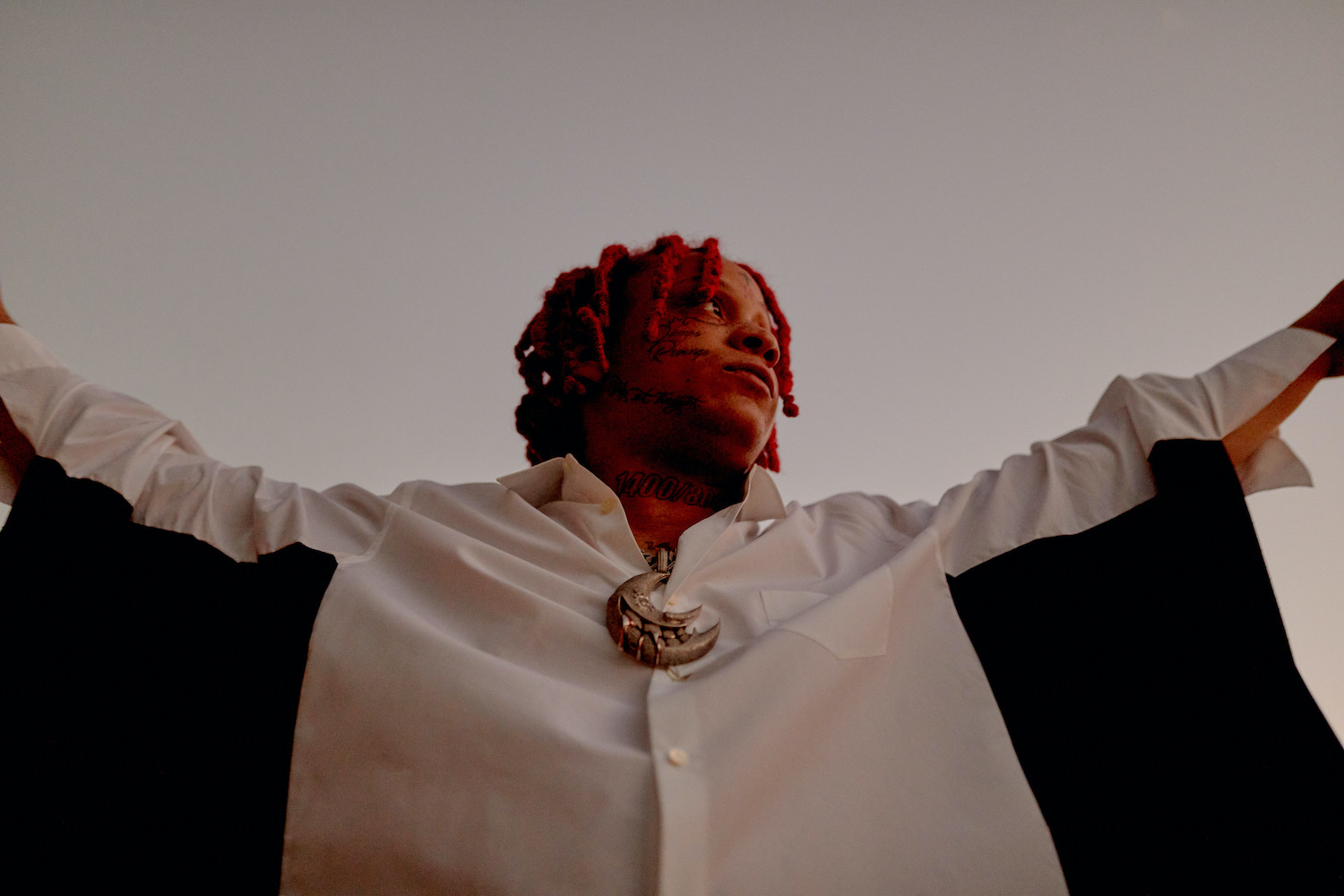 Shirt – Comme des Garçons x Junya Watanabe
How would you describe your personal style characteristics?
I just express myself to the fullest. I wear my heart on my sleeve.
Do you have a favourite tattoo?
The 14 in the middle of my head, it's my first ever tattoo.
December 9th has been declared as Juice Wrld Day. Juice was an incredible individual who is missed by many. How can we celebrate his memory?
Honestly, celebrating his life and how he lived. Carrying on his life with his music, paying attention to what is dropped. It's everything he wanted people to hear. He had the best fans in the world. He wanted to be a Rockstar; he didn't care about shit.
Finally, what has this year got in store for Trippie Redd?
More music. For sure! Music. Music. Music.