Leading the charge in Copenhagen.
Formed in 2018 in Copenhagen, (Di)vision is not your typical fashion label. While these days crafting design through upcycling or using deadstock is not unusual, brother and sister duo Simon and Nanna Wick have found a way to tell new stories with old tricks. (Di)vision sits at an intersection of workwear-inspired outerwear that's caped in an organic signature look akin only to the brand, and one that is all too common to the buzzing fashion scene in Copenhagen. Inspired by the creativity around them, and the urge to create for themselves, it's not hard to see why there's genuine excitement around this brand, and why it is such a hit with those that know.
Forward-thinking, the Wick siblings truly create from what already is and their latest Autumn/Winter collection was no different. Staged at Tycho Brahe Planetarium, attendees were transported to a new world, one where extraterrestrials were the order of the day. Kicking off the show with a walk through the planetarium, they would unveil their short film which had a message about humans being visitors on earth, teaming up with adidas Originals and Brand New Vision the duo would also debut their NFT (non-fungible token) alien Ozzy – an illustration of the fashion labels free-thinking and futuristic attitude.
Fusing all these elements, for this collection (Di)vision's DIY mantra reigns supreme as two-toned bombers with two-way zips parting the colours, blue-and-black trenches with a long zipper dividing the back and shirred pants that show the designers' commitment to exploring a fresh take on old silhouettes. The collection also carried their Carhartt collaboration which has been a hit, and by now seasoned veterans at this technique, patchwork was prevalent throughout. A truly unique offering, each piece in the collection is crafted using material that is either limited or is one of a kind – meaning no two pieces are the same.
Leading the charge in Copenhagen, (Di)vision is definitely one to watch. I briefly caught up with Simon & Nanna after the show: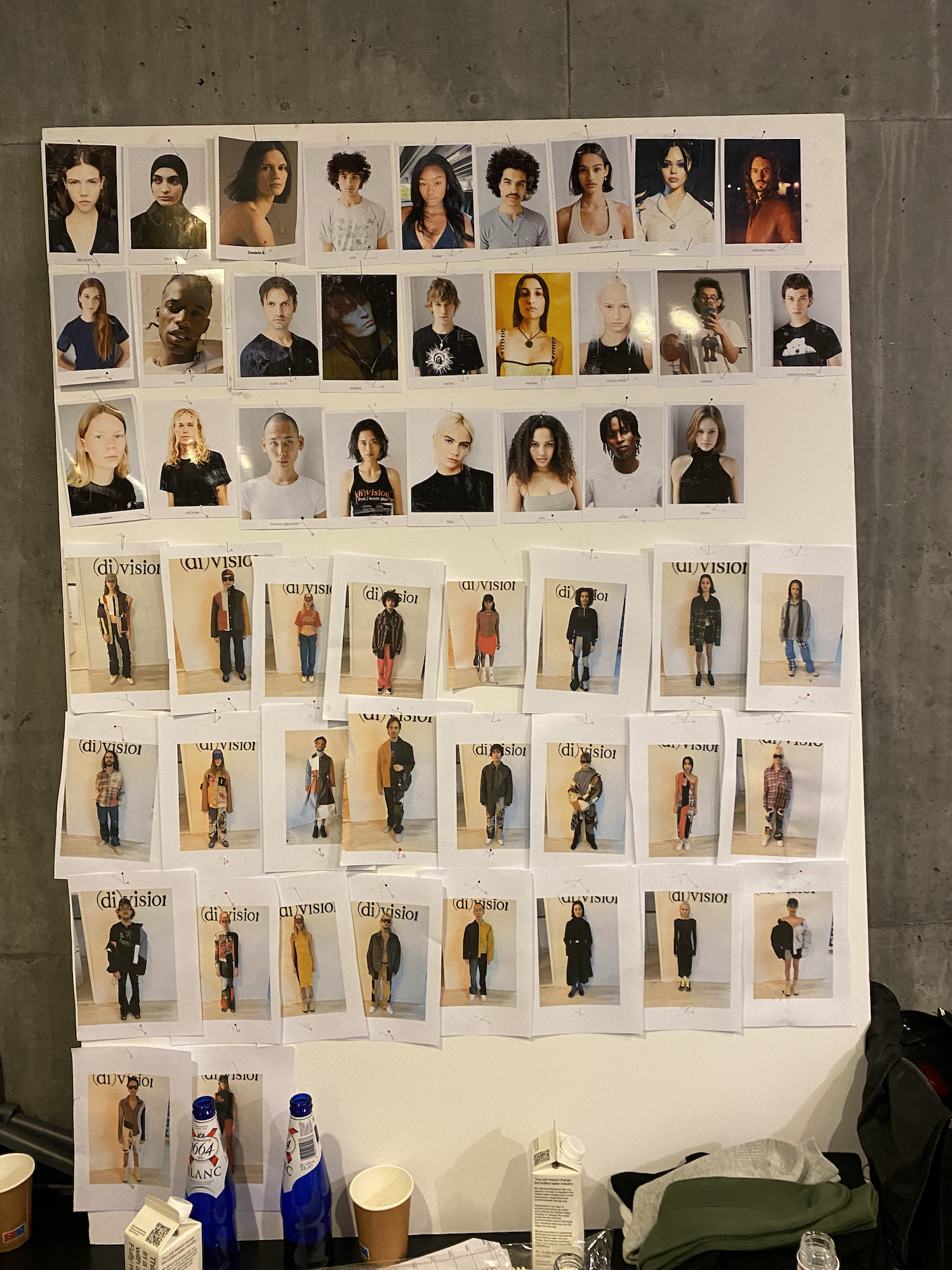 Congratulations on an amazing show with an amazing soundtrack. You closed the show with Come to Life from Kanye West's Donda album – why that song specifically?
Well actually when we made the collection that was all we were listening to, Donda, especially that number.  We Just sat down and created the whole collection while listening to that song so we felt it should be in the show somehow.
The collection was packed with extraterrestrial references, where did that inspiration come from? Was there a message you were trying to send?
We've been very inspired by this whole UFO – UAP thing that's been going on right now, and the New York Times released some articles about it so we really dove into that, trying to you know, figure out what would the characters in that scene be wearing – so we have the more hill-billy type and the more alien extraterrestrial type. We tried to divide it into those two looks.
In terms of the reception, how do you guys feel after coming back from COVID and not being able to show physically last year?
Amazing. It's been amazing and we couldn't ask for more. People were queueing to come see the show and we're definitely over capacity, so that was good. But just the support we have here in Copenhagen and the community we have here, it is overwhelming – people really want the best for us and we really really appreciate that.
And what's next for you guys? Are we staying in Copenhagen or do we see you moving to show in Paris or London anytime soon?
For now, we're staying in Copenhagen. For London, Paris or Milan – it's hard to say right now but for now we're staying in Copenhagen.