From being an internet sensation off of a viral video in 2019 to receiving co-signs from industry heavyweights, and churning out smash hits of his own, Bella Shmurda has had a career bearing that is nothing short of meteoric. Bella has since made it clear that he's home on these charts – not just visiting; with the evidence being the consistency with which almost every single, project, or feature dominates the airways.
PAUSE sat with Fine Boy Bella to talk about as much stuff as time would avail and you can catch the conversation below.
So, here's where we are going to start: what's the one thing that you think that people should know about you but they really don't?
Uh, I'm cool; forget the media, I'm quiet. I'm quite an introvert. People don't really know that, you know? When they see me, they see me with people around me – and these people make me talk, they make me laugh, but when we are just chilling, I am an introvert.
Can you tell us a bit about your background? That's your personal, family background; what it was like when you were growing up and things.
I'm from a polygamous family. My Dad has like four wives. My Mom is the last, and I'm the last of the children. I'm from Lagos State, Nigeria. Um, what else? I schooled in Lagos State University Staff School where my mum is the Head Teacher. I moved to Badagry for my Secondary School days, and back to LASU, again, for my university. I have a sister named Fatimu, she's one of my two siblings who share a mom with me. My dad used to be a Customs Officer, at the Terminal Port in Ikorodu.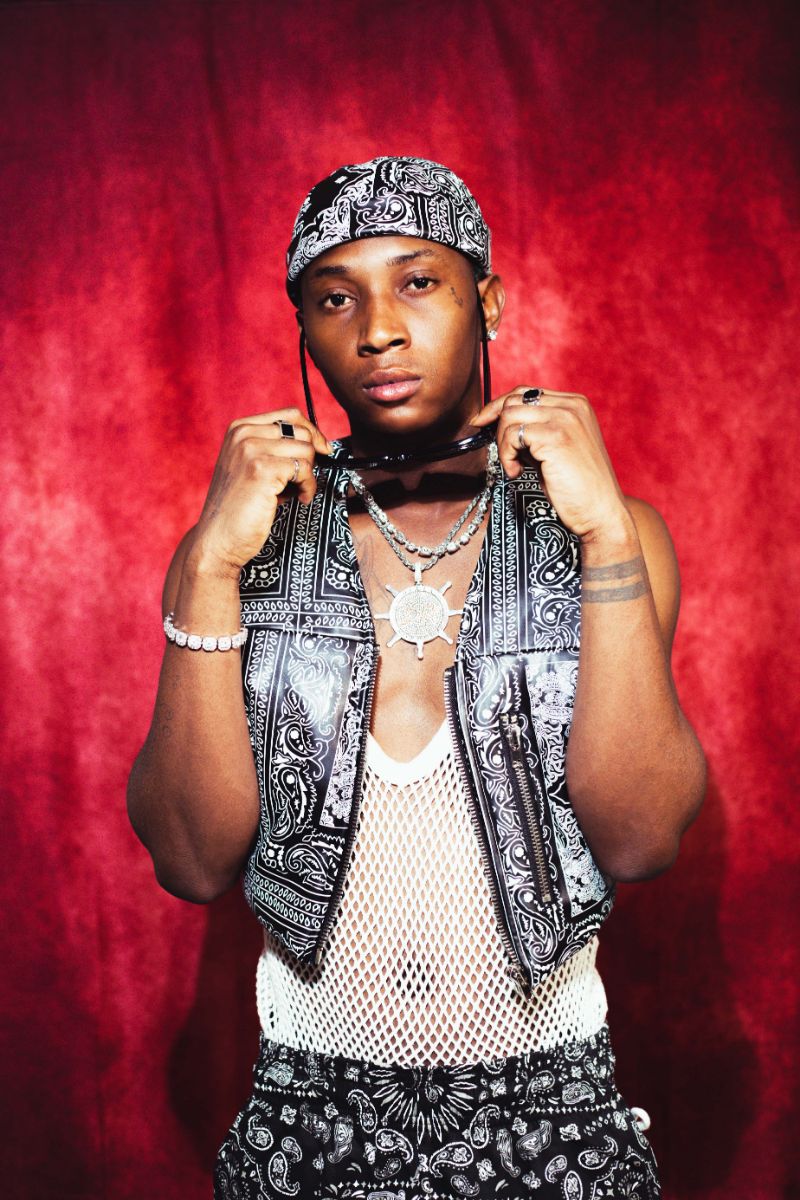 CREDIT: Vest and Hat: PLT// Pants: Urban Outfitters // Glasses: SHVDE 
So, we then have to ask: at what point did you – growing up in that environment – say, "there's a lot of academics, there's a lot of custom officers, there's a lot of other things to do, but you know what? I want to do music."
I used to sing from my primary school days. I used to play the drums. I used to drum on the table in the class, so I used to be the "noisemaker". I was once the music prefect in my primary school days, down to my secondary school, I was the band prefect. I've always loved music, you know, I listened to the likes of Oritse Femi, Kollington, King Wasiu Ayinde, Pasuma, and they inspired my type of music. With me, with anything I make, I want to inspire you. I want to make you dance, and at the same time, I want you to get something: you know, have a message. I just want to be free, on all levels, when it comes to my music.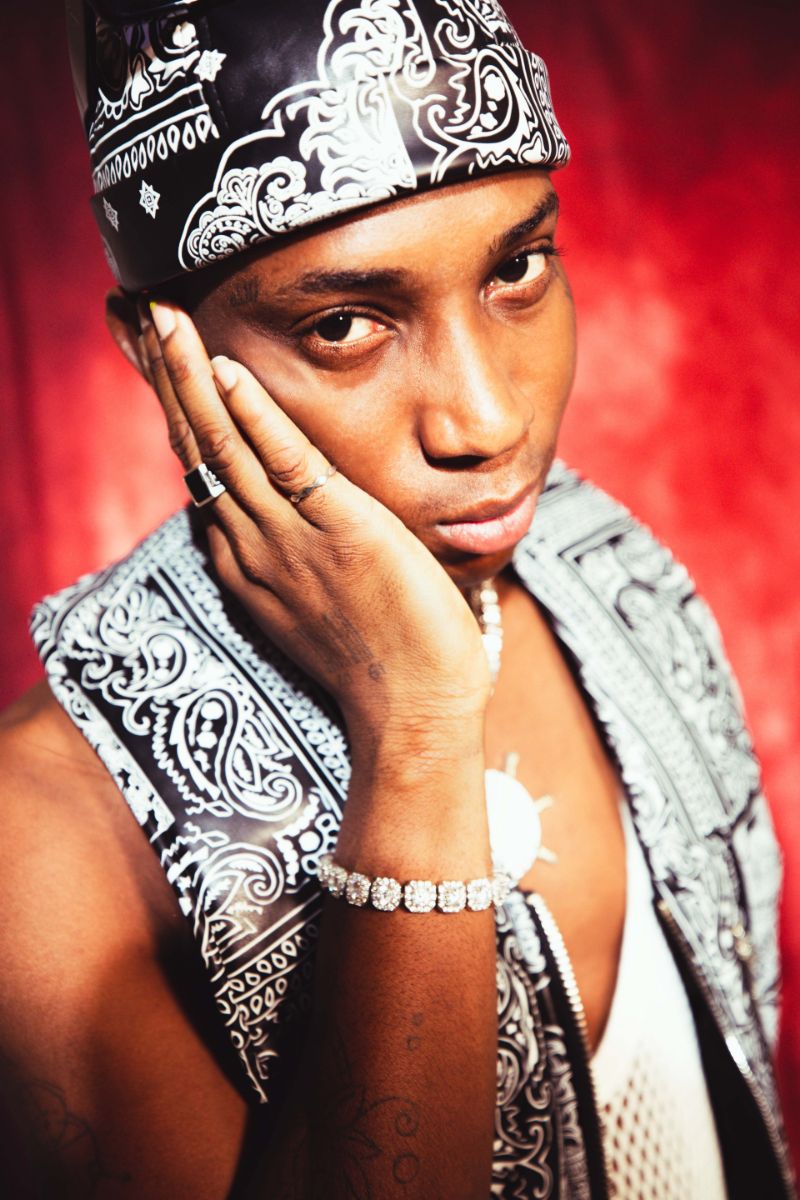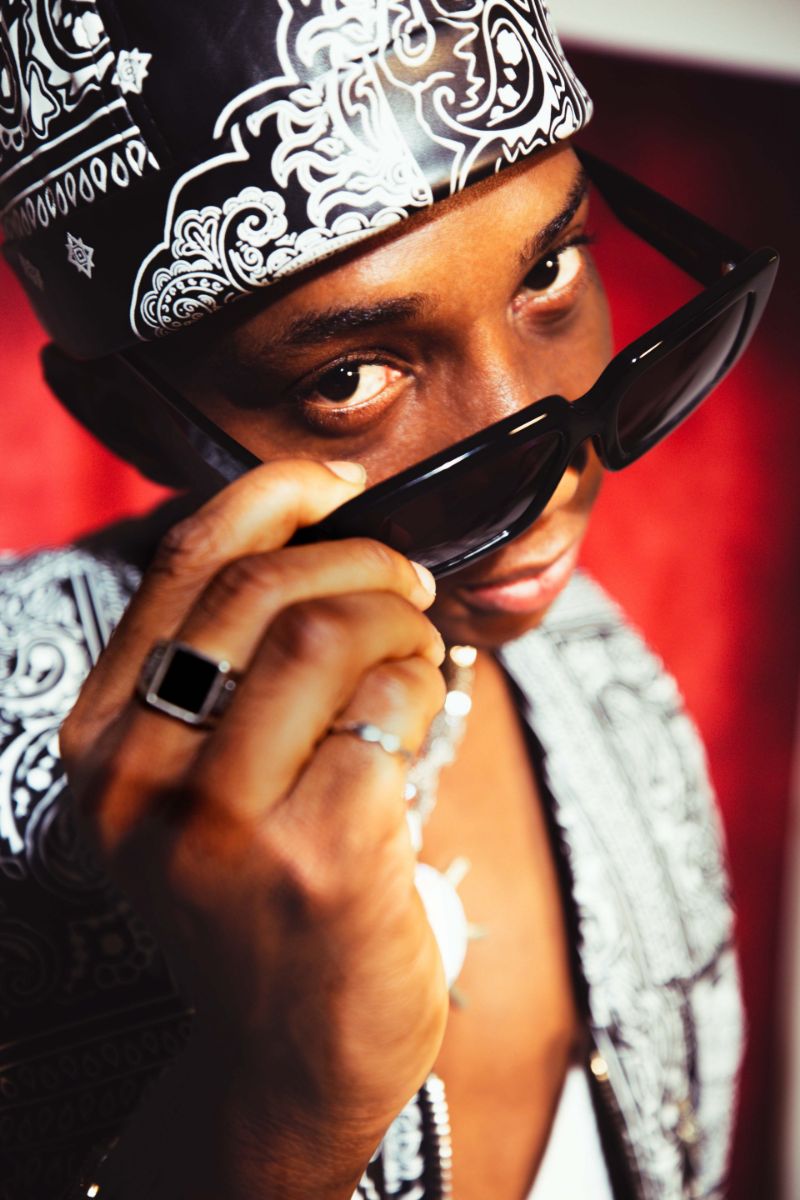 When and how did you start sporting the "Dangbana" tag?
: It started from my university days, down from 100L, they used to see me like "This guy is awkward." I was kind of alternative. My look was always different from the usual coming-to-school look. I used to have dreadlocks when no one had dreads at school. Even when everybody's in class, I fit no dey. They just tagged me crazy, like "this guy, this guy is crazy." What was really crazy was that when it came to actual educational activities, I was way more active than my classmates, I'd always speak better than people who were always in class. Also, I'd have more to contribute idea-wise. So they just used to feel like I was just awkward, wayward, yet still balanced some how. That's where Dangbana came from. My guys, my friends from the hood just called me Dangbana, like "This one na werey."
So I was always awkward to people, that's why they tagged me Dangbana, and I'm still Dangbana.
There was a period when you were putting out videos with no breakthrough to boast of. We know how mentally tasking that period can be for any creative. What was your head space like at that time when you had not "blown up?"
So I was always awkward to people, that's why they tagged me Dangbana, and I'm still Dangbana.
The mentality was, "I've started this, and I must make something out of this." I just had my goals and I had my eyes on the gold. I just wanted to make a change for myself – 'cause I used to do some other things and nothing changed. I was like "I'm doing this. Something must change." I'm into music with intention. It's not like I was just lucky enough to blow. It was and has always been intentional. My mindset then was "Wizkid can do it, Baddo can do it, definitely they don't have two heads, I should be able to do this thing.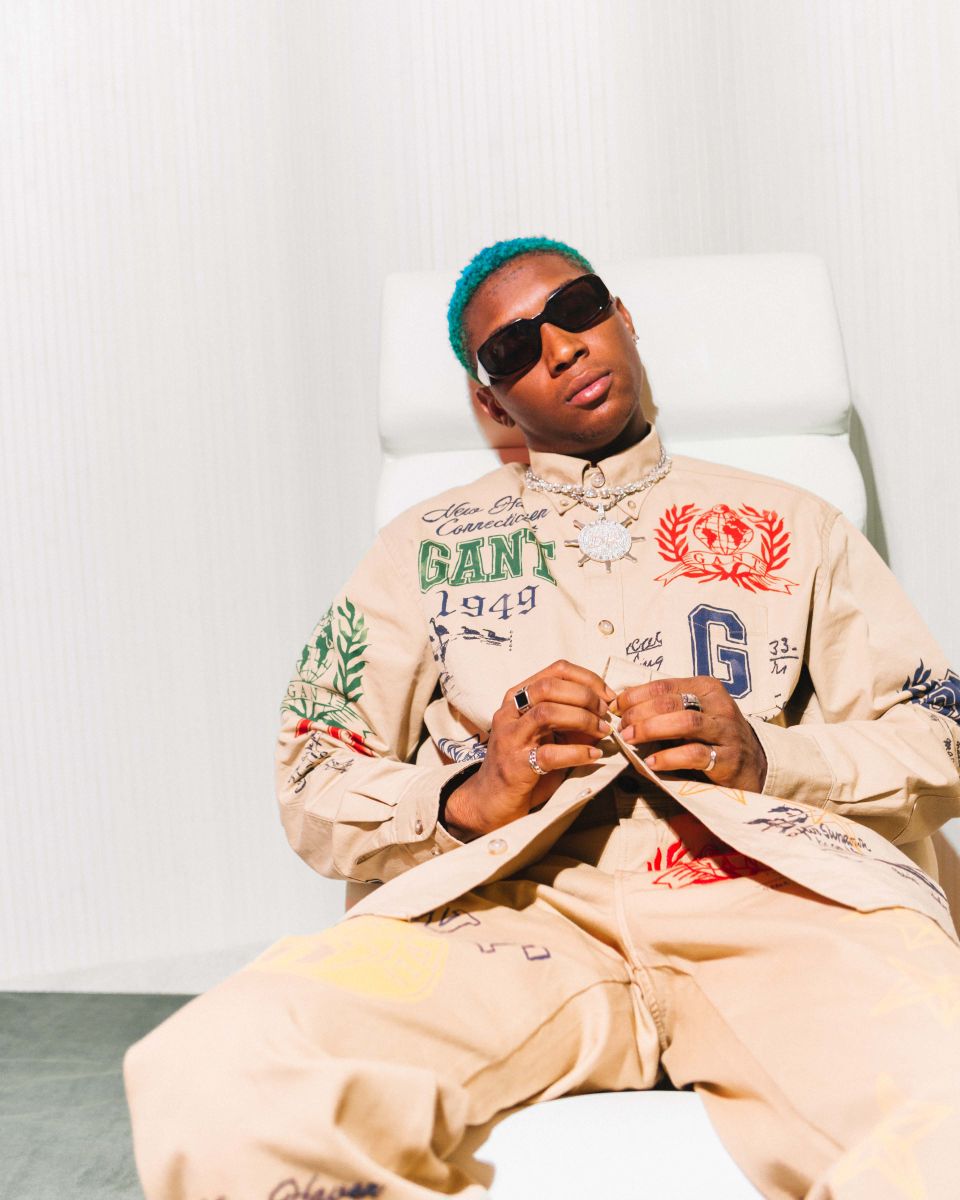 CREDIT: Shirt and Pants: GANT // Shoes: Keen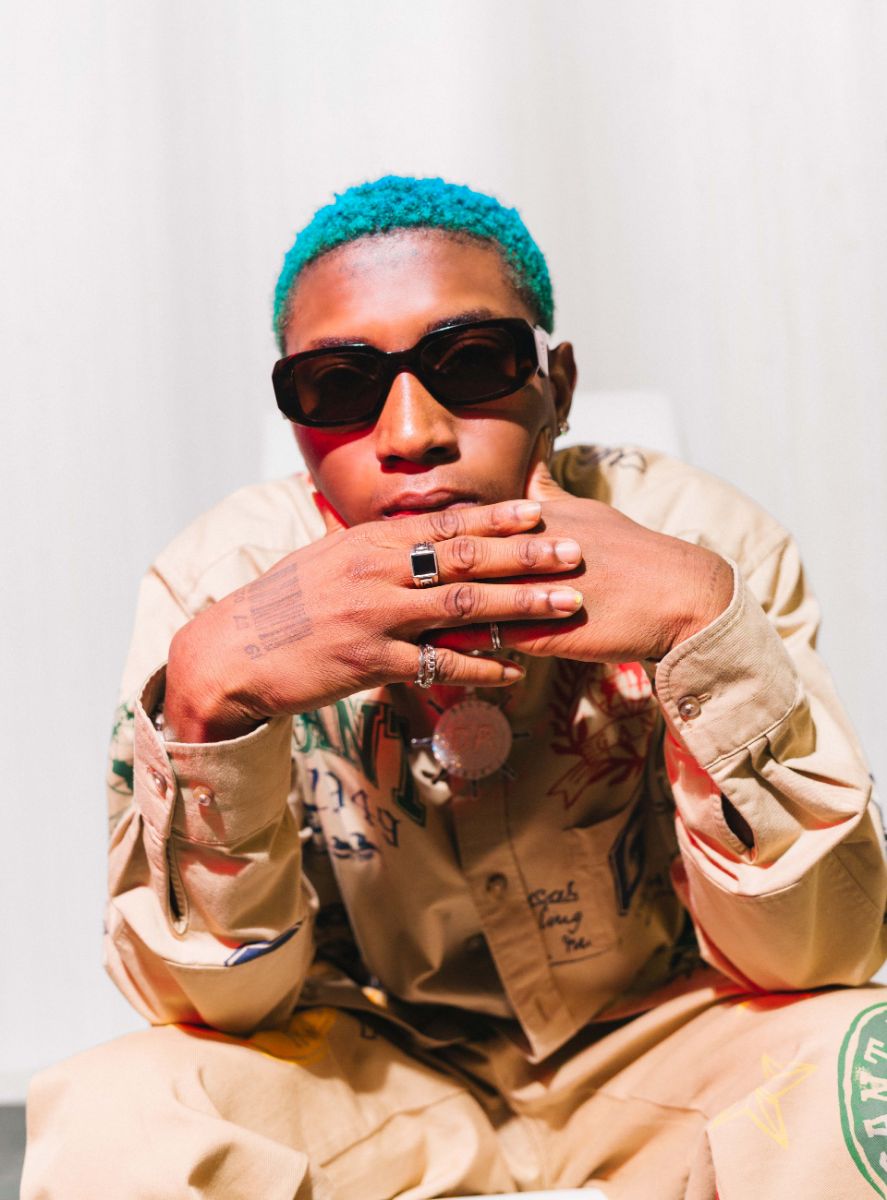 Talking about the breakout period, one of the first endorsements you received from an established artiste was from Olamide; How did you get that co-sign and how did it affect the trajectory of your career?
Poco Lee posted me —  big shoutout to him — and Olamide reached out afterwards and was like, "Yo, I want that boy to come, I like this song, but we can make it better." So I went to Baddo's place, made the remix for me, he supported with the video, and boom. I'm out there. People started listening to Bella Shmurda, and then I had to put out an EP. That was the first "High Tension" – I had to upgrade. Since then, it has majorly been about being a better person. If I can do music, then I should be better.
Let's move from that. The trajectory of your growth has been crazy – in 2019, you were shooting Sho Mo Mi. and in 2020 you're on Wizkid's album – that's…you know, it's mad mental. Was there any point where you looked at how you were growing and you were almost scared that you were scaling too fast?
I didn't even see it. The thing is, I didn't notice I was growing. I just knew that I'm doing music and you know, people are loving it and I must keep doing more. So it was a wake-up-everyday-and-do-everything-I-have-to-do type of thing. Honestly, I was not really aware of myself until I started getting interviews like this one we are having now. I'm still pushing, you know. I want to get better, that's the goal with my music, you know and everybody growing with Bella Shmurda, should get better too. Yeah, there were definitely some "woah!" points, you know. It's not that I'm scared but you don't want to fall below standard. You don't want to fall below expectations. That's normal for someone who wants to get better, you must always feel like, "I've done this yesterday. What can I do tomorrow to make myself better?"
Amidst all this, I believe in God and I believe God answereth all things. It's God that is doing this. So if God can put me on this level, with God I can be on another level. So I don't really worry about that. All I just worry about is my music and how it sounds, and how are they going to accept it. And as far as the acceptance is there, my job is to keep singing.
So, one last question about your growth. If we look at your features it is almost safe to say that you're like a soup thickener [laughter] – 'cause if we check your features, the verses or hooks speak for themselves. Can you guess what was, to me, one of the most unexpected features you did?
Body Riddim?
That was spot on!
Haha, First of all, shoutout to Runtown. He texted me, and I was a bit surprised too, you know. He was like "let's do something together." And I went there, I went to his hotel room, and he played the song. I liked it, and he asked me to make a verse. I did my thing and the funniest thing about that verse is that I didn't even write it. I just ran it off the top of my head, basically a freestyle. I did my thing and I didn't even know he liked it. I didn't know DarkoVibes was going to be on the song. I didn't even know Darko as of then. At that time, I think the only country I'd been to was Kenya. I'd never been to Ghana so I'd never met him, I'd never been out of Africa, or out of Nigeria that much either. But after that, I definitely got to know Darko and we even had a vibe in Ghana with Efya.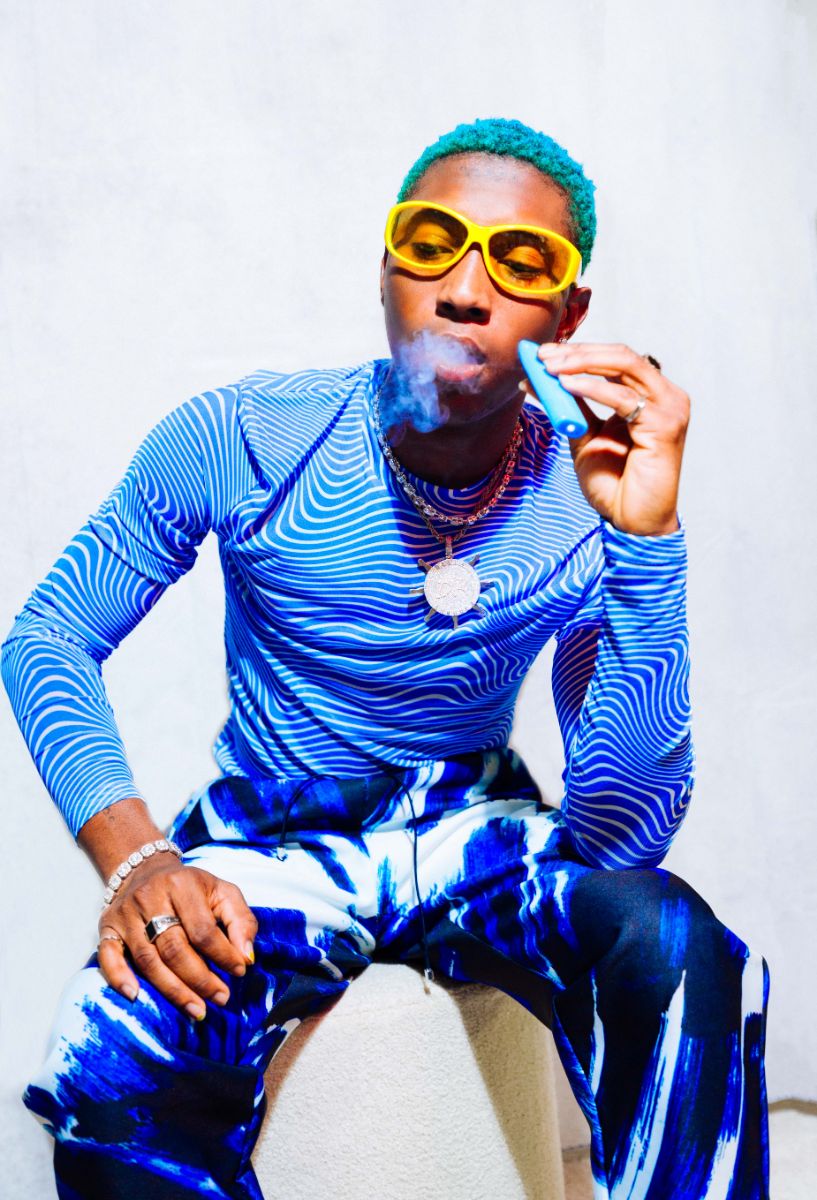 PHOTO CREDIT: Top and Glasses: ASOS // Shoes: Keen // Pants: Stylists' own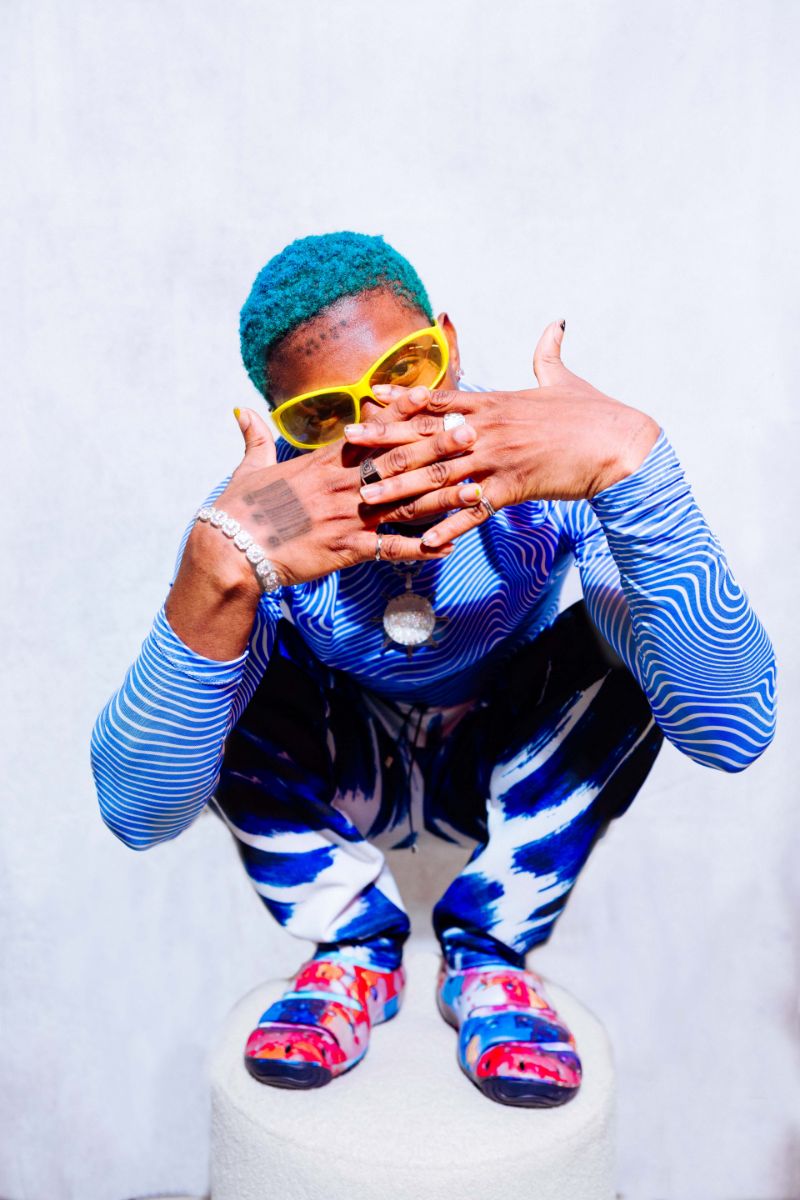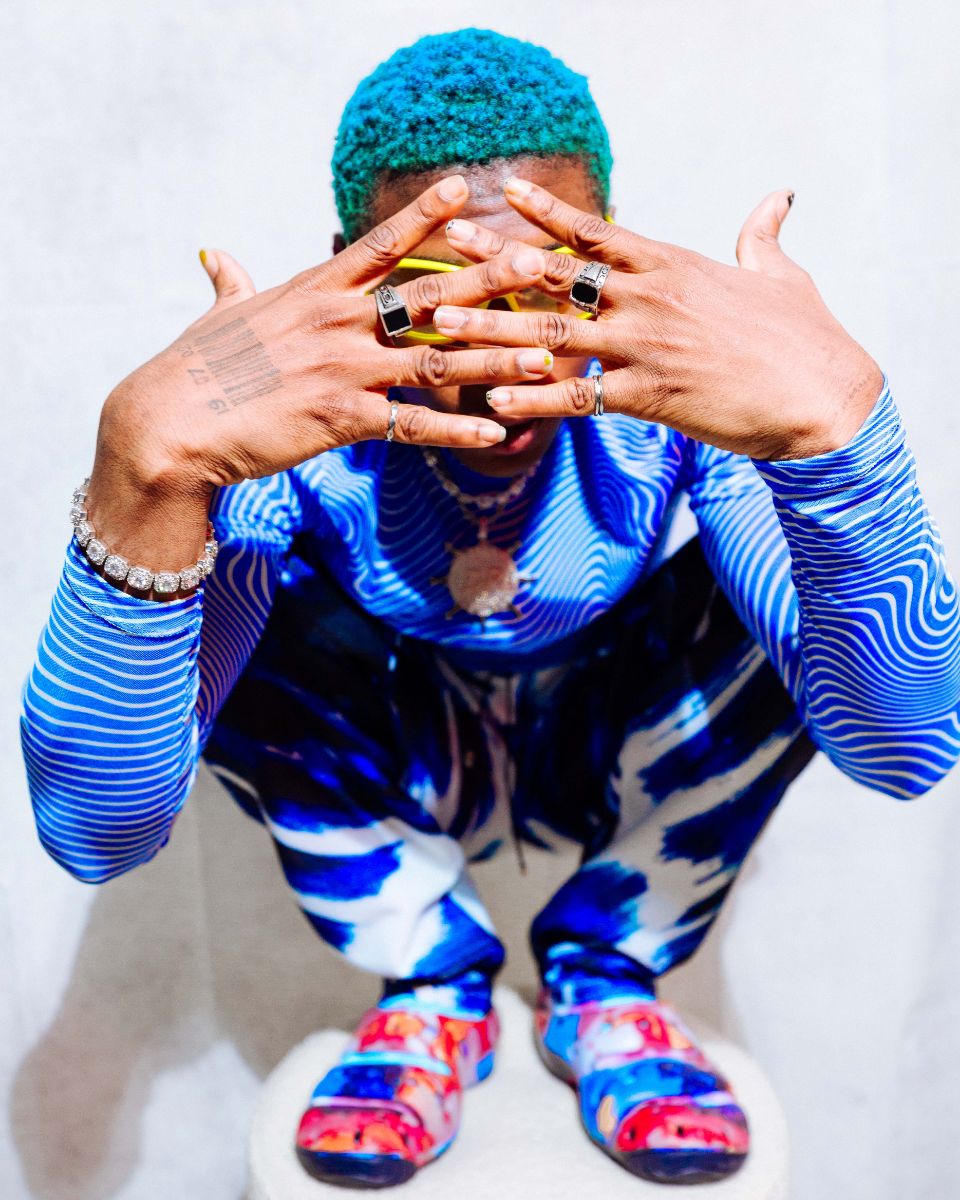 You've had quite your share of controversy; a good instance is a reception you got when you were about to drop the video to Rush. You released a snippet that was everywhere on Twitter and got people talking about Dangbana being at it again. Some people even called for the video to be banned beforehand. What was your reaction to the kind of reception it got?
From my end, at the time, I thought it was good for me. I wasn't expecting the reception actually I just wanted to do my conscious work while getting people to dance, before moving on – until that happened. When the reception came, my immediate reaction was "Wow. E dey hot o." It was the first time I got up to ten thousand comments on my Instagram page and about one million views on my Instagram page. People kept coming back to watch the video, and you know, it gave me some edge. I got more support, people reached out to show love and Wizkid was one of them. So, as for the controversy, Rush went viral for it and that's calm.
Talking about Wizkid. There was a time when Wizkid tweeted that he can't wait to sit everybody down and explain why he believes that your voice was very important to African music. Where were you when he said that? So how did you receive it?
I think I was just chilling when my PR person came to show me. He was like see what Wizkid tweeted. First thing I said was "Ah! I dey try oh." I told myself, "Ah. Abi if him tok am, then I dey try na." I'm not doing that bad. It's not like he's exaggerating. I believe it myself, at a point people will believe in Africa – that there's a strong boy called Bella Shmurda, and I'm working on it. I'm doing better.
Shoutout to Wizkid for that, it was big for me, and I really appreciate that and with all my strength I will guide that. I will pull through.
What has the experience been like, in terms of what you've garnered from being in spaces with people like Wizkid – maybe some things that you've realized that maybe you should stop doing, you know? Because you have grown way bigger than when you were Bella Shmurda in Ojo dropping freestyles, you're not the same Bella Shmurda that met Olamide, you're not the same guy after Runtown. Share some of these with us.
Definitely. This thing is just about being true to yourself. Yes, I'm Bella Shmurda, I represent the streets. At the same time, you have to grow too, and you have to grow with the streets. At some point I just felt like there are some things I don't have to do again. And you know, some things in the past will haunt you so you have to stop doing them. At the same time, I'm growing. There are many things I used to do that I don't do again – like those freestyles, doing videos anywhere, it's gone and I feel it's growth. I'm not losing it I'm just keeping up. There's always been controversies. It's almost like I'm used to it. I know when I'm there, something go sup. I'm not perfect.
At some point, I felt like I had to do more of packaging and some branding with the new stuff that I'm working on. But from where I see it, every controversy, every stone thrown is a stepping stone. It's for you to learn, it's for you to gather knowledge, it's for the better days so I'm working on them.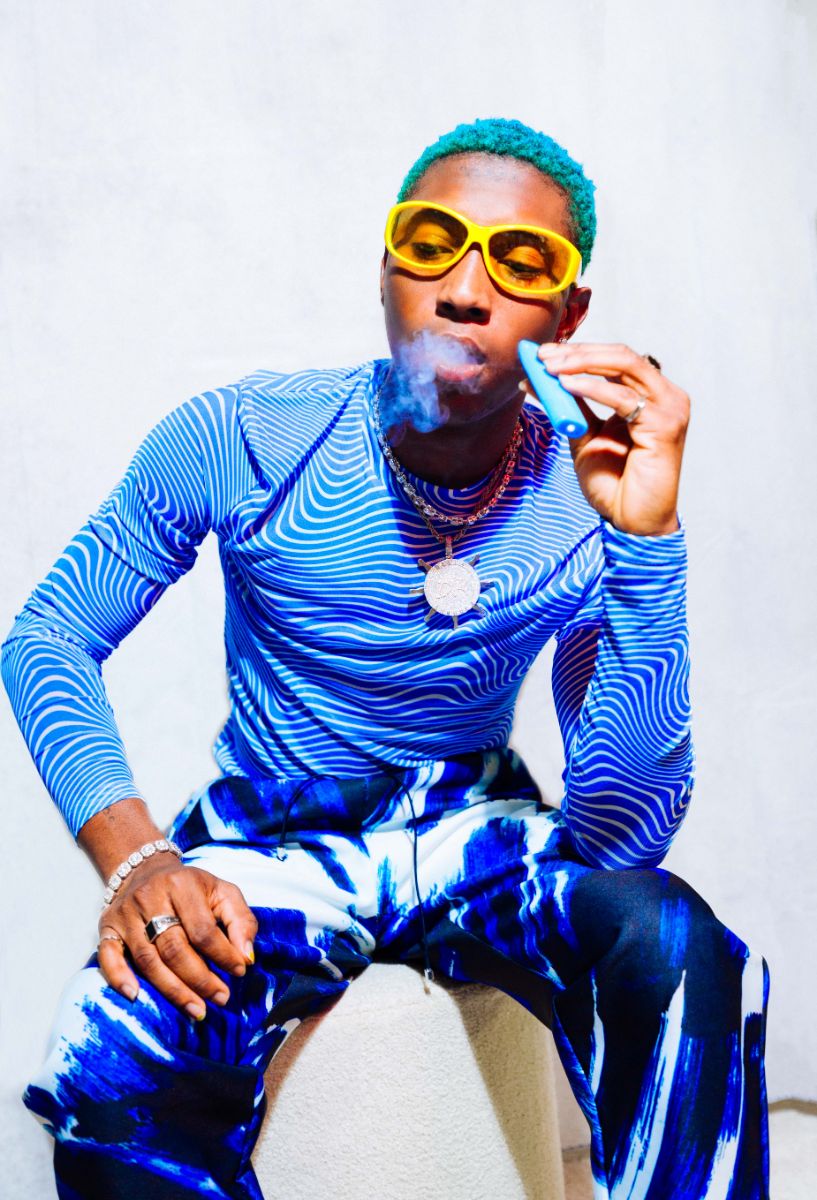 You recently released a single and you have also been teasing the idea of a project in the near future. After this next single, what should we anticipate?
It's the start of a new year, so I guess that inasmuch as people want to listen to conscious music, they also want happy music. What I plan to do is continue what I always do; feed the streets – feed the ears. Make everybody happy again, make them gingered on my own vibe, in my own way, give them life. The little I can give through my music, I give it to them.
Also, yes, there'll definitely be projects. I have a  UK EP, I have Pa Salieu, I have Not3s, I have Tay Iwar, I also have some work with Backroad Gee too.
You had a show in Ibadan recently and from all reports, it was excellent. Pray tell, to you, what was your first headline show like?
Yeah, it was my first major concert. It was my own concert. It was mad, the whole of Ibadan turned up. It was a change, a turn around for the city of Ibadan itself. They'd never seen that kind of concept, shout out to Moyo, she helped arrange it. Also massive shout out to Dangbana Republik – my team; they all pulled up for me. It was crazy for me, it was life changing in the sense that I had another experience. I had to take some weight on my shoulder, I had to take some pain, I had to do some things. It was a crazy step for me, but it was good. That said, `I am definitely coming to Ibadan next year.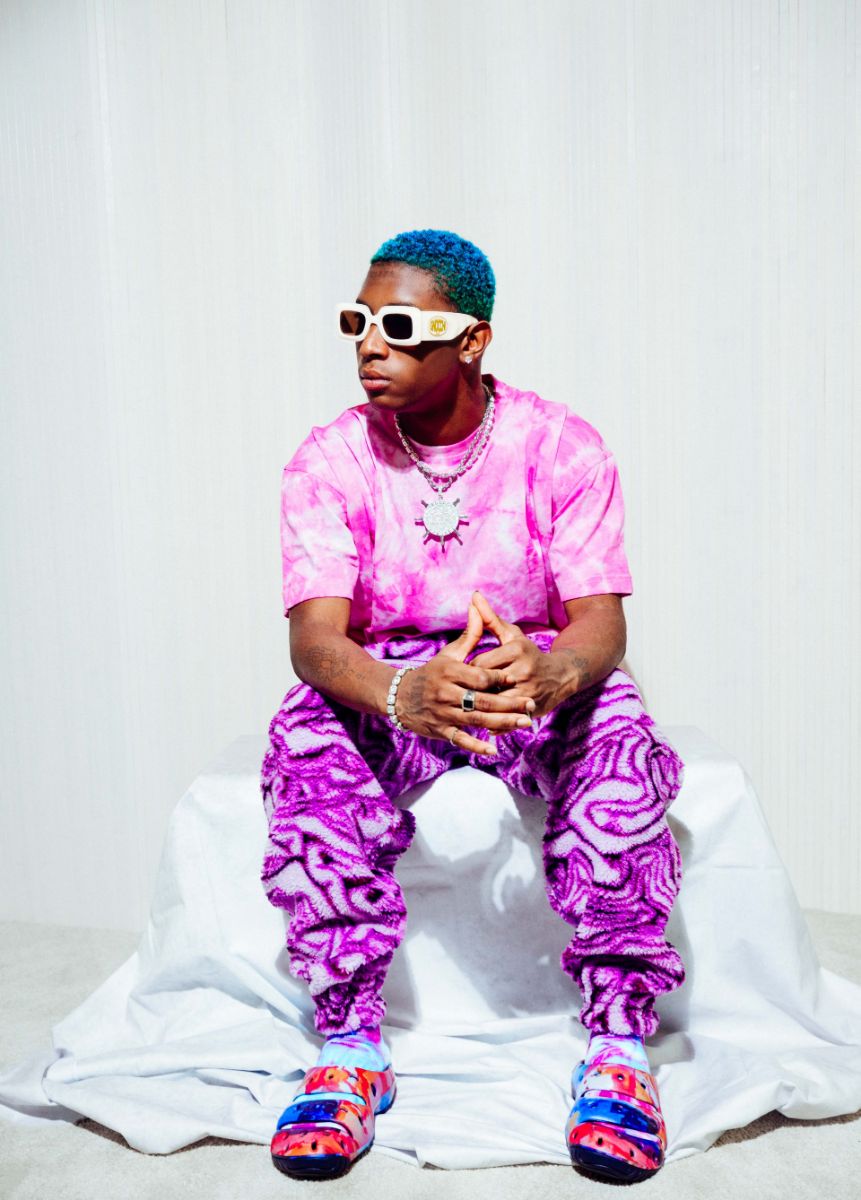 CREDIT: Glasses: Gnoochi // Shoes: Keen // T-shirt and Socks: Inked Grailed
Moving on, you definitely want to grow. The same way you've been morphing, the same way you've been evolving from that guy to this guy. What do you – you know, there's a difference between what you want to do and how you want people to see you. If you could, would you change the way people see you? Would you make any slight modifications to the way people perceive you?
Like they say, first impressions matter. People have known Bella Shmurda for Bella Shmurda. If I'm going to change, I change my music, I get more mature in my attitude, but Bella Shmurda is Bella Shmurda.
Baddo has always been the Baddo that we know is crazy, though he's now switched up the music a bit, he's now mature and a family man, but he's still Baddo. He's still that person that holds down the street anytime, and that can never change.
If anything will change about Bella Shmurda, I think my account will just grow fatter. I think that's the only thing that'll change but my music will be conscious. My music will always keep people dancing, influencing people, and passing a message.
So talking about being conscious, do we expect more conscious music from you soon?
Yes, because I always have to sing about what I feel. I want to change things sometimes; that's how World came to be.
I was just looking at things and I was thinking, "Ah, is all this supposed to be?" and being someone who's kinda religious, I know some things are funny, you know?
I had to come up with World, just to awaken people about things they've forgotten about, things they can't remember. I felt like I just had to awaken them. I'm not criticizing anybody, I'm just being true to myself – that this is how it's supposed to be. We all have perspectives and views in life and I respect that, that being said, this is how I feel, this is the way I see it, and this is the way I'll talk about it. I won't sugarcoat.
So if I lie to the world, I cannot lie to myself.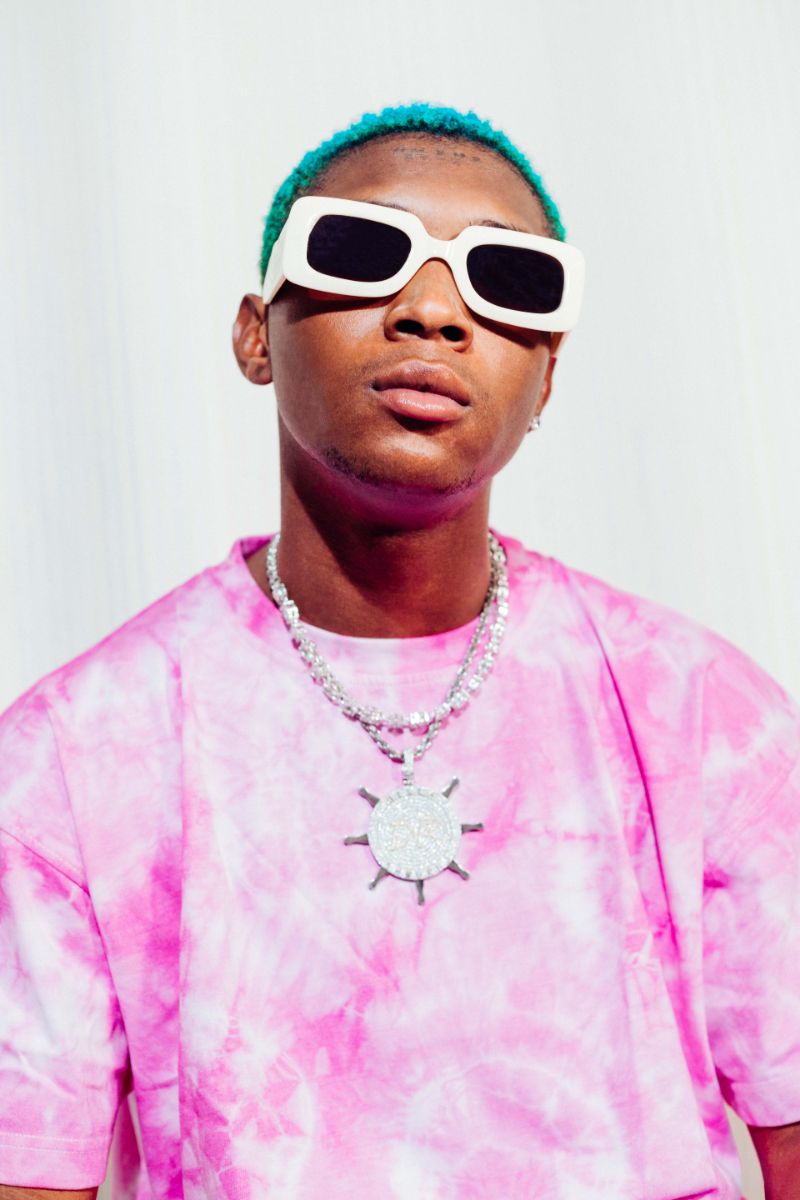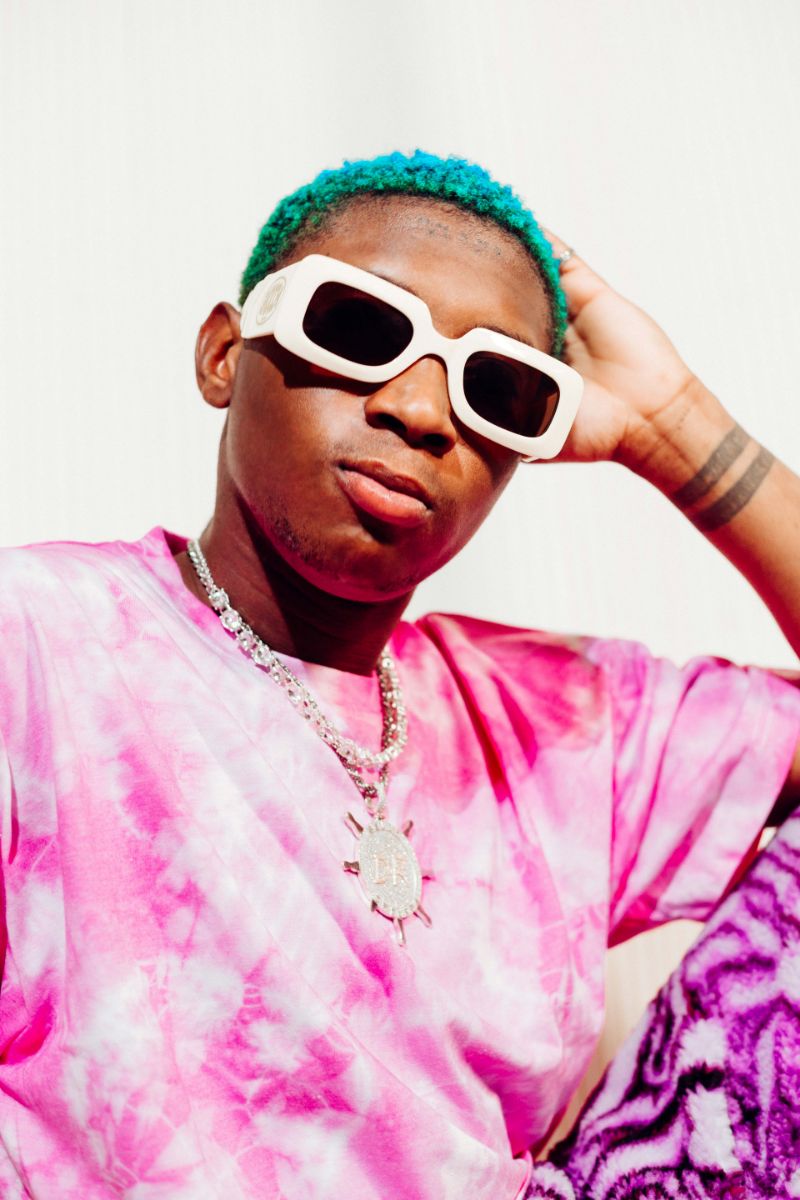 You mentioned that you're a religious person, do you subscribe to any ministry, religion, like are you Christian or Muslim?
: I pray to God. It's not labeled. Anytime I see someone and he's like "Let me pray for you." I receive the prayer. Anytime my mom comes around and prays, I answer "Amen." I don't think it is a must to be part of organized religion, but there's a God which you must know and that's what I follow. It might be any way, traditional, anyway but there's a God. We did not just appear here, there's something here; there's a supreme being.
Do you also think that we are sent here for something? Because when we are having discussions like this surrounding music. I noticed after speaking to a lot of musicians that some of the best ones are the ones that you can tell that they're not supposed to do anything else, just music. They're supposed to be there. So do you think that is how we are? That there's something set for us and once you find it, you go at it?
Yeah definitely there's a purpose for all of us. Everybody can't be an artist, everybody can't be a technician. There's a purpose, and that's why some technicians are doing the work of pastors and are not making it.
If you can find your way, you'll do it. Finding your way means a lot of things; doing different things. Try a lot. Instead of trying one thing and trying that one thing again, try one thing, then say "Let me do it the other way, let me try it this way" 'cos sometimes it's confusing.
When I asked you earlier how you started music, how you wandered into music, you told me about how you'd already told yourself "this is it, this is what I want to do." So we can deduce that you'd identified that your purpose is music.
No, even though I knew I could sing, at some point I was a barber. At some point I went to school, I studied History which is not really close to music. There are a lot of things surrounding it. I just felt like it's like this one gangangangan – If I put more into this one, it will work.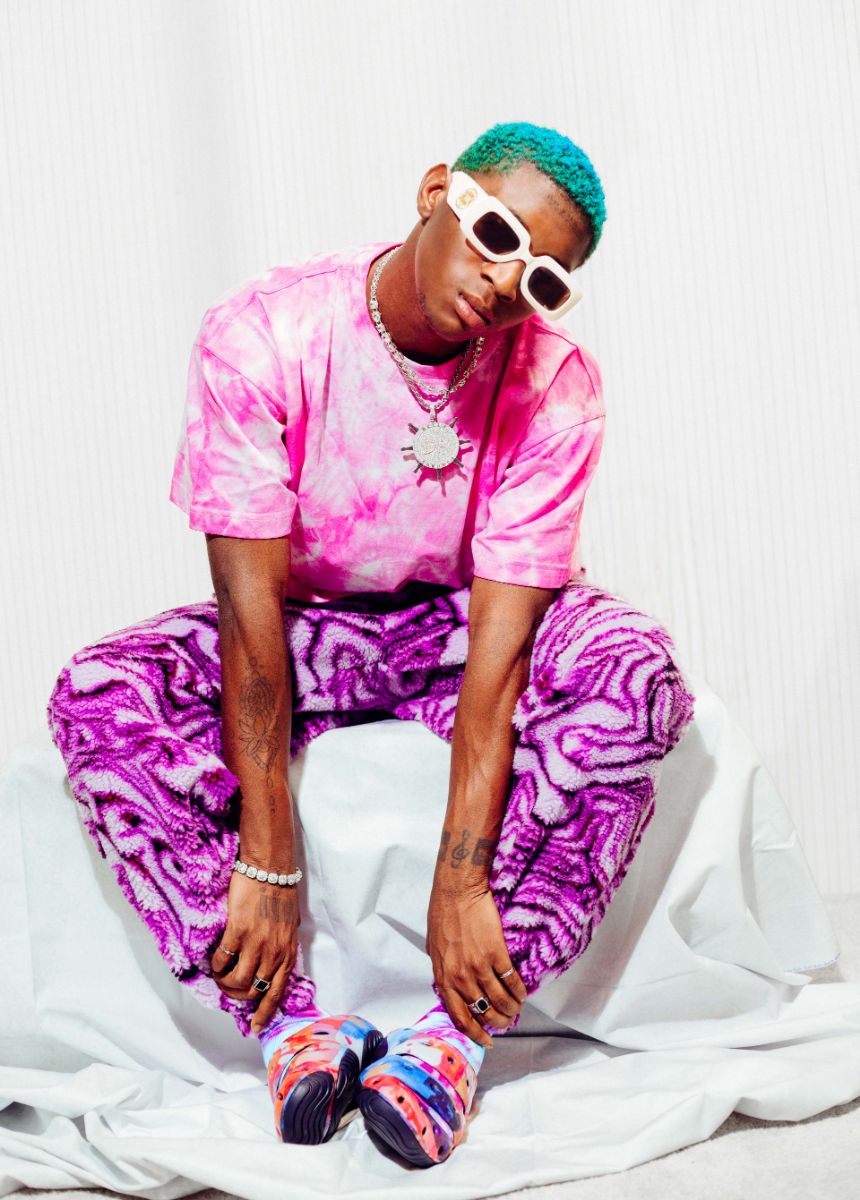 What has been your biggest challenge on this journey of purpose?
School was one of my biggest challenges. Being in school, going to lectures, having people criticize. You know, while you're trying to make your dreams, some people are saying you're a hoodlum.
School is a big challenge and finance is a big thing in music. You can't just – it's fine, if you can do music it's fine, but it's not just music, you need support. The money is needed because you have to at least make videos, you have to put your songs on some better platforms. You need promotion and marketing, and you need people; the people you have around are important in everything you do.
You have to understand what way they want to go, so you don't get someone that is passionate about tailoring ask them to come and be your manager. That's a problem.
So people that are around you are a major challenge because some don't know anything about music. They just want to hang around, stay where they're drinking and shayeing. They just want to be in the club with you, partying and all of these things. So, the people around can also be challenging.
We have had a lot to talk about; any signoff words?
Shout out to all Bella Shmurda fans, shout out to any lover of music out there. I'm on over half a billion streams. I'm about 550M streams deep as Bella Shmurda, so shout out to everybody supporting music, supporting good music, supporting Bella Shmurda. Remember, the major thing is know who you are and don't do drugs. It's crazy.
Respect people's perspectives. We all face different challenges, we come from different backgrounds, so you can't expect them to accept what you accept. Just respect their opinions. It's important.