Return of the duet denim looks.
Whether you're a fan or not, you cannot deny that double denim is back big for 2022. Yet another 80s classic that's making a resurgence, the sartorial duet that's commonly referred to as the Canadian tuxedo has often been seen as a fashion faux pas – simply put a sartorial sin one can make when getting dressed but now thanks for a number of notable stars, the double denim look is making an attention grabbing comeback.
As with Marmite on toast, pulling off a double denim look is either you do or you don't. There are no in-betweens. However, the evolution of menswear has meant that the matching of denims is no longer as revolutionary as it once was. Whether it's the raw indigo blue that's trending right now or washed oversized chic ensembles, with all its intricacies, the double denim look is reserved for those who have the heart to dare try to pull it off, as things can easily go left with. However, these looks from Kanye West and Luka Sabbat are the style notes you need for a sharp double denim get up.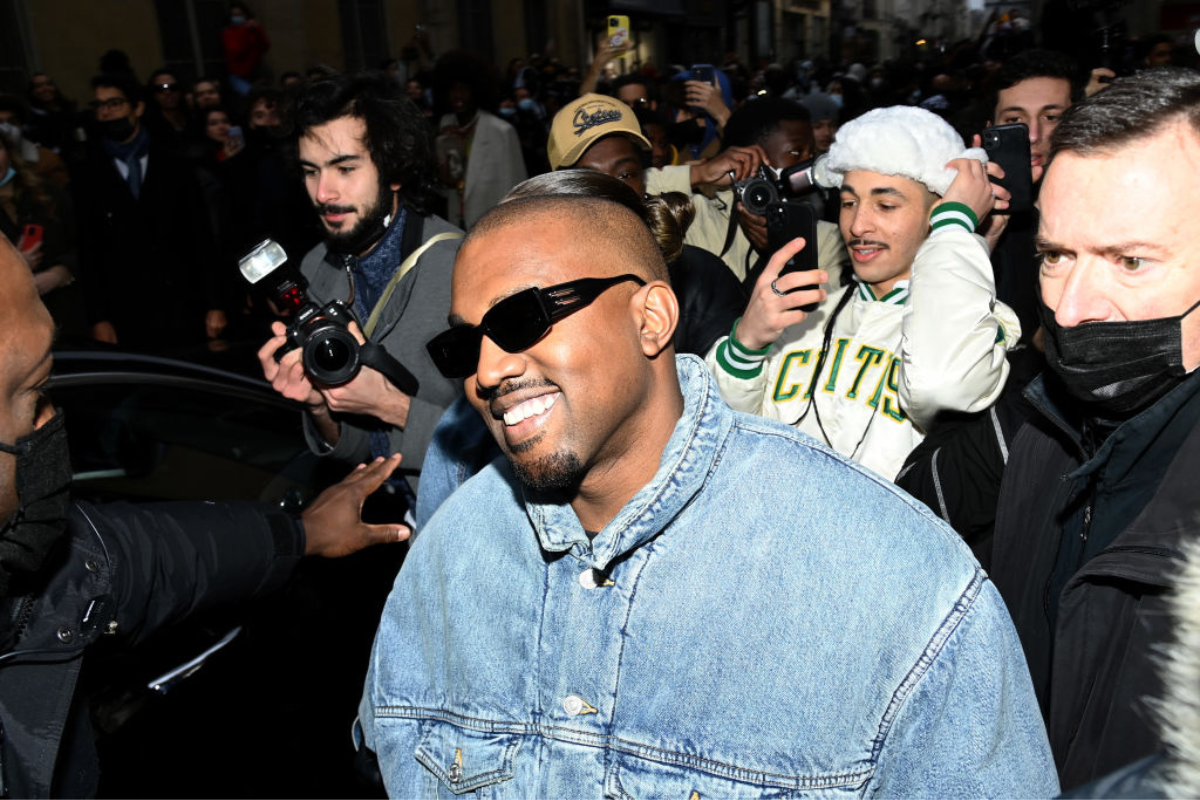 Image Source: Pascal Le Segretain/Getty Images For Kenzo
A full denim number requires a balance of finesse, bravery and some fashion friends who can style an outfit so you don't run the risk of looking like Justin Timberlake in 2001, and who else but Luka Sabbat can we trust to match denims without fault. Matching indigos are difficult to pull off but Luka Sabbat made it look incredibly easy with this Balenciaga denim look. It was a well-chosen pair of boots to tie it all together. This oversized 'Bohemian' inspired padded shoulder look was perfectly complemented by the baggy ripped jeans double denim look. While the outfit looks laid back, Luka's modern detailing elevates this 80s referenced look.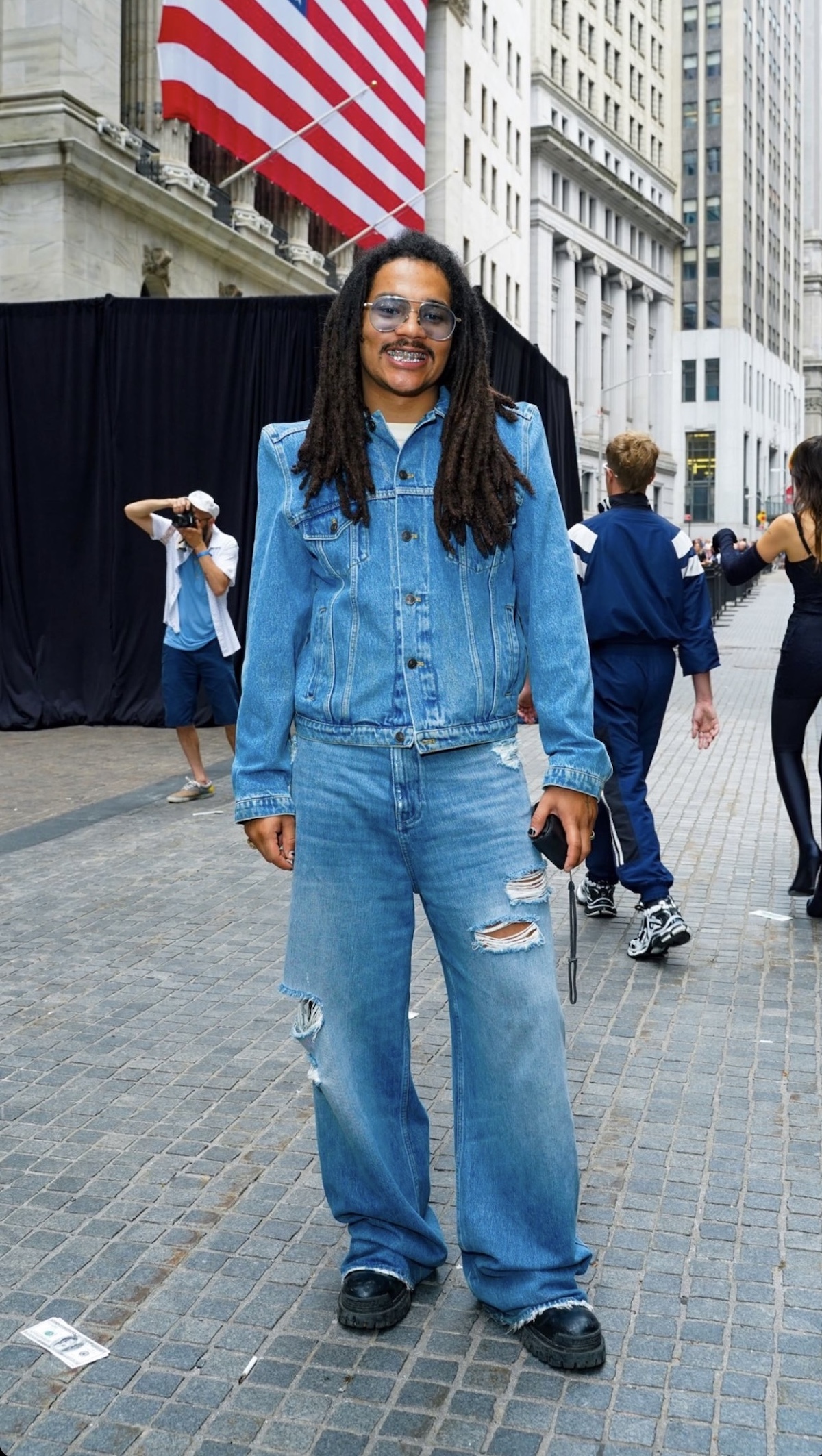 Image Source: Getty / Sean Zanni / Patrick McMullen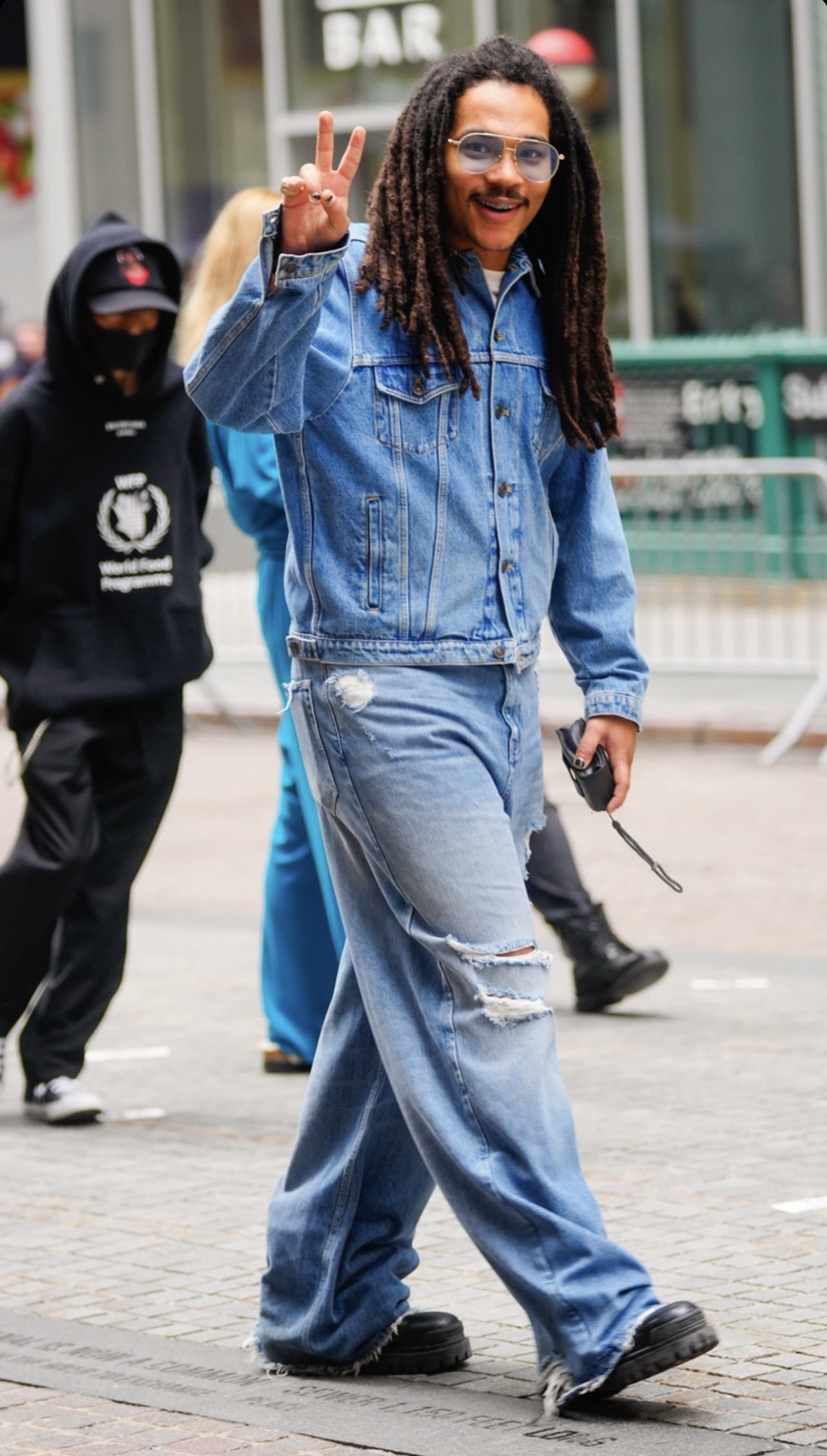 Image Source: Getty / Sean Zanni / Patrick McMullen
The biggest case for the return of double denim has been Kanye West and then girlfriend Julia Fox's duet denim look worn to the Kenzo Autumn/Winter 2022 menswear show in Paris. Although their relationship was short-lived, they did manage to seal the fate of double denim as they turned up to Nigo's inaugural show at Kenzo in matching true blues, with an inevitable flair like only Kanye can. Balenciaga's biggest ambassador, West wore an oversized padded Balenciaga denim jacket with matching Levi jeans and a pair of Red Wing gumboots. While his then muse took inspiration from Madonna and donned a denim jacket with 3D cone bra detailing from Daniel Roseberry's Schiaparelli label. This she paired with a pair of low cut denim jeans and boots from Glen Martens new Diesel collection.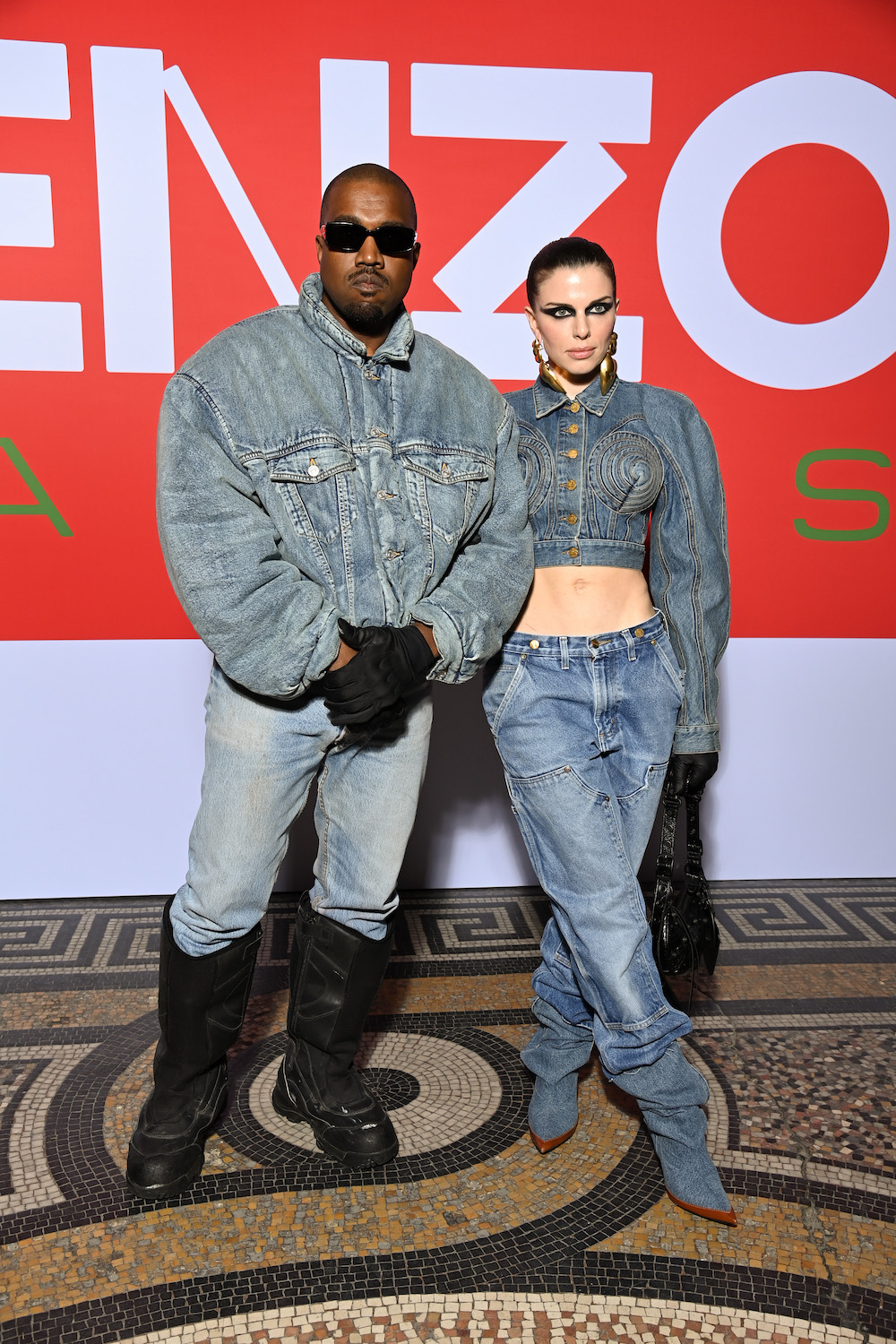 Image Source: Pascal Le Segretain/Getty Images For Kenzo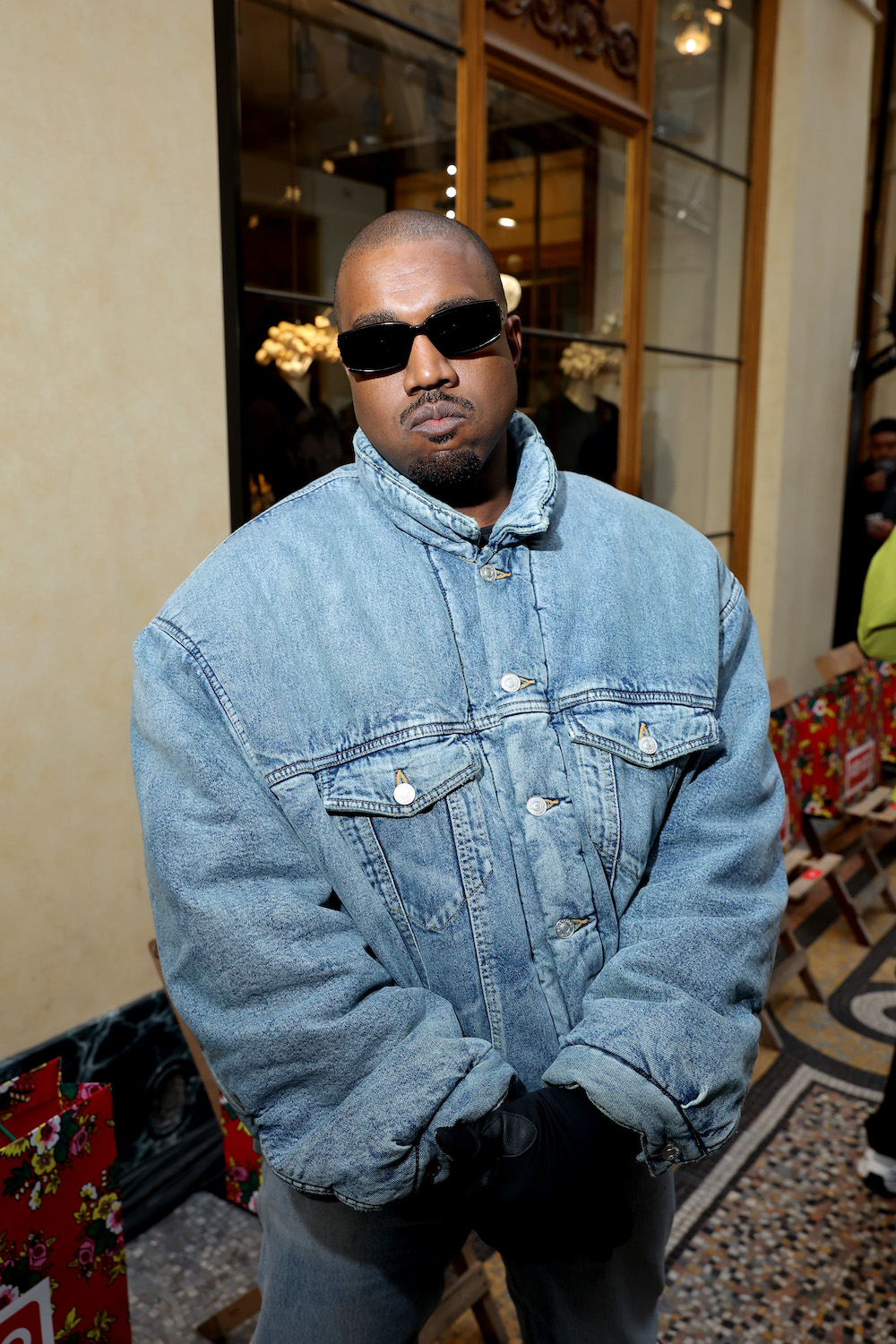 Image Source: Pascal Le Segretain/Getty Images For Kenzo
Whether it's a shirt or jacket tucked into jeans, denim is in right now – even searches for denim on Lyst, the industry leading report of the hottest brands and products worldwide are up. And it's not surprising. Able to be dressed down or up, with varying textures, washes and fits, denim has a universal appeal. It works in all seasons and when it's of high quality, it can last for years. Although, wearing it head-to-toe can sometimes be too much of a good thing. However, when double denim is done right it can be masterful.