Get ready for that festival feeling,
Flaky friends? Low budget? Not sure what vibe to go with? If you still find yourself without festival plans for this summer, look no further. The team at PAUSE have put their heads together and compiled a comprehensive list of the best festivals from the UK and around the world, including everything Hip-Hop/Rap, Pop, and Afrobeat. Check it out below.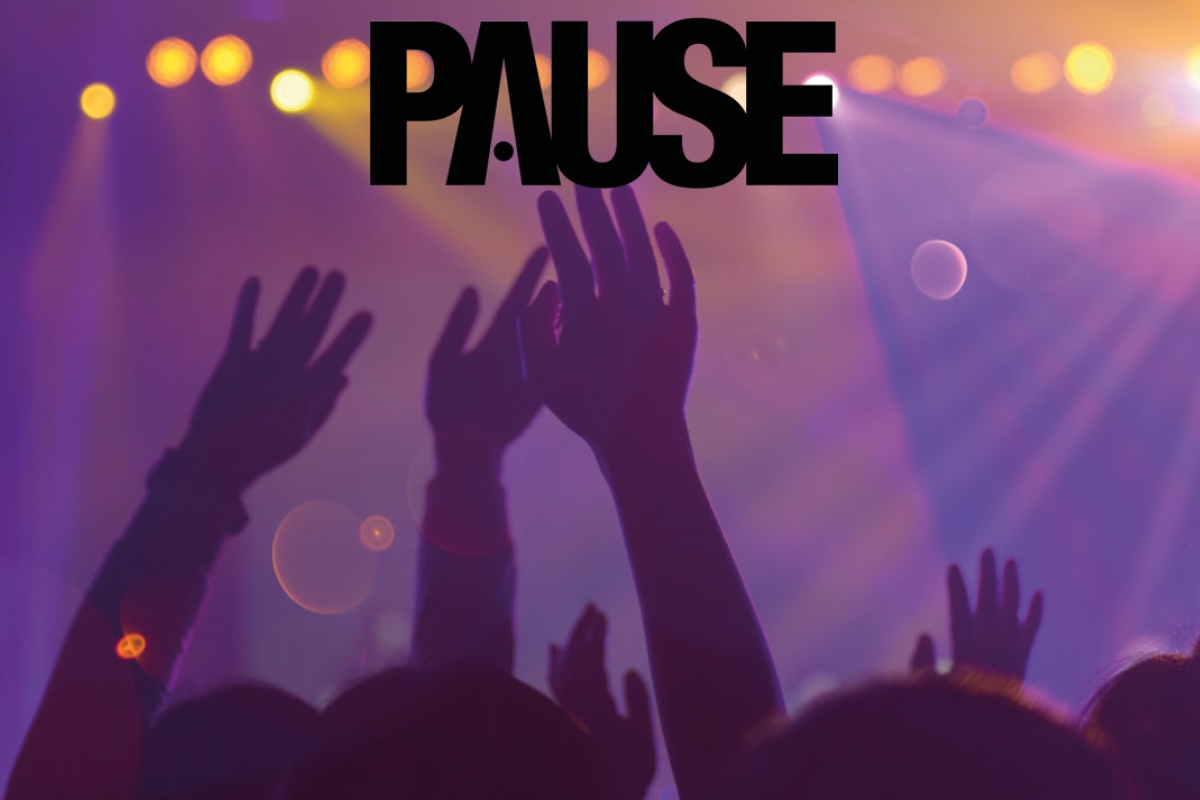 PHOTO CREDIT: @Mark Angelo Sampan (via Pexels)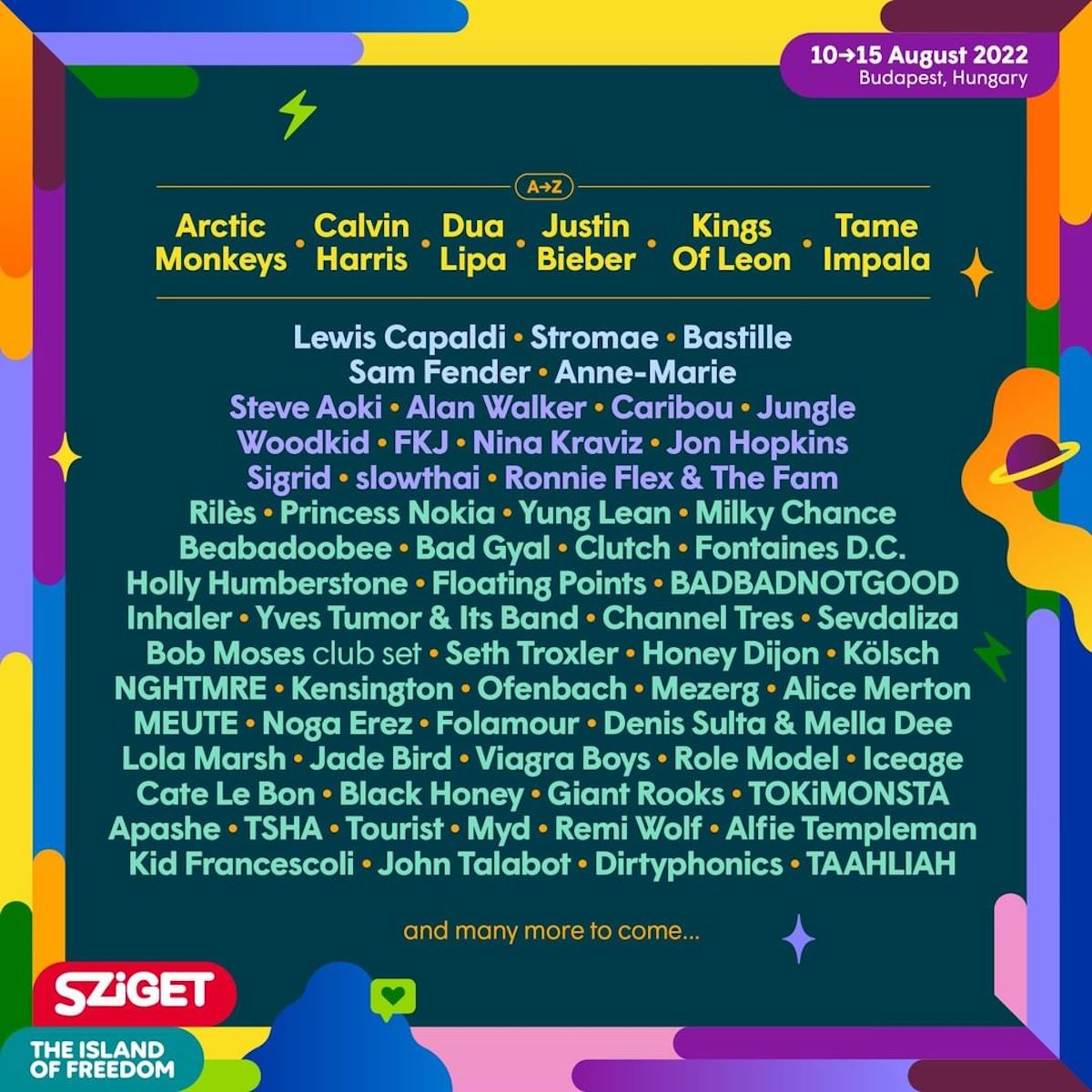 Looking for some pop perfection this summer? Budapest is where it's at. Featuring a mixture of pop, dance, and indie music, this feel-good festival keeps diversity on top of the agenda. Some standout line-up acts include Justin Bieber, Dua Lipa, Calvin Harris, and Arctic Monkeys, just to name a few. Taking place in one of Europe's most affordable cities, Sziget Festival follows suit with their more than reasonable pricing, starting at €80 for a day ticket, as well as providing €7 campaign spots.  The event is set to take place between August 10th and August 15th.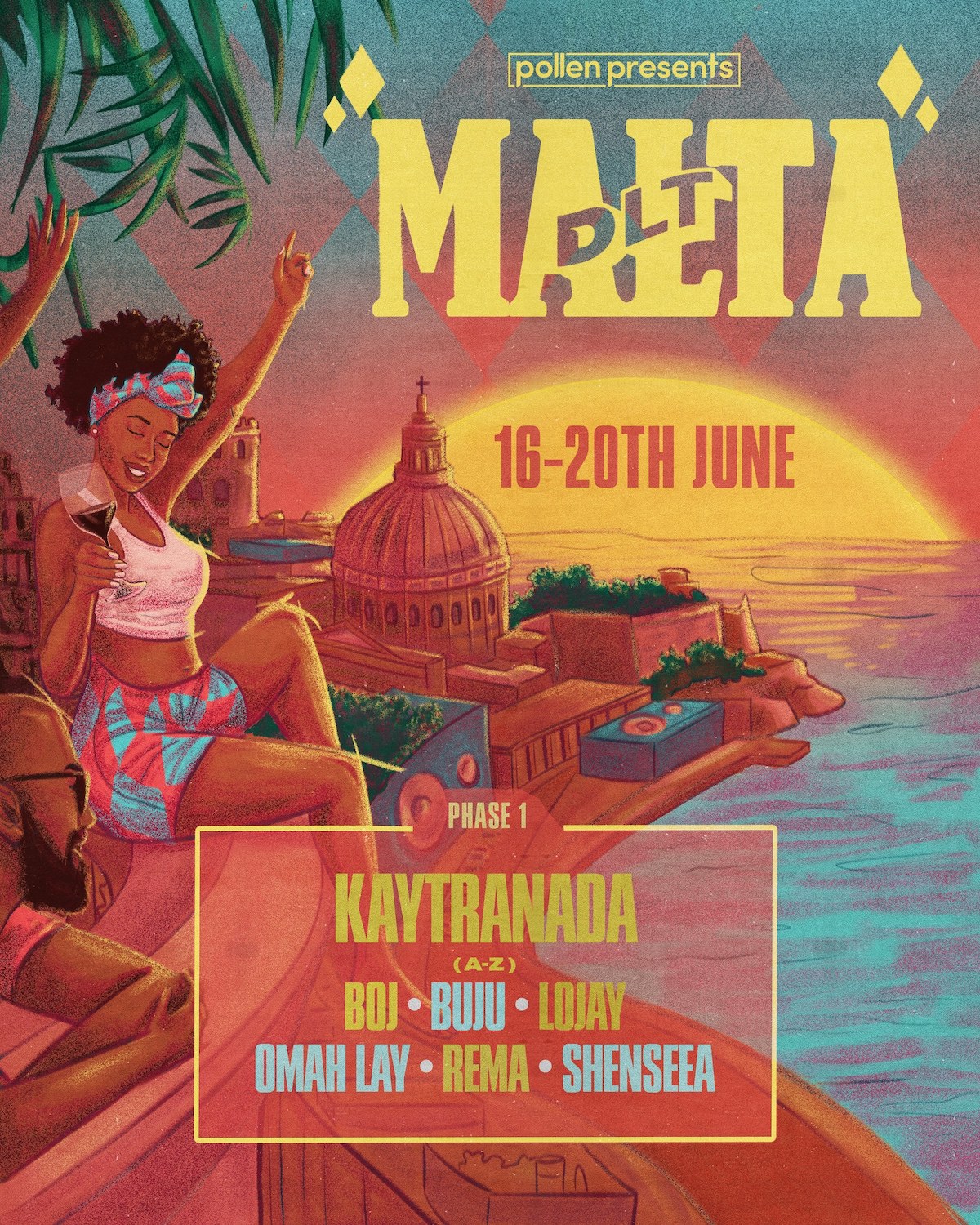 If you're searching for an all-in-one festival-holiday, DLT Festival has your back. Taking place in Malta, DLT give you a balanced set-up, providing an essential sunny getaway alongside some heavy-hitting entertainment. Providing a range of solid Afrobeat artists such as Wizkid, Kaytranada, BOJ, Rema, and more, DLT, or Days Like This Brunch, have set up a four-day escape that gives party-goers the option to buy a bundle package with them, including a full four-day pass in addition to a hotel stay. A standard 'Party Pass' for the festival acts starts from £369, with the event set to go ahead from June 16th to June 20th.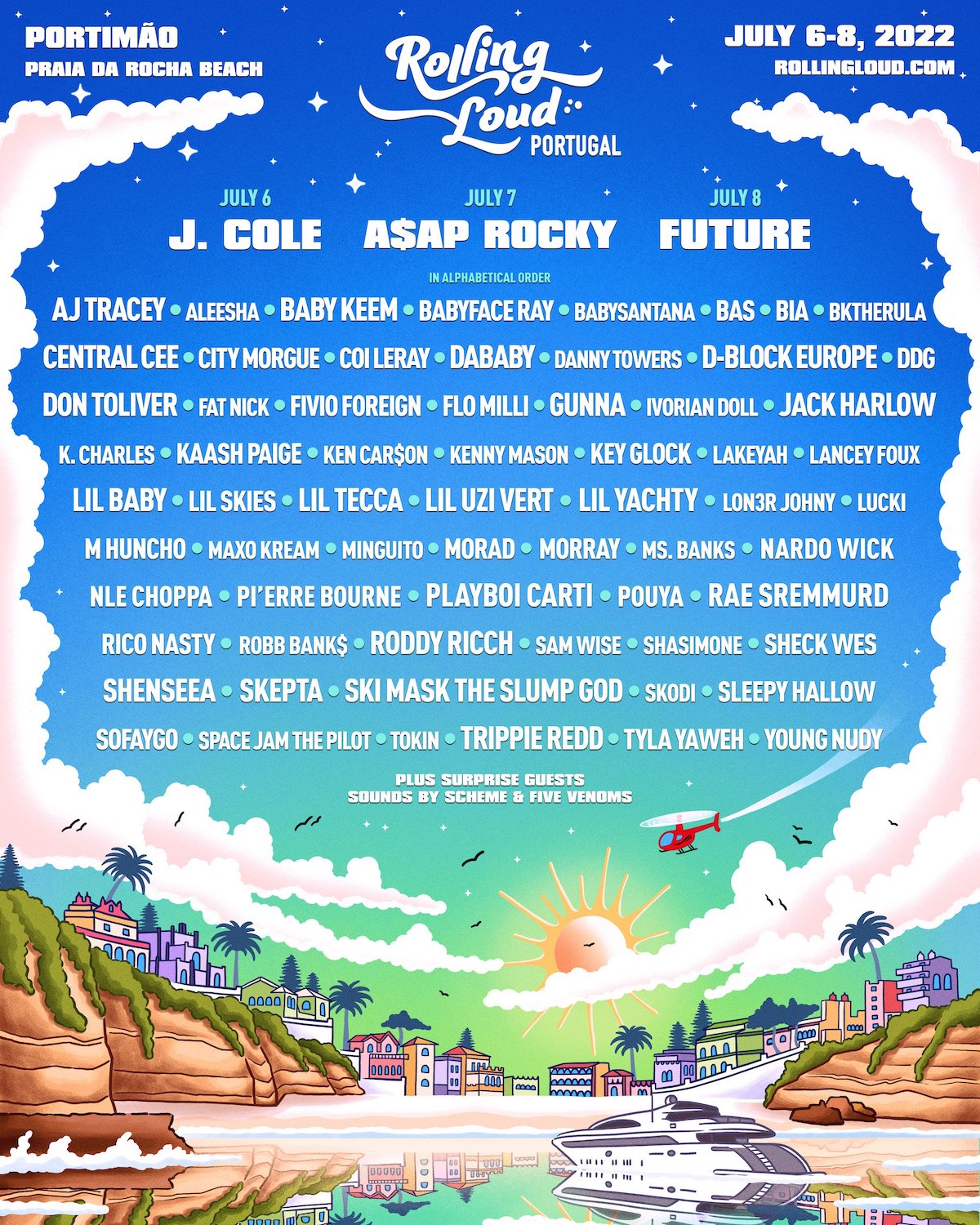 Set to host hip-hop festival Rolling Loud and its first venture into Europe is Portugal, and more specifically, Portimão. Rolling Loud has long had a fan base overseas, with the American festival finally taking to Europe for the first time in its history this summer. The hip-hop festival has a plethora of top-tier acts on display, with headliners including J. Cole, ASAP Rocky, and Future, with some other star acts including Skepta, Central See, Baby Keem, Jack Harlow, Lil Baby, and more. The pricing starts at £299 base value for a 5-day general admission pass, with the festival set to get under way from July 6th, ending on July 8th.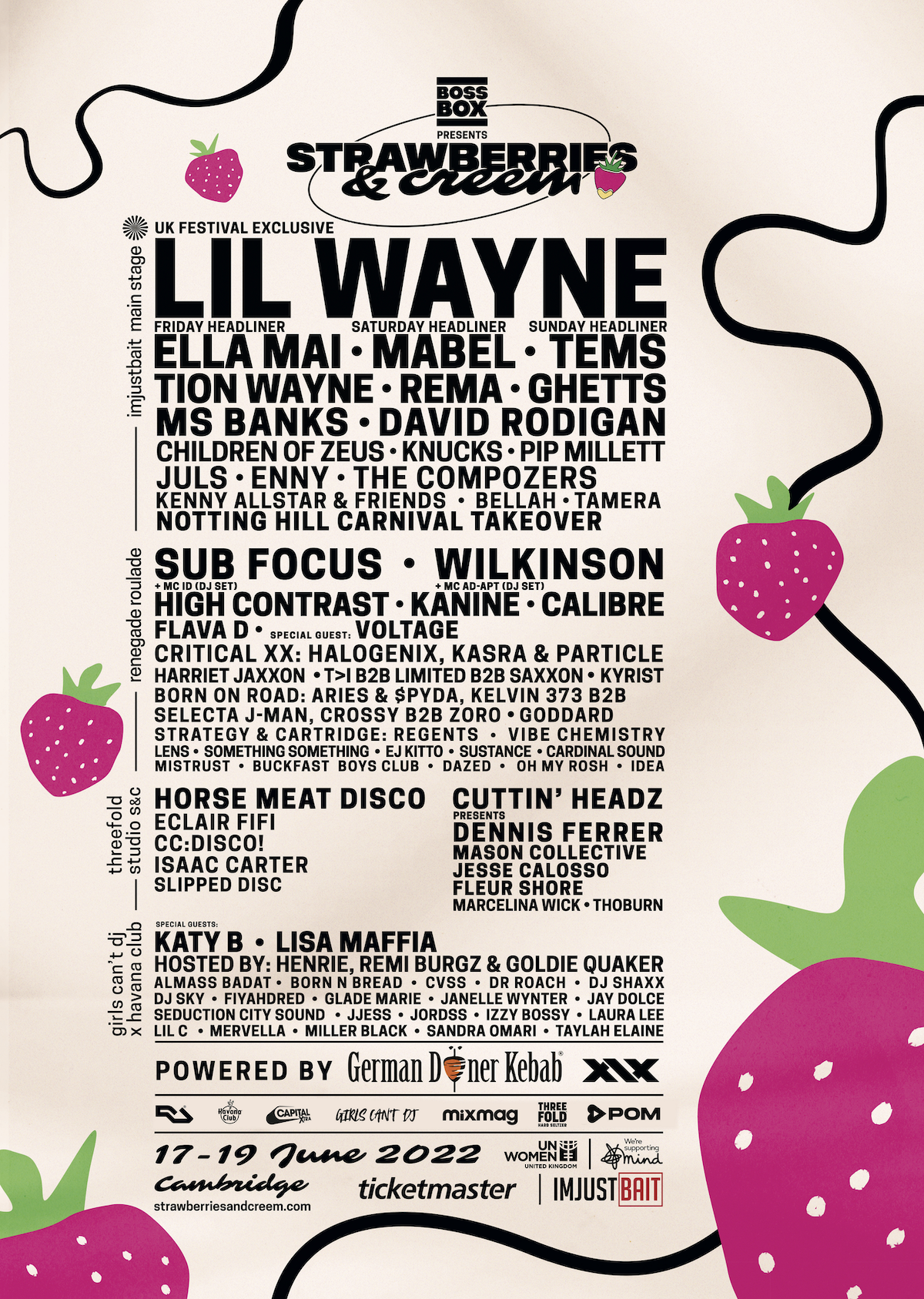 Providing the most diverse line-up yet, Strawberries & Creem Festival have put forward a range of hip-hop, rap, dance, and DJ acts for your consideration. The Cambridge-based festival have pulled off what is arguably the biggest coup of the festival season, recruiting Lil Wayne as their Saturday headliner. Making his first appearance in 14 years, Lil Wayne is bound to be the main attraction for many, but acts such as Tems, Ella Mai, Knucks, Sub Focus, and Katy B also provide an eclectic range of genres for dynamic festival-goers. A weekend ticket, including a camping spot, is available for a reasonable £160, with the festival set to take place between June 17th and June 19th.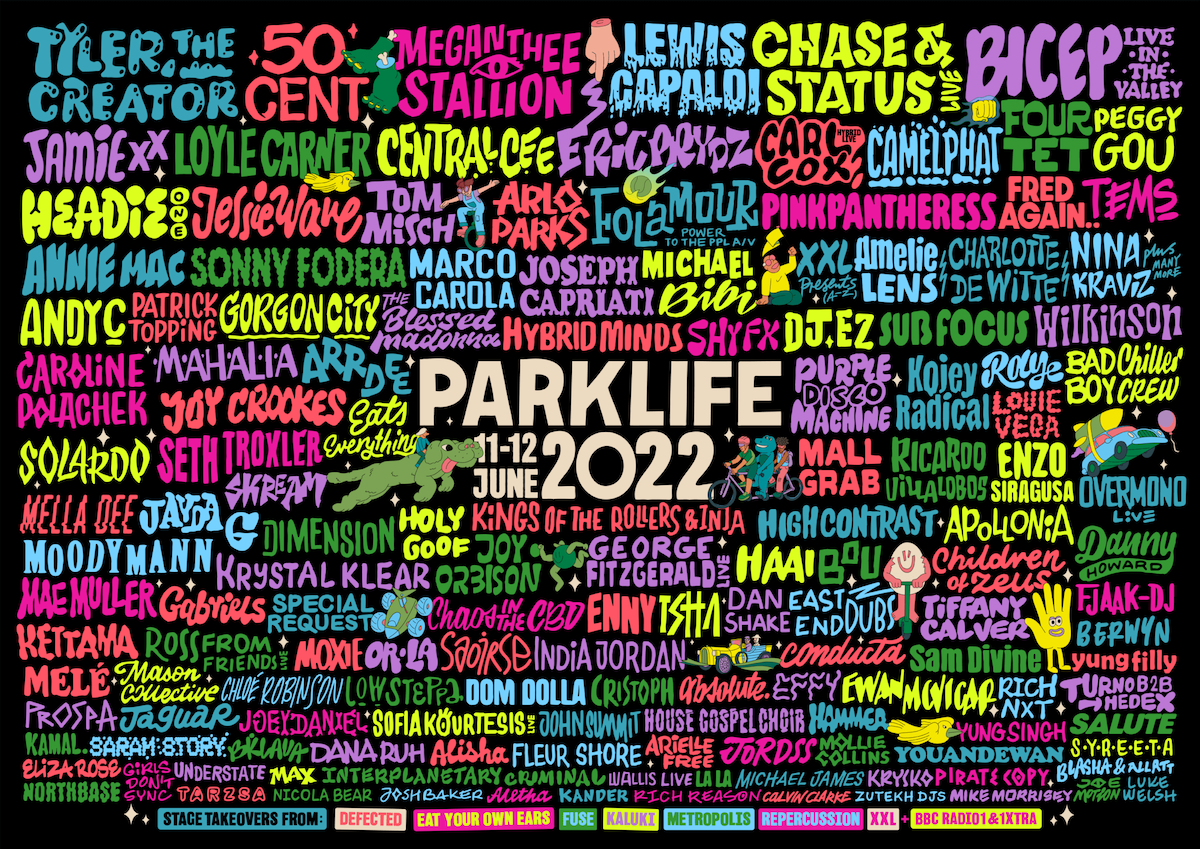 One of the earliest festivals of the summer is Parklife 2022, which features one of its widest ranging line-ups to date. Despite its eclectic range of talent, Parklife have put British talent on top as they boast the crème de la crème of UK acts, putting Central Cee, Arlo Parks, Lewis Capaldi, PinkPantheress, Loyle Carner, and more on the roster. Going further afield, Tyler, The Creator, 50 Cent, Megan Thee Stallion, and Caroline Polachek lead the foreign acts, with weekend tickets starting from £84.50. Parklife 2022 is set to take place in Manchester from June 11th to June 12th.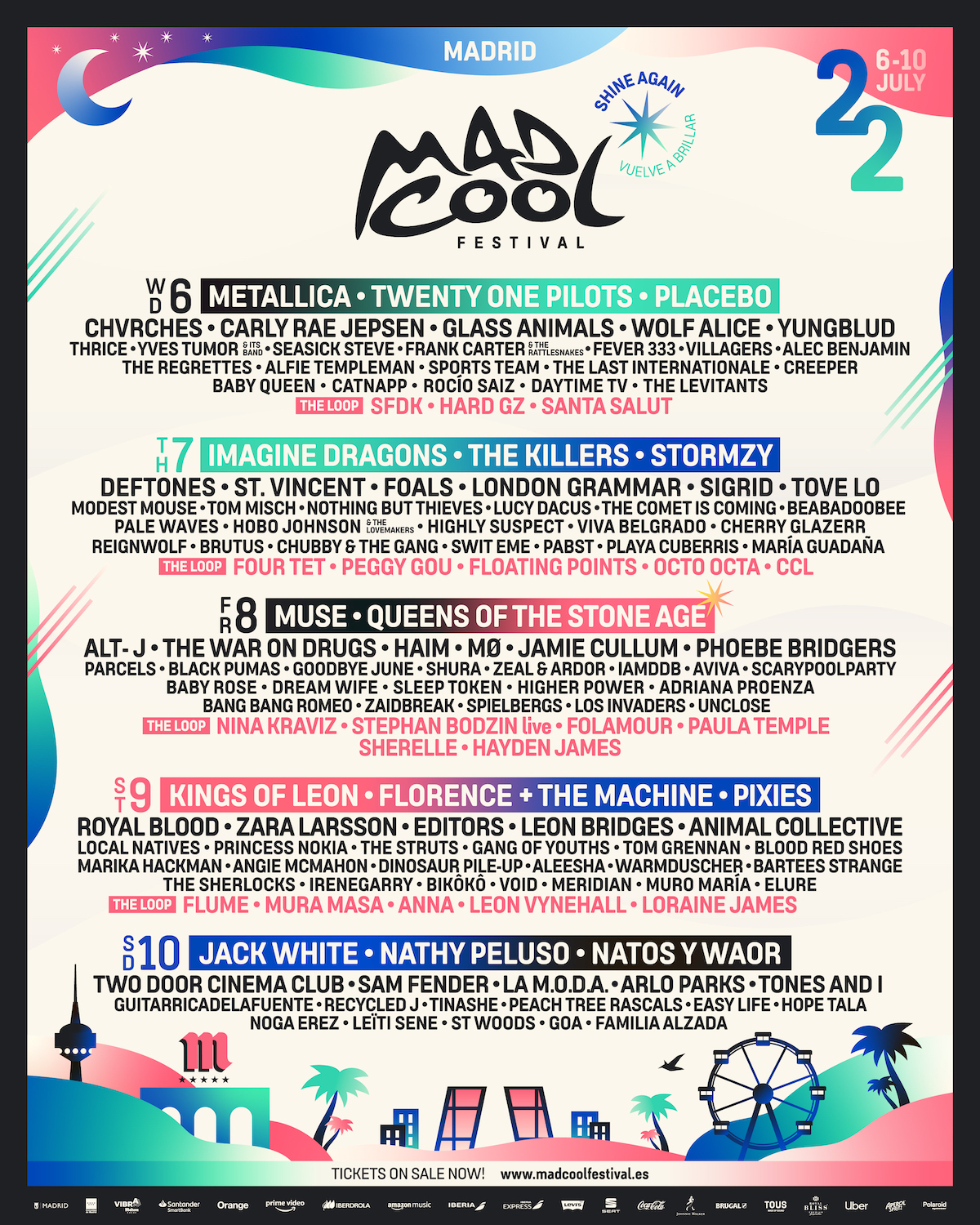 This four-day festival might not have the headline grabbers that its other Spanish counterparts have, but this newcomer certainly puts forward a solid summer line-up. Featuring some indie staples, Mad Cool Festival packs some star power, grabbing Kings of Leon, Muse, The Killers, Stormzy, Metallica, and many more as central headliners. Providing you with entertainment and a sunny getaway to the Spanish capital, heading over to Spain this summer is a no-brainer if you're an indie or rock music fan. Remaining day tickets come in at €75, with the event set to get under way on July 6th and come to an end on July 10th.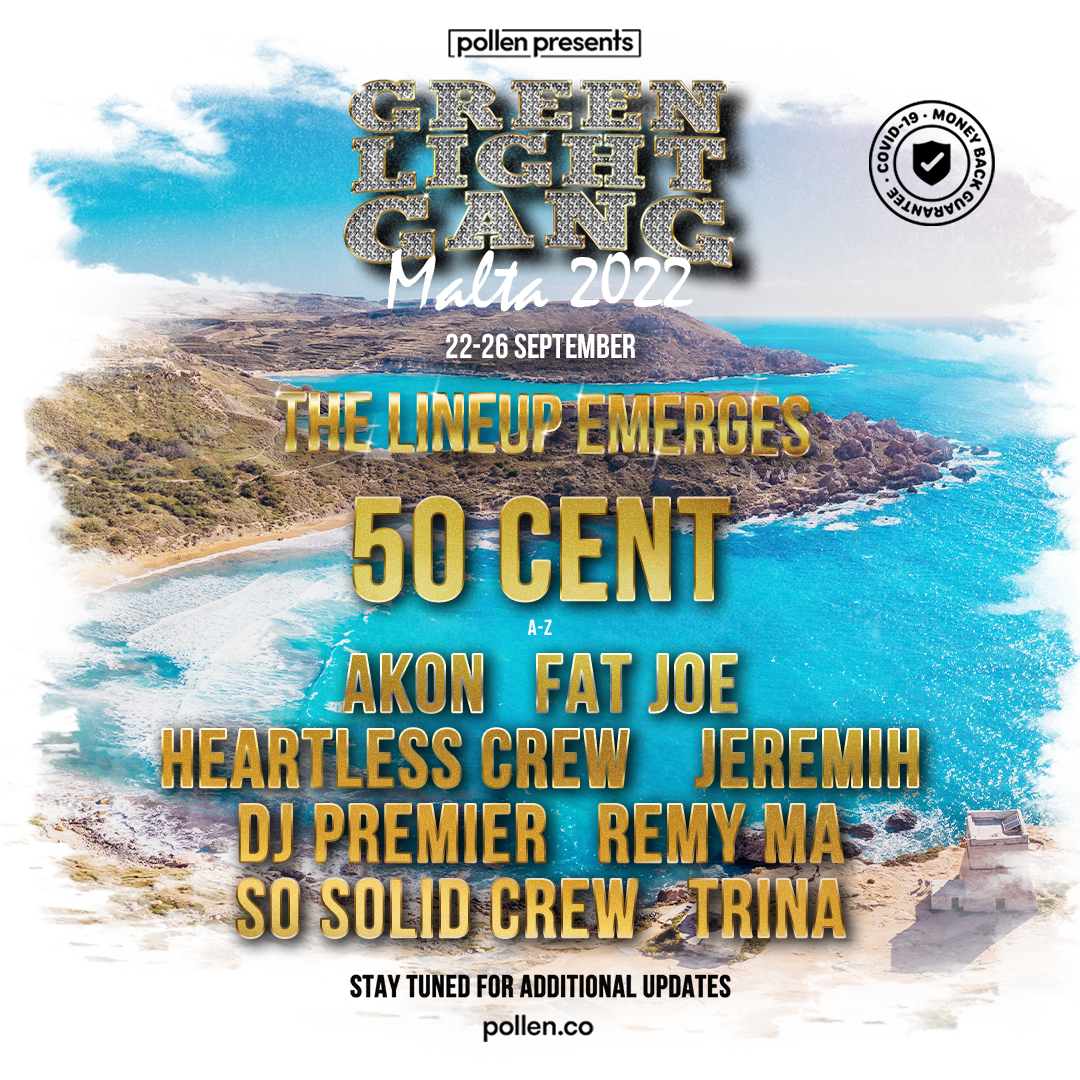 Curtis '50 Cent' Jackson and Pollen, a leading travel, music, and technology company, have announced a collaboration for an unforgettable Malta trip from September 22nd-26th, 2022. Guests will be able to enjoy a variety of activities as part of the weekend getaway, Green Light Gang, that will be curated by music sensation and OG Curtis "50 Cent" Jackson.
The experience will be hosting a stellar line-up of performances from Hip Hop and R&B icons, starting with the legendary 50 Cent. Other performers include Akon, Fat Joe, Heartless Crew, Jeremih, DJ Premier, Remy Ma, So Solid Crew and Trina.
Wait, there's more? That's right. Green Light Gang's four-day / four-night travel experience will include more than just concerts. An outdoor screening of 'Power' will take place as well as several club parties, a boat cruise, and a champagne brunch at Le Chemin Du Roi. Spend your summer like a true VIP.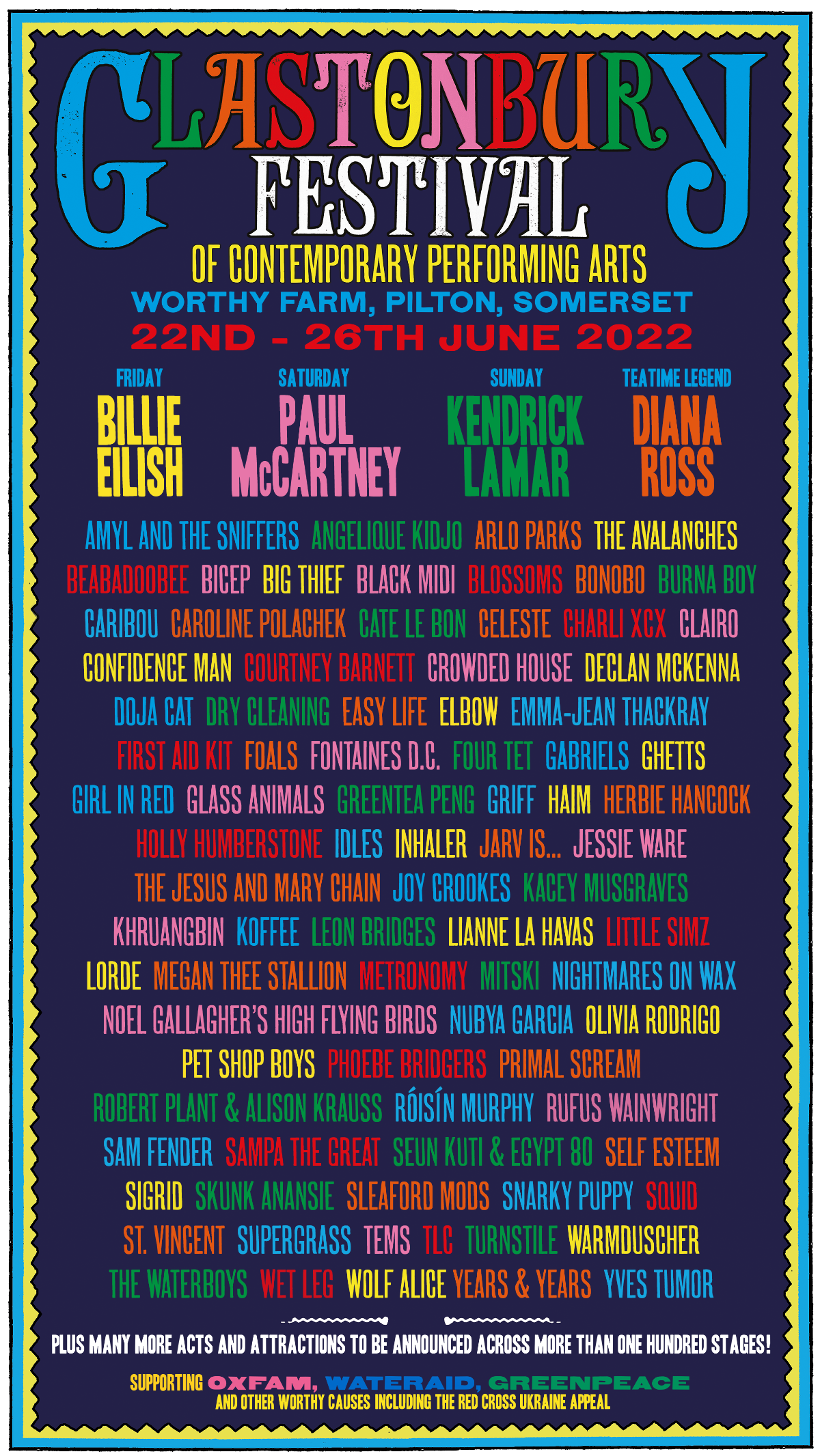 Yes, it's an oldie… but this year's line-up is most definitely a goldie. Glastonbury 2022 continues its reign in Somerset for this year and continues its more recent tendency to incorporate a wider selection of genres and acts. Compiling a balanced 50/50 headliners roster of newer and older, Glastonbury 2022 sees Billie Eilish, Paul McCartney, Kendrick Lamar, and Diana Ross headline the iconic festival. Name a genre; Glastonbury have it covered. Everything from pop, dance, and indie, to afrobeat, soul, and country is on offer for this year's line-up. Tickets via the Glastonbury website are now sold out, but tickets are available via resale now.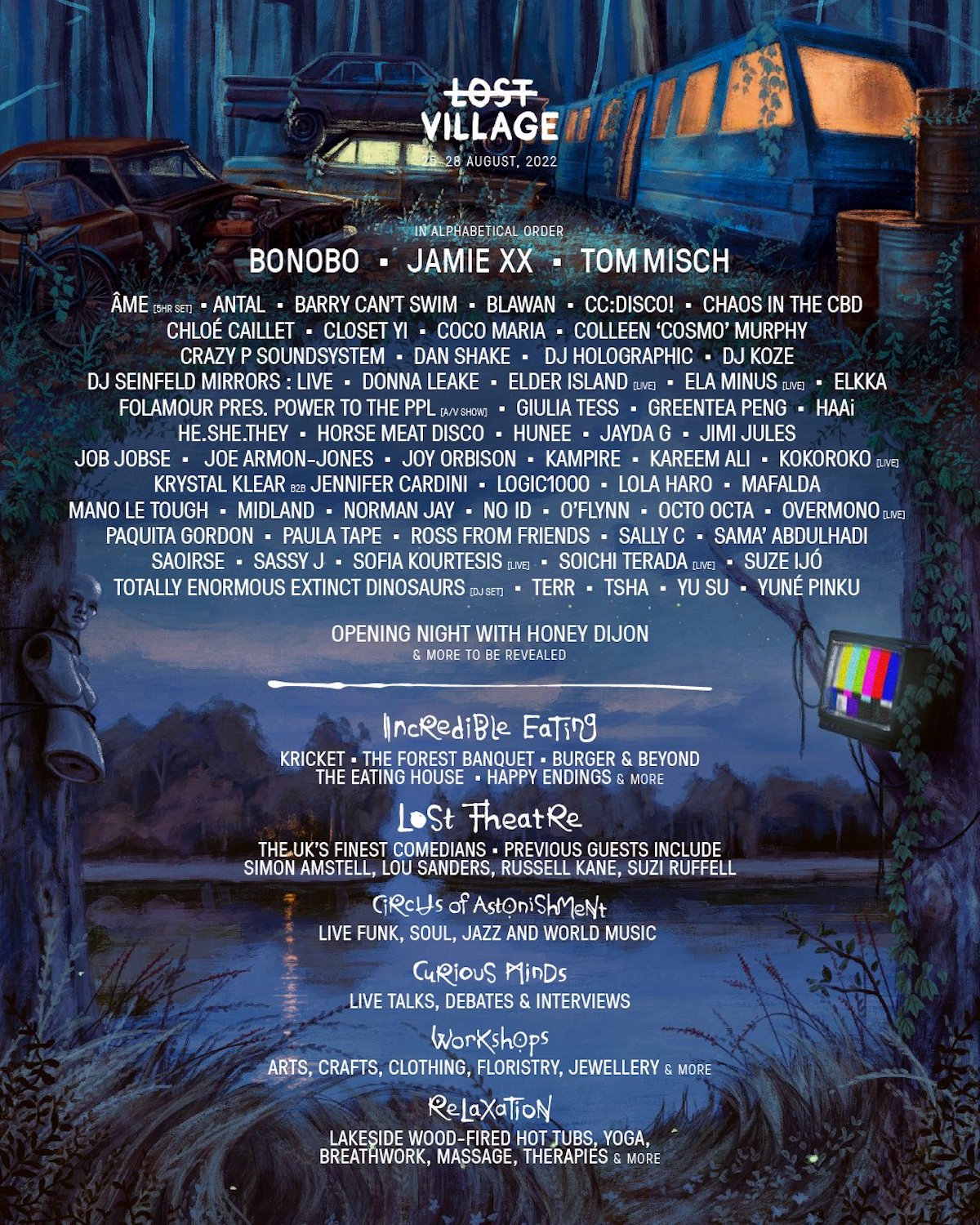 If you're looking for an immersive outdoor experience, it doesn't get much better than this. Taking place in the height of summer is Lost Village Festival, which is set to go ahead from August 25th-29th. The festival is located in an abandoned forest, one which is sign posted as you get closer to the postcode destination, with rundown buildings and deserted junkyards setting the tone for a totally immersive experience. The line-up consists of electronic, disco and soulful sounds, with some standout acts including Tom Misch, Bonobo, Jamie XX, Kojey Radical, Horse Meat Disco, and more. Luxury and standard camping is available for visitors and an array of high-quality global cuisine is also on offer, with vegetarian, vegan, and gluten-free options up for grabs. Resale tickets are available now, starting from £260.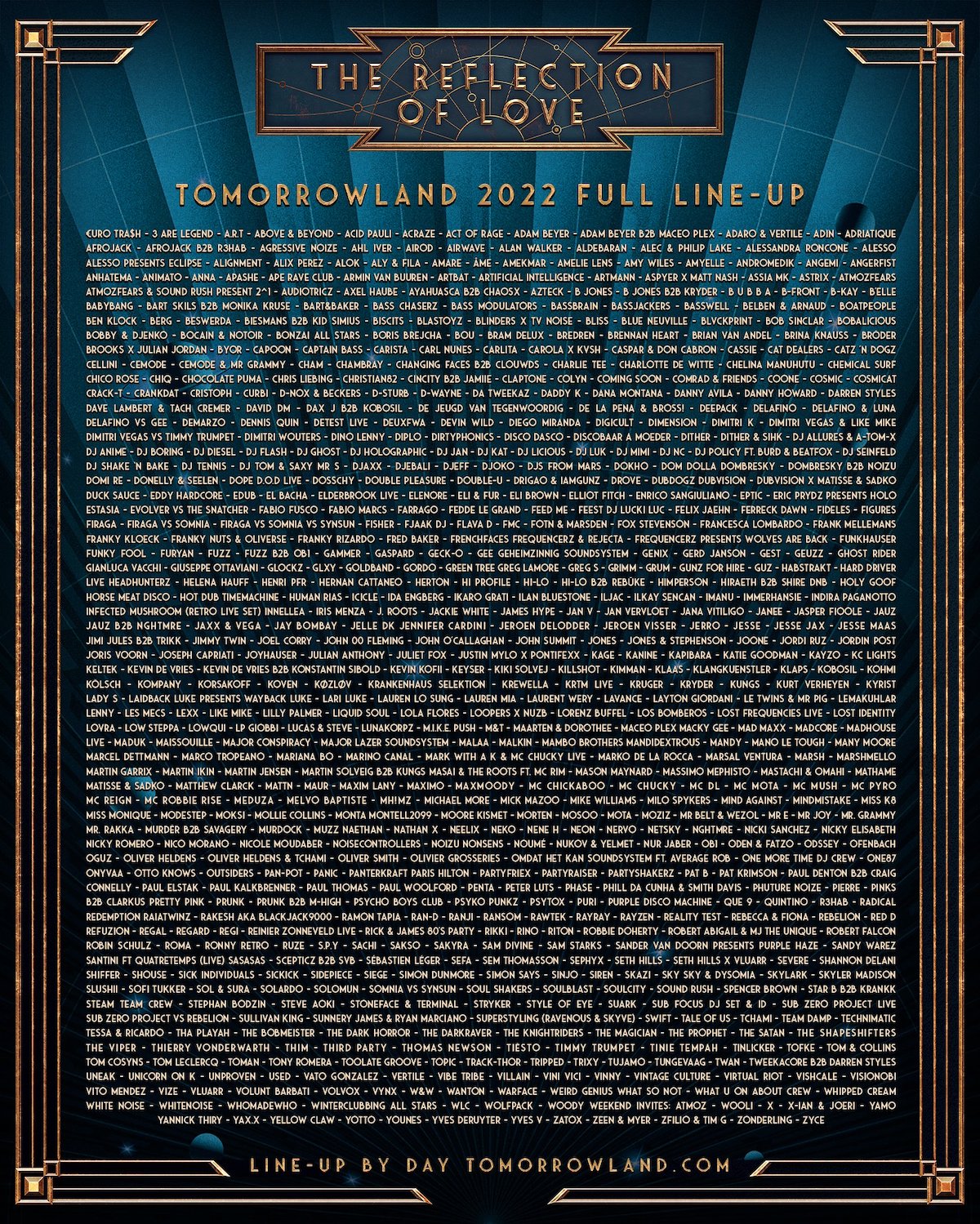 A mainstay of the festival scene is Tomorrowland, who year after year come back with a bigger and better show than the year before. Being a coming-of-age festival for any EDM fan, Tomorrowland is split into two sections; a theme park-style music area named 'Tomorrowland', as well as 'Dreamville', which gives visitors the option to sit back and relax. The festival's larger than life stages provide a visual spectacle like no other, making any music fan want to naturally gravitate towards it, with some highlights from this year's line-up including global DJ Martin Garrix, Robin Schulz, Steve Aoki, Meduza, and more, with Tomorrowland providing one of this list's most extensive selection of talent. The festival is set to take place over three weekends, starting from July 15th. Tickets are available via resale now, with weekend tickets starting at £270.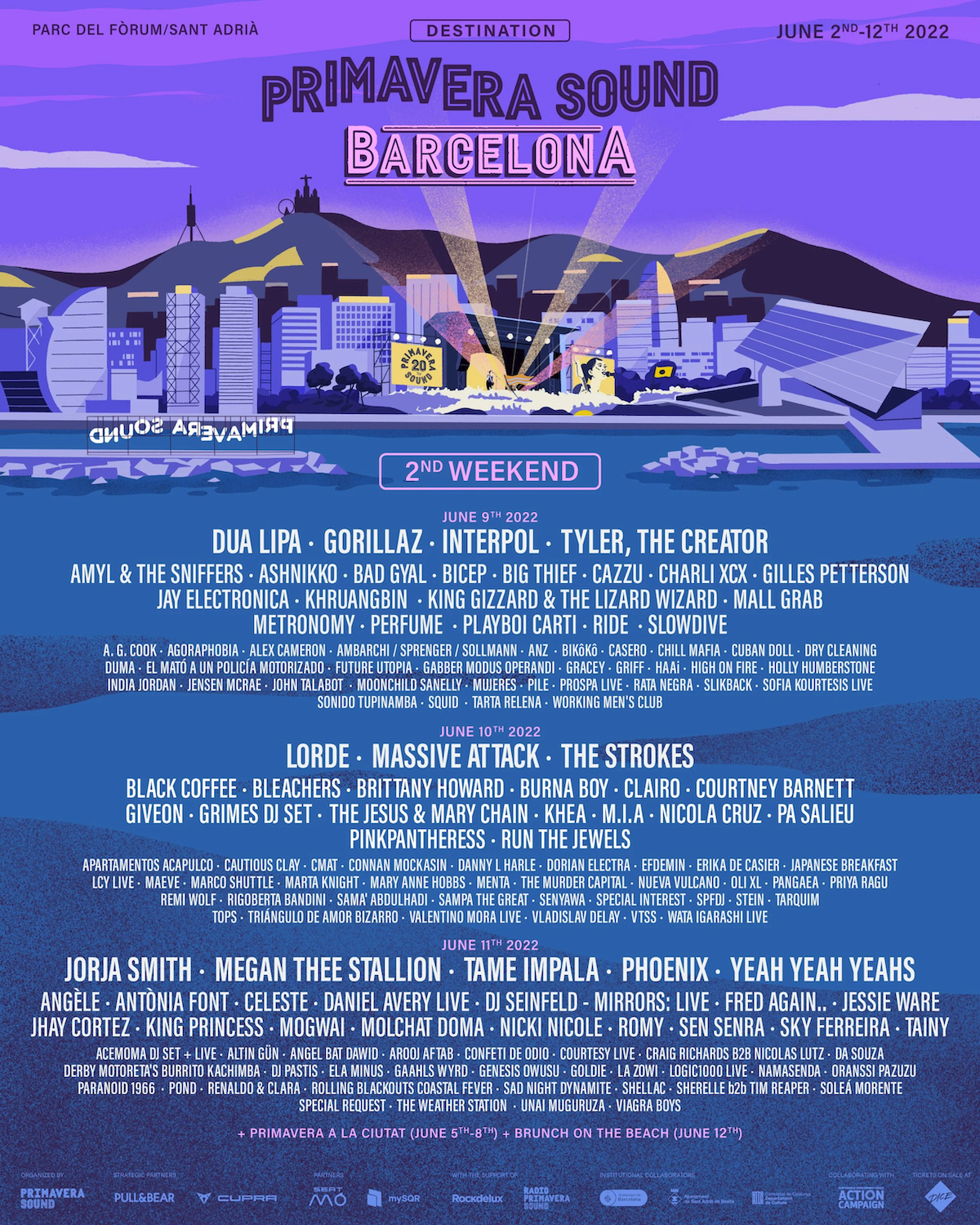 Rounding out this year's line-up is Primavera Sound, which takes us all the way back to Spain for our final pick. Giving you the chance to soak up the sun whilst listening to some of the biggest acts in the game is Primavera Sound, who put forward a wide selection of hip-hop, pop, and indie sounds to get you through. Spanning the course of two weekends, if a longer holiday is what you're looking for then you can get a hold of two weekend tickets, enjoying a week's long getaway in the in-between. Headliners Tyler the Creator, Massive Attack,, Jorja Smith and The Strokes, and Gorillaz are set to play both weekends, whilst the second weekend additionally features pop royalty Dua Lipa, Megan Thee Stallion, Charli XCX, and more. No camping is available, so you have no choice but to live in luxury if you decide to head to Barcelona this summer. The festival kicks off on June 2nd and ends on June 11th, so you best be quick to get tickets! Resale tickets are available now.