Fashion's next big hitters.
If you're not familiar with Graduate Fashion Week, it's time to get familiar. Displaying some of fashion's biggest and brightest young designers, models, and everything in-between, this past week was dedicated to the youth as universities from all over the U.K. converged at GFW's Catwalk Tent near Central Saint Martins University for a fashion-centric display.
Celebrating the Class of 2022, Graduate Fashion Week put on a selection of specially curated runway shows that included the very best talent from universities such as University for the Creative Arts, Manchester Fashion Institute, and more.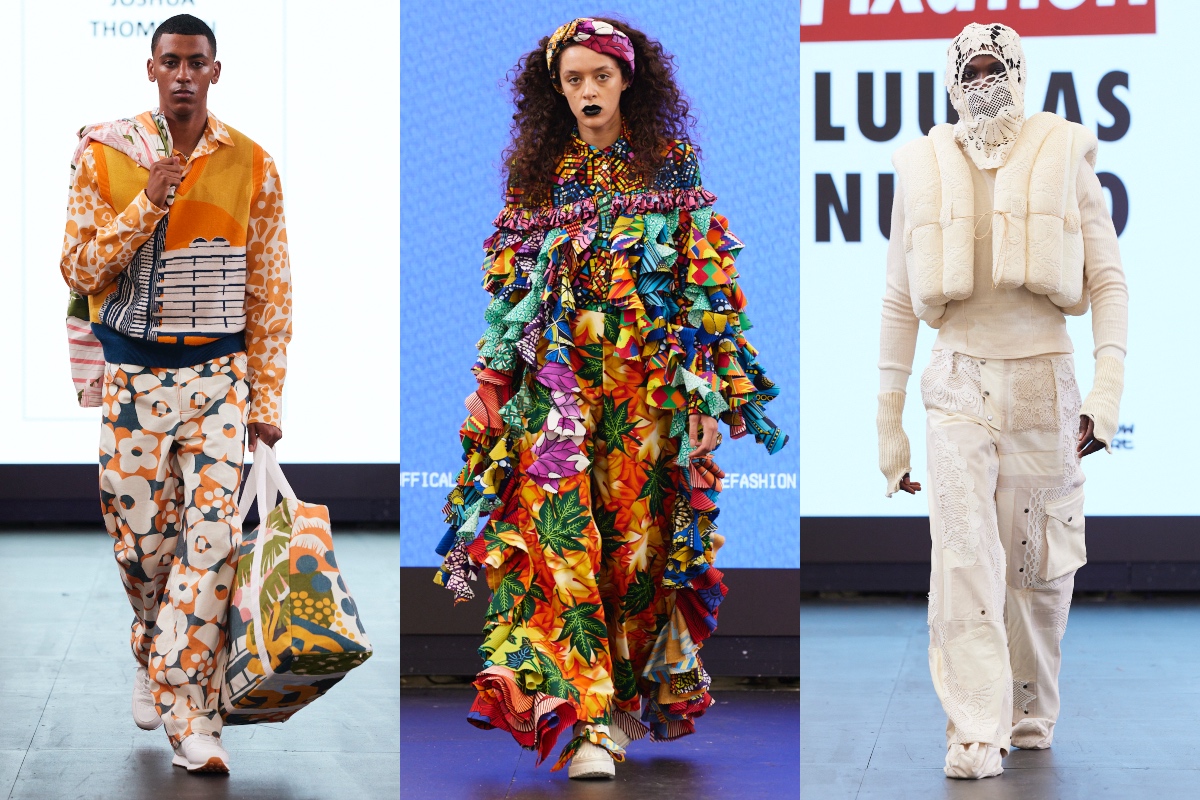 Putting forward their favourite designers, PAUSE have handpicked their top five 'Ones to Watch' from Graduate Fashion Week 2022 alongside a brief overview of what made their looks that little bit more special.
Check it out below:
#5: Ellis Routledge– Northampton University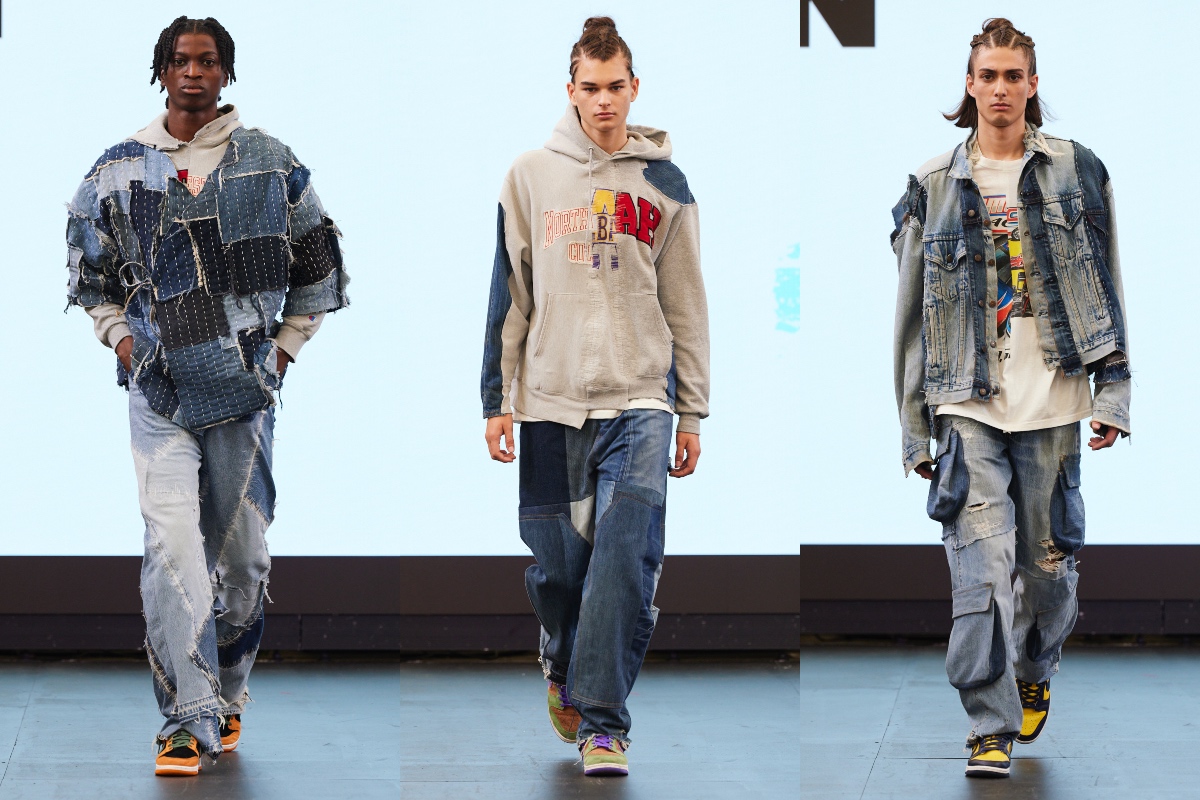 PHOTO CREDIT: @shaunjamescox (via Instagram)
Doing something different with a classic material or silhouette is always a difficult feat, but Northampton University's Ellis Routledge has done both. Putting forward three denim-laden looks, Routledge puts a new spin on a streetwear aesthetic, taking a more left-of-centre approach to the irreplaceable hoodie, denim jacket, and jeans combination. Welding mismatched materials for their first catwalk collection- which they designed and styled by themself- Routledge goes for a 'rough around the edges' aesthetic… and passes with flying colours. The standout piece from the selected looks includes a patchwork blue denim shawl-style overcoat, which features an almost double-breasted shape for its tie closure.
#4: Joshua Thompson– University of the Creative Arts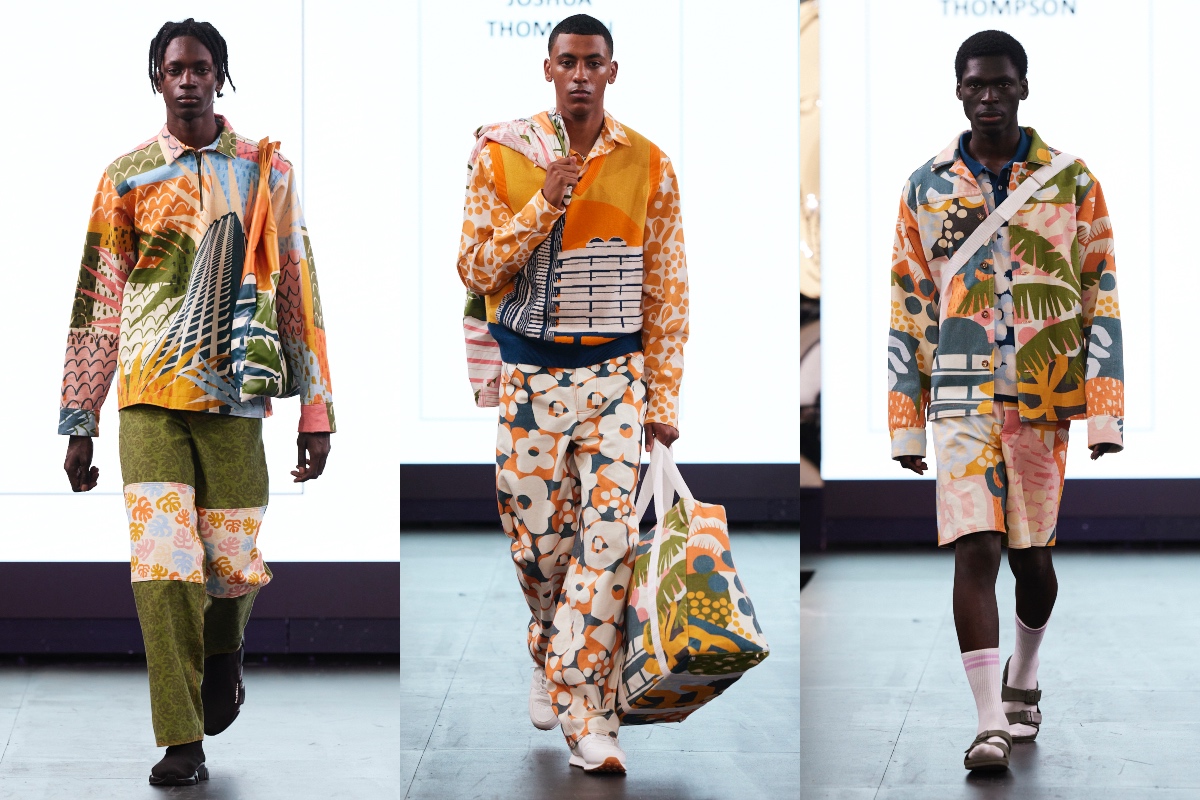 PHOTO CREDIT: @shaunjamescox (via Instagram)
Providing a colourful dose of fun-loving fashion is University of the Creative Arts' Joshua Thompson, who for their GFW campaign struck a perfect balance between garish and tasteful. The range of looks on display highlighted Thompson's affection for contrasting patterns and graphics, inserting their distinctly unique approach to classic silhouettes. Pushing forward a sense of summer fun to the array of looks, Thompson's work flows effortlessly both in colour and cut, providing fashion lovers with pieces that work just as well alone as they do in these loud ensembles. Having received the 'Highly Commended' title at Graduate Fashion Week, it's clear to see the future is bright for Joshua Thompson.
#3: Hayleigh Boadi– GFW Collective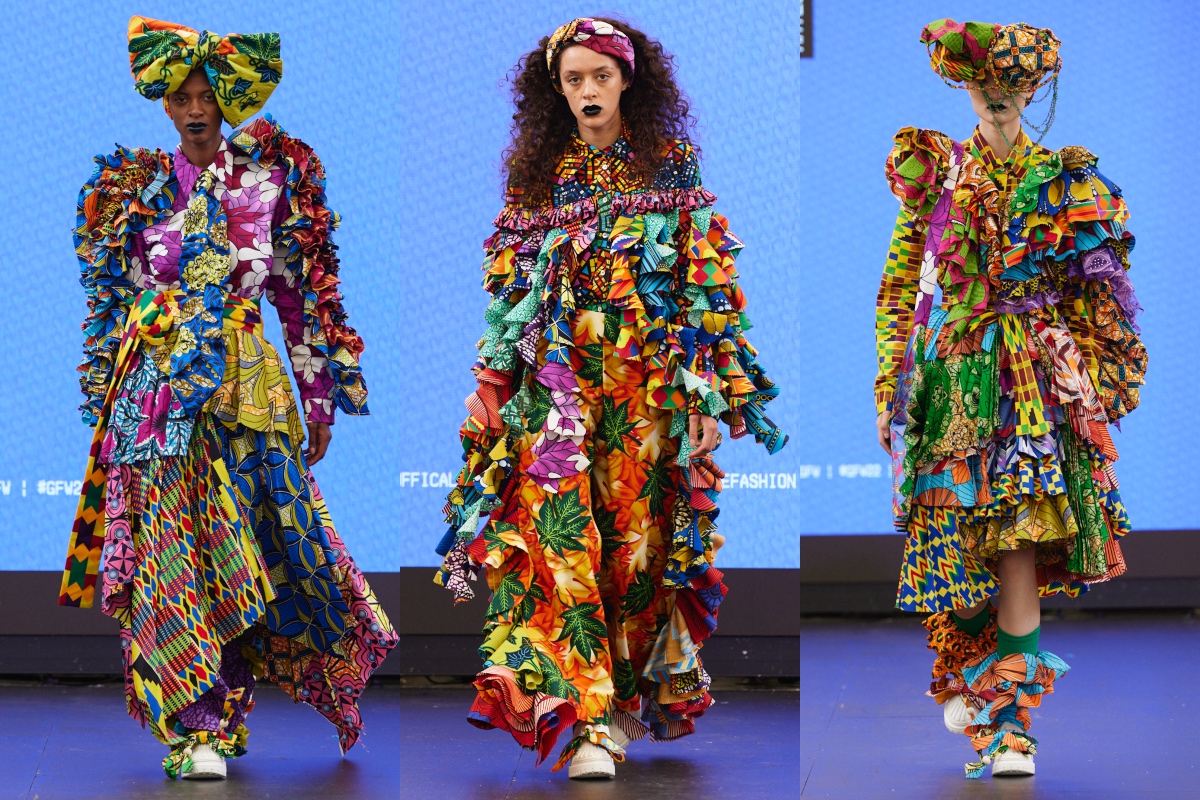 PHOTO CREDIT: @shaunjamescox (via Instagram)
Texture. Texture. Texture. The winner of the GFW Collective show was Hayleigh Boadi, who took shape and texture to new heights for this display. Delving into womenswear, Boadi's mix and match stylings make their pieces impossible to pin down, with their extensive use of traditional Ghanian Kente prints adding to a distinct sense of royalty amongst the garments, whilst also explaining the inspiration behind the creations. The ruffled effect produced by Boadi, which they said was inspired by Ghanaian fans, made these garments the apple of everyone's eye. This is a trend that is bound to continue as Boadi begins to grow further as a designer… watch this space.
#2: Beni Riley– GFW Collective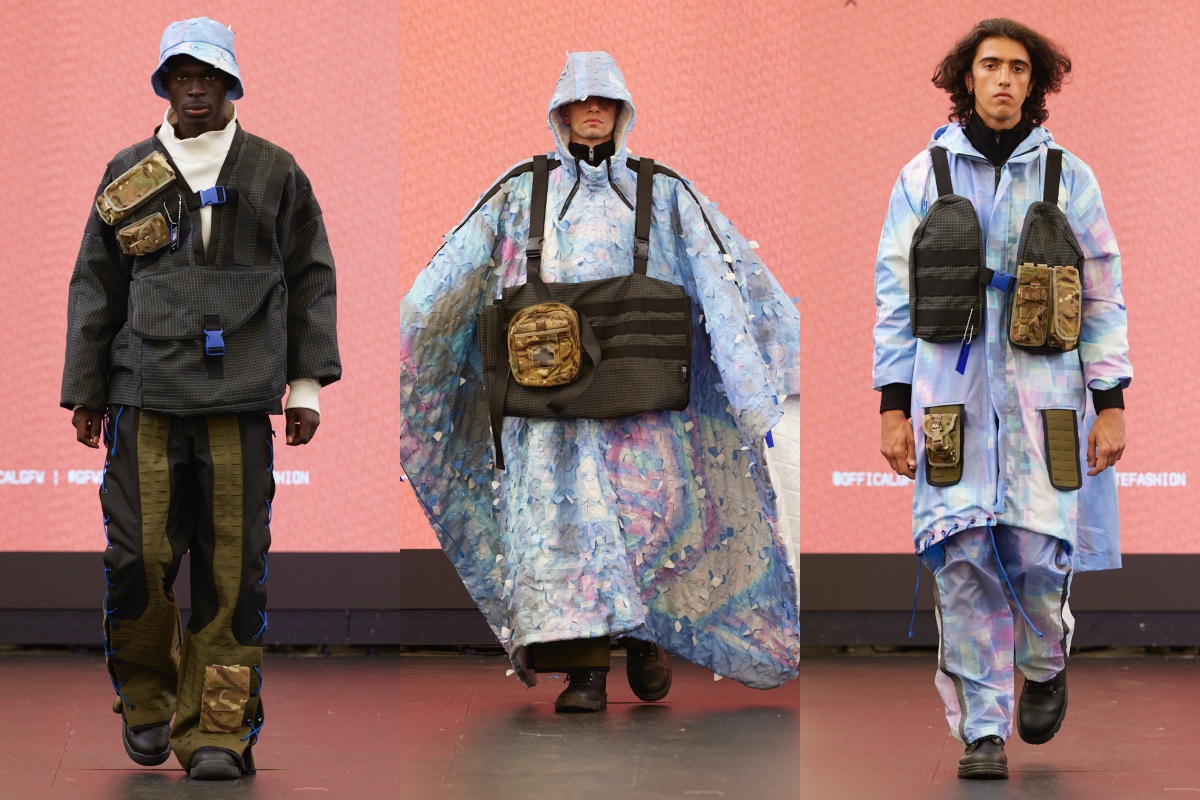 PHOTO CREDIT: @shaunjamescox (via Instagram)
With the ever-growing popularity and saturation of utilitarian wear in the fashion world, Beni Riley's display at Graduate Fashion Week was a breath of fresh air. Coming in as 'Highly Commended' for their GFW Collective Catwalk Show, Riley's individual silhouettes, succinct colour pairings, and utilitarian stylings made their looks stand out from the crowd, with multi-pocketed garments, distorted all-over glitch designs, and hybridised accessories making this selection of pieces arguably one of the most ready-to-wear in this year's display. The standout from the looks has to be the oversized quilted blue poncho that simply encapsulates the essence of utility and high-function. One for the future.
#1: Luukas Nuotio– Glasgow School of Art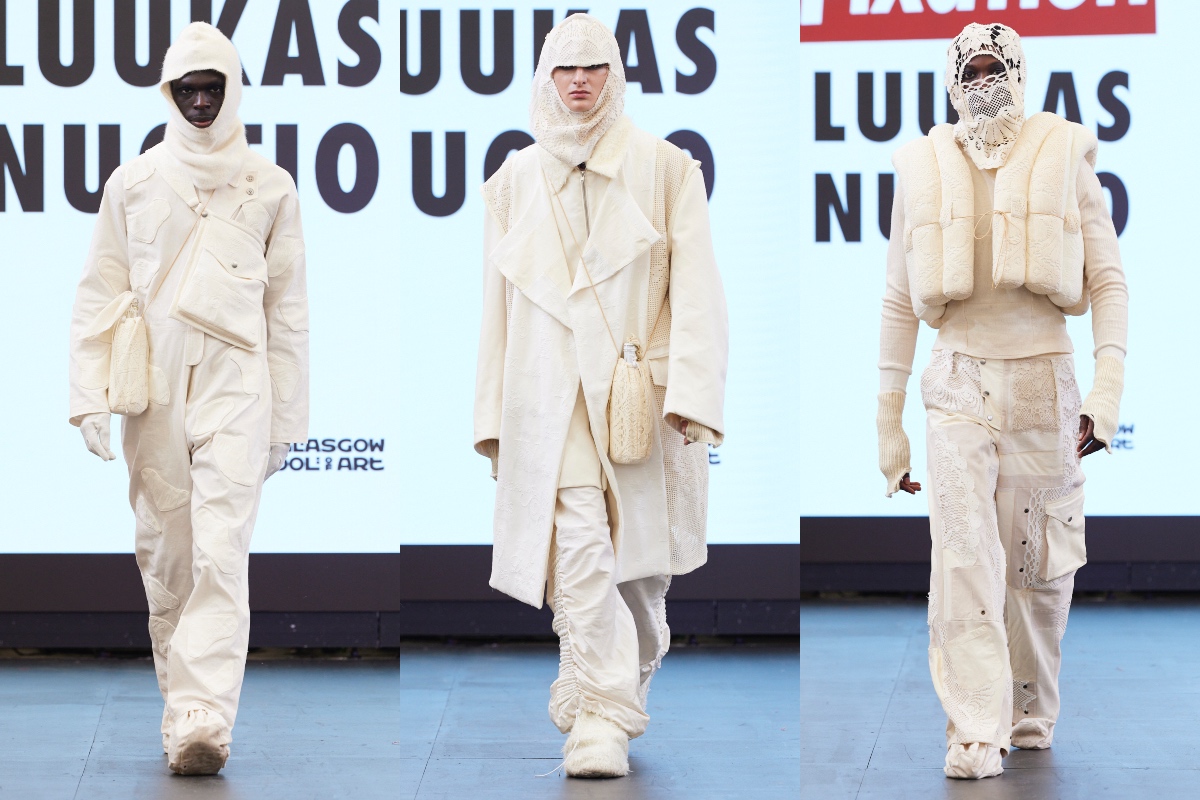 PHOTO CREDIT: @shaunjamescox (via Instagram)
Luukas Nuotio of the Glasgow School of Art has very much proved that details go a long way. Taking a monochrome approach to their range, Nuotio utilised a simple off-white colour palette for the entirety of their looks, which stood completely to its benefit, drawing you further and further into the intricate detailing of the pieces. All pieces flowed effortlessly through one another, creating this sense of uniformity that was unmatched throughout the week. Letting an amalgamation of different materials do the talking, Nuotio opted for mixes of mesh, netting, cotton and more to prove that a blank canvas provides the best basis to project a piece of art from. The only way is up for Luukas Nuotio.