Fashion has always been traditionally gendered, skirts and dresses have been for women, and suits and athletic gear have been for men, even an interest in fashion was seen as feminine. However, men's fashion has been going through a resurgence in recent years. A slew of new designers has propelled us into a new menswear renaissance, refashioning the perspective on what it means to be masculine in the modern-day. Moving on from stale archaic takes on what is and isn't masculine, a new creative fluidity has made way to a more experimental fashion industry, one that is less confined to the typical gendered expectations of fashion. 
In the past, who wore what always created controversy but in 2022, there are literally no rules. More and more, the toxic notions that have boxed fashion have been torn down, and masculinity is taking on a whole new meaning.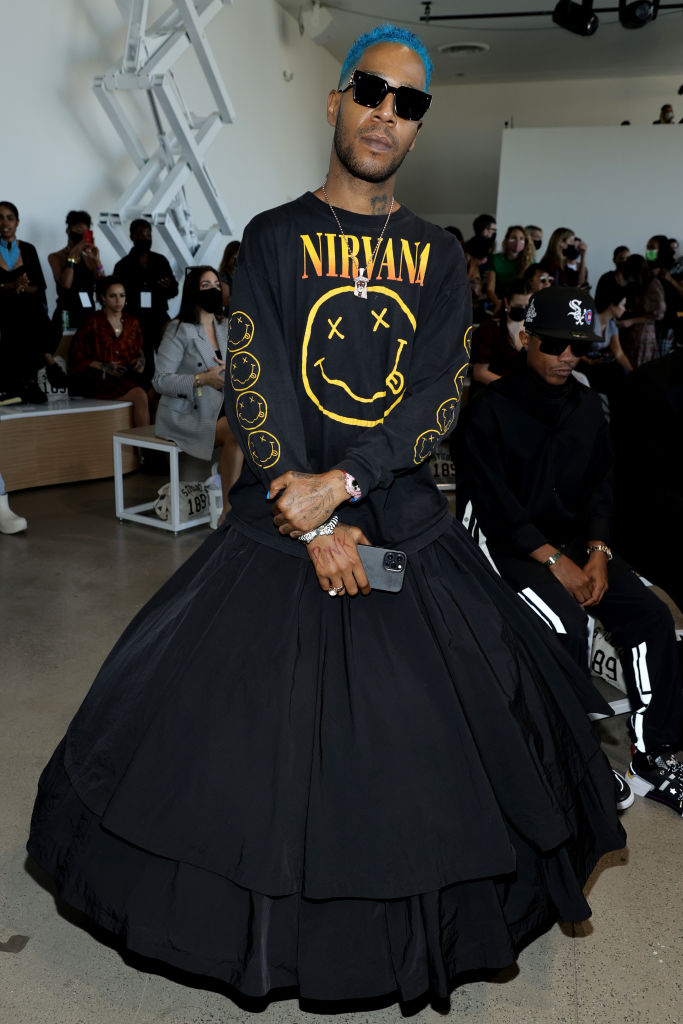 Photo credit: Getty Images
The gender divide in fashion begins in infancy when we're told blue is for boys and pink is for girls. Our society's inherent fixation with gender has informed buying decisions for a lot of men, leaving them dismissing any form of clothing that may not uphold the agreed masculine ideals. Yet fashion and masculinity have always been intertwined. While modern menswear emphasises athletic build, height and other attributes that attribute to what we call masculinity. Throughout history the structures around what is and isn't masculine weren't so rigid. Before we had the unchallenged uniform of sober suits and safe silhouettes that easily distinguish between feminine and masculine, the ancient Greek wore shapeless garments, the romans too and trousers as a concept weren't introduced until much later on in time. 
In today's fashion industry the lens of what is and isn't masculine has totally shifted from the rigid and restrictive ideals of the past. Progressives designers such as Grace Wales Bonner, Liam Hodges and Bianca Saunders, to name a few, dispel the toxic masculinity ideals using fashion to challenge what men's clothing has to say about masculinity. As a result, non-submissive menswear has emerged and takes a stand against the unbending traditional idea of what masculinity should be. Using transparent fabrics, focusing on softness and prettiness, and doing away with traditional lines of masculinity, these designers have reminded us that there are myriad ways to dress the male body, offering a welcome escape from the codified silhouettes. 
The possibilities of menswear are endless and celebrities like Harry Styles are taking full advantage. Using fashion and non-gendered clothing to challenge the status quo of what it means to be a man, Harry Styles even controversially appeared on the cover of Vogue's December 2020 issue wearing a dress – illustrating a new idea of what it means to be a strong man. Men now dress as they please. From skirts, painted nails, and sheer tops to rappers wearing pearl necklaces, heeled boots and carrying clutch bags – the ideas once imposed on the expectations of how a man should dress no longer pass. With the rise of non-binary, unisex or gender-fluid clothing, where we would usually see men self-regulate, we are now seeing more and more men experiment with their clothing options and ultimately re-define masculinity. 
View this post on Instagram
For decades some men have experimented with the idea of what masculinity in fashion looks like, from Prince, and Michael Jackson to Pharrell Williams and Andre 3000 – they all in one way or another challenged the status quo. Often seen as outliers, they did little to shift the conversation about manliness on a mainstream level. In 2022 can we really say the clothes a man chooses to wear say anything about his masculinity? The answer is a resounding no. 'Manly'  can mean whatever a man wants it to mean. Whether dressed in a tracksuit, a pleated suit with ruffled lapels or a dress, and in today's society the sign of strength is having the courage to wear whatever it is you want to wear.