Meet 12AM… The multi-faceted artist that should be on your radar.
A cultural enclave bursting with originality, perspectives, and styles distinct from the competition, Canada remains a burgeoning hub for musical talent. With their ever-expanding artistry, endless possibilities abound.
Ottawa-born Matthew Dubois is one of them, better known as LA-based musician 12AM (an alias that holds a fitting resonance for his sound).
So why 12AM? Well, there is indeed an affinity for midnight among creatives.
Whilst it may be the feeling of vulnerability that is often associated with the hour, let's be honest.. it more accurately is that unhinged moment during the day where you are taken over by a cross-cutting think tank. "When it's late and everyone is out or the opposite, stuck inside, you feel all your emotions way more. 12AM is that," he tells PAUSE.
A feeling is one thing, but to express it openly is another. For 12AM, music affords a sense of escape. Through 12AM, you mentally and emotionally immerse yourself in rhythmic musical textures and impacting emotions that reflect the complexities of life. 'Hollywood', an exploration of self-reflection embodies the latter. However, beyond the soundscape lies an infectious personality that you should discover if you aren't already "woke." Perhaps not at 12AM, but for 12AM. From attracting millions of streams to gaining applause from tastemakers, 12AM is the future.
Check out 12AM's exclusive conversation with PAUSE Magazine below.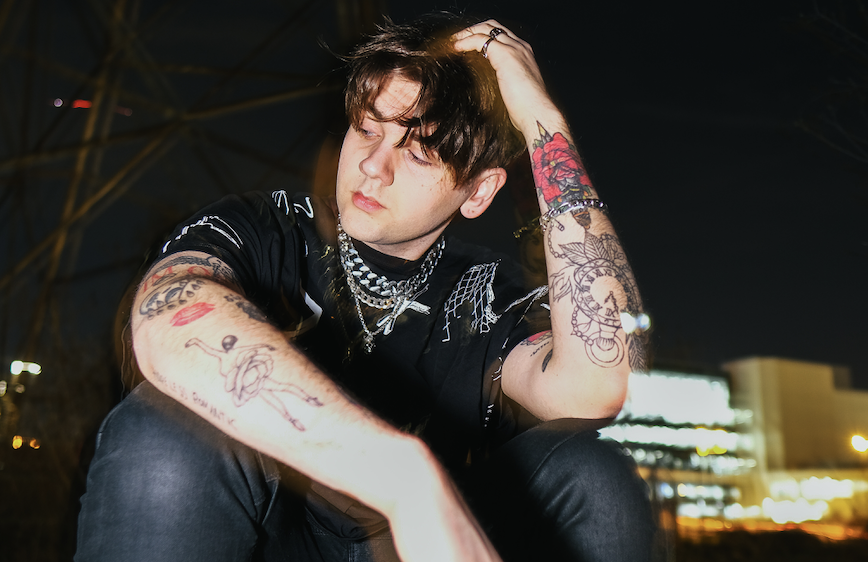 Let's talk about 'Hollywood' – perhaps your most vulnerable track to date. It starts off with an acoustic feel and effortlessly leads us into an introspective musical odyssey…
'Hollywood' is just an honest look into my life, relationships and where I'm at. It's kind of like the 'be careful what you wish for' saying; I used to dream of being in LA and now that I have done it I see LA kicked my ass!
Vulnerabilities aren't something you shy away from. You are prolific in your output and the subjects you cover are real. It is almost impossible for me to avoid talking about catharsis, the therapy that music provides, when I speak to musicians. Talk to me about this process for you.

Music allows me to open up to myself about how I'm actually feeling. It's easy to keep things bottled up and even fool yourself about how you are feeling but when I'm recording I can let it all out and it really helps.
This particularly applies to your "After Midnight" EP which made waves in the latter part of 2021. The journey is continually unfolding, with another look into the depths of your psyche and struggles. What propels your songs to be communicative and passionate? Is it a natural phenomenon or is it rooted in a given experience or emotion?

I just need an outlet, it's my form of therapy. However I'm feeling in that day, I can let it out; happy, sad, confident, you name it. It really gives me the inspiration too, when kids listen and tell me how much it helps them with their lives…that's why I do it.
Whether for resonance or for turning up, I like the fact that your music's aura can be transmitted. When you're creating, do you ever consider a listener-driven experience? A standpoint from both sides…
Yeah, I write songs for other people all the time, I love doing it. Diving into someone else's life and writing from another person's point of view. I co-wrote 'Lights' by Elijah Woods, that's one of my favourites. It was a song about a past relationship he had and the hook that I wrote actually happened in his life without me even knowing, so it was a pretty amazing thing.
Vincent Van Gogh stated that "the night is more alive and richly coloured than the day". The night changes our brains psychologically and chemically, and since your stage name is a reflection of that, I want to touch more on the emotions we often feel as creatives past midnight…
Man, I didn't even know that quote but I love it and that's 100% right. When it's late and everyone is out or the opposite, stuck inside, you feel all your emotions way more. 12AM is that.
Sad boi hours really are a thing, huh?
For sure. After the night of your life you can come home and get super depressed… it's weird and happens to me all the time. 
So what pushes your creative boundaries as an artist?
Just constantly growing. I always want to get better, make better new music…
In what ways do you measure success?
As long as you are levelling up every year, you are doing something right… I try not to compare myself with people because it can drive you crazy, so I just look to where I was a year ago and keep looking ahead.
Describe something that nobody knows about you that you wouldn't mind sharing.
I'm an introvert. A lot of people think I'm super out there all the time, but I love my time alone. I need it.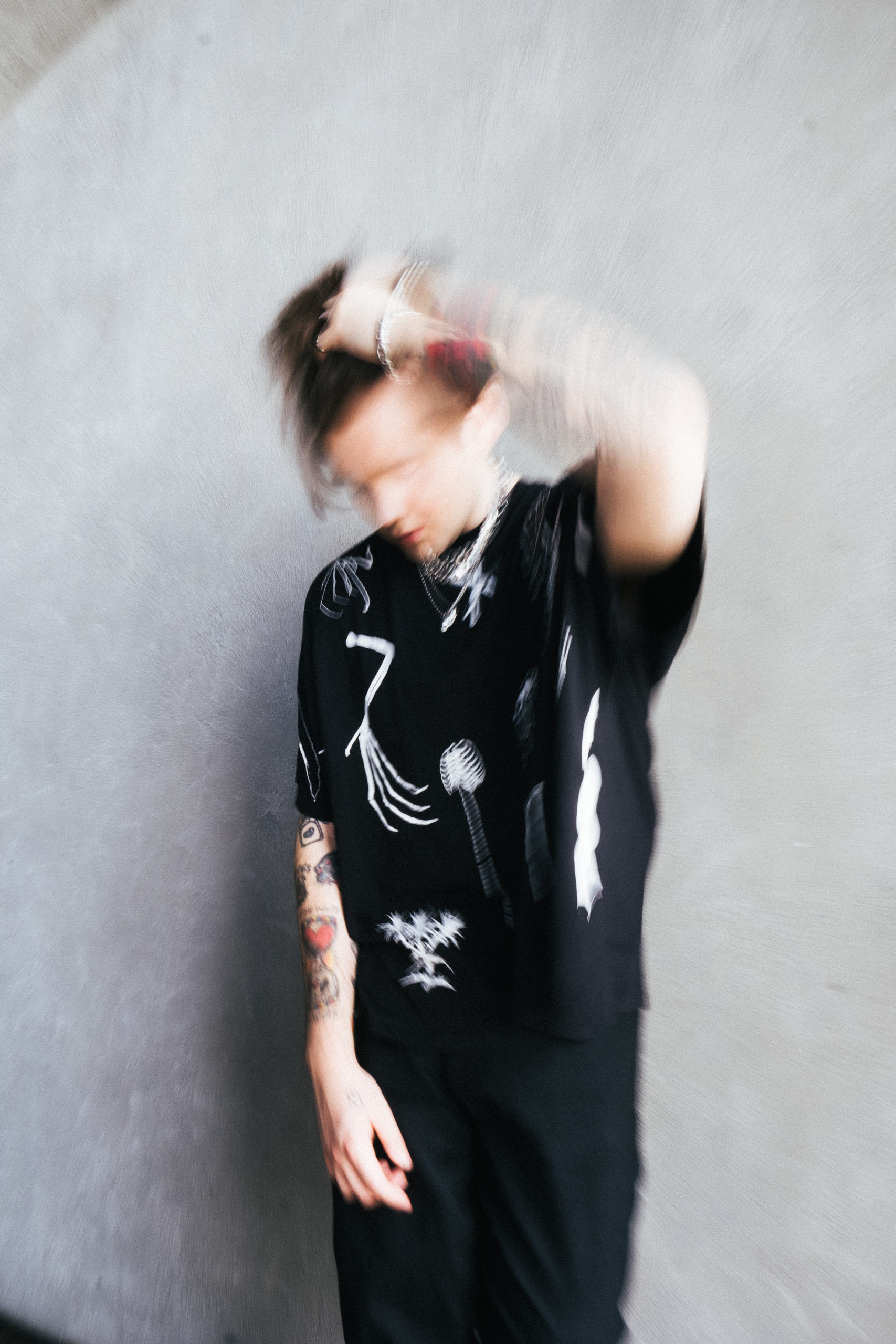 Taking a step back, you can see that this transformation has taken place through nurturing and healing, which has moulded this lifestyle into a reality you now enjoy. What are your other ways of finding physical and mental clarity besides music creation?
Playing basketball and video games for sure. Video games allow me to just take a break and escape for a bit or hop on with some homies and just talk about stuff not related to music. Playing ball clears my mind and keeps me in shape.
In what ways have the complex experiences you have encountered shaped your mindset today?
I've been through a lot and i guess the best thing that I can take from it is pain. When you've been through so much pain, you don't want others to feel pain either, so I've learned to just be there for people and never put people down.
When working on songs, especially collaborative ones, what is your source of inspiration? Is your interest piqued by those who have faced similar experiences?
I get inspiration from everywhere – movies, people, life events, relationships, just life in general keeps me inspired.
With the ability to compose for other artists alongside your own work, how do you conceptualise the tone that you want to create? How does it work?
Usually it's whatever they've got going on in their life at the time, I want to bring that out and elevate it. There's a lot of universal emotions that we've all been through so usually it's easy to relate.
In what ways do you plan to move forward with your personal and professional goals? What can we expect?

Touring for sure now that we are back outside, and just dropping my album. It's been too long and it's fully done so I can't wait to drop that. But for sure getting back on the road again and performing that's what I live for.