Chats personal style, Fashion Weeks, and NBA's best-dressed.
 "I think fashion, period, is just a way to express yourself."
Not since Allen Iverson have we seen an NBA player take over the fashion conversation in the league like Jordan Clarkson has. A true individual that demystifies the notion that athletes can't dress, if someone told you that athletes are not known for style or fashion, we can certainly say this is not the athlete they were talking about.  
Standing at 6'5 with a lightning quick crossover and an insanely wet jump shot, Jordan Clarkson- or JC as his friends refer to him- is the Filipino-American NBA player who has crossed over into the fashion scene and scored big with a transcendent style that's both fearless and playful, a bit like JC himself. When it comes to well-dressed NBA players, the bracket is very small. With his sartorial abilities, it should come as no surprise that Jordan Clarkson is a big part of that conversation. 
In sports they say 'look good, feel good, play good'. That's certainly working for Jordan Clarkson as he helped the Utah Jazz get off to a winning start this season. By turning the tunnel walk into a runway, Jordan Clarkson has redefined fashion standards and style in the NBA by tearing up the rulebook. His fearless attitude to clothing has earned him praise for defying gender norms in men's clothing by often wearing skirts or kilts, to which when asked about his fashion choices, he replied, "it's swag, baby!"
A fashion risk taker who rarely misses, he has raised the bar of what it takes for an NBA player to be deemed an NBA player with style. When he's not in his Utah Jazz uniform, Clarkson favours the cut of Loewe drawstring pants, Off-White or Rhude tees and whatever fire sneaker can get him from the team hotel to the arena, but he can just as quickly switch it up. Seen swaying through the streets during New York Fashion Week before turning heads at Paris Fashion Week, drawing inspiration from the likes of NBA legend Allen Iverson and future Hall of Famer Russell Westbrook, Clarkson is just different.
Style is about being able to stretch your creativity, and Clarkson has exploited all of the power style can give him. Taking time out of his busy schedule, we caught up with Jordan Clarkson to discuss tunnel walks, attending fashion weeks and pre-game fits.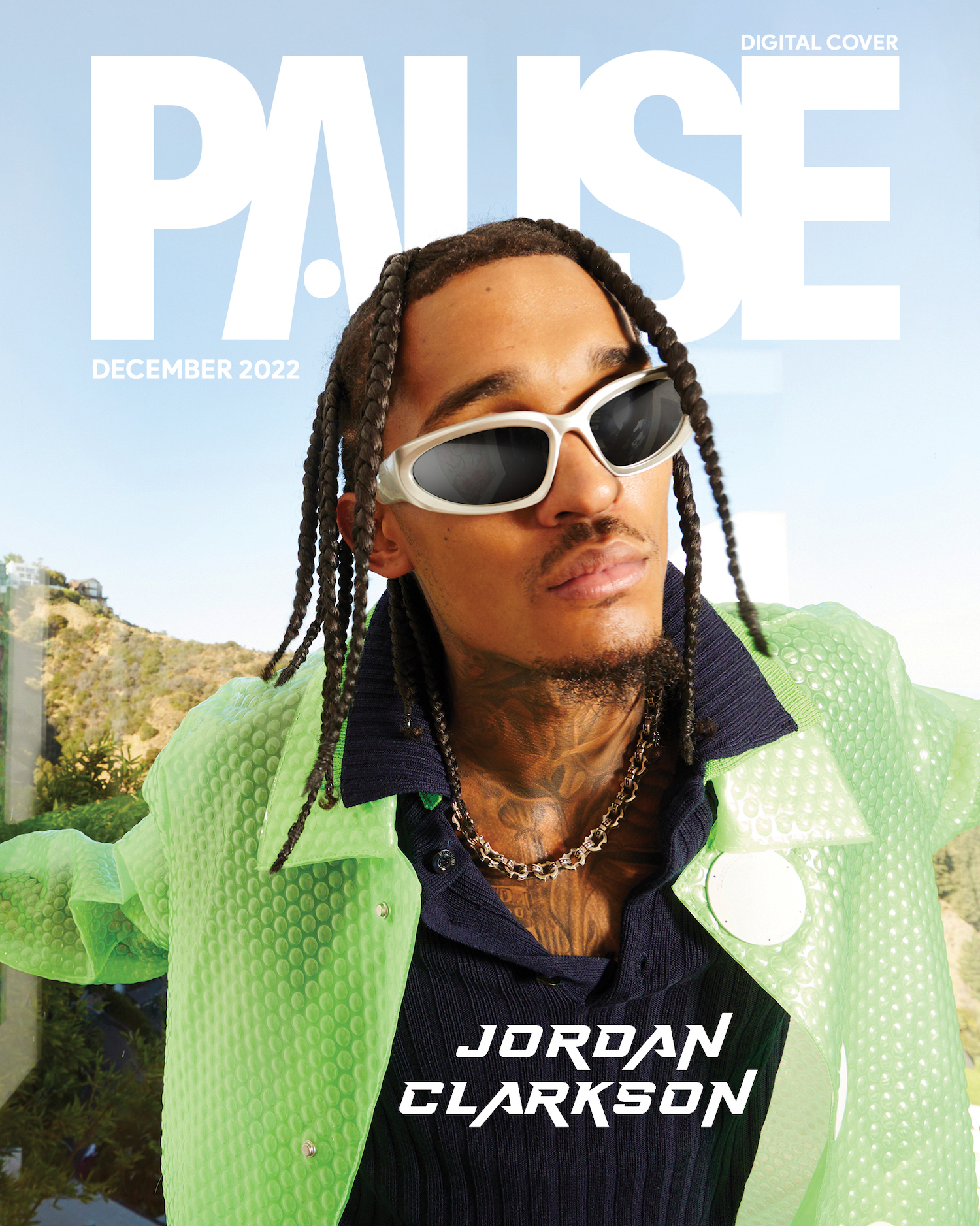 Shirt – Moschino, Coat – Off-White, Sunglasses – Balenciaga
You're the Two Guard for the Utah Jazz and this season's well underway, so I just want to tap in and see how you're feeling.
I'm feeling good! A new team, a new vibe… we're just trying to take one game at a time and win these games. 
Well, you guys know you're off to a hot start. Are you excited for the new year? Maybe making a play-off run? What's everything looking like?
I think we've got a good chance to make it to the play-offs and going on a run, we've definitely had a hot start. You know we've had some injuries here and there but that's what happens during the 82-game season, so we're just trying to fight for position right now. 
Let's head straight into it. We're going to talk about the fashion because the tunnel pics have been a concrete runway for every NBA player at this point, is that something you guys are taking into consideration way more when thinking of a game fit?
I think so, I mean I can't speak for everybody else but I think what you're seeing around the NBA is it becoming like a staple piece for the league, that everybody wants to, you know, be fresh for the tunnel. 
So, what songs do you have playing in your headphones when you're getting ready to get pumped for a game?
Oh man, I mean I listen to every genre of music honestly. Listening to some rap… Metro just came out with that album, so that's been played a lot.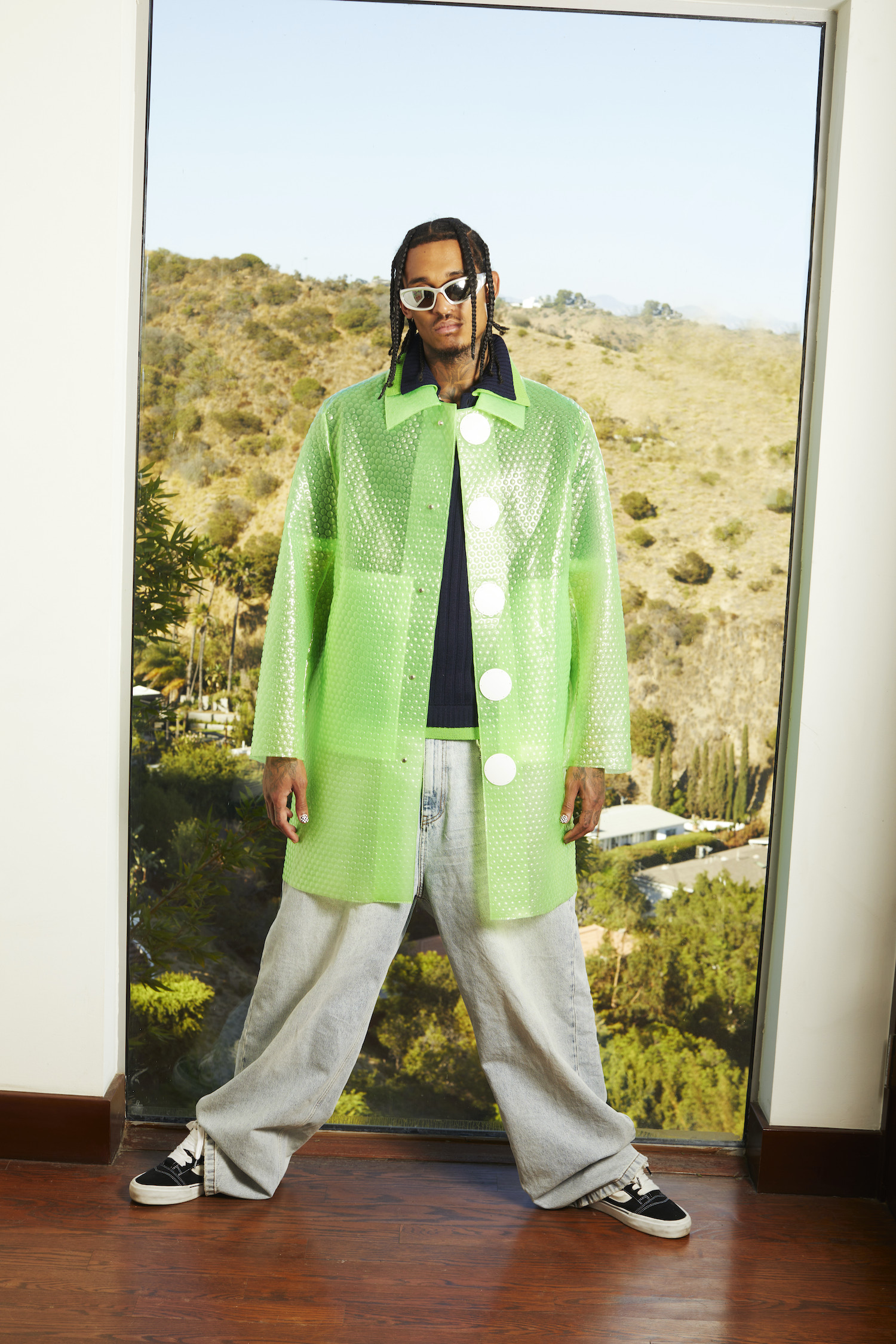 Trousers – Balenciaga, Sneakers – Vans x Imran Potato
Yeah, that's hard…
Yeah, Playboi Carti, some punk rock, and rock. I'm kind of everywhere honestly when it comes to the music. 
I know when we were on set you were bumping hard to Kendrick. Did you get a chance to see him in concert?
Yeah, I wanted to see that! He had that thing on Amazon so I watched that, he was pretty dope. I think he was in Paris with it. 
I've got it on my watchlist actually…
Well, you've got to catch us up because this summer was a crazy busy one for you! Besides getting the work in out of season, you were also out and about for Fashion Week right? I'm sure we saw you out in Paris for a bit. How was that for you?
Paris Fashion Week was fun, super cool experience. The city of Paris was love honestly, I had a great time just going to a bunch of shows and seeing everybody display all the new pieces and the creativity when it comes to the shows and stuff. 
What was your highlight of Fashion Week? I know obviously you went to the one this year in June and I'm sure you went to the one in September as well… You got dressed for quite a few brands, no?
Yeah, I did! The Tommy show in New York was pretty cool, I think that was a pretty dope show. John Elliot. Givenchy. All those shows were pretty awesome. Being able to go and experience those and meet the designers. I've known John for a minute but Matthew Williams and all of them, being able to meet all those guys was a pretty dope experience through the Fashion Week stuff. 
Jacket – Le Merj, Trousers – Off-White, Sandals – Balenciaga, Sunglasses – Delarge
How do you guys fit it into your schedule? Do you just head out there when you can? Or do you block off time to go to Fashion Week?
In my case, I blocked off time to be able to go out there and experience that but we're always working out and getting our work in when we are at those kind of things. 
How does that look behind the scenes? Are you saying to your coach and your team, "I can't be around for one/two weeks because I've for fashion stuff to do?" What does that conversation sound like behind the scenes?
I mean for us, it's pretty free in the summertime so I mean I really don't have to aware the team of much, they kind of see where I'm at and I tell them where I'm going so the summertime is just your own time to venture off and do things that we want to get done. 
That's actually kind of cool, I never thought it would have been so free and chill. In comparison to footballers over here it seems like they're training 24/7, almost non-stop…
Yeah, we work out like crazy, but for Fashion Week in Paris we didn't have any workouts because it was right after the season, I think we had just finished play-offs a few weeks before that, but when I was in New York I was working.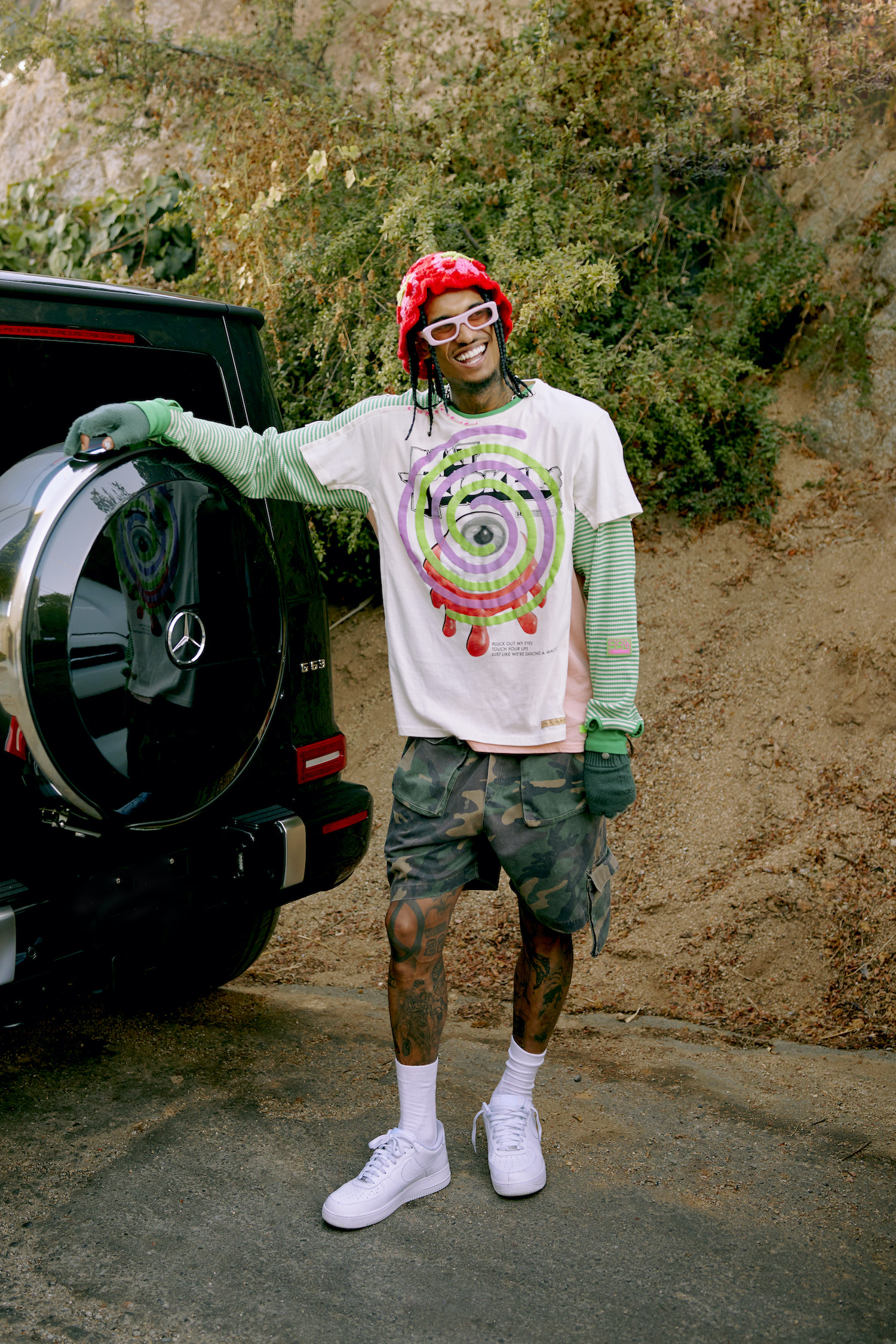 Outfit – Jordan Clarkson's own, Sunglasses – Bonnie Clyde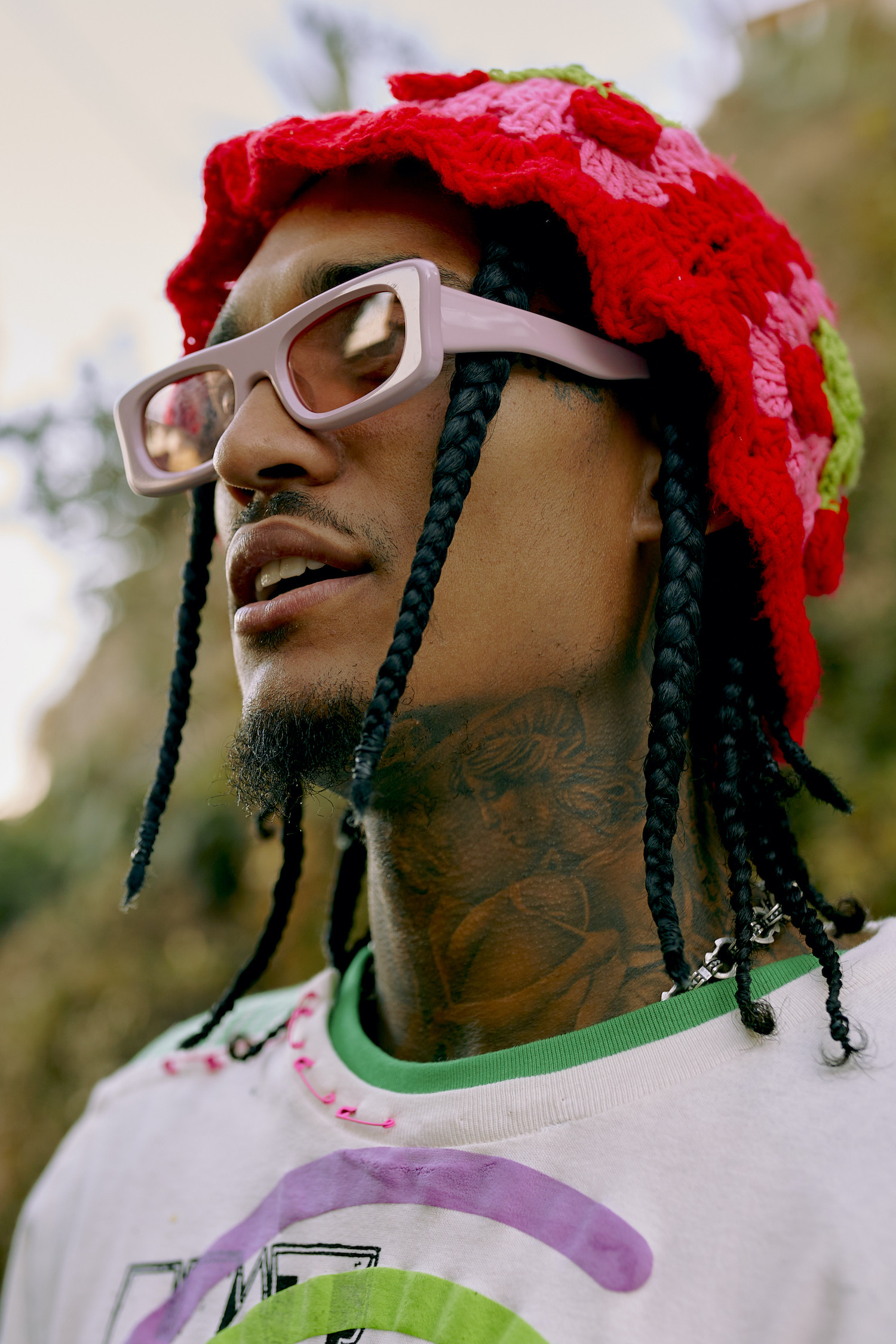 So travelling for Fashion Week and seeing all these different things, like these new collections and seeing people on the streets… has that impacted your approach to fashion and how you dress yourself?
A little bit. I think it just kind of opened up my eyes a little bit more. Just seeing everyone's different style and how everybody puts pieces together, just catching different vibes. Being able to see all that, I think it's really cool to experience that and see how everybody puts their pieces together, honestly. 
If I'm not wrong, it sounds like you've been to New York and Paris, you haven't mentioned Milan! Have you been there?
I did go to Milan! I went to the Giorgio Armani show, I was there for that show. 
So out of those three cities, which would you say has the hottest take on street style? Or just fashion in general? What would you rate each city in terms of their style and how they put things together?
I mean, for me personally Paris was up there, just seeing everybody's style because I was just out and walking around, going to different restaurants and seeing all the styles there and then. New York aways has its own vibe… I would definitely say Paris and then New York second when it came to seeing the styles in the streets. 
Jumper – Who Decides War, Trousers – John Lawrence Sullivan, Sneakers – Lanvin, Hat – Charles Jeffrey Loverboy, Sunglasses – Rick Owens
Personally, I agree. I don't know if you've ever been to London but London isn't cutting it, London's not it. But Paris makes sense, so I agree on that one for sure.
You're basically the most fashionable NBA player in the league, especially right now and basketball players aren't really known for their style, so what does that mean to you? How did you even get this title? You were always throwing some fits, you went from the low-wave cut with some shorts and little denim jackets, to now long plaits and exaggerated fits. Walk us through that journey. How did you get to this title of being the 'swaggiest'? Even Nick Young – Swaggy P – has been rating you highly. 
Yeah, I mean honestly, seeing Nick first you know, being his team mate. Crazy story, when I was in my rookie year I had a stylist for like a week or something and then he was like "Bro, why you got a stylist? You don't need that" and I was like "What do you mean?", he was like "You don't need no stylist bro", and he just took me shopping and ever since then I've never looked back in terms of having a stylist or whatever. I just kind of felt a way when I went shopping and started putting fits together and then from there it's kind of self-spoken, like you said. I'll buy a bunch of pieces and then I kind of put everything together which definitely makes my style different and unique. I'm not always fully dressed up in one designer or whatever; I'm kind of just styling it out through my whole fit. 
In terms of the NBA and me being the most fashionable person, I think everybody in the league got his own ways. You see guys like Kyle Kuzma, Shai, Russell Westbrook, P.J. Tucker, guys like that you've got to give praise to because they're dressing as well. I think we've all got our own style and our own unique way of putting fits together, so it's kind of cool being noticed as one of the swaggiest dudes, you know, the best style in the league, because it's something that you put on. 
It's funny that you actually mention players because I was going to ask, besides yourself, what other players would you say have great style in the NBA and who would you say is your competition off the court?
The next best dressed dude or not… Shai is putting it on, he really be turning up, you can tell he puts time into his fits. I don't know if he's got a stylist or not.
We did a shoot with him last year and he was saying, like you, that he will show off but he's also going to shop vintage pieces, and that's when you know you're up to a different level of fashion…
Yeah, I love when I see him put fits together, it's pretty dope. So, I would probably say Shai and then maybe Kuzma, those two guys really can dress, I feel like they be putting it together well. 
No, facts. They say something a little different to what them other guys have got to say.
Right!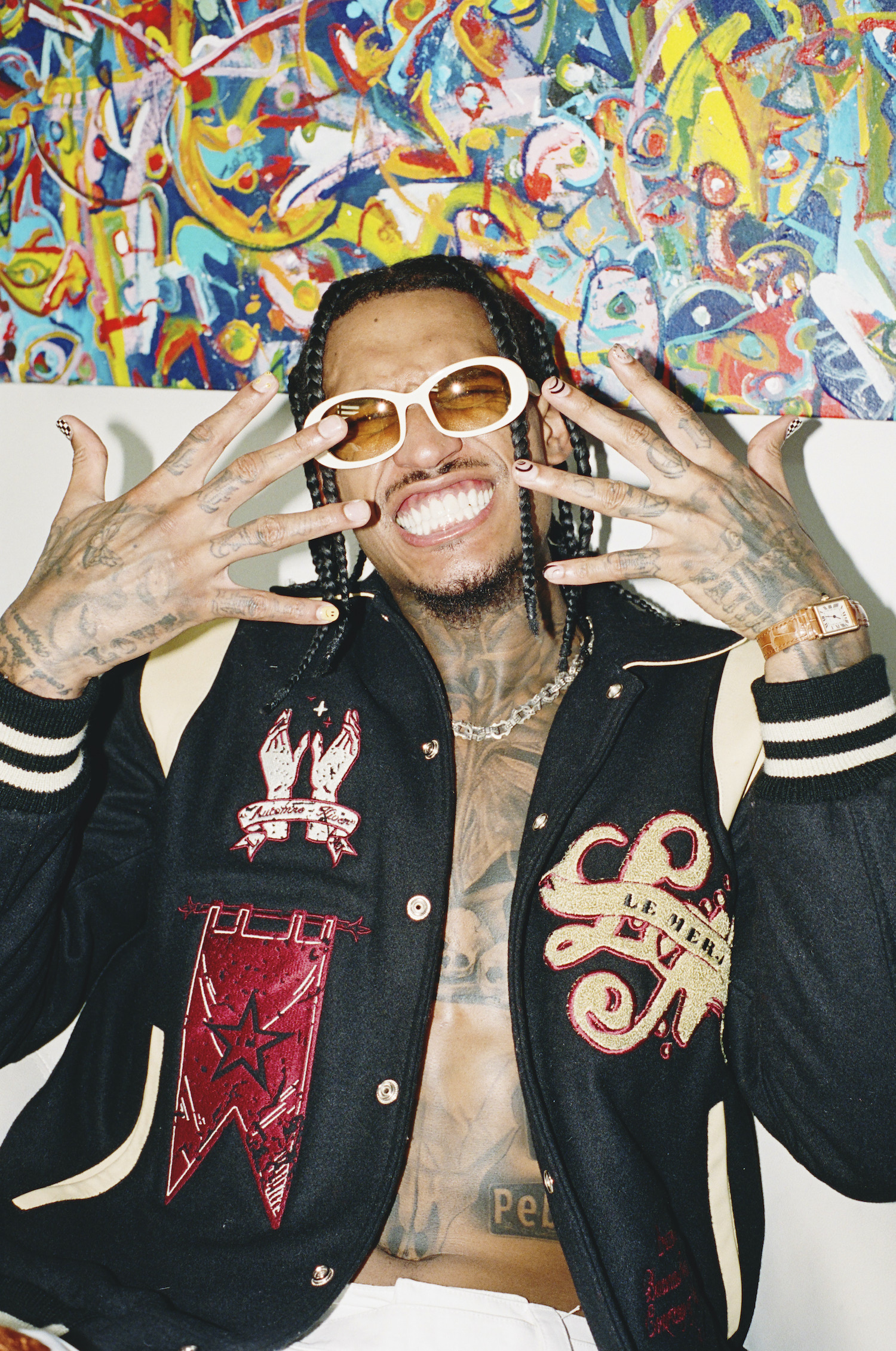 So, Allen Iverson. I'm sure you've probably had many questions, probably in interviews, outside interviews, and had casual conversations about him, but we all know he's heralded as the player that crossed over between NBA and fashion. How much inspiration, if any, do you draw from Allen Iverson? We see you've got the hair and the tattoos, so what else?
I mean a lot of inspiration, I think he really, like, put on. He was one of the guys that started it honestly, but in terms of influence on me I think you've seen me with baggy sweats, you know a bunch of baggy clothes, still kind of putting it together. He definitely was an influence on the braids and the tattoos when I was younger, we would just draw those things on us trying to be like him! He was a big influence honestly, we all looked up to him, me and my brother for sure.
So your style is an amalgamation of a lot of things, from sports references to comfort, function and of course, luxury. How do you feel about your style? Is that something we can still see evolving? Or is where you are right now where you're going to be for the meanwhile?
I think my style right now is kind of where it's going to be at for a while now, I think I'm very versatile. I'm able to put a lot of things on and put a lot of looks together and yeah, I think that's where it's at right now.
So then, how would your describe your personal style?
Fresh af! Nah *laughs*.
I hear that though!
Clean, just different… unique and comfortable. Something fresh always. I'm always going to be surprising with what I've got on. Sometimes it's isn't always a loud flex with what I've got on. If you know, you know. 
That part, silhouettes matter…
Yep! 
So, your styles are quite daring, not a lot of people have, I don't know if what you want to call it, the balls, the stones, the heart to rock the Thom Browne fit, which I thought you murdered I'm not going to lie you! Not many people can wear a kilt/skirt like you did! So, where does your confidence come from? Is it like a stylistic standpoint you come from? Or are you literally like, "I'm just going to put it on and throw the fit"?
Yeah, for me I just always think I make the fit what it is as long as I'm wearing it with confidence and how I put it together, I think it works out. So, in my mind, I'm the freshest dude walking so that makes the fit. I honestly think that.
Nothing but facts. So how does JC actually build a fit? Do you go from bottom up or top down? Or do you go for like comfort or function?
I usually start with my jeans honestly, or whatever they are, and then I kind of figure it out after that. 
Well, we just mentioned big fashion house Thom Browne and we obviously see you rocking accessories and stuff from Goyard, so what other luxury brands would we see in your wardrobe? What is your go-to brand?
My go-to is probably Rick Owens for sure. Balenciaga's a big one, there's a bunch of pieces. Then all the pieces that Virgil had created for Louis Vuitton are always up there, easily.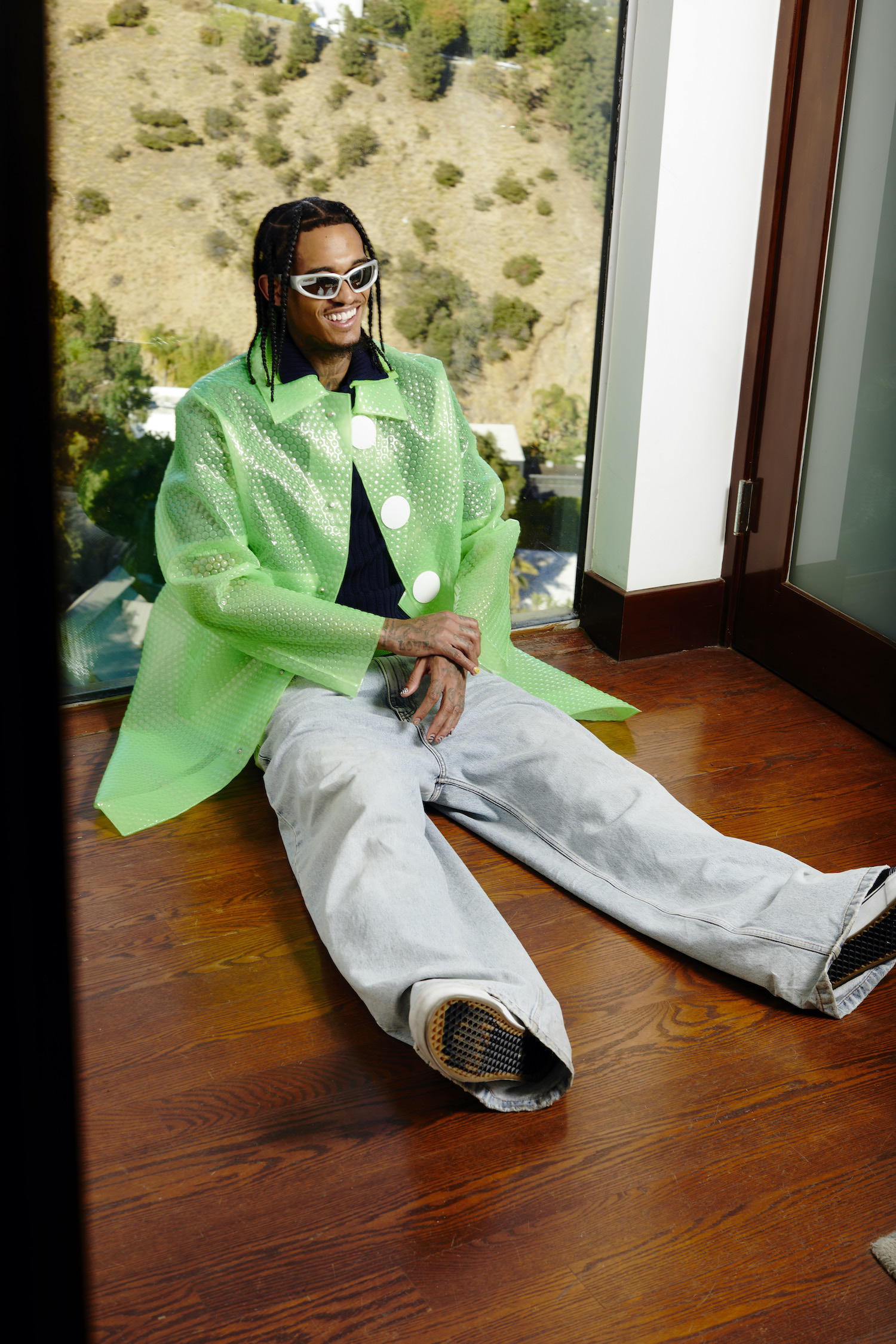 So real quick question… Off-White or Louis Vuitton? Which one would you choose if you had to choose one?
I mean, that's kind of tough!
It's a rude one really isn't it!
Yeah, that was crazy! I think I would choose Louis Vuitton because it really took like a high-fashion brand/house and made it into cool streetwear. Honestly, what Virgil did over there was insane. I think he made that brand really go back up to the top. He made that happen, he made it super cool so, I would just say that because of the innovation of it.
I feel like he injected a certain level of craftsmanship into streetwear and brought it where it needed to be
Exactly, it was dope.
So, let's peek into your wardrobe… What's your favourite piece in your wardrobe that you've ever collected or bought?
I have an Off-White like trench coat/jacket that almost feels like a rug, I forgot what it was called but honestly that's like one of the pieces that I've worn so many times. I've never not worn that in the winter time or whatever, there's so many pictures of me with that jacket on! That's one of my favourite pieces I've collected.
Let's talk sneakers. I feel like you're not too shy with a good little piece of hot foot game, I'm not going to lie to you. So, if you had to wear one sneaker for the rest of your life, you've got to let us know what that sneaker would be. And why that sneaker over all the rest of them?
I think I always say like a Jordan 1 just because if I had to go do something or get active or anything in that shoe I'd be able to and still be able to get fits off with it.
So, all-round it's a cheat code really, isn't it?
Yeah, high-key. I would say that and like a Rick Owens low-top or the highs, I could almost hoop in those if I wanted to.
Like a little Dark Shadow joint?
Yeah.
It's fly for every occasion. So, what's the best basketball sneaker you've ever played in? Hands down.
Best basketball sneaker… Kobe's for sure.
What's the review on the Kobe's? What makes them the best sneaker that you've ever trained in?
It's light, super-functional. I think he got most of it designed from a soccer shoe so he made it super light, functional, everything, so I think that's the best shoe ever made, honestly, in terms of basketball.
Shout out to Kobe, God rest his soul.
So, what's one thing in fashion that you want to do that you haven't had the chance to do yet?
The thing for me is probably my brand, in terms of like my own clothing brand, which is going to come out soon. It will kind of delve into my creative side and you know with that coming out, it's called '78 Studios', the pieces and stuff that are coming out first will be like… I think we would call it a uniform. I think we are going to drop about eight to ten and that's just all cut-and-sew and creativeness, stuff that I've drawn out and I've actually worked on and been in the factories and meetings and all of that stuff. I'm really hands-on with that. As soon as that gets up and going, you know, still create as a designer and help the brand as much as you can.
So, when are you hoping to drop the line? Sometime soon?
Yeah, sometime soon. We should be finishing up our final pieces in about a month, maybe, and then in terms of our drop everything will be based on production and how we want to put it out and stuff like that so I'm really excited for that.
Are where are you getting everything manufactured? Are you doing it in LA? Are you travelling?
We are doing it in LA right now.
How are you finding it right now? Is it easier because it's closely connected to your base?
It's been some time, this is going on like two years, almost two to three years.
Oh wow! I'd like to say I'm surprised, but I'm not because I know how long it takes just to get a simple sample right.
Yeah! And going through all the factories and trying to find the right people. It's definitely been challenging but we've definitely kind of found our way to figure some of this out, especially with no guidance, we've just been going out there, throwing ourselves out there, linking with people. A lot of times it's good because you know people in that industry, so it's been a big help for us.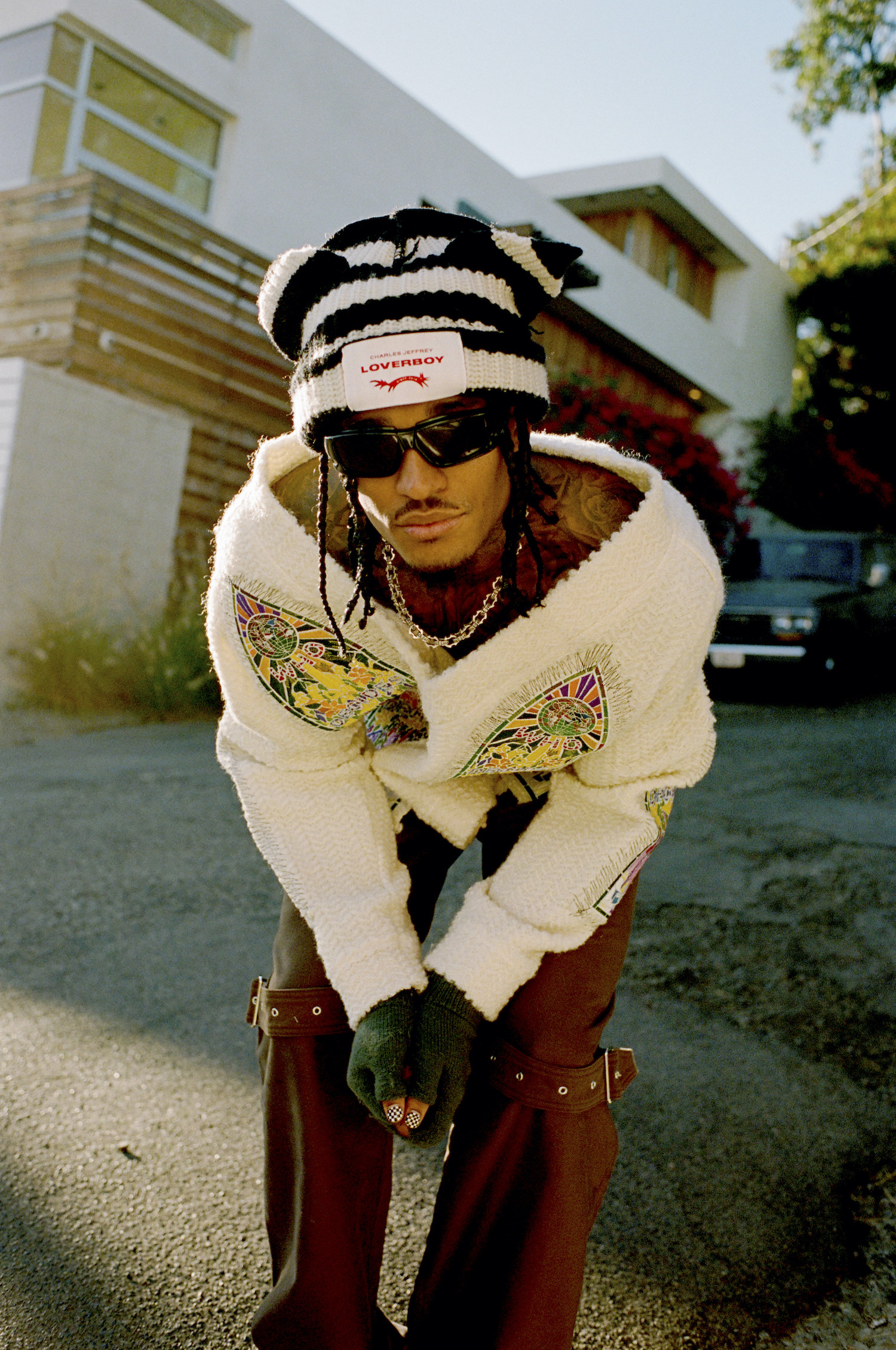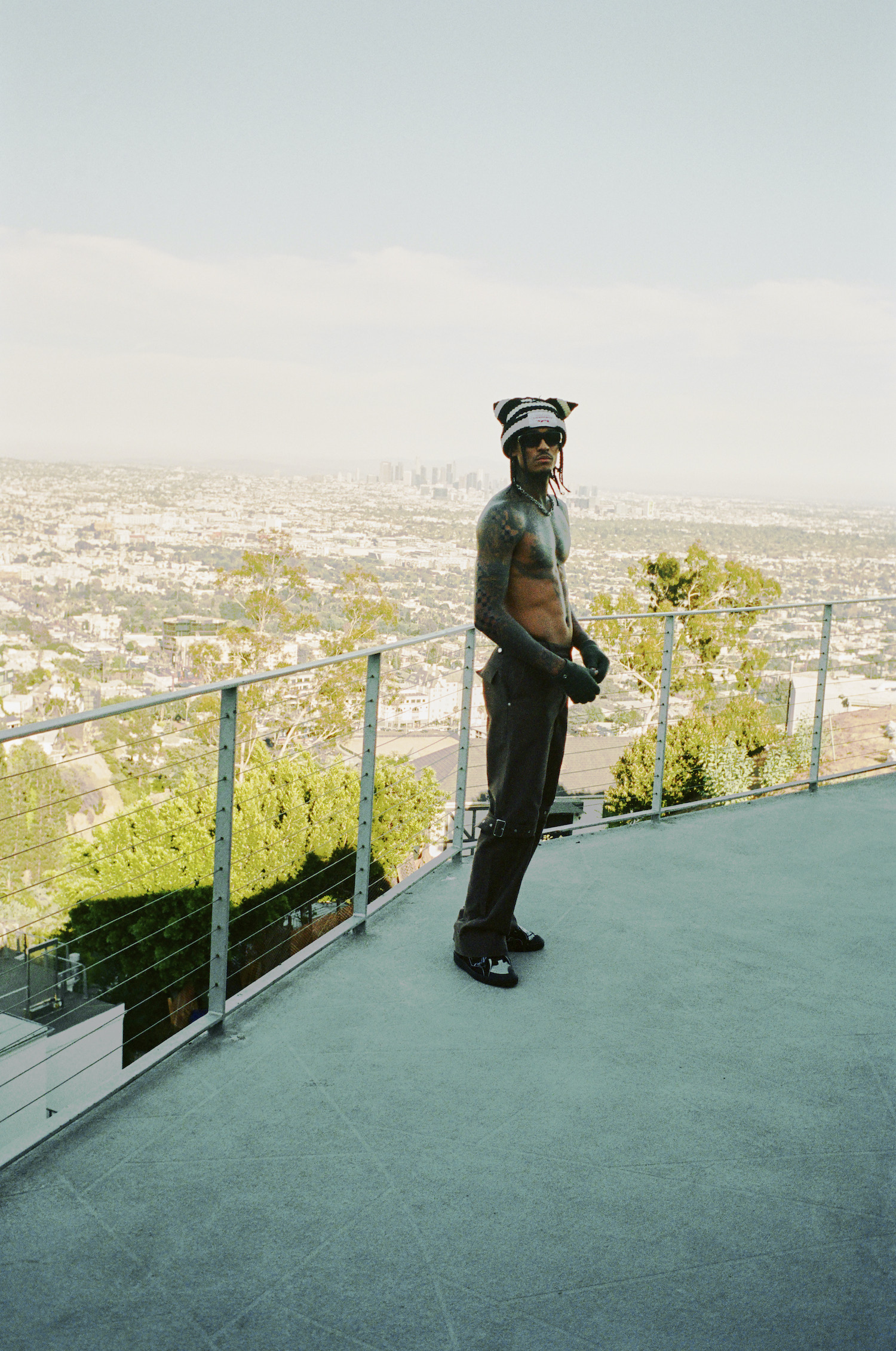 Going through the whole process that you're probably still going through, does that make you kind of appreciate clothes when you're looking to buy or even when you wear them? Obviously then you realise every detail counts, from the zippers to the stitching, to the way it's stitched. Has that changed your perspective on garments themselves?
It really gave me more of an appreciation honestly, because you look at all the designers, they are really like artists for real, putting things together, how they view people in their clothes, you know it's just a whole thing that goes into it in terms of the creative side so, like I said, they are art pieces that designers are making, that's how I look at it now. Looking at the pricing of clothing now, I'm like yeah, I understand it because this piece is going to be vintage or something crazy and as we get older and give it to our kids or whoever it is, those clothing and art pieces are going to be around forever. 
I agree. For me, fashion and buying pieces of a certain price point, it's more sentimental, it's like you remember when you got that piece, when you've been saving X amount each month to get that piece and when you've had that piece for 5 years and it still looks pretty much the same or even if it's weird, it's weird in a nice way. I just find that it's way more romantic when you really want a piece and then pass it down.
Exactly! For real, that's how I'll be feeling too though! 
Just speaking of expression, I feel like for you it comes down to every asset that sits under, what we call to 'be presentable', and one thing that's been booming in the last 3 years, especially with Black men, the expression down to the nail art has gone crazy. What inspires you to constantly go to that level? Is it the punk influence that you draw reference to?
Yeah, I feel like a little bit is the punk reference, but a big thing is just my daughter honestly. She gets her nails painted, she paints her nails. When she was with me in the summertime, we did that a few times just chilling on the table for something to do and I was like 'I might as well keep it going' and then it became a thing. My nail tech treats me good.
I won't hold you guys too long so the final question is, when it's all said and done, what do you want people to take away from your journey in this thing we call life?
Just knowing it's a process and that you've got to be confident in everything you do, especially when it comes to fashion. I think fashion, period, is just a way to express yourself, so what you want to put out there is how you want to express yourself with your clothes, hair, nails, whatever you're doing, I think everything is an expression of freedom, how you portray yourself. I think for me, I want to be looked at as somebody that was free, always loving, willing to work, and somebody that expressed themselves. That's it.