How Japan's Rich Fashion History has Piqued the Interest of Gen Z.
As borders in Asia open up, we present to you PAUSE Highlights: Asia. This is a feature series that looks into the fashion culture and history of a selected country in the Asian continent, diving into legendary and up-and-coming designers from their respective country as well as their relevance today in the west through subcultural movements and recycled trends. Join us as, this time around, we explore Japan.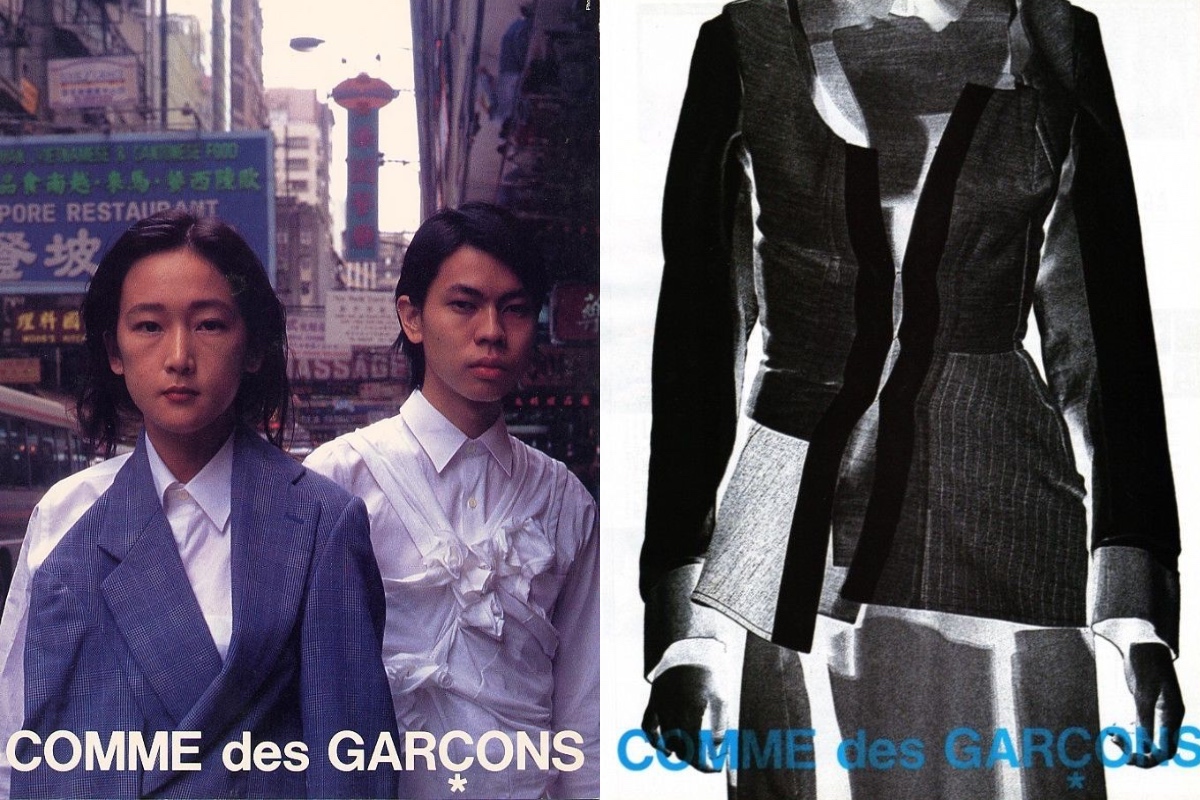 PHOTO CREDIT: COMME DES GARÇONS
Lauded as one of the most influential places in the world for design and innovation, Japan is a highly respected place for all things creative, especially fashion. You might be familiar with brands like Comme des Garçons, Issey Miyake and A Bathing Ape, but with the surge in popularity Japanese fashion has received over the past few years, more labels have been brought to the surface. The beauty of Japanese fashion, however, is in the diversity of styles that range from the subtle beauty of Auralee to the punk-influenced streetwear of Undercover to even the technical brilliance of And Wander. But before we dive into the new-age designers that are currently taking over the scene, we've first got to take a look at the pioneers of the craft and a very special time period that's widely been labelled as the golden era of menswear in Japan.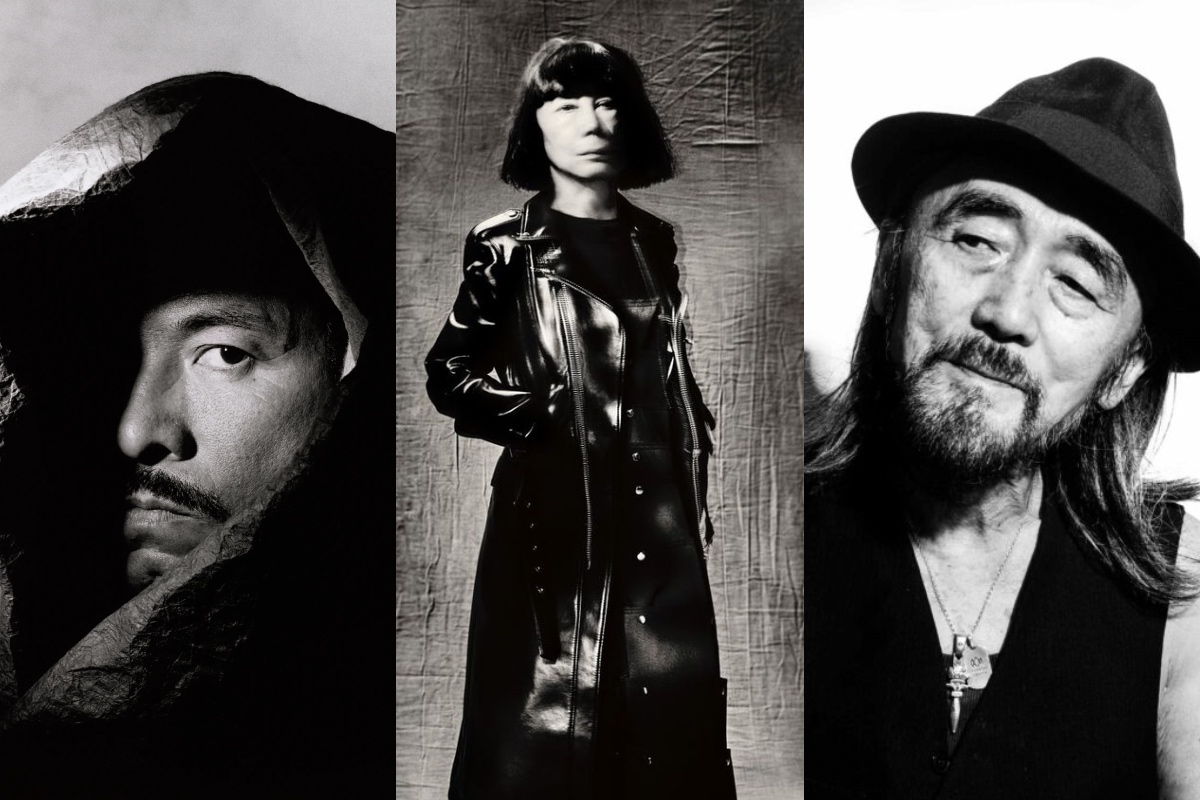 PHOTO CREDIT (LEFT TO RIGHT): ISSEY MIYAKE, REI KAWAKUBO, YOHJI YAMAMOTO
Our journey starts with the 'grandmother' of Japanese fashion: Rei Kawakubo. The founder of COMME des GARÇONS and the luxury boutique Dover Street Market, Kawakubo always aimed to make clothing for the independent woman that doesn't seek male approval. The result was oversized garments with irregular bulges and unflattering asymmetry that challenged western conceptions of female beauty, putting comfort and mobility at the forefront. In the late 1970s, she would go on to start a romantic and professional relationship with another important figure, Yohji Yamamoto – known for his oversized, avant-garde shapes in varying black fabrics with cinematic drapery. The pair would go on to present their collections at Paris Fashion Week for the first time alongside Issey Miyake, the 'king of pleats.' These three legendary designers put Japanese high fashion on the map in the 80s, prioritising fabric movement and irregular pattern cutting to create innovative silhouettes that were foreign, yet attractive, to the west.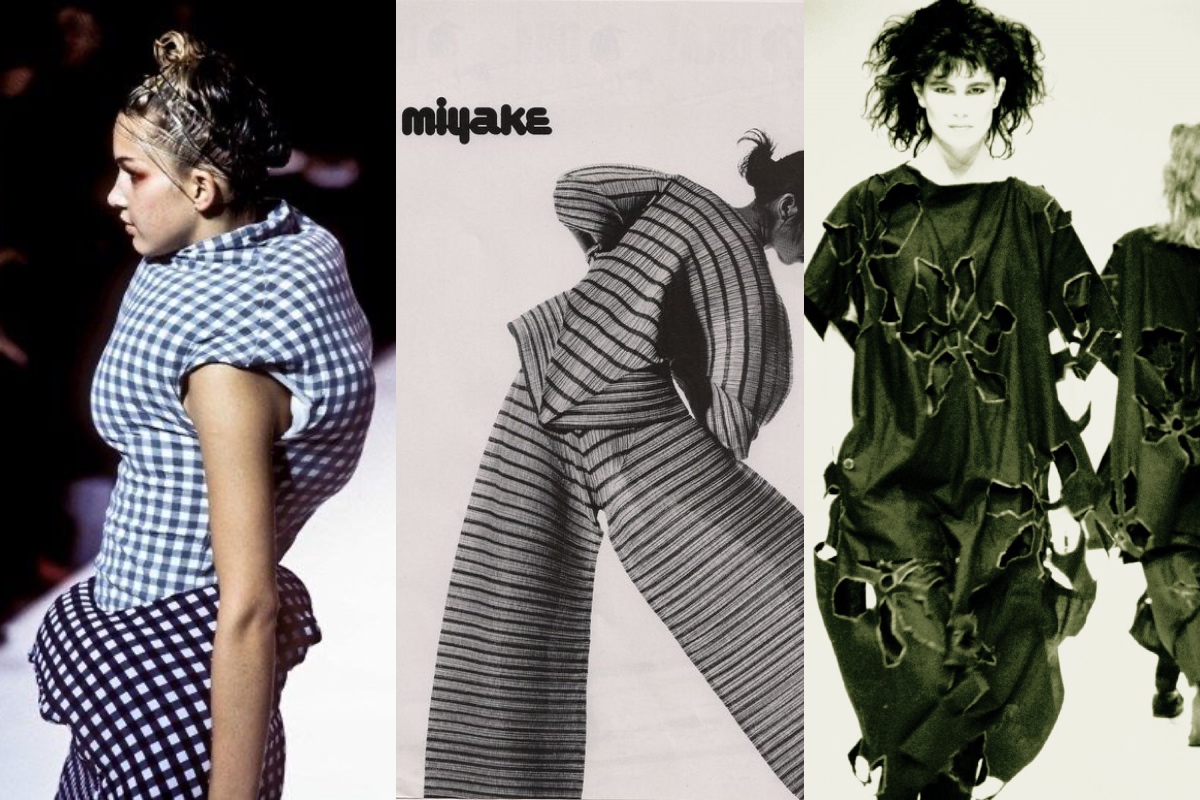 PHOTO CREDIT (LEFT TO RIGHT): COMME DES GARÇONS, ISSEY MIYAKE, YOHJI YAMAMOTO
The 90s, however, was a very different era from the previous decade. Dubbed the Ura-hara era, literally meaning 'behind Harajuku' in Japanese, this term refers to the four-block region in the backstreets of Harajuku in Tokyo. This intimate area in the epicentre of youth counterculture is where the rebels of this generation would come to hang out and shop, creating an anti-conformist subculture in the suffocating etiquette of Japanese society. Amongst them were another trio of influential designers in Nigo, Jun Takahashi and Hiroshi Fujiwara. Nigo and Takahashi are best known for their work with A Bathing Ape and Undercover respectively, but before these two properly established themselves, they collaborated as roommates to create a concept store called NOWHERE, where they would stock their early designs. This store only came to fruition because of Hiroshi Fujiwara's help, a man often labelled as the "Godfather of Streetwear." A multi-disciplinary creative that had his hands in DJing, designing and consulting, he was Japan's version of Virgil Abloh before Abloh himself. Through his frequent travels to the west, he would report back to Japan with clothing trends he would see in places like London, New York and Paris whilst growing his network of contacts worldwide, something that would prove influential to Japanese fashion's presence internationally. Other notable designers to come from this exciting period include Tetsu Nishiyama from WTAPS, Shinsuke Takizawa from Neighbourhood, Hiroki Nakamura with Visvim, Masaaki Homma from Mastermind Japan, Nobuhiko Kitamura from Hysteric Glamour and, of course, Junya Watanabe from Junya Watanabe COMME des GARÇONS – another one of Kawakubo's protégés.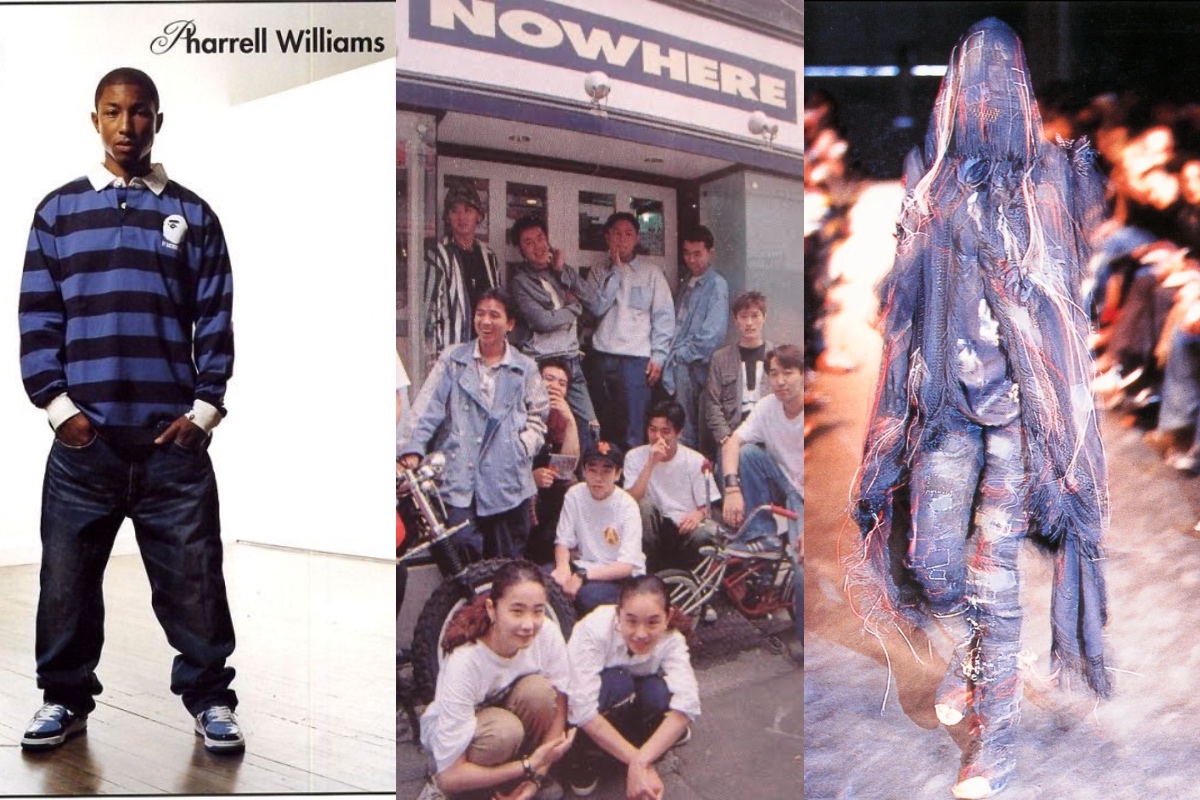 PHOTO CREDIT (LEFT TO RIGHT): BAPE, NOWHERE HARAJUKU, UNDERCOVER
Fast forward to the present and we're constantly seeing Japanese fashion being seamlessly integrated into western culture. Take a look at multi-brand retailers across Europe and the UK and you'll most likely find brands like Needles, Kapital and COMME des GARÇONS being scattered around the 'new arrivals' and 'most popular' sections.
But why is that? Why is Japanese fashion so quiet yet constantly relevant? The answer to that is simple: diversity and intricacy.
In almost all genres and aesthetics of fashion, there is always a Japanese brand that is either making waves within that style or is already solidified as a cult favourite. Take the ever-so-popular 'Gorpcore' trend, for instance, that was headlined mostly by Arc'teryx and Salomon. Yet look beyond those two brands and you'll stumble upon And Wander – who even collaborated with Salomon – and are an outfit who arguably make more aesthetically interesting pieces than the Canadian outdoors label through elevated material selection, piping detailing and cuts. Another example is the 'Blokecore' trend that, on the surface, seems to only be made up of Adidas track jackets and Sambas but, look for other alternatives and you'll come across Needles' Poly Track line that adds another two stripes to the side taping as well as Onitsuka Tiger's Mexico 66 sneaker, a shoe that has been dubbed as the successor to the Samba.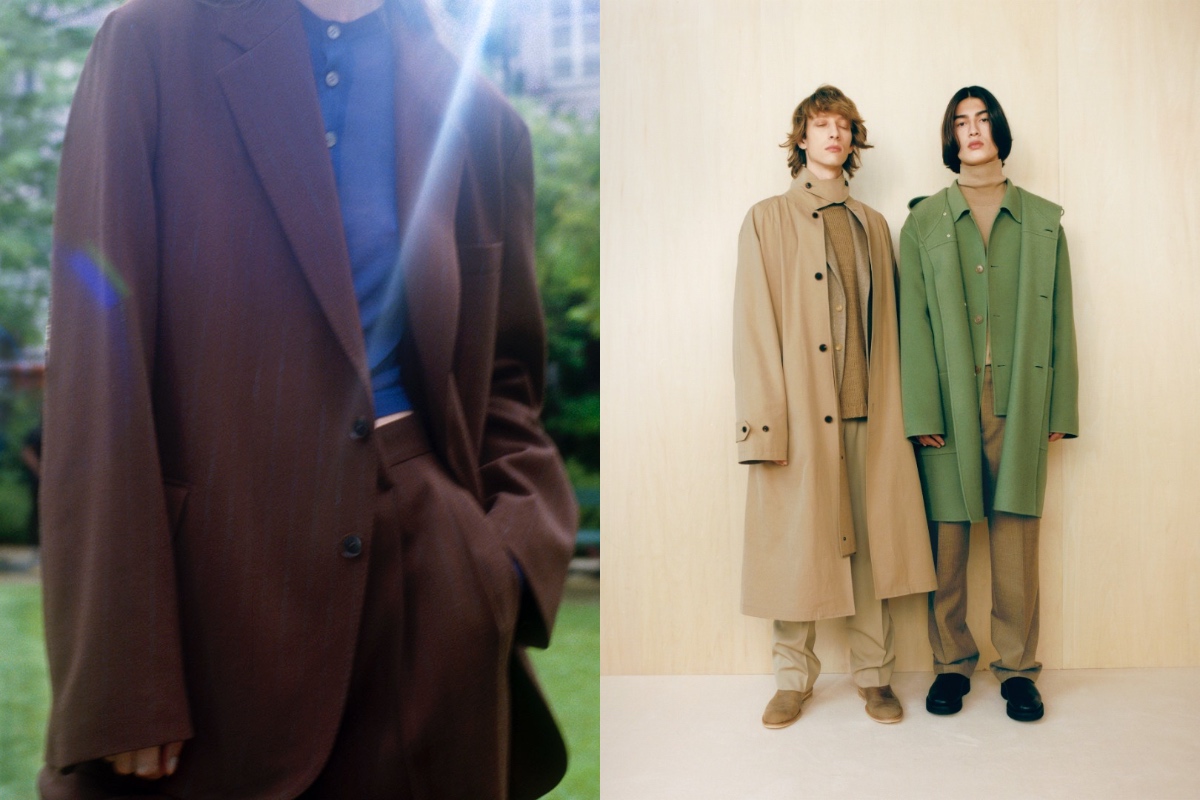 Beyond the wide array of styles that Japanese fashion operates in, Japanese designers also have a knack for focusing on the intricate details that create irregularity in regular clothing. This can be found on both ends of the spectrum, whether it be on the high, commercial end or the low, obscure side of things. A brand that fits the former's description is Auralee, founded by Ryota Iwai in 2015, who creates inoffensive clothing of the highest quality with the purpose of fitting into a modular wardrobe. On the surface, the clothes look mundane and the designs are not reflective of the high price tag it demands, yet hold the pieces in hand and you'll start to discover the endless amount of care that is put into each garment, from an overcoat to a t-shirt. Fabrics are impeccably sourced and treated by unorthodox vintage machines, whilst every stitch is visibly calculated with purpose to create apparel that will surely be worn with love and elegance.
These minor design details are also present within the lesser-known labels from Japan, such as Vuja Dé Studio by Ken Ijima, a brand that explores the dichotomy between streetwear and luxury to find the grey area of experimentation. The result is clothing that elevates casual silhouettes with luxury details and materials found in high fashion labels. Concepts are also rich in thought, with their latest "Postdecayism" collection centred around the idea of decomposition through the treatment of fabric, hardware, shape and colour to bring forth the appreciation of time and maturation – in-line with their brand ideology of wabi-sabi.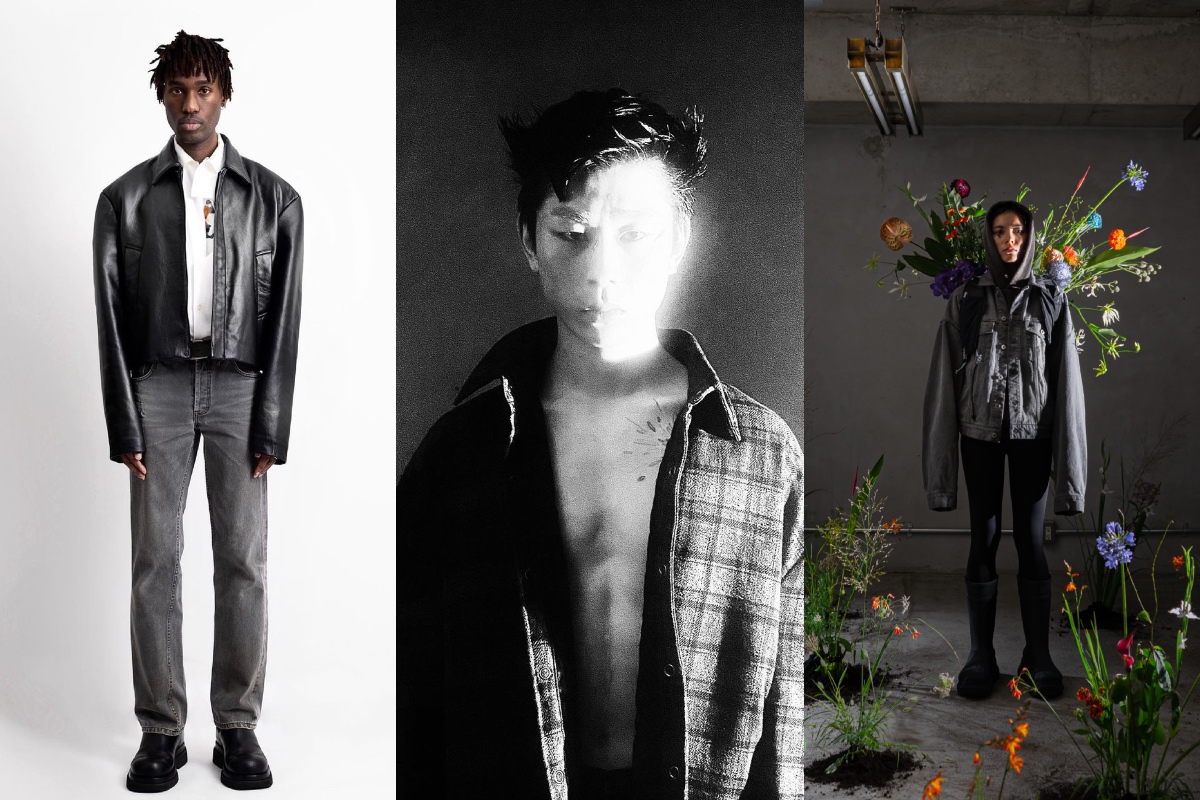 PHOTO CREDIT: VUJA DÉ STUDIO
Disruption and chaos are two words that sum up Japanese fashion pretty well. Designers aren't fixated on flattering the wearer's body and instead see the body as a canvas for creation, disrupting beauty standards in fashion and creating wearable art that straddles the line between avant-garde and minimalism. The importance on fabrication, silhouette and storytelling are taken to another level so buyers can feel a real connection with the clothing they hold, almost like having a conversation with the designer on why everything is the way it is when giving garments a closer inspection. The world of Japanese fashion is broad and, at times, can seem overwhelming or intimidating but give your mind a chance to slip into this vast wormhole and you will, without a doubt, find a deep appreciation for the calculated mayhem that this rich country's design has to offer.