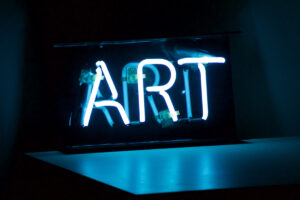 What do celebrities do with all their money? Well, it is perhaps good to know that they do not just spend it on things like mansions, yachts, and magnums of champagne. 
Many celebs appreciate art and culture, and there are lots of well-known famous people who regularly purchase artworks by leading and emerging artists. Of course, big names have the big money to spend on great artwork. Some works of art are bought by celebs for millions while others sell the works they have acquired for millions! Let us take a look at some of the most notable art acquisitions by celebrities over the last decade. 
Leonardo DiCaprio
In 2014, Leonardo DiCaprio paid almost $ 1 million (USD) for a 1973 painting by the American artist Frank Stella, who specialises in post-painterly abstraction and minimalism. DiCaprio owns a lot of other artworks by famous names, including works by Ed Ruscha, Mark Ryden, Todd Schorr, Takashi Murakami, and Jean-Michel Basquiat. And the actor regularly attends art openings and auctions, so he undoubtedly has an impressive art collection and he continues to add to it. 
While you may not be able to afford a million dollars for a work of art yourself, you can find a wide selection of original artwork by emerging artists at Singulart, including abstracts, landscapes, street art, portraits, and much more.
Neil Patrick Harris and David Burtka
Two other actors who have been purchasing artwork for some time are Neil Patrick Harris and his partner David Burtka. In 2014, the married couple bought a beautiful oil painting titled Venus Anadyomeme by the renowned American artist Kehinde Wiley. The couple also has a collection of art that includes works by Ed Ruscha, Ahmed Alsoudani, Andrew Sendor, Darina Karpov, and Tony Payne. The Venus Anadyomene painting currently hangs in Neil Patrick Harris and David Burtka's living room at their townhouse in Harlem.
Beyoncé and Jay Z
Beyoncé and Jay Z are another celebrity couple who have a large collection of art. One of their most notable acquisitions was the purchase of a work by Samuel Levi Jones, whose paintings and assemblage art are centred on African-American history and identity. The work was bought at the Wearable Art Gala's auction in 2018 for $10,000 (USD). In fact, their daughter Blue Ivy, who was six years old at the time, was allowed to place the winning bid! Beyoncé is a big fan of artists like Donald Judd, Tracey Emin, and Kara Walker. She also champions new and emerging artists. 
Meanwhile, Jay Z has a wide-ranging taste in artists, from Rembrandt and Michelangelo to George Condo and Jeff Koons. Indeed, in 2017, Jay Z honoured Koons by using a Koons-style giant dog balloon as a set piece. Jay Z also owns a canvas laden with butterflies called Beat Life, Cheat Death by the Young British Artist Damien Hirst.
Sofia Coppola
The Oscar-winning director Sofia Coppola is another celebrity who has acquired numerous artworks over the years. One of her most notable acquisitions over the last decade was her purchase, in 2014, of a photograph by the American fashion photographer Bob Richardson, which features a tearful model on a beach. Other works of art in Coppola's collection include works by Risaku Suzuki, Elizabeth Peyton, Larry Sultan, Hugo Marki, Juergen Teller, Anne-Laure Sacriste and Helmut Newton.
David and Victoria Beckham
The Beckhams have bought lots of works of art over the last decade. In fact, their collection is estimated to be worth well over £33 million (GBP). Victoria Beckham's most famous purchase from the last decade occurred at London's famous White Cube Gallery. She spotted Tracey Emin's neon heart-shaped artwork titled For You and decided there and then to buy it for her husband David. Other artists in the Beckhams' collection include works by Sam Taylor Wood, Damien Hirst, and Banksy, so they are obviously fans of modern British art.
P Diddy
Grammy-award-winning rapper P Diddy, whose real name is Sean Combs, bought a painting by Kerry James Marshall, titled Past Times, at Sotheby's in 2018. He paid a whopping $21.1 million (USD), which was the highest price ever paid for a work by Marshall. P Diddy is also a fan of other artists like Julieta Aranda and Rubén Ortiz-Torres.
Oprah Winfrey
Let us end with a well-known celebrity art collector who sold one of her works. In 2016, Oprah Winfrey made a huge $62 million (USD) profit when she sold a full-length portrait by the Austrian symbolist painter Gustav Klimt. The work sold for $150 million (USD). At her home, Winfrey has a large collection of artworks, including works by Gaston Lachaise, Harry Roseland and Thomas Hart Benton. And at her farmhouse in Indiana, she has a portrait by Harry Roseland titled To The Highest Bidder, which shows a female slave being sold at auction.