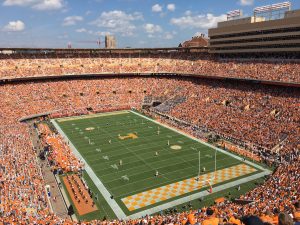 The Premier League is among the most watched and supported football leagues worldwide. The league is characterized by high-paced action and world-class players that have resulted in an international fanbase. Fans have different ways in which they immerse themselves in this football league.
One of the ways of immersing yourself is dressing up to show team loyalty on matchdays. For bettors, Premier League top 4 odds can add more excitement and engagement with the league. This article will focus on how fans can dress up on matchdays to support their teams.
Team Colors and Jerseys
The primary way to represent your team on the matchday is by wearing the team's colors and jersey. These jerseys are designed to show support and loyalty. Consider tucking the jersey into a pair of well-fitted jeans or shorts to look fashionable. You can layer it with a stylish jacket or windbreaker for a more casual yet put-together look.
Scarves and hats with your team's colors can add a layer of team spirit to your outfit. Wrap the scarf around your neck or drape it over your shoulders. These accessories also help you to stay stylish during colder matchdays.
Many fans opt for customized jerseys with their favorite player's name and number. That can be a stylish choice – especially if you're an avid supporter of a specific player. Pair the customized jersey with neutral-colored bottoms for a balanced look.
Dressing for the Weather
Dressing appropriately for the weather keeps you comfortable while keeping you stylish. If you're attending a match on a sunny day, wear sunscreen, sunglasses and a hat to protect yourself from the sun's rays. Opt for breathable, light clothing like a team jersey, shorts and comfortable sneakers. Remember to bring a water bottle to stay hydrated.
For matches on rainy days, a waterproof jacket or coat is a must. Pair it with waterproof boots or sneakers and a hat with a brim to keep the rain off your face. Team-themed umbrellas can add a stylish touch to your ensemble while
keeping you dry.
When attending a match in colder weather, put on a thermal base layer to keep warm, then add a warm jacket. Team beanies can display your support and keep you cozy. Wear gloves to keep your hands warm and comfortable footwear to ensure your feet stay dry and warm.
Footwear and Accessories
Comfort is essential when it comes to footwear. Sneakers or athletic shoes are famous for matchday fashion as they support walking and standing during the game. Make sure shoes are clean and well-maintained. Team-branded sneakers or custom shoe designs can also be fun to showcase the team's loyalty.
Socks are an often-overlooked but significant part of the matchday outfit. Wearing socks with the team's crest can add a subtle yet practical touch to the overall look. Remember to choose comfortable socks to keep your feet cozy during the game. Consider a small crossbody bag or a backpack to carry essentials like a ticket, phone, wallet and any extra clothing layers.
Opt for bags with the team's logo or colors to complete your look and ensure they adhere to the stadium's bags policy. While keeping your style in line with your team is essential, remember that less is more when it comes to jewelry. A watch with a team's logo or colors can be a subtle and stylish accessory. Avoid wearing excessive jewelry that may cause unnecessary distractions.
In summary, dressing up for a match shows support for your favorite team and expresses your style and personality. Fashion choices can make you stand out in the crowd and connect with fellow supporters. By following these guidelines, you can create a memorable experience.