Started from Givenchy now we are here; the high-street is taking the stripes trend in a big way this summer.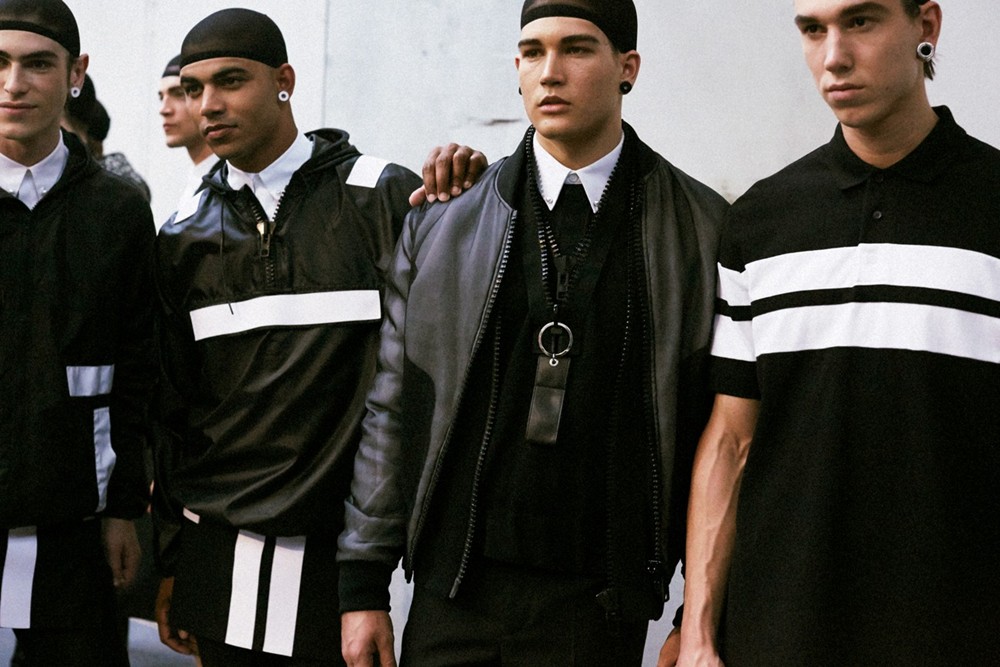 Being one of the easiest patterns to pull of and entwine across a range of looks, the timeless stripe motif is right here and now. No longer conservative in its look, this season the stripe opens up an array of new options to the traditional aesthetic.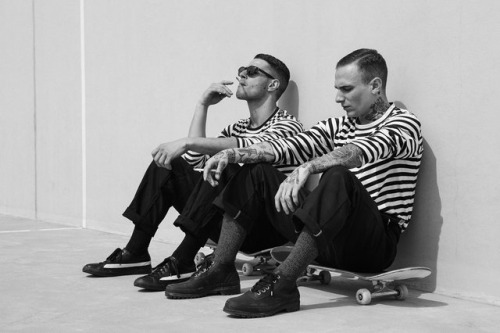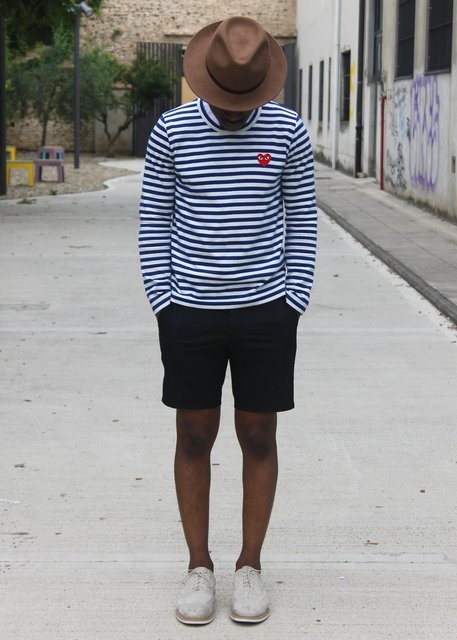 Here at PAUSE we are here to tell you how you can earn your stripes ahead of the biggest trend of SS15.
It's time to broaden your horizons when it comes to your stripes. As this season there is simply no stopping the stripe, as they can be carried in any style, shape and pattern etched on any aesthetic- they're no longer restricted to the traditional nautical striped tee that emerges each summer.
Big, bold stripe motifs reign true this season. Courtesy of their baptism through high-end fashion shows, from Dior offering a distinct contemporary take on the fisherman's traditional yellow slicker, to Paul Smith taking on multi-coloured horizontal, vertical and zigzag stripes that adopted the brands signature colour cues, the stripe is versatile.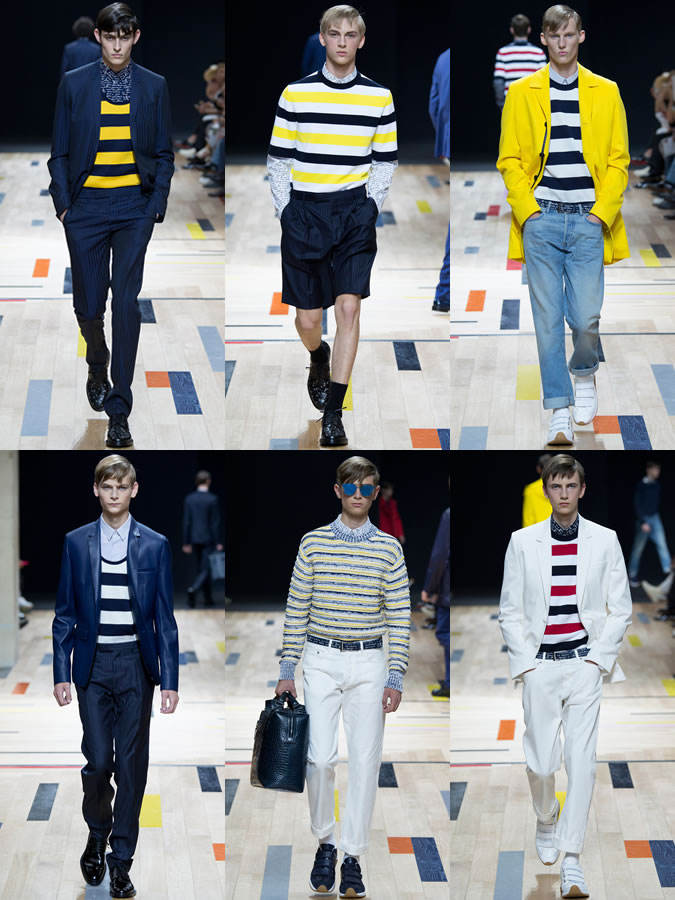 Switch up your usual style, favouring a colour block or thick stripe to make your statement. Seemingly, as summer is upon us, thick pastel block stripes are a staple- and easy to incorporate- with the high-street adopting colour block stripes in a big way. Don't think conventional though, the stripe is no longer a horizontal affair, the strongest looks entwine vertical and diagonal designs that allow you to make a statement with your stripe.
Alternative stripes, taking on different sizes, angles and colours, can be the easiest pattern to pull off. Easily incorporated in to smart or casual attire, the alternative stripe design makes the statement and can be effortlessly achieved, just remember to pair back the stripe with simple, block colouring.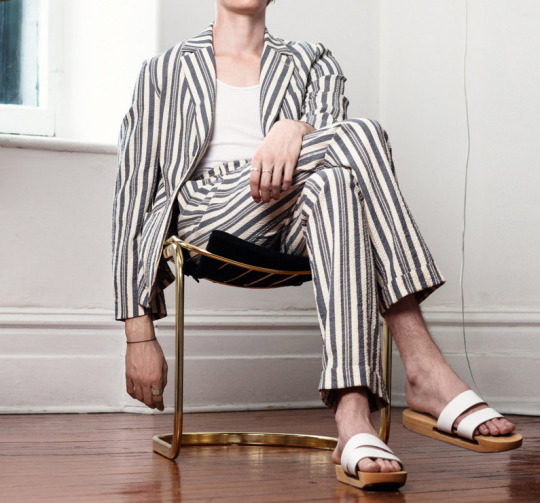 When adopting an alternative stripe upper, match up the pattern with simple, one-colour pieces- such as an all-black jean and accessories if the alternative stripe is a simplistic blue/black colourtone- or for a bold stripe match up with a white trouser and sneaker for a casually refined look. Stripping down your style allows your stripe to take centre stage for a fresh, summer loving look.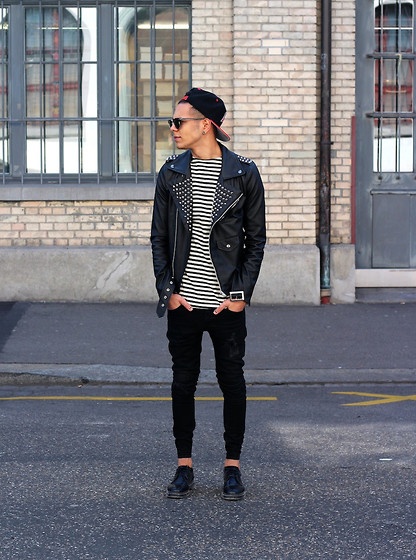 Look beyond a tee too. Although a simple, stripe tee is a timeless aesthetic for the warmer months, the stripe is too versatile to be restrained to just tees- check out striped shorts, jumpers, hats, and our favourites, trousers for a more unique uptake on the trend.
The striped trouser is a big trend this season. When paired up with uncomplicated, one-tone aesthetics, a streamlined striped trouser adorns the attention. But to pay the ultimate homage to the stripe, the head-to-toe look is the only way. The easiest way to pull off this look is via a full suit with a strong stripe, creating a sleek, long-line silhouette ideal for wear under the summer sun.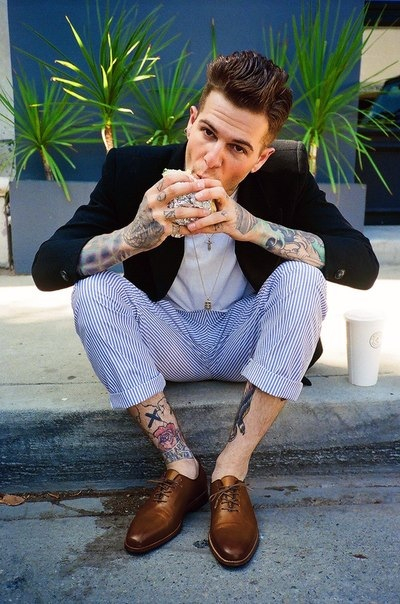 Alternatively, combining mismatched stripe separates; a diagonal stripe tee with vertical stripe trousers and a clean-lined sneaker for a refined finish adds another urban inspired twist to the all-over stripe. Keep all accessories simple and one-coloured when going head-to-toe is a must, as  a clean, well thought out finish to the outfit is essential to avoid an undesired level of eccentricity.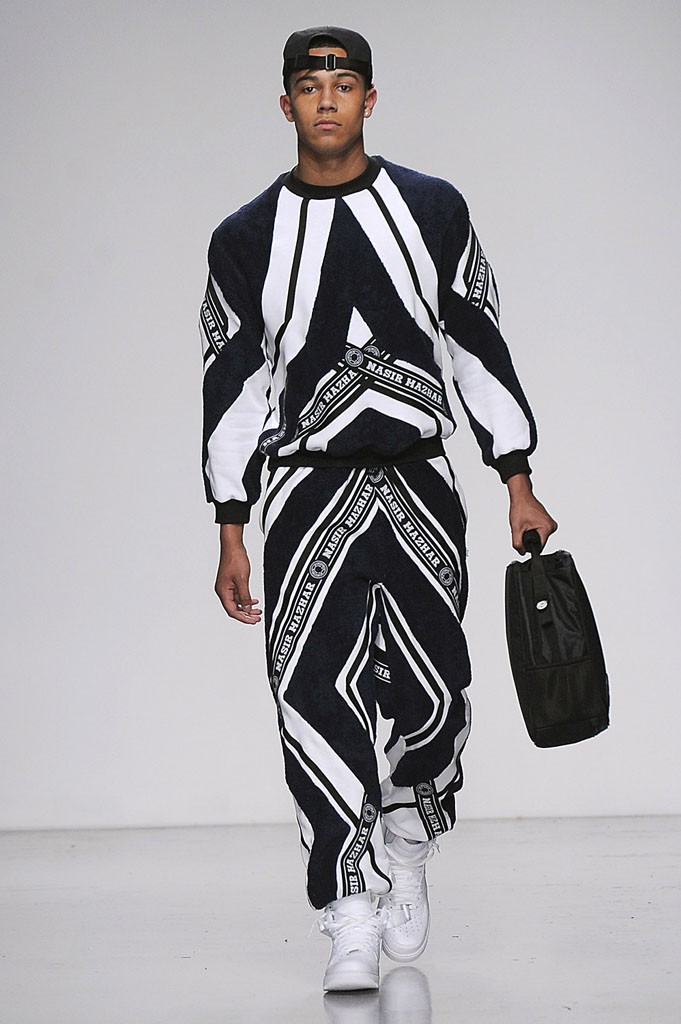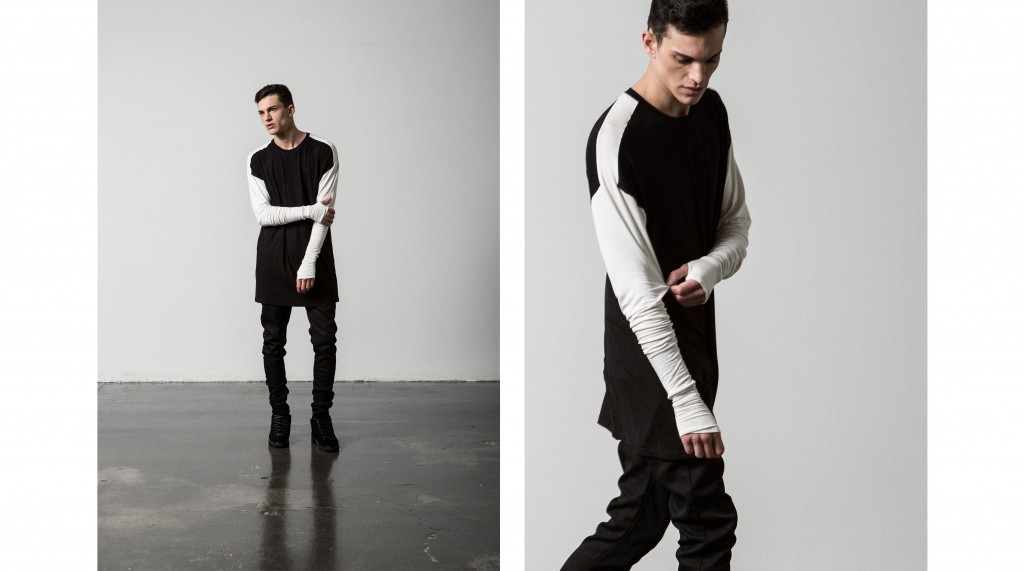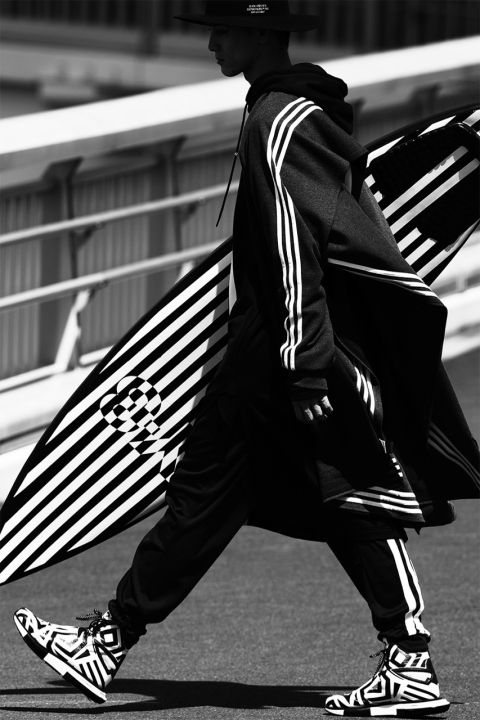 Switching up the silhouettes of your outfit to allow the stripe to take on a new appearance is another way to reincarnate the stripe. Remaining strong from last year, oversized or long line tee's and sweats will give the stripe an extra special feel, or for a more refined look,  pair up a striped blazer or jumper to take on a formal edge to the traditional stripe. Even the biggest statement block stripe can be refined- don't be afraid to think big.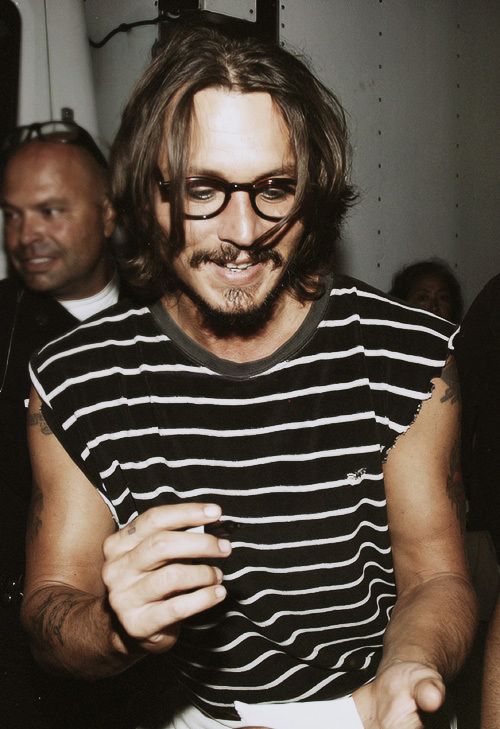 Striped separates, whether bold or subtle, offer up an effortless style that is a sure found way to stand out this season.  The striped blazer is our summer staple; team with a clean, white shirt, slim-line trouser and a pair of loafers or sneaks for a smart meets casual twist.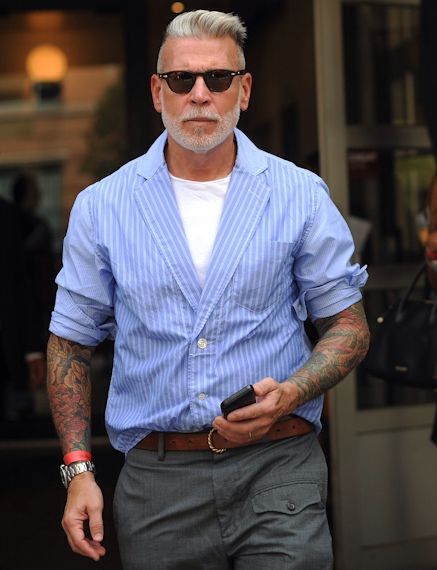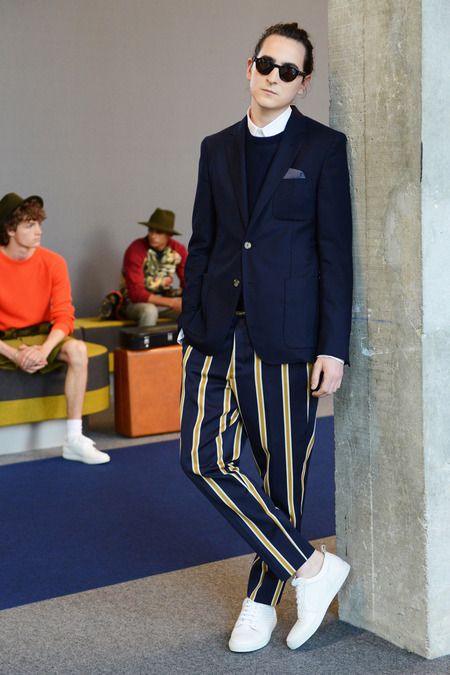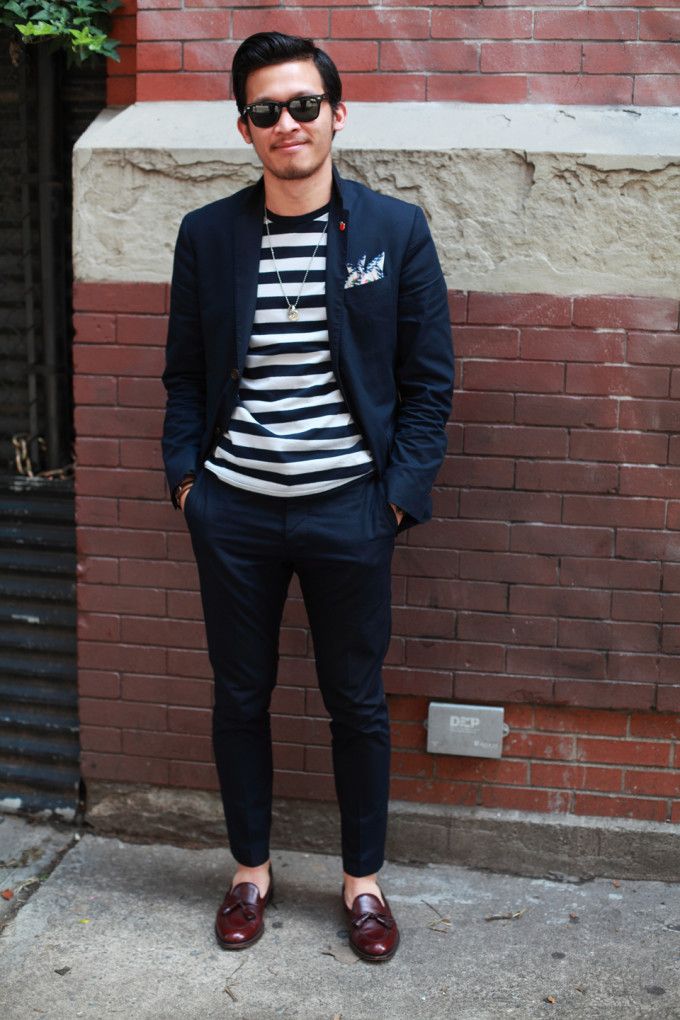 Extremely versatile and easily adaptable in to any outfit, ensure you turn up the biggest summer staple this year; think stripe.
Shop stripes items below:

When styling your stripes get 15% off at New Balance, Choices, Fly53 and 50% off at Intro Clothing – visit VoucherBin UK for discount codes when shopping. Shopping for stripes is easy, but dressing the pattern with the right essentials comes with the correct shopping tools. PAUSE advice: keep it all the way simple.