Fur coats are for men ready to lead the fashion pack!
Either following on the leads of the shearling coats as another animalistic trend or possibly inspired by the soaring popularity of Game of Thrones, the fur coat trend is ubiquitous at the moment. We at PAUSE can't quite pin point why this is, but who cares when the trend looks so great and makes you feel so incredible!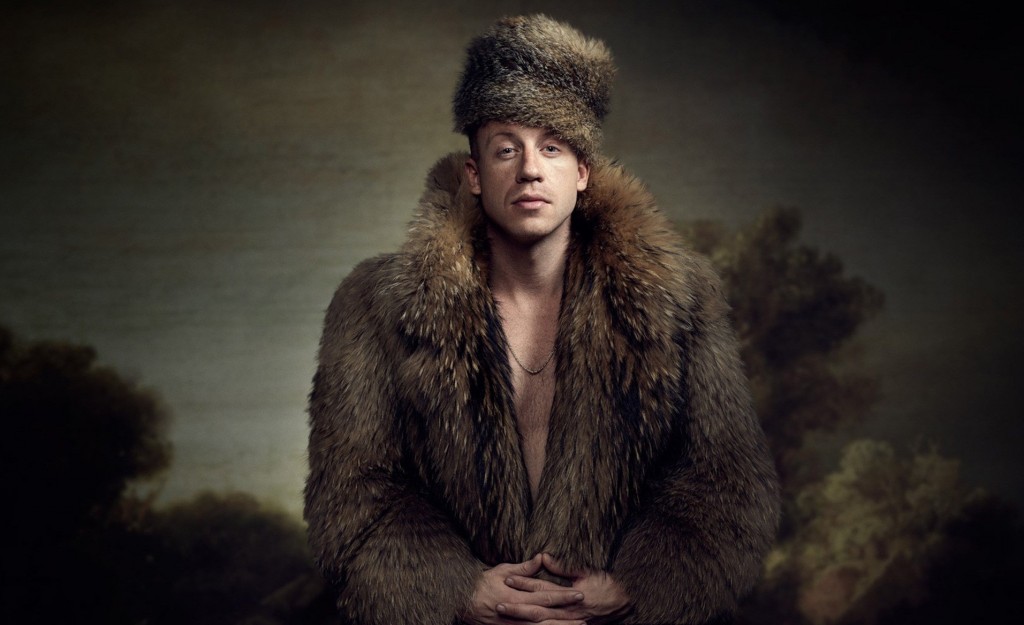 Warm, soft to the touch, comfortable and extremely luxurious, fur coats serve as the perfect companion in the colder months. However, despite so many stylish and practical advantages, the history of menswear and fur coats can really be defined solely by the impossibly wealthy of the 80s and by brief cameo among the hip hop scene of the 90s. Besides those two stints, the fur coats have been surprisingly absent from the men's fashion horizon for a very long time. Why is that? Perhaps it's all the negative connotations that cast a shadow on their reputation: the slathering of animals just for their fur; potential association with classist bourgeoisie; or plainly the sky-high costs, often to the point of insanity. Another possible factor might be the fur coats' popularity among the fairer sex, resulting in men being afraid to give it a go.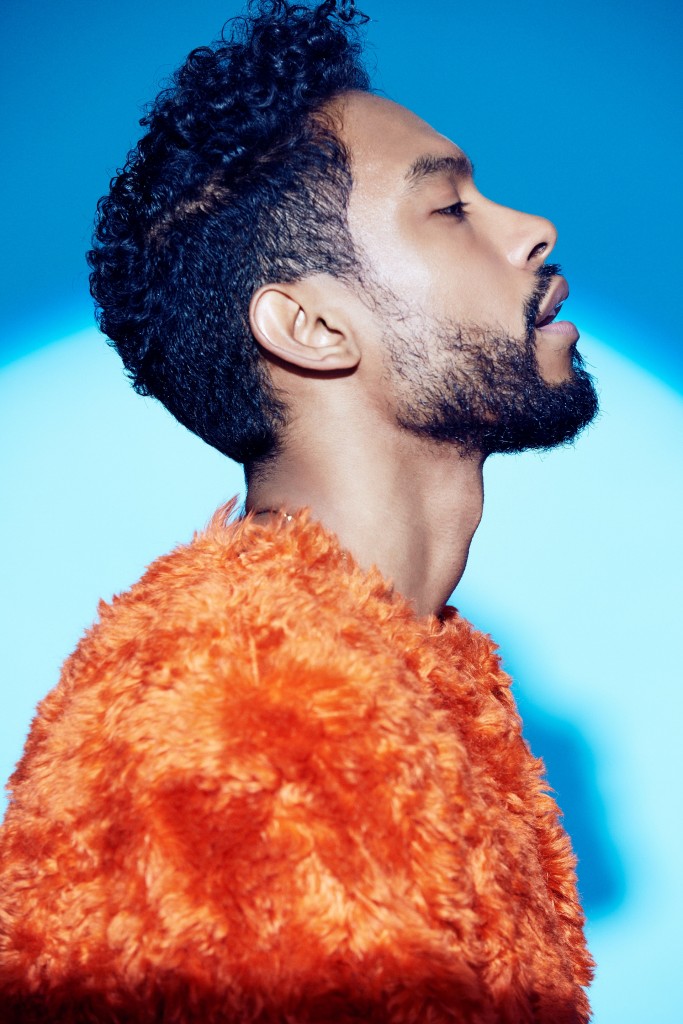 However, over the years, the fur coat trend has vastly evolved and transitioned from pompous caricatures to style aspirations. Especially recently the relationship between men and fur coats has taken a new turn. The modern fur coats are made from the synthetic materials (the cute and fuzzy are spared), the aesthetic is more masculine and tough, they're cheaper without compromising quality making them more chic and cool than ever before.
Head over to ASOS to have a look for yourself: their latest Faux Fur Overcoat makes you look like a million bucks with its rugged, slightly disheveled appeal, all at the reasonable price of £125 and without any animals suffering in the process.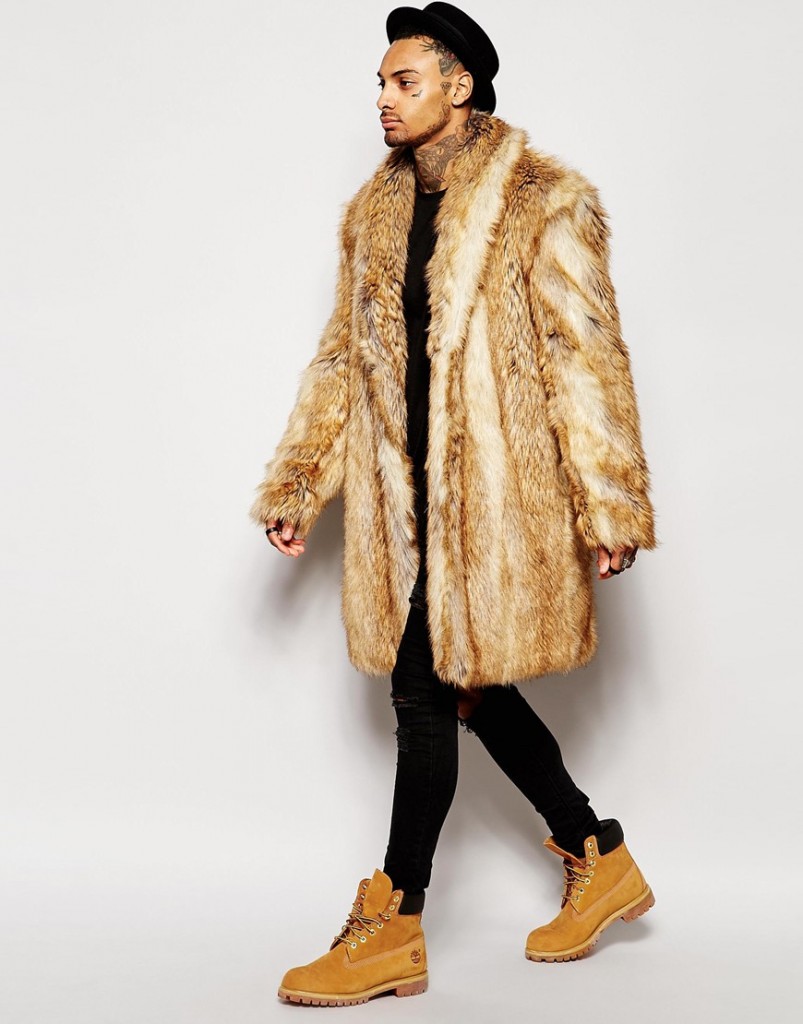 ASOS Faux Fur Coat – Click here to buy.
Then, of course its fur all over the runways. You can't talk fur coats without mentioning Fendi's A/W14 showcase which consisted of a runway carpeted entirely with Kidassia goat fur and thus compelling Shortlist magazine to call it "a hairy-luxe platform". The show went on to consist of a concoction of new experimental designs centered on fur; short hair fur bomber jackets, cropped black fur waistcoats and knitted sweaters with patches of different shades and types of fur. Kanye West, who is famous for rocking his fur coat on number of occasions, also included the fluffy number in his Yeezy collections, in the pitch-black minimalistic design paired with military-inspired trousers.
You might justifyingly think: "This is all well and good, but how the heck do I wear it!?" First of all, keep to the rule of heavy on top light beneath so T-shirt, slim fit trousers and a chunky pair of Chelsea boots, brogues or Dr Martens would look great. Nevertheless, wearing a heavy, long fur coat can be quite taxing on a daily bases, so a lighter version such as a parka with fur lapels and lining or a bomber jacket with fur paneling can be more suitable. Overall the fur coat trend, which was once a mere fashion spark, recently has been ignited with new ideas and inspiration, ensuring it will more than likely to continue to burn on in the coming winter months to keep us all stylish and warm.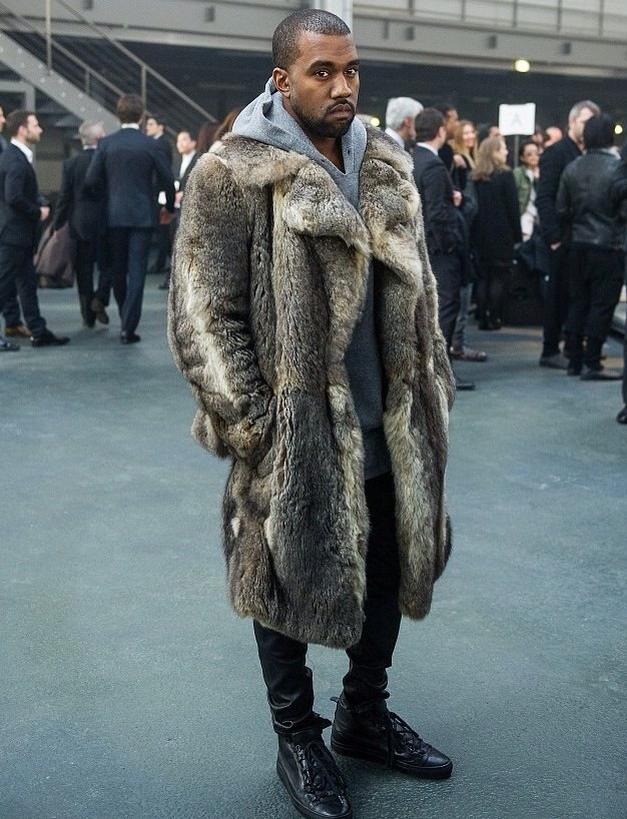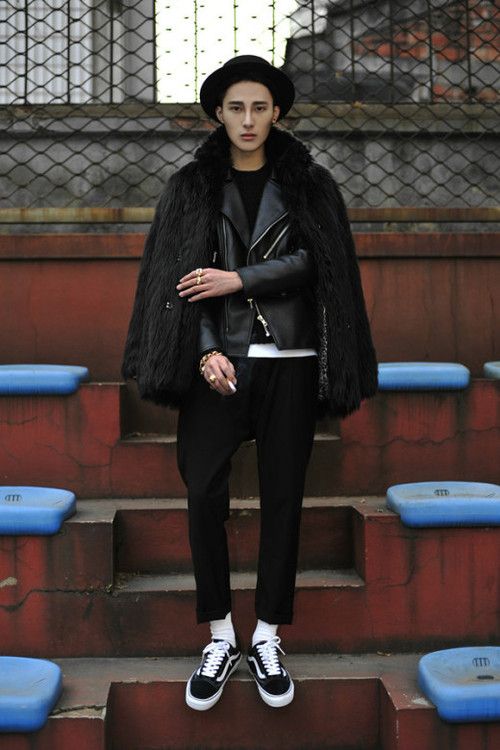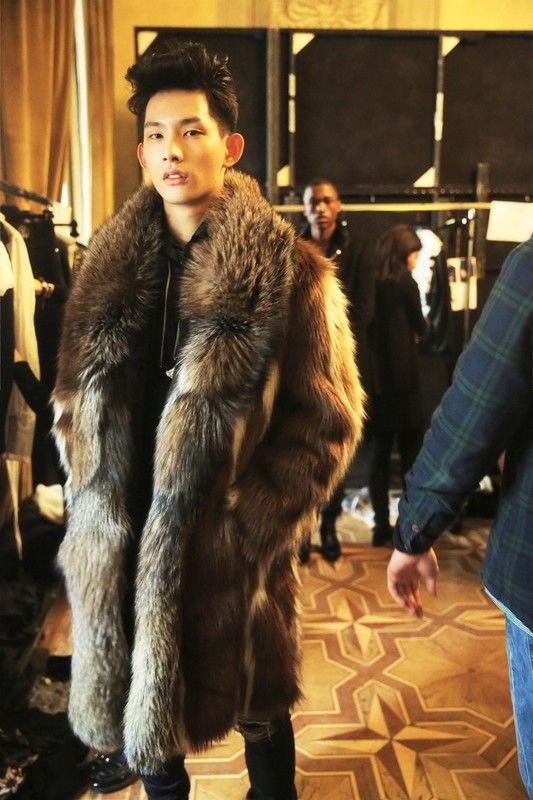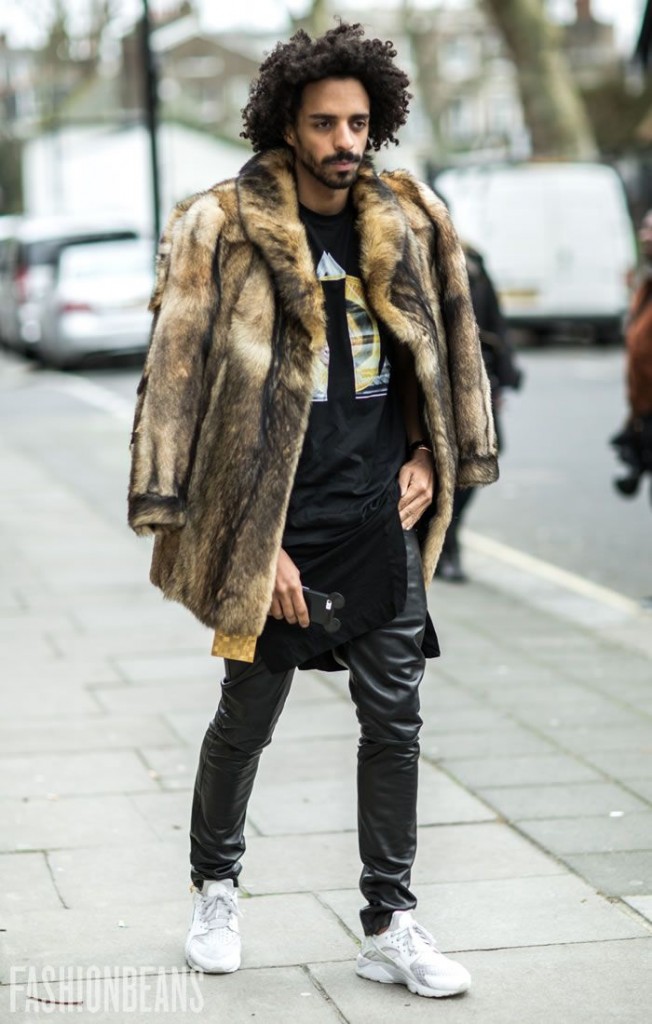 So what do you think? Can men wear fur coats? Vote below:

Loading ...
Shop the latest fur styles below: