25th Day Of Christmas
Creative Direction and Styling: Samantha Ria // @SamanthaRia
Photographer: Benjamin Glean // @benjamingleanphotography
Assistant Stylist: Rhys Marcus Jay // @rhysmarcusjay
Hair and Makeup: Jaysam and Michael @ Jam Deluxe // @jam_deluxe
Fashion Assistants: Bernice, Emma and Albert
Models:  Aaron and Derrick @ AMCK Models, Kelvin and James @ Select Model Management //
@indigoochild @derrickappiah @kelvinkinderbueno @j_magz
It's Christmas!
Hat and jumpers – All BoohooMAN
25th Day Of Christmas
Creative Direction and Styling: Samantha Ria // @SamanthaRia
Photographer: Benjamin Glean // @benjamingleanphotography
Assistant Stylist: Rhys Marcus Jay // @rhysmarcusjay
Hair and Makeup: Jaysam and Michael @ Jam Deluxe // @jam_deluxe
Fashion Assistants: Bernice, Emma and Albert
Models:  Aaron and Derrick @ AMCK Models, Kelvin and James @ Select Model Management //
@indigoochild @derrickappiah @kelvinkinderbueno @j_magz
It's Christmas!
Hat and jumpers – All BoohooMAN

Yahoo! Style chose Tyga for his latest shoot.
The rapper hits the studio, posing in fashion, talking about his music and giving a lesson of style.
He is not reserved when he describes his music:
"Even though so many people are doing music, I still feel like what I do is not comparable. It can't be duplicated. When you start looking at all the other people, that's you losing your faith in what you're supposed to do."
As it happens with music, he knows that young people look at him to get inspiration for their outfits. This is why he says that style is all about the fit. If it not fits right, it is not for you. Do you agree?
But Tyga is not just that fancy rapper who wears fashionable clothes and hits music records, he is neither Kylie Jenner's ex boyfriend, and definitely he does not deserved to be remembered just for who he is dating. He is a workaholic and, as he raps on his 40 Mill, he doesn't want to be famous / he just wants to be rich, however "Fame is the devil".
"It's a gift and a curse," Tyga says about life in the limelight. "You can never really get used to people chasing you all day, but whether you're an actor, a rapper, or an athlete, that's the life you chose, you sacrifice your freedom."
For Tyga, it was a sacrifice he knew he wanted to make as early as 12, when he began honing his skills in the bedrock of hip-hop that is Compton. "I recorded all my songs in my room, made beats on my own laptop, and I just did freestyles and never really played it for anybody but me and my friends."
It was everything he wanted to do after school: not doing homework, not playing basketball, just recording his own music. He recalls handing out mixtapes in shopping malls and high school dances to whoever would listen. And it is thanks to this maniacal work and his fervent desire to make music that now he can say that he is sitting with the gods.
Photography by Eric Ray Davidson
Styling by Christopher Kim
Grooming by Hee Soo
The brand debut jewellery range.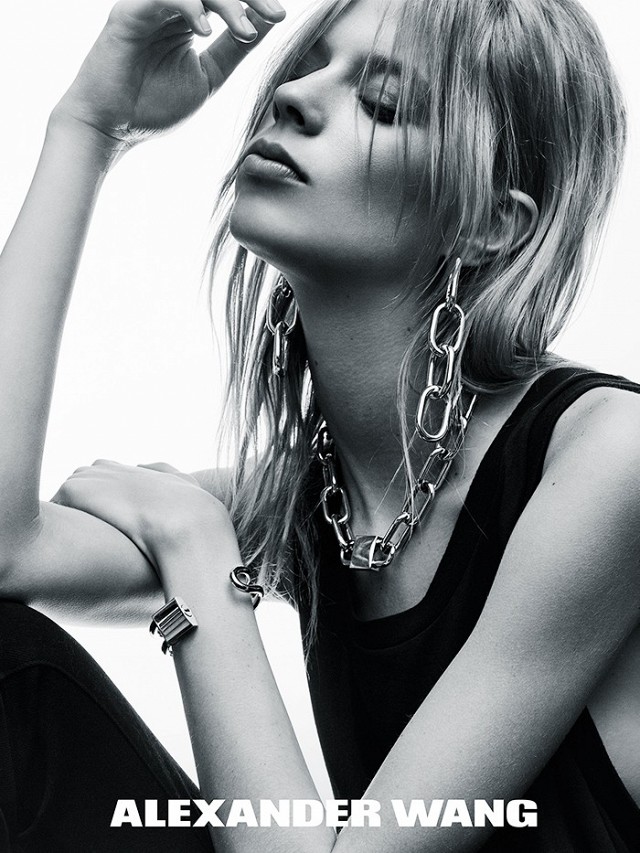 Despite his extremely success in apparel and accessories collections, Alexander Wang waited until now to start his travel into the world of jewellery.
His designs, which were preview at the designer's 2016 Spring/Summer show during New York Fashion Week, feature rose gold and rhodium four-link chain earrings, a lock hinge cuff bracelet and a double lock necklace. All made in Italy.
The outline reminds individuality, self-expressiveness, and immediacy. The inspiration for this pieces comes from industrial bike chains, this is why they are made from brass-plated palladium.
Whether you prefer the chain-link necklace and earrings or the industrial lock cuff, wearing any piece from this collection will certainly give you the ultimate cool factor.
The price are between $295 USD and $525 USD, while the entire range can be purchased from AlexanderWang.com now.