We may all be waiting to get our hands on Season 3, but at least you can start budgeting for number 4.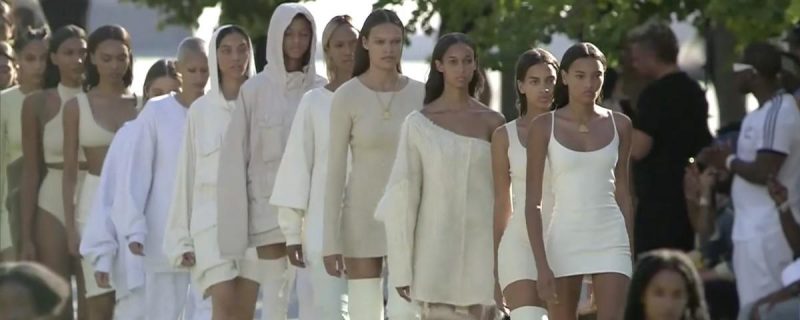 Preliminary prices for the latest Yeezy offerings are starting to hit the internet. Kanye debuted the collection earlier this month at New York Fashion Week and has subsequently opened a showroom space in Paris for international buyers to experience Season 4 first hand.
Will you be purchasing?
Yeezy Season 4 Men's Apparel and Footwear
MEN'S TOPS
Basic Tee — €225 EUR (approximately $253 USD)
Regular Tee — €175 EUR (approximately $196 USD)
Long Sleeve Tee — €225 EUR (approximately $253 USD)
Long Sleeve Tee With Pocket — €225 EUR (approximately $253 USD)
Mock Neck Tee — €250 EUR (approximately $280 USD)
Boxy Fit Hoodie — €295 EUR (approximately $353 USD)
Boxy Fit Zip Up Hoodie — €315 EUR (approximately $353 USD)
Boxy Crewneck — €270 EUR (approximately $302 USD)
Flannel Top — €650 EUR (approximately $728 USD)
MEN'S OUTERWEAR
Season 4 Bomber — €580 EUR (approximately $651 USD)
Short Jacket — €580 EUR (approximately $651 USD)
Long Shearling Jacket — €1, 610 EUR (approximately $1,805 USD)
Parka Pockets — €670 EUR (approximately $751 USD)
Puffer Jacket — €760 EUR (approximately $852 USD)
Puffer Jacket 2 — €850 EUR (approximately $953 USD)
Hooded Coach Jacket — €760 EUR (approximately $852 USD)
Short Shearling Jacket — €1,340 EUR (approximately $1,502 USD)
MEN'S PANTS
Sweatpant — €200 EUR (approximately $225 USD)
Paneled Sweatpant — €200 EUR (approximately $225 USD)
Shorts — €225 EUR (approximately $253 USD)
Sweatshort — €180 EUR (approximately $201 USD)
Paneled Sweatshort — €180 EUR (approximately $201 USD)
MEN'S FOOTWEAR
Mens Crepe Boot — €574.05 EUR (approximately $644 USD)
Mens Crepe Boot Oil — €574.05 EUR (approximately $644 USD)
Mens Combat Boot — €396.05 EUR (approximately $444 USD)
Mens Combat Boot Oil — €396.05 EUR (approximately $444 USD)