All eyes on you.
It seems like as soon as we enter December, everything we see or hear about is somehow Christmas-related. Christmas trips, chocolate, boxing day, parties. You name it. While the party season gets into full swing, we are pretty sure you have a lot on your plate already, like what gifts to get for your niece and the silly jumper day at work. You don't really have the time to think about what to wear for your next party. We get it. That's why we at PAUSE have made it easier for you, and put together 3 Christmas party outfits for your inspiration.
Killer Coat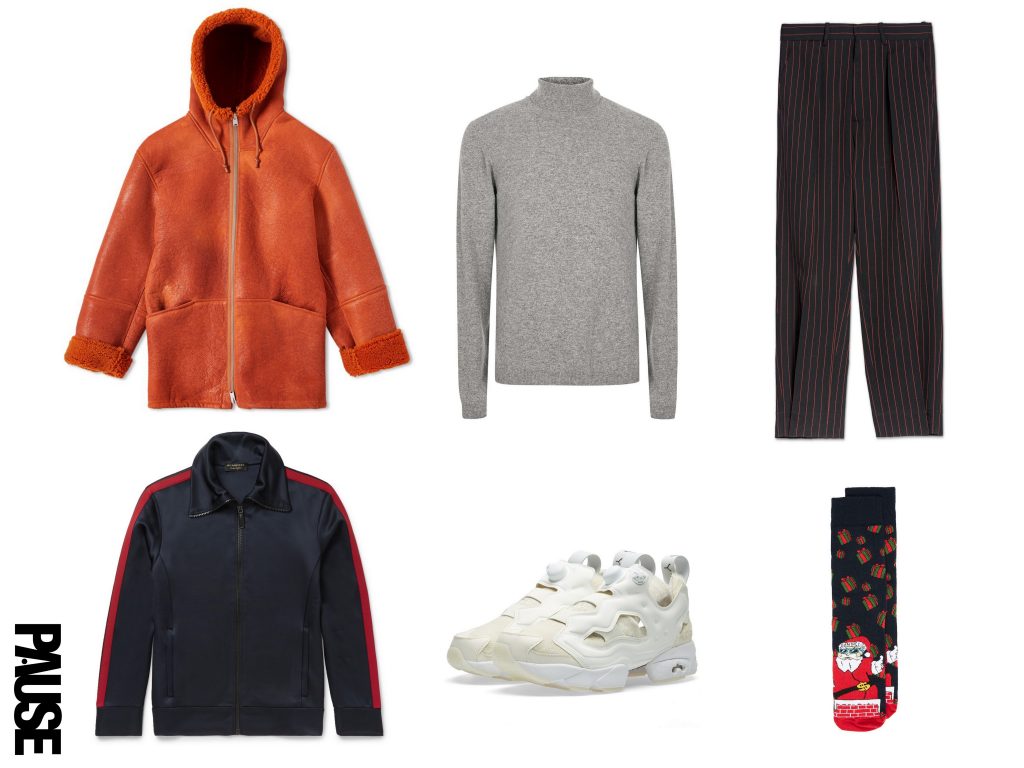 What better way to steal the light at a party than with a statement coat? This rust orange shearling coat has everything you need to create the wow factor, and pairing a pair of sleek white kicks definitely can add a bit of oomph to your look. We suggest wearing a pair of Christmas-themed socks so you don't look like you are trying too hard to be cool.
Shop the look below (clockwise from top left):
1. Yeezy Season 3 Hooded Shearling Coat, £1,459
2. Topman Premium Grey Roll Neck Jumper, £38
3. Marni Trousers in Pinstripe Wool Gabardine, £555
4. Topman Banta Claus Christmas Socks, £3
5. Reebok x Sneakerboy Instapump Fury, £179
6. Burberry Jersey Zip-up Sweatshirt, £395
Details Matter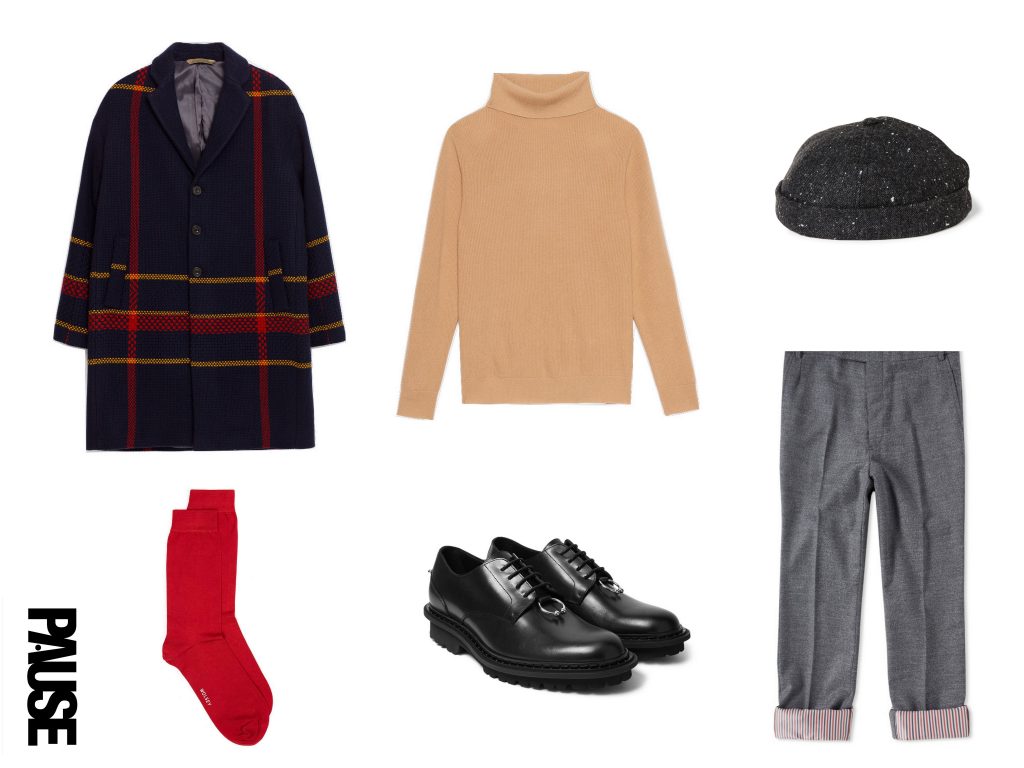 If you like to present yourself in a subtler way, you might want to deliberate on the details. These trousers from Thom Browne reveal the iconic stripes at the cuffed hems, injecting a hit of personality to your outfit. Continue playing with details with a pair of classic derby shoes with cool embellishments. Last but not least, a pair of vibrant red socks here will demonstrate your meticulous attention to details. Not only do they add a nice pop of colour, they also make sure you look like you are dressing the part – it's Christmas after all.
Shop the look below (clockwise from top left):
1. Zara Cashmere Wool Coat, £159
2. Sandro Soft Moon Sweater, £290
3. Weekday Done Hat, £17
4. Thom Browne Boucle Wool Trousers, £809
5. Neil Barrett Embellished Leather Derby Shoes, £375
6. Topman Wolsey Red Bamboo Socks, £5
Party Boots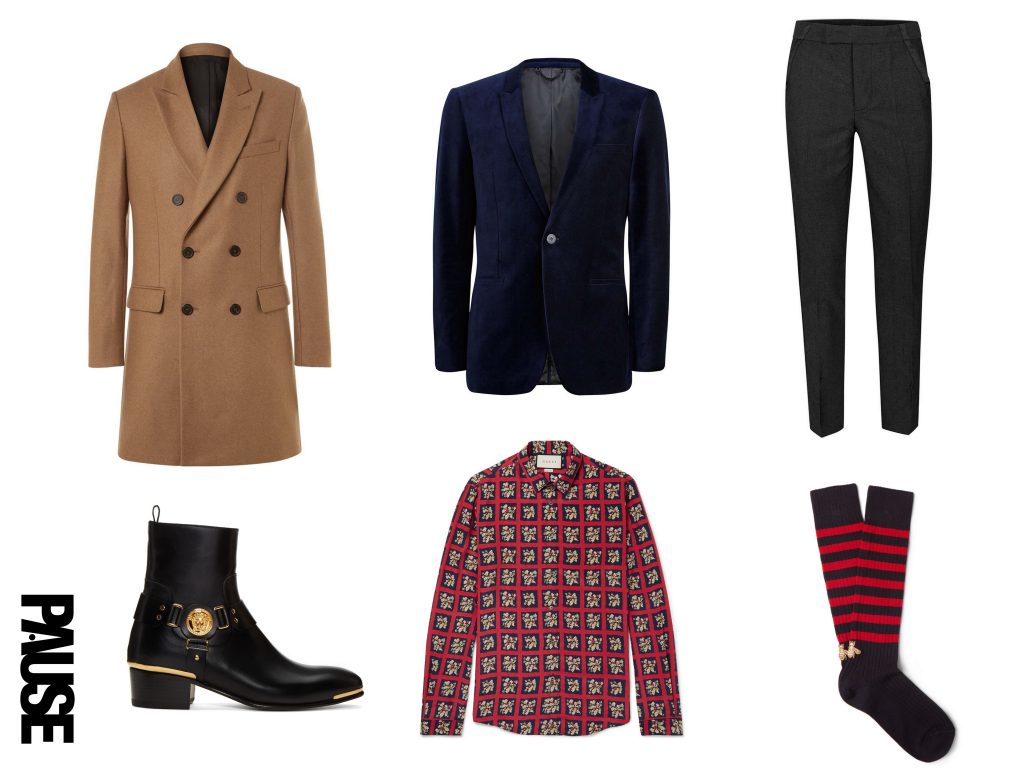 If you plan on dancing all night in your next big party, your look won't be complete without a show-stopping pair of boots. We have our eyes on this pair from Versace featuring signature gold-tone hardware and a sleek Cuban heel. To really make your ensemble stand out, channel yourself to the season's biggest trend with a velvet blazer.
Shop the look below (clockwise from top left):
1. Ami Slim-Fit Double-Breasted Wool-Blend Coat, £525
2. Topman Navy Velvet Skinny Fit Blazer, £90
3. Topman Rogues of London Black Textured Suit Trousers, £80
4. Gucci Embroidered Striped Stretch Cotton-Blend Socks, £125
5. Gucci Slim-Fit Floral-Print Checked Silk Shirt, £485
6. Versace Black Medusa Harness Boots, £870