Since turning pescatarian the biggest chore has been eating out and finding those healthy, yet tasty/unique dishes, that aren't 'fish and chips' or worse still.. 'tomato salad'!
I took the hit and tried and tested a fair few dishes to compile a brief guide that should cover most culinary palettes, and wallets!
Bo Drake – 6 Greek Street, Soho
Great atmosphere, particularly on a Friday night (very busy!).  They boast a strong bar, meaning you can go there for drinks to accompany your small plates.
What to order?:
Yellow tail sashimi – So fresh and full of flavour.  PAUSE recommends.
Spicy crispy squid.
Kimchi pancake – Edamame, Gochujang & Mozzarella (a bit like a pizza).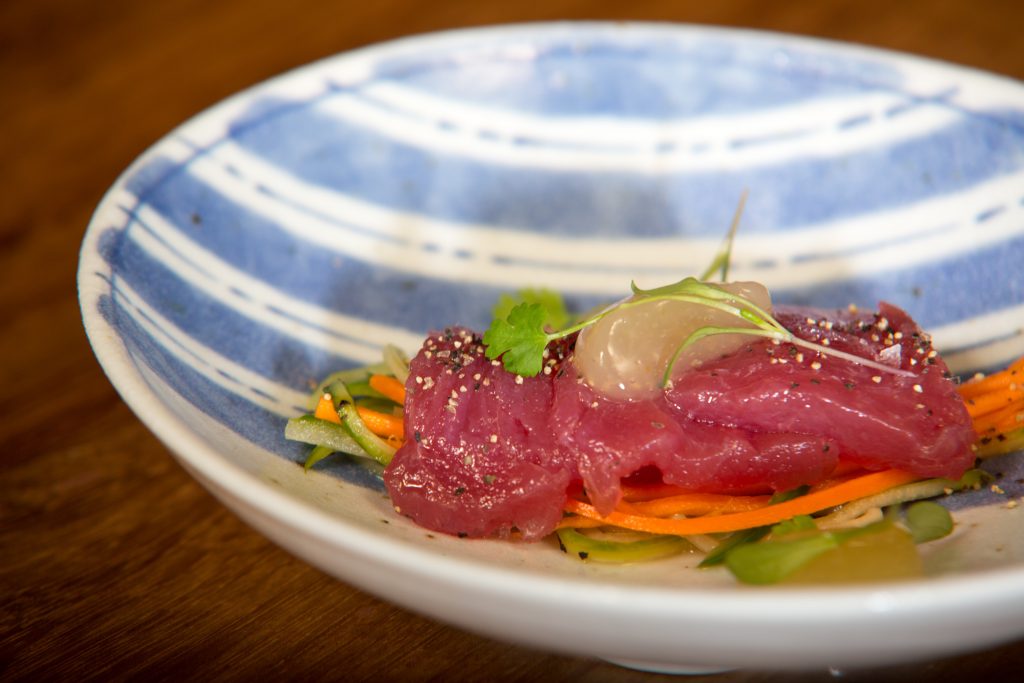 Farmstand – 42 Drury Lane, Covent Garden
At Farmstand you can go for a ready made box, or build your own.  Plus there is complimentary still or sparkling water on tap!  Great for lunches, or a light dinner.  Eat in, or grab a takeaway; whatever works best for you!
What to order?
Broccoli, Tahini & Sesame Seeds
Roasted Aubergine, Celery, Tomatoes & Olives – PAUSE recommends.
Roasted Sweet Potatoes, Ginger & Coconut Yoghurt
Las Iguanas – Spitalfields
Great spot to head to if you are planning on a few drinks too.  With happy hour all day every day, you can sample their huge cocktail list!  They have a separate veggie and vegan menu (yes!) so the choices are vast!  See the menu here.
What to order?:
Sweet plantain
Calamares
Dadinnos – crispy cheese cubes with chilli jam
Gambas – prawn in garlic, lemon, chilli sauce
Burrito – wheat tortilla stuffed with sweet potato, butternut squash & chickpea chilli, chipotle rice, refried beans, crunchy slaw & cheese, with salad, soured cream & garlicky chipotle sauce.
Churros – 3 churros with a chocolate ganache – Must have.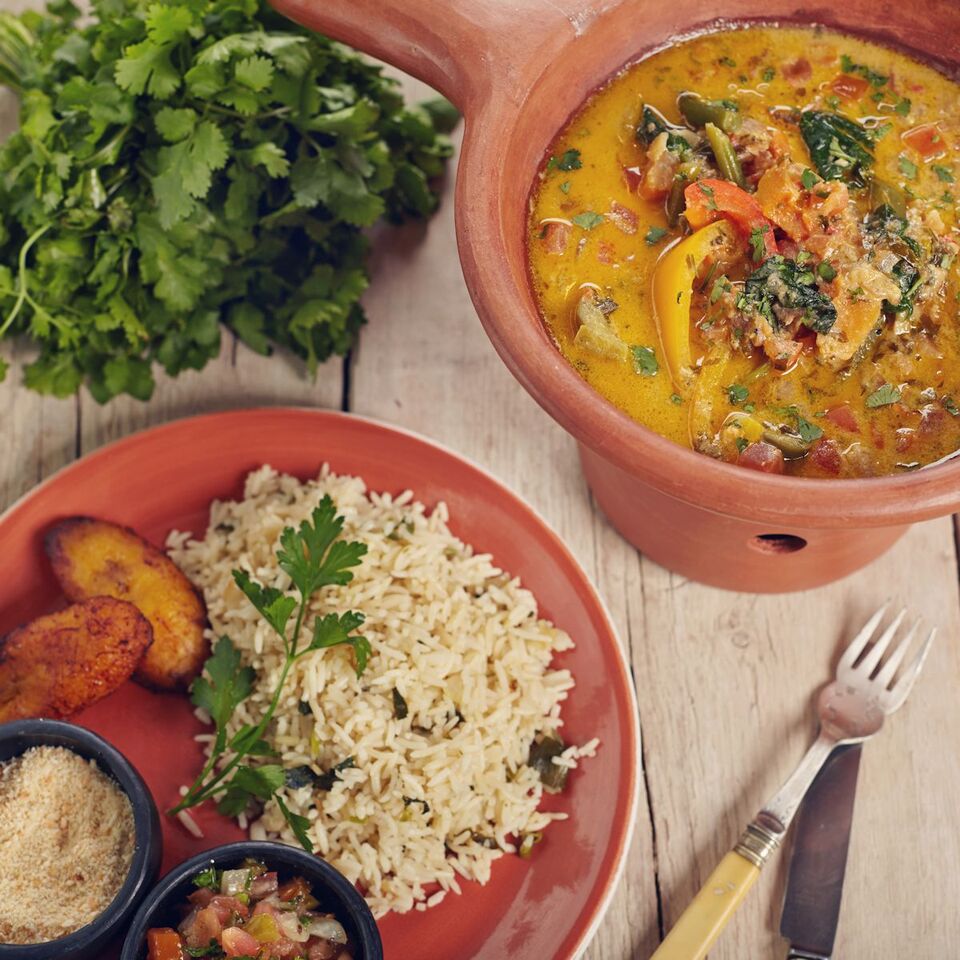 Kanada-Ya – 3 Panton Street, Soho
I had never tried ramen before, but I certainly am a convert following my meal at Kanada-Ya.  Surprisingly very filling; who would have thought noodle soup would be?!  Very tasty and full of flavour, as well as being pretty fast food, so no excuse for those with a busy schedule.
What to order?:
Vegetarian ramen – porcini-soy milk, secret sauce, asparagus – order noodles 'hard'
Truffle edamame
Sake onigiri – rice balls, fresh flake salmon
Soft serve matcha ice cream – must try!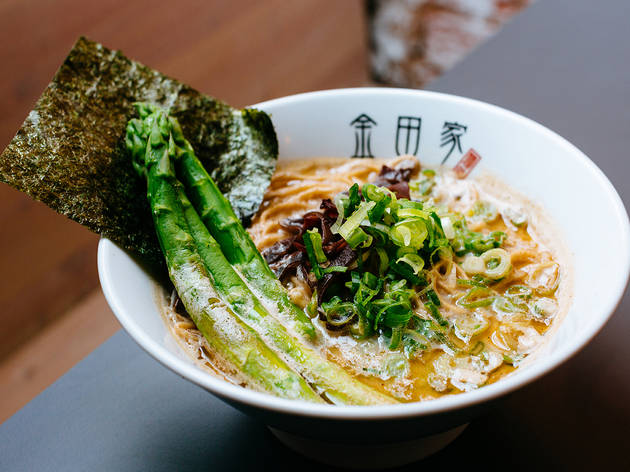 Flemings Bar & Grill – 7-12 Half Moon Street, Mayfair
If you are looking for a special venue, this is the one for you.  Perfect for birthdays and anniversaries.  The restaurant also has private dining, and a stunning bar/lounge to boot.  Ideal for a pescatarian as the set menu is very fish based (seasonal Jersey produce including fresh lobster, crab, oysters, hand dived scallops).  In addition, they have separate vegetarian and vegan menus with some great options.  (Oh, and the Manager is lovely so be sure to speak to her if she is on site! Her name is Agnieszka.)
What to order (from the veggie menu)?:
Green salad – avocado, gem lettuce, tender stem broccoli.
Butternut – herb gnocchi, burrata, pine nut crumble.
Apple crumble – white chocolate, caramel, vanilla ice cream.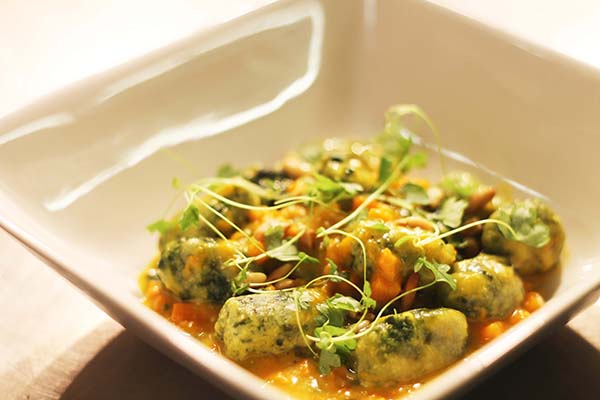 JAN – 78 Northcote Road, Clapham
In London's trendy and upmarket Clapham, JAN brings exotic Persian flavours to the neighbourhood. Not a table was empty (so make sure you pre-book) and the friendly staff were on the ball and very attentive; in fact, it was impressive how well they worked under pressure!  The menu has a wide selection of meat and non meat options, which were all equally delicious!
What to order?:
Flatbread – With za'atar spiced oil – I could have eaten plate after plate of it!
Olives
Baba ganoush and pickled walnut rolls – Roast aubergine, tahini, walnuts, mint, parsley, spices.
Blackened sweet potatoes
Whole roast aubergine
Charred miso and tahini spiced cauliflower – Cauliflower cous cous , aubergine, almonds and onion rings.
(I couldn't not include the Sticky sumac chicken wings for your meat eating companion – mine rated it 10/10!)
Cardamom dusted doughnut twists – Warm mace infused chocolate sauce, rose and ginger jam – MUST SAVE SPACE FOR.  By far the best dessert I have had in a long while (would return just for this!).