"Shi Delaney, but I go by Shi Gray"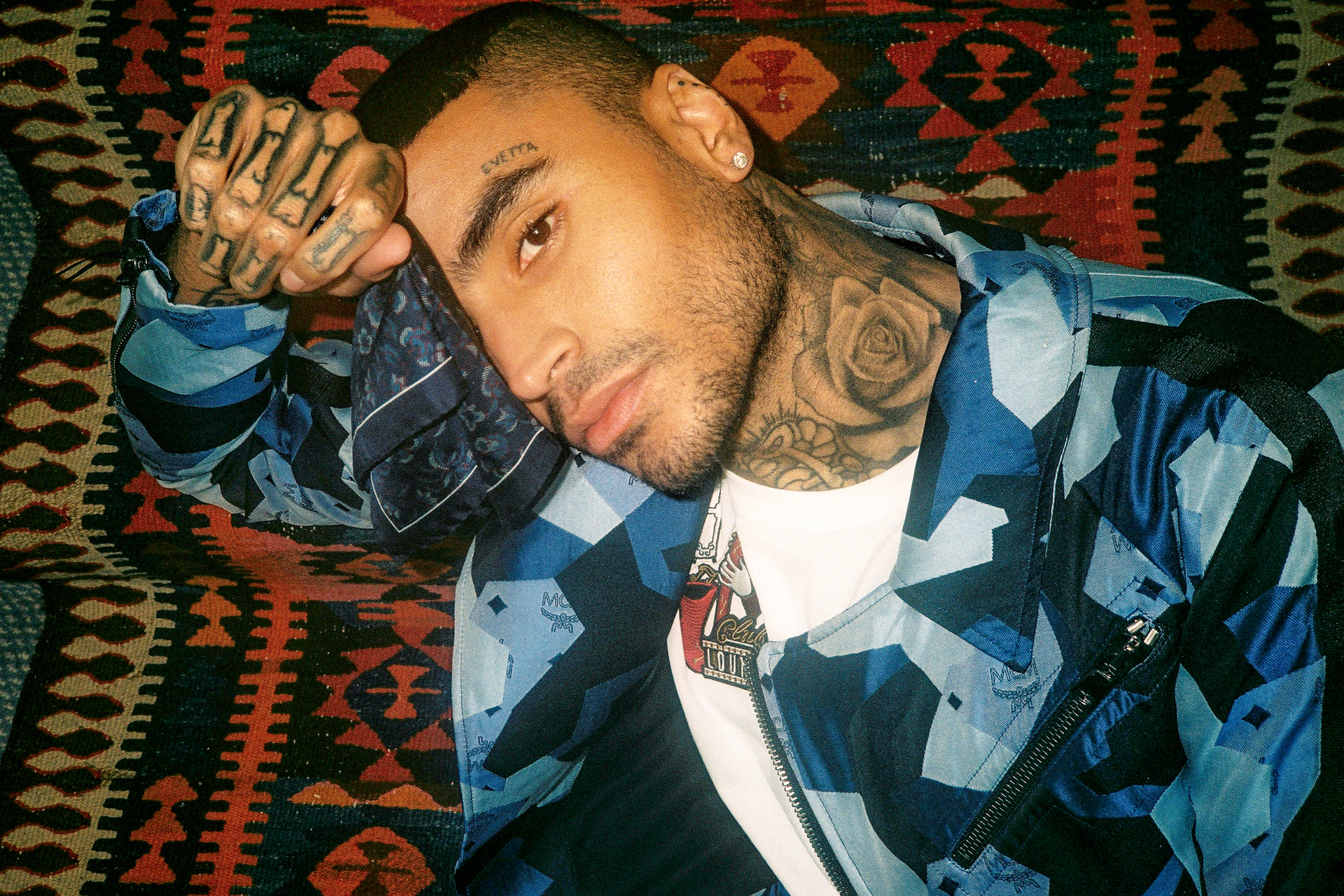 Creative Direction: Lewis Bloyce // @lewisbloyce_
 Main Stylist: Rhys Marcus Jay @ RHYS SELECTS // @rhysmarcusjay
Second Stylist: Lewis Bloyce // @lewisbloyce_
Interviewer: Rhys Marcus Jay @ RHYS SELECTS // @rhysmarcusjay
Photography: Sabb Adams // @sabbadams
Hair: Jaysam @ Jam Deluxe // @jaysam_barbosa_makeup
Make-up: Jinny Kim // @jinny_mua
Model: Shi Gray @ Wilhelmina LA // @shistyca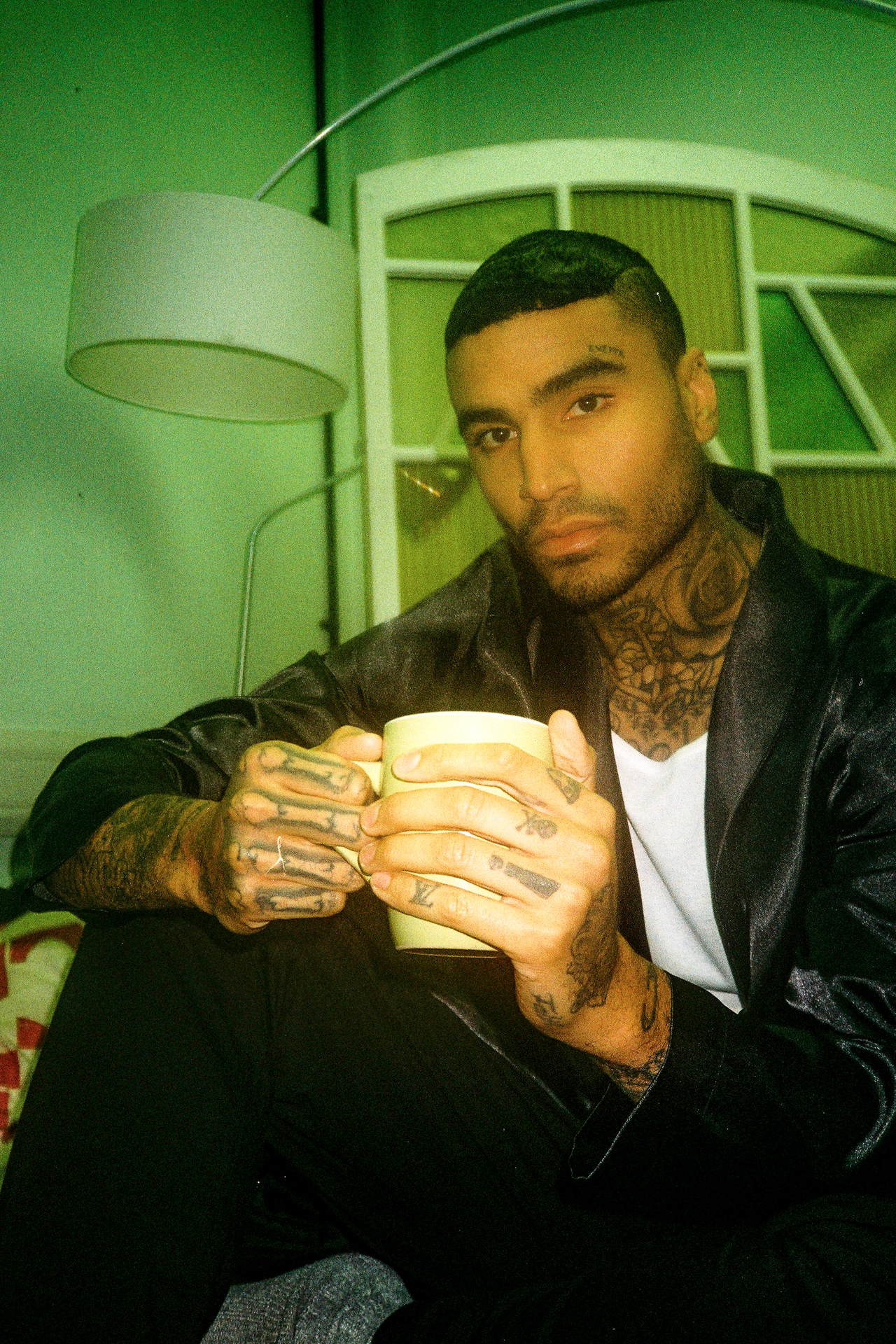 Robe: ASOS, Vest: Stylist's Own, Lounge Pants: Calvin Klein
Introduce yourself…
I've always been into Fashion, ever since I was a little kid. I was just super busy. I was a busy kid. I would just always go & rearrange my Mom's closet and colour coordinate everything. I just liked clothes… I would literally take all the clothes out my closet and sleep with my clothes on my bed. Like, I just liked the way clothes felt. I know it's weird, but… Then I joined the military. Ultimately I joined the Military, cause I wanted to move to L.A. to do Fashion. So I used the Military as a stepping stone to build a foundation and have money and everything. I did the Military for 6 Years, got out, moved straight to LA, and started a Clothing Line.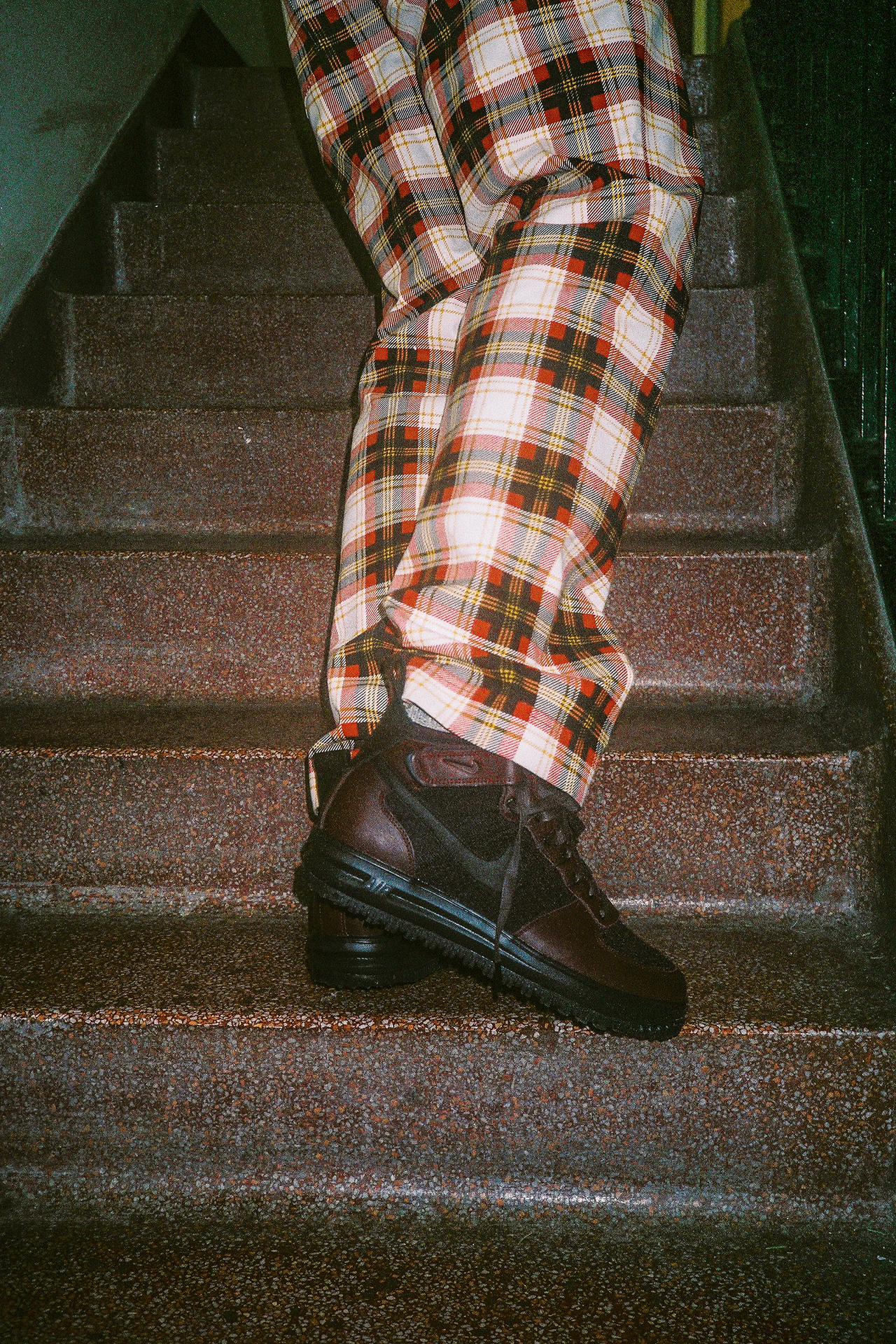 Trousers: Home of Homme, Trainers: Nike
I taught myself how to sew in 1 day, I was determined to make that work. I didn't wanna go back home. So I bought myself a sewing machine. I taught myself how to make a pocket, how to sew on a zipper.. I watched YouTube videos, that's how I learned.
I started a Clothing Line, it did really well. And then I stopped that, cause I was going through a break-up and I needed to get out my house cause I was slightly depressed. And then I got a job at Topshop. I went into Topshop, this was the 1st time I had a real job in my life besides the Military. So I went in, I thought I was gonna fold t-shirts, and cashier – or whatever you wanna call it. Then they pulled me outta line, like "Who are you". I was like "Oh, Shi". They were like "Come with us, we want you to start tomorrow to be in charge of our Men's Personal Shopping like we don't want you to be on the sales floor, we want you in the back. You don't fit with everybody else, we need to snatch you before anybody else does." So I did that, I was really good. So I wound up being a Men's Stylist, but I took everyone's clients that worked with the females within a month.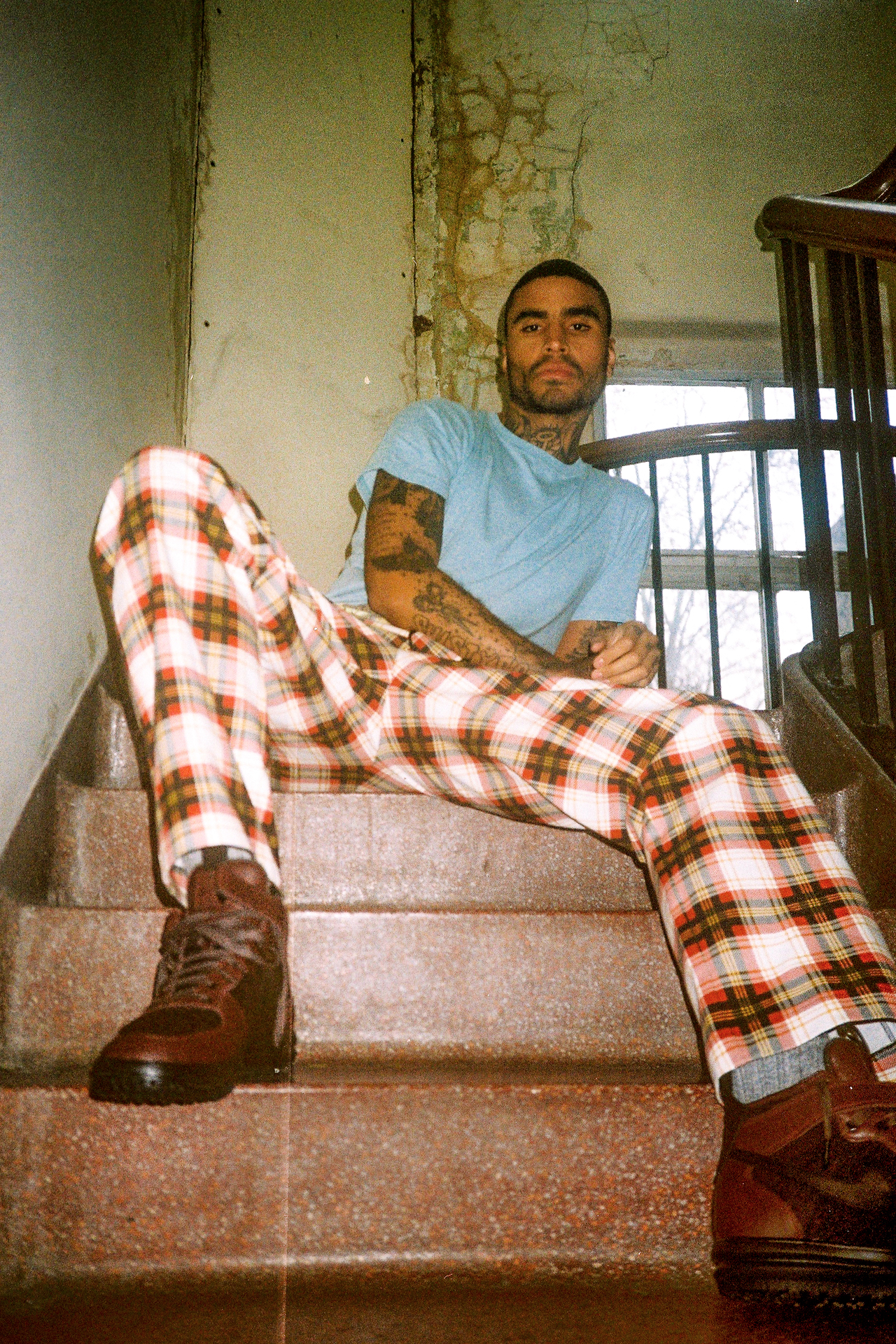 Top: Gucci, Trousers: Home of Homme, Trainers: Nike
My pay an hour to doubled within a month; cause I was able to take everyone's clients, everyone would come in and ask for me. The other Personal Shoppers didn't have clients, then one day I was wearing my personal clothes that I made and an Asian lady stopped me and asked: "Where did I get my shirt from?" I was just like "I made it myself" and she was just like: I need all of your information, your Instagram, your Email and I gave it to her. Then I started getting these emails from Forever 21. Forever 21 is like the biggest brand in the States, it huge. It's been around for almost 10 years and they're still growing. She didn't tell me who she was, she just asked me for my information and I gave it to her. And I started getting emails from Forever 21 telling me to come in for an interview or whatever and I ignored it for like a week. I was like "Oh, whatever I'm comfortable in where I'm at". Then they called up at Topshop, asking for me personally and I went in for an interview. I didn't know what to expect or what they wanted from me. I was just like "I don't know how you found me..". They pretty much told me, you remember that Asian lady that came up to you in Topshop like a week ago? She's the owner of Forever 21 and she went on your Instagram and she was super impressed by your clothes, everything about you. She wanted you to come in and start tomorrow. Whatever you want, whatever contract… We'll pay you triple what you're making right now, and we want you to start tomorrow. So I left Topshop and I went with Forever 21. And I became their Men's Stylist, it was just me.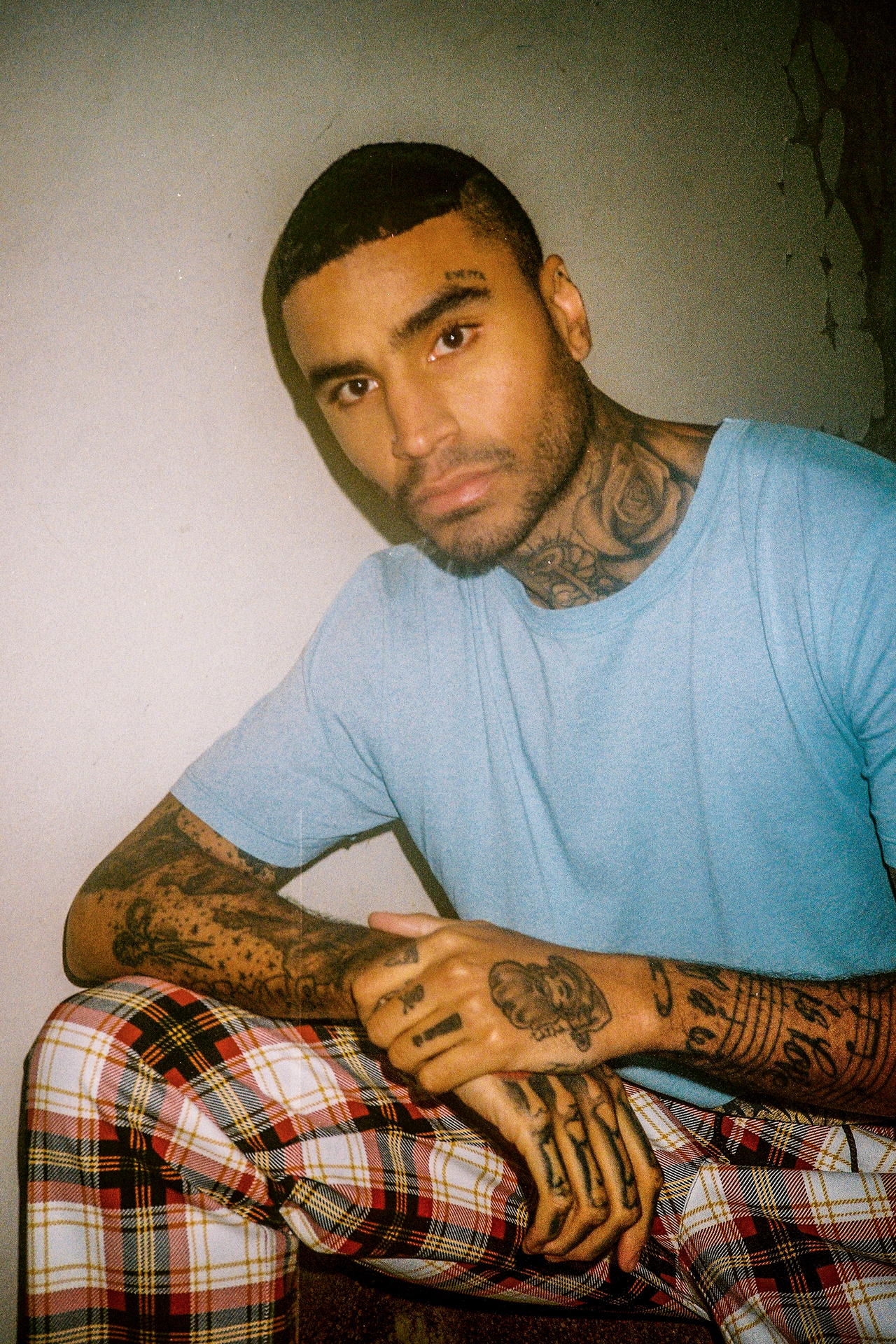 I started designing, I started Personal Shopping, I styled every Campaign, any image you've ever seen from Forever 21 in the past 3 years I was responsible for. E-commerce, campaigns, (I even) worked with their Instagram. Anything Men's, it was probably just me by myself. [I think that's why I followed you probably]. I didn't even have a day off, it was just me. You know you usually have people up under you, (I didn't) she just trusted me, I didn't even have people helping me. I did that for 3 years.
Then I got into modelling. The Owner (of Forever 21) always asked me to model and I always told her "No, I'm not a model. That's not my lane". And maybe 6 months ago, we changed our creative, how we shot our Ecom and they wanted me to stand in, to try on the clothes, check the lighting and everything; and they printed the images, showed the owner… She wanted me to model. I'm super tall, so like Sample size is like 32's and Mediums, she was like I will change all the Sample sizes to 34" and Large just to suit you. Other models will just have to wear bigger clothes. I did that.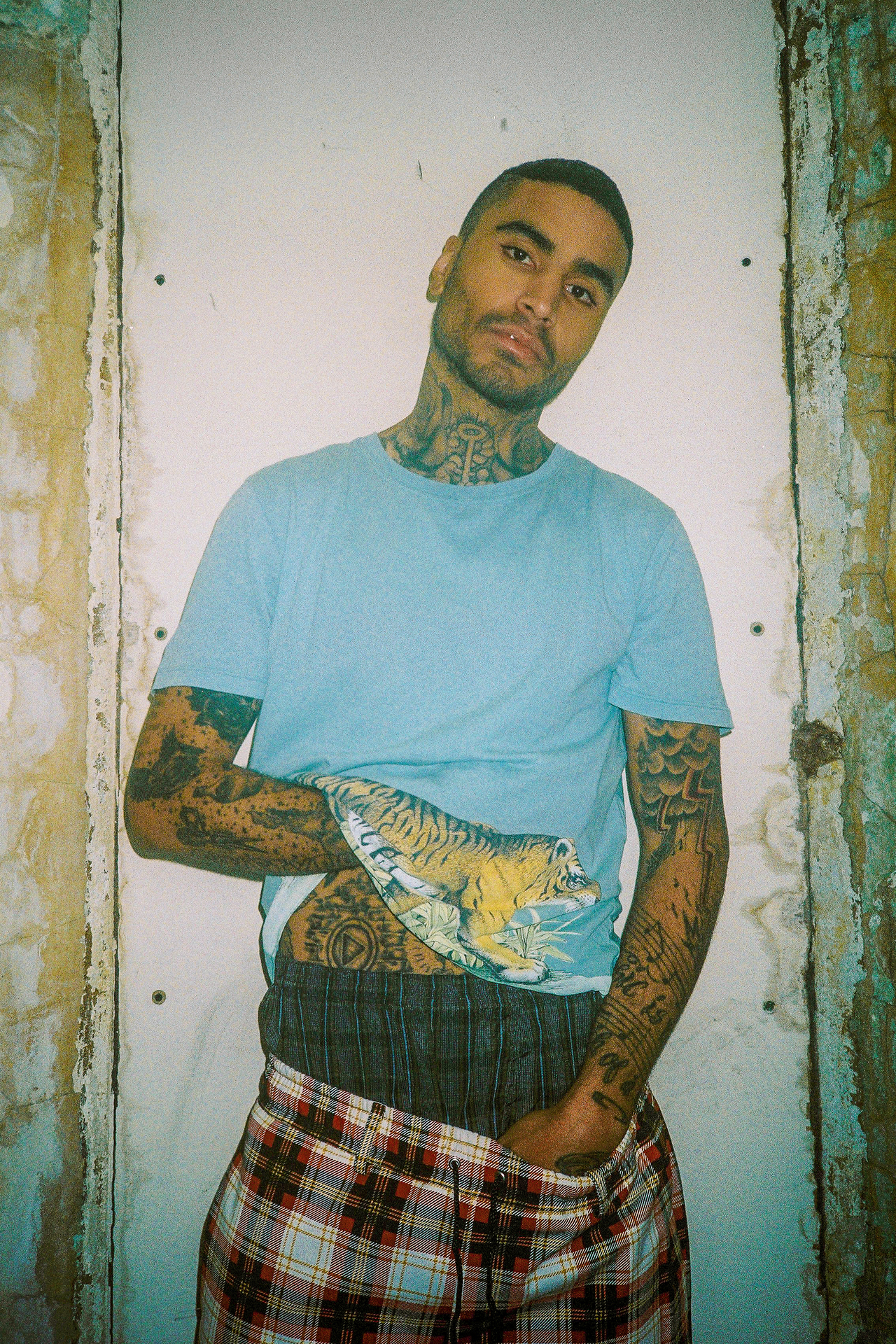 Then I started modelling for Ecoms, I did the NFL Campaign with them, the NBA Campaign.. [Is that how you got Wilhelmina as an Agent?] How I met Wilhelmina, was I shot Forever 21 with Iggy and Nick Young and the Director of Wilhelmina was there cause Iggy is signed to Wilhelmina as a model and I was on set and the Director said you need to model, she was like whenever you're ready "Let me know when you want to model". I was like never, but when I started she and 3 other agencies emailed me all at the same time which was crazy. She was like "Come in, I want to talk to you. Do you like modelling? Cause we see you on Forever 21, you need to come in and get signed so we can book you for other things. I went in and the only reason I went with Wilhelmina was – I didn't have to change who I was. You wanna change your hair colour, keep your piercings, you wanna do this, do that, they were more concerned with building me as a brand. Instead of booking Shi, the Model, you're booking Shi, The Stylist, The Model, The Designer, [The lifestyle], it's a package deal. That's why I ultimately signed with them.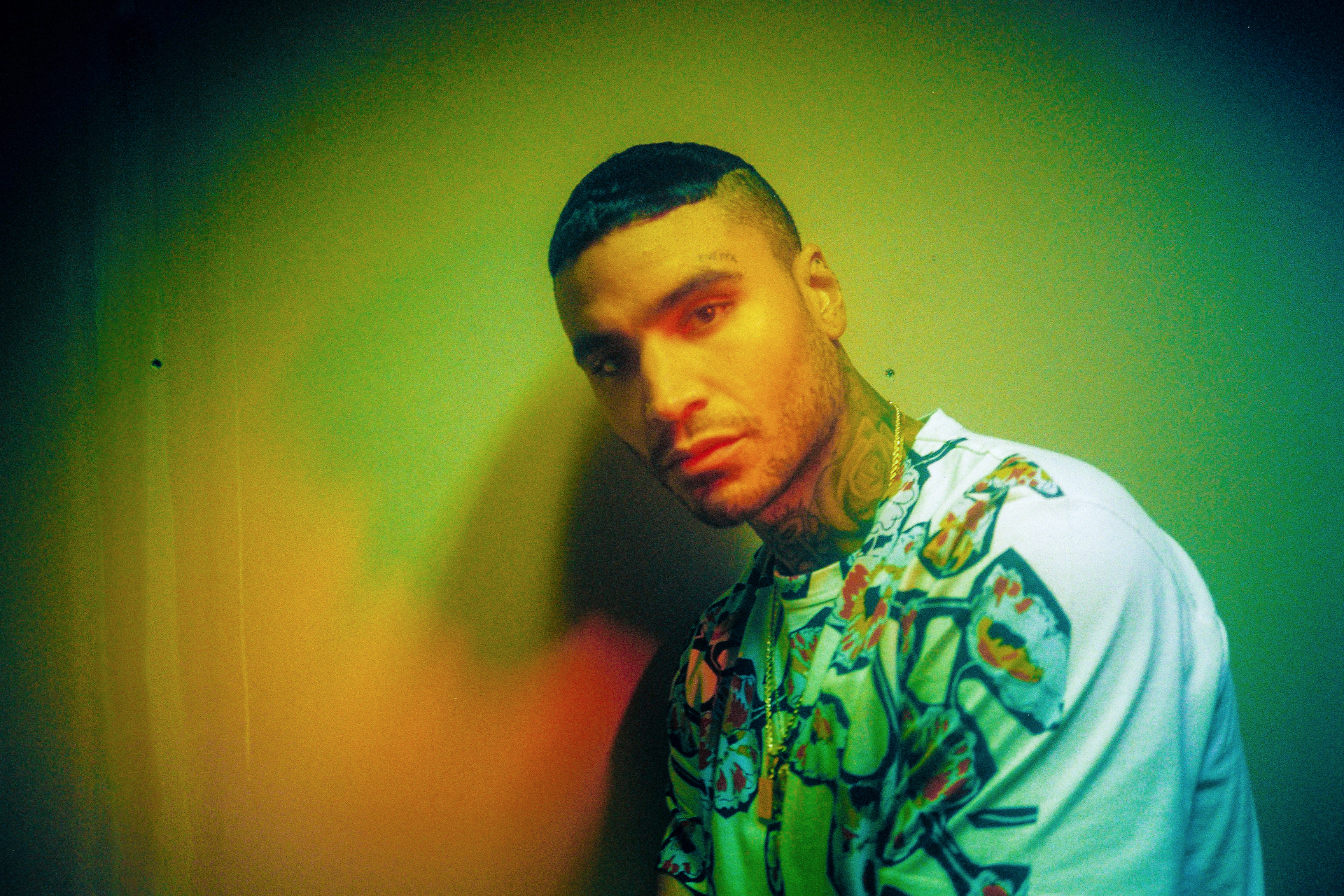 Top: Marni, Chains: Model's Own
How long have you been with Wilhelmina then?
I signed with them in November officially.
Geron, who shot for the latest Fear of God collection, is a model who I've always looked up to. Face structure wise, down to haircuts. He was my favourite male person. When I worked with him, we became really close. He pulled me aside, really close and said "Shi, you really need to model. I've been doing this since I was 16, I've seen hundreds of models come and go. You could actually make this a career". I was like it's not a passion of mine, but he said "You don't have to be passionate about it, just continue to do it. Just do it and you can learn to love it and the process in doing it.". He's the one person out of everyone that said it who made me take it to heart, coming from him, since he was my favourite model and I respected him and his hustle as a model. Him telling me that gave me the confidence to be like Ok, if he said I can do it then I can do it. He hit me up just yesterday like congratulations – like yoo you still inspire me now. Now I wanna do Fear of God because of you. Everything he does, I'm tryna follow his footsteps. I saw he did ASOS, I wanna do ASOS. I saw he walked in Balmain, so my goal this year is to walk in Balmain. And I will walk in Balmain this year, there is no doubt within my mind. If I need to hit the gym, I have to do what I have to do. The Military's trained me to get whatever I want. Out of every goal I've wanted to achieve, I've done.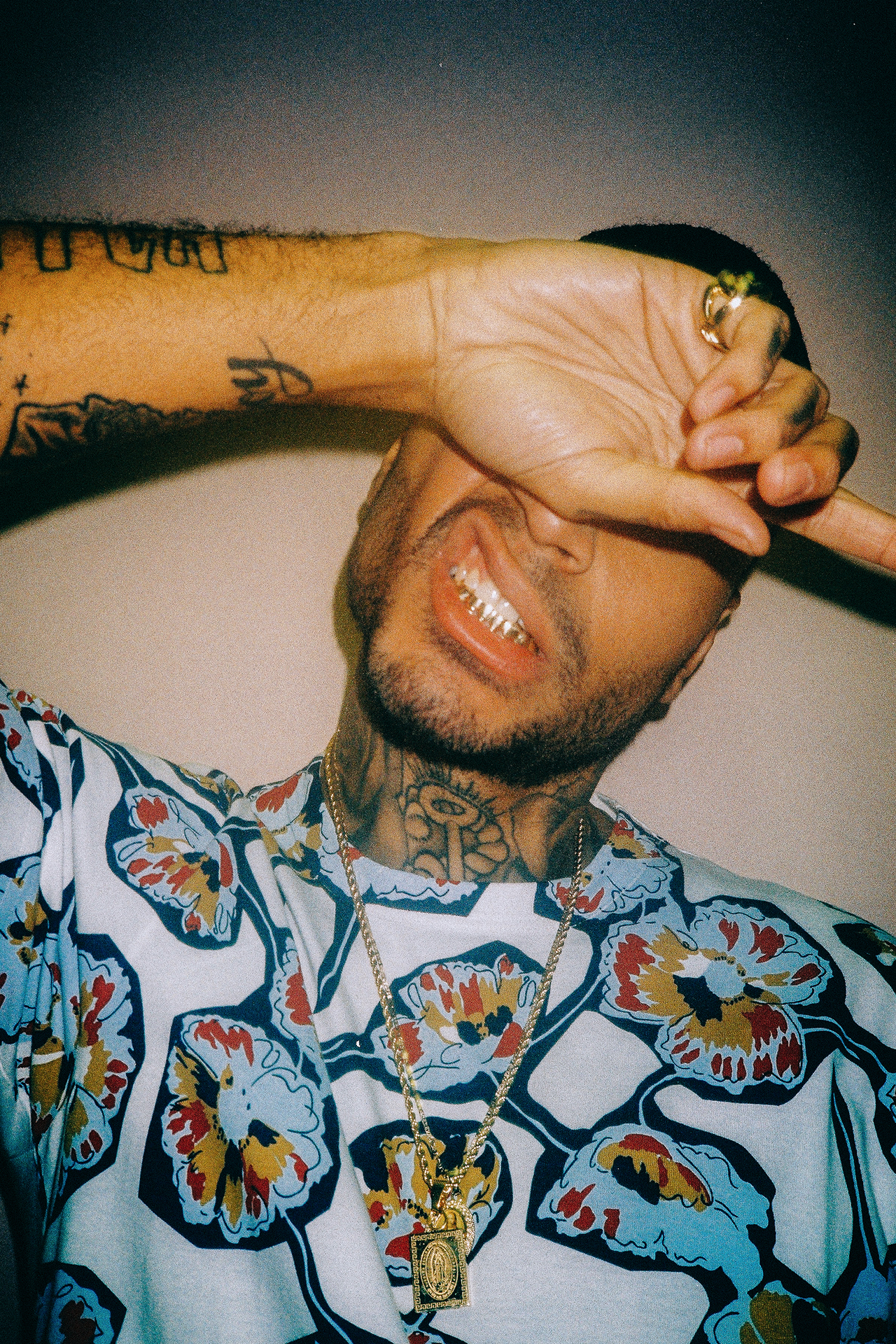 I always thought I was gonna die young, cause I always had this list of things I wanna achieve since the Third Grade and I had achieved them by 26. (I'm now 29..) Now I'm like Ok, I've done everything I've wanted to do in my life. What am I supposed to do now? Literally, I had a list and everything was checked off before 26. I was kinda stuck in limbo, cause I felt like I didn't have a purpose anymore. There was nothing else to chase. That's when the Modelling came. I like a challenge and now I have a whole new set of goals I wanna achieve. My first goal I set on January 1st was to model for ASOS this year and to walk in Givenchy, but Riccardo left and now I'm like.. I wanted to walk for Riccardo cause that's someone who inspired me too. I got the email from ASOS within 21 days of me setting that goal.
Would you say you believe in Law of Attraction then?
If you ask, you shall receive. I tell everybody that. Put it into the universe, it shall manifest. That's extremely true.
You said you moved to LA, where are you originally from?
South Carolina, Columbia.
You moved all the way to LA, is it just you there or do you have family there?
My whole family lives in South Carolina, everyone in my Family is in the Military. [It must have been a big step then?] Yeah I'm out here by myself.
Does that ever drive you  to do more then?
Yeah, cause I know I'm not going back there – there's nothing. I have no choice. There's no other option. Whatever I do, I have to succeed in, there's no option. I'm not gonna be taking 100 steps back.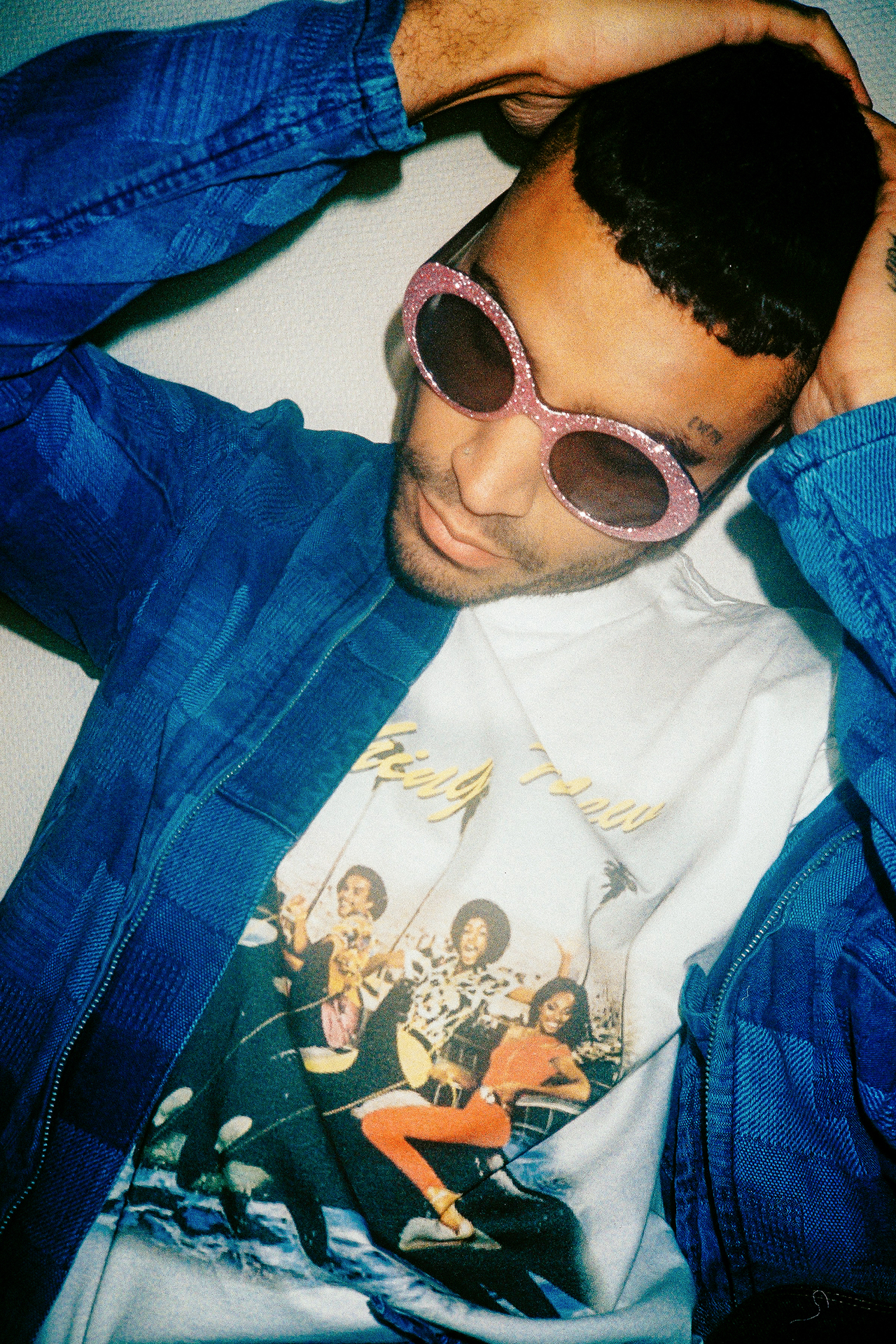 Glasses: Model's Own, Jacket: YMC, Top: Nothing New
What's your reception like from the Fashion scene?
I've been received pretty good. I feel like a lot of people look up to me because I try not to follow trends, I just do what I like. I do my research, I put the work in. I stay up till 3 or 4 o'clock every night just to go and research Rock artists from the past, up and coming people and I study what made this person different from this person or vice versa. I look to see what were those key things that gave them their signature style. Like Axel Roses from Guns & Roses, I was intrigued by. I wanted to know what was the Guns & Roses style. What was his thing? His thing was wearing Trucker Hats with bandannas on top. Or wearing short shorts with oversized t-shirts and thick white socks and Nikes. I didn't know until I did the research.
I think I'm perceived really well because I do the research and don't follow trends. I don't even try to set them; like writing on my sneakers – that's a thing. I was watching a documentary about Kurt Cobain and his death, they published a crime scene picture of when he shot himself and I zoomed into the picture and he wrote on all of his sneakers. I was intrigued by that cause Kurt is my #1 Fashion kid, and he wasn't into Fashion. He was just a boy from Seattle. He wasn't into labels, or having a big house – he was embarrassed by that.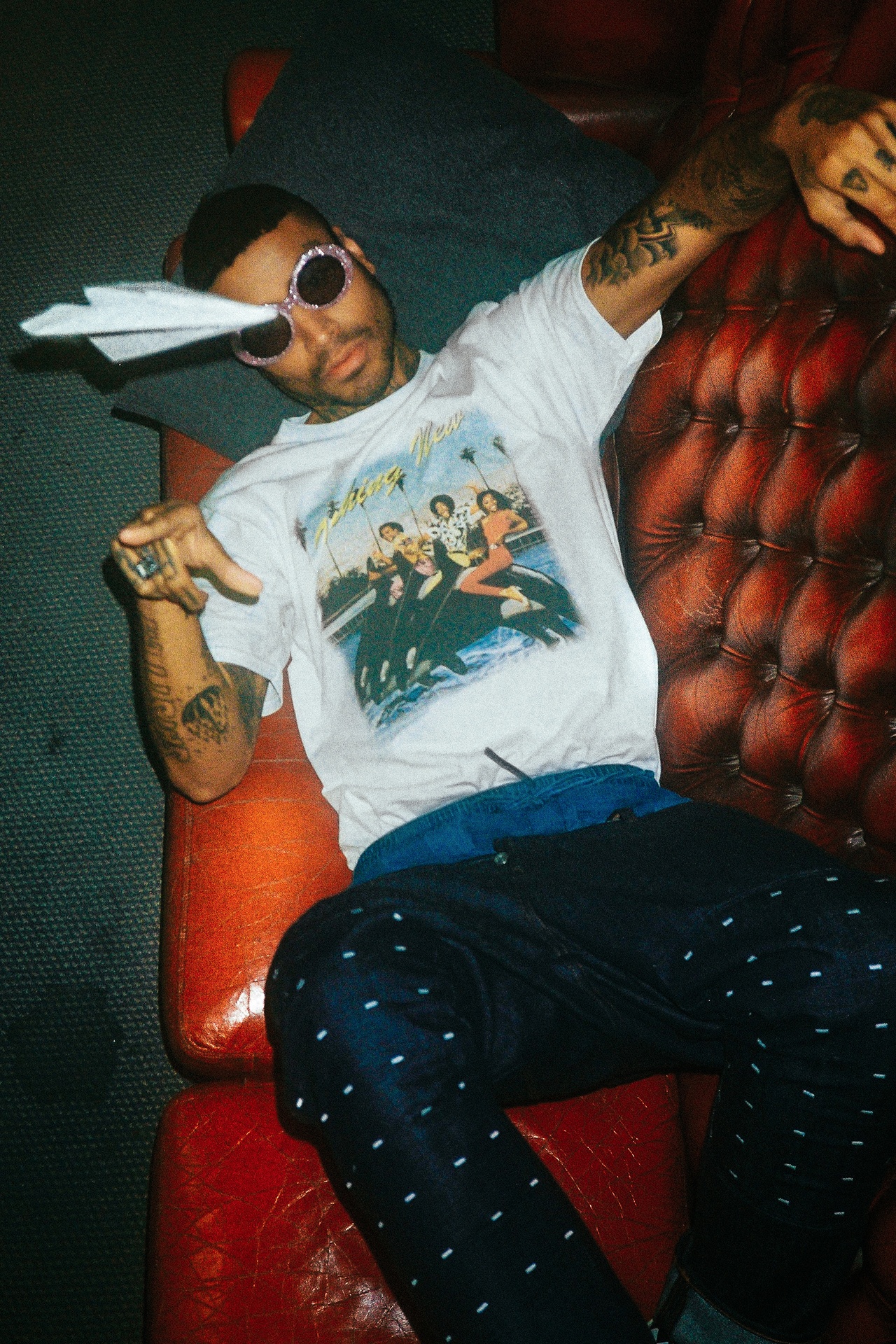 Glasses: Model's Own, Top: Nothing New, Shorts: YMC, Jeans: G-Star, Ring: Model's Own
Do you find Social Networks like Instagram useful for being in Fashion?
Yes. 100. The most. I feel like social media is the tool 120%. Your Instagram is your résumé, your portfolio, your voice, it's who you are. Anybody from all over the world can just type in your name and have access to who you are, and what your introduction is without meeting you. I can honestly say the day I started taking Social Media seriously and cleaned up my Instagram, the way that if a stranger off the street went on my Instagram and wanted to find out who I was, they'd be able to go on there and figure it out. I started booking more work, I started getting more blogging jobs. People started reaching out to do this for their brands and do this.. Just literally a week after I cleaned up my Instagram. You never know who's lurking, they're not liking pictures but people look. People are nosey and people randomly come across things all the time. They screenshot, so you wanna make sure you're on point. That's your résumé, that's you. That's just the world we live in, that's just social media, that's what it is. It's a new generation and that's just a part of it. 150%.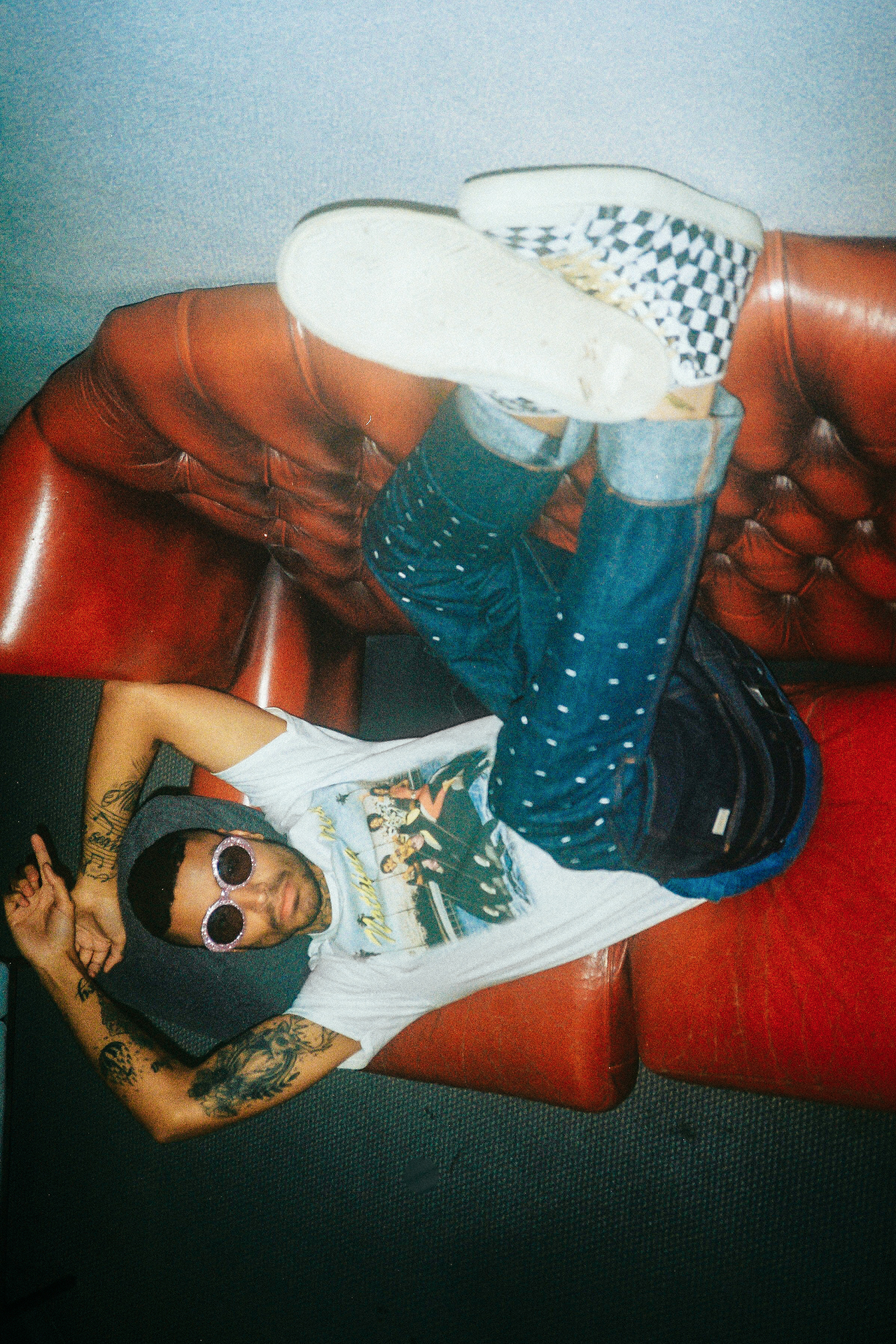 Glasses: Model's Own, Top: Nothing New, Shorts: YMC, Jeans: G-Star, Ring: Model's Own, Trainers: Vans
Is image important to you?
Image? Image is important. If you wanna be a model, you have to act like a model, move like a model. I feel like you have to be poised and not be a hot mess all the time. Image is important cause image is your brand, you wanna sell yourself as a brand, as an empire. People have this perception of me, like in LA guys will come up to me and be like "Oh you're Shi?! I love you". Out there, in like clubs I don't dance cause I wanna be taken seriously. People have this perception of me of being a go getter. I don't wanna be vulnerable or have that much access to who I am. I give you what I want you to have.
Glasses: Prada, Earrings: Model's Own, Jacket: Paul & Joe, Shorts: Marcelo Burlon, Jeans: G-Star
Why did you decide to leave the Military?
I had to realise life is short and I realised that whatever passion you have, you gotta follow that "what if" voice. You have one life to live. If it works out or it doesn't, I don't wanna be 40 or 50 saying "What if I just got out or what if I did this 10 years ago, I woulda been here right now". So I decided to take a chance on my what if.
Is there a quote you live by?
(I have them in my phone) What's for you isn't hard to achieve, it's hard to maintain.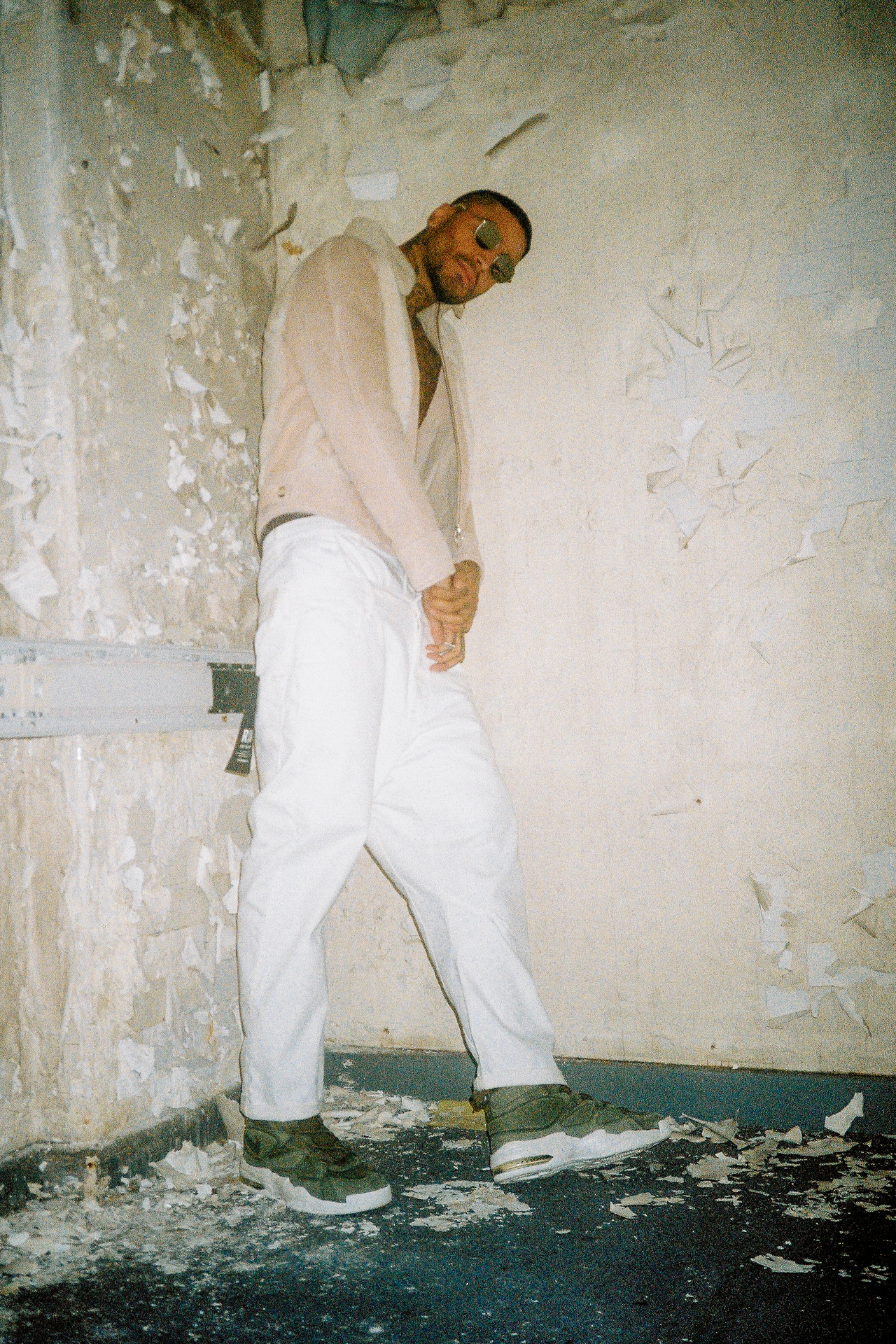 Glasses: Prada, Earrings: Model's Own, Jacket: Paul & Joe, Shorts: Marcelo Burlon, Jeans: G-Star, Trainers: Nike
Most memorable moment on set?
I shot an Ad commercial for the NFL, that I thought I would just be modelling in, but the commercial was me dancing. And I hate dancing.. I don't know how to dance. And I had to dance, for literally 8 hours straight and come up with new dances take after take to shoot for a minute long video. I was definitely caught off guard.. I wasn't ready for that. Cause I don't keep up with the latest dance or anything. I don't even know how to "Crank the Soulja Boy", I've never done it. [You must have started on the NFL set, I guess.] I dunno.. I dunno what to do. I didn't even know how to dab, I've never done it. Like I'ont.. I was extremely irritated, shy and caught off guard, and overwhelmed.. Yeah.
What's your opinion on Donald Trump, you're a person of colour and you live in America; how does that affect you?
I like to see the good in everyone, so I'm gonna go ahead and say I see the good in him. You wanna give people the chance to change and succeed and learn from mistakes. If he's making mistakes now, hopefully he can learn from them and move forward and become a better person who makes better decisions. But I want him to succeed, I don't want him to fail. I see the good in him. He's a hateful person, and you kill hate with love. So I will love him until he changes and never give up on him.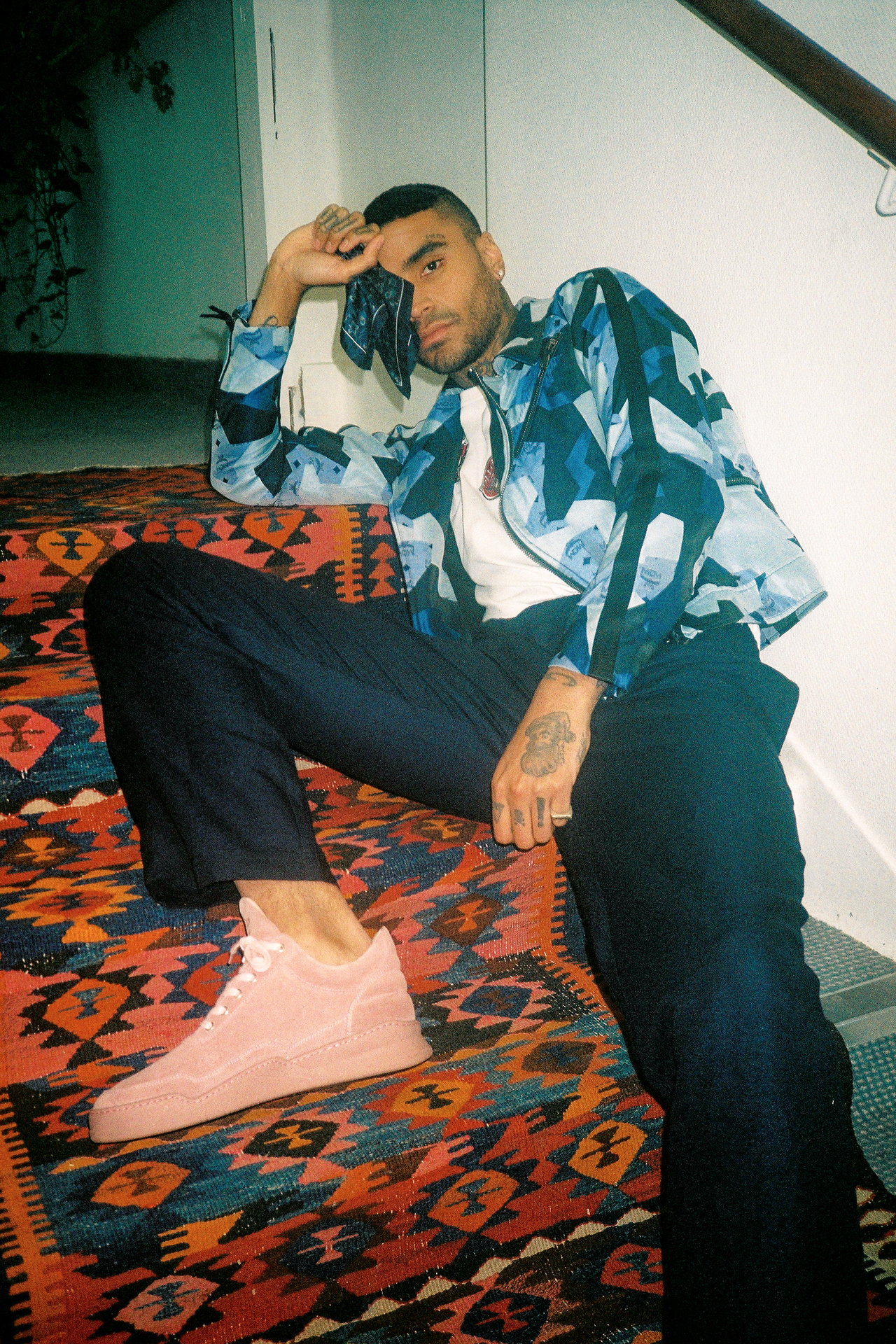 Earrings: Models Onw, Handkerchief: Ted Baker, Jacket: Marcelo Burlon, Top: Dolce & Gabbana, Trousers: Reiss, Trainers: Filling Pieces, Ring: Vitaly
How do you feel about being an African American in LA?
I think LA as opposed to anywhere else in the USA is more liberal and one of the most free cities, California in general.. We're pro this, pro that. We're not really judgemental when it comes to Racism, Sexuality, Lifestyle choices.. Anything, when it comes to anyone it's just very open arms.. Cause there's so much of everything jammed into LA, it's easy to just accept things and go with the flow. LA brings people from all over the world and you're forced to just co-exist, make it happen and make it work as opposed to any other place that I've been or know of in the United States. That's the truth.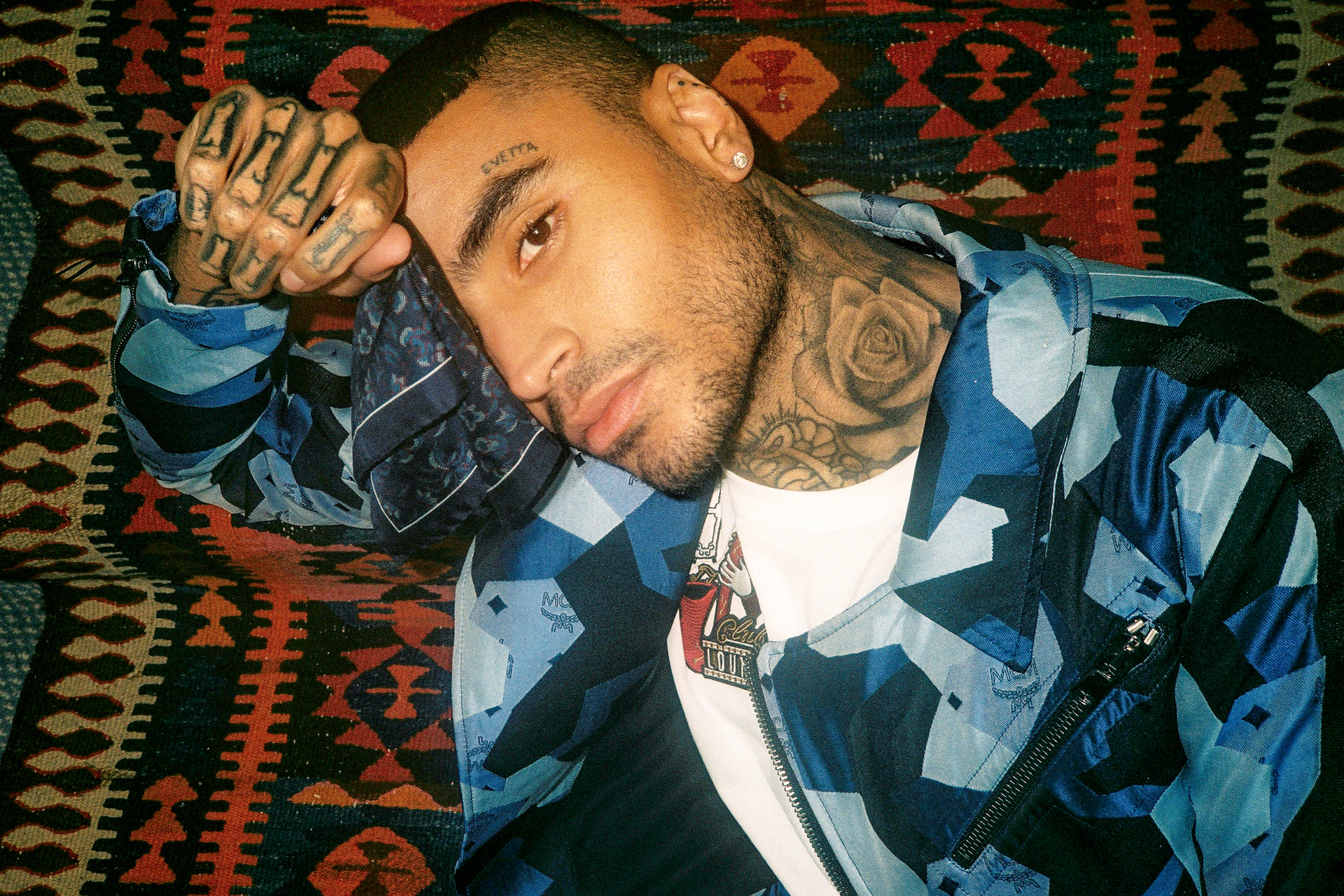 Jacket or Coat?
Leather Jacket.
Shoes or trainers?
Trainers.
Low-tops or Hi-tops?
High.
Haircut wise; fresh shave or outgrown?
Outgrown & effortless.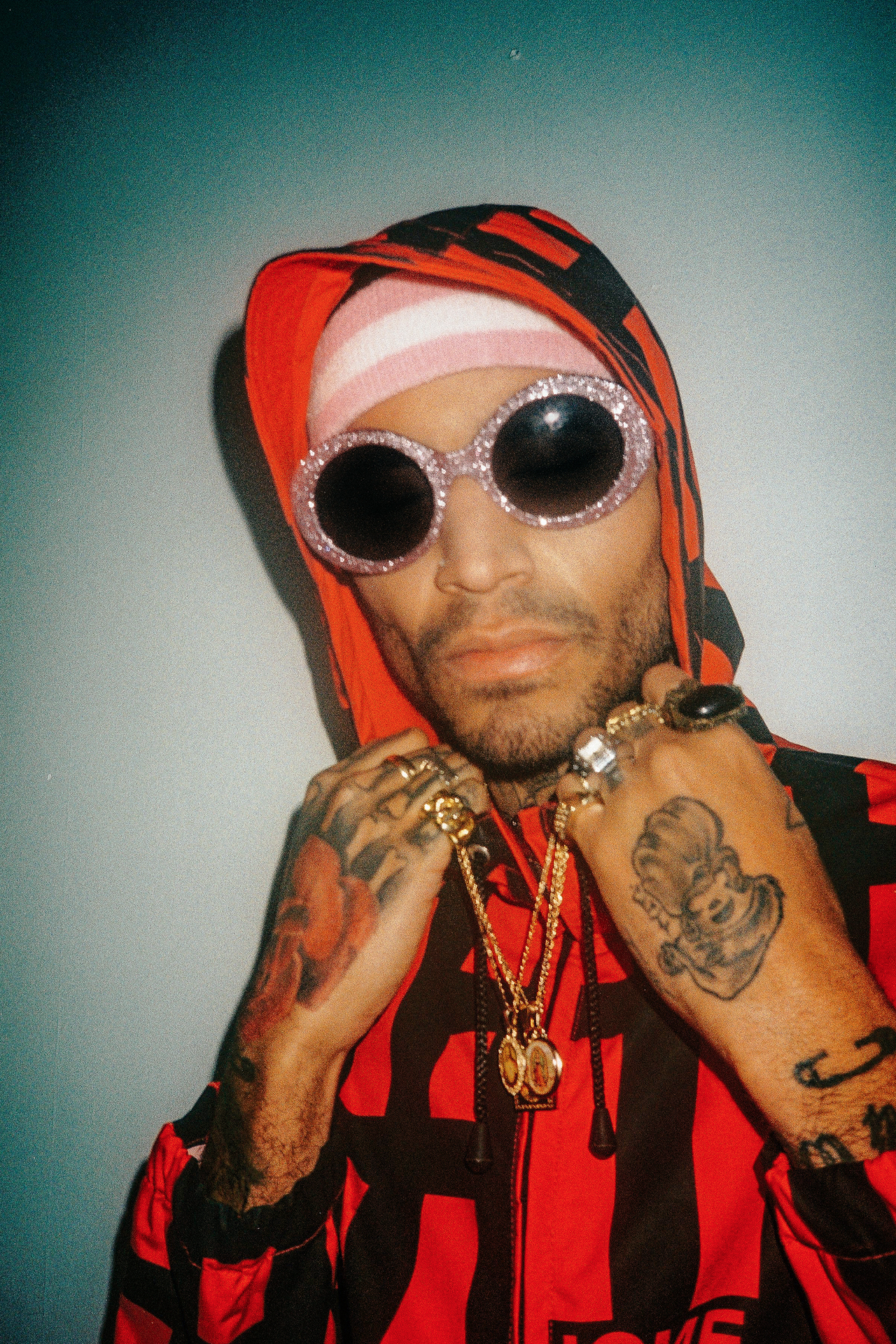 Headband, Glasses & Jewellery: Model's Own, Jacket: Home of Homme
Tatts or no tatts?
No tatts, in a world where everyone has tattoos you don't stand out as much as someone who doesn't have it. So I feel like people who don't have tattoos is more like "aah", it's a shock value that you don't have a tattoo. The response is greater when you don't have a tattoo than when you do. Cause everyone has tattoos, so when you don't you are the minority or the difference. You're the shock, which is true.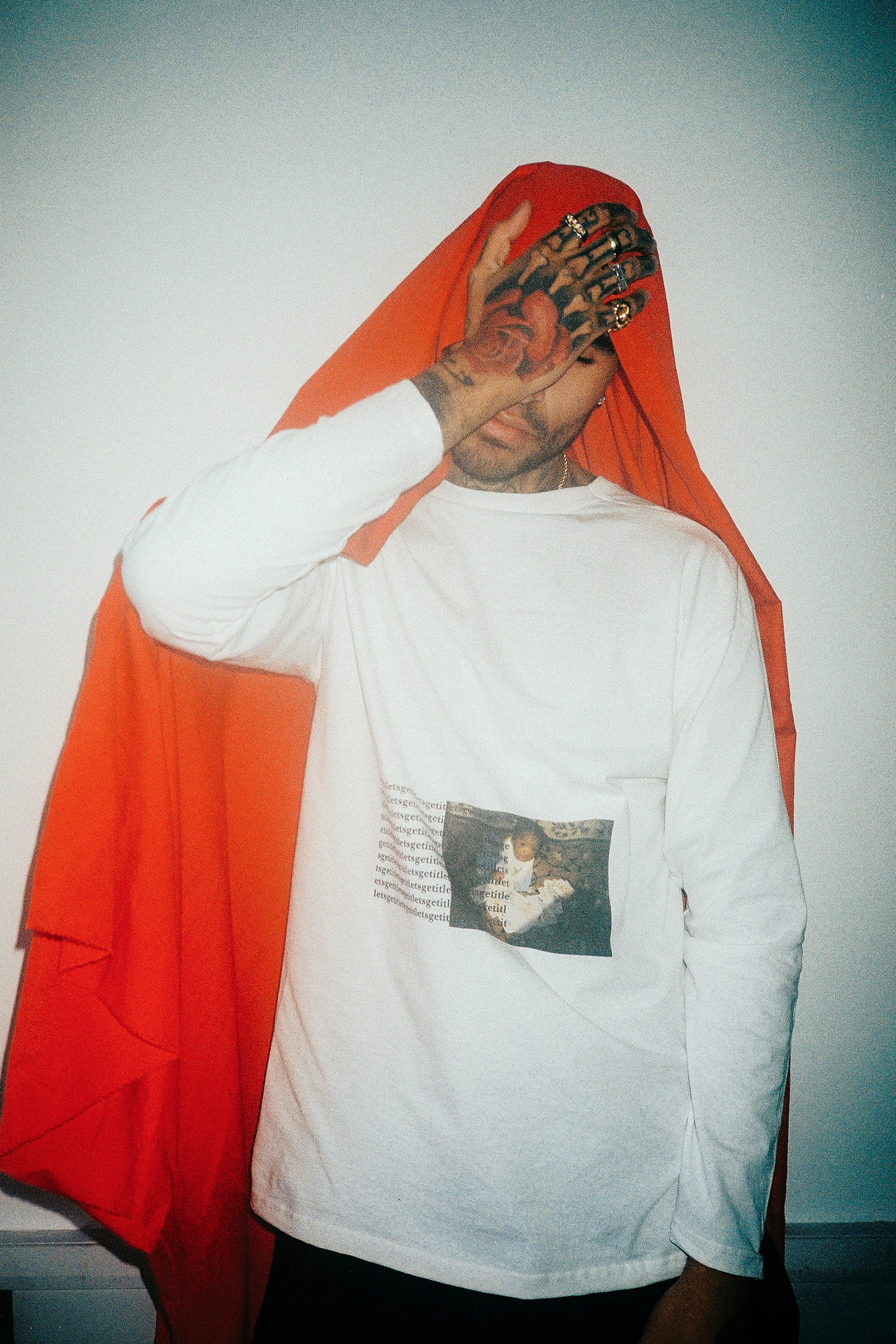 Robe, Stylist's Own, Jewellery: Model's Own, Top: Stop Snitching Clothing
Piercings or no piercings?
Piercings.
Boxers or briefs?
Both.. It depends. I like sleeping in boxers, but throughout the day I like boxer briefs.. It just depends. But I prefer boxers for comfort, let that thang swang. It's like a girl; bra or no bra. They're gonna say no bra, it's more comfortable, it's the same thing.
Top or tank-top?
Wife beater tank.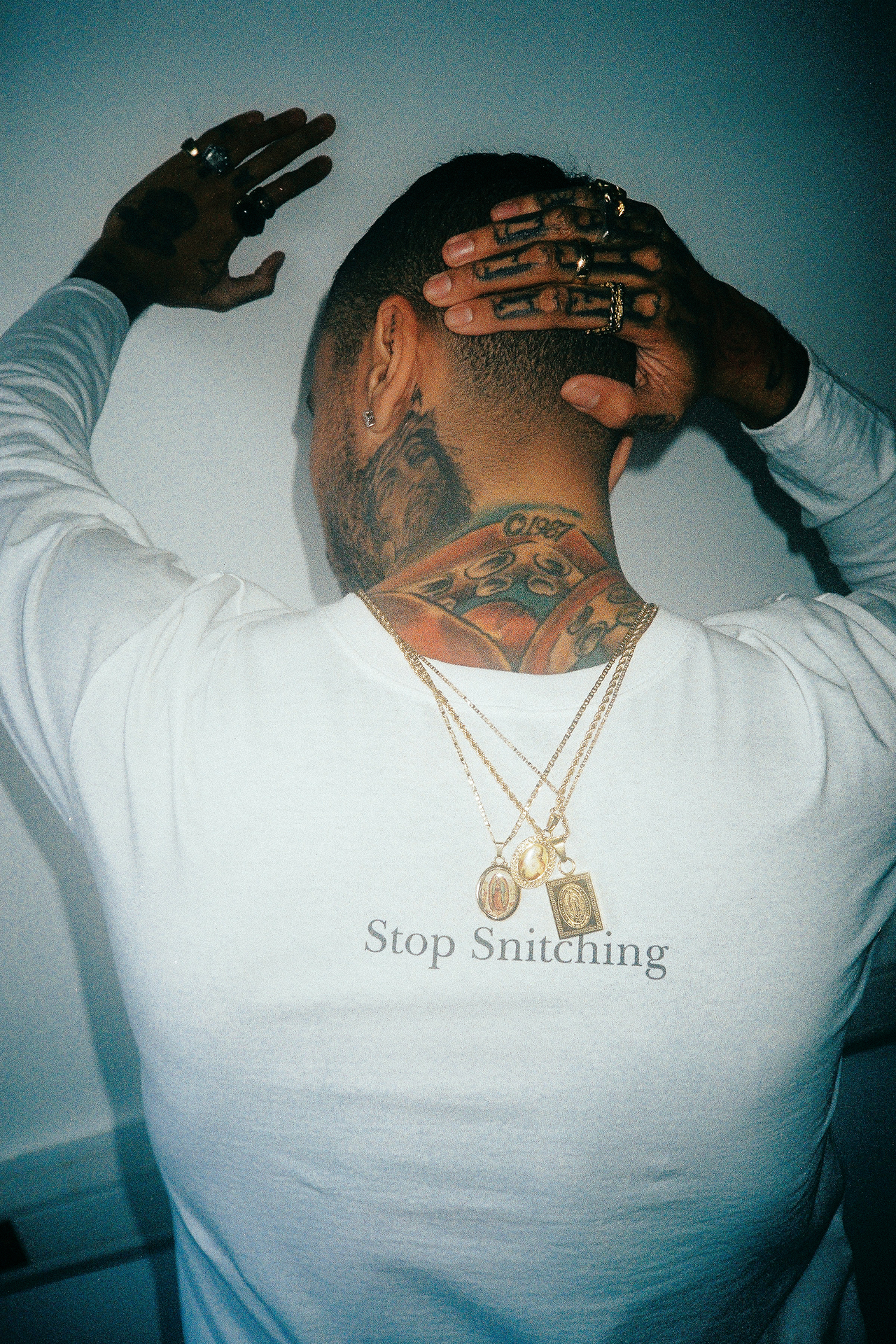 Stylist's Own, Jewellery: Model's Own, Top: Stop Snitching Clothing
What do you look for in an ideal mate?
Number one thing, you have to be able to communicate. That's number one on my list. The love will come, the trust will come, but you gotta know how to communicate. Communication leads to honesty, everything… I feel like communication is (at) the top of everything. Can you talk to that person, express your thoughts on things that should really change. Communication period, point blank period. Number one!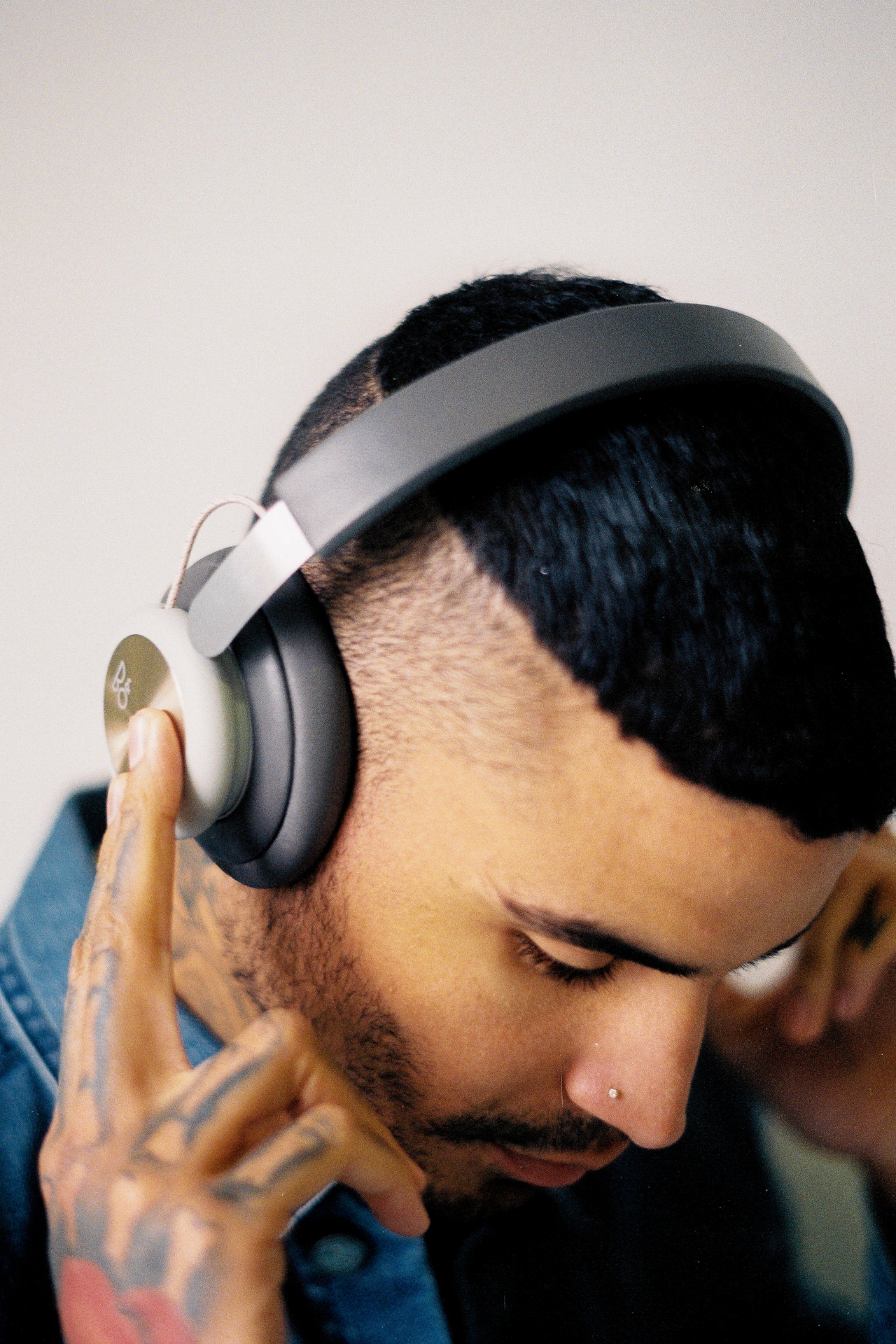 Headphones: B&OPlay