"FIVE KARATS WEAR THE LINK, BOTH HANDS FULL OF INK"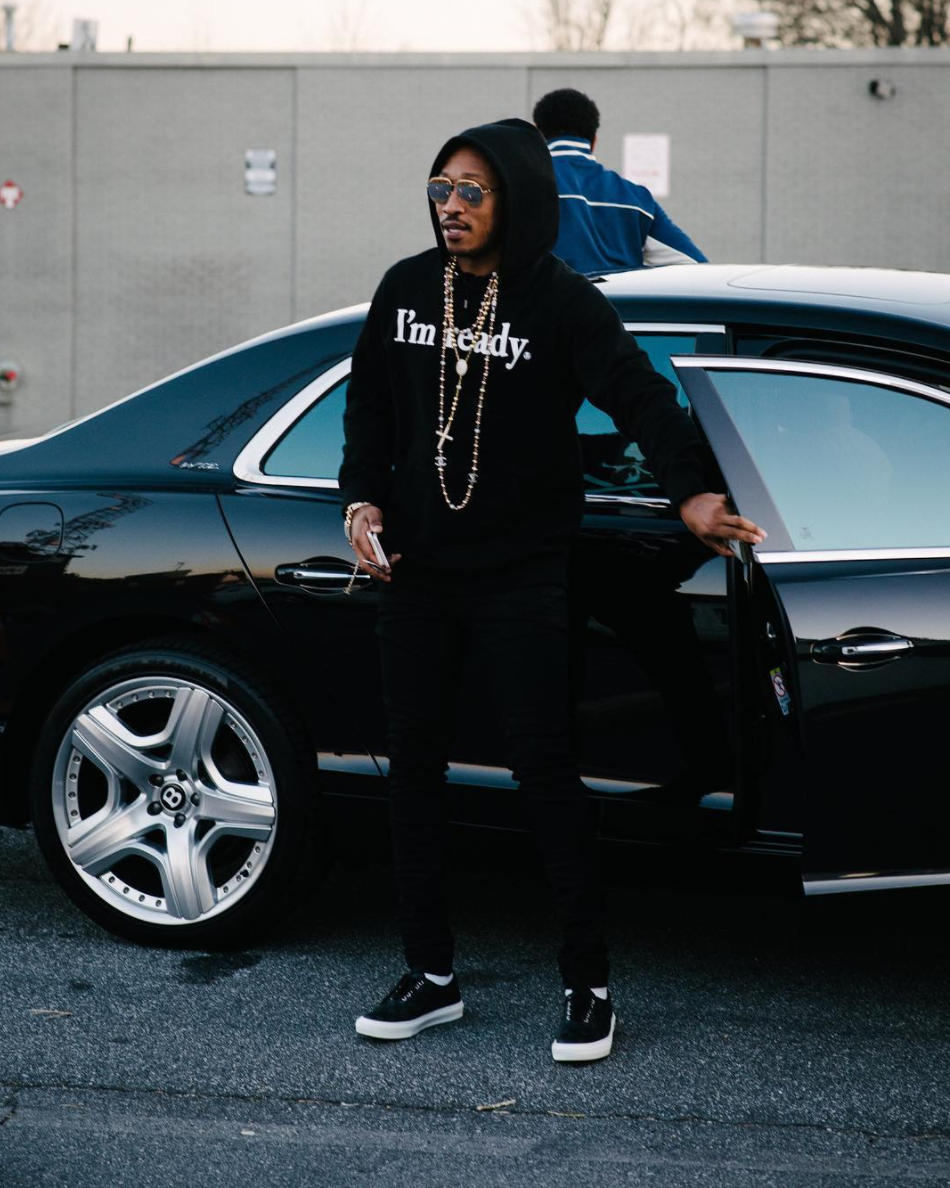 3 months into the year and Future has already graced our ears with not one, but two new albums. When he isn't busy in the studio he shows us his love for fashion, whether it be wearing a suit, flexing a fur coat or showing off his vast sneaker collection, he always nails his look. Oh, and we can't forget how he's always wearing a pair of sunglasses, whatever the occasion.
HNDRXX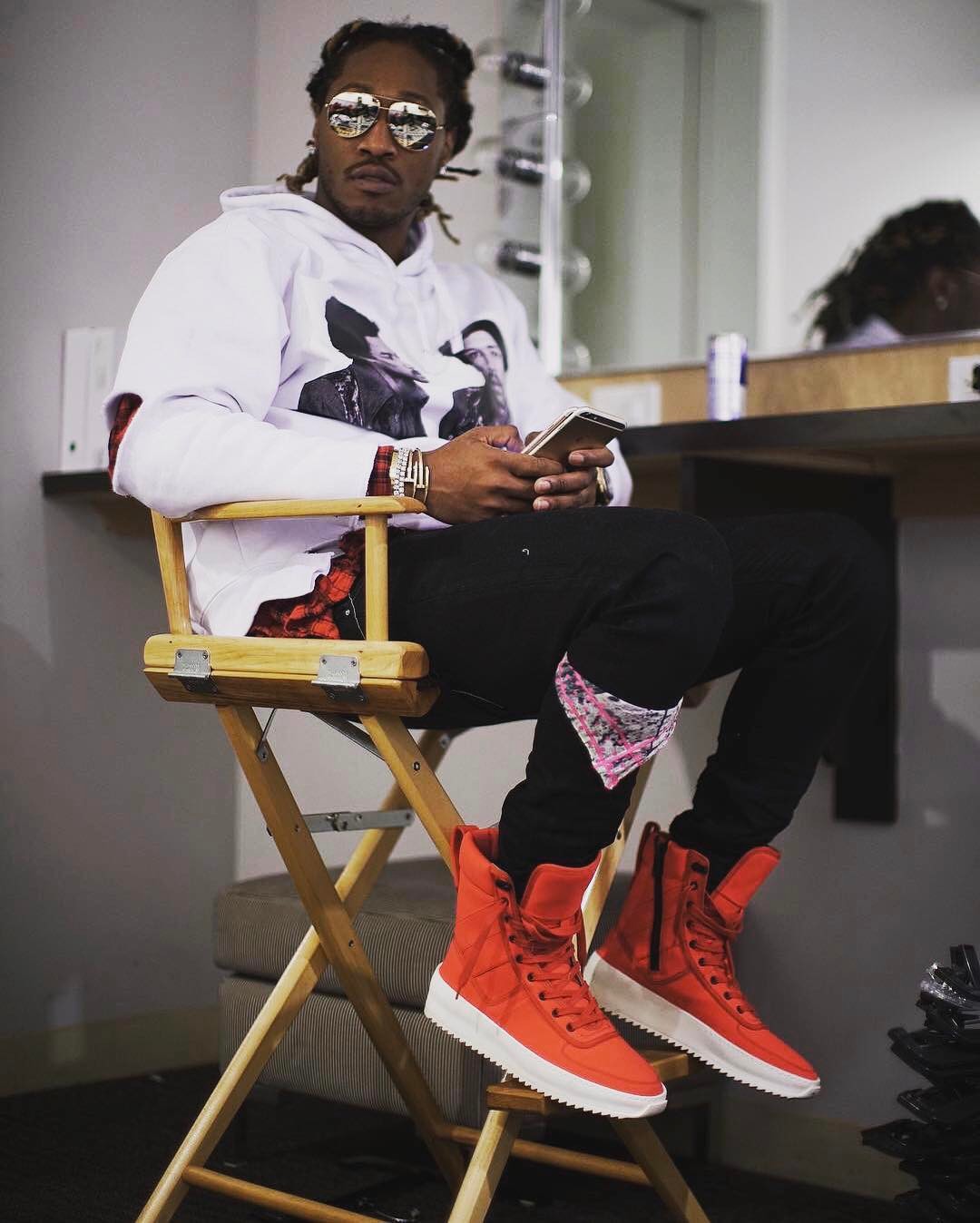 After the release of his album HNDRXX Future has been seen wearing a Ih Nom Uh Nit x HNDRXX promotional album hoodie featuring an image of Jimi Hendrix. Here Future wore Fear Of God Military Sneakers in a 1 of 1 red colourway, showing just how strong his sneaker game is.
Awards Attire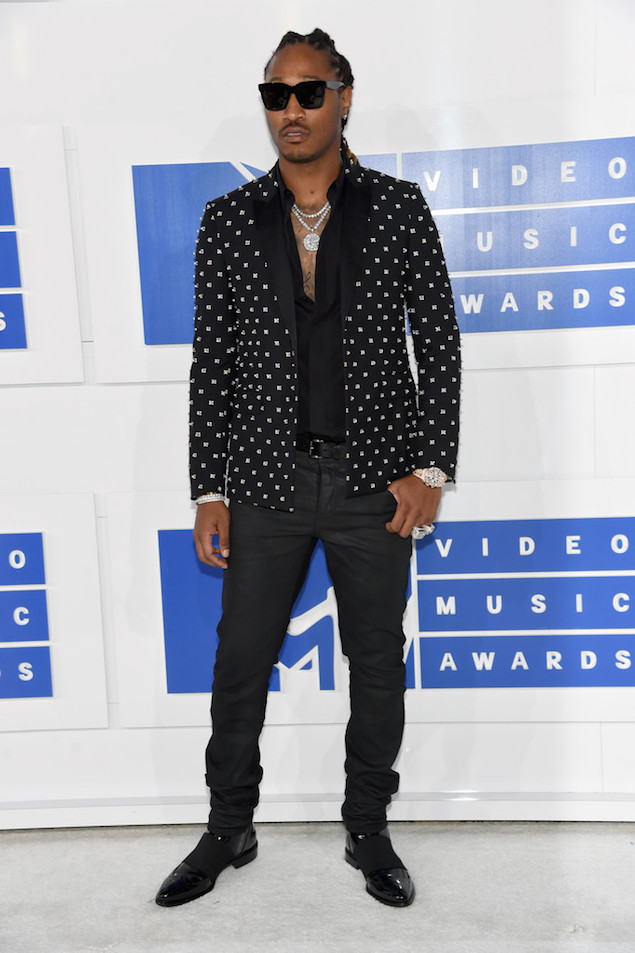 Future turned up to the 2016 MTV Video Music Awards in a black Givenchy suit, black blocked out Celine sunglasses and ice on his wrist; smart, classic and effortlessly cool.
Music Video Flex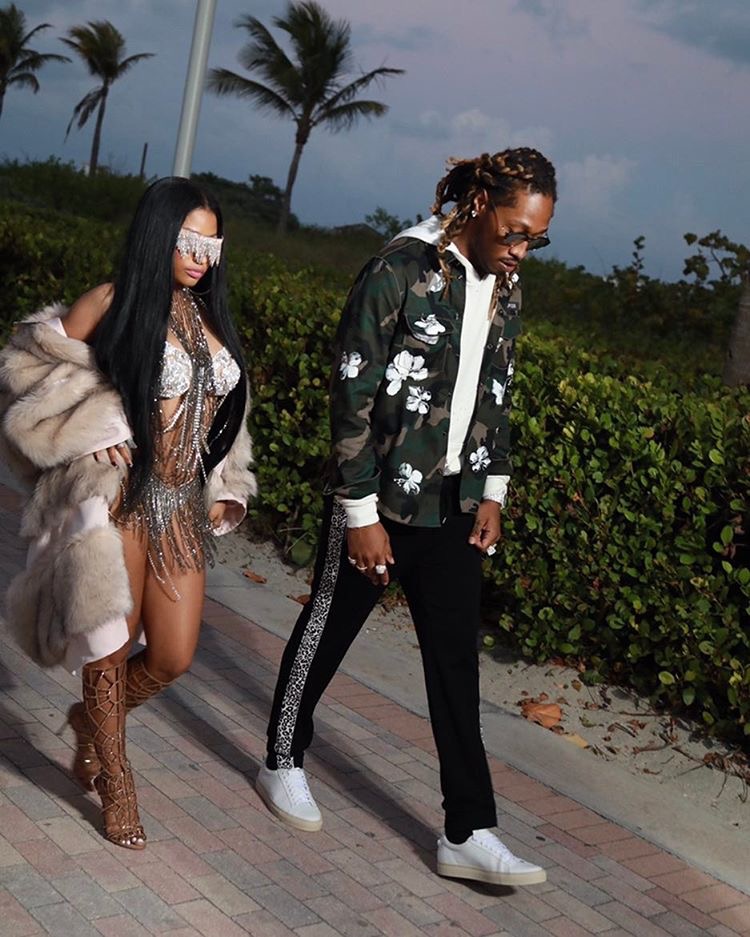 Future recently filmed a new music video with Nicki Minaj. He wore a Valentino Shirt, Enfant Riches Déprimés hoodie, Givenchy trainers and Alexander McQueen trousers, balancing out the two contrasting camouflage and leopard prints by colour blocking.
Fur Coat How To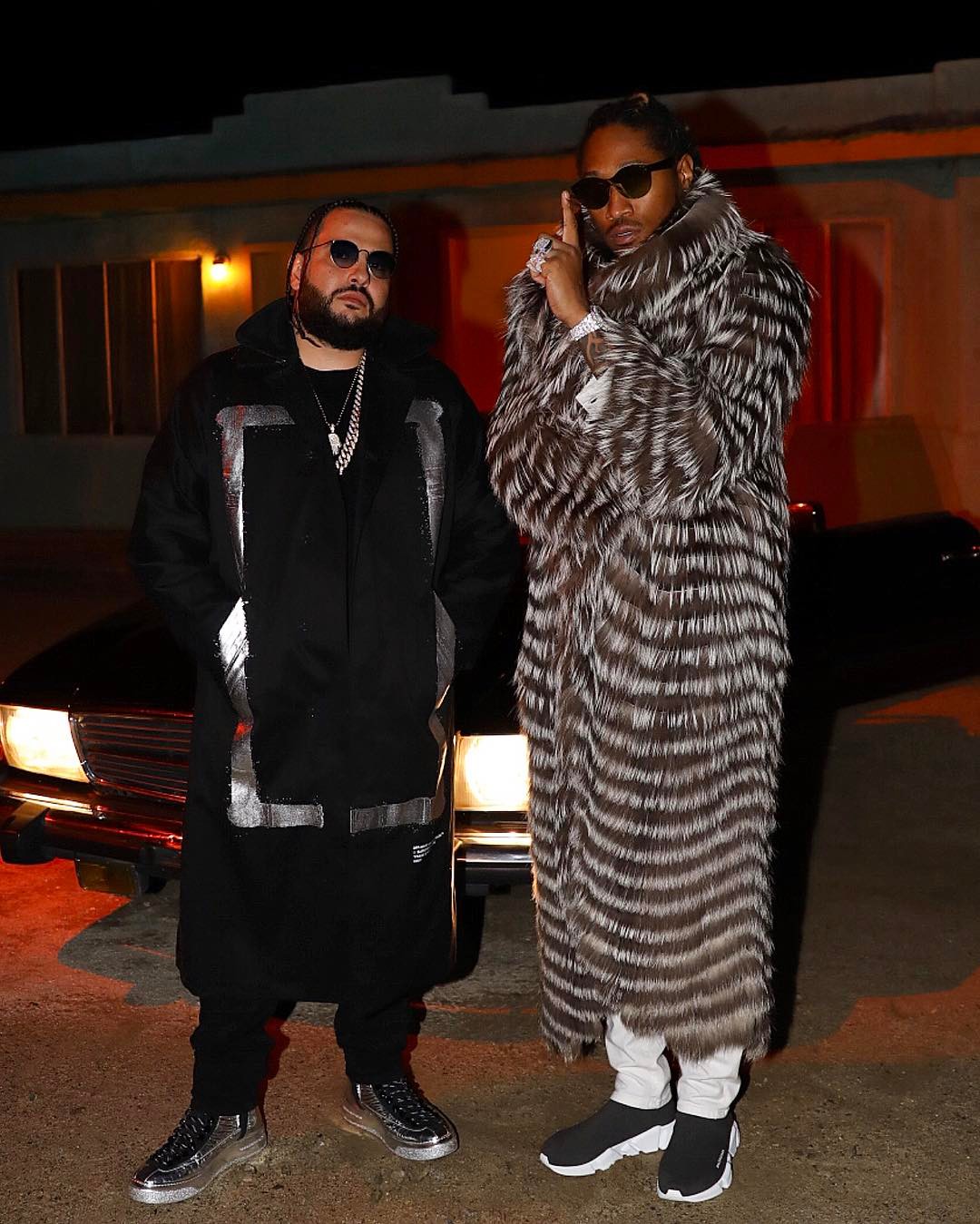 When shooting a music video for his single Frozen Water, the rapper made a bold statement with this almost full-length fur coat, shades on his face and Balenciaga Speed Trainers making an appearance.
A Pop Of Red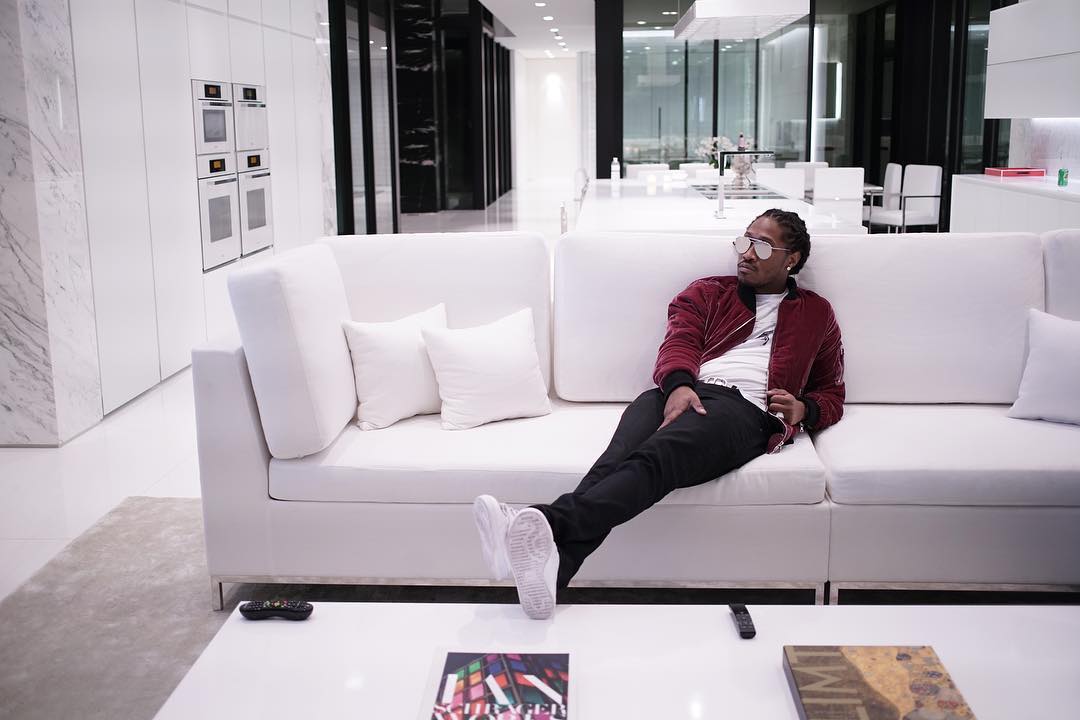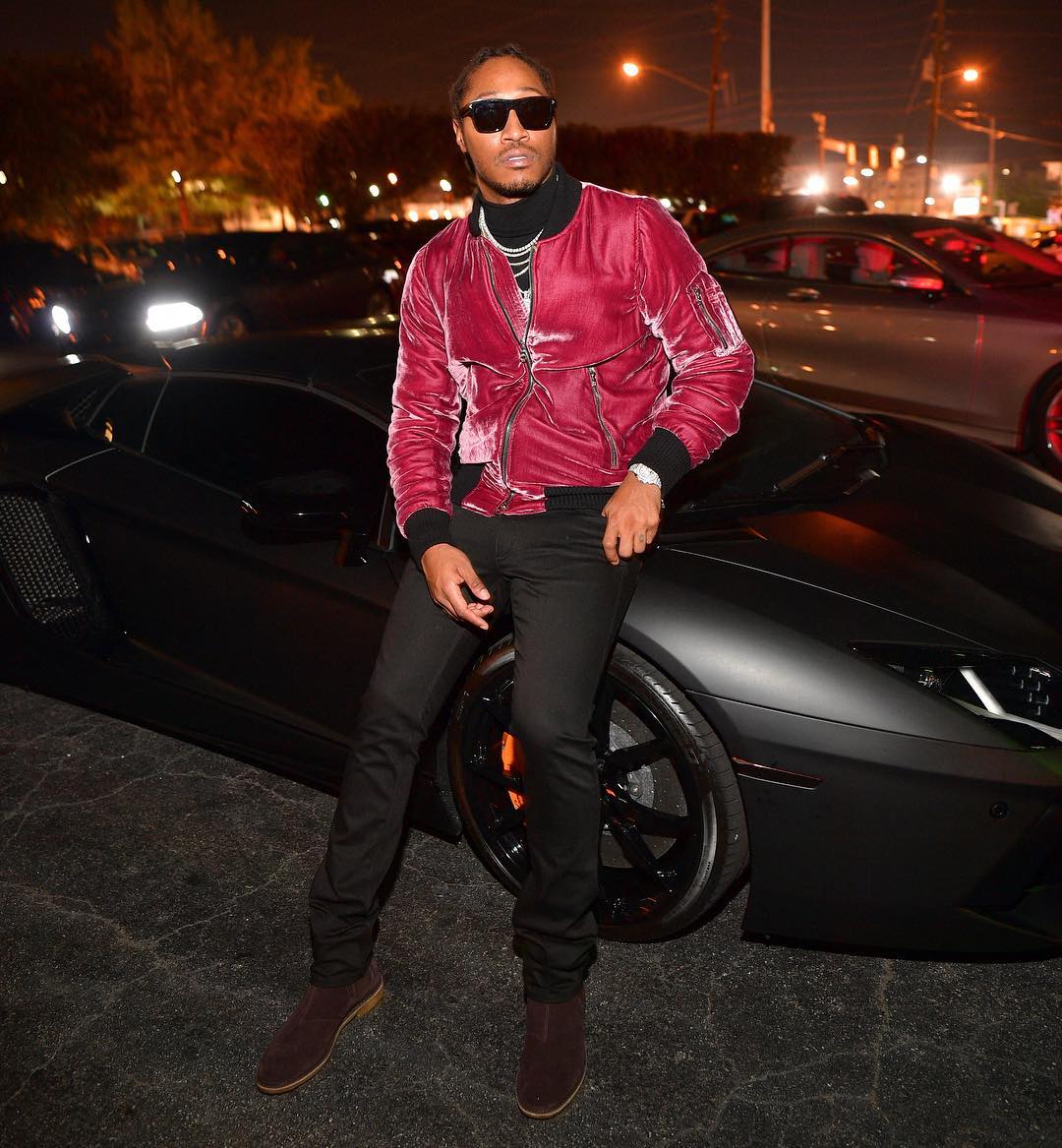 Future shows us how to never ever wear the same outfit twice but get away with wearing the same jacket more than once. He flexed this Amiri Merlot Silk Velvet Bomber Jacket with relatively monochrome, simplistic outfits, adding a small pop of red.
Colour Coordination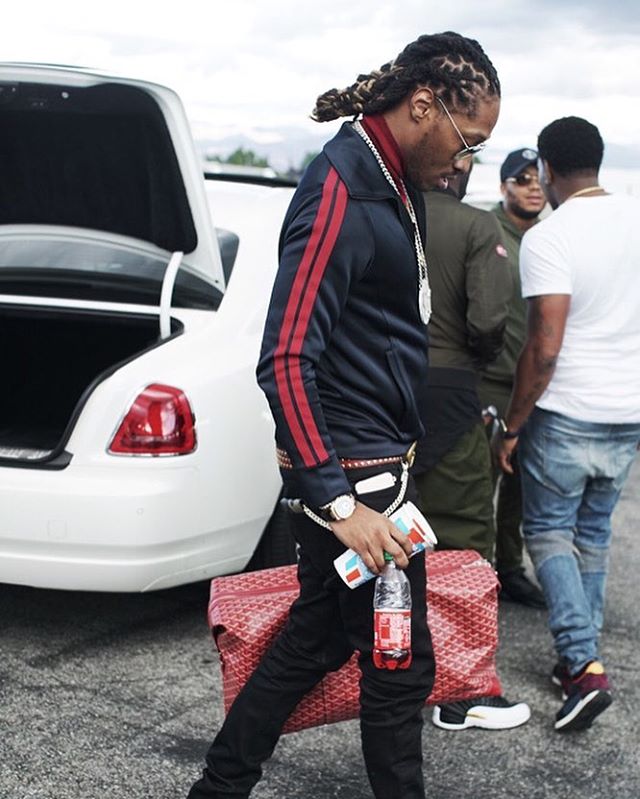 His colour coordination is truly on point here, from the red turtleneck to the red striped Burberry jacket, red belt and red Goyard bag; even his drinks bottle fits the colour scheme.
Suited & Booted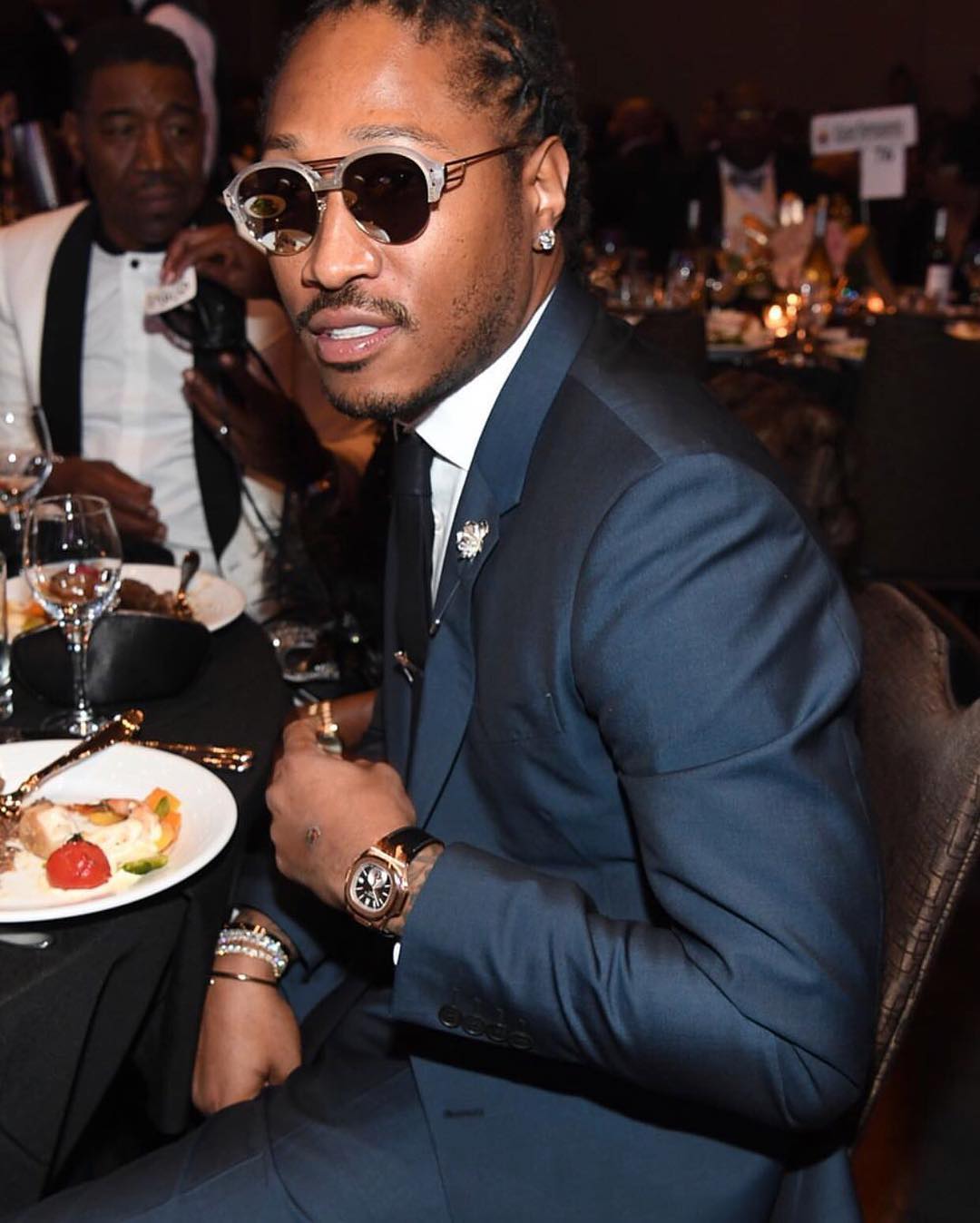 Last year Future attended the UNCF Mayor's Masked Ball where he donated $25,000. He suited up, choosing to pair subtly sleek navy Dior suit with reflective Temple and Bridges x Lance Fresh sunglasses and a $55,000 Patek Philippe watch. Ice for days.
Simplistic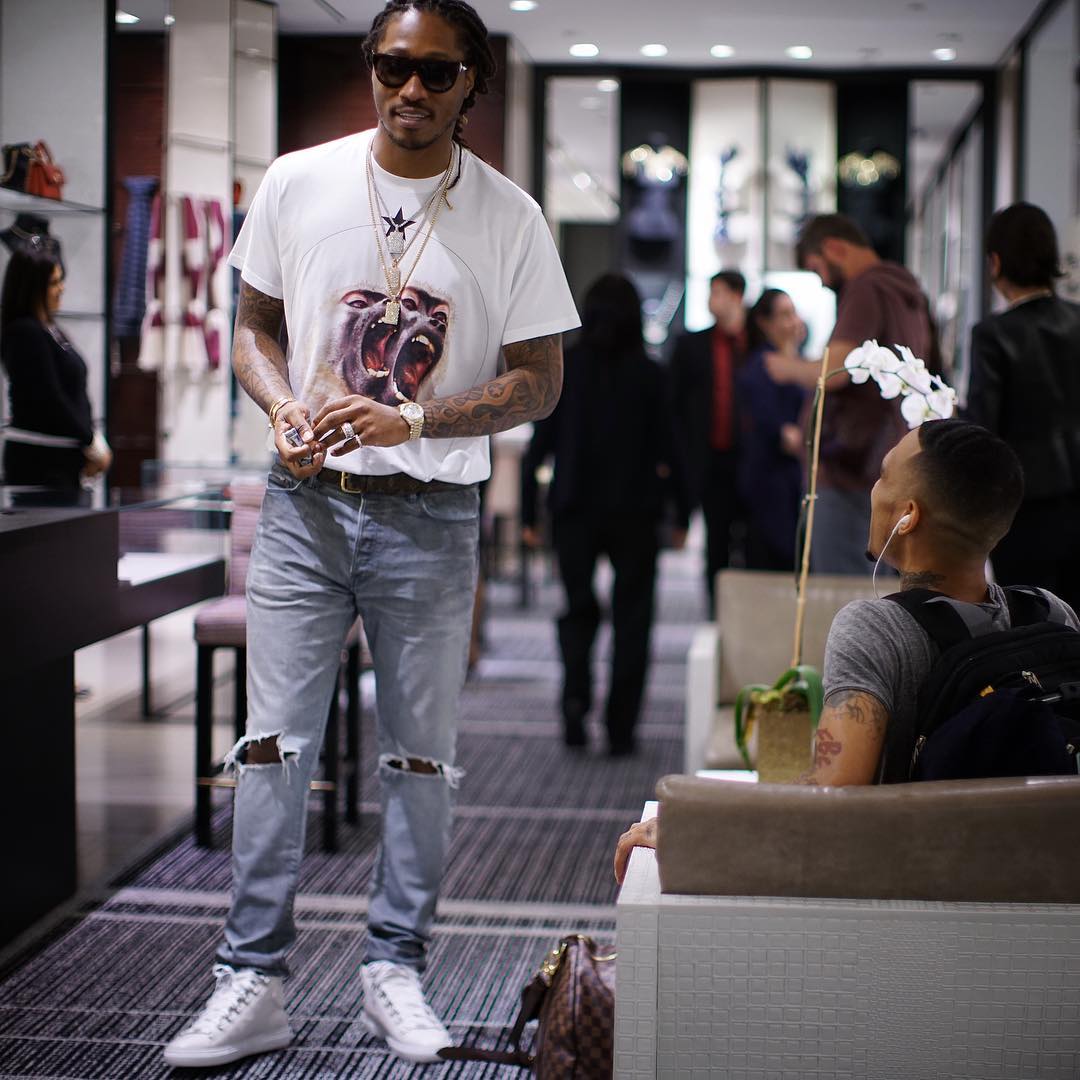 Sometimes simple is best. Future did a spot of shopping in a Givenchy T-Shirt, ripped jeans and Balenciaga Arena High-Top Sneakers. It wouldn't be a Future look if he hadn't accessorised with multiple chains, rings and sunglasses.
Gold, Gold, Gold
If you weren't already aware of Future's love for Gold, you will be after seeing this outfit from his performance at EpicFest 2016. He wore Valentino Beige Striped Side Pants with Visvim Roland Jogger Sneakers and a peaked top hat like cap.
Gucci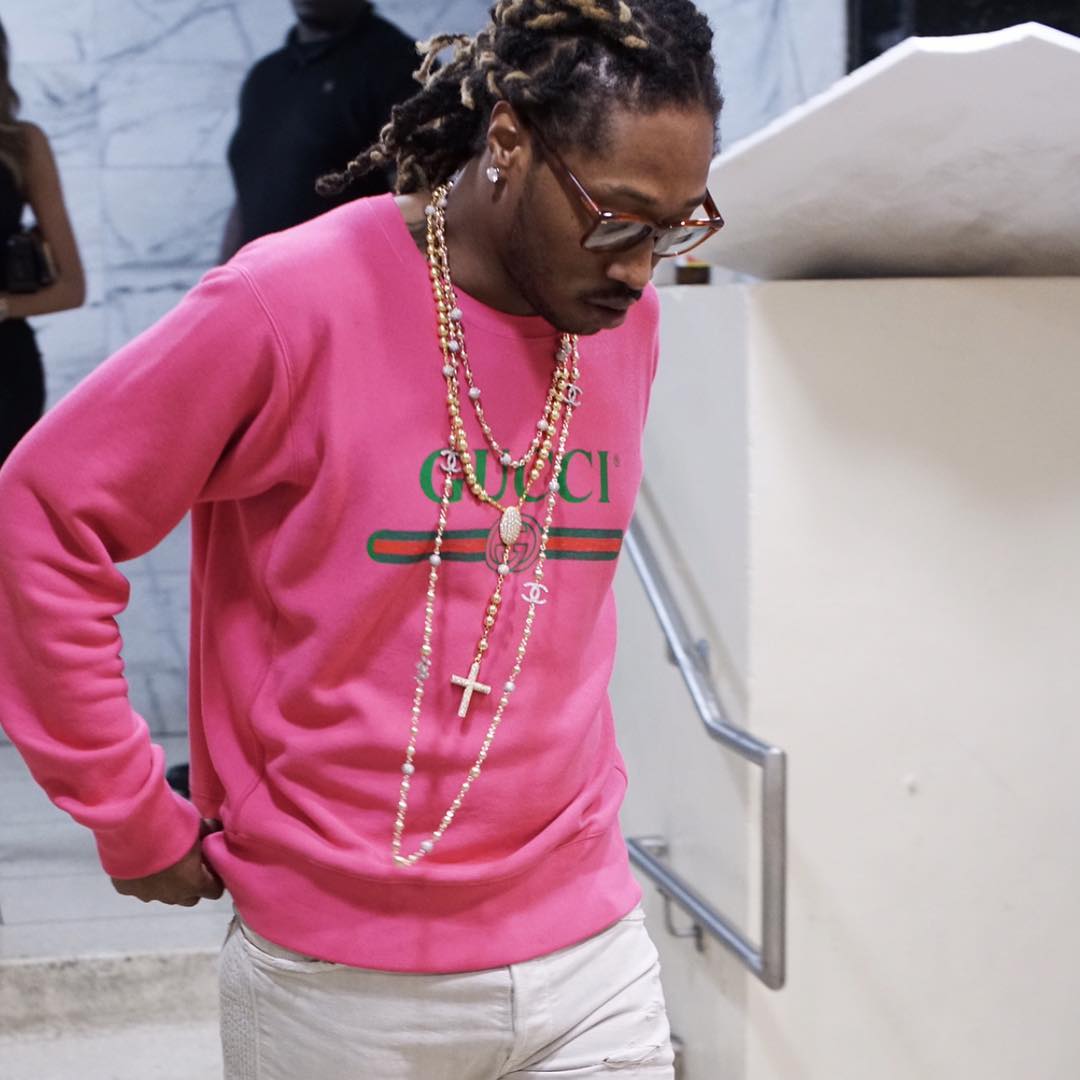 Future isn't one to wear bright colours often but when he does, he pulls it off effortlessly. He paired a bright pink Gucci sweatshirt with Chanel necklaces and sunglasses for a casual look.
All Black Everything

This all black outfit from Future shows that sometimes simple is best, as he mixed a mastermind JAPAN. hoodie with Louis Vuitton sneakers and Chanel necklaces for an effortless 'just woke up' flex.
Gucci And The Weeknd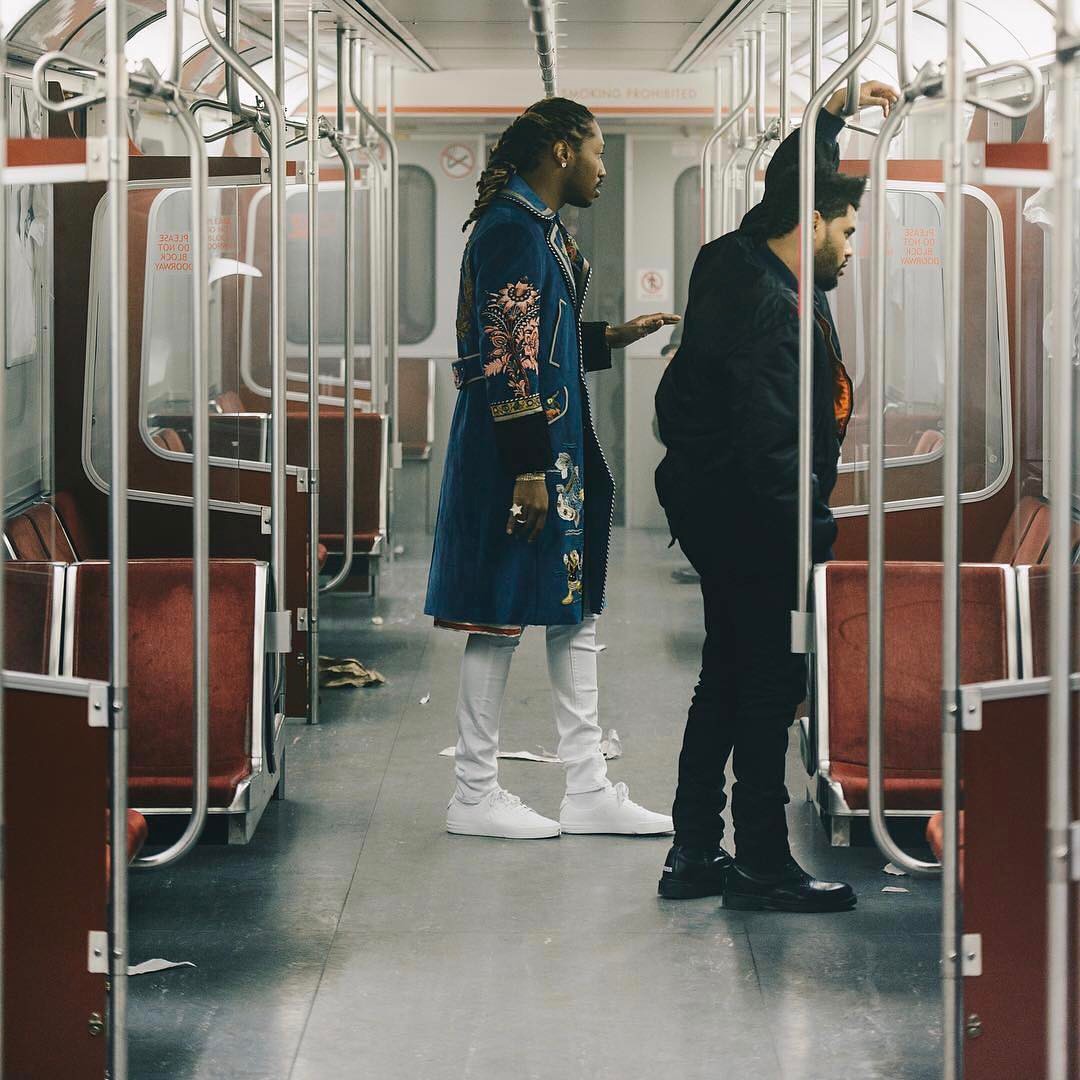 Recently spotted shooting a music video with The Weeknd, who sported Vetements x Dr Martens boots, Future wore a blue Gucci Embroidered Velvet Coat with white trousers and sneakers, showing us how to wear bold, statement pieces.
Gucci Stripes

Future nailed the two current hottest trends: striped trousers and orange for Billboard Magazine. He colour coordinated the stripe with a Martine Rose Oversized Shirt and Celine Sneakers showing he really is one of raps best dressed.