Never one to shy away from red carpet moment, Zayn Malik has fast become one of the most sartorially savvy men in the music industry. Walking away as this year's 'most stylish man of the year' at the GQ awards, his status as a dapper dresser was deservedly solidified, entering the echelons of some of the best-dressed men to grace us with their grandeur getups.
That being said, while his garb is certainly something to turn heads, it's his ever-changing hairdos that really grasp our attention. Comparable to Beckham's hair icon status in the 90s/00s, the coiffure chameleon has changed his stripes more times than we can count.
All considered it's likely his grey/silver tresses that have garnered the most attention. Spawning a legion of gents (and ladies alike) attempting to recreate the look, it's no doubt he's certainly part of the reason we've seen such a spike in those looking to go grey before their time. If you're hoping to do the same yourself, we've got you covered.
How to Get Grey/Silver Hair
As one of the hardest colours to achieve, the likelihood of things going wrong is extremely high so you're better off finding a stylist to do it right the first time. That being said; learning tips, tricks and utilising the best products for silver hair in between visits can make all the difference, saving you some serious money.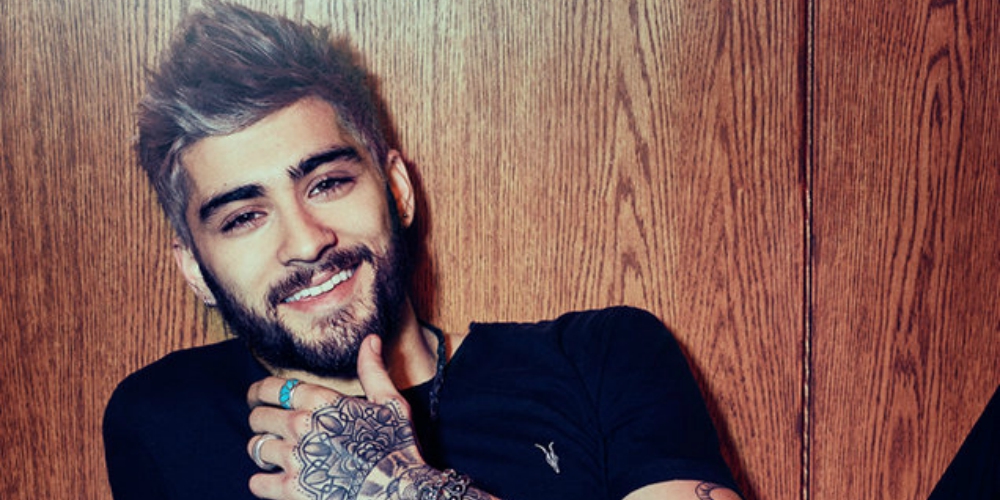 Expert Tips for Maintaining Grey/Silver Hair
Ross Charles, Owner of Ross Charles Hairdressing & Suzie McGill, Owner of Rainbow Room International's Uddingston salon gave us a few tips for maintaining silver hair.
 – Try using a colour repair mask once a week to hydrate and nourish the ends of your hair.
– Keep your overall colour looking good, invest in some dry shampoo.
 – Skipping a shampoo as often as possible will be great for your colour – try not to wash your hair more than twice a week.
 – Skip a blow-dry once a week and allow your hair to dry naturally. The less heated styling and washing your hair faces, the better condition it will be in. Your colour will not only look more vibrant but hair will appear shinier and healthier.
 – When you do need to wash your hair, the key to preserving a true metallic silver hue is keeping brassy tones at bay and stock up on shampoos and conditioners specifically designed for silver locks.
 – In particular, look out for blue or violet toned products that will wave goodbye to yellow undertones and ensure your metallic grey is and super shiny.
– To maintain silver/grey hair limit the use of heated styling tools wherever possible, as well as causing damage to the hair they can lead to dull, faded hair colour.
 – If you do need to use heated styling tools, ensure you use a heat protecting spray, which will preserve grey/silver vibrancy and keep hair looking full of shine and smooth.
Rita Hazan True Colour Ultimate Shine Gloss
A worthy addition to any blonde/grey haired guys arsenal. Rita Hazan's foaming gloss adds shine, radiance and an ever-needed colour boost.
Phil Smith Blonde Radiance Intensive Treatment
An easy way to kill those nasty yellowish tones and keep hair healthy and strong, Phil Smith's intensive treatment is among the most budget-friendly around.
Jo Hansford Platinum Shampoo & Conditioner
Purple shampoo/conditioner is absolutely essential, Jo Hansford's is among the best both killing brassy tones and adding essential nourishment.
Innoluxe Elixir
The highly concentrated innoluxe elixir will add much-needed strength and flexibility to any colour treated hair.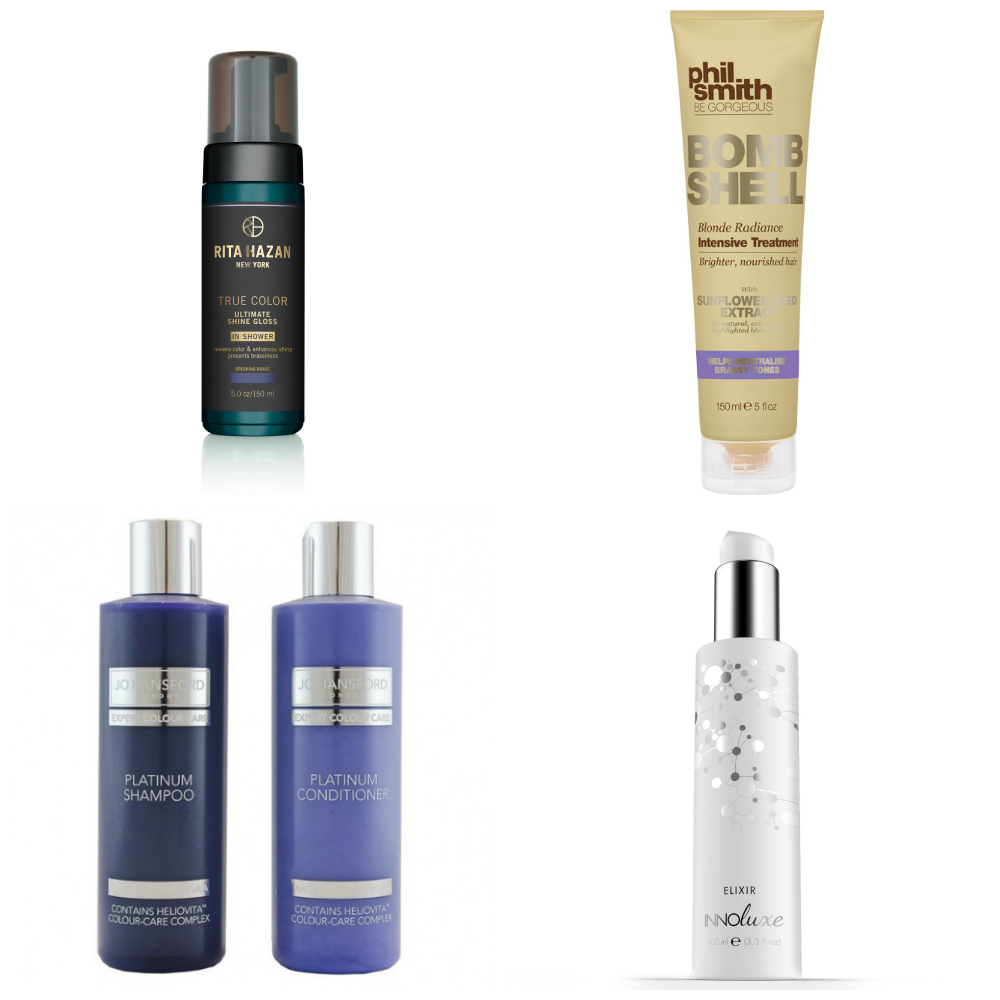 Rita Hazan True Colour Ultimate Shine Gloss
Phil Smith Blonde Radiance Intensive Treatment
Jo Hansford Platinum Shampoo & Conditioner
ColourProof Anti-Frizz Weatherproof Spray
ColourProof's anti-frizz spray will lock in moisture, keep your style in place, and aid you in the eternal battle against frizz prone coloured hair.
Colour Freedom Metallic Glory
Arguably the cheapest option for a decent colour boost, Colour Freedom's formula will give you the ultimate kick of colour in between bleaches.
Crazy Colour
An efficient way to add colour without damaging your hair, Crazy Colour's range of conditioners will last 4-8 washes while sealing in grey tones and banishing frizz.
Nanogen Hair Thickening Fibres
Last, but not least, Nanogen's thickening fibres will combat the inevitable thinning associated with overly coloured hair – adding volume and texture with ease.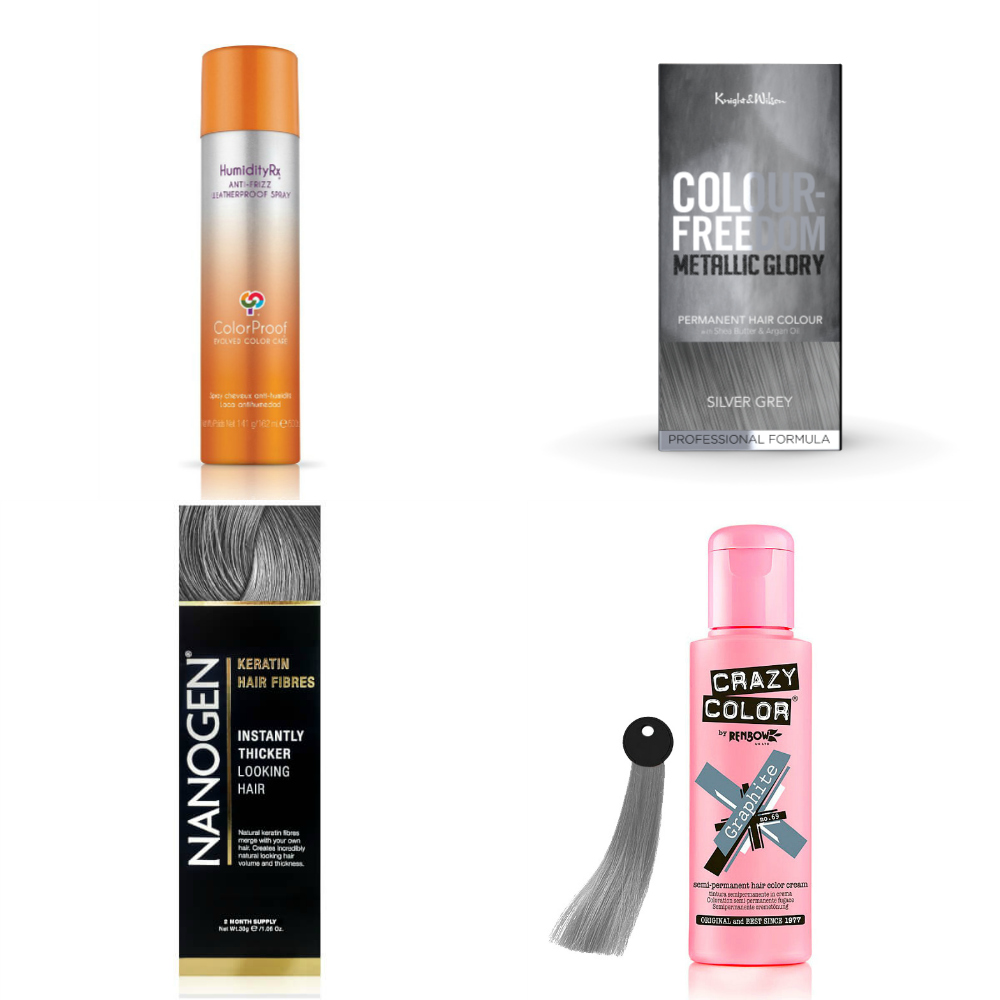 ColourProof Anti-Frizz Weatherproof Spray
Colour Freedom Metallic Glory
Nanogen Hair Thickening Fibres