Prada Adapts To The Culture
Image culture has intensified over the past couple of years with the beginning of the social media era. Users are able to connect at speed with their world through visuals and very short commentaries upholding them. People tend to critique what they see much more than what they read or hear – it's something that began with the advent of television. And so, some questions to ask Generation Z are 'what is it about the Balenciaga Triple S that makes it one of the most wanted shoes of 2017?' and 'why are Off-White creating more noise with their sneaker releases?'
Generally, this becomes a greater question about the world, pressing beyond fashion and into things like 'is Shakespeare great just because we're told he is?' and 'do we like Mona Lisa just because everyone tells us to?' Essentially, how much do we make up our own mind about the beautiful? Are we even capable of independent judgement when we're so used to being told what to think? What are the implications beyond art? All these questions are very relevant to a big name like Prada. Let us explain why.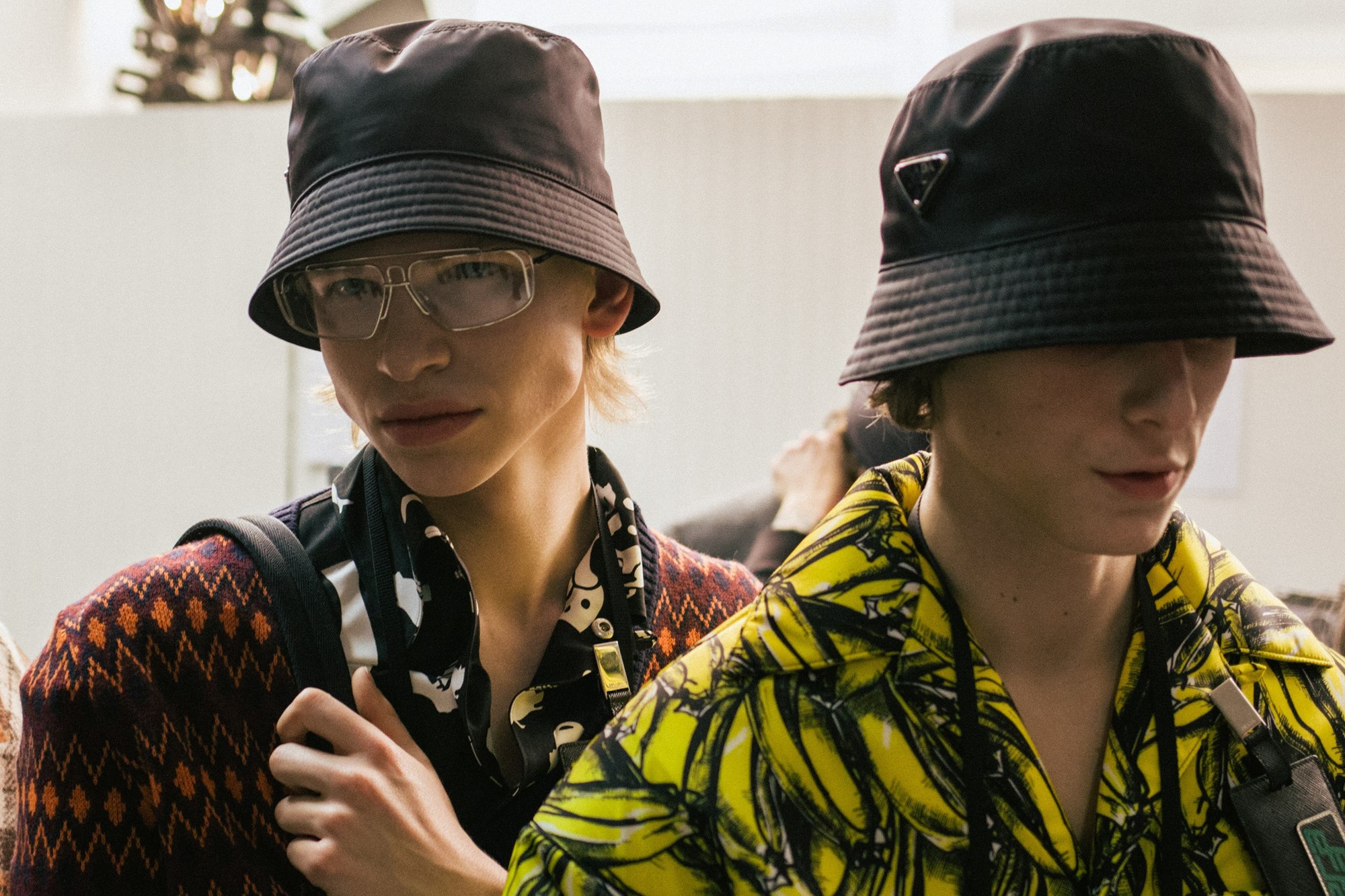 Prada was founded in 1913 by Mario Prada as a luxury leather-goods company, producing quality leather handbags and travel accessories.  In 1978, during a period of decline for the brand, granddaughter Miuccia Prada took the helm. In her 30-year tenure, the power-house had become a synonym for fashion embedded into society at large. CEOs Miuccia Prada and Patrizio Bertelli reacted to societal norms within each collection that they release. Miuccia spoke on the ideology of the brand, stating that "art is about learning and about living with people. It's alive." They were both visionaries who pushed the realm of art by taking a more intellectual approach to fashion.
Take, for example, their Spring/Summer 2016 Ready-to-Wear Collection: it harked back to the seventies through subtle decorative patterning whilst re-imaging the notions of chic by defying that same neatness with colourful overlay of images and materials. Both Autumn/Winter 2017 Ready-to-Wear and Spring/Summer 2018 Ready-to-Wear focused on the role of the contemporary woman, with the former examining the issue through a domestic vs public scale and the latter tapping into the female superhero.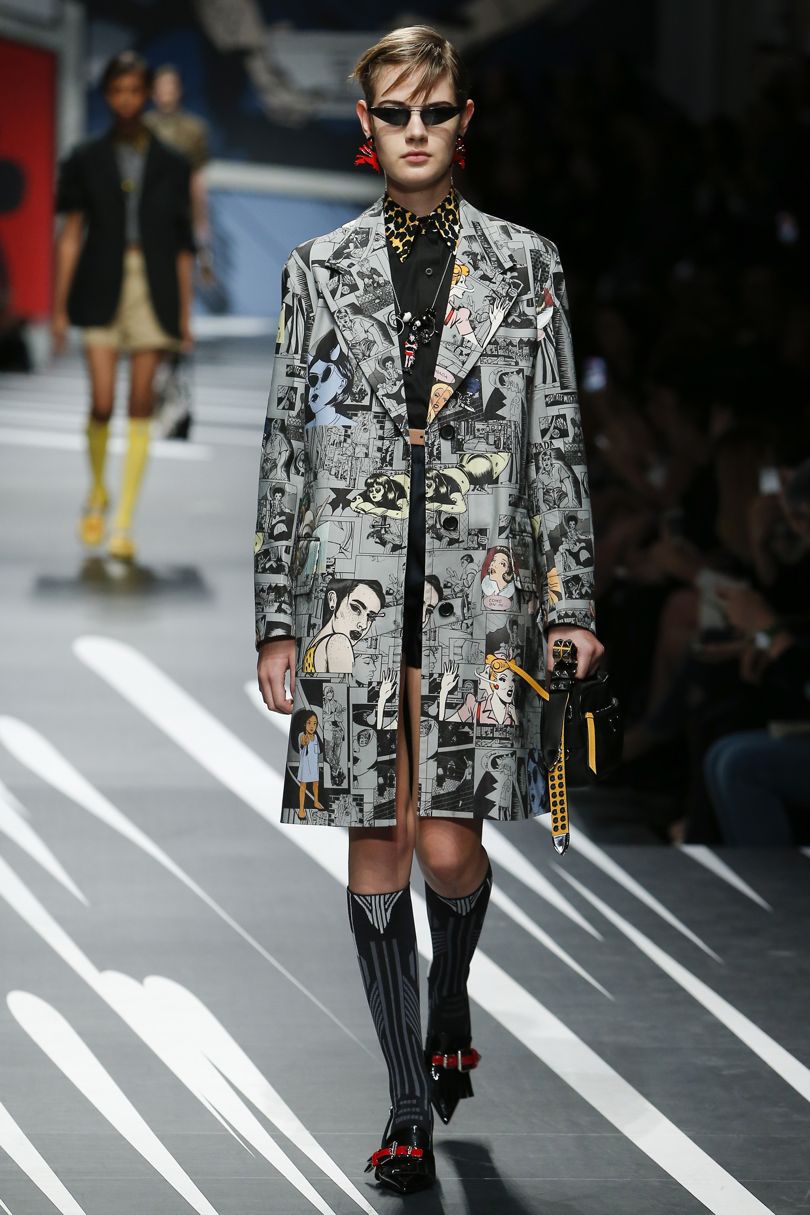 But it is this exact intellectual approach to clothing that caused the brand to lag behind its competitors. Over the last two years, Prada's sales have gone downhill, and unlike most of its competitors, it has been unable to find a gap in the market through which it could re-establish itself. Fashion today is dominated by logos, visual representation, and quick identification through mediums such as Instagram and Facebook. Prada's collections were quickly drifting into the high-end backwaters of fashion because of their reluctance to hone in on this change in consumer behaviour. Their strategy was in critical need of change.
Luxury brands have very recently attracted an audience that's a little less 'grown-up' than usual. The new mainstream luxury consumer is considerably younger and digitally informed. Brands like Off-White, Gucci, Balenciaga and Louis Vuitton did exceptionally well last year by grabbing the attention of the online consumer with branding, statement pieces and memorable graphics. Prada, on the other hand, has retained a dense and multi-layered format to their clothing, which, to the casual consumer on Instagram, can be hard to digest and popularise.
What once worked for the Italian fashion house prior to social media no longer made much sense in an industry controlled by this new tech-savvy consumer. New-form digital content has brought with it a new clientele and a new way of doing business. The instagramming mass known as influencers have become increasingly significant to the marketing stratagems of fashion and luxury brands in 2018.
As society and demand changes, brands have to not shy away from switching directions if needs be: the companies that flourish in the digital age are those that are re-focusing their strengths towards it. The logical conclusion for Prada was recontextualising their runways and satisfying this trend. Although Prada has always evolved and consistently explore the world through new lenses such as art and architecture – which has expanded their reach in various ways – the brand is now taking a more forceful approach to digital.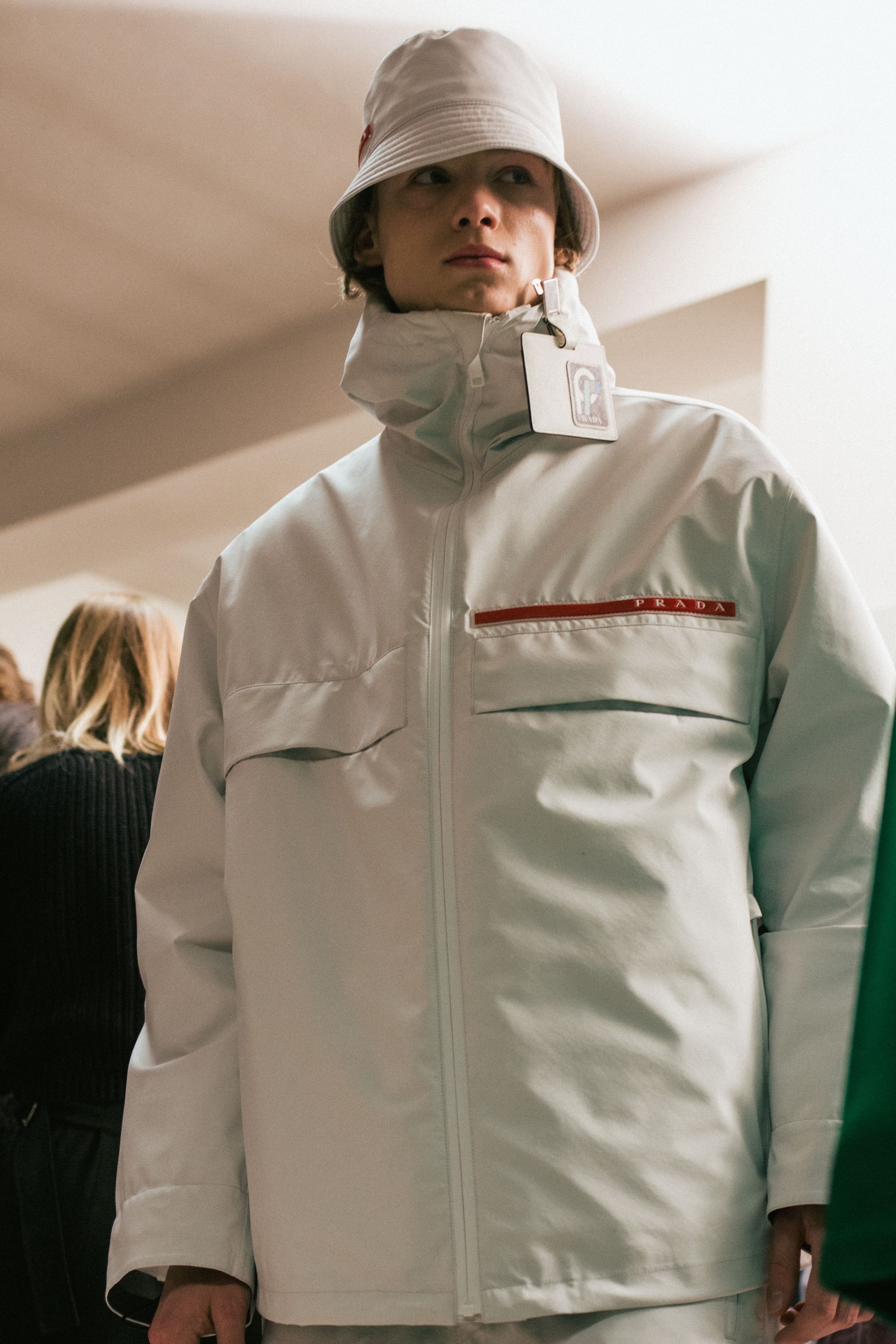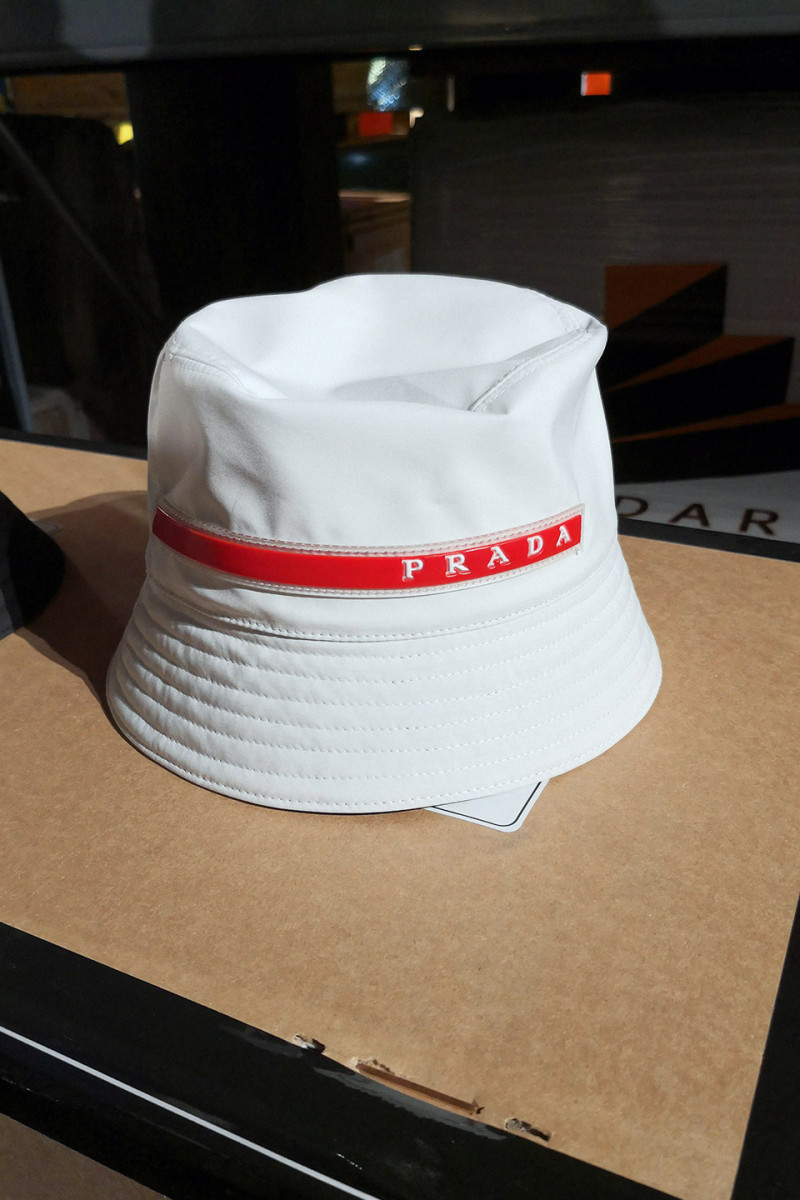 The quickest and most effective way to do this was to focus on what sells online – image. For their FW18 Show Prada brought Prada Sport back, a line that ran between 1997 and 2006 alongside Prada's high-end couture collections. This was a very smart move. Not only does the collection cater to a new, streetwear-centric audience that the house hasn't targeted before, but the label's retro logo front, a fantastic plastic red line with the "PRADA" branding printed in white, would go to be very impactful in marketing the Prada Sport collection online. Every monochromatic and oversized tech-sportswear item donned the red label, as well as incorporated performance fabrics such as GORE-TEX and the much-loved nylon that the brand has used since 1984. Although minimal, such branding would bring the brand to the forefront of fashion. Fashion shows, after all, are marketing vehicles, and what better way to use it than target it at what does well on social media.
Following up on the chunky shoe movement, an aesthetic that many have championed over the past year, Prada released the Cloudbust Knit Trainers for SS18 alongside their female superhero collection. The Italian fashion house also saw an opportunity within the ugly dad trainer trend. This was bound to be a sneaker smash-hit. But as well as tapping into this sneaker market, the trainer adopted another easily recognisable and impactful form branding – the Velcro strap that dabbles in Pantone's colour palette with the "PRADA" name located in the top centre. The strap has featured on track jackets, cuffed trousers jogging bottoms and sling-back heels. Although the Cloudbust is an interesting and innovative silhouette, the identifiable velcro strap is what's caused extreme idolisation from the online public. Like the triangular metal badge Prada logo, the strap's minimalistic style has gained credibility from its digital audience through means of immediate recognition and acknowledgement. A youthful and extremely fresh design, a retro Prada logo on a futuristic silhouette was undoubtedly going to cause immediate social-media mayhem. All of the marketing for Prada Sport wouldn't be done by the brand at all, but by the consumer online.
On his 'Boy Meets World' tour, Drake wore an exclusive Prada line designed especially for him: 'BMWT Special Edition by Prada'. A$AP Rocky was also spotted wearing the brand at the Dead Collection No Commission 'Island Might' event in Miami where he wore head-to-toe Prada – Cloudbust trainers, a jumpsuit secured by the famous velcro straps and a red waist bag following suit. On the more comical side, Sean Wotherspoon, the co-founder of Round Two and winner of Nike Vote Forward 2017, welcomed the new year wearing the Prada track bottoms whilst sporting a Prada seashell necklace around his neck. The brand has infiltrated pop-culture, music, sportswear and streetwear by making small changes in their branding technique as well as placing more importance on the use of logos in their collections.
Logos have always been used to emotionally connect with the consumer, whether that comes from repeated exposure, e.g. Coca-Cola, or whether other things are elicited in the first exposure, like the positivity of the Nike swoosh and the 'Just Do It' catchphrase that reinforces it. After a certain amount of exposure, that logo is always in – their significance is permanent and forever relevant to the brand. It is with the rise of social media that the logo movement has been stronger than ever. This saturation of imagery does not need to be matched by a comparable rise in the standard of writing or knowledge of history. There is a stronger focus on the present and our own time, than the past and its relevance to the current.
The internet has revolutionised the way that we consume fashion. Miuccia has noted that "it's important to anticipate where fashion is heading." Streetwear culture has become very much about validation. Brands are chasing the greatness that comes from excellent marketing trends and tactics. For once, perhaps, there is no enlightening artistic significance to the brand's new season, to these Prada logos and to the reintroduced Prada Sport line. And yet still, both the strap and the eye-popping red line has a wider relevance. It represents the social media era, high-fashion's place in this dynamic and the importance of aesthetics over anything else in contemporary society.
This is a move made by Prada for the people who aren't die-hard fanatics of the brand. This is for the casual consumers, those who cursorily browse the shops and then recognise the Nike swoosh or the Heinz crest and decide to pick up that product because of brand recognition and reputation. This is the world of streetwear. It seems natural that Prada is tapping into this culture, a seamless progression within the multi-faceted world of fashion. We are all products of our environment. In order for a brand to keep up, it has to respond to the demands of the public. Sportswear is now at the heart of fashion: it is no longer an also-ran, but the main contender. By gaining recognition within sportswear and streetwear, Prada will have more chance to entice the younger generation to consider their more traditional collections.
So no, Shakespeare isn't just great because we're told he is. He is truly a literary genius. I have a feeling, however, that many have and would travel to the Louvre in Paris to see Leonardo da Vinci's Mona Lisa just because she's a famous and recognisable face, an image representing her identity. Our independent judgement and take on beauty is marred by what society deems to be popular and trendy. And with the advent of social media, nothing could be more true for fashion and the use of image, logos and branding.
Miuccia Prada has said that "fashion is instant language", and there is currently no quicker way of translating fashion than through using social media as a marketing tool. It's an excellent way of evolving and yet sustaining a brand. 2018 is going to be a very good year for Prada indeed.