Talks Music collaborations, André 3000, Fendi and more
Singer, songwriter, producer
West London based singer, songwriter and producer, Shakka, was first exposed to music as a young child through his father, an experienced musician that focused on the reggae genre, although it was only until 2009 did Shakka himself dip his toe into the music industry after releasing his first official EP, Foolishness, which was recorded at a local youth centre. However, since then the vocally-unique creative whose fans lose their voice trying to hit his impressive high notes has gone from strength to strength, most notably working with JME to create 'Say Nada,' a song that has racked up over 12,000,000 streams on Spotify, featuring in Wretch 32's "Blackout" which became a Top 10 hit in the UK, working with Basement Jaxx, and releasing The Lost Boys, The Island and The Tribe, three EP's that have all achieved impressive success.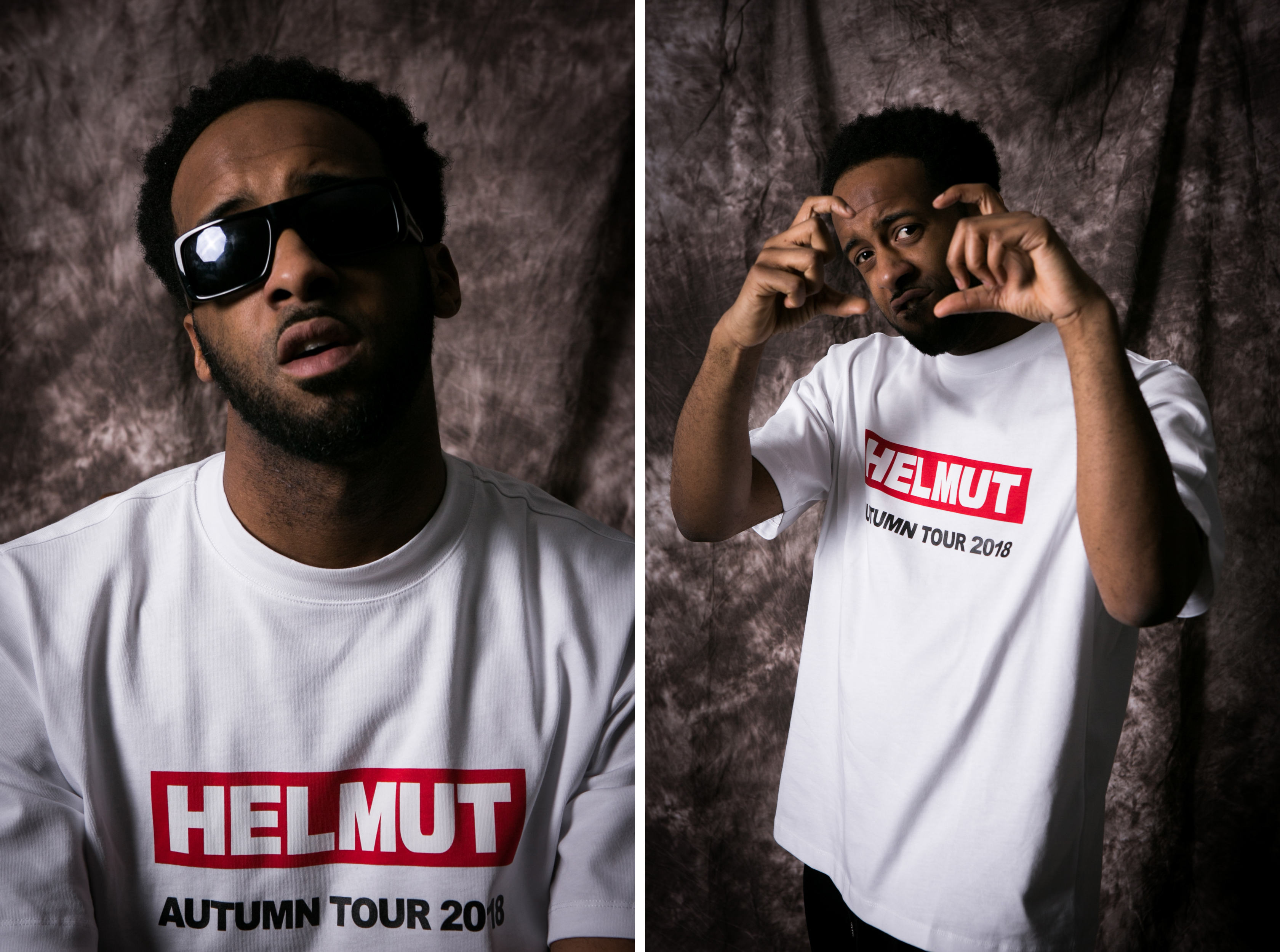 T shirt – Helmut Lang @ Coggles, Trousers – McQueen @ Coggles, Sunglasses – Ralph Lauren
You're born and raised from West London, Ladbroke Grove, did your area influence your music and if so, How?
We grow up with all kinds of different people from different places so in terms of putting genres together or putting styles together, it wasn't a problem for us. Although when we went to different parts of the UK or even different parts of London it was like why does this guy sound like Coldplay and Bob Marley at the same time! In all seriousness, though it was the gene of the city, so it let me spit like this person but also with a melody.
What made you start doing music and why?
My dad really got me into music, as well as women because I realised that singing for women made me more attractive!
And allowed you to win their heart?
Right, of course!
But for me making music really comes down to the excitement in making songs that allow me to dive into the lives and minds of many different people, and really start to write about all sorts of different things that I may not have been through but I could use my empathy to think about what others had gone through. It also helped that for some reason I was a go-to for my lady friends and people in relationships to talk about their problems so when it came to writing songs I had this pool of knowledge, dialogue and emotion that I could draw from that would allow me to make songs that could connect with human beings as a whole.
My dad was also a very good musician and I was in the studio with him, that's how I learnt to produce and sing.
What kind of music did your dad make?
Reggae, so a lot of peace, love and Good Vibrations!
Are there any artists that have inspired your journey?
André 3000, because he's just fearless, be it in his outfits, delivery, melodies or the way he chooses who he collaborates with, there's just so much that I learn from that man.
Top – Urban Outfitters
Joggers – Urban Outfitters, Trainers – Vans, Denim Jacket – Levi's
 T shirt – ASOS
Trousers – ASOS, Shirt – BoohooMan, Trainers – Fila @ Foot Locker
He's actually quite a lot of other musician's inspiration too.
Yeah the 'Speakerboxxx/The Love Below' album in particular made people think ok he's a demi-god now, he's not just a rapper that has the swag [stlye], the bars [lyrics] and melodies but he is actually messing around with jazz, folk and new age hip-hop that will stand the test of time, he is a living genius.
Does he still inspire you today?
Yeah, there are things I've discovered from that man that I have only been able to fathom recently, be it metaphors or even like why he said certain things and at the time he did, which you really have to do research into in order to find out what's fully going on.
Tell me about your music how has it changed through your journey?
It's a mixture of different things actually, I'd like to say it's become more mature as when I was in my early 20's I wouldn't really talk about sex that much, whereas now I have found ways to talk about things that are natural to me, that are fun, sexy and cool but also a bit scary while making it enjoyable for people to listen to without them getting uncomfortable or thinking it's raunchy or anything like that. That was a big moment for me because having the freedom and skill to be able to write something that has something in common with every human being in the world even though it could be seen as taboo is amazing, and that's not just sex, it could be elements of language, culture, politics and even things like finances and stuff like that.
Do you think that's one of the biggest tasks artists face, trying to find something to connect with the public?
Well, it's like food, the ones that sell are the Snickers and the Mars bars, even though they aren't what's good for us, what's good for us is the stuff like Nutri-Grain but it's always harder to find. So even though it's good for us it's not popular, but that's why people like J Cole, Michael Jackson, Aretha Franklin, Andre 3000 and Chance the Rapper are really amazing because they found the balance between what you want and what you need, allowing you to turn up while also allowing you to wise up.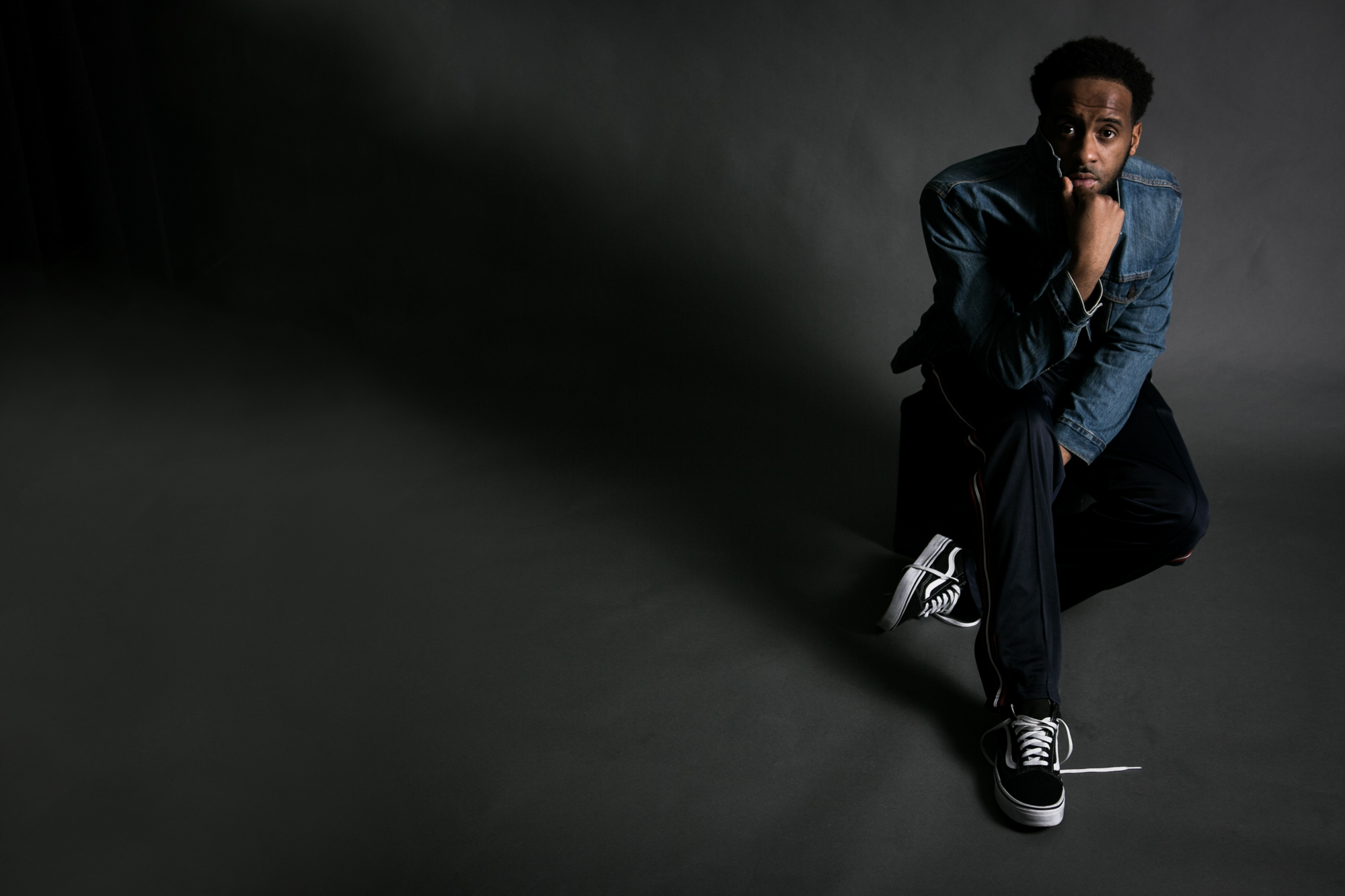 Yeah and it means they have longevity, they will always be in people's head.
Yeah, definitely and it's always like that, whether it's an album or song if it can act as a soundtrack for your life at any point within it will never leave. Like I can listen to Kendrick Lamar's 'I' or 'Alright' as well as to Jay-Z's 'Give it to me' because it's a song I still want to turn up to in the club because it's marked a moment in my life. Even if it was just fun you know, but still at that time I had the balance between both.
So I heard you're releasing something next week?
Yeah, I'm putting out a song called 'Man Down' featuring AlunaGeorge produced by Jae5, the guy who works very closely with J Hus, and it's fun as fuck.  "Man down baby wanna take my life, she don't want to be no side, she just want to be my wife" and it's essentially about someone who falls in love with the wrong person when she should be falling in love with someone more compatible. It's like the hazy first three weeks of honeymoon season that causes someone to believe something that isn't actually true. So it's me trying to tackle and describe that in the most entertaining way possible.
Who would you like to collaborate in 2018?
Andre 3000, SZA, I want to do some more songs with Wretch. I also wanna go bar for bar with Skeppy but yeah there are a few others.
Describe your music in one word?
That's not fair! Maybe 'elevating'.
What about your style?
Cosmopolitan!
 Pink Jacket – Napapijri, Joggers – Urban Outfitters
So you also produce music, who have you produced music for?
I did some stuff for Roc Nation, Psycho, Alexandra Burke, Nick Brewer, JME, Stylo G and others.
With music do you prefer to be in front of the eye or behind the scenes?
I prefer being an artist rather than a producer in the grand scheme of things but really over time, you see them as one of the same. With producing you can't connect with real people on the stage and there's nothing greater than not singing a lyric and letting the crowd do it, and interacting and laughing with them if they got it wrong, it's just crazy. Although in the studio you can make crazy sounds and it's mad, if you're performing on stage you can hang off the speakers and jump into the crowd and bring someone up on stage. Unfortunately, in the studio, you can't just bring in someone you've never heard before so that in itself is a universe that doesn't exist in the studio, so yeah probably the artist side of it.
What kind of Brands would we find in your wardrobe?
In my wardrobe you would find Ragyard, a lot of Converse, I've been banging ASOS recently as well as UCLA, Maharishi.
What designer piece have you got on your wish list for this year?
I was going past Knightsbridge and I saw this Fendi piece, it has strong colours and patterns now which is nice instead of the usual understated garments they do so yeah that's what I'm looking for. Also Maharishi because it's not overly stylish, it's more like this who we are, where we come from and our culture, they are very army orientated and the colours and patterns are very Japanese and I'm a geek for Japanese culture. So yeah that reminds me of Bathing Ape for the same reasons.
What about your favourite sneaker brand?
Well, recently I've been experimenting with brands other than Converse. Recently I battered Sam Smiths, as well as my first pair of Jordans, and I just thought how have we missed each other? Also ASICS, I have some high top ASICS in collaboration with Kith which I got from New York and the colours are like light blue, pink and grey with like the sturdy and comfy ASICS sole on the inside. Although I only wear them to make my family members jealous, mainly my brother because he's always had better trainers than me so whenever I go see him I've always got those shoes on and I'm like "do like them?" *laughter* no I'm not a show-off guy but they are very comfortable and look like art to me.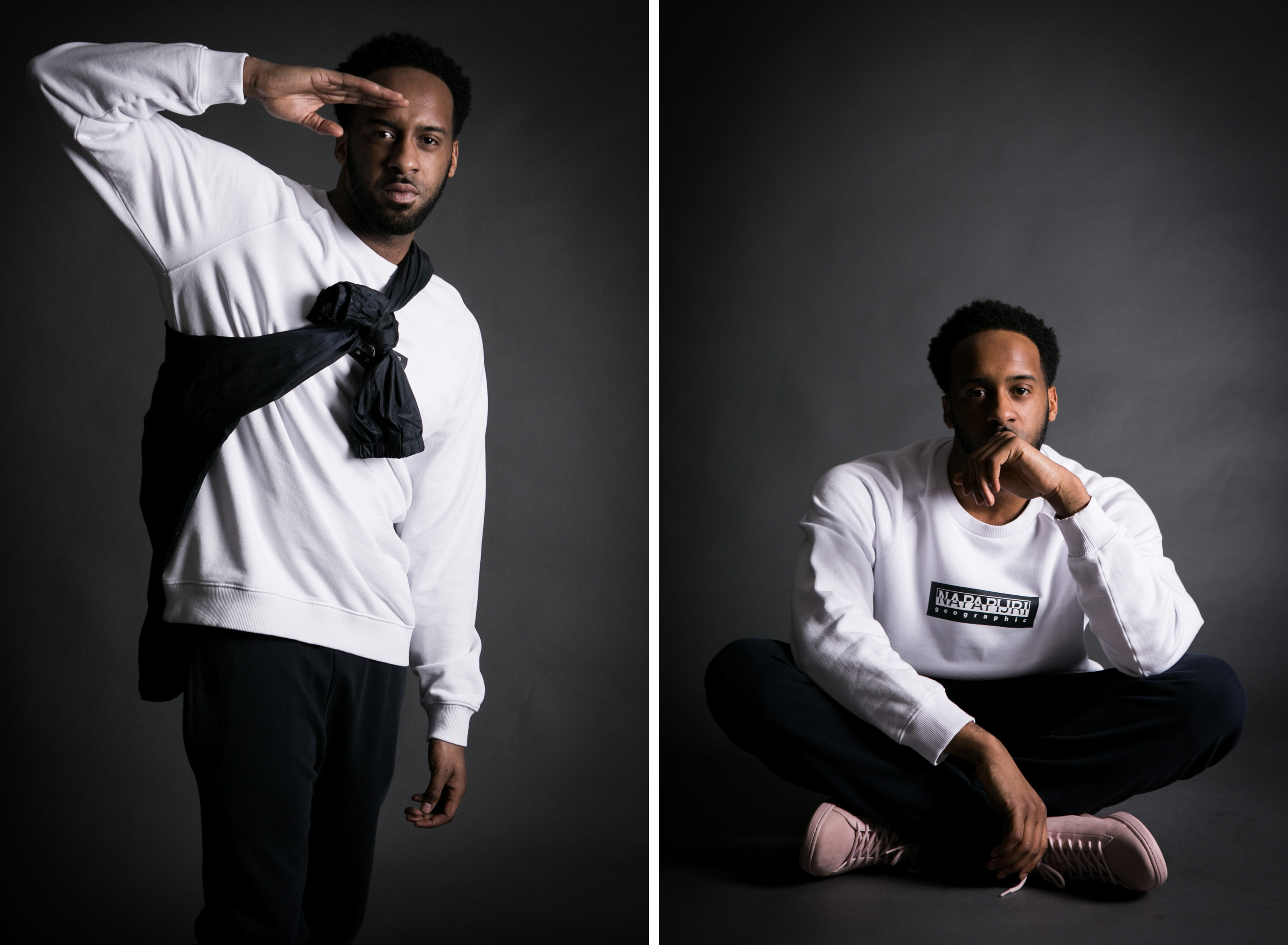 Jumper & Jacket – Napapijri
Trousers – Napapijri, Trainers – Lacoste
What advice would you give to an up and coming London based artist who is trying to break out?
I'll tell them to study music, the reason why a lot of people like Elton John, Stevie Wonder and Bob Marley were so sick was because they studied music. Elton John worked in a record shop, Stevie Wonder listened to the radio all day and considering he was blind that's a lot of what he did, and after just listening to pop music all the time they learnt how to make pop music naturally. So studying music and studying the craft, commercial music particularly is a big one. Another thing is to be your fucking self because there's no one like you and everyone else is taken. Finally be as fearless as possible and love to fail because you can only learn by failing, if you try to look good all the time you ain't going to get shit done. If there's a line and your like "fuck it I won't be able to do this" and you give it to someone else you'll never know if you could have, so the only way to find out is to just try. My favourite quote, and I think it's by Michael Jordan, sums it up, "you have to fail your way to the top."
What can we expect from Shakka in 2018?
Bare tunes, like I play different songs to my team almost every other day because I'm always writing and always coming up with new songs so I've got so many songs to give to planet Earth it should be illegal. 2018 should be filled with Shakka!