Talks about music, fashion and his take on current social issues.
Rapper, father and activist.
Macklemore is currently touring the world on his Gemini tour. As a Gemini himself, Macklemore's split identity has made him one of the most intriguing artists of our time. Motivated by the various goals he simultaneously balances, the artist continues to storm the UK charts, most recently hitting No.1 with his collaborative hit 'These Days'. Macklemore took time out of his sold-out tour to chat to PAUSE, here is what went down…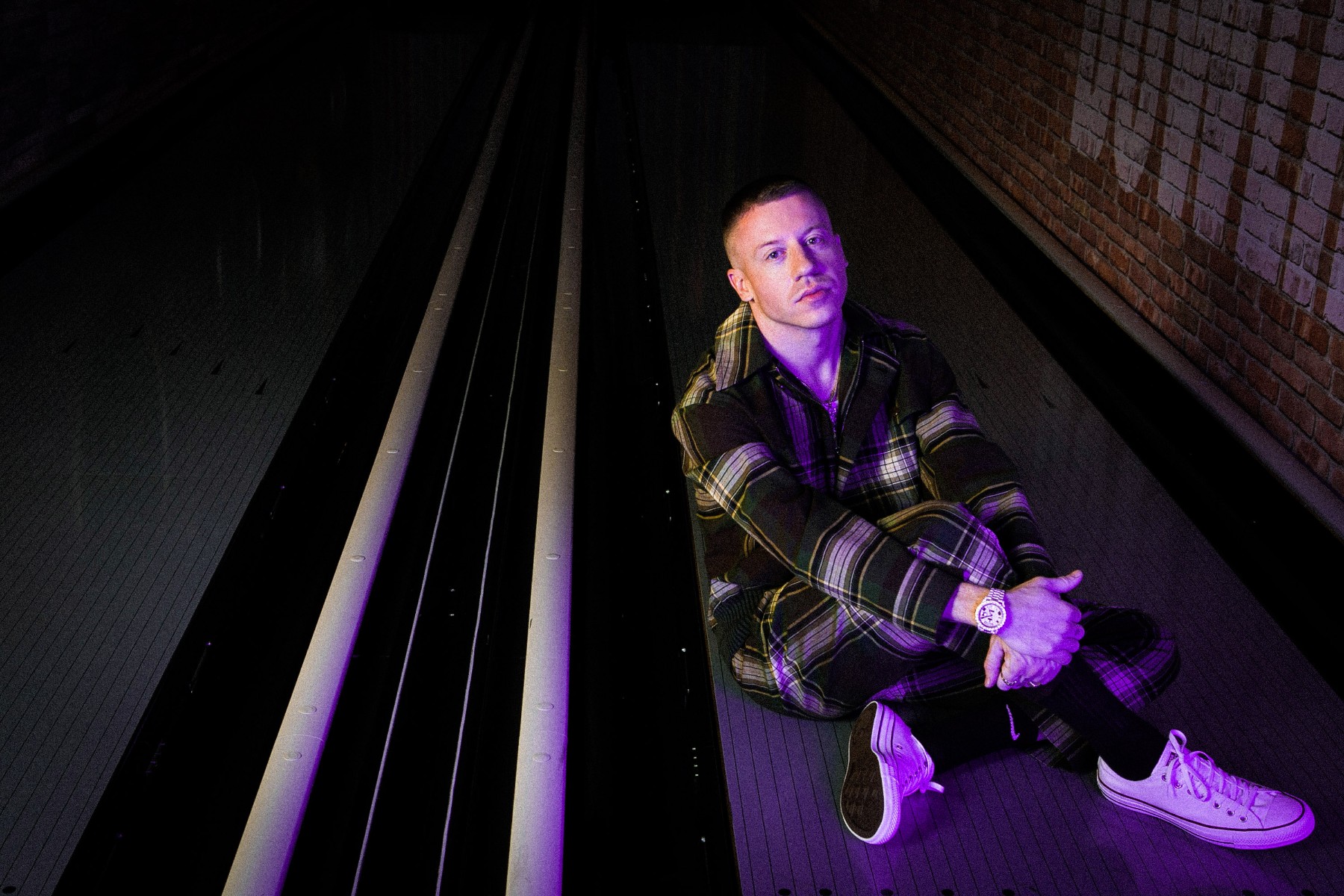 Jacket & Trousers – Vivienne Westwood @ Selfridges, Shoes – White Converse @ Schuh
You are currently on your sold-out Gemini tour across Europe whilst concurrently enjoying the success of the smash hit "These days". What does the UK mean to you in terms of your career and its fans?
The UK has always been a market that ever since we broke internationally, I wanted to be popping in. I think that there has been an incredible and supportive fanbase here and all over Europe. London is definitely a population of trendsetters, one of the best places to shop and get inspiration around the entire world. With back-to-back sold-out nights here, it's been incredible to watch the support and to have 'These Days' go to number one is exciting. The culture and the history here, and I to love come and just to take it all in. It's an exciting time for me here in the UK in general.
'These Days' features no less than three British acts. We know Rudimental reached out to you, what made you want to be a part of that?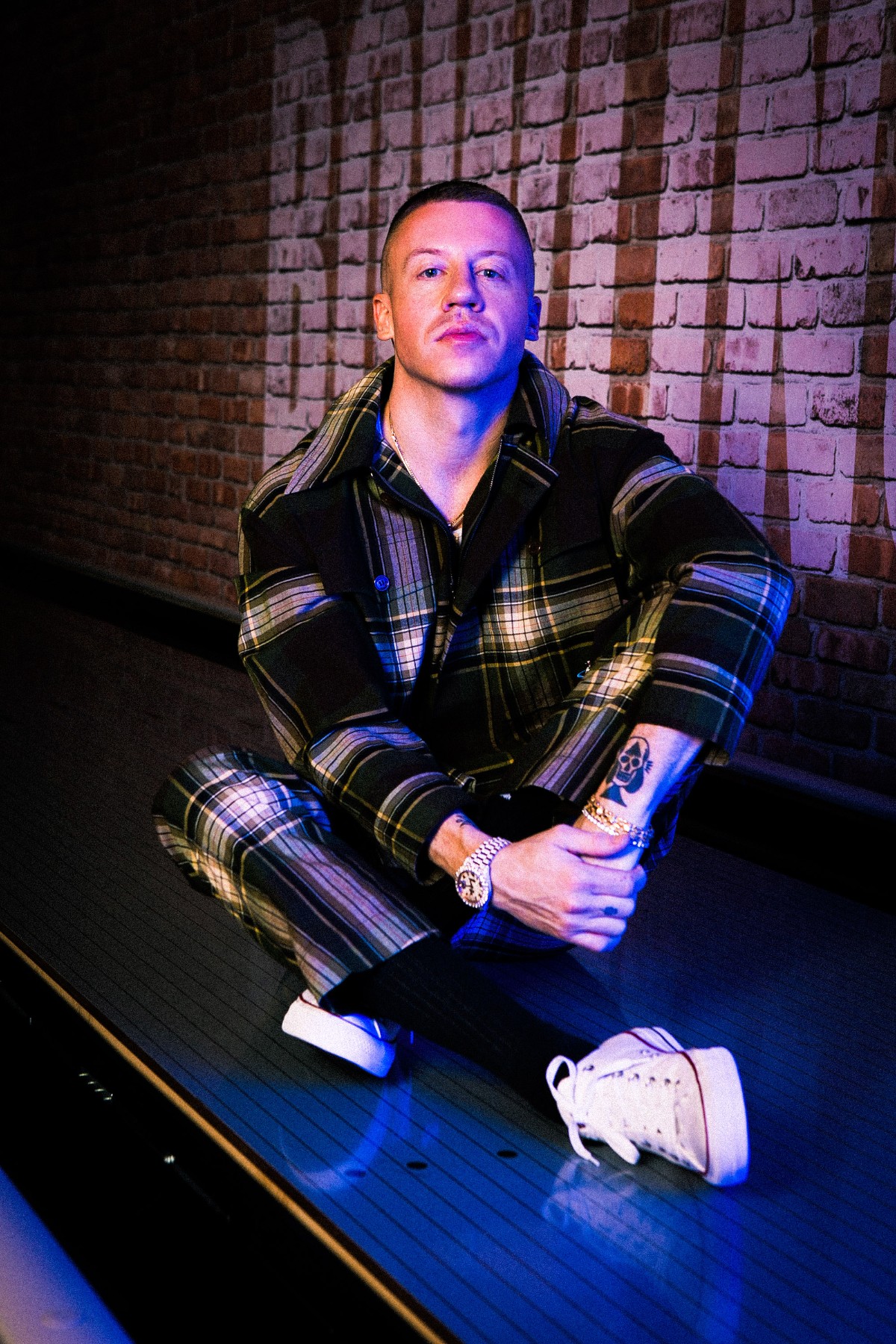 It was originally a scratch piano and vocal track from Dan. I resonated with what he was saying… and his voice. More than anything, when I get a record and feature request, I need to resonate with the music. Even if a really big artist that would look good from the outside… if the music isn't good then it's not worth doing. I have known Rudimental for a while, we did a bunch of festivals together. I didn't know Jess at the time as she was brought on to do the track later; the track is almost two years old now.
What UK acts have caught your attention and are there any more on your collaboration list?
I really like Little Sims. She worked on a song for Gemini, it didn't get finished but she murdered the beat and she is super dope. Skepta and Stormzy, those are three artists I am definitely checking-in on.
It's interesting now, there is so little money coming to artists via album sales, with streaming and how much we are actually getting paid for streaming. The income source is really coming from touring, or any kind of licensing/brand endorsements…that's where the money is. I still see nice cheques from albums sold but it's not the same as it was even five years ago.
You are well known for breaking through independently.  How has this angle shaped your career creatively as well as on the business side? Would you recommend that approach to up and coming artists?
I think being independent has completely shaped my career and who I am as an artist.  It's a lot more work at times because I have my hand in everything: merchandise, graphics, music videos, photoshoots, music and beats. Everything goes through me and I work with other people to execute those ideas. It's daunting at times but I love that part of it as well; it prevents me from being in the studio as much as someone who has a whole label. I'm not in this to see how many albums I can put out. I'm in it for the long run, to be creatively fuelled. All of those different branches fuel me in different ways.
Business is more of a gamble as I'm playing with my own money rather than a label's money. If I win, I win really big. If I lose then I take that hit. There is more to gain than lose. Luckily there have been more wins than losses. When you're in a label, you have a budget – let's say £150,000 for a music video. For me I get to spend as much or as little as I want. There have been times where we have gone really big on videos and spent lots of our money that no label would have ever thought was a good idea – we've just gone there.
It's interesting now, there is so little money coming to artists via album sales, with streaming and how much we are actually getting paid for streaming. The income source is really coming from touring, or any kind of licensing/brand endorsements…that's where the money is. I still see nice cheques from albums sold but it's not the same as it was even five years ago.
Would you recommend this approach to new artists on the scene?
"It all depends on what you want out of your career. The one thing labels still have the power to make happen is radio. Radio is big in terms of going from no one to massive. Radio is great, they still have big teams and labels that I don't have access to although there are still politics involved in these things. If you are a new artist, don't sign a 360º deal. Don't cut a label in on your touring and merchandise sales. If you can stay away from that, it's not necessarily a bad thing if you are trying to make songs that work at radio. If you're an artist that doesn't have the intention of going to radio, do it yourself. A lot of people get stuck, and they're like, "No one knows who I am, I can't get on a tour. I don't have any money and I'm working a 9-5". Everyone has a different situation: my advice depends on where they are at."
Your latest LP, Gemini, is titled after your star sign. Do you read your horoscope and/or relate to the traits associated with your sign?
I've had my chart read a couple of times. The first time was crazy, I was 18 and she said you will have a big platform to reach people and watch out for drugs and alcohol… I have a cassette tape of it. I resonate with the duality side of it. I have always fluctuated, always been back and forth, either sober or completely in drug addiction. Comical songs or very serious records. There's a duality to my personality and I think that is showcased in all my music. The only thing consistent in my albums is there's no consistency in terms of the type of records.
Is there a track on the album that is the most important to you?
There are different records for different moments. There are songs for when I want to turn up, ones for when I want to celebrate and ones when I want to reflect. 'Excavate' reminds me of my kids and the end of the album cycle when we were in Berlin – moments get frozen in time. End of an album cycle is very emotional and daunting. Crazy days and hours, there is always a last minute song. The content, the spirit and the vibe on that track resonates with me on a human level.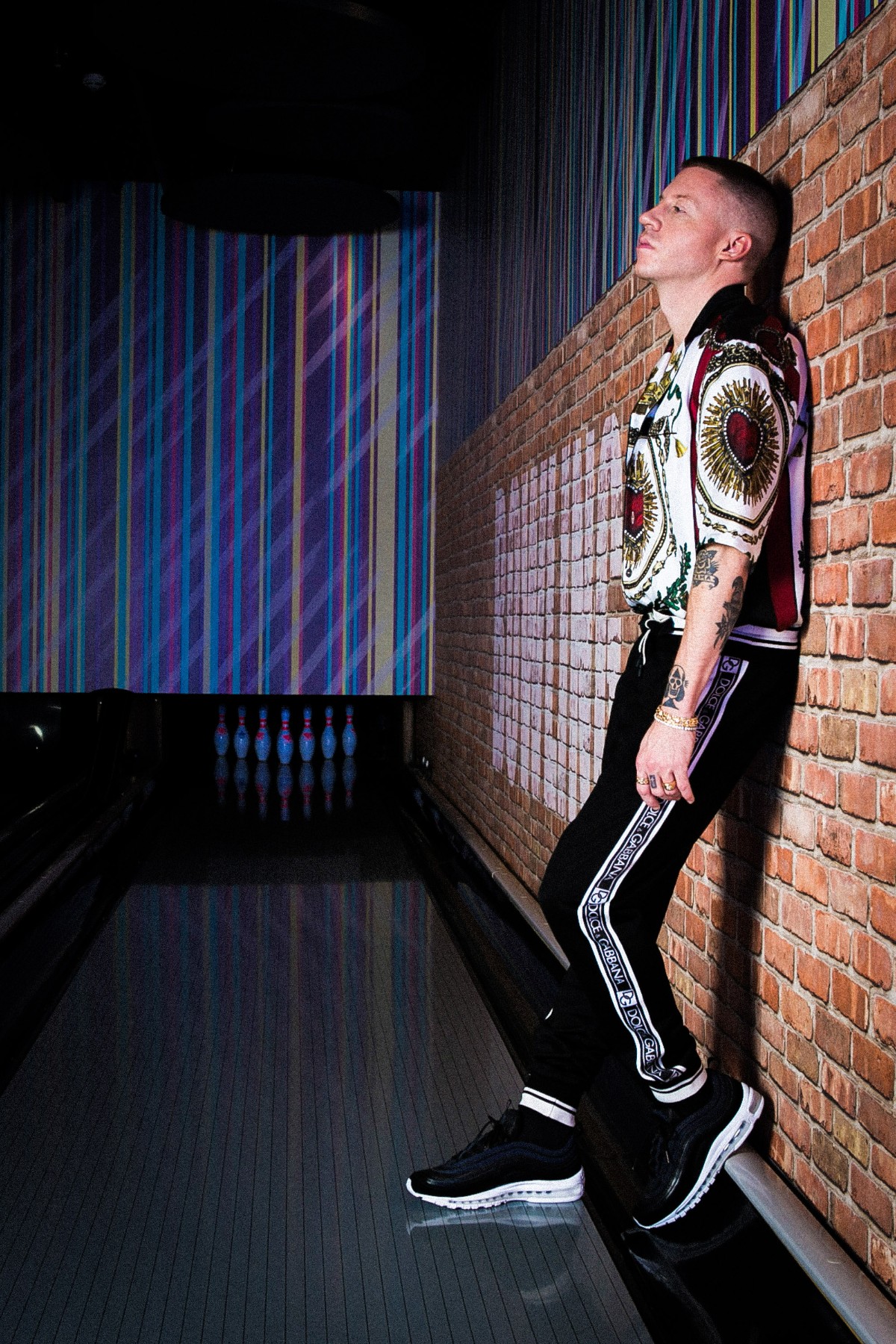 Top and trousers – Dolce and Gabbana @ Flannels, white vest – Macklemore's own, Shoes – Nike @ Footlocker 
Both jackets – Fendi @ Flannels, white vest – Macklemore's own, Shoes – Nike @ Footlocker 
You are co-headlining a US tour with Kesha kicking off in June. How did that come about?
We had our song "Good Old Days" that come through Ryan (Ryan Lewis, longtime producer) who was working on "Praying" with Kesha, he just told me I should get in the studio with her. We hit it off and 'Good Old Days' is multi-platinum in many places around the world. She's just a great human, someone I connect on an artist and friend level.
It wasn't a no-brainer at first because I have a family and a brand new baby now. I wasn't sure if I wanted to be out on the road for the whole summer. It was a great opportunity to share the stage and get in front of each other's fans.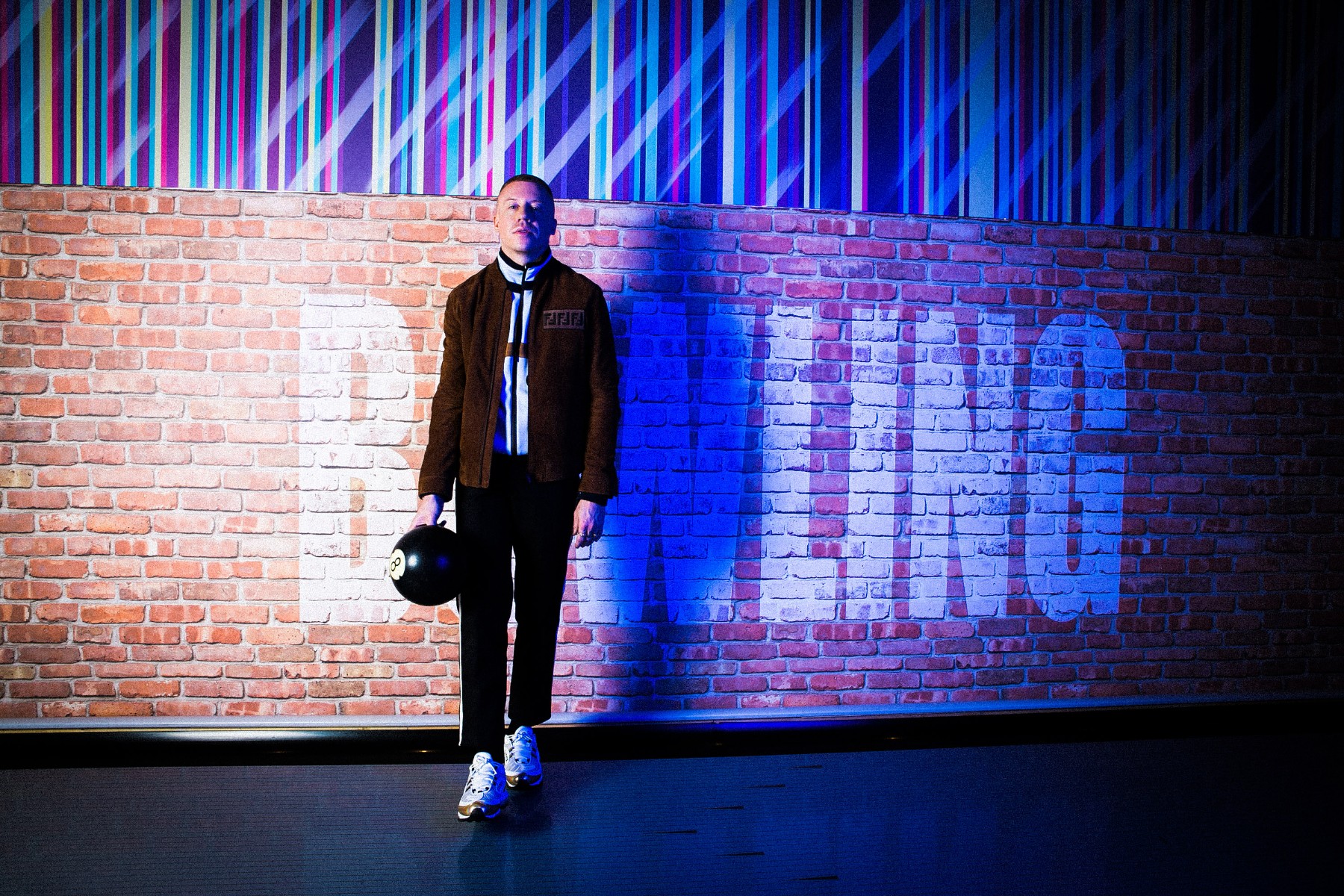 What's hot in your wardrobe right now?
This new Burberry jacket I'm rocking now… I'm really liking what Burberry are doing. I'm liking: Champion woven hoodies, Dickie pants, oversized wide-legged pants, trench coats and Air Max trainers. I'm not one to name drop a load of brands on you as I kind of go all over the place. My uniform these days is some Air Max's, dickies, hoodie and a jacket.
What British brands/designers are you feeling?
I like classic stuff. Barbour… I Love those jackets. Those jackets are super fresh and they've been fresh for a long time. You can go to place like Japan and they have masses of old Barbour jackets that smell like second hand cigarette smoke from the 1980s. The corduroy collars are dope and I like the fit.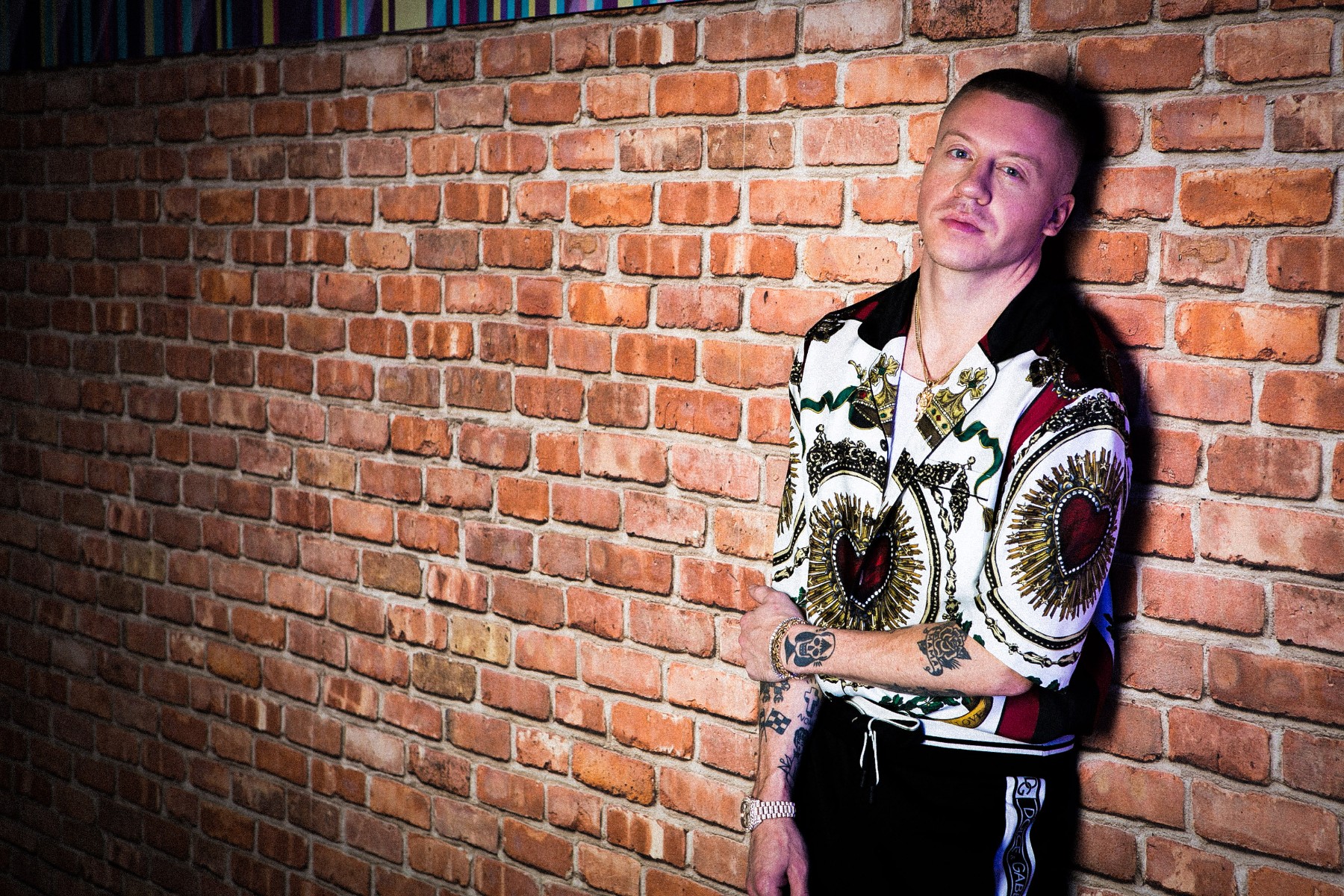 You support a range of activist charities, and your music has never shied away from social issues. What's are your take on current affairs US and global?
In general, it's a scary time in America with Donald Trump as our President. What I'm observing is that there is resistance to that hatred, the racism that has plagued America since the beginning. There are young people getting involved that are active, leading protests, speaking up and using their voices. As much as fear and hatred is getting pushed out from the White House, there is an equal amount of fighting for what is right and fighting for equality. I celebrate and applaud that. The beautiful thing is that there are kids 16-18 yrs old involved. I remember when I was in high-school and learned about the origins of America, learned about racism and had teachers that pushed me to go deeper. Those are formative years in terms of what type of person you are going to be. I also applaud those teachers who had their kids in 'Black Lives Matters T-shirts' and are taking them out of school to organise protests and stand up for equality.
What does the future hold for Macklemore?
The future is a blank canvas. I'm thinking about my show in London tonight. I want to fall back a little bit and to get time with the family and be a dad for a little bit. Once they get to kindergarten, it's game over! I'll probably travel a bit and if that looks like making music, acting, writing, a play or TV show – I don't know. It could look like all of those things but I won't know till I get there. This tour hit me in the shower today that I might not be doing this forever. I should enjoy this whilst I have it. To have this tour sell out and for the crowds to be incredible, you can get used to that. I've had that for a while now and I want to really take it in, be present and appreciate the life that's in front of me.