Talks London, fashion & mental health.
Emulating what it means to be a true artist, Kojey Radical has explored every creative avenue from poetry and illustration to fashion and, of course, music. We sat down with the London native to talk about his influences, mental health, fashion and what's next.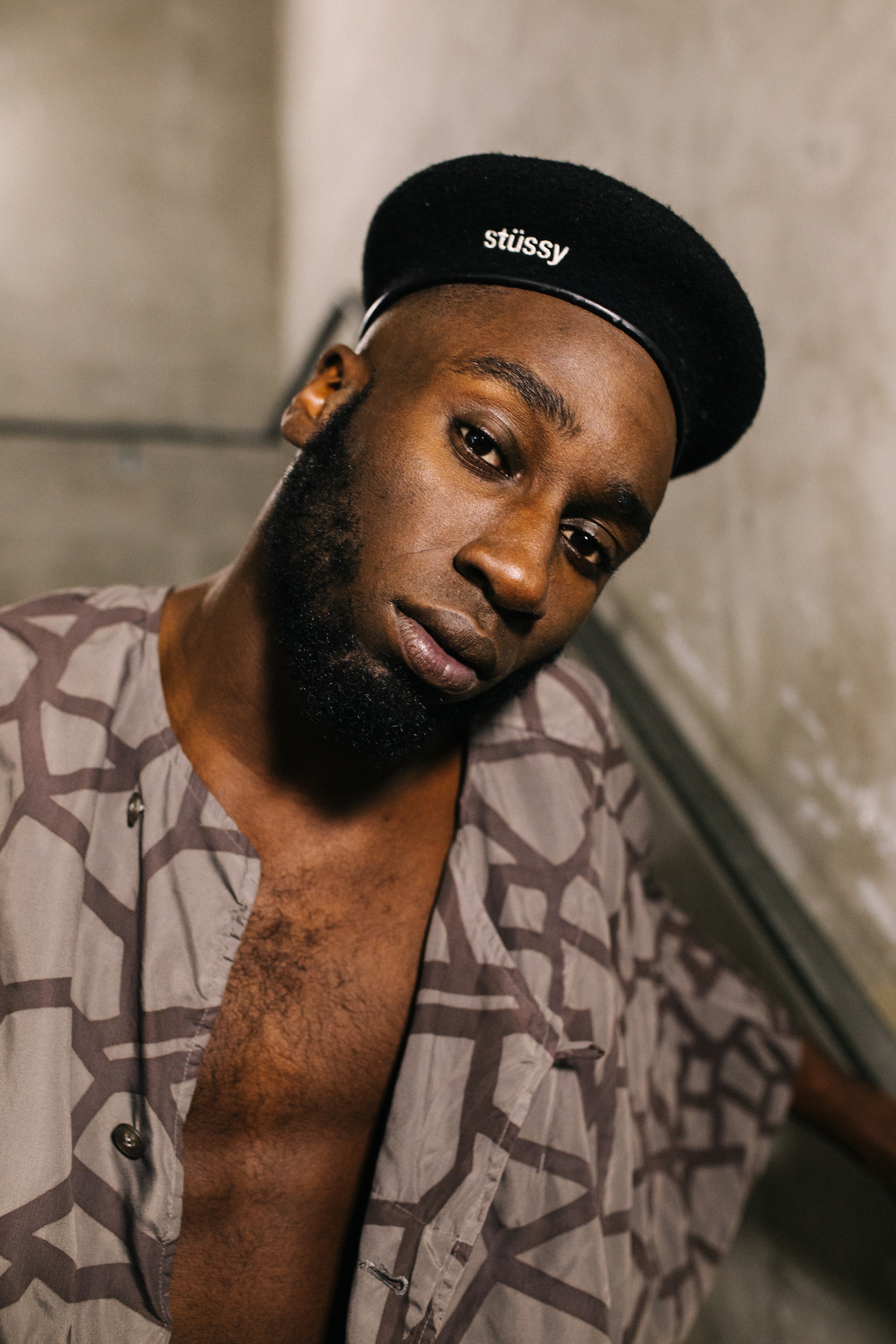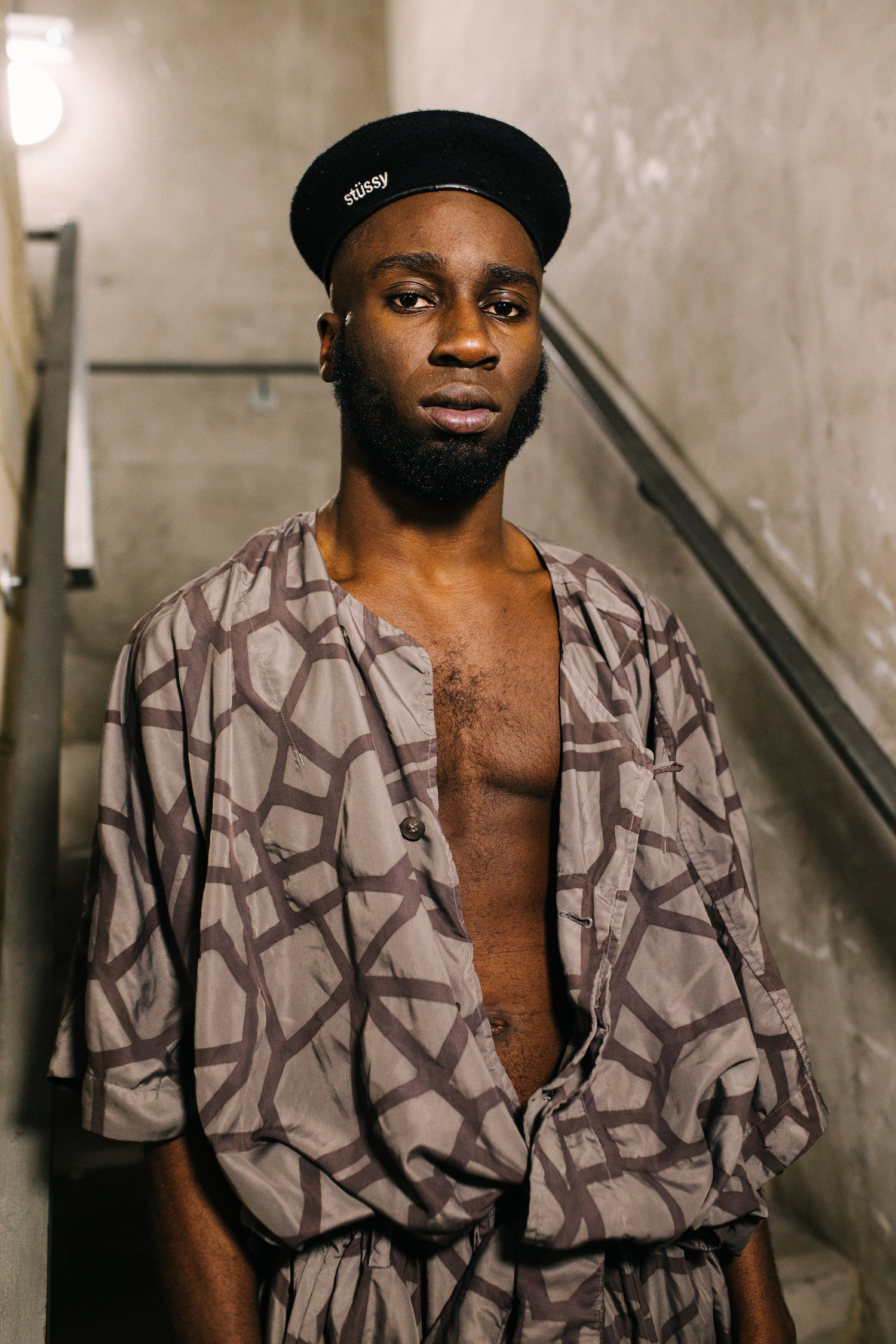 Jumpsuit: Issey Mikaye, Boots: Artist Own, Beret: Stussy
You are born and bred in East London, did all your family grow up here?
They were more in North London before and then we all moved to East (London) when I was born.
How has living in London shaped your career?
After travelling so much and seeing where the creative scene is at in other places, I feel like London kind of gave me an advantage. Even though we are a spec of dust in the grand scheme of the world, we're very forward-thinking and ahead of the curb…especially when it's anything to do with the arts.
It's such a breeding ground for talent that you end up nurturing yourself to this world stage before you even realise it. A lot of people don't even realise they're ready for it until they do it. You're never really the best at anything; as soon as you get comfortable, someone's going to come and get that spot.
When did your music career start and how did you get into the industry in South Africa?
I pretty much got into the music industry by mistake because I was at film school and I wanted to study film and was in love with film and photography. In my second year, I started doing sound for like films and doing sound for films made me realise that I could be in the studio and actually make songs. I've always rapped my whole life and I never knew how to make beats so going to film school gave me the confidence to learn how to make beats. Then from that year, I became a real musician.
When did you discover that soul music was the sound for you?
To be honest, I don't think I've necessarily found my sound, I think I've found my ability. I use my ability in the genre. My first practice was poetry and it gave me an understanding of words.

Wrap Jacket: Issey Mikyake, Trousers: Urban Outfitters, Beret: Stussy, Boots: Artists Own
When did you start poetry?
I started doing poetry seriously when I was in college. My initial practice was the spoken words scene and all of that stuff. I started doing poetry over acoustic guitar, like folk music. From there, we remixed the folk music into house music. We were constantly thinking "What else can we do?" "How do we put this out, how do we become popular?". Spoken word was my escape outside of art.
My main practice and what I wanted to study was illustration and creative direction. Loving art and wanting to be a painter, wanting to be an illustrator but studying it stifled me a little bit because I felt very confined. Poetry gave me a gate outside of that because no one could tell me I was wrong – it's my thoughts and feelings. With art, it can be graded in the context of how it's studied and that's where the balance came from. I was always one of those kids that did a bit of everything.
How would you describe your music in a sentence?
Listen to it and tell me how you feel. If you give someone a description, it gives them an expectation.
Name one artist that has inspired your musical journey.
Actively, as they've been a part of it and they gave me amazing advice and beautiful experience, Saul Williams. I went on tour with him last year and we did a BOILER ROOM together (online music broadcasting platform). Just in terms of someone taking that spoken word scene and Deff Jam Poetry days and incorporating them with music. I feel like everyone points to the obvious and they go for the Kendrick comparison but I would say the person that has inspired me is Saul Williams.
Is there anyone in your childhood from the '90s you are influenced by?
Andre 3000. Outkast was really when being able to make alternative hip-hop started. Outkast came out and It was relatable in every sense and enjoyable. As a lyricist, I've always preferred Andre 3000.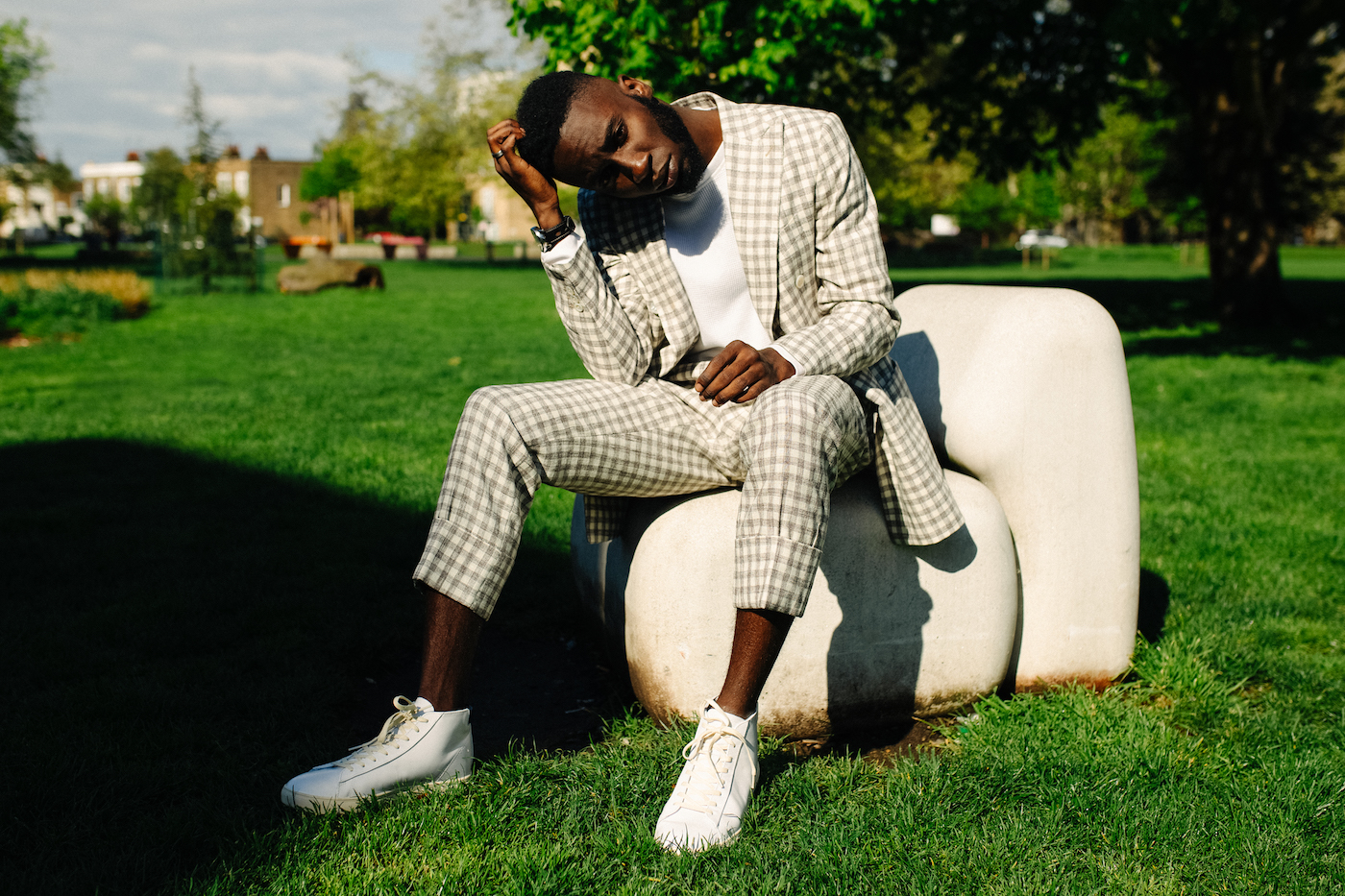 Suit: Daks, Trainers: Clae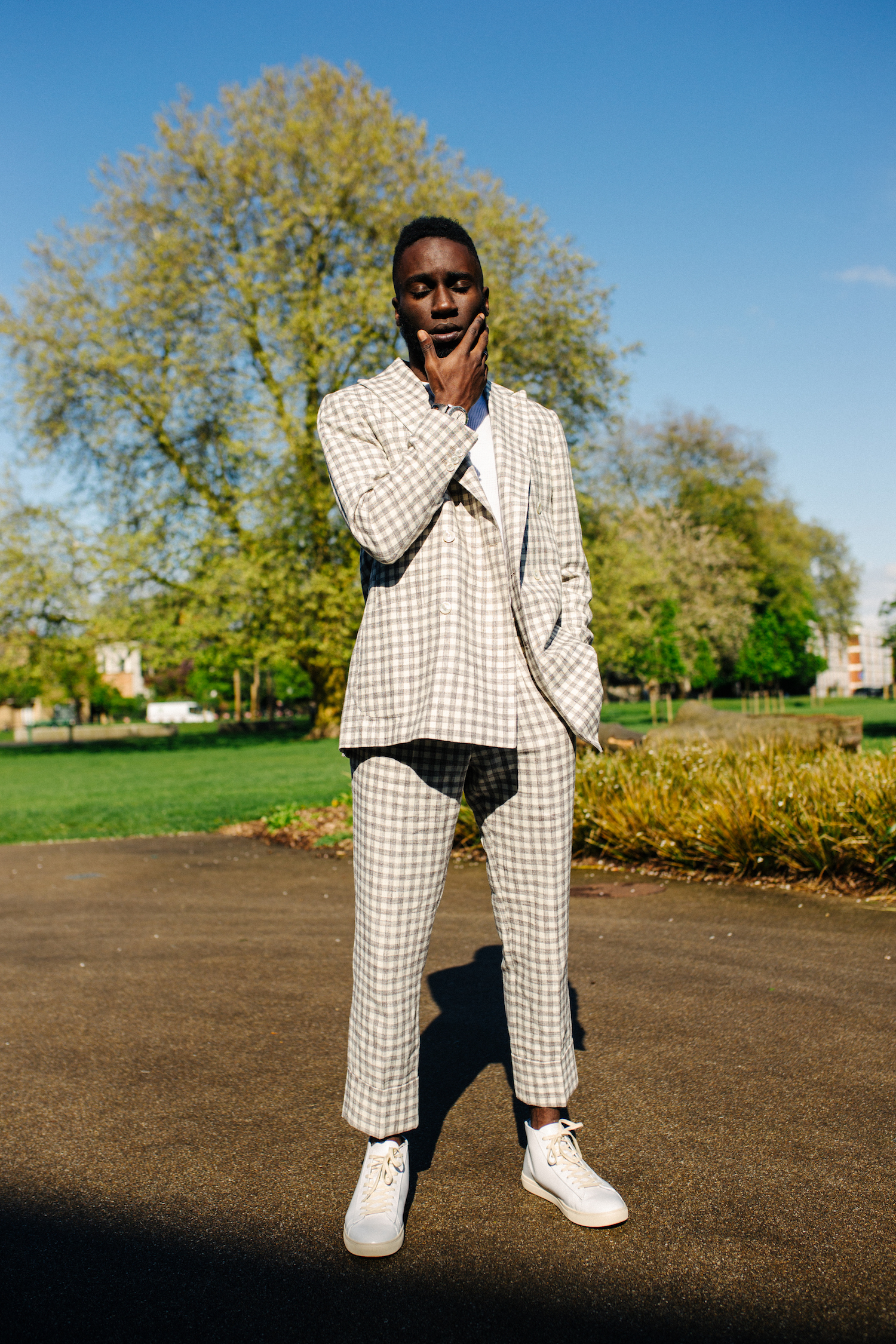 Tell me about your new track 'If only' and your struggle with depression that led up this track.
I think the internet makes it very easy to put a mask or a face-up. I did that really well last year, I did it because I knew for anybody looking at my journey and my career and felt inspired by it, I didn't want to show them the chink in the armour. It was easier to keep the façade up, that way they had something to believe in. Then I realised I had to embrace it publically otherwise it becomes a secret, something I'm ashamed of. I'm not proud of it because I know it's not over.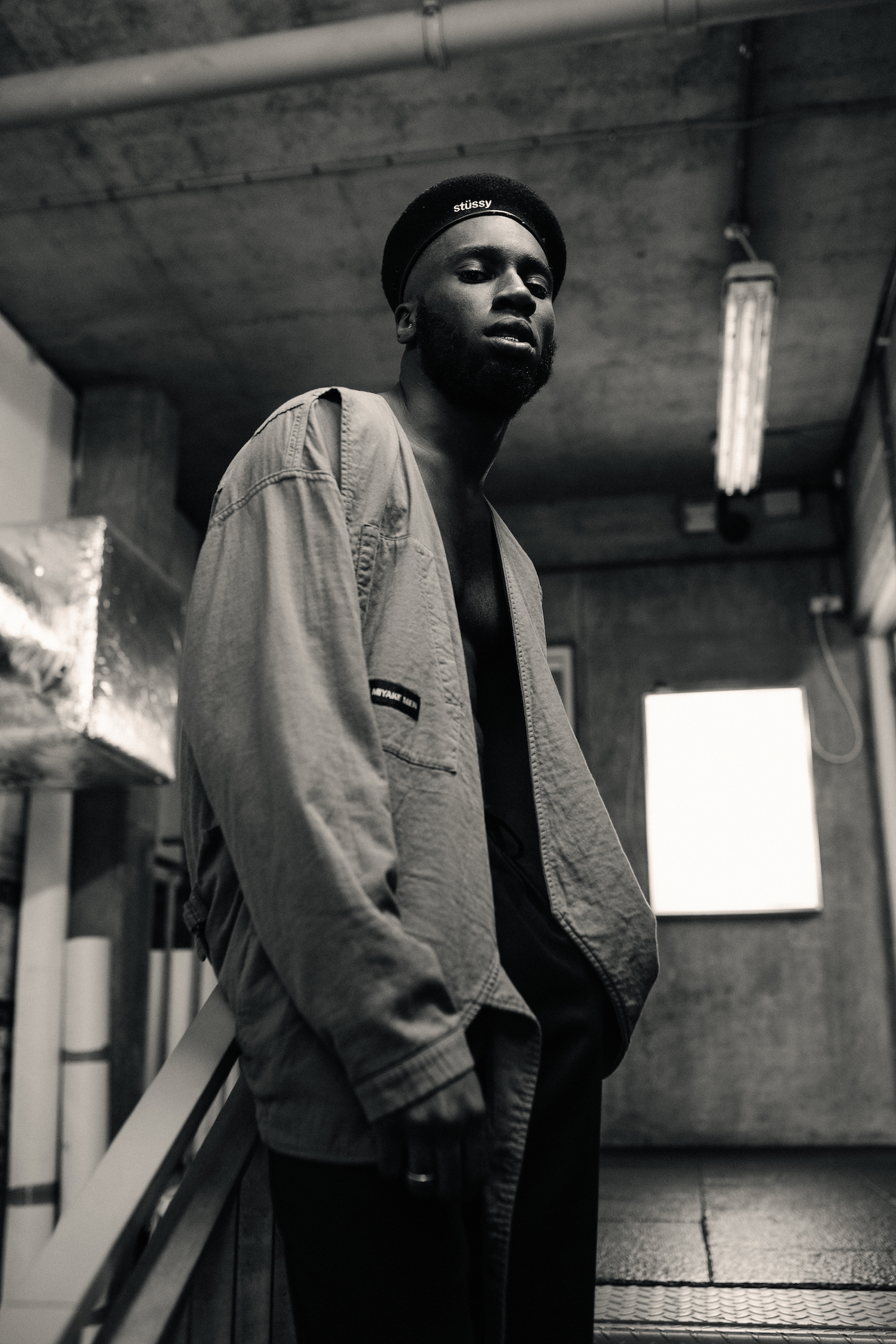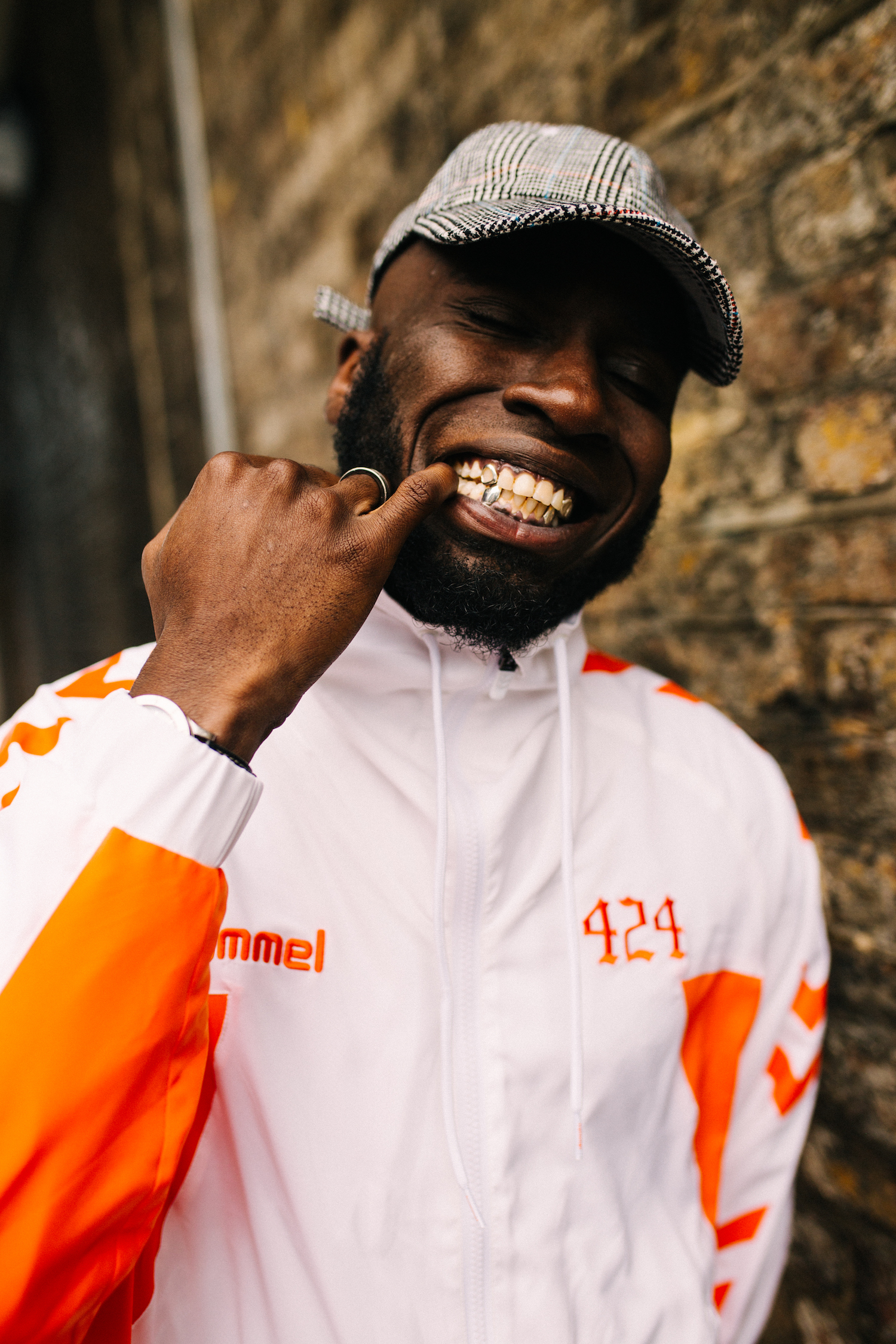 A lot of people in London struggle with mental health, do you think the pressure within the city is a factor that causes it?
Yeah… there are many factors. I broke it down to being overwhelmed by an experience or emotion that you're supposed to learn that you're not understanding.  Life is constantly going to throw obstacles and some of them are going to make sense and feel more tolerable than others and some are just going to grate away. When it starts to remove your voice and your ability to speak about it and you start to internalise it is when it becomes dangerous. I think that's why I began to put It into music because it stopped me internalising it and I have to accept it because I have to perform it and explain it.
When you start to do that you're helping others as well.
Exactly, and I hope people listen to it for that reason.
What advice would you give to youth with mental health issues?
Don't beat yourself up for being confused, sad, anxious and different. Don't let anybody tell you that you need to take drugs to cure it or nothing like that. Look for tools that you can give to yourself, whether that's going outside and breathing, meditation. Find alternatives to succumbing to the fact that, that is who you are. I think people are afraid to find out who they really are at the end of the day.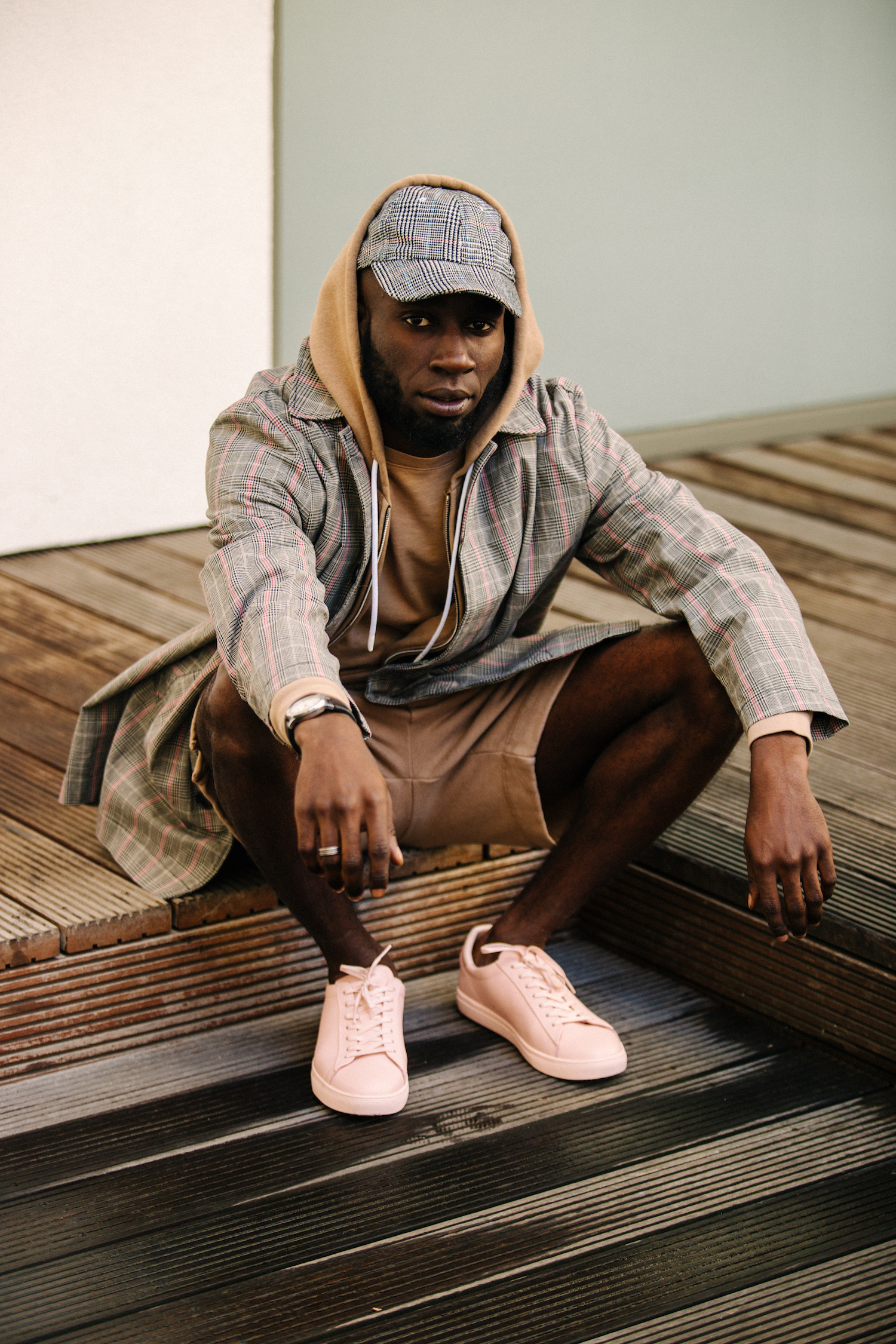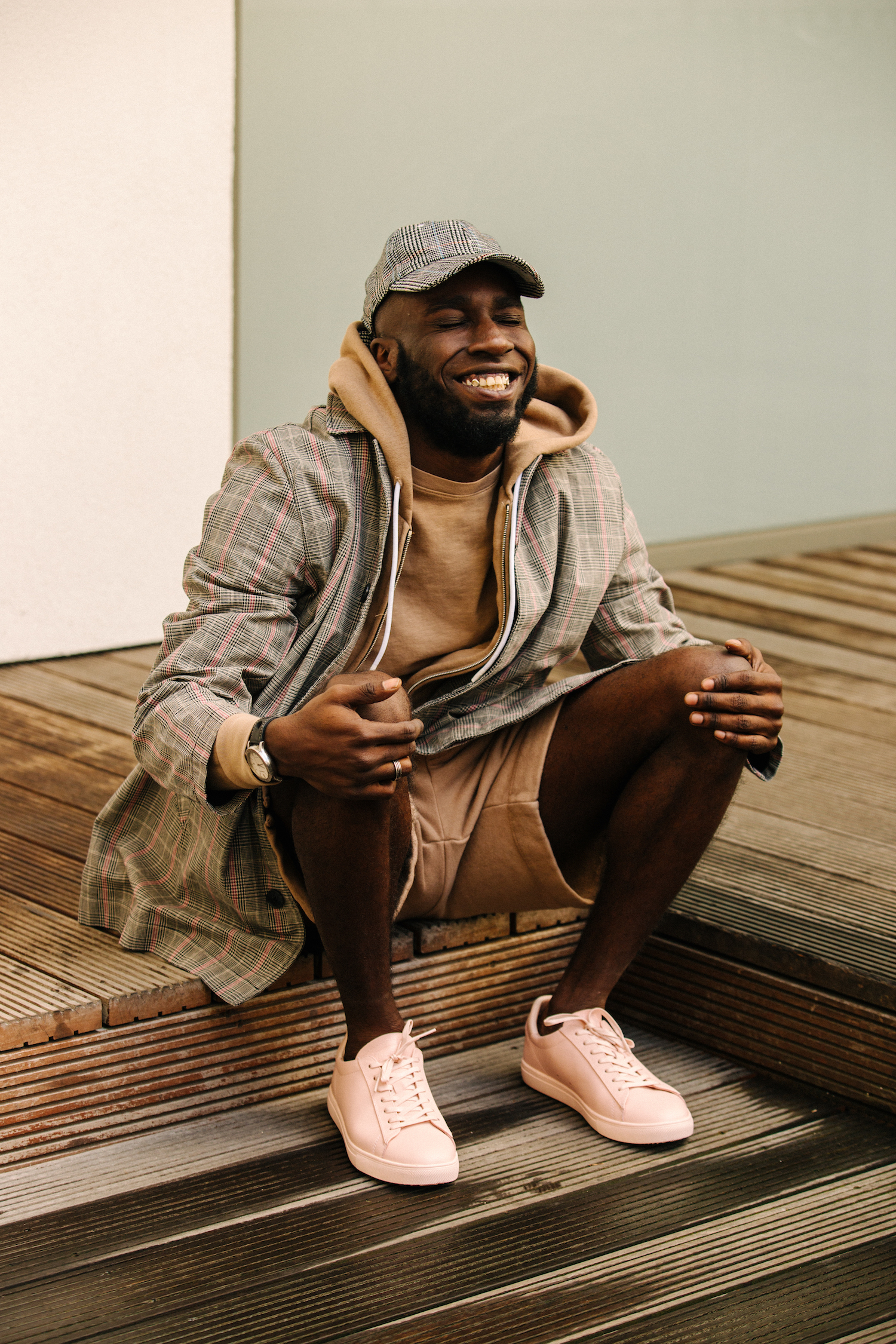 Shorts, Hoody & Tee: Cotton Citizen, Cap & Mac: Urban Outfitters, Trainers: Clae
What kind of fashion brands did you grow up with in London?
United Colours of Benetton, GAP… I'm talking when I was a youth. As I grew up, I got into skate brands. I wore a lot of Supra shoes and then you get older and I started to figure it out a little bit more. The more I figured out fashion, the less I cared about who or what something was. I knew I appreciated certain cuts, there's and I knew I liked something about the approach to contemporary menswear and that approach to it. Especially Issey Miyake, Y-3, Yoshi; even working with Chelsea Bravo and seeing her work, that was a big thing for me. Lets forget the idea behind the product, why it should be expensive and why people should buy into and lets just start the making of good products. That's the type of stuff I started to wear more, the clothes made with intention…or things that gives me room to customise.
You're quite involved in the fashion industry then.
Yeah, I studied it as well. Even though my background is in illustration, it was in the context of fashion. I've walked for …. And this year we will probably do a bunch more. It's fun walking man!
Do you think it's important for musicians to get creative in the fashion industry?
If it works for you, get involved, but don't force it. I feel like a lot of people thinks that they need the whole package. Now he dresses immaculately but at one point, Childish Gambino was probably one of the worst dressed human beings that ever existed. But, it didn't matter because that's what he chose to wear. Now you can recognise that style as him and then him now watching him grow with it, I look to him for style advice but once I was thinking "take them f****** shorts off bro". People grow with fashion; I don't think you can force fashion on anyone – you can see through it instantly.
Describe your style in one word.
Eclectic.
Cap: Urban Outfitters, Trainers: Nike, Tracksuit: Hummel
Describe your personality in one word.
Interesting.
Describe your music in one word.
Illustrious
If we were to go into your wardrobe, what sorts of brands would we find right now?
A lot of ….., some …., Billionaire Boys Club, some Sandro, Gucci, Kenzo, Off-White, A-Cold-Wall*.
What London based designer are you feeling right now?
MARR. I picked up a bunch of pieces from there recently and I got to speak to the owner. I like seeing London brands and I love seeing black-owned London brands doing well.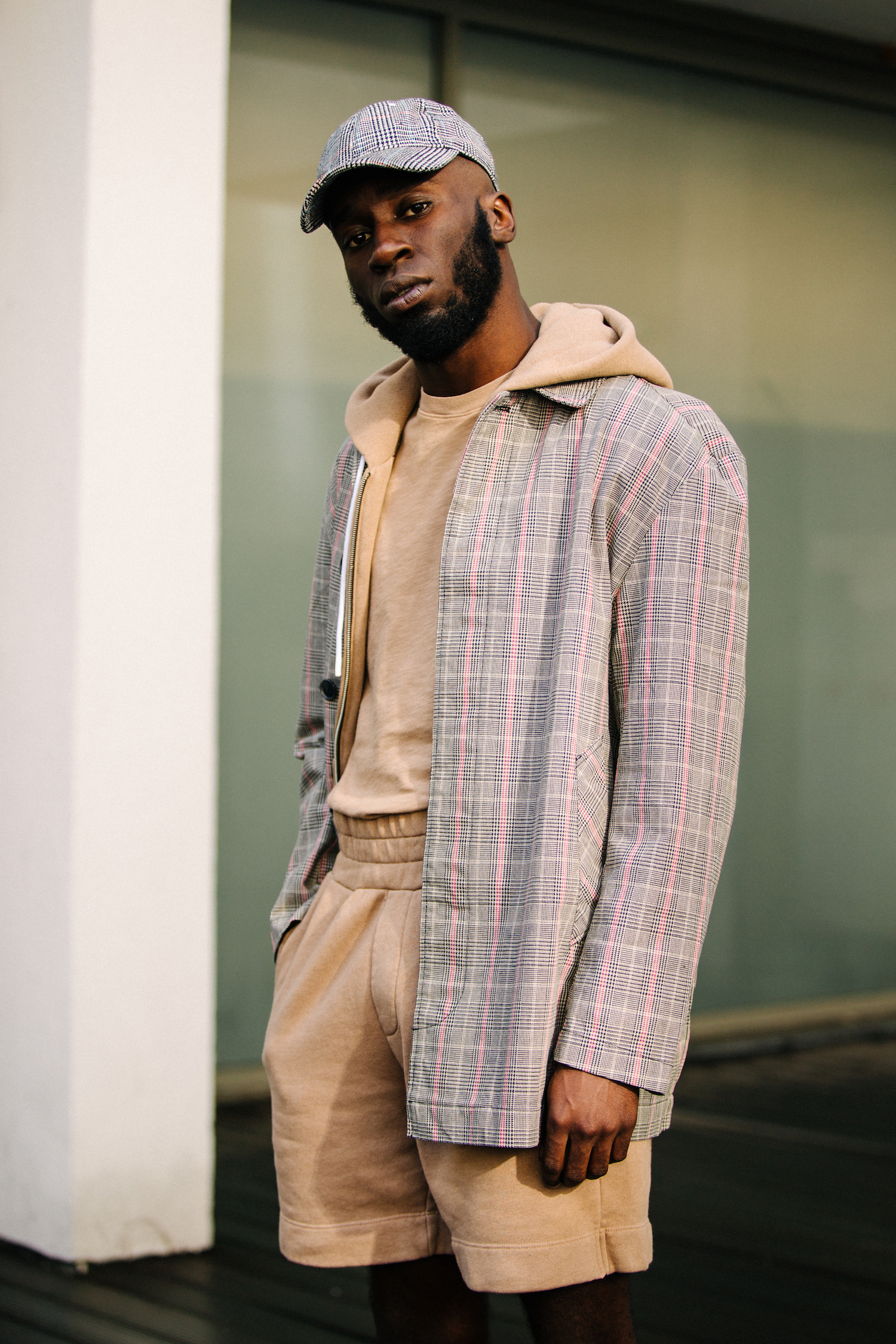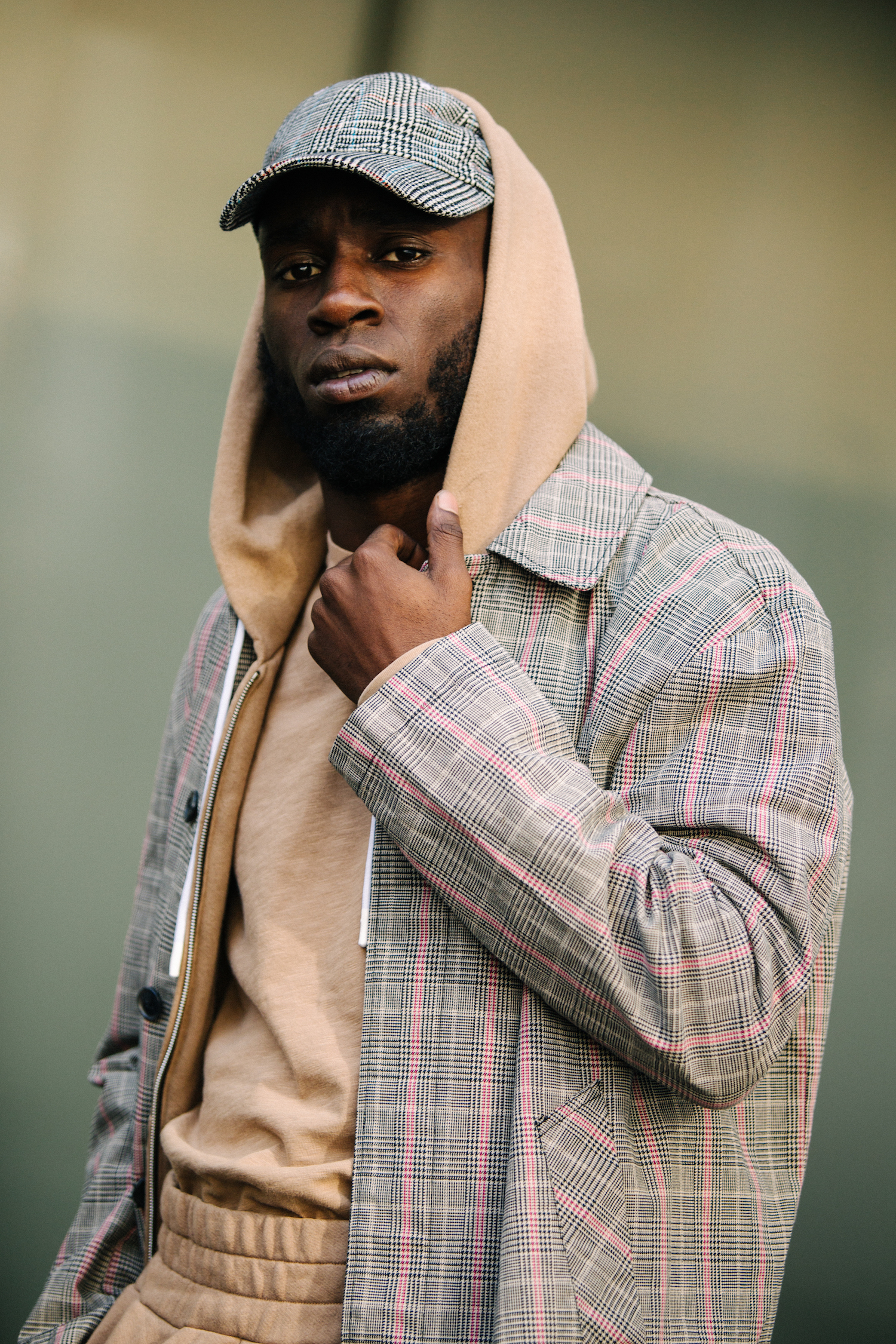 What's in-store for the rest of 2018?
More fashion, I'm going to put out a film of some kind, a great live show and then work on the album.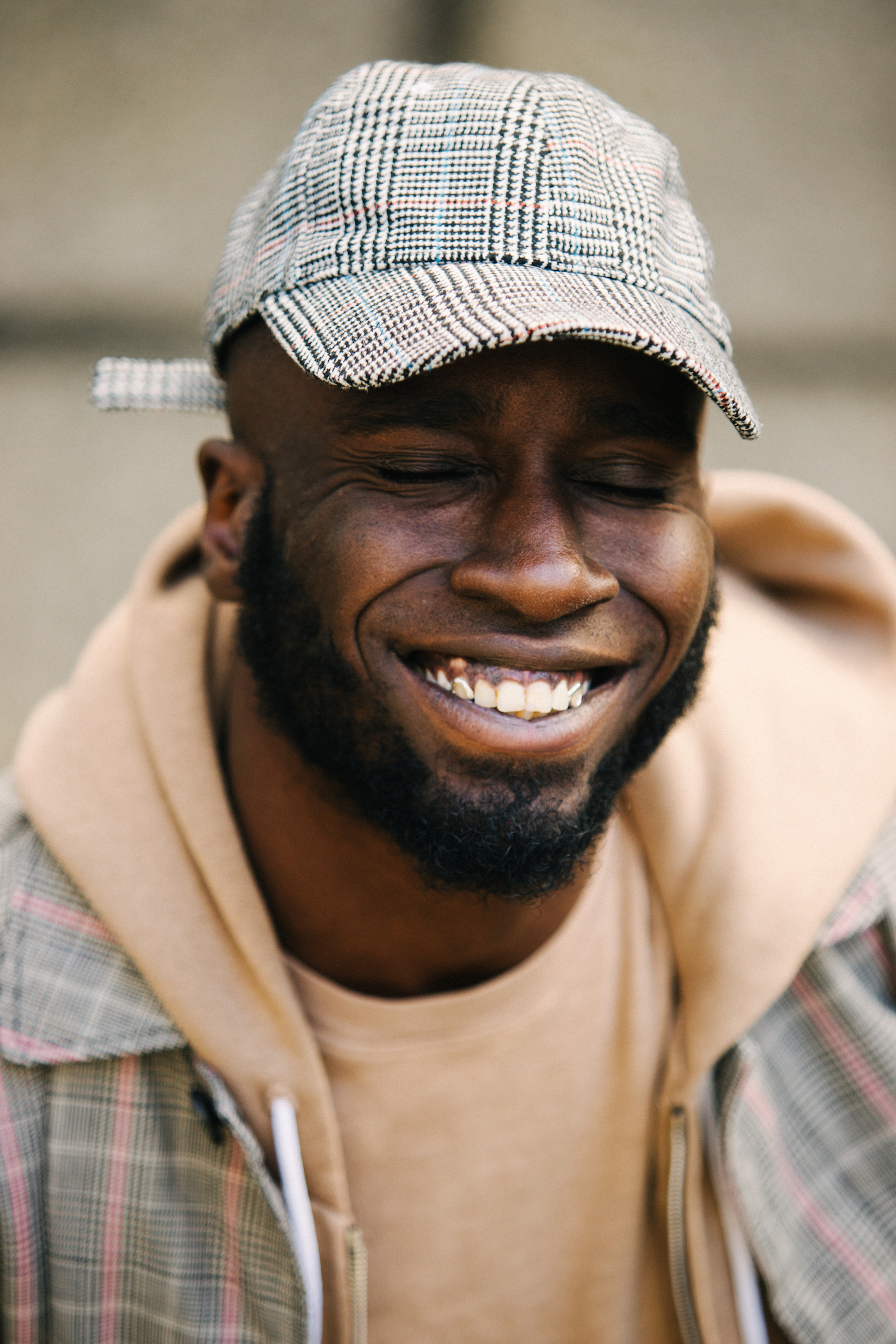 What do you expect people to feel after seeing your performance?
I never focus on the person that's already a fan, I focus on the friend that's not sure who the fan brings. When that person walks out, they say "you know what, I like that brother, I'm going to go and listen to him and tell my friends about it". That's how the music spreads organically. When you're not signed, that's all you really have and what takes effect. I'm still here so I can't be doing that bad.
You're doing really good, keep it up!