'Flyprint'. Nike's answer to 3D Printed footwear.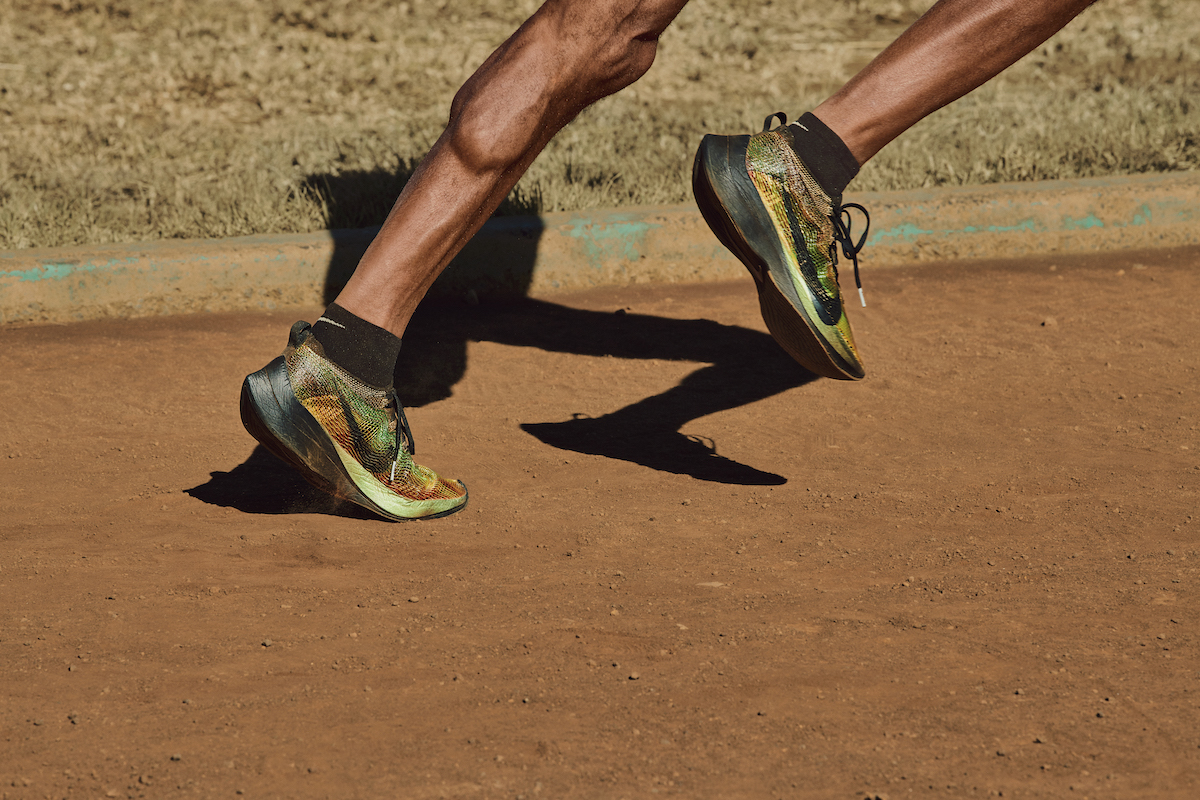 What is the first component considered in a Nike design project, such as when starting on the Nike Flyprint?
Bret: It's always the problem to solve. How are we going to help the athlete? What problem have they identified and have we identified? Then it's about solving it through method, make, design.
Roger: I think when you look at the performance brief that Bret and the team gave us, (it was) about making it lighter, more breathable and how to integrate rain control. What drives a lot of the innovation is the performance goals and how well they're complimentary versus how well they're contradictory. We didn't do 3D print for the sake of it, but the performance benefits are what led us down that route.
Bret: It was the best way to do it.
Why is running essential to the Nike brand?
Bret: I think its at the core of our DNA… it's really how we started. Running is also a core part of every sport and it demands so much of a product and an athlete that it's really where we still tend to launch most of our innovations. It's such an important proving ground for us. Our co-founders were basically coach and athlete on a running team and I think you definitely still feel that on campus today. Running is always going to be essential to what we do.
What do you look for in a Nike Running ambassador such as Eliud who will be running the London Marathon in the Flyprints?
Bret: The articulation, passion and ability to see forward are really key. He (Eliud) really feels like a member of the team, not a client. He's been tossing things over and saying "come back when you're done!". He really feels like he's co-invested and it's not a knock on other athletes however we show this to some athletes who say "I don't know it seems really open like water's going to get in there" and it was actually Eliud who said "yeah, but its going to get out". He's kind of a one-man zen quote machine but his ability to see two steps ahead, see a rough sample and say "yeah, that's going to be good". He's a great team mate, really intelligent and really articulate – I think those are the biggest things.
Do you expect a Nike Runner to beat the marathon record this year?
Bret: We are doing everything we can. What I can say is that we've given him the best shoe we've ever given him. All of I've heard is that his training is going really well, he's broken some training records along the way and given how close he was here just a couple of years ago and he's been on fire. I think between him and everyone else running, it's got to be a good shot.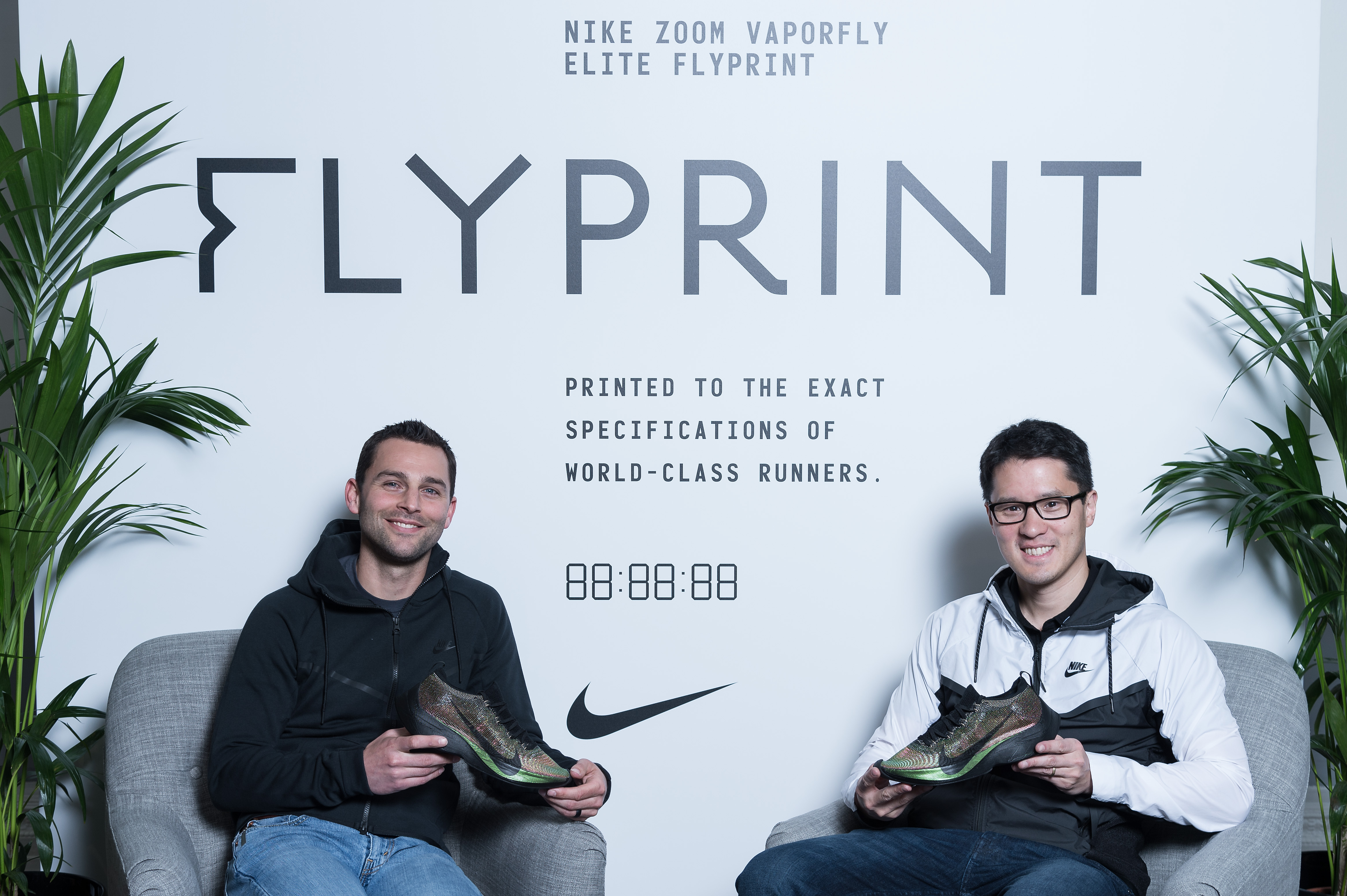 Why have you decided to debut the Nike Flyprint at the London Marathon?
Bret: One was the timing. Also, I don't think anyone foresaw how sunny it'd be. We knew that water on the course is always a serious possibility in London. The benefit of this shoe will work just as well when it's dry, but we did think it could be rainy in London and it would make a lot of sense to have that kind of benefit in a shoe so can we get it by then. It was also just to put us through our paces to say that performance needs to be there but we also wanted to see how quickly we could get there. So when this kind of arose, at first we thought it was too ambitious but we thought we would just go for it and we were very pleased to be able to hit it.
So it was a challenge for you?
Bret: Yeah!
Roger: I think it's also going back to our heritage as well because we won't do the innovation for the sake of it. At the biggest moment of a sport, how do we actually put something out there? It challenges us as a product team to make sure we're really designing and developing something that's going to stand up to the most stressful situations. That way we know that the technology and innovation will truly perform at the highest levels. Working with Eliud, the worlds fastest runner, under the microscope of the London marathon is why we are confident in this product
What inspired the multi-coloured upper of the Flyprint?
Roger: As the product team have worked closely with Eliud over the past few months, it was actually a gift from them, to him. He didn't know about it but when you see the early prototypes he gave us feedback on, we changed the design over time for him. When we went back out to Kenya to meet with him, the team decided to take a lot inspiration from his home country. The colourway was inspired by the dirt, the forestry, the landscape and then environment. When he saw it he said "This reminds me of home, this is so amazing". I think it just clicked and we wanted to keep that in homage to him for the London marathon
 Why have you chosen a Zoom X sole for the Zoom Vaporfly Elite Flyprint?
Bret: The Zoom X is by far the lightest, most resilient energy returning foam we've ever seen. When you look at the way the shoe works, it's really a symbiotic relationship between the foam and the plate (located in the middle of the foam). The plate has this extreme curved geometry which we know works to save energy across the metatarsal joint and you need that scoop for it to work. If we tried to put that in a thinner midsole, you would have to flatten it out and the benefits would be diminished. So we need that thick midsole to hide it and Zoom X is light enough. It really allowed us to do both things. You see these two technologies blend together and add up to more and that's what makes this such a big performance breakthrough.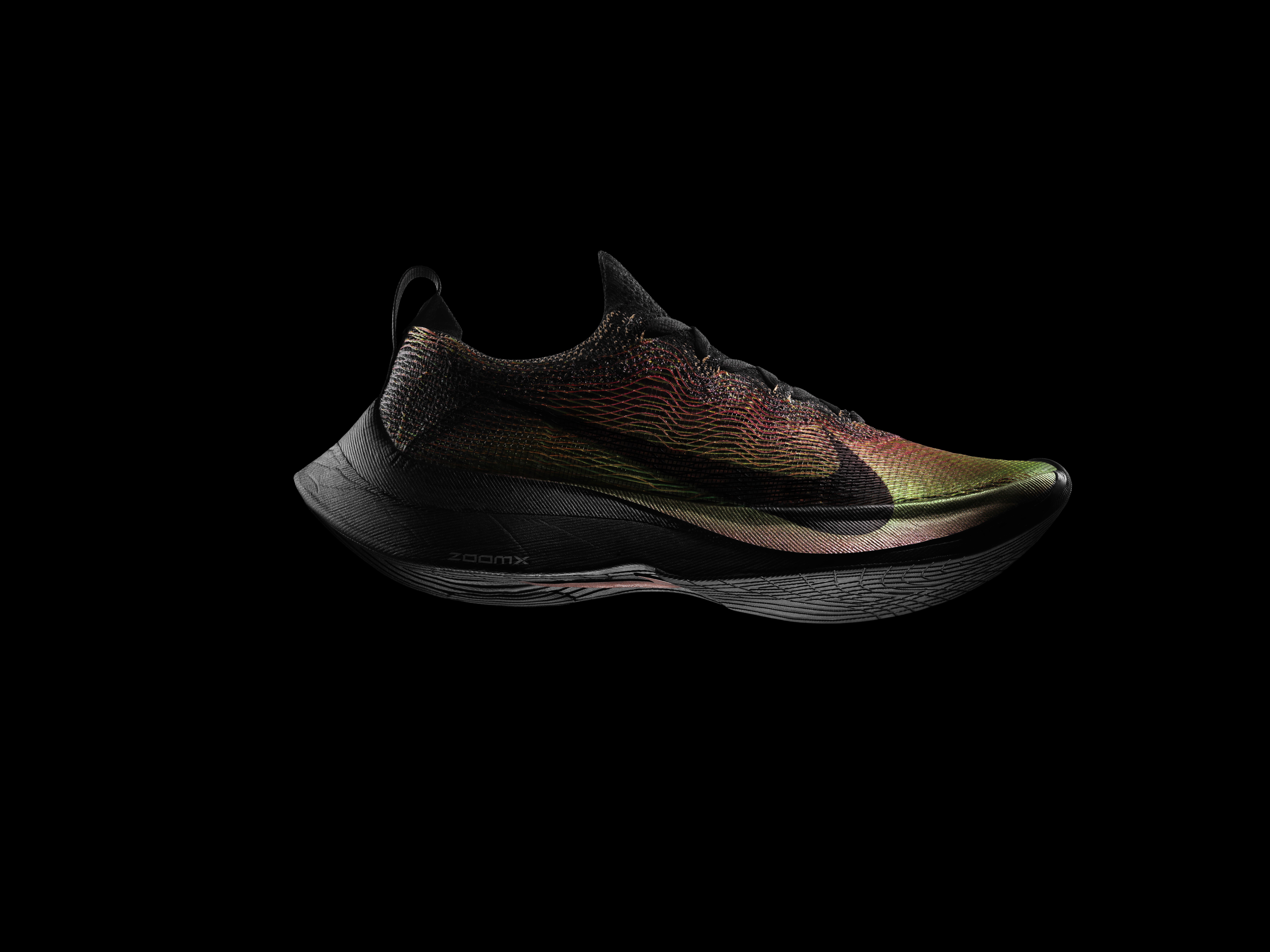 Will we see the Flyprint technology coming to existing silhouettes, such as the Vapormax?
Bret: We don't have firm plans or where exactly you will see it next but that's really what the team is working on next. We are learning so much, so quickly that we are kind of stacking these projects sequentially. We don't have five going at the same time; we want to learn, and learn and learn. We are working on a non-racing shoe right now that utilises Flyprint technology. We don't have any firm release date or production quantity at this time and that's intentional. We're really working at the pace of innovation and not the pace of a retail calendar so that we will be able to be more fluid.
Roger: Whenever we do an innovation, we're always leading it with an athlete with a special focus. In this case it puts the focus on Eliud and the London Marathon and it was about making the best shoe for him in that moment and addressing his performance needs. From there we'll begin to scale out the innovation to see how it applies. Each innovation is going to be different, so his needs for the London marathon are going to be so much different from my needs and my shoe. It's really about working with the athlete in those different catergories and levels and really understanding what their needs are.
 The Air Max 270 is Nike's first Air Max trainer created with lifestyle in mind and the Flyprint has been made with an athlete in mind. Do you think we will begin to see more distinction again between running trainers and lifestyle trainers, which have become one in recent years?
Bret: Probably. I think we will continue to serve specific athletes, whether it's for everyday lifestyle use or performance use. One of those things we're famous for is creating performance products that come subject to desire for the use of lifestyle…we're totally fine with that. Whilst the aesthetic of the shoe is really pored over, it's really a result of the benefit. The cliché of form follows function is 100% true. We are not of the subject of trends; we can create trends with performance built products. Thick midsole is necessary to make this shoe work and I do think we are seeing trend to people actually liking thick midsoles, which honestly, we did for a functional purpose. We had blinders on for whatever was going on out there; I think we are actually driving that (trend). I think you'll always have that appeal at Nike, making beautiful performance products that wind up with people wanting to wear it all the time.
Roger: I think, just because I am wearing Air Max 270's, I do think we look at lifestyle through an athletic lens as well. When we design these lifestyle shoes, it's with our everyday person in mind. In London or New York, you're walking 5-10 miles everyday. With that in mind we did design the shoe (270) for performance but just with a different kind of view.