What we've seen so far and what to expect from the newly appointed Louis Vuitton menswear designer...
Virgil Abloh's move to Louis Vuitton earlier this spring left critics divided. PAUSE takes a look at what we've seen so far, what we know is to come and what we can expect from the newly appointed Vuitton menswear artistic director.
Virgil Abloh's initial creation for Louis Vuitton? Not quite...
When artist Takashi Murakami posted to Instagram, the social media world were speculating whether the leather shoulder bag covered in the Louis Vuitton monogram with blue accents appearing on the adjustable strap, hang tag and front pouch was Abloh's first creative output for Louis Vuitton. It was later announced by the designer himself though, that the bag was produced by Kim Jones for Spring/Summer 2018 and was in fact not Virgil Abloh's first design for the fashion house.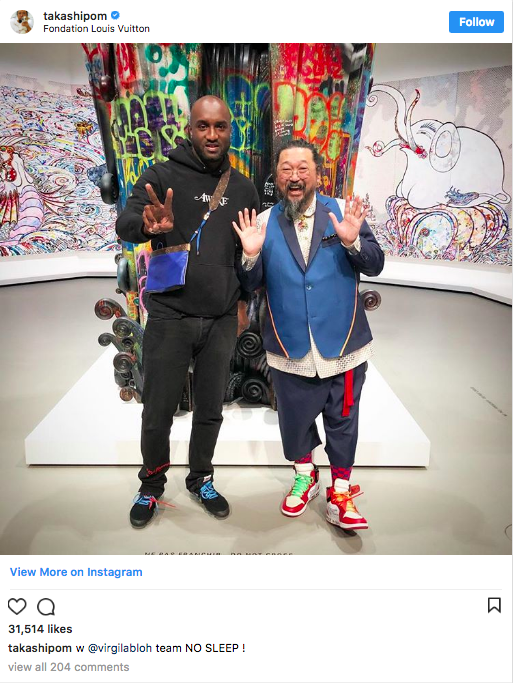 Virgil Abloh Customises a Jeff Koons x Louis Vuitton Bag for Beyoncé
To continue speculation of his participation in the output of Louis Vuitton pieces, Virgil Abloh went on to make Beyoncé a customised Jeff Koons x Louis Vuitton bag. The piece was a celebration of her headline slot at Coachella early in April. The bag is part of the Jeff Koons x Louis Vuitton "Masters" collection. Abloh customised it with text that read "King Bey" and "444" in reference to Jay-Z recent album 4:44. He deleted the image shortly after posting it on to his Instagram profile but the bag looked very similar to the Jeff Koons x Louis Vuitton bag that Beyoncé had posted before customisation back in December. Virgil also shared an image of the same bag with a custom strap that read "STRAP" in October last year.
The designer's first day at Louis Vuitton...
Thanks to Louis Vuitton's Instagram stories documenting Virgil Abloh's first day at the LV offices, we were able to see what went down.
Videos showed Abloh working with samples, sketches and prints along with a couple blurred out product shots. He has proclaimed that his biggest goal is, "to start so people can understand the new vocabulary," and went on to say, "I wanna introduce a hardware that's native to the garment;" which of course is an approach that loyal fans are familiar with.
The Met Gala and Debut Appearance of Virgil Abloh's Louis Vuitton Suit
The named menswear artistic director stood alongside Kendall Jenner at the Met Gala red carpet sporting his debut suit design for Louis Vuitton paired with new Air Jordan 1 sneakers. The suit was fitting to the theme, Heavenly Bodies: Fashion and the Catholic Imagination, the jacket was embellished with beats that form a Catholic – inspired illustrated pattern. Previous to this, Virgil Abloh teased the piece on Instagram captioning the post, '@louisvutton atelier homme 2 éme stage pont nerf – fait main 03 mai 18.'
The designer is set to present his initial collection for the house during men's Fashion Week Paris in June.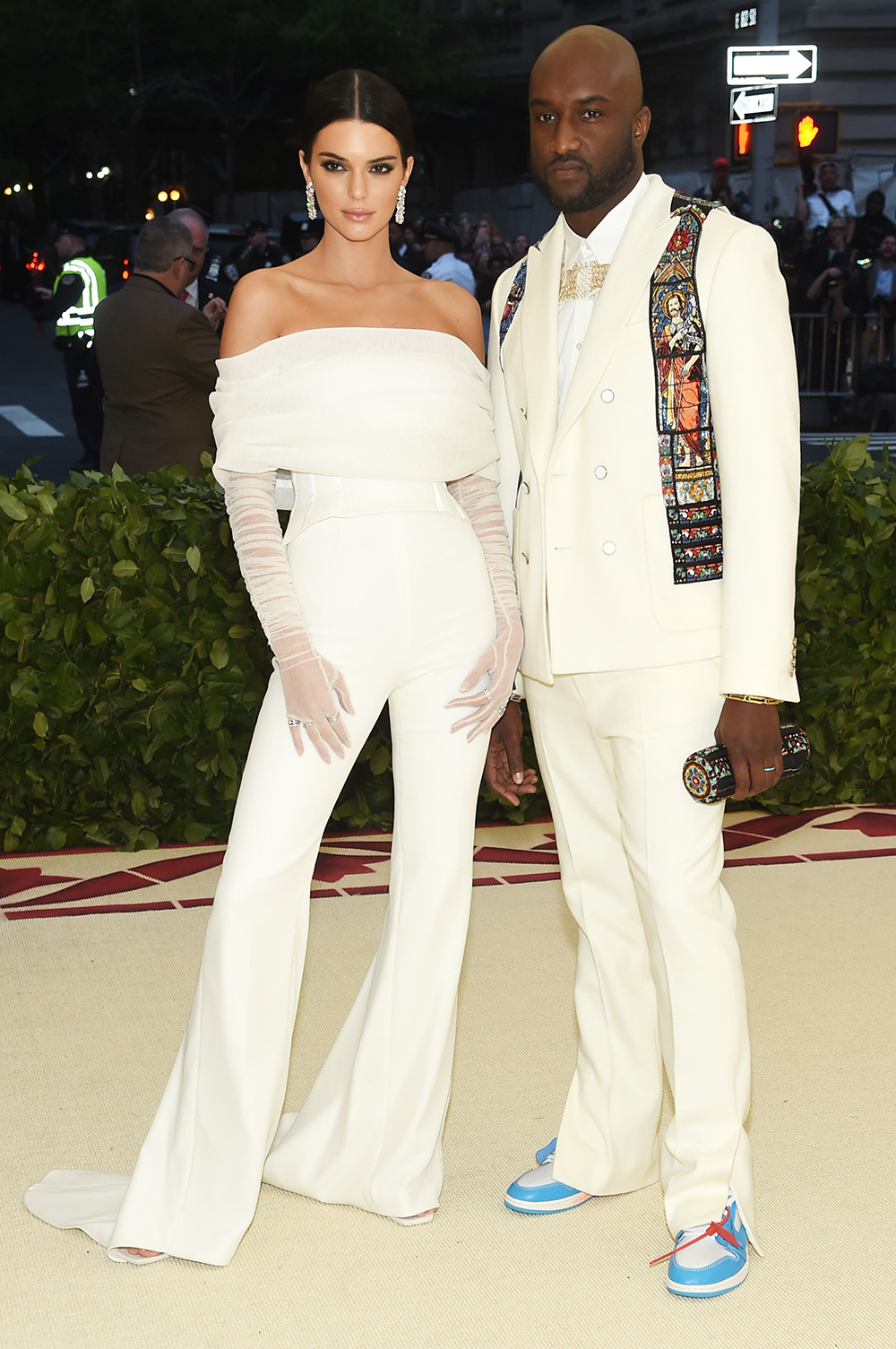 What can we expect?
It seems we should be prepared for a twist in tailoring pushing usual traditional boundaries along with Virgil Abloh's signature stamp worked in to accessories. Abloh is sure to bring the fashion house to the street style hype.