Talk branding, social media & what's next.
Twice The Influencing Power…
Moving to the bright lights and star-studded walkways of LA at the mere age of seven, the Bells Twins have since set their sights on the industry they were surrounded by growing up. Goals set to head into the world of acting, the charismatic duo aims to apply the same magic to the worlds of modelling, Youtube and more. PAUSE sat down with Issac & Elijah to find out more…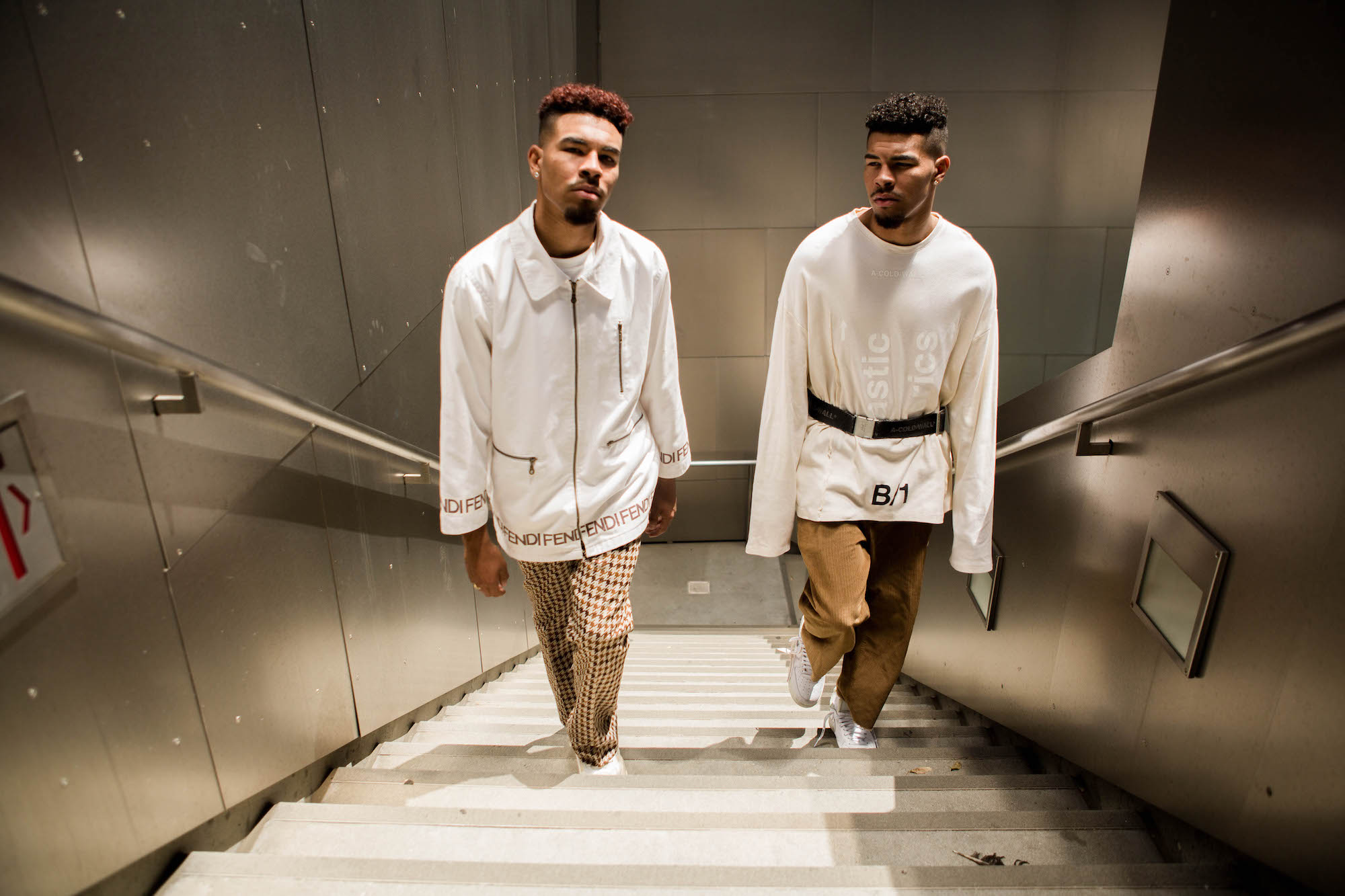 Elijah: Long Sleeve and Belt: A Cold Wall, Pants: Asos, Shoes: Nike x Off—White. Isaac: Jacket: Fendi, Pants: Vintage (Thrift), Shoes: Raf Simons
Why did you guys call yourself the Bell twins?
Together: We're twins and our last name is Bell so we're the Bell Twins.
When did you start branding yourself as the Bell Twins?
Elijah: We started our brand about a year ago. We started seeing our friends doing a lot of fashion stuff so we were like "You know what, we might as well"
Isaac: We're twins, we've got a unique look so let's, try and pop it. It's working for us.
You guys do YouTube as well? When and why did you start that?
Together: Yeah. Probably about 9 months ago.
Elijah: One of my friends who was a big Youtuber she said we need to start because we're always around all the Youtuber and stuff and I never did videos or anything. She was like "Man y'all have a great personality and y'all funny so y'all should start doing Youtube videos" we started doing that and that started working for us as well.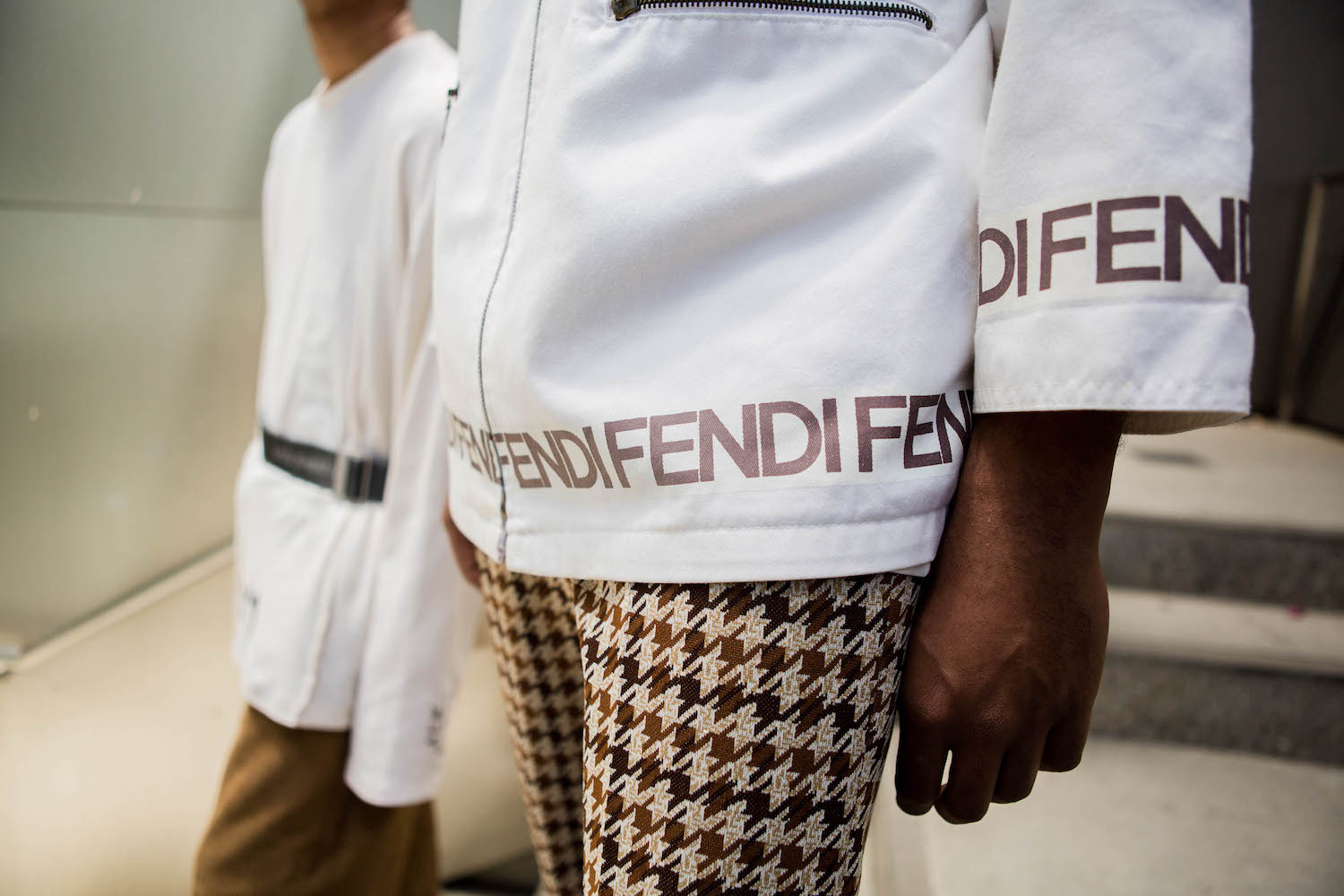 What kind of videos do you guys do on Youtube?
Together: Everything
Isaac: Vlogs, pranks – we do everything.
What's the craziest prank that you've done?
Isaac: Probably the one were we fake burnt-down our kitchen, we had smoke bombs and it was super smokey and the fire alarm went off, the water sprays came down and it was crazy?
Who were you pranking?
Isaac: My mum, she almost had a heart attack!
Was she annoyed about that?
Isaac: What! She was so mad, she was like "No more pranks, no more pranks".
Was that the first time you pranked her?
Together: No.
Elijah: The first time we pranked her, we pretended we got arrested. She was flipping out, she started crying and I just felt so bad. We had one of our friends pretend he was a police officer and they called her on the phone.
What did he tell her that you guys did and what did she say?
Isaac: Robbed a store. She was just very shocked because we don't do that type of stuff or anything like that, we don't get in trouble so she was just like "I can't believe it, they don't do this kind of stuff". She was just freaking out.
Where are you guys from?
Elijah: We were born in Sydney, Australia and then we grew up in Los Angeles, California.
When did you guys come to LA?
Elijah: When we were about seven years old we moved to Studio City.
What do you like about LA?
Elijah: I love the weather, the traffic is horrible but the weather for sure, the main thing is the weather.
Describe each of your personalities in one word.
Elijah: Outgoing.
Why are you both choosing the same word?
Elijah: We are both very outgoing but distinct in different ways.
What's the difference between you both?
Isaac: I'm more energetic.
Elijah: I'm more laidback, more chill.
What other things do you guys do other than Vlogging?
Isaac: We're also actors. I go to acting classes but I don't go to acting school.
Is that the ultimate goal in the future?
Isaac: We want to accomplish both modelling and acting.
How are you going to do that?
Elijah: Just grind, just push out our brand and keep working and networking with other people.
You must both get mistaken for each other. Tell us a scenario when this has happened.
Isaac: We switched on our teachers in tests during school.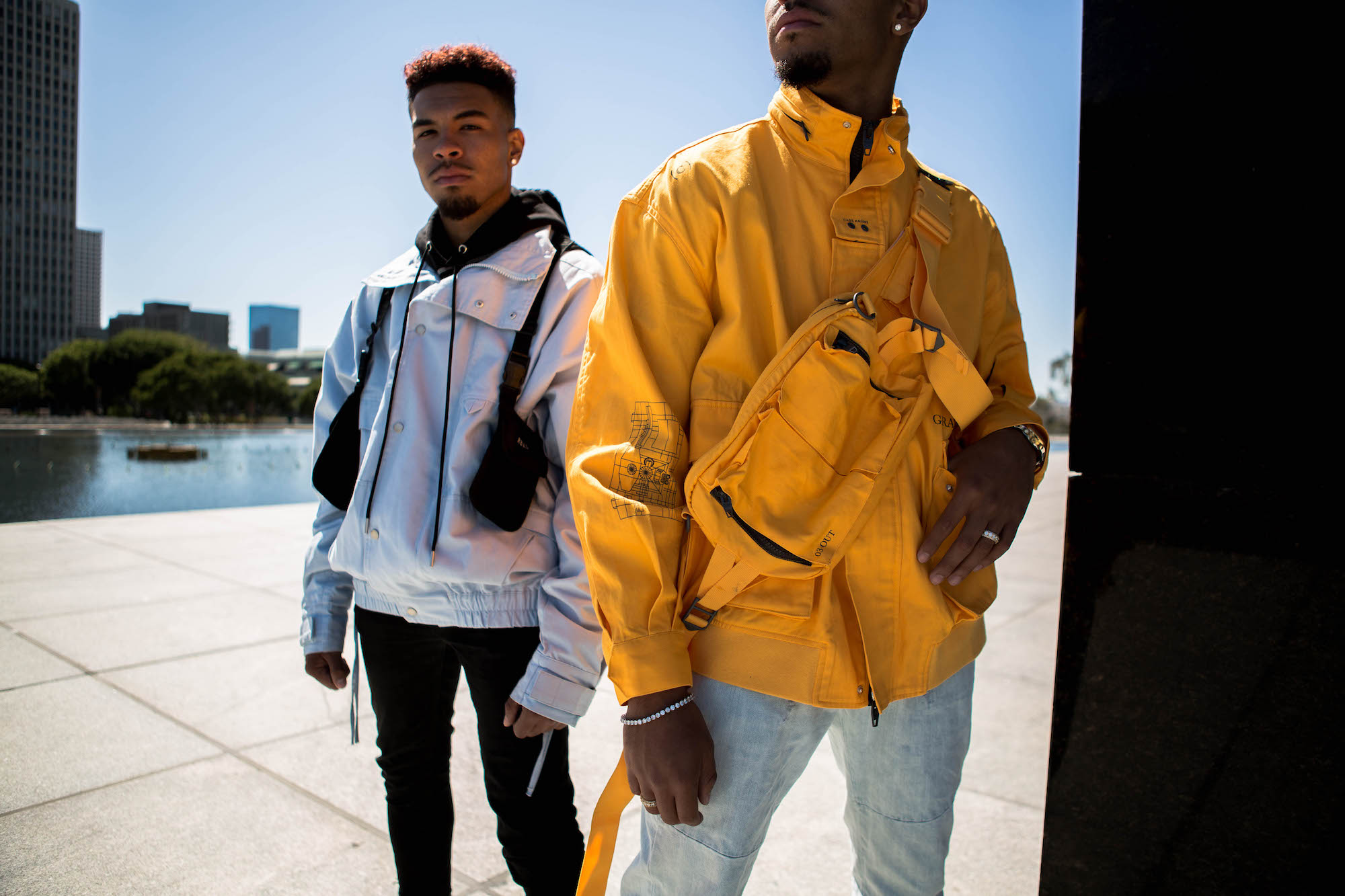 Isaac: Jacket: C2H4, Hoodie: Heliot Emil, Holster: RBLS_US, Jeans: Nudie Jeans, Shoes: Rick Owens. Elijah: Jacket: C2H4, Jeans: Heliot Emil, Shoes: Nike 
Who's the smarter one then?
Both: It depends on what subject it is.
Who's better at math and who's better at English?
Elijah: Math, me.
Isaac: English, me.
Who is better at acting?
Isaac: Me, I'm better!
Elijah: No, I'm better.
What is your favourite city in the world to travel to?
Isaac: New York. The first time I went there I fell in love with it.
Elijah: New York is fun but I want to go to London for sure.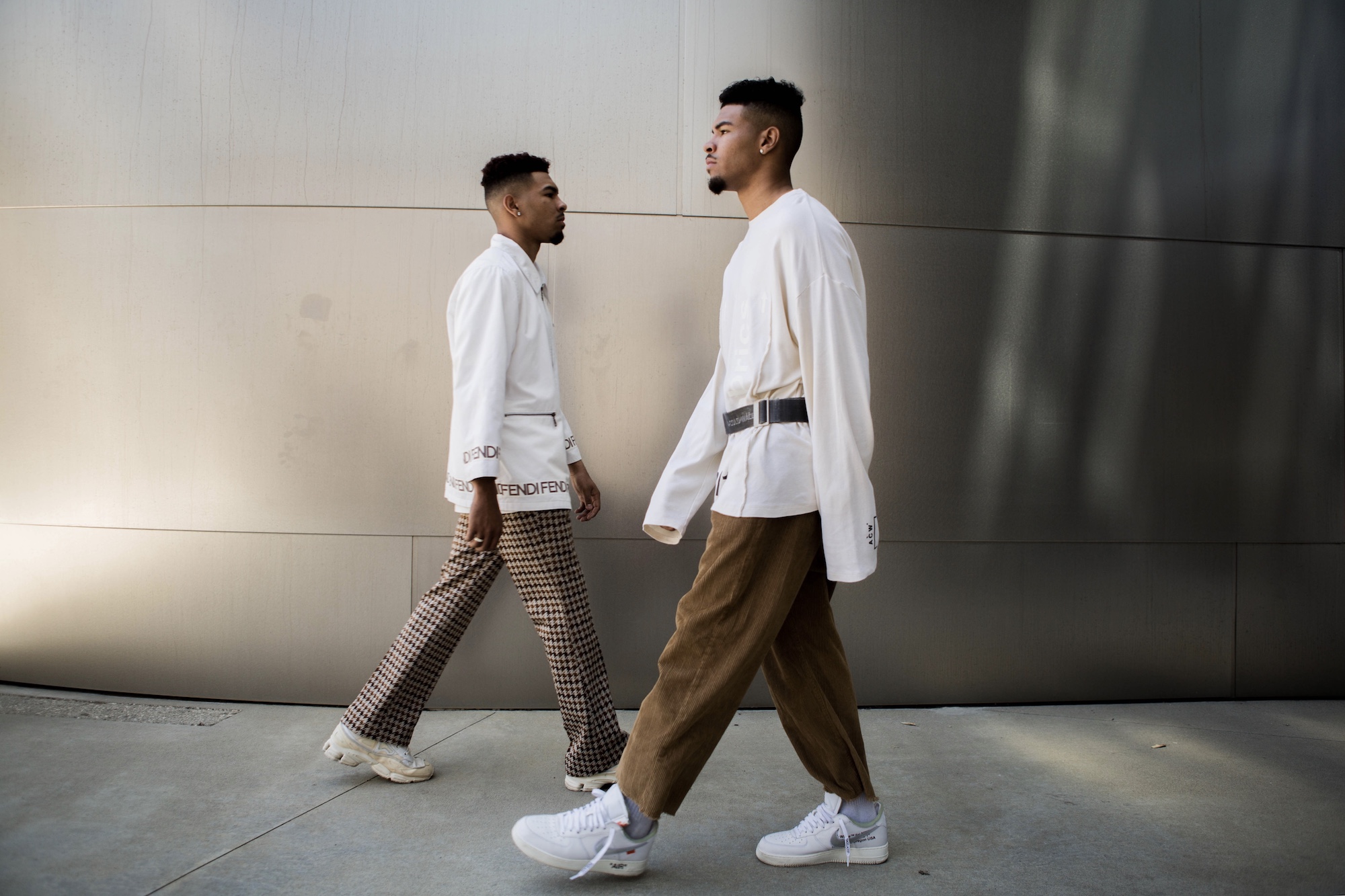 Do you know anything about London?
Elijah: Just that my favourite film is set there… Peter Pan.
Describe your style in one word?
Elijah: Unique.
Isaac: Loud, I like to wear a lot of colours.
You've got the 90's hip-hop culture injected into your style. Where did you get your style inspiration from?
Together: We were born in 1996.
Isaac: I got that style from Chris Brown, I love his style.
 Do you have any other style icons?
Isaac: A$AP Rocky
Elijah: Pharrell.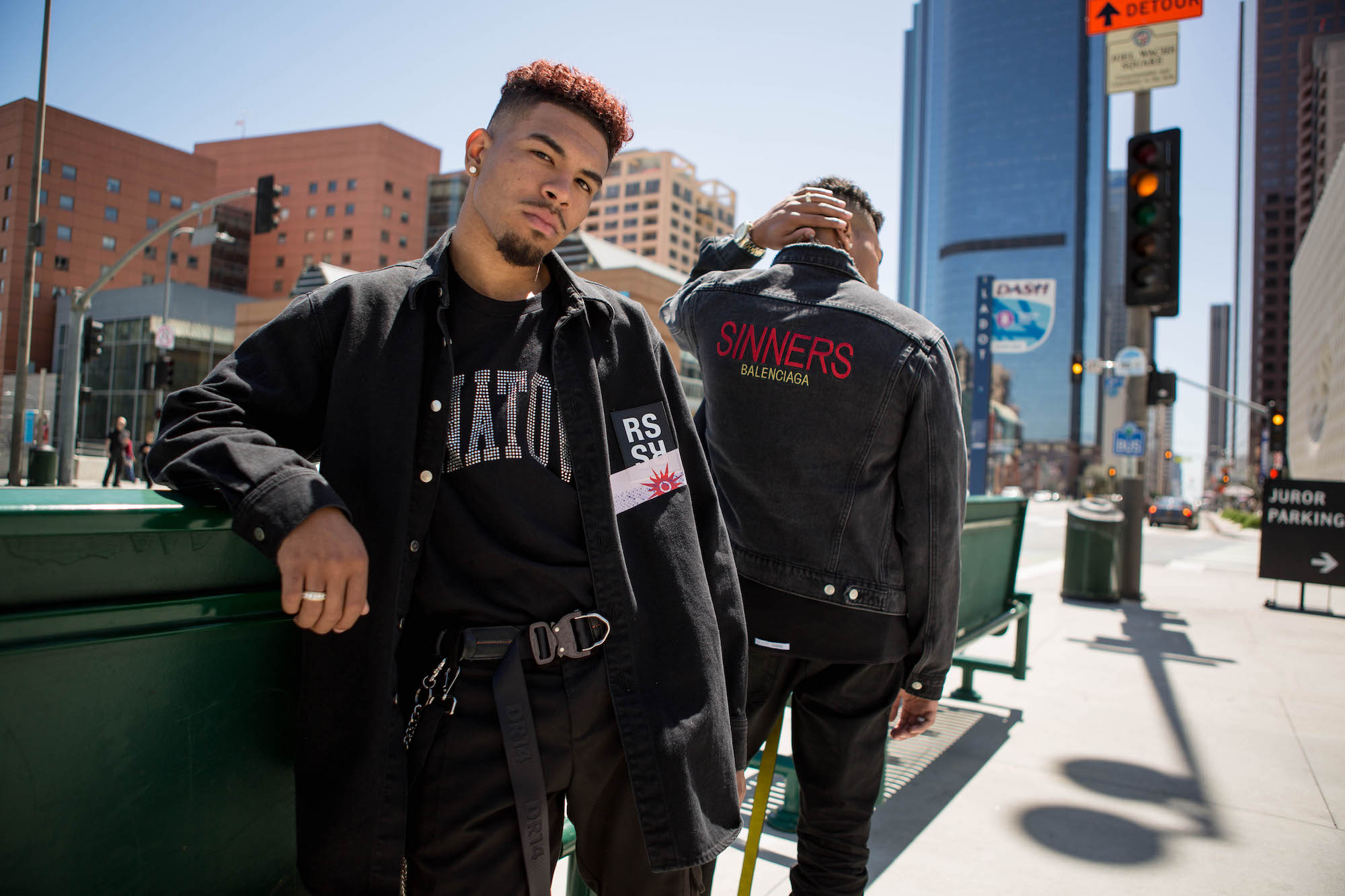 Isaac: Denim Shirt: Raf Simons, Undershirt: Chinatown Market, Pants: RBLS_US, Belt: DR14 by @SheronBarber, Shoes: Nike x Off—White. Elijah: Jacket: Balenciaga, Shirt: Alyx Studios, Jeans: Saint Laurent, Shoes: Gucci
Do you both agree on everything?
Together: Most of the time.
What are your favourite sneakers at the moment?
Together: Air Force 1
Nike or Adidas and why?
Elijah: Nike. Nike has better stuff.
Isaac: I just like the style. We will wear Adidas but Nike all the way.
If I was to go to your wardrobe, what would I find?
Isaac: Bits and pieces of everything. You'd find Bape, OFF-WHITE, Champion, Supreme, literally everything.
When did you start playing basketball?
Isaac: We started playing basketball in first grade. We took it all the way up to high school and we were going to go play college basketball in a division 1 school but then we cut that out to be in the entertainment business.
Is this your full-time job and if so, how do you monetise?
Elijah: Yes. Acting is what we mainly live off of.
What acting roles have you done?
Elijah: Voice-overs, TV shows and a lot of commercials.
What about modelling, are you signed to an agency?
Isaac: No but we actually have a meeting with a modelling agency tomorrow in London, they're flying out here to meet with us.
You have an Instagram together, is that your only Instagram?
Elijah: Yes, only Instagram.
Do you have girls hitting up your DMs? And how do you go about that?
Isaac: Yes, every day! We will take turns. He will get one and if another cute girl comes it's my turn and vice-versa.
What if you see something you both like?
Elijah: That's a tough one…whoever gets to her first.
Isaac: It's a race for sure.
Do you ever get annoyed with each other because of that?
Isaac: All the time. I'll be like "Bro! I wanted to talk to her and he'll be like Nah I'm already here".
Has there ever been a situation when they wanted to talk to both of you?
Together: No.
Has there ever been a situation outside of Instagram when you both see a girl and you both like her?
Isaac: Yeah, all the time.
Elijah: It just recently happened to at Coachella.
Do you both have the same type?
Elijah: Yeah.
Isaac: Kinda…sort of. I like Asian women. Not just Asian women but they're catching my eye right now.
Elijah: I like all types.
In terms of celebrities, who is your ultimate crush?
Together: Zendaya.
Isaac: Either Zendaya or Bella Hadid.
What advice would you give to young people who want to use social media as a platform?
Elijah: Definitely just go after it, don't listen to what anyone else tells you, just go for it and don't hold back. Social media is such a big platform to express everything so don't hold back.
You're exposing your life on social media. Is that important?
Isaac: Once you start building up a fan base, it's good for your fans to see your everyday movements so that they can be more in tune with what's going on with you.
Sometimes is that too much?
Elijah: It can be bad sometimes a lot of personal information is there and people can start holding that against you.
What are your favourite foods?
Elijah: Pizza
Isaac: Sushi
Is there anything else that's different between you both?
Together: No, everything is kind of the same.
Your grooming is also exactly the same. Do you want to look exactly the same?
Elijah: Yeah, as much as possible.
Isaac: Well I dyed my hair, that's the only thing that makes us different.
Elijah: He's a little bit taller. I'm 6 ft 1, he's 6ft.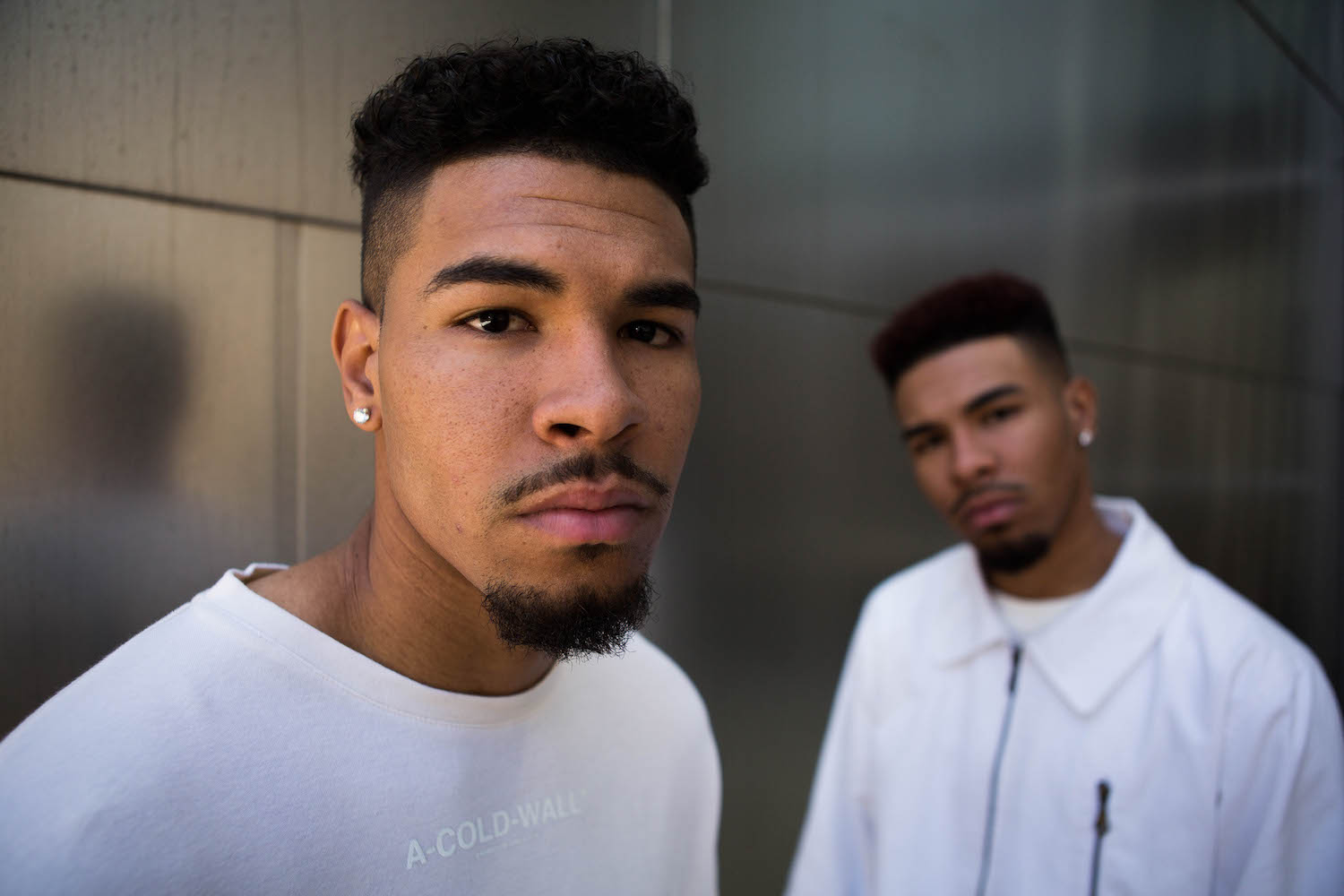 What hairstyle tips would you give?
Isaac: I use Revlon and Pantene conditioner…man, I make sure my hair is taken care of.
Elijah: I use the same products.
You use conditioner every day?
Together: Yeah every day. Our hair is naturally curly though.
What are your favourite colours?
Elijah: Gold
Isaac: Orange
What is the most annoying thing about being identical twins?
Isaac: We look exactly alike and we dress exactly the same, we've got to find some way to switch it up.
What's your favourite thing about being identical twins?
Isaac: We get to do everything together.
See complete editorial images in gallery below: