For the rest of July, Appleton Estate Jamaican Rum have teamed up with Burger restaurant Patty & Bun to serve you the ultimate grilled chicken burger.
In a first for Patty & Bun, the "Patty & Rum" is served in a soft brioche bun, with a crispy Okra hash brown and coleslaw. This is topped with a rum-infused burger sauce.
At the Soho, Hackney, Notting Hill and Brighton branches, this special burger is paired with an Apple Estate Jamaican Mule. It's a combo of ginger beer, lime and Appleton Estate Rum. I hit the Soho eatery, the meat was so tender it melted in the mouth. I had to switch to a knife and fork half way in.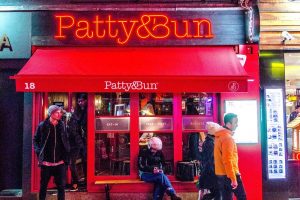 Remember, this is for the month of July only!
Never fear, Appleton Estate and Patty & Bun will be bringing a bit of Jamaica to Oxfordshire for Wilderness Festival (2nd – 5th August), where they'll be right in the thick of things at the at The Appleton Estate Jamaican Rum Bar. Rum cocktails and Patty & Rum marinated BBQ chicken, cooked over coals on oil drum BBQs.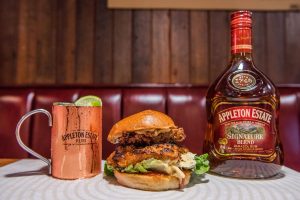 Also, Appleton Estate will also be hosting their popular 'Crafted with Joy' workshops at Wilderness. Sign up to learn the art of copper-etching and engraving while personalising copper cups, guided by a skilled coppersmith. It's a festival, of course, so there will also be the chance to learn how to make an original Mai Tai cocktail!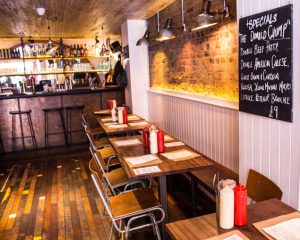 Visit pattyandbun.co.uk to find the nearest location.
Complimentary 'Crafted with Joy' sessions at Wilderness Festival, can be booked in advance or signed up to on the day. Sessions include rum tasting, a Mai-Tai cocktail and a personalised copper cup:
www.wildernessfestival.com/programme/appleton-estate-rum- bar/?pillar_id=&location=5129930
Appleton Estate
www.appletonestate.com
Instagram: @appletonrumuk / Twitter: @AppletonRumUK / Facebook: /Appletonestate.uk
Patty & Bun
pattyandbun.co.uk
Instagram: @pattyandbun / Twitter: @pattyandbunjoe / Facebook: @PattyandBun