Talks Afroswank, hustling and chasing his dreams
Kida Kudz has proved himself to be standout. With charisma, a confident sense of style and unquestionable musical prowess, he's a rap sensation whose star power is only going to get brighter. Whether he's posting on the Instagram with Diggy Simmons or getting praised by A$AP Rocky, Kida's journey into the music scene has been nothing short of commendable, receiving acclaim from his peers and fans alike.
PAUSE spoke to Kida Kudz about his fashion, influences and the grind of making it as an artist. Here's what went down.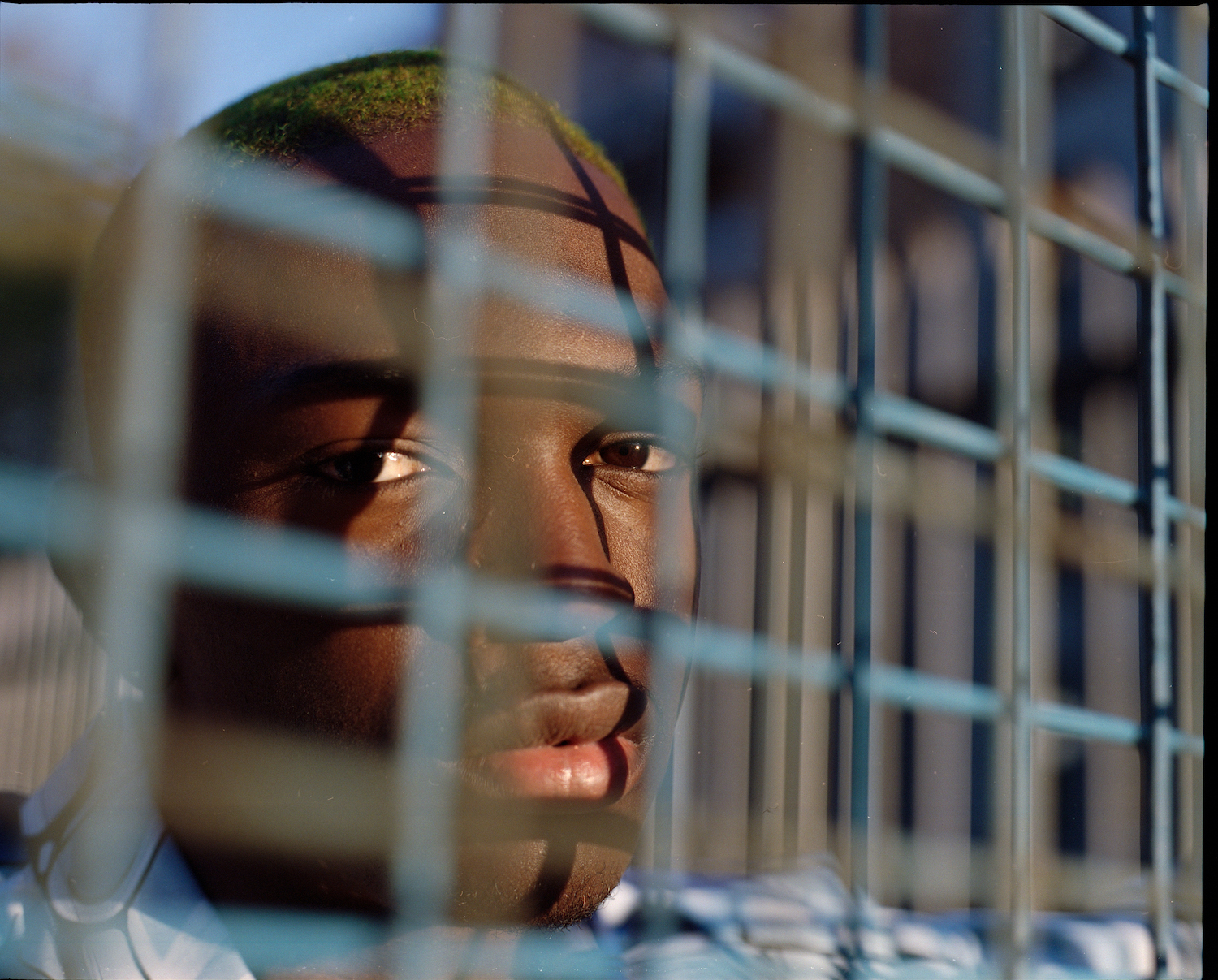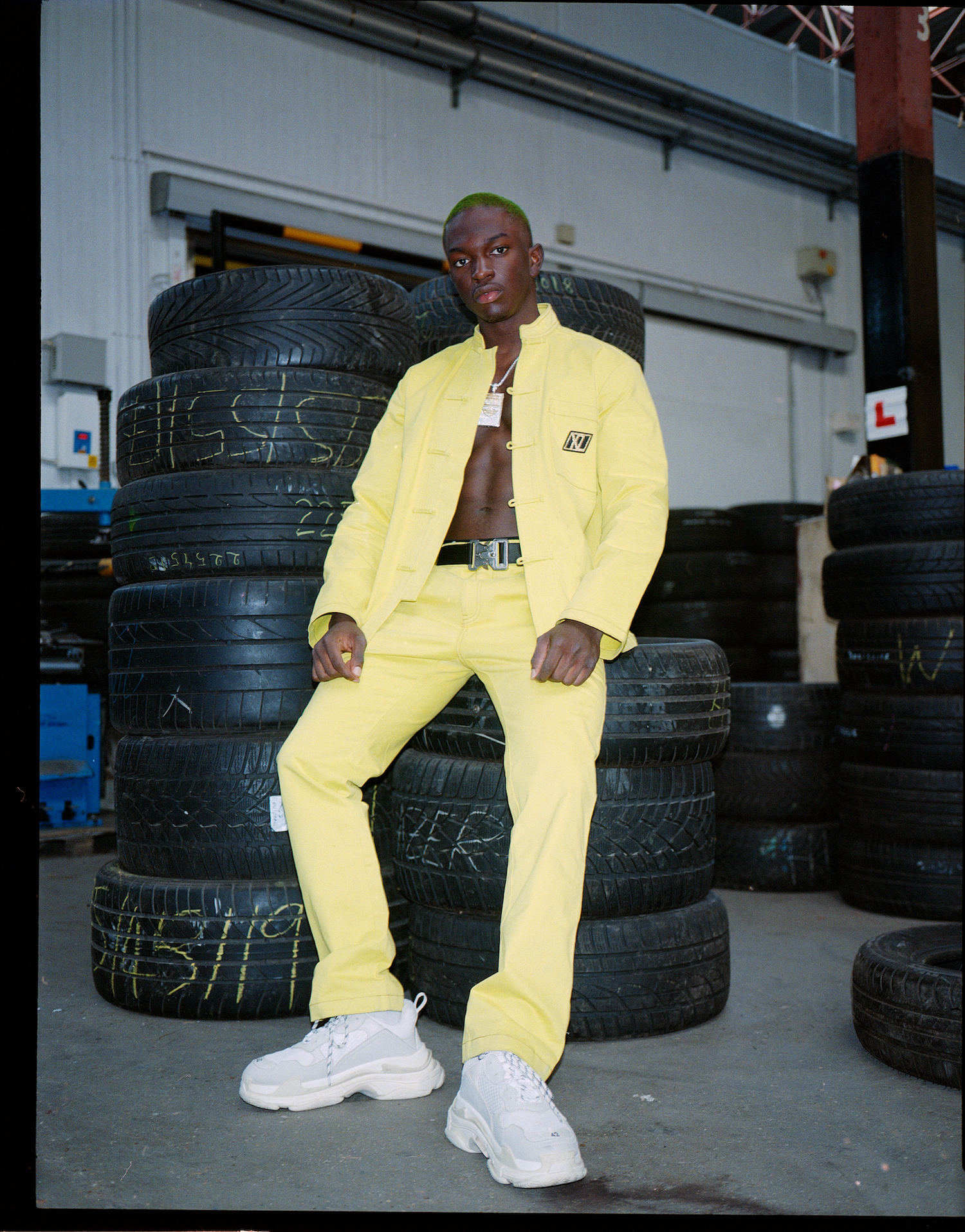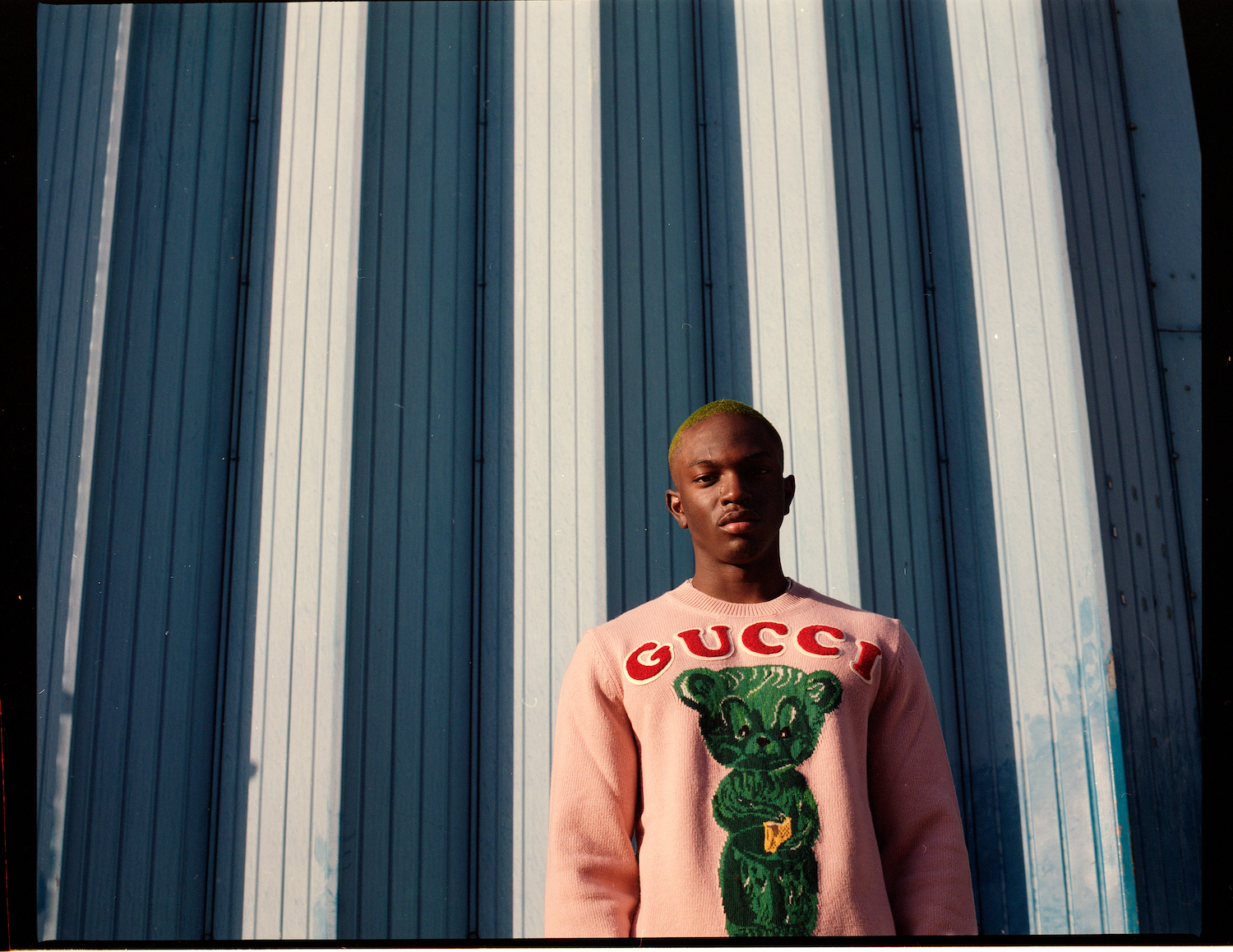 So you're from London, or you moved here?
I was born in Nigeria
So when did you come to London?
I moved here when I was 14.
How has living in London shaped your career?
It played a big part because for me I was confused with my sound and stuff. Because I'm African, I was trying to balance the sound, the fashion, everything I do and London culture really helped me shout out to people like Skepta and that I learnt from. It is what it is man, London's where I got my first music record deal.
How did you find your sound, coming from Nigeria and then you're in London, and it's two completely different cities, how did you work out how you were going to find your sound and merge where you've come from to where you are now?
When it comes to being African and Afrobeats, that's in my bloodstream, I don't need to listen to African music to make it. I don't really listen to a lot of African music because it's already in my skin. I listen to myself a lot and then I get motivation from other people, and coming over here, I had to make sure there was a balance. My friend was saying you don't live in Nigeria anymore you have to make sure there's a balance so you can communicate with people over here, and it took me years to work on that sound, like 5 years I was just trying different things and I literally just found myself in 2017.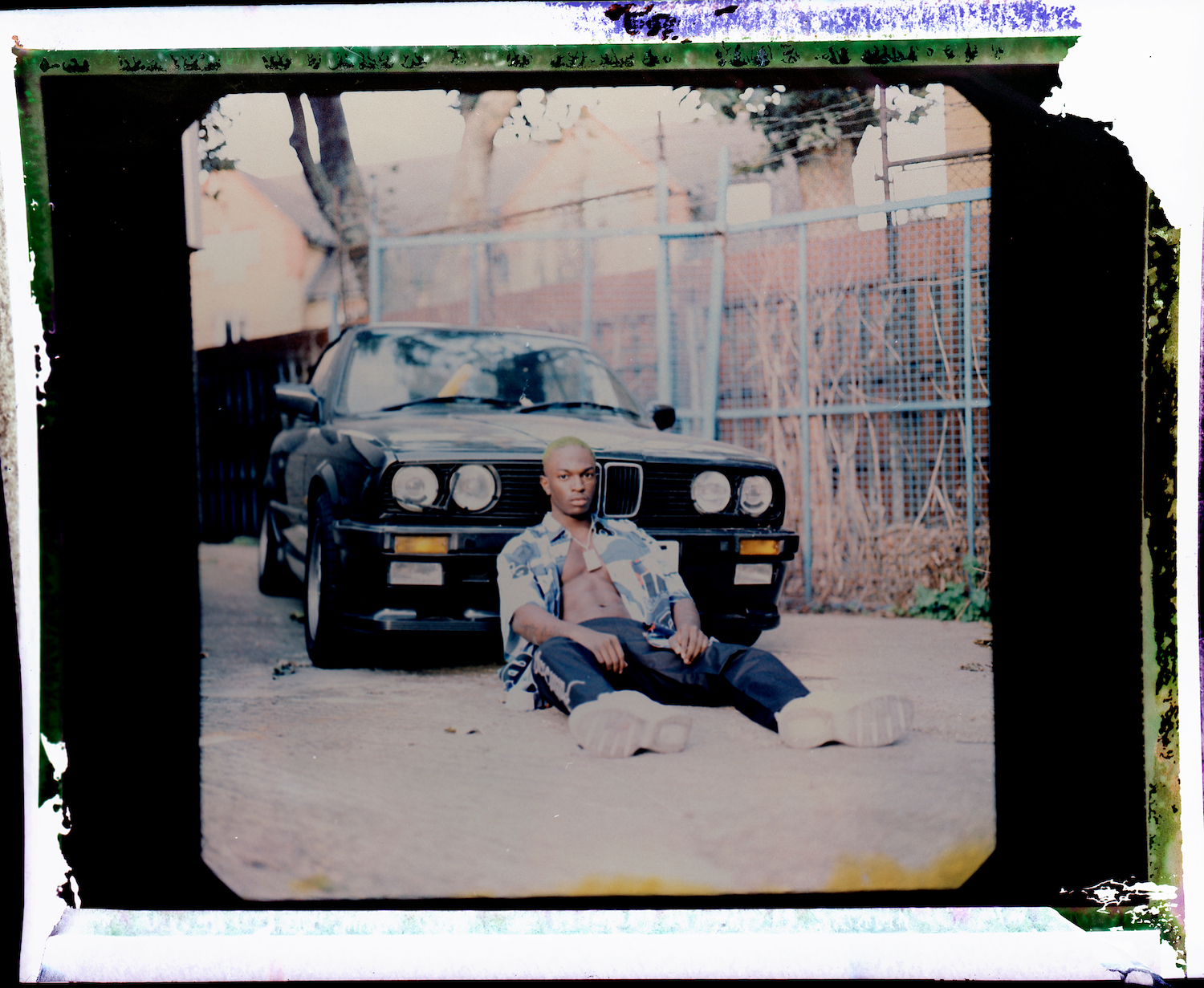 Shirt: Vetements @ Mr Porter, Trousers: Palm Angels @ Mr Porter, Trainers: Nike
When was the turning point for your career, which track has made the most noise for you so far?
Issa Vibe. That made the most noise for me. When I recorded it I was so calm, I wasn't hoping for anything, literally, I saved the track for a year on my computer because I didn't care about it.
So you did the track and you just saved it as yeah, thinking ah this is not going to be the one? They always say the one that you don't think is going to be the one, happens to be the one.
Yeah because before I had a song I was about to put out I had a video for it it's called Ride or Die and I thought that was the one. I got noise and I got signed quickly, and when I got signed I didn't know my song got 600,000 streams on Spotify without me knowing, I didn't know, I just put it out there and everything just came organically.
And that's the Issa Vibe song?
Yeah, Issa Vibe.
So when you were starting, for a lot of artists it's so hard in terms of money it always comes into play when you're up and coming, just to even pay for studio time, how did you break into that?
It's one of them one's where you got to stay dedicated, you have to know what you want, you have to focus. I know you need money to do everything, don't get me wrong, but you got to try and you got to keep going, things will just work out. You have friends, shoot videos, put stuff online, things just work out, make some random stuff.
I know you need money to shoot videos but trust me most of the time when you don't plan for stuff it works the best, trust me, sometimes just make things organic. You can do an Instagram video now of you doing a freestyle and it might go viral and might change your life. That's no budget you don't need money for that, all you need is a phone and somewhere with internet and you can upload that.
A lot of people rely on money too much but you need to put in work first. If there's no work money's not going to find you. When I was doing this I was doing this ultimately for nothing, when I had a little change, me and my friend used to pay to perform at people's shows, just to get out there, but long story short things happened quick, A$AP Rocky DM'd me like 2 weeks ago.
Tell me when you saw his DM and opened his it, how did that feel?
To be honest, I woke up in the morning and I went on my phone and I just saw A$AP Rocky and I'm like WTF, and I clicked it and it said "Yo Kiddo, keep going, much love" and I'm like what? Over these couple weeks, I got two big connections in a matter of weeks, and trust me you just have to keep going. Before I got signed, I was in Uni!
Which uni did you go to?
SAE.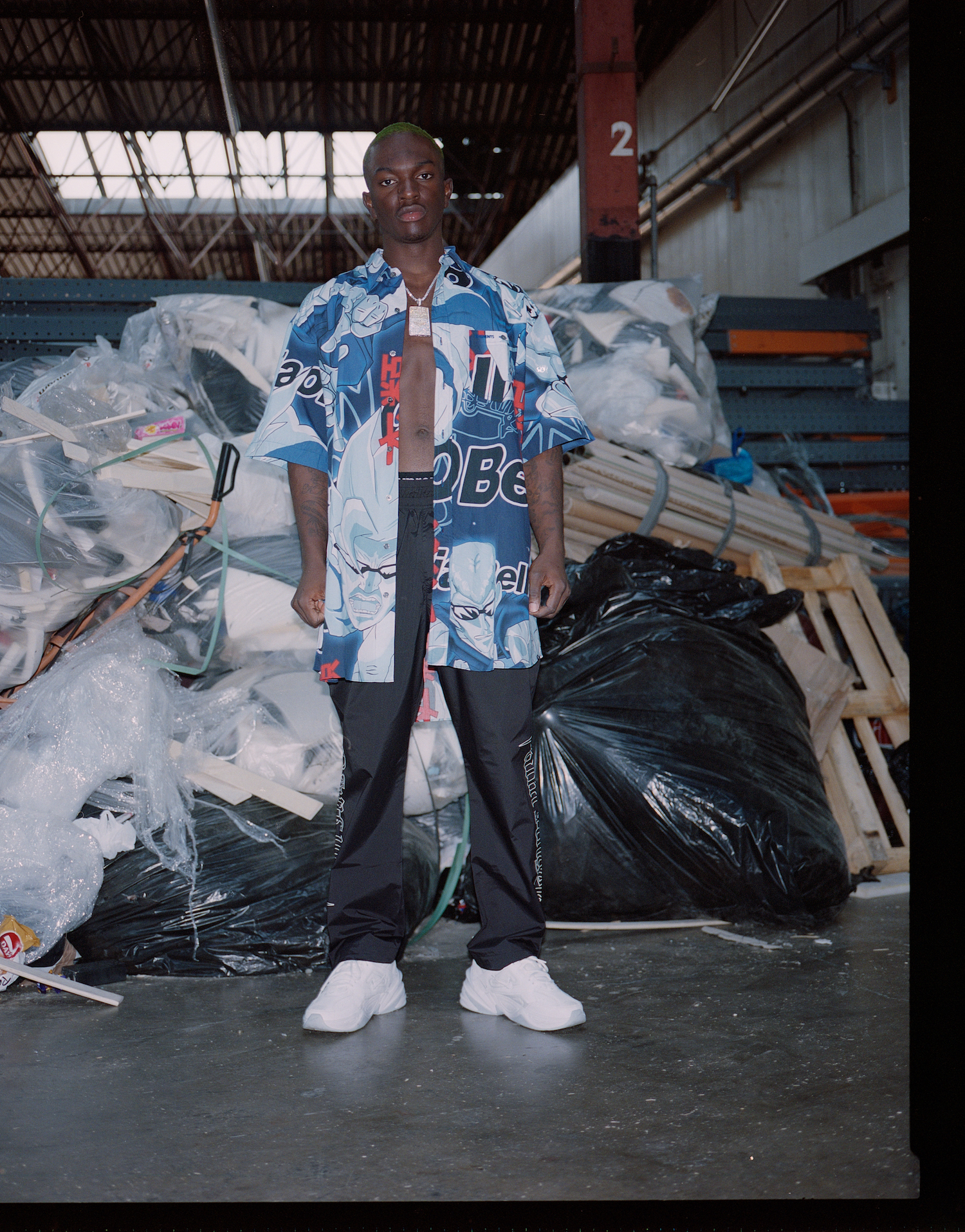 What did you study?
I was studying video production at SAE in Dalston, London . The thing was that I was going to focus on my uni stuff but I knew in my chest I knew what I wanted. I knew I wanted to do this music stuff. I just go back home and do freestyle stuff for some YouTube people, I got in, I got a DM. I tell people every time, your phone can change your life. A DM can change your life, trust me. I got a DM from this lady in the industry saying, "I need your number, people from Universal want to sign you". And my life went from going to uni from a week to quitting uni and saying f*ck this, this is not what I want, I know what I want.
What do your parents think about this? Because I know you're African and I can relate to you, and I know a lot of African parents prefer their children to become Doctors or something, what did they think about you going into music?
My dad is a medical doctor actually.
When I started writing, I used to write a lot, I used to write rap battles, I've done everything. I used to write and I'm the kind of person to never tell people stuff, I like to do it and I like them finding out, even when I record a banger I don't say "yo bro", I make it organically so I see the original or the organical love for the track.
When I moved to Kent when I was 14 I started college and went to weekend college to study music production for a bit, then I ran away to London because I didn't like it. I literally took my school bag and I didn't go back home, I didn't have no where to stay and I started sleeping at people's houses randomly in London.
I kept doing that and I recorded 15 tracks in 2 nights and dropped it the following day – I didn't leave the studio. It's just one of them things when I was living in Kent I didn't have no studio, when I finally found a studio I was 17 and I recorded 15 tracks in 2 nights literally, I slept on the floor and sh*t, I woke up, recorded, slept, that's all I did. That's dedication.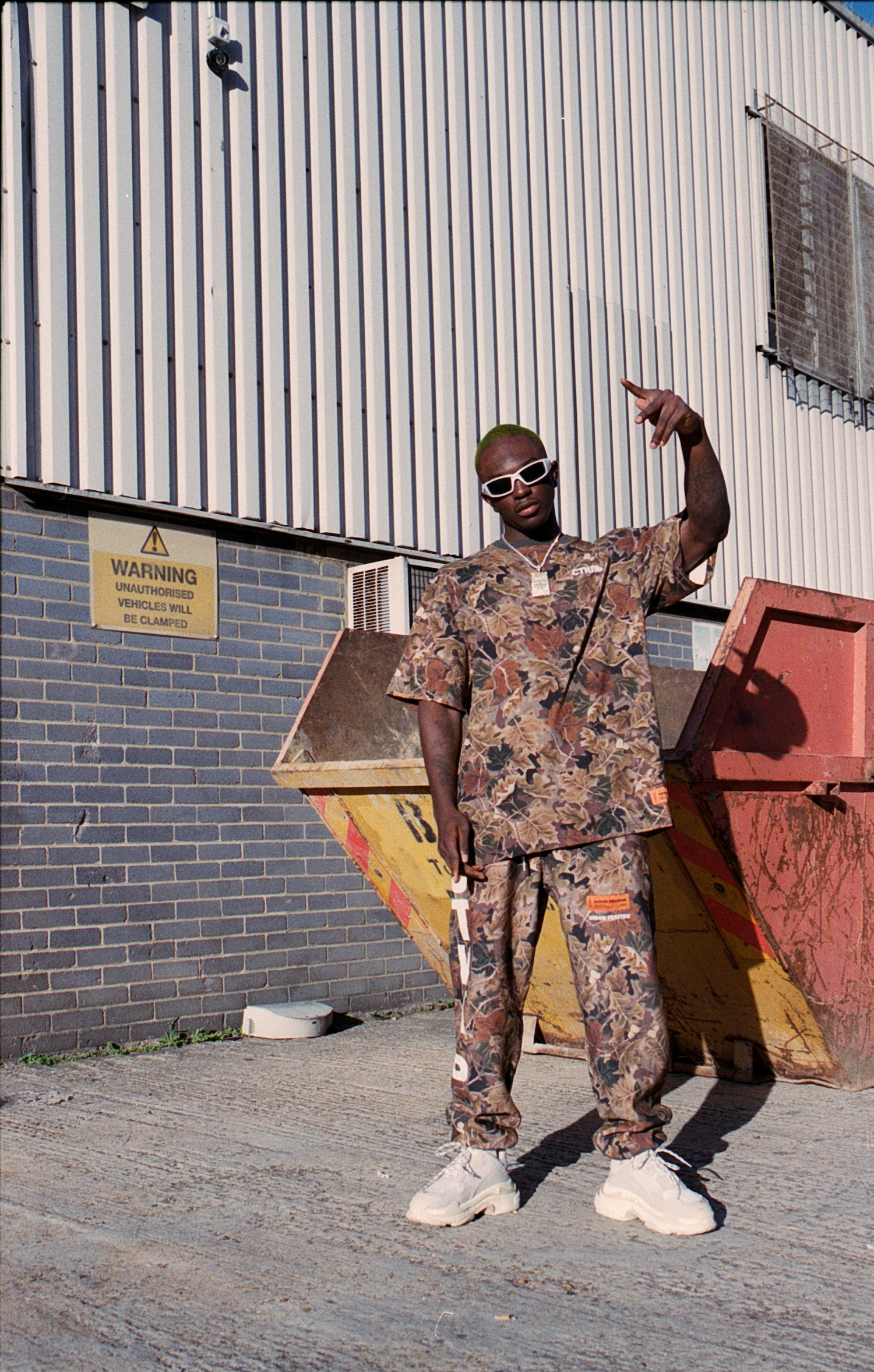 Whole Outfit: Heron Preston @ Browns Fashion, Trainers: Balenciaga, Sunglasses: Talent's Own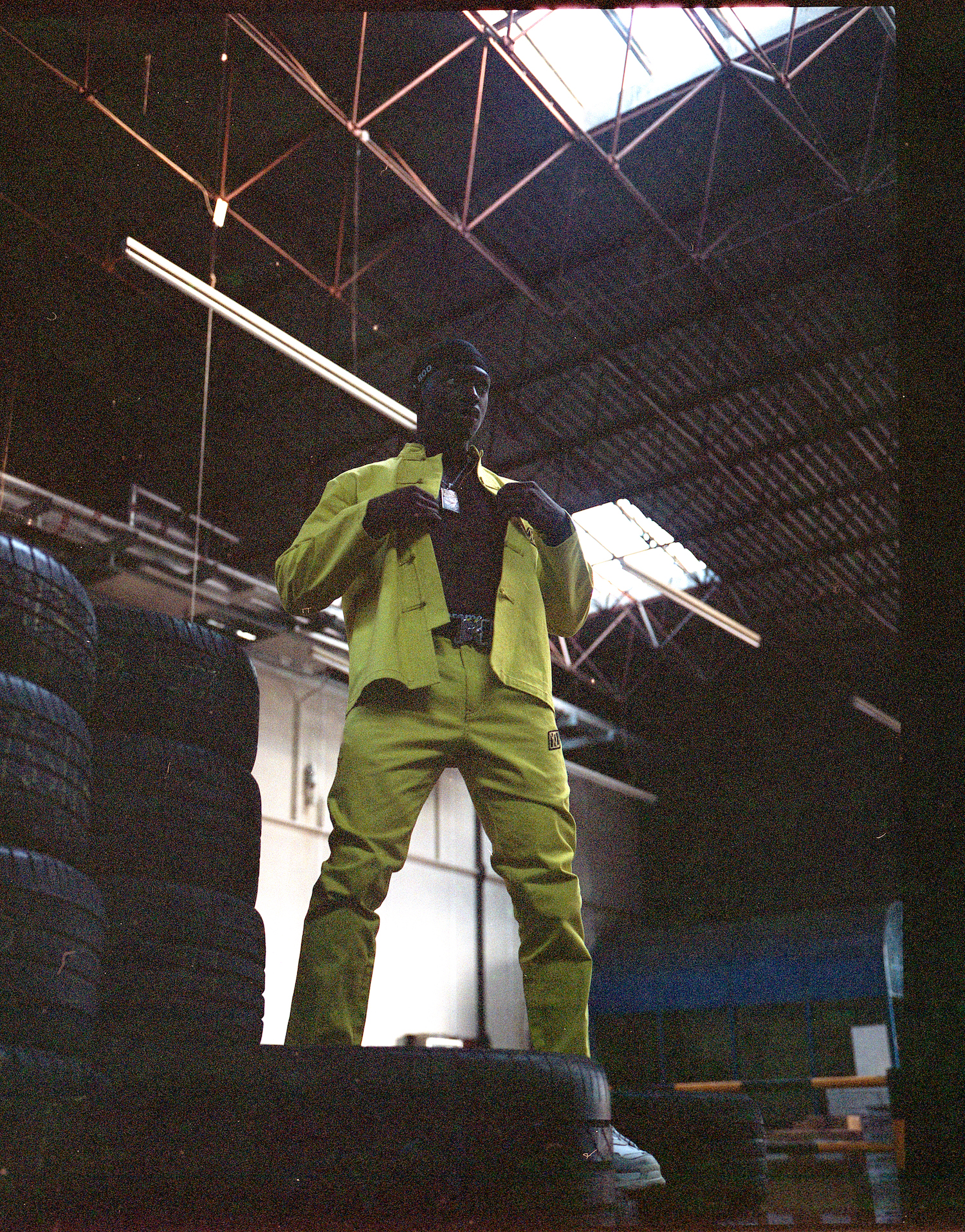 Whole Outfit: Xander Zhou, Trainers: Balenciga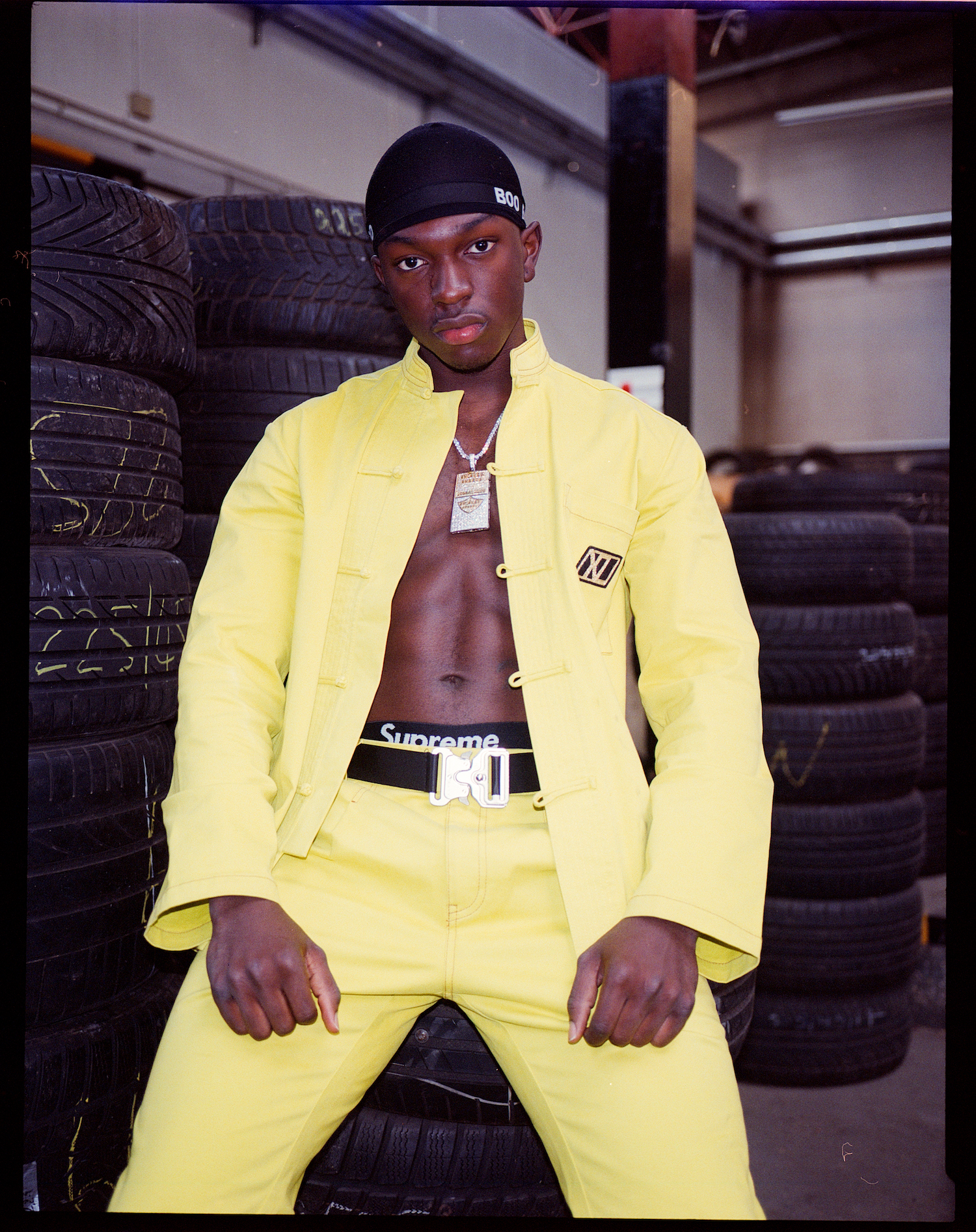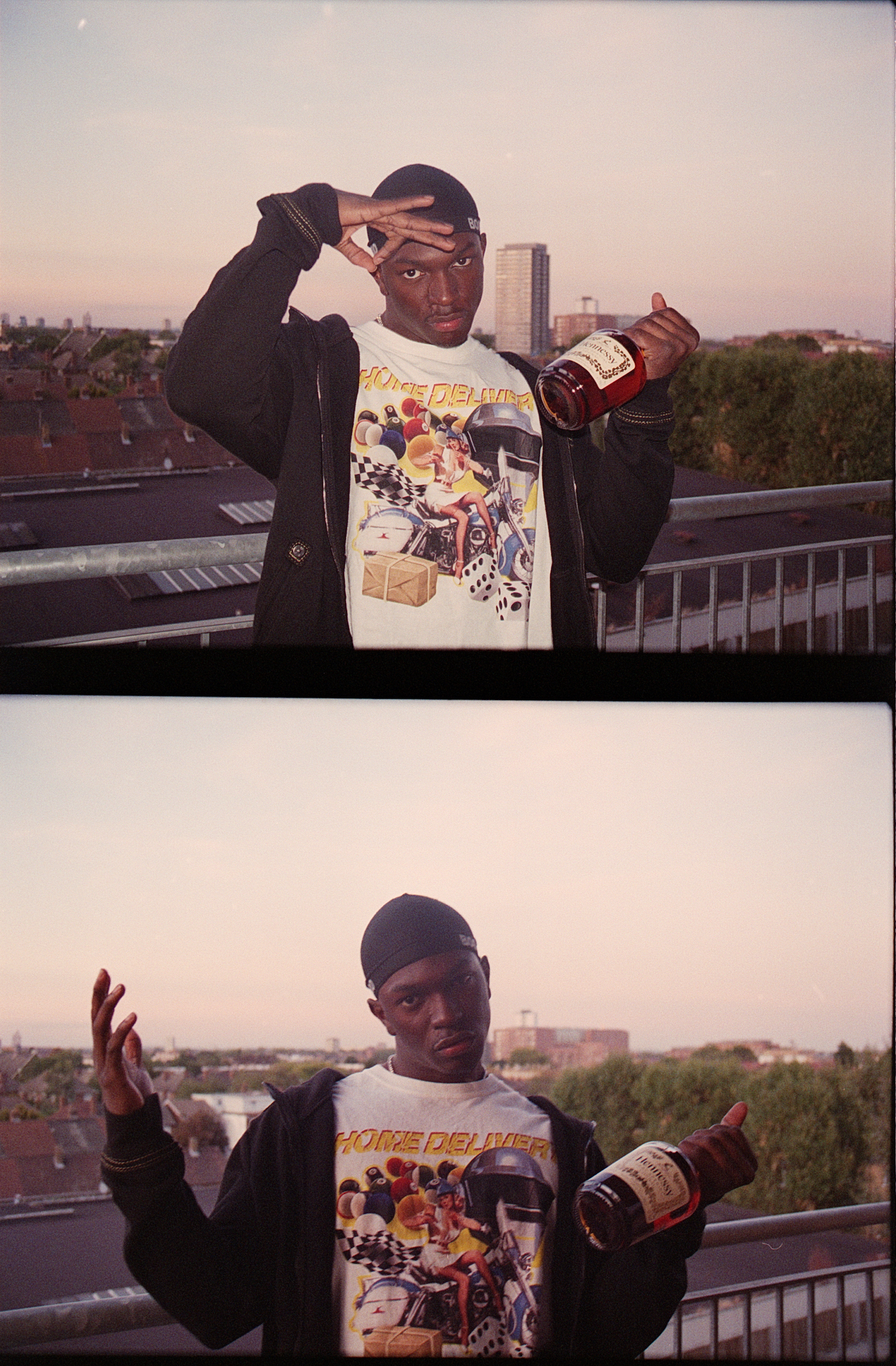 Whole Outfit: Balenciga @ Browns
You've got your drive, that's good.
I like being tired, if you're working hard, you have to be knackered.
How has London impacted your afrobeat sound?
My afrobeat sound is called afro-swank.
Swank?
Yeah, when I record music I don't try to sound like anyone else, I just do it naturally and it's working out for me. Just from being in London, because obviously I learnt quite quick coming from Nigeria and when I speak, you can definitely hear the accent coming out. It's just because I've been here as well, that's the blend of my music, so London/Nigeria has a lot to do with my music.
How did you come up with the name Kida Kudz?
It means a kid that could. So when I was young I could do anything, I used to be a dancer, I've done a lot of sh*t so I'm like the kid that could. I was just drawing it down on paper and then…
So a kid could do it basically?
Yeah.
And how old are you by the way?
I'm 23. So I've literally been on the road and that for 9 years and I only got signed in February 2018 and things are just making sense now. It can never happen overnight, right now I can't remember everything I went through.
Yeah, it's a journey and the journey is the best bit!
Yeah, it's crazy!
Is there any artist through your journey you've looked up to or has inspired your journey?
The only person who was really my close friend and I've known from time is Olamide, a Nigerian artist, he's my close friend, that's my guy. I met him at the very start of my career.
Our journey is quite different now but at that time I was learning a lot from him, just watching him grind, this guy would come to the crib, take a CD and go to different clubs on the island, in Lagos. His drive was just mad, and he told me one thing, he was like "Kida, when you make music make sure you make music for the people, you can't be selfish, make music for the people that can relate to you."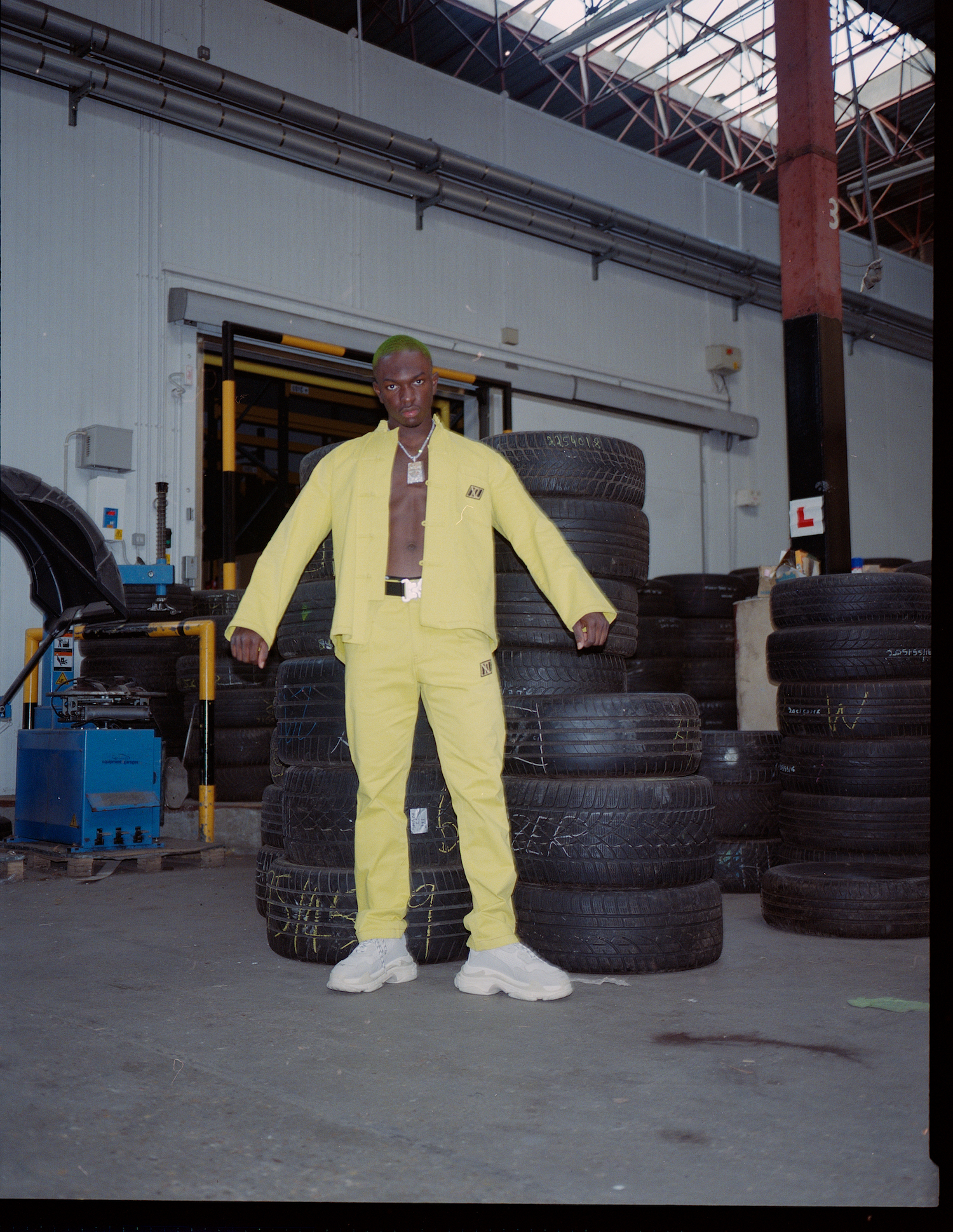 So you've been interested in music from a very young age, what age did it start from?
I used to be a dancer for music videos and I've been doing that since from probably the age of 6. I never enjoyed my childhood because I used to dance for gospel artists, so I was never a normal kid – but I knew what I wanted to do. This is my life, this entertainment thing is my life.
I always knew this is where I need to be. No matter how frustrating it gets, it gets frustrating trust me, some times I be like I don't need this sh*t anymore and I've had plans of moving out to LA and just go have a normal life. But right now this year has been the best year of my life. I got my deal, I'm working with people who make pop music, a lot of things are coming out of that!
Name any up and coming artist in London that we should be keeping our eyes on at the moment?
Octavian, and oh yeah – Burna Boy, I get him.
Why can you understand him?
People don't get me at times, I wear a lot of vintage clothes and I'll buy something for five, ten pounds and make it look good. Before I started this afroswank movement, people used to be like "what is he wearing?" but I knew what I was doing, I was creating the brand. I got all my friends into fashion, so you'll see that when you come to my shows.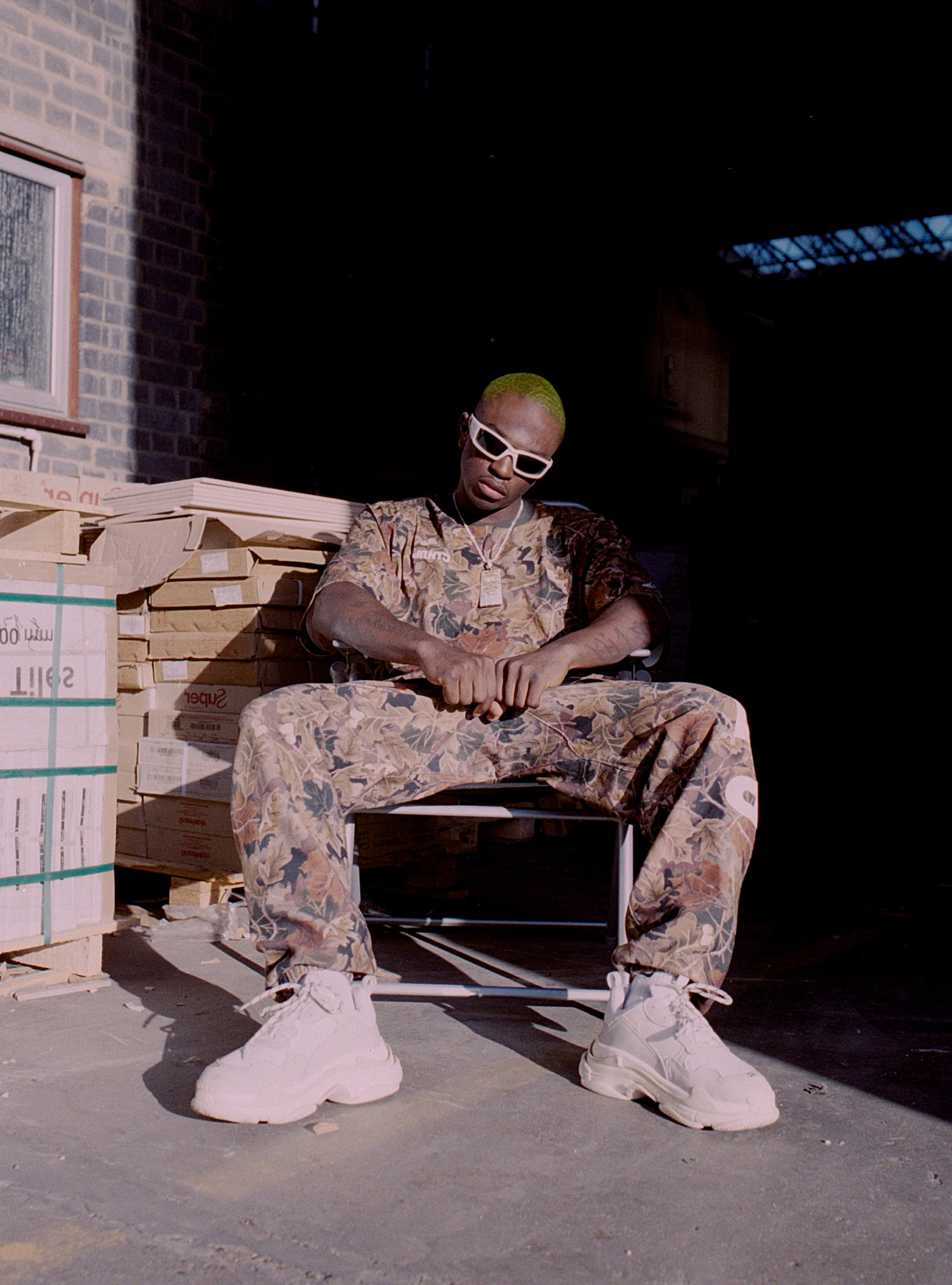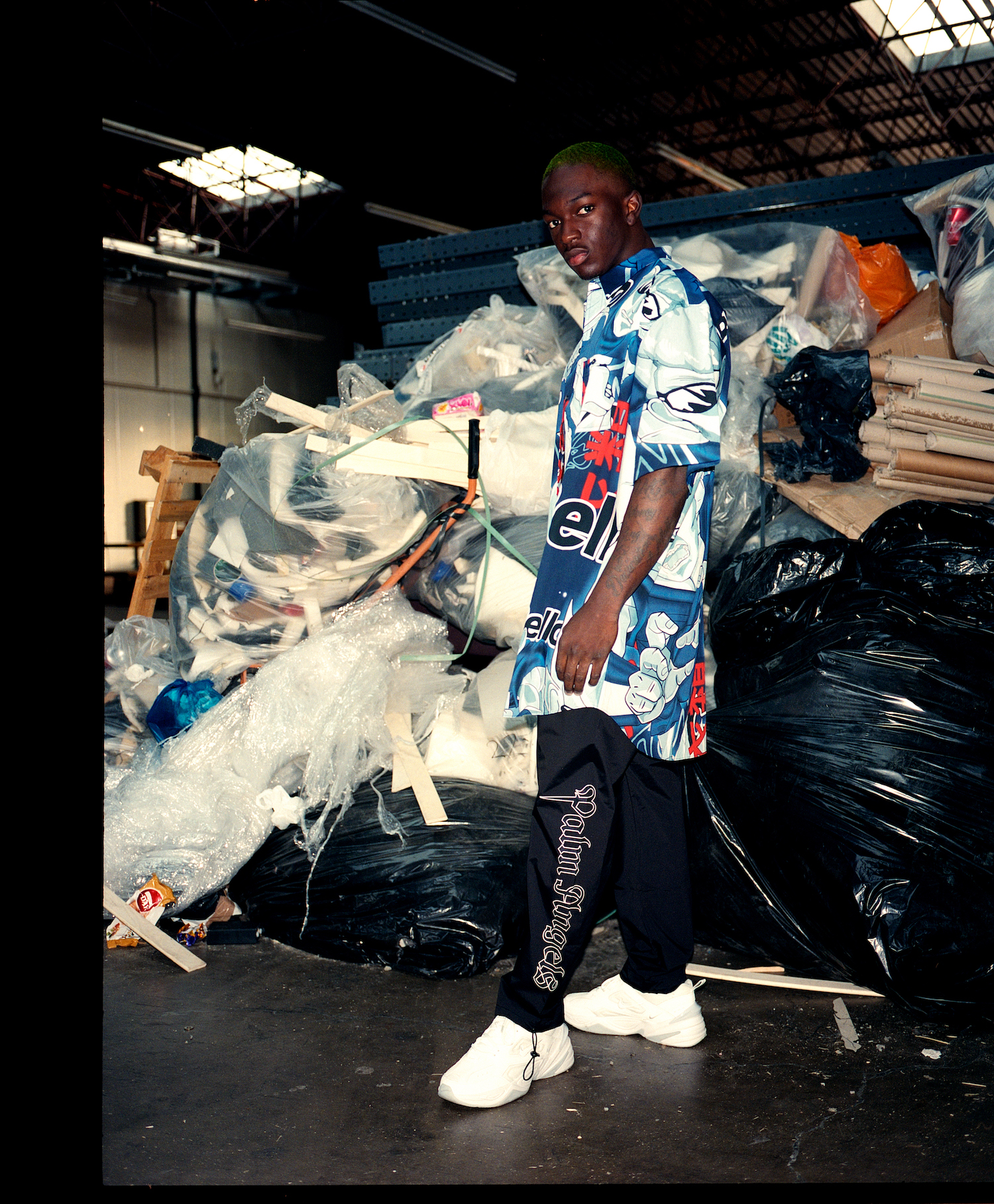 You're kind of like the new age of afrobeat.
It's crazy, the track I just put out got 200,000 streams on Spotify in 6 days. I have my own disciples, so I know what I'm focusing on now. I'll be going on tour next year and I'm just happy with my own community. If bigger things come, that's cool – but for now, I'm happy.
If we were to go into your wardrobe, what brands would we find?
You'll find some Nautica and quite a lot of old school pieces, I f*** with the old school stuff I've got a lot of numbers I have a lot of new school stuff like Nike, Umbro, Adidas, Liam Hodges, Balenciaga – but Nike for sneakers.
Favourite fashion brand?
Right now, Liam Hodges. I'm so impressed with his stuff – he keeps it real.
How does it feel to see people vibing and enjoying your music when you're out?
I was talking about this with my friend on the way here. When I'm recording it's in a calm environment but then I'm watching snaps of people all over the world getting lit like even people from Australia have listened to my shit and South Africa as well, it's ringing out there.
I wanna get out there and touch everyone I really want to do a show in New York next year so I'll be looking forward to that because I want to just do stuff as much as you can because life is short. That's not me saying that I'm going to die young but you've always got to be ready.
We know you're going to Nigeria later this year, what else is on the list for 2018?
I need to play my hometown in Nigeria, a big countdown concert there – like 1,000 people! The album is doing really well out there. I've got a show in Lagos, Denmark – it's getting busy but I'm so appreciative about it all. I DM people all the time, I FaceTime my followers sometimes, you can lose it in two seconds so you've got to stay humble.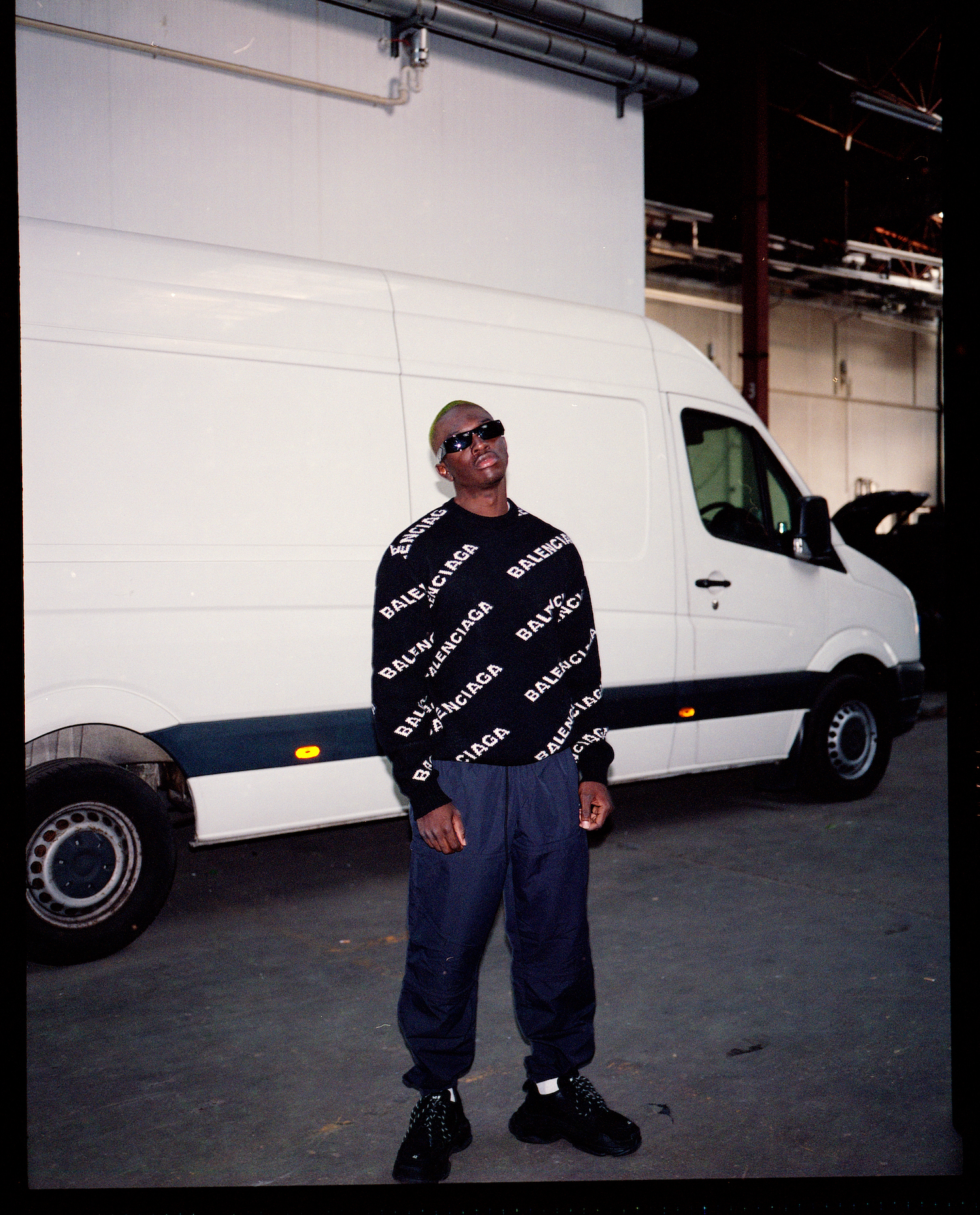 Sweater: Balenciaga @ Mr Porter